Benchmark may be one of the most popular email marketing tools out there – but that doesn't mean it's the best. And 
while there are plenty of alternatives, not all of them offer improved features and functionality.
Benchmark's free plan
has limited capabilities, and its paid plans aren't the most affordable on the market. On top of that, customer support and email delivery rates aren't exactly optimal. This can cause major setbacks in growing your business, drain your financial resources, and leave you feeling frustrated – not what you want from an email marketing tool. If you'd rather avoid these issues, there are several alternatives offering superior capabilities at lower prices.
I've tested six of the top Benchmark email competitors to see how they stack up.
 Here are the most affordable and effective alternatives.
Short on time? These are the best Benchmark alternatives for email marketing in 2023:
What We Look For in the Best Alternatives to Benchmark
Deliverability: Benchmark's delivery rate can be lacking. I looked for tools that control the entire delivery process to ensure virtually every email arrives at its destination.
Pricing: Benchmark's paid plans aren't the most affordable options on the market, and you'll pay extra for certain features. I looked for lower-priced plans that include all the features you could ever need, so you never have to pay more than expected.
Features: While Benchmark's paid plans offer plenty of features, the free plan is seriously lacking when it comes to automation and A/B testing. I found alternatives that offer these features – and many more – at no cost.
Support: Benchmark's customer support is suboptimal, which is especially frustrating if you're new to email marketing and need extra guidance. I looked for tools that offer exceptional support through multiple channels, no matter which plan you choose.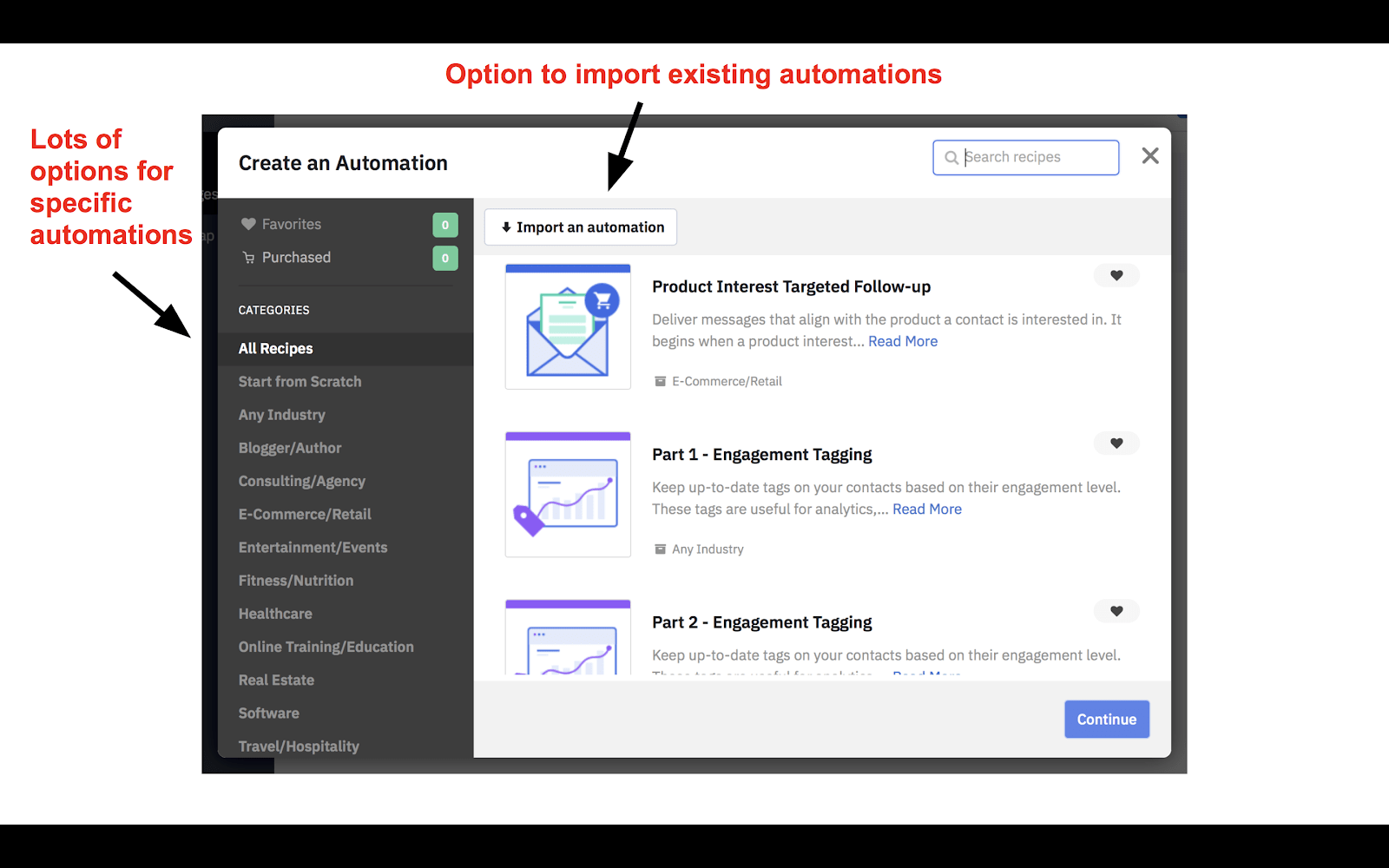 ActiveCampaign is an
all-around email marketing tool
providing automation, CRM capabilities, and a variety of useful features. It gives you some of the best value on the market, offering four plans for every budget. Although it's a bit more expensive than Benchmark's paid plans, it's a worthy investment. ActiveCampaign's automation tools are especially noteworthy. These include sales automation, split automations, targeted emails, and more. Even the cheapest option – the Lite plan, from
$
29.00
a month – includes basic marketing automation capabilities. To get the full suite of automation tools, however, you'll need to upgrade to the Plus plan. There's a wide range of integrations available, and different levels of support depending on the plan you choose. ActiveCampaign manages sending through its own IPs and servers, which allows it to keep track of bounce rates and
guarantees
a
better delivery rate than you get with Benchmark
. Although there's no free plan, you can take advantage of the
14-day free trial
.
Features
Effective customer support: ActiveCampaign offers live chat, phone, and email-based support to assist you with any issues. I received a helpful response within two minutes from a customer service rep via live chat. Benchmark has similar options, but the quality of support doesn't quite measure up.
Plenty of pricing options: Benchmark only offers two paid options, while ActiveCampaign has four. Each one lists a specific set of features and advantages, so you always know exactly what you are – and aren't – getting, and you never have to pay for more than you need.
Unlimited sending on all plans: No matter which price point you choose, you can send an unlimited number of emails to up to 250,000 contacts. Even during your free trial, you won't be restricted to a certain number of emails per month (like you would be on Benchmark's free plan).
Easy-to-use interface: Benchmark's high usability may be linked to its lack of complex features, but ActiveCampaign gives you the best of both worlds: an intuitive interface and editing tools, plus a wide array of advanced capabilities – all of which we tested out in our ActiveCampaign review.
An all-in-one marketing tool: One of the best things about this platform is that it combines email marketing with CRM, machine learning, chatbots, and more. This means you can cut down on the number of different tools you use and address virtually all of your customers' needs in one place. Benchmark just isn't that versatile.
Free plan available?
No; 14-day free trial
Paid plan options
4 options, starting at

$

29.00

per month
Automation capabilities
Basic automation on all plans
Customer support channels
Chat and email, plus phone on Enterprise plan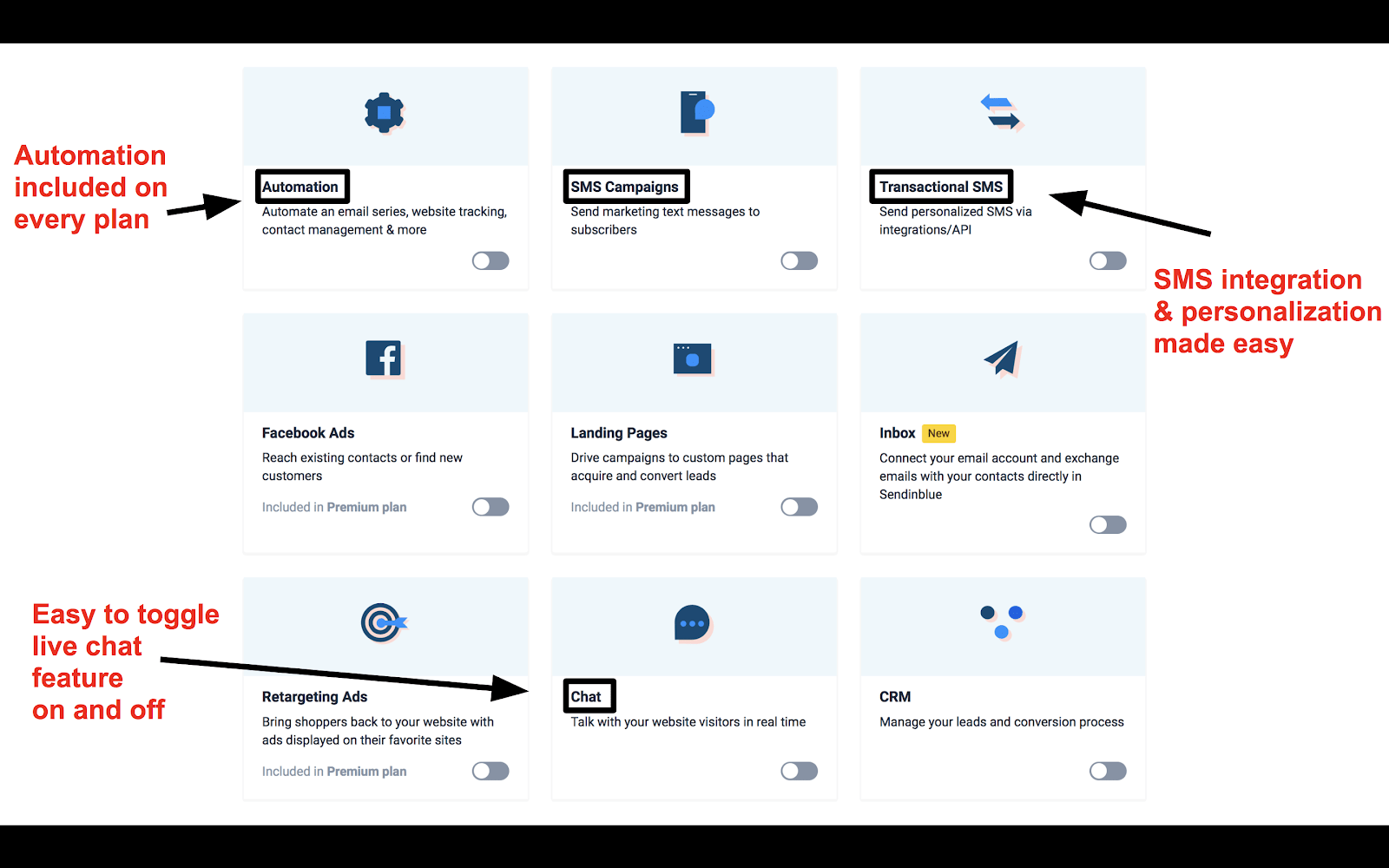 Sendinblue is one of Benchmark's top competitors, set apart by a host of unique advantages. It's ideal for growing businesses that don't want to commit to a paid plan –
the free plan is a perfectly acceptable option, allowing you to send up to 300 emails per day. For reference, Benchmark's free plan limits you to 250 emails per month.
The free plan also includes marketing automation workflows for up to 2,000 contacts, plus a workflow editor and page tracking. If you're frustrated with the lack of automation on Benchmark's free plan, this will be a relief. It's worth noting, however, that Sendinblue only includes A/B testing on paid plans. Beyond pricing,
Sendinblue stands out for its
incredibly user-friendly interface
, something we loved in
our Sendinblue review
. The intuitive drag-and-drop editor, simple sign-up form builder, and pre-formatted content blocks are designed for anyone and everyone. Finally, you simply can't beat the SMS integration – a highly useful feature that's noticeably lacking from Benchmark.
Features
More than 50 plugins available: That may not sound like a lot, considering that Benchmark offers more than 300. But with Sendinblue, the plugins are carefully curated to cover all your needs so you know each one is worth your time.
Simple live chat integration: Sendinblue automatically includes a live-chat option; all you have to do is click a button to start speaking with your customers. Benchmark requires you to integrate a separate LiveChat app, and manually import new contacts as you grow (which sounds like a headache, if you ask me).
Nine time-saving workflow templates: It's amazingly easy to create a new workflow, as Sendinblue offers you nine templates to choose from. This is what I mean when I say it makes marketing automation accessible to everyone – even on the free plan, where Benchmark falls short.
Affordable upgrades for extra features: Sendinblue offers a Lite plan starting at

$

25.00

per month and a Premium plan starting at

$

65.00

. The latter includes send-time optimization, a landing page builder, and advanced reporting features that outshine the competition. There's also a custom Enterprise plan if you want even more options.
Unique pricing to meet your needs: While Benchmark's prices depend on the number of contacts, Sendinblue charges based on emails sent. If you have a huge contact list and don't want limitations, this is ideal. And if you ever need to send more emails, you can supplement your plan with pre-paid email credits that never expire.
Free plan available?
Yes, free plan available
Paid plan options
Lite or Premium, starting at

$

25.00

Automation capabilities
Automation on the free plan, A/B testing only on paid plans
Customer support channels
Depends on the plan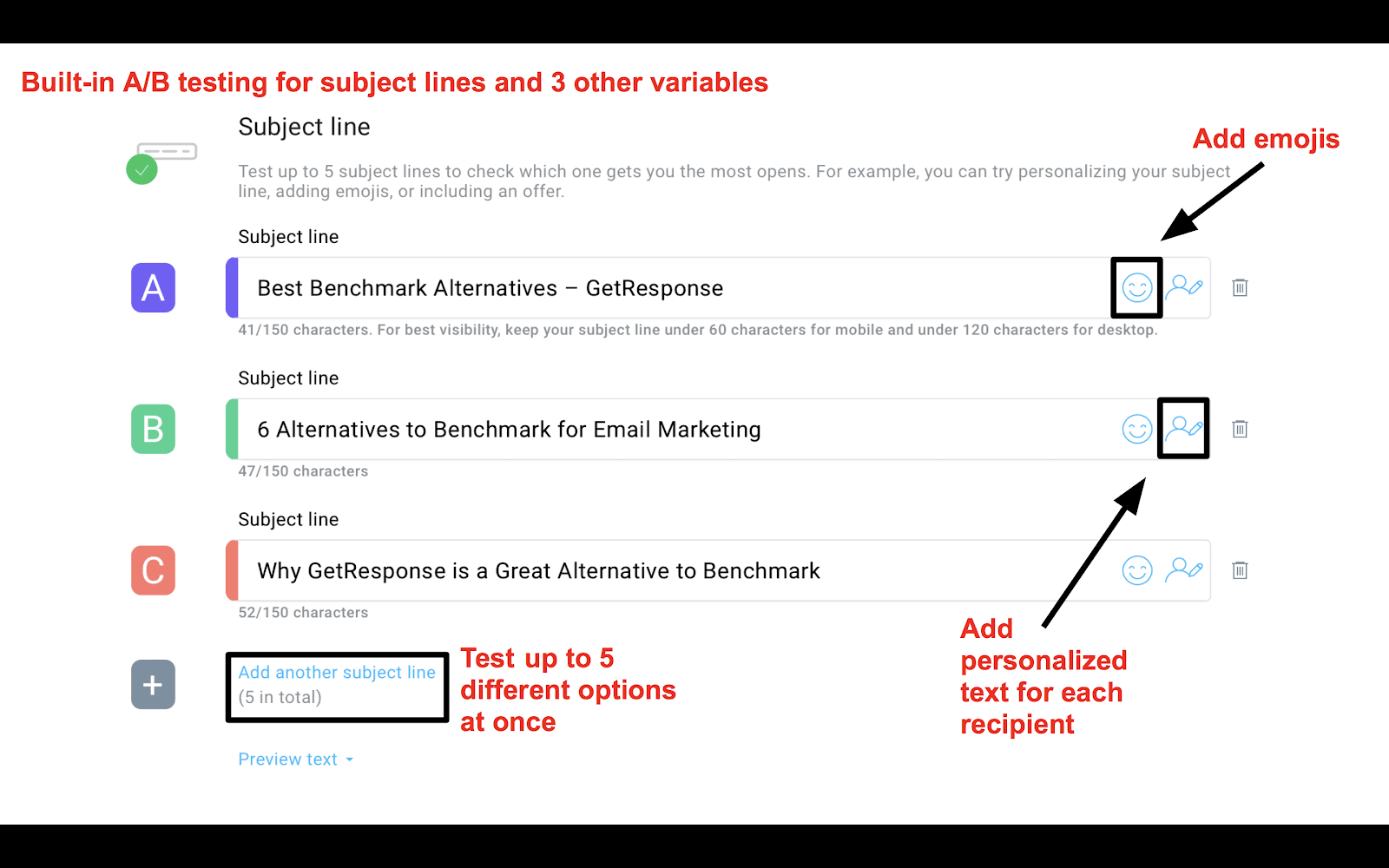 One of the most important aspects of any email marketing tool is deliverability – if your emails don't arrive where they're supposed to, what's the point? But some tools (like Benchmark) are seriously lacking in this area, which is what makes GetResponse's
 99% deliverability rate
 so impressive. That's not all it has to offer, though. GetResponse is the perfect tool for more advanced marketers who want full control and customization in their email marketing efforts. While there's no free plan,
you can test any of the paid plans for 30 days to try out all the features.
 Those features are hard to beat: extensive automation tools, built-in CRM, a landing page builder, and much more. One of the main things that sets GetResponse apart from Benchmark is the fact
it includes A/B testing on every plan
. In fact, it's built right into the email creation process, making it incredibly easy to optimize your subject lines, form fields, content, and delivery times. You can even test up to five different variations at once.
Features
Integrated webinar software: GetResponse makes it super simple to include webinars in your marketing strategy (on the Plus plan or above). Its built-in software allows you to create and host unlimited webinars, promote them through an SEO-optimized landing page, and automatically follow up with attendees. Benchmark's webinar software? Nonexistent.
Reliable customer support on multiple channels: One common complaint about Benchmark is its suboptimal customer support, but with GetResponse you don't have to worry about that. Choose from 24/7 live chat or email support to quickly answer all your questions.
Affordable premium plans: While GetResponse's Basic plan will certainly get the job done, experienced marketers will likely opt for the Plus or Professional options to get full access to tools for automation, webinars, and funnels. The good news is that these plans won't break the bank, starting at just $49 for 1,000 contacts.
Get 5,000 stock photos for free: You can say goodbye to the days of scrolling through external stock photo sites, downloading images, and uploading them into your emails. GetResponse includes a library of 5,000 free high-quality photos on all plans. This is a unique benefit you definitely won't get with Benchmark.
Perfect timing, every time: GetResponse's "perfect timing" tool automatically optimizes the send time for each email, so you don't have to mess around with delivery time A/B testing unless you want to (whereas with Benchmark, you don't have a choice).
Free plan available?
No; 30-day free trial
Paid plan options
Basic, Plus, or Professional, starting at

$

0

Automation capabilities
Automation and A/B testing on all plans
Customer support channels
24/7 live chat and email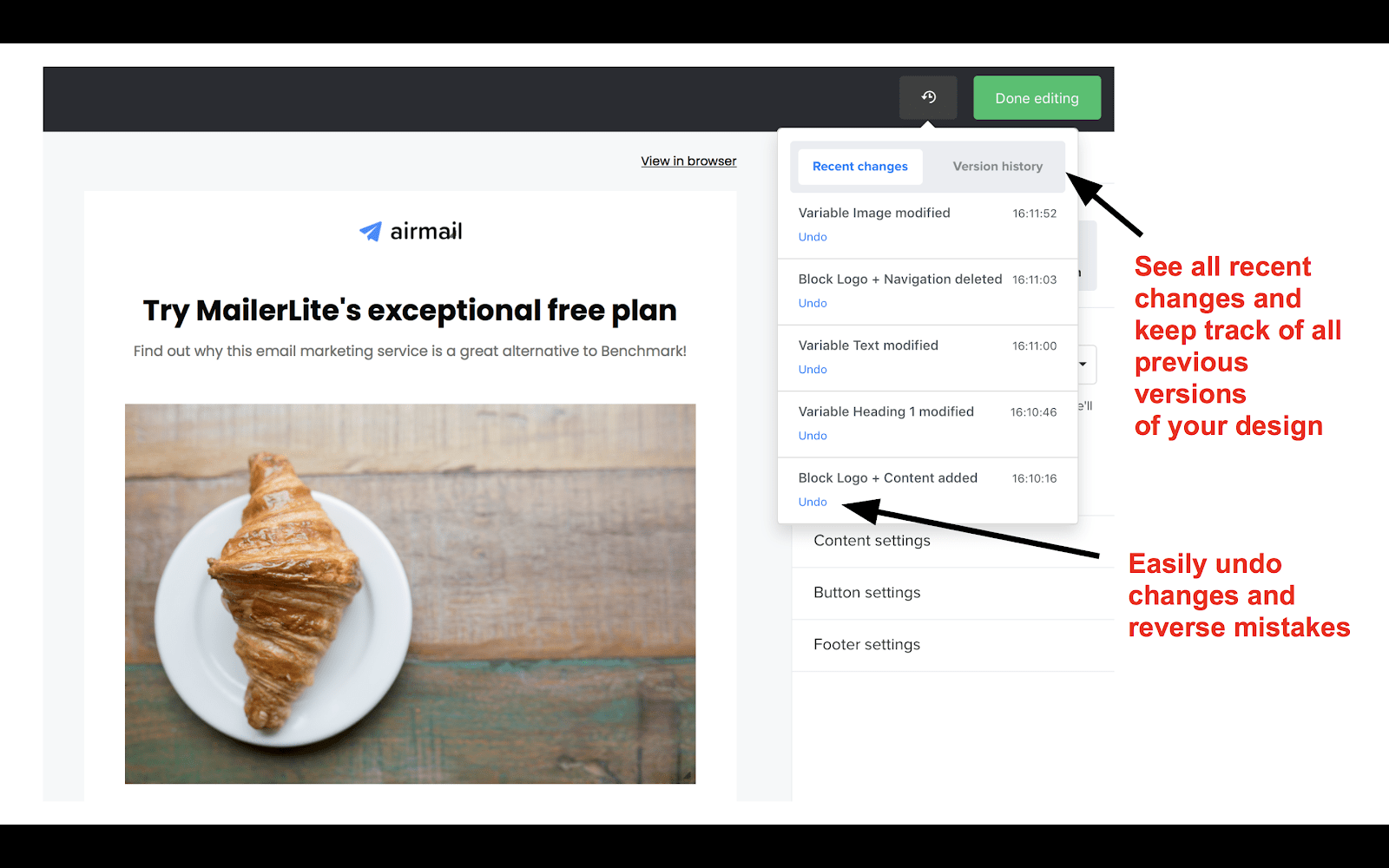 MailerLite beats Benchmark in several areas, but the most obvious one is its pricing plan. This email marketing service offers a
fully functional free plan
 that includes almost all of the features available. You can stay on the free plan for as long as you want, allowing you to reach up to 1,000 subscribers and send up to 12,000 emails per month. Once you start growing your customer base and sending more emails, it's easy to upgrade to a paid plan. This gives you access to one of the platform's greatest assets: 24/7 live chat support. It's quick, effective, and more reliable than Benchmark's support. Even if you stick with the free plan, you'll have access to email support, which is arguably just as helpful. MailerLite has a
super intuitive interface that makes designing your emails simple
. You can choose from a drag-and-drop editor, rich text, or HTML (on paid plans) – see what we made of the editing capabilities in
our MailerLite review
. There's also a built-in photo editor, file manager, and more. If you're new in the world of email marketing, you won't have any issues making the switch from Benchmark to MailerLite.
Features
Track changes feature: This unique functionality seems like a no-brainer, and you'll probably wonder why Benchmark and other tools don't offer it as well. Tracking changes allows you to easily undo mistakes and keep track of your editing process.
A/B testing included: One of the main complaints about Benchmark's free plan is the lack of split testing, but MailerLite includes this capability at no cost. It's easy to tweak your emails and then automatically send the winning version.
Extensive resource library: In addition to MailerLite's effective customer support, it also offers a huge knowledge base to help you learn and resolve issues on your own. Read through the comprehensive guide to getting started, and check out the video tutorials and webinars – you won't miss Benchmark's help center at all.
Consult an expert: A little-known advantage of MailerLite is its extensive expert directory, allowing you to get in touch with email marketing gurus one on one. They're all pre-approved but function separately from the platform as an additional resource.
Free plan available?
Yes, free plan available
Paid plan options
Premium pricing based on subscribers, starting at

$

10.00

Automation capabilities
Basic tools on the free plan, advanced tools on Premium
Customer support channels
Email on free plan, 24/7 live chat on Premium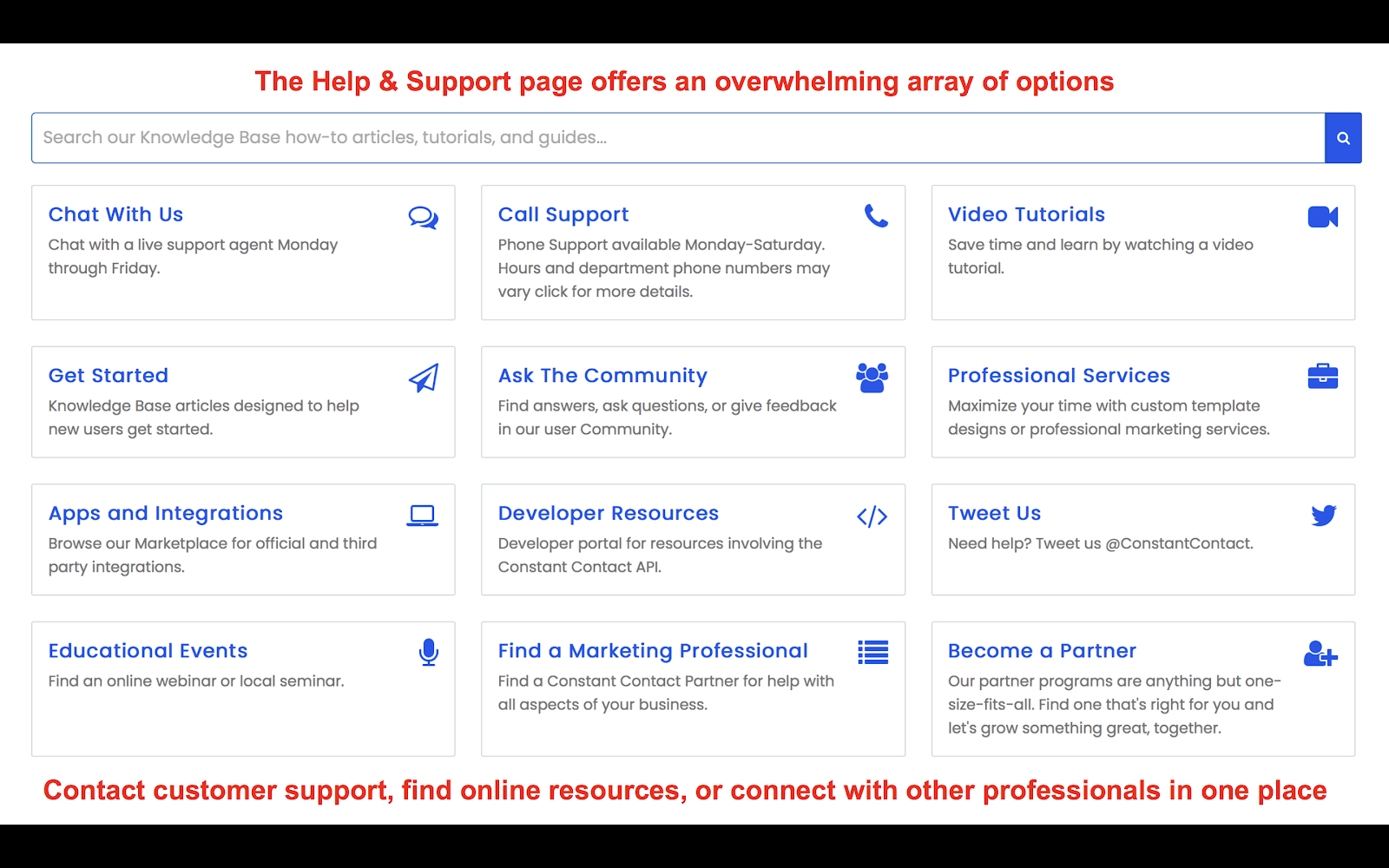 If you've never done email marketing before and are looking for a tool to help you start from scratch, Constant Contact is your best bet. Although Benchmark boasts about its user-friendly interface, it's got nothing on Constant Contact –
 it simply doesn't get easier than this
. The user experience is streamlined and intuitive enough for absolutely anyone to use. That said, Constant Contact still has enough capabilities to satisfy all your marketing needs, without compromising on quality. It offers tools for automation, social marketing, websites, and e-commerce, all as part of your email marketing plan. That's right: you can
create a website and online store at no extra charge
 – an offer you definitely won't get from Benchmark. There's no free plan available, but you can use the
60-day free trial
(if you're in the US, 30 days for everywhere else) to decide if it's the right tool for you. The trial period gives you access to certain advanced features, whereas Benchmark's free plan is mostly limited to basic features. To sign up for the free trial, you'll need to enter your payment information, although there's no upfront commitment.
Features
Extensive social integrations: Constant Contact allows you to easily combine your email marketing with social media management. You can repost email content, track campaign performance, and make any necessary adjustments, plus get automatic recommendations for the best images and captions for social media posts.
Comprehensive help center: If you ever need assistance with your Constant Contact campaigns, you certainly won't be at a loss for resources. The Help Center includes everything from video tutorials to a user community, offering even more options than Benchmark.
Full customer support on all plans: I've already mentioned that Benchmark's support system is lacking in quality, and other tools require you to upgrade your plan to get access to all support channels – but not Constant Contact. On any plan, you can get help through chat support or phone support whenever you need it, and it ranked impressively high for support in our expert review.
Save money with a longer commitment: When your free trial ends, you can save 10% by signing up for six months, or 15% by signing up for a year. There's also a 30% discount for nonprofits – that's higher than Benchmark's 25% offer.
Free plan available?
No; 30-60 day free trial based on your location
Paid plan options
Email or Email Plus, starting at

$

12.00

Automation capabilities
Some tools on the basic plan, including A/B testing
Customer support channels
Live chat & phone on all plans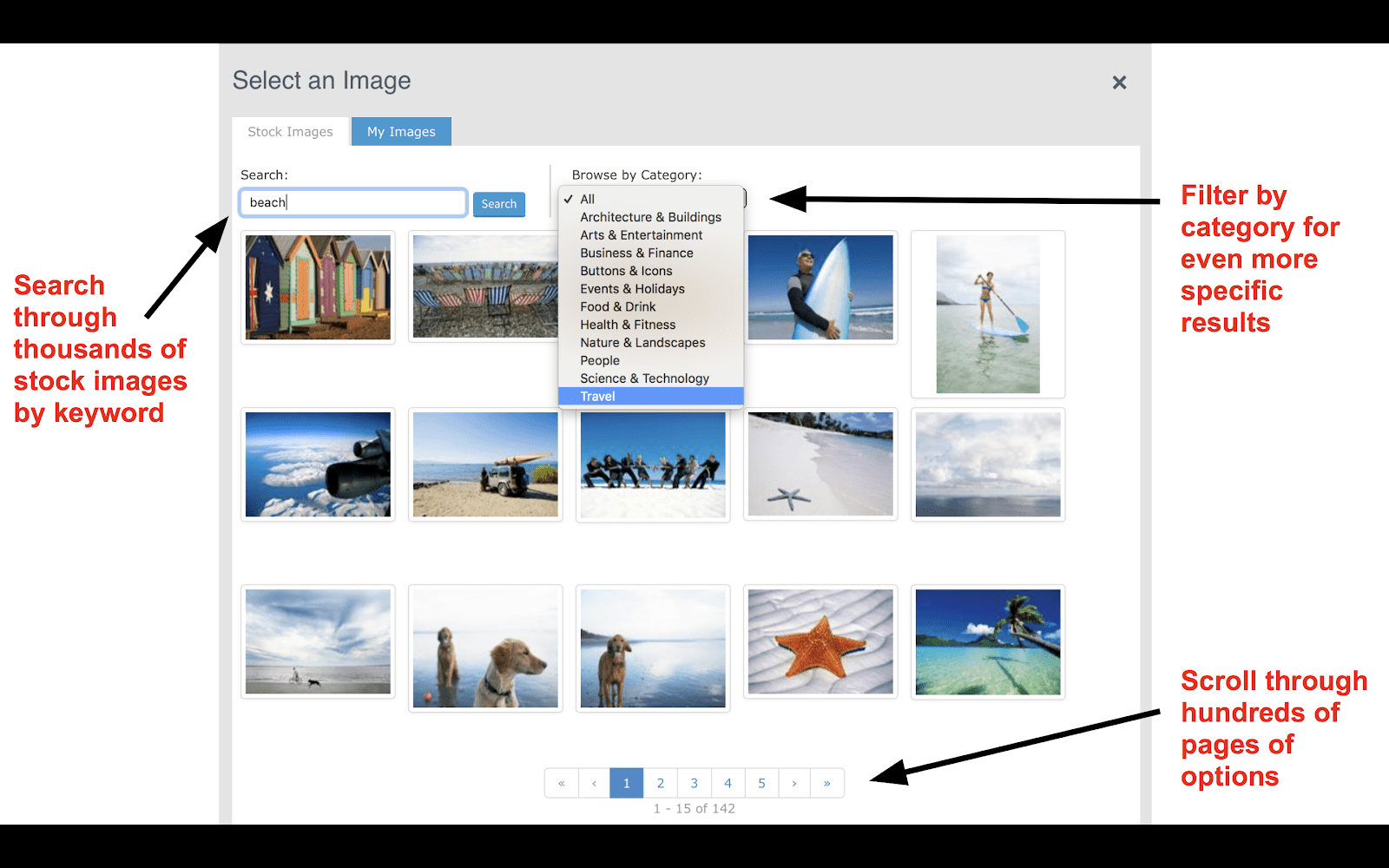 AWeber has been around pretty much since email marketing began, giving it several more years of market experience than Benchmark. But that doesn't necessarily mean it's better – the difference, of course, is in the actual
range of features AWeber offers
. And those features don't disappoint. First of all, AWeber delivers (literally) on the most basic requirement of any email marketing service: deliverability.
Instead of outsourcing this part of the process, it controls everything end-to-end, which means that your emails will go straight to subscribers' inboxes
. Where deliverability is concerned, AWeber performs far better than Benchmark. While its user interface and automation features are nothing special, AWeber offers everything you need for basic email marketing. What's more, you can get most of it for free: the
free plan
 has built-in automation and allows you to send up to 3,000 emails per month to 500 subscribers. This is similar to Benchmark, but AWeber has a few extra advantages, which I'll outline below.
Features
Excellent customer support on three channels: While Benchmark requires you to pay to receive premium support, AWeber offers the same level of support to everyone. You can use 24/7 live chat, phone, or tickets to receive prompt and helpful answers to any questions that come up.
Three mobile apps for iOS and Android: AWeber offers three separate mobile apps that let you track your email stats, add subscribers, and create emails from your mobile device. Benchmark also has a mobile app, but it's not as specialized.
Enormous stock image library: If you want to add high-quality images to your emails, look no further. AWeber includes a library of more than 6,500 stock images, which you can search by keyword or browse by category. How many stock images does Benchmark offer? That would be zero.
Quick and easy template creation: Although AWeber's templates leave something to be desired, it's easy to create your own. Once you've designed an email with the drag-and-drop tool, all you have to do is save it as a template to reuse later. As far as I can tell, you can't do that on Benchmark.
Free plan available?
Yes, free plan available
Paid plan options
Pro starting at

$

12.50

Automation capabilities
Basic tools on the free plan, advanced tools on Pro
Customer support channels
Live chat, phone, & tickets
Which Benchmark Alternative Best Meets Your Needs?
If you're ready to switch from Benchmark to an email marketing service that gives you exactly what you need, I'm willing to bet one of these six alternatives is right for you. To choose the best one, consider your current priorities and potential future needs – once you pick a tool, you'll want to stick with it! For example, if you're looking
for a truly all-in-one marketing tool, ActiveCampaign is for you
. Or if your priority is making sure every email reaches its destination,
you can't beat the deliverability rates with GetResponse and AWeber.
If you need a
beginner-friendly tool with super reliable customer support, I'd recommend Constant Contact
. And finally, for a service that offers much more than Benchmark's free plan without charging you a single cent,
Sendinblue's free plan
and
MailerLite's free plan
 are your best bets.
Starting price
Standout feature
In a few words
ActiveCampaign

$

29.00

Awesome automation tools
Affordable all-in-one marketing solution
Sendinblue

$

0

300 emails per day for free
An easy-to-use tool with an excellent free plan
GetResponse

$

0

A/B testing on all plans
Comprehensive service for advanced marketers
MailerLite

$

0

Automatic tracked changes
Great free plan and intuitive interface
Constant Contact

$

12.00

Website and e-commerce included
Beginner-friendly tool with extensive resources and support
AWeber

$

0

End-to-end control to optimize deliverability
Industry veteran with top customer support
For even more details and recommendations, check out the
10 Best Email Marketing Services for 2023
.
FAQs
1. What are the best free alternatives to Benchmark?
Without a doubt, Sendinblue and MailerLite have the best free plans on the market. Sendinblue's free plan allows you to send up to 300 emails per day and offers helpful features like SMS integration. MailerLite's free plan includes 12,000 emails per month for up to 1,000 subscribers and gives you access to A/B testing tools at no cost. Both are incredibly easy to use, and both made it onto our list of the best email marketing services in 2023.
2. What is the best email campaign service?
Considering cost, ease of use, and features, Sendinblue is the top email campaign service out there. The aforementioned free plan is almost too good to be true, and the intuitive interface makes email marketing accessible to all. On top of that, the paid plans offer affordable upgrades and allow you to pay per number of emails sent, but if you want to save yourself more money, make sure to look at our Sendinblue coupons first.
3. Benchmark Email vs Mailchimp – which is better?
Although it has its downsides, Benchmark is superior to Mailchimp. It's a better tool for beginners, but it also offers advanced marketing automation tools – although you'll have to upgrade to a paid plan to get the full set of features. Benchmark makes it much easier to automate your workflows based on customer behavior, and also offers more free templates.