You're losing your mind trying to design and manage your own emails. Mail merge just won't cut it anymore. Or maybe you're using Constant Contact or HubSpot, and they're not working for you. But after researching new options that are affordable, easy-to-use, and full of useful features, you've narrowed down your choices to two viable options: Mailchimp and Benchmark.
You've probably heard more about Mailchimp, but Benchmark is more than merely a Mailchimp replica; it's an easy-to-use platform that's worth taking a hard look at. But I know you have emails to write and customers to win over. You know, better things to do than testing out features and comparing products.
So I held a competition to make things more fun. Plus, "competition" sounds better than "I reviewed two products." So I pitted the platforms against each other in a "Battle of the Email Marketing Platforms," and evaluated both of them in five categories:
Design
Ecommerce and integrations
CRM
Autoresponders
Reporting
Read on to find out how Benchmark and Mailchimp stacked up against each other and which will win the grand prize of best email marketing platform.
Design
No Graphic Design Degree Needed
Your emails need to look good. Really good. But more importantly, your audience should know that it's from your company even if your name isn't on it. Both Benchmark and Mailchimp give you the ability to easily design great looking emails with your trademark branding, even without a graphics design degree. Each platform also allows you to code your own template and design if you prefer to put your unique touch on it and have the skills to do that.
While both platforms offer a drag-and-drop editor, some major differences set them apart when it comes to the design process. With Benchmark email marketing, the focus is on creating individual emails. It's easy to use the same templates to create a series of emails, but you would have to make them one at a time. Meanwhile, Mailchimp takes a campaign approach and makes it very simple to create a cohesive series of emails. You can save graphics, create sequential emails, and use custom templates.
Both provide creative templates and layouts to make the design seamless. But since this is a competition, I'm giving the edge to Mailchimp's templates due to its variety of layouts, such as postcard style, stationery, and everything in between. The layouts have a high-quality feel and look as if they were custom designed, rather than coming from a generic template.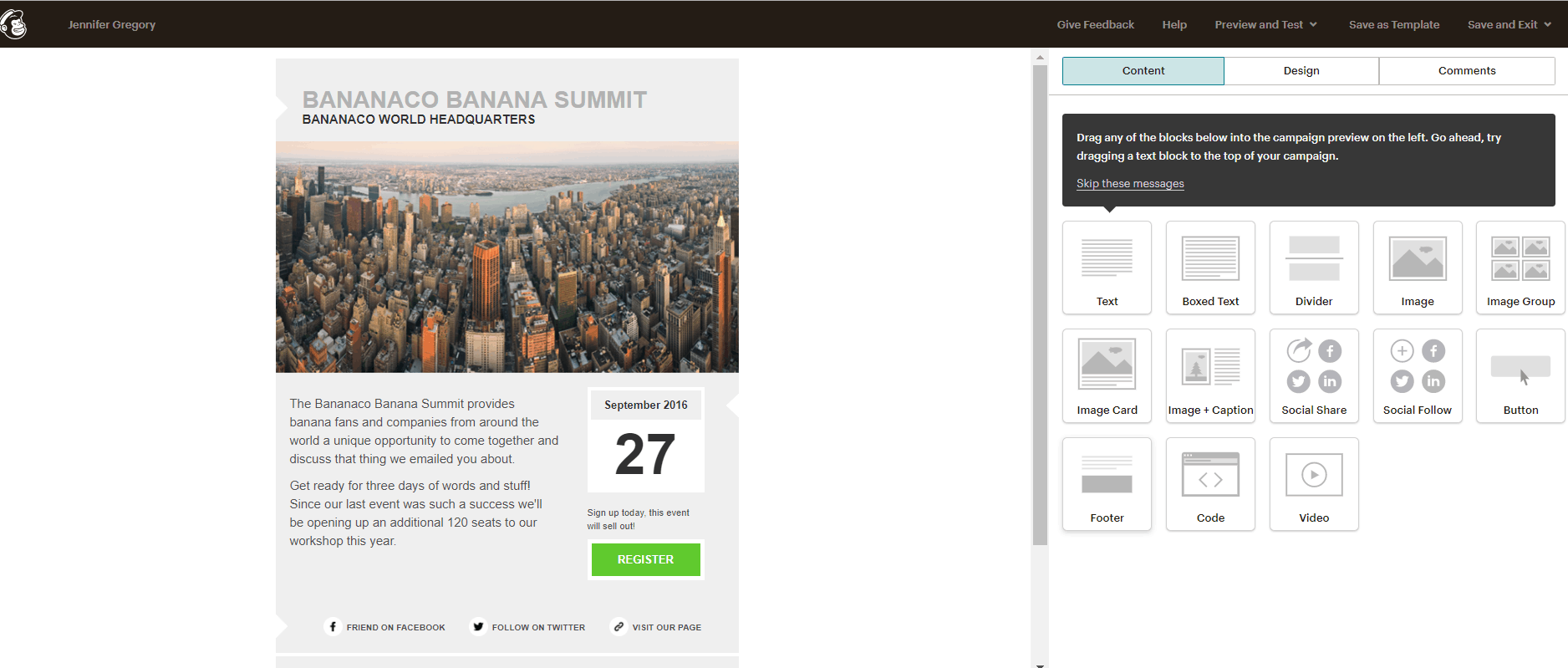 However, Benchmark does have more templates available on their free plan. In fact, all its templates are available on the free plan. Mailchimp only includes basic-looking templates on its free plan, and all of our favorites required an upgrade.
One feature that I love in Benchmark is the Global Styles color feature, which are sets of color schemes that you can apply to your email. You just click on the palette you want, and Benchmark applies the color scheme to the template. Many of the color combinations are very unique, and not something I would have ever chosen on my own. But they look fabulous together and add a professional flair to the design.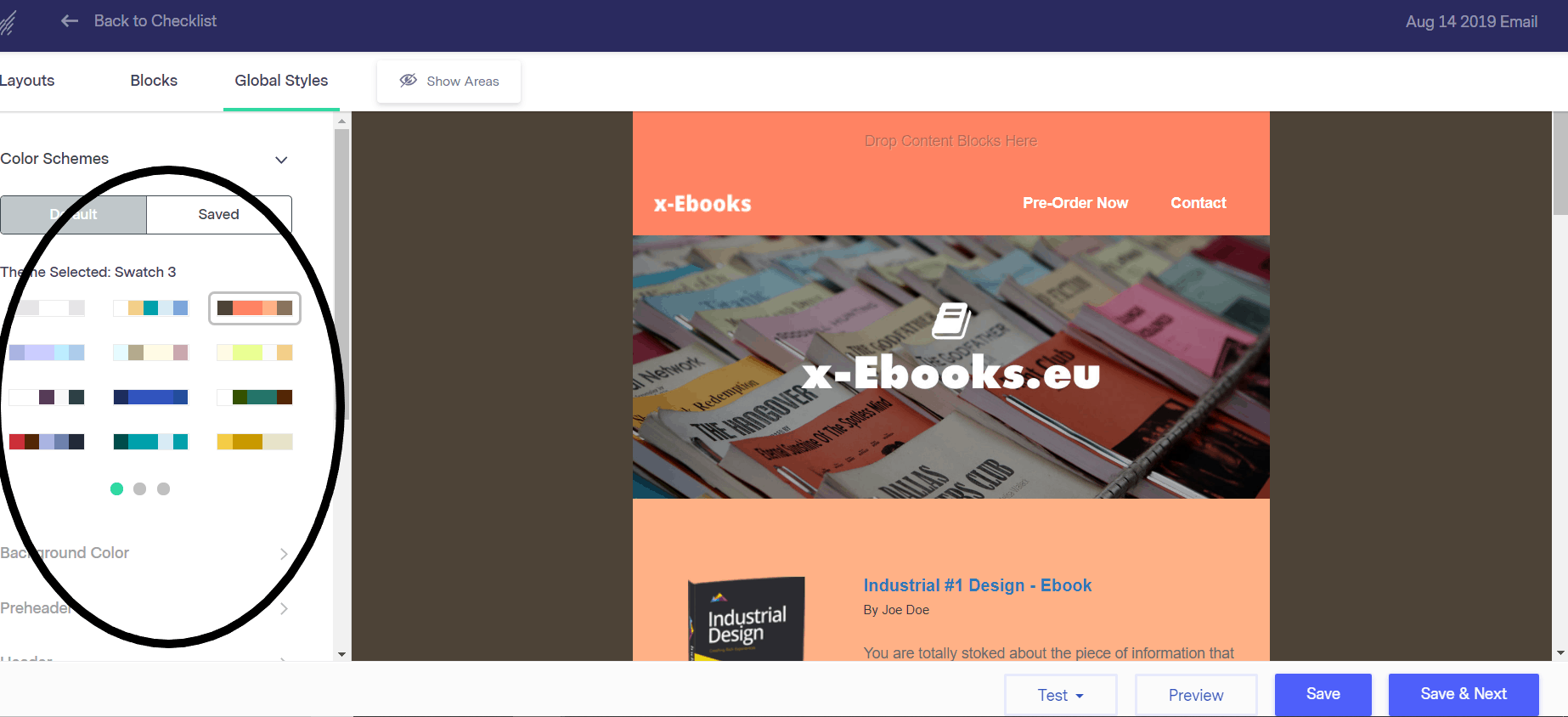 And the winner is:
Mailchimp and Benchmark. If you're only using the free plan, I recommend Benchmark. But if you're upgrading, both are great options.
E-commerce and Integrations
Email Doesn't Live on an Island
Your email marketing impacts all your other systems, including CRM, e-commerce, and payment systems. Both Mailchimp and Benchmark offer hundreds of different integrations, so in this regard, there is a tie between the two platforms. But the amount of integrations doesn't matter as much as whether tools are actually useful. When deciding which platform to use, make sure the integrations that are essential to your business, such as Venmo, WordPress, or Pipedrive, are actually offered.
There is, however, a significant difference is when it comes to e-commerce. Sending emails is a great way to stay in touch and build customer relationships, but the real goal is to sell. It needs to be as easy as possible to purchase from your emails.
Benchmark offers integrations with prominent e-commerce vendors, such as Shopify, BigCommerce, and WooCommerce.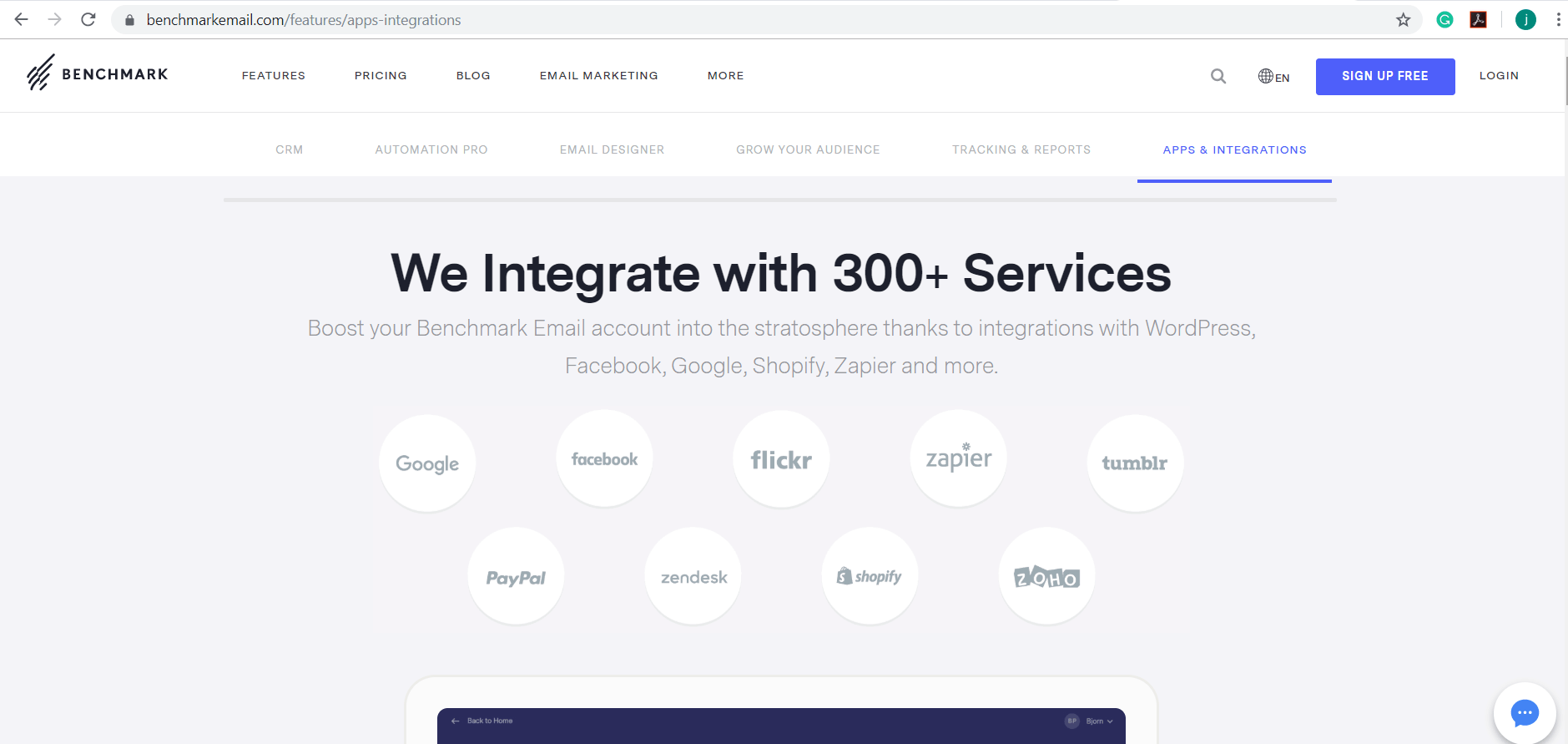 But Mailchimp has a complete set of e-commerce features, such as customer segments and product codes, that help you both track and sell products. You can even set up personalized discount codes for different customers.
And the winner is:
Mailchimp because of its e-commerce features. Without e-commerce features built into your email marketing, you are losing revenue. And you definitely don't want that.
CRM
Relationships Matter. A lot.
Your Customer Relationship Management (CRM) system and email marketing systems are forever intertwined. While Mailchimp and Benchmark offer integrations to CRM systems, such as Salesforce, both also have built-in CRM features. There are some significant differences between the offerings, though.
The most significant difference is that Mailchimp has a full-service CRM tightly integrated into the platform, whereas with Benchmark, the CRM capabilities are more of an added feature.
The second biggest difference is that Mailchimp includes CRM in all plans, including its free plan. With Benchmark, you only get CRM with a paid plan and more than 2,500 subscribers. You get a free 30-day trial with a free account, but if you want to continue using CRM once the trial is over, you don't really have a choice but to upgrade.
The Mailchimp CRM likely isn't comprehensive enough for an enterprise or even a medium-size business because it lacks some of the significant features found in SalesForce and HubSpot, such as ad management and chat. However, it works just fine as the sole CRM for a small and mid-size business (SMB). The only feature that is not accessible with Mailchimp's free plan is the ability to assign customers a lifetime value.
I found Mailchimp's dashboard to be cleaner and easier to digest. And because Mailchimp's reports are easy-to-read and contain information you need, CRM integration with the analytics and reports really take it up several levels. Not only can you track and organize, but you can see what campaigns are working for what customers.
And the winner is:
MailChimp. An integrated CRM is included, even in its free plan. But even more importantly, the features that it includes help you achieve the results that you want from your email marketing program.
Autoresponders
Making Autoresponders, Well, Automatic
Yes, email marketing programs are great for sending out beautiful, professional-looking emails, but the real magic comes from being able to automate and personalize your emails. You can set up autoresponders for everything from "Thanks for signing up" emails when someone signs up to your newsletter to "Look what you left behind" emails for abandoned carts.
I was surprised that Mailchimp's automation was just okay. There's no workflow manager, so it was challenging to set up automations, and the choices for types of automations are a bit limited. But the real downside is that in Mailchimp, you can't automate outreach based on behavior, which really can impact your ability to increase revenue.
On the other hand, Benchmark's Automation Pro is powerful and easy-to-use. There are three types of automation series to choose from: Welcome, Abandoned Cart, and Follow Up.
It also has an easy-to-use workflow map that creates a visual picture of how customers experience your messages. Plus, with step-by-step instructions, it provides a roadmap of exactly what emails to send at each point in your sales cycle.
The best part about Benchmark's automation feature is that in the Follow Up series, you can send an email based on specific actions, such as views, clicks, or purchases.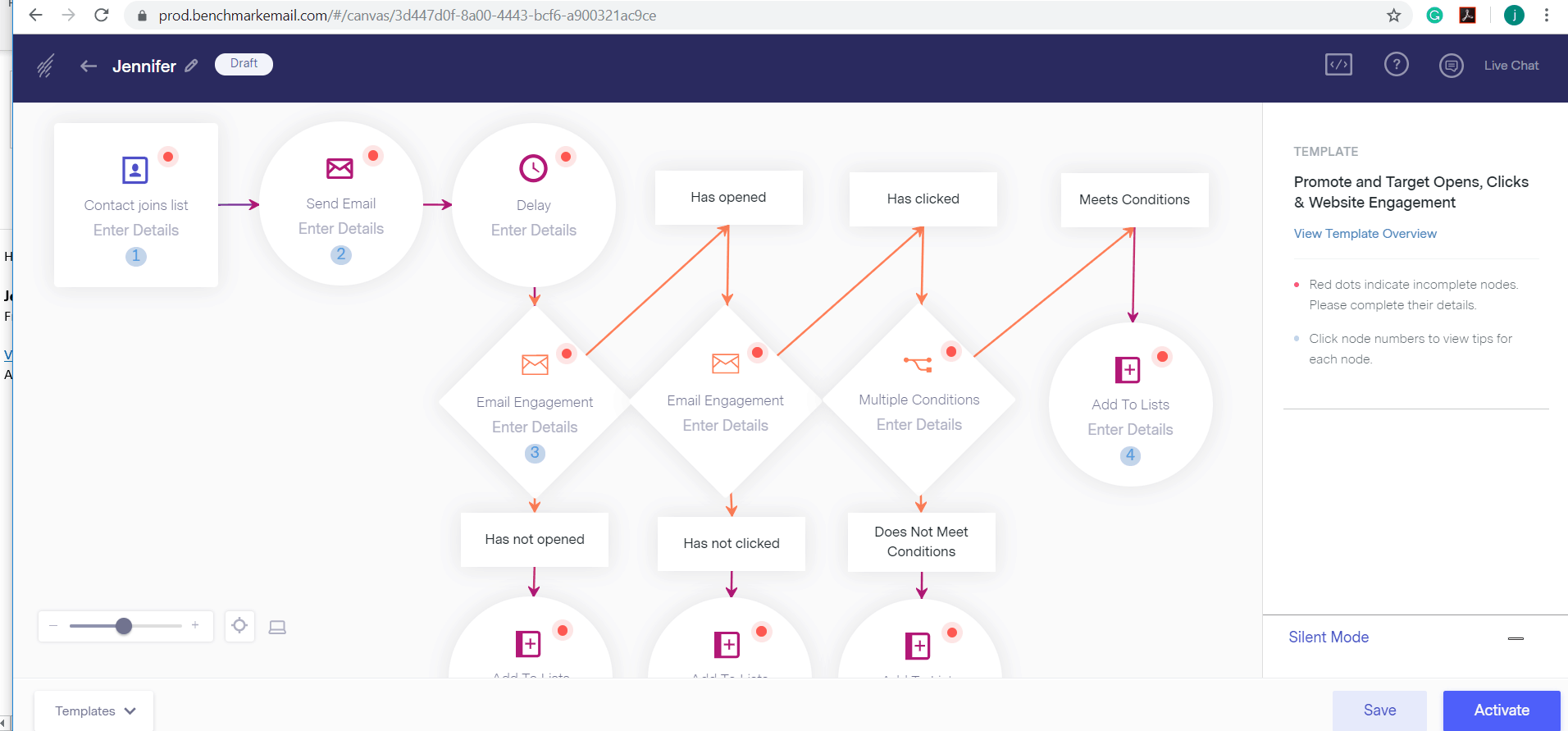 And the winner is:
Benchmark, hands down. No question. The ability to add in behavior automation was the kicker. But the map made it no contest.
Reporting
All the Data You Could Ever Need
To have a successful email campaign, it's essential to know what's working and what's not, ideally in real-time so you can make the appropriate changes. Both Benchmark and Mailchimp offer standard reporting insights, such as leads from social media and the regions where you're having the most success (geotracking).
But you likely need to know more information than just that. If you love the numbers (or your boss loves the numbers), you probably need Mailchimp. Benchmark only touches the surface when it comes to data, but Mailchimp provides you with all the essential details, such as Click Tracking and Open Tracking.
I especially like Mailchimp's detailed revenue reports that tell you how much each campaign has earned. Not to mention, you can see the results of each campaign on an individual customer level, so you can learn more about your customers and customer segments. It's more than just the numbers, but the insights, like the Audience report shows. It breaks down the results based on segments, so you know who your efforts are resonating with.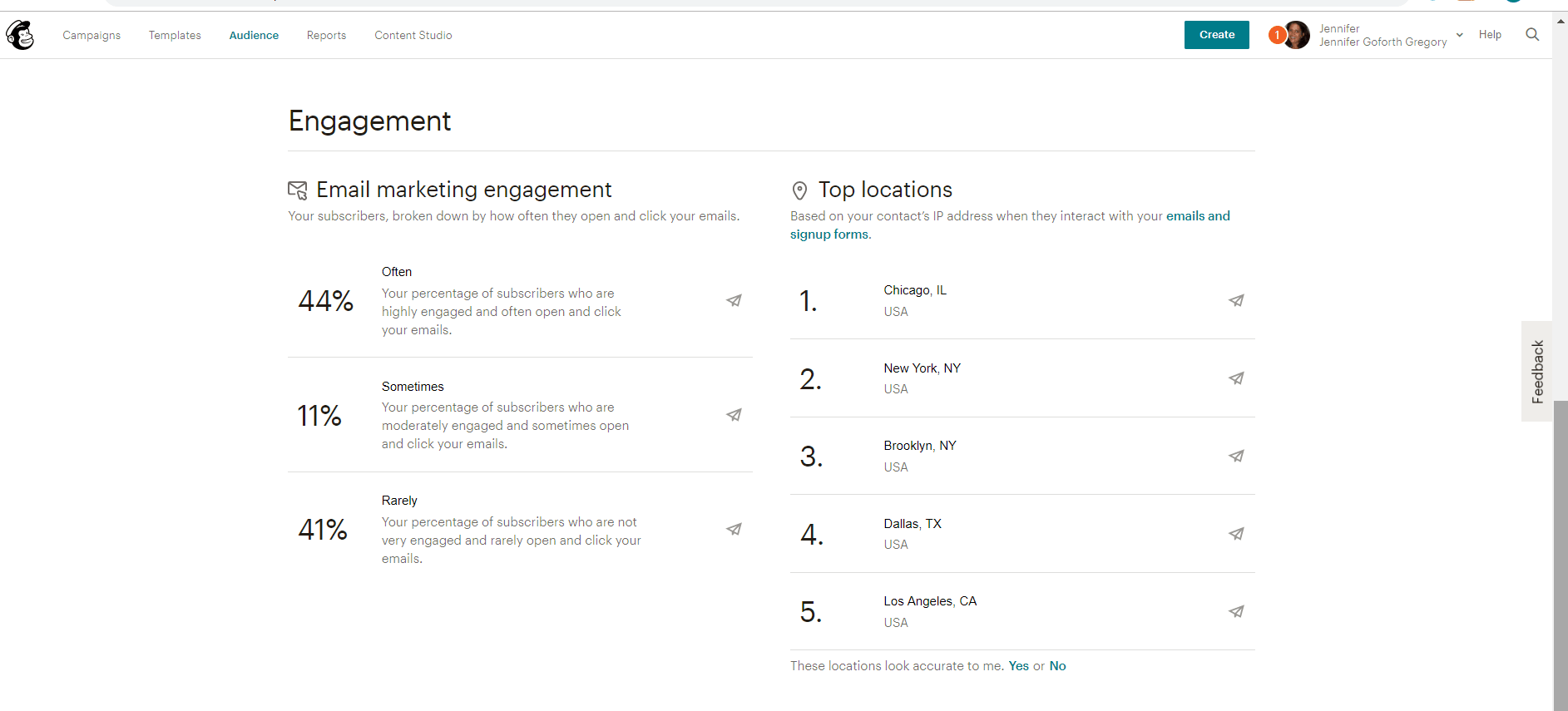 You can also get detailed information about ads, landing pages, and even your automated emails. This report shows the open and click-through rate for my blog.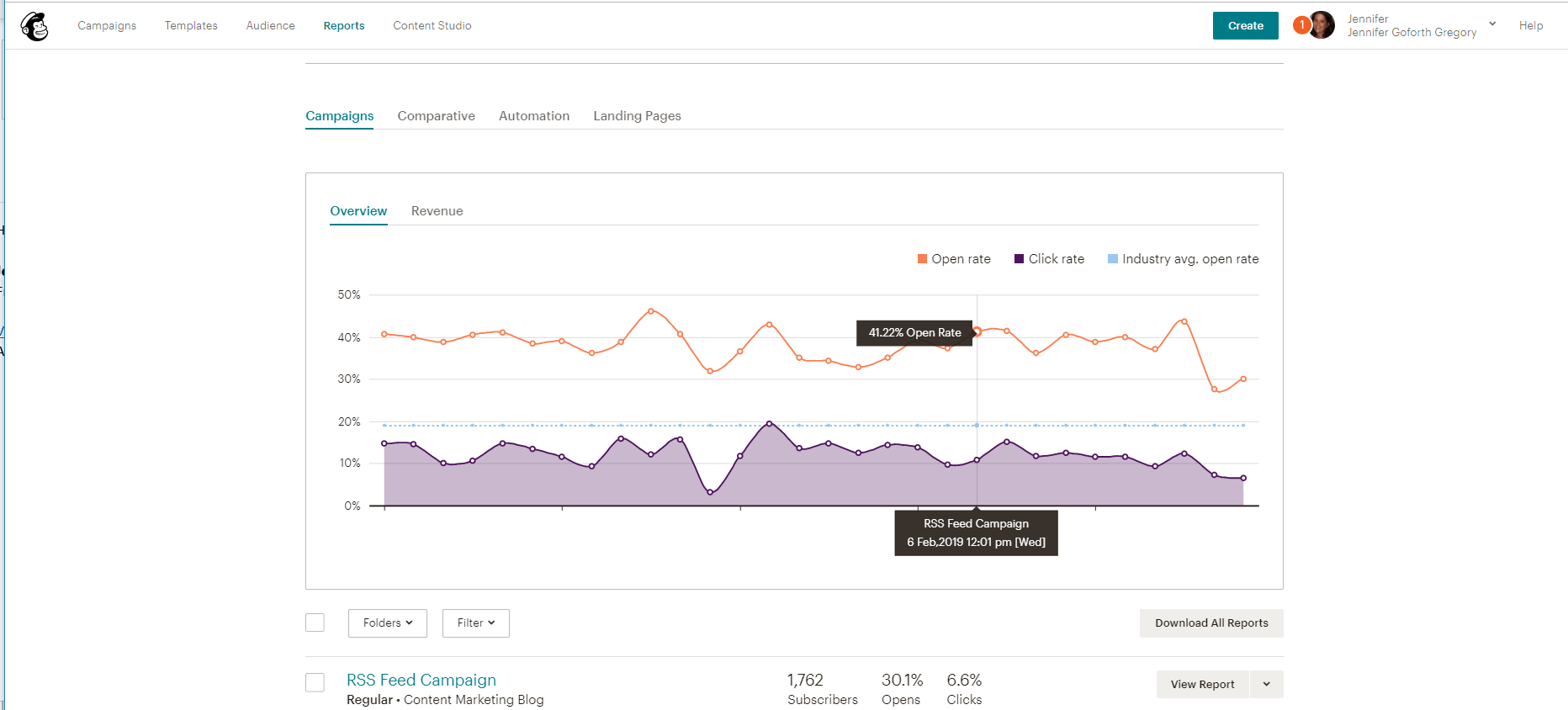 And the winner is:
Mailchimp. Not even close. Mailchimp's reports are well-designed, so even non-data geeks can easily use the information.
Who Wins the Battle?
While it was a close call, Benchmark is the clear cut winner. Having automation capabilities is the most significant benefit of using an email marketing tool, and the ability to automate based on behavior will likely increase your conversation rates. In addition to that, the affordable cost and Global Styles feature helped push it over the finish line. You can read more in our Benchmark review and take a look at their plans below.
While I recommend Benchmark overall, it's essential to pick the platform that best suits your specific needs. You might find that Mailchimp is still the better option in certain situations. Read our Mailchimp review to find out more and see their plans below.
Here are a few specific situations where one platform is more useful than the other:
Using an email marketing platform is an incredibly helpful tool for sending consistent, professional-looking emails.  But to take your email marketing to the next level and increase your revenue, it's essential to gain a better understanding of your audience's needs and preferences and use those insights to continually improve your emails. Through A/B testing, you can discover what resonates most with your audience, from the design and color scheme to the content, and even the timing you send your emails.
I went into this friendly competition expecting to pick Mailchimp, but Benchmark surprisingly blew me away with its features. Hopefully, this review helped you decide which tool is best for you.
Design/Templates
Wide range of professional templates and layouts
More free templates available and universal design
Integrations/E-commerce
 More e-commerce features
Wide range of integrations
CRM
Tightly integrated full-service CRM in all plans, including free
Upgrade required for CRM features
Autoresponders
Basic autoresponders included
Wider range of options including behavior-based autoresponders
Analytics/Reports
Detailed reports and analytics, including revenue insights
Basic reports