Mailchimp is the first email marketing service (EMS) most marketers use as they take their first steps into the world of email marketing. It's easy to use and packs tons of features – no one can argue with that. But Mailchimp charges slightly more than its competitors, which can become problematic once your contact list grows.
Benchmark is a cheaper alternative, but is the switch worth it?
Can it really do everything Mailchimp does without disrupting your current workflow? I spent the past few weeks comparing their features, deliverability, analytics, pricing, and support. Funnily enough, I used Mailchimp as the benchmark since that's the platform most of us are already familiar with.
Both platforms perform exceptionally well on most fronts.
Whether you stick with Mailchimp or decide to go with Benchmark, your campaigns will be in good hands. Mailchimp offers slightly more features, but it does something annoying that triggers one of my email marketing pet peeves. Keep reading to find out what that is.
Features
Mailchimp Offers Slightly More Features Than Benchmark
Designing emails from scratch is too time-consuming. That's why the first thing we marketers notice when we join an EMS is the number and quality of the available email templates.
Benchmark offers variety with its 250+ templates, which look modern and are easy on the eye.
Mailchimp, on the other hand, features some excellent designs (100+) on its premium marketplace, but as you can probably tell, users aren't too excited about having to pay extra for them.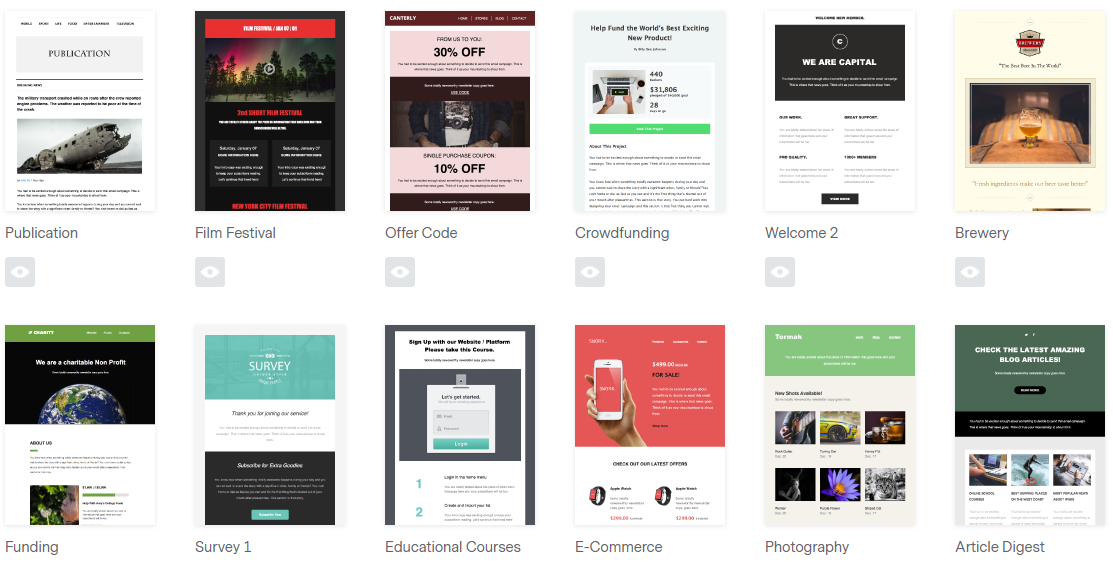 Integrating your EMS with your most-used platforms is crucial to keeping your lists updated and tracking your contacts' behavior.
Mailchimp integrates natively with over 320 apps and platforms, while Benchmark's limited to about 40.
Benchmark users are forced to use Zapier to connect with their favorite apps, which can slow things down. Automation is also key to successful, stress-free email campaigns. While both platforms offer easy-to-use branching automation workflows with their paid plans,
Mailchimp goes the extra mile.
It features more pre-built automation templates (40+ vs Benchmark's 4)
and guides users with clear descriptions and helpful tips. I don't have to think too hard when setting up automations on Mailchimp, even when there are multiple steps in my workflows.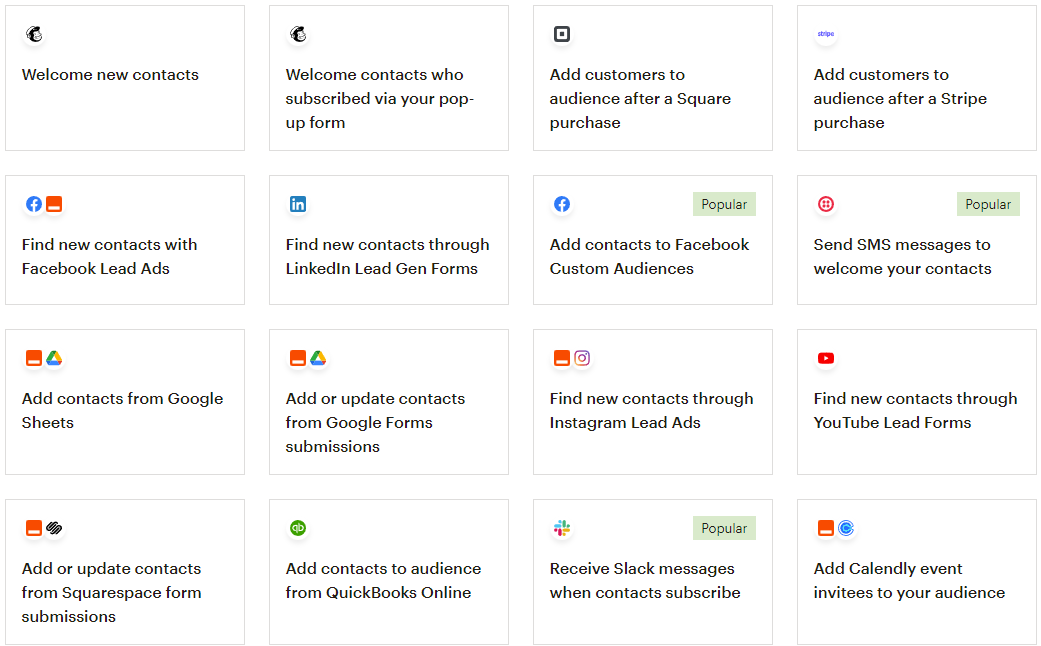 Another area where Mailchimp shines is landing pages. Sign-up forms are okay, but you need to try a bit harder to attract new subscribers and grow your lists – that's where landing pages come into play. Both platforms offer easy-to-use landing page builders with drag-and-drop functionality, but
Mailchimp allows users to create and publish unlimited landing pages for free.
Benchmark will let you play with its editor and test things out, but you won't be able to publish anything until you upgrade your account. Benchmark's good but can't yet compete with Mailchimp's long list of tools and features. The jungle primate wins this round with relative ease.
Ease of Use
Mailchimp Is Always a Pleasure to Use
Both Benchmark and Mailchimp are designed with ease of use in mind, and beginners won't have a hard time getting used to either.
Importing your contacts is straightforward on both platforms, but I must give Benchmark extra points for supporting .xls files.
Mailchimp may integrate natively with more apps, but there are still so many businesses that store their contacts' data in simple Excel worksheets. Converting to CSV doesn't always work, nor does copying and pasting directly from the source. When it comes to email builders,
I don't see how any EMS can compete with Mailchimp's super intuitive drag-and-drop editor.
Adding elements, switching layouts, and testing out colors is so easy. I also love how Mailchimp provides optimization tips, letting me know in real time what I need to do to improve my email's performance.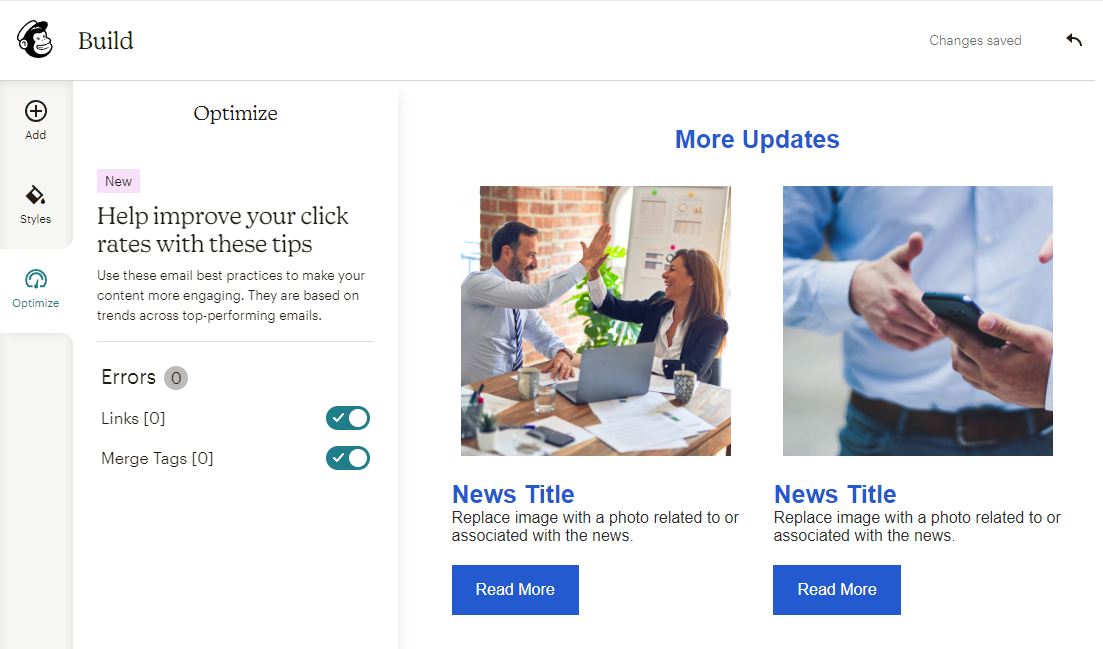 Creating emails with Benchmark is easy, but I miss Mailchimp's link and merge tag error warnings. It's also a pity that Benchmark doesn't support conditional content, which limits my personalization options. When I get stuck, I appreciate extensive knowledge bases that I can use to get answers as quickly as possible.
Mailchimp's database of guides and helpful articles is massive,
and it even runs workshops and other seminars to help users make the most of its tools. Benchmark's help center is alright but doesn't contain as many resources. Benchmark is easy to use, but Mailchimp's intuitive tools and beginner-friendly interface have defined the EMS industry. There's a reason why Mailchimp is so popular, and we can safely attribute a large part of its success to the intuitive interface and easy-on-the-eye visuals.
Deliverability
Both Platforms Will Deliver Your Emails Just Fine
A high deliverability rate is crucial to success. Your EMS might offer all the features in the world, but it won't be worth the trouble if it can't consistently deliver your emails to your subscribers. Deliverability is often calculated in percentages (as in what % of your emails reached their destination). We're not fans of this testing method at Website Planet, mainly because it introduces too many variables and skews the results based on our biases and practices. Instead of sending an X number of emails and coming up with an arbitrary deliverability percentage, we look at features we know improve deliverability. Our
deliverability guide
explains why and how we do that in more detail. First, I made sure both platforms had DomainKeys Identified Mail (DKIM). Long story short, DKIM is an email authentication method that allows email service providers (ESPs), like Gmail and Hotmail, to verify the sender's identity.
Not only do Benchmark and Mailchimp have DKIM, but you'll also find step-by-step guides on how to set it up.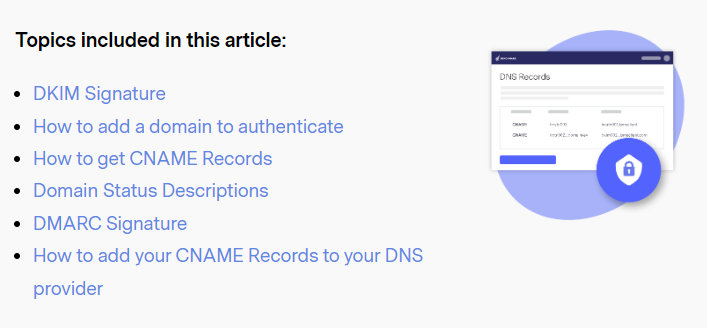 I then went through their respective terms of service and ran some importing tests to assess each platform's anti-spam policy. Did you know that your deliverability rate is affected by the practices of users who use the same IP as you to send their emails?
Although they're both intolerant to spam on paper, Benchmark passed our spam filter test*, whereas Mailchimp didn't.
*During our spam filter test, we simply import a bunch of known spam addresses and check to see if any of them are flagged/removed from our lists. Lenient affiliate marketing policies can also attract spammers to the platform.
Luckily, both Benchmark and Mailchimp are pretty strict with their rules.
Affiliate links are allowed on both platforms, but you need to ensure that a) your partnerships are relevant to your industry and b) your deals offer users real value. Getting a dedicated IP is the best way to boost your deliverability since you'll have complete control over your sender reputation.
Dedicated IPs on Mailchimp cost $29.95
 a month – regardless of your current plan. Benchmark charges $28.95, but you can only opt in as an Enterprise client.
I had no trouble getting my emails through with either platform – their deliverability features are excellent.
However, I'm giving this round to Benchmark for passing our spam filter test.
Reporting and Analytics
Mailchimp's Reporting Capabilities Are Unmatched
Once your emails are on their way, you need a good analytics suite to keep track of your campaign's performance. How else will you know what works and what needs tweaking?
Both Benchmark and Mailchimp offer basic stats on opens, clicks, bounces, and unsubscribes – even for their free users.
And while these are great to have, you will eventually have to upgrade if you want to access more advanced and custom-tailored insights. As a paying customer on Benchmark, you can generate real-time charts based on opens, link performance, and social media activity. There are even geolocation statistics, which are especially useful if you're doing business in many different countries. That's powerful stuff and more than what the average EMS offers.
Mailchimp does all that and more.
Users on the
Standard plan
 can also see how their campaign has performed against similar businesses in the industry. If you're on the Premium plan, you'll also be able to see how each of your campaigns and segments perform against each other over time.
But what sets Mailchimps apart is its ability to provide users with actionable advice based on the data it collects.
If my email doesn't contain enough imagery, Mailchimp will tell me. If my links and CTAs didn't drive enough engagement, Mailchimp will discreetly point it out and offer suggestions to improve.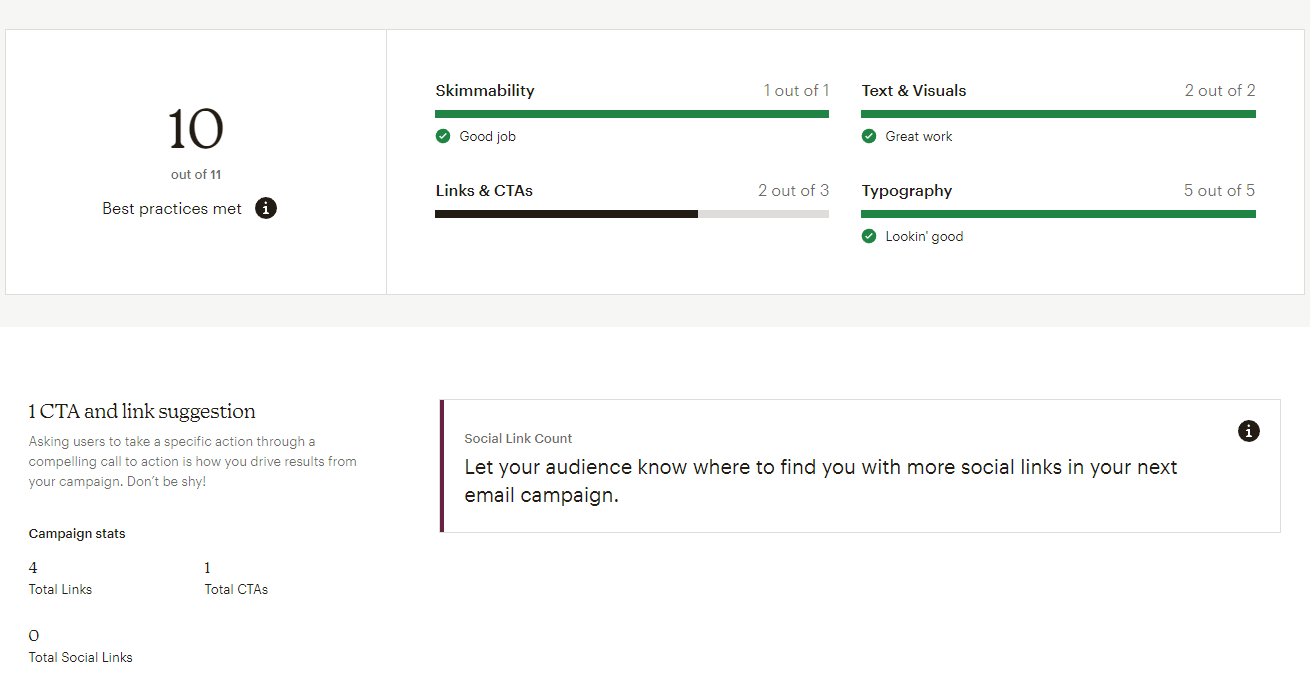 Benchmark's analytics suite is advanced, but Mailchimp takes things to a new level with custom reports and actionable, campaign-specific advice.
Pricing
Benchmark Is Quite a Bit Cheaper Than Mailchimp
Mailchimp is more expensive than Benchmark at all tiers of service. And unlike Benchmark, Mailchimp limits both the number of emails you can send and the number of contacts you can have in your lists.
Here's What You Get for Free
The two free plans are comparable, with one notable difference.
Benchmark allows users to send 3,500 monthly emails to 500 contacts, while Mailchimp has a monthly email limit of just 1,000 emails and 500 contacts.
Remember that email marketing pet peeve I mentioned at the beginning? I should let you know that I'm allergic to "free" email plans that are way too limiting to be useful. Mailchimp has been decreasing the number of emails users can send on the free plan for quite some time now (I remember it being 10,000 not too long ago).
It's annoying and reveals the company's shift toward more aggressive pricing strategies.
It's barely serviceable now, and Mailchimp's only redeeming quality in this regard is its 30-day trial of the Standard plan.
Here's What You Get if You Pay
Comparing the paid plans of Benchmark and Mailchimp is easy because they're almost identical and have been clearly designed to compete against each other. Benchmark's Lite plan is a few dollars cheaper than Mailchimp Essentials, but unlike Essentials, it doesn't include A/B testing and surveys. It also comes with slightly fewer email sends (3,500 – same as the free plan) at 500 contacts than Mailchimp (5,000). But most people will be interested in comparing Benchmark's Pro against Mailchimp Standard since these two plans include everything each platform has to offer. As we've already discussed, Mailchimp has the upper hand in terms of features (e.g., more pre-built automation templates, dynamic content, and better reporting). However, that extra functionality comes with a higher price tag.
Mailchimp's Standard plan starts at

$

20.00

/month, while Benchmark Pro starts at

$

13.00

/month.
That said, there are three things you need to keep in mind when making your decision:
Mailchimp limits the number of contacts you can have in your lists
Mailchimp's paid plans don't scale very well
Mailchimp doesn't offer annual discounts (Benchmark does)
In other words, be prepared to pay more if you choose Mailchimp. Usually, I'm all for quality over price, but in this case, I think Mailchimp's taking advantage of its popularity to bump up its prices. Benchmark wins this round. Here's a comparison table of the two plans I mentioned above:
Benchmark Pro
Mailchimp Standard
Starting Price

$

13.00

$

20.00

Number of contacts
500
500
Number of emails per month
7,500
6,000
Number of users
1 (more unlocked at 1,000+ contacts)
5
Email templates
250+
60+
Pre-built automation workflows
4
40+
Integrations
40+
320+
Dynamic content
No
Yes
A/B testing
Yes
Yes
Support
My experience with Mailchimp's customer support hasn't always been great, but they seem to have improved over the past few months. Benchmark, on the other hand, pleasantly surprised me.
Both platforms offer help through many channels, including live chat, email, and phone.
Benchmark's English live chat and email are available 24/7, and you can access both as a free user. Mailchimp, on the other hand, will only reply to emails during weekdays and only for the first 30 days if you're a free user. Live chat is only available to paying users. You can call Benchmark as a Pro user, but Mailchimp's phone line is locked behind the expensive Premium plan. To test their responsiveness and reaction time, I emailed both with the same question early on a Wednesday morning:
"I have a small business with roughly 2,000 people on my subscriber list – which plan would you recommend?"
I heard back from Benchmark in less than an hour: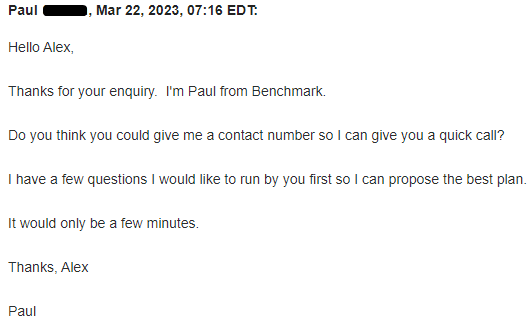 I gave Paul my number, and he called me back in less than 20 minutes. We briefly chatted about my options, and I decided that the Pro plan would best fit my needs.
Paul was friendly, knew the product well, and didn't push the sale too hard.
Mailchimp, on the other hand, took almost two full days to get back to me.
Unfortunately, it's not the first time this has happened – Mailchimp's email support isn't great. If you persist and try to reach them via live chat simultaneously, they will eventually reply. If I weren't already a Mailchimp customer, they would have lost me to Benchmark on the spot.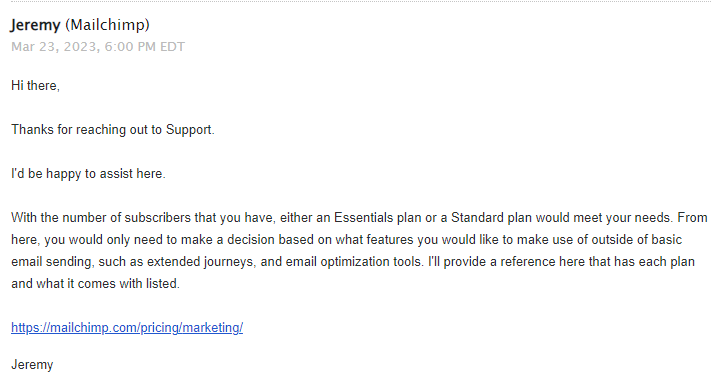 It's not that Mailchimp's customer support is terrible per se, but they need to expand their team to meet the needs of their ever-increasing user base. Benchmark wins this round fair and square.
I'd Stick With Mailchimp for Now
Mailchimp is easier to use and offers more features than Benchmark but is also considerably more expensive with inferior customer support.
Switching to Benchmark could hurt your processes if you're already a Mailchimp user and benefit from the platform's advanced features (e.g., advanced analytics, dynamic content, pre-built customer journeys). If you're new to email marketing, those advanced features might not be as important to you – in which case, you might want to consider Benchmark's cheaper options. Make sure you try out both before making your decision. Here's a table with everything we've looked at so far:
Reporting and Analytics
Great analytics suite
Excellent analytics suite
✔
FAQ
Which is better: Benchmark vs Mailchimp?
Mailchimp is the superior option for most users, offering a more comprehensive set of features, easier-to-use tools, and better automation. That said, its higher price tag can potentially scare beginner marketers away.
Which is the best email marketing software?
While Mailchimp offers robust features, ActiveCampaign stands out as the best email marketing software due to its exceptional automation capabilities, customer relationship management (CRM) integration, and advanced audience segmentation options. You can read more about ActiveCampaign in our expert review.
Do people still use Mailchimp?
Yes, of course. Mailchimp remains a popular choice among individuals and businesses for their email marketing needs. Its user-friendly interface, various features, and strong brand recognition contribute to its sustained popularity.
How much does Mailchimp cost?
Mailchimp offers multiple pricing plans to accommodate businesses of all sizes. My favorite is the Standard Mailchimp plan which starts at

$

20.00

 and comes with most of the platform's premium features (including advanced reporting and automation).