you want to make sure you're drawing on genuine expertise. But
 it can be incredibly time consuming to wade through the number of so-called "specialists" out there to find out which are legit.
To save you time and money, I've compiled a list of the best Amazon FBA managers based on their ratings, response times, and previous experience. Better still,
 I've shared how you can find a professional for as little as $5.
9 Best Amazon FBA Specialists for Hire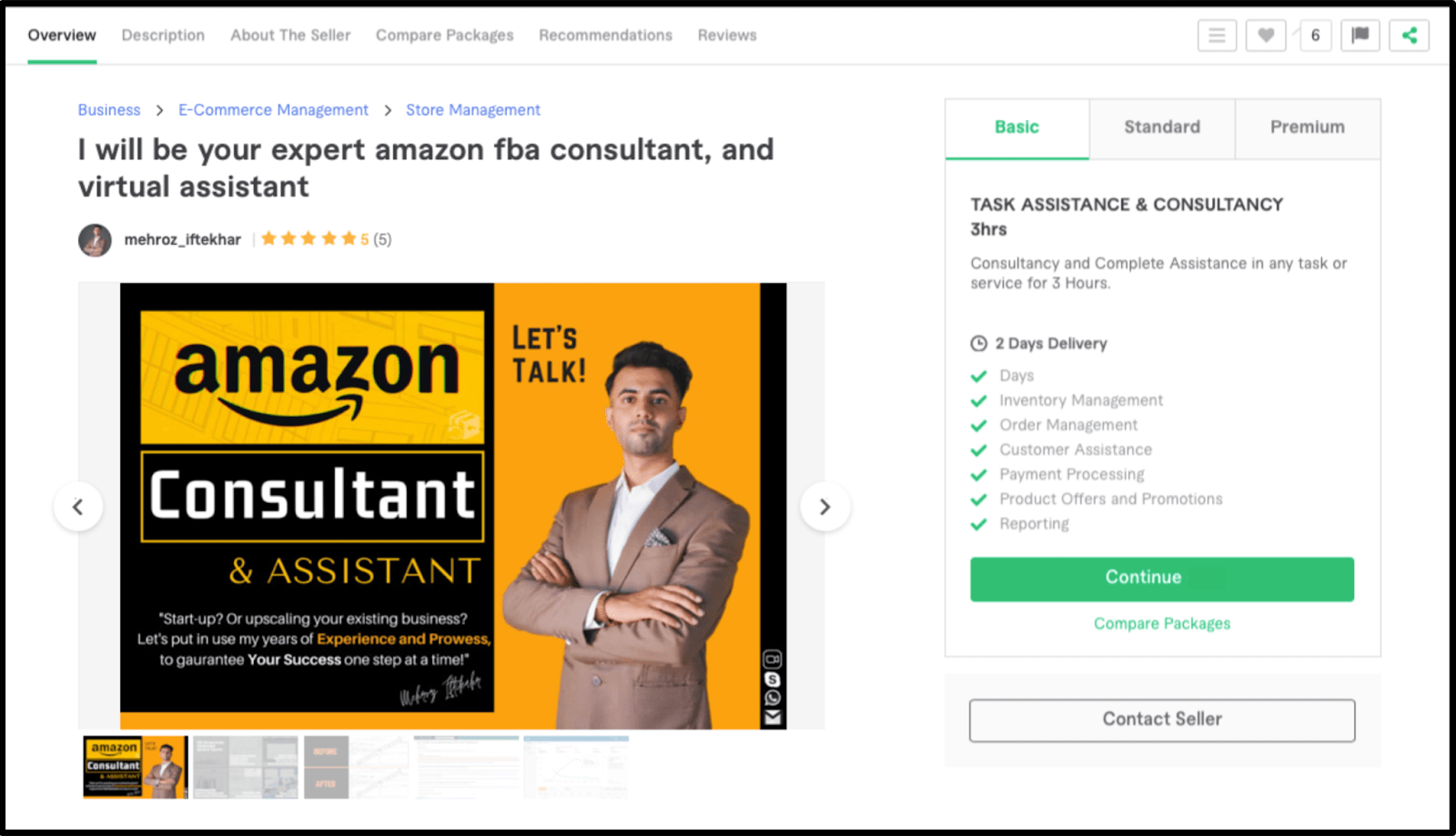 Mehroz_iftekhar has
 two years of experience with e-commerce and Amazon FBA
 and offers a range of services, starting from three hours' assistance on any task, through to seven days of consultancy work. This seller makes my list because of their
affordable starting rate of $5 and consistent five-star reviews. His customers have described him as knowledgeable
 about the ins and outs of Amazon, and willing to take ownership of steering their work together.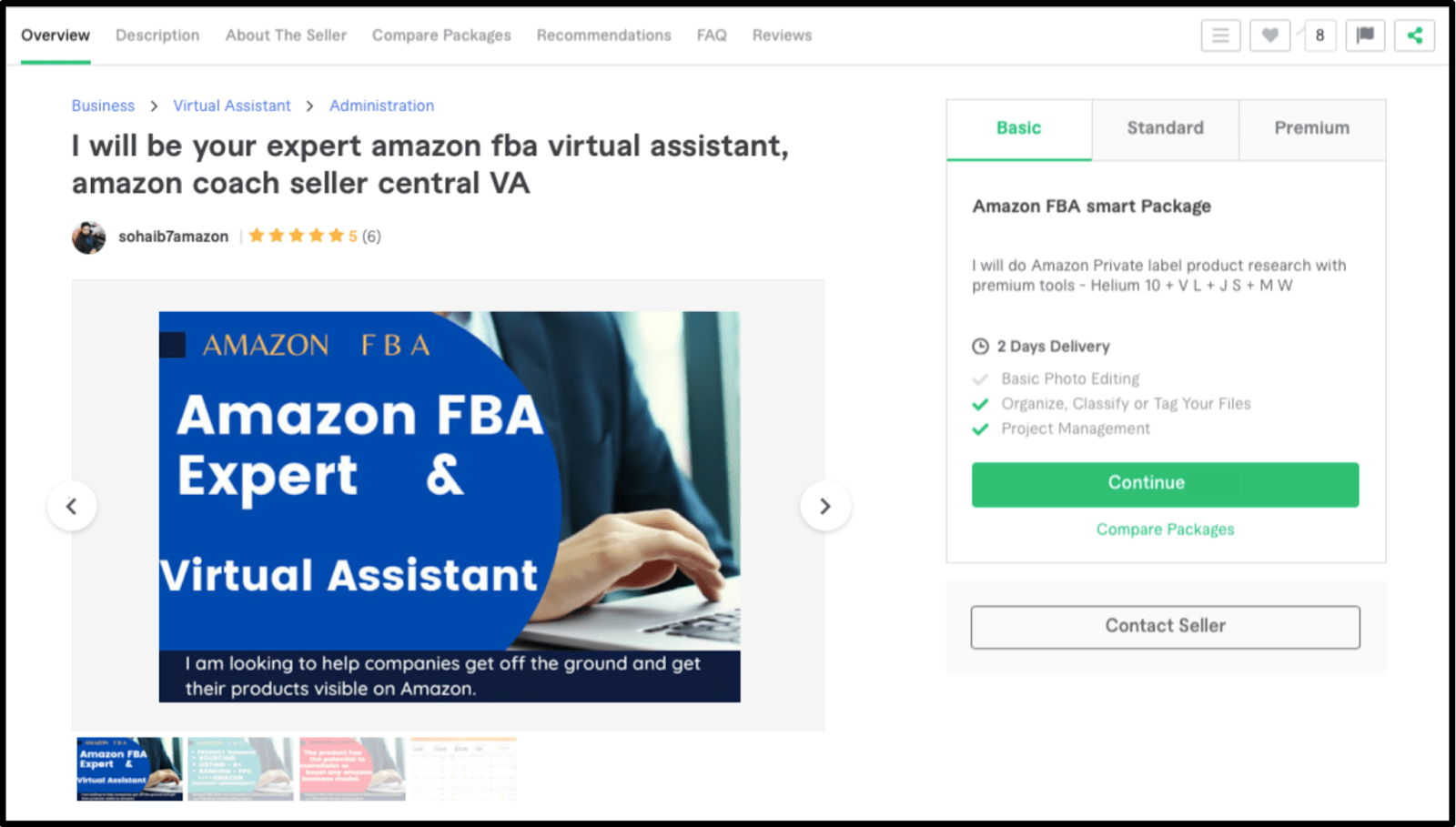 This seller is an Amazon FBA expert with experience
 selling in both the EU and the US. Sohaib7amazon has experience working with both new and expert Amazon FBA
sellers, and has generated over $40K in FBA sales in under 9 months. For just $5, Sohaib7amazon offers five-star rated product research. For a little more, on the Standard package you can get a week of Amazon account management. Their top package will set you back $500 but will cover a complete product launch on Amazon.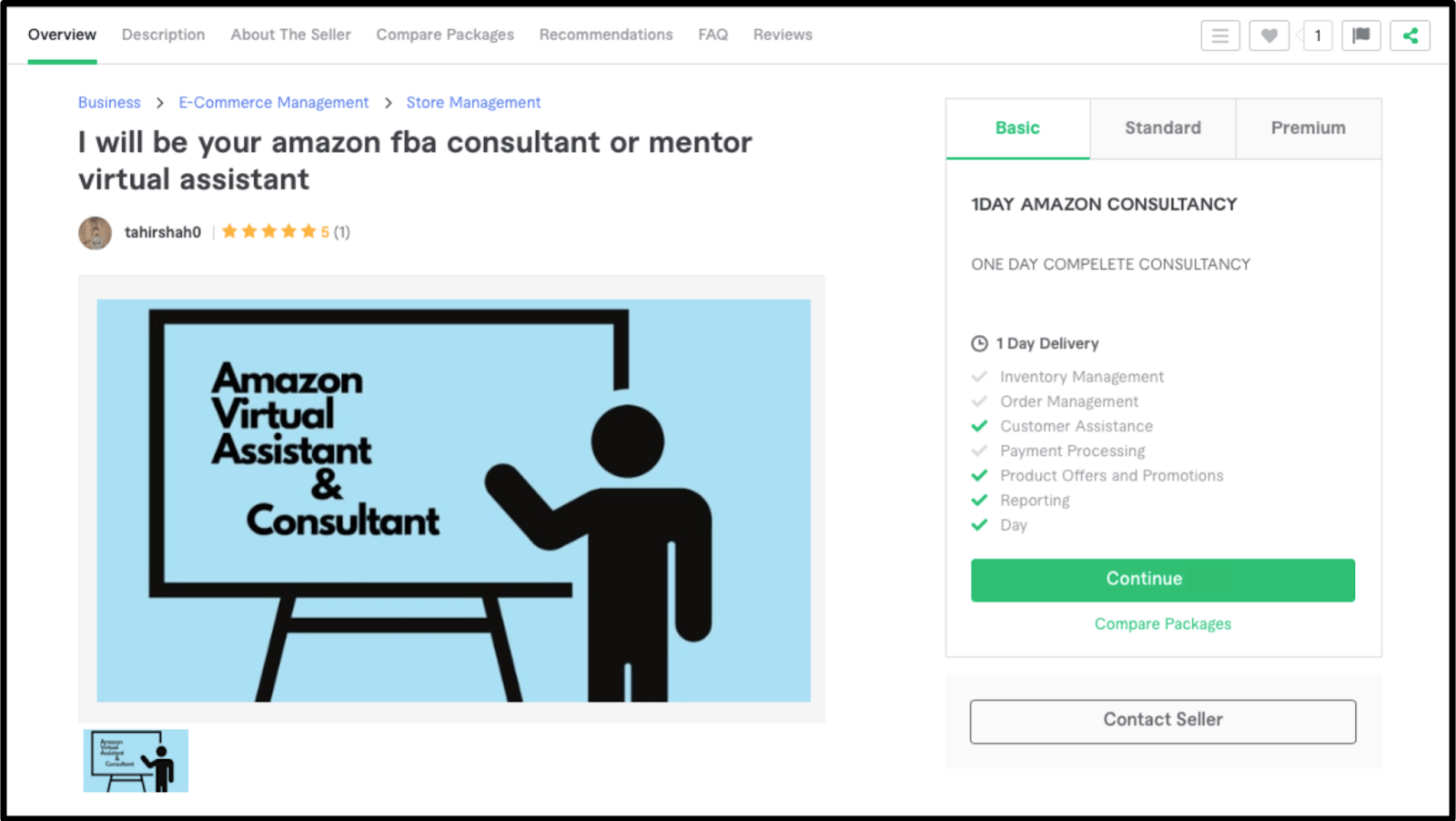 Here's yet another
five-star rated professional on Fiverr, with experience in Amazon Virtual Assistance and Account Management.
Better still, with Tahirshah0's Basic package, you'll receive
a whole day of Amazon consultancy for just $5.
If you've got a bigger budget to play with, Tahirshah0 offers a full month's account management and consultancy for $450, including inventory management, order management, customer assistance, payment processing, product offers and promotions, and reporting. If you can afford to spend a little more, I'd recommend upgrading to this package.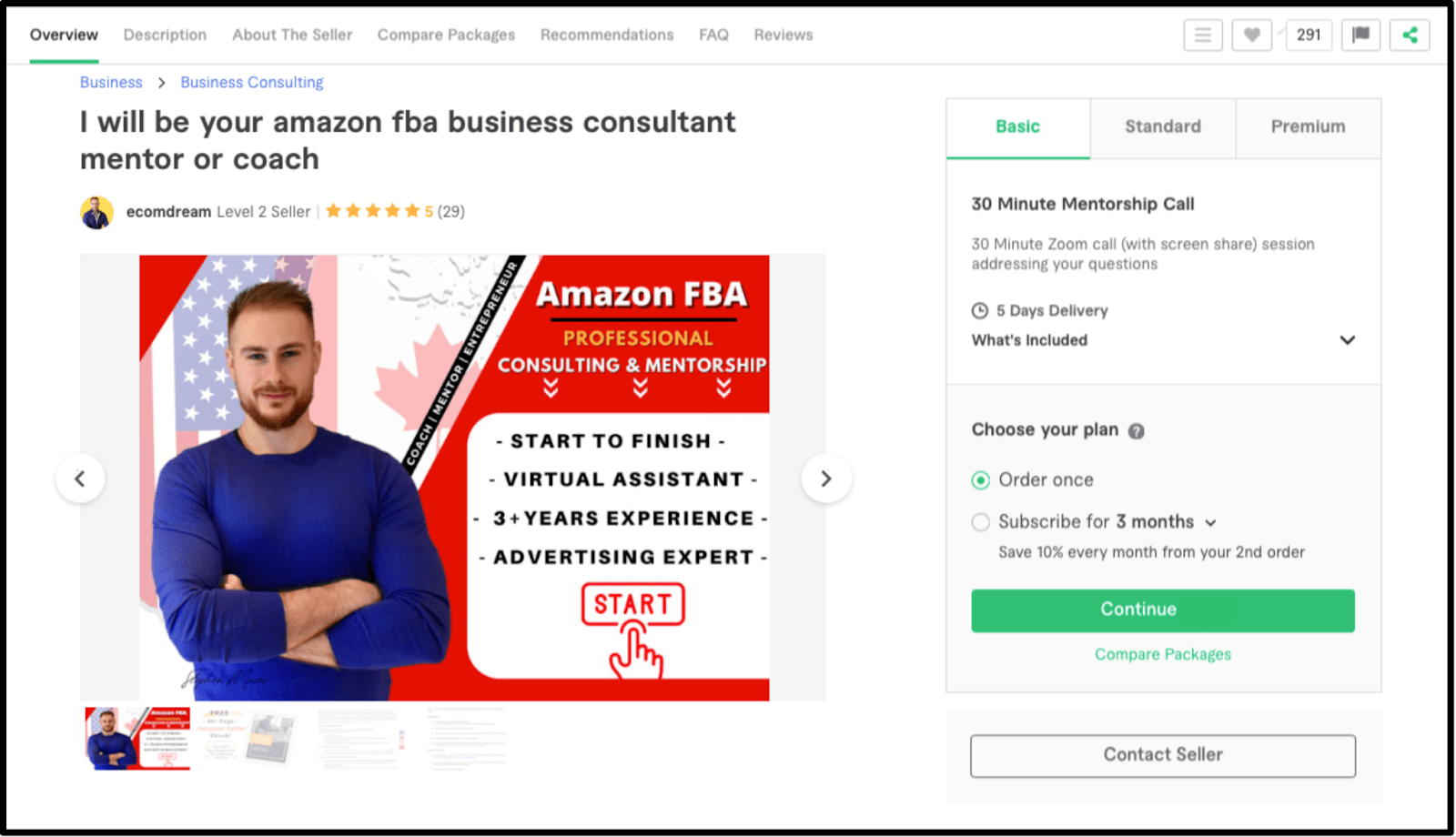 Ecomdream's
 clients all talk about how helpful and knowledgeable he is – I can see why he only gets five-star reviews.
He's a
Level 2 Seller, which means he's completed at least 50 jobs, earned more than $2,000 and maintained above a 4.9-star rating over the course of 60 days. In other words, you can be sure he's consistently good at what he does. Ecomdream's rates are a little higher, with his packages ranging from $40-$450, but based on his feedback, I'd say he's worth the investment.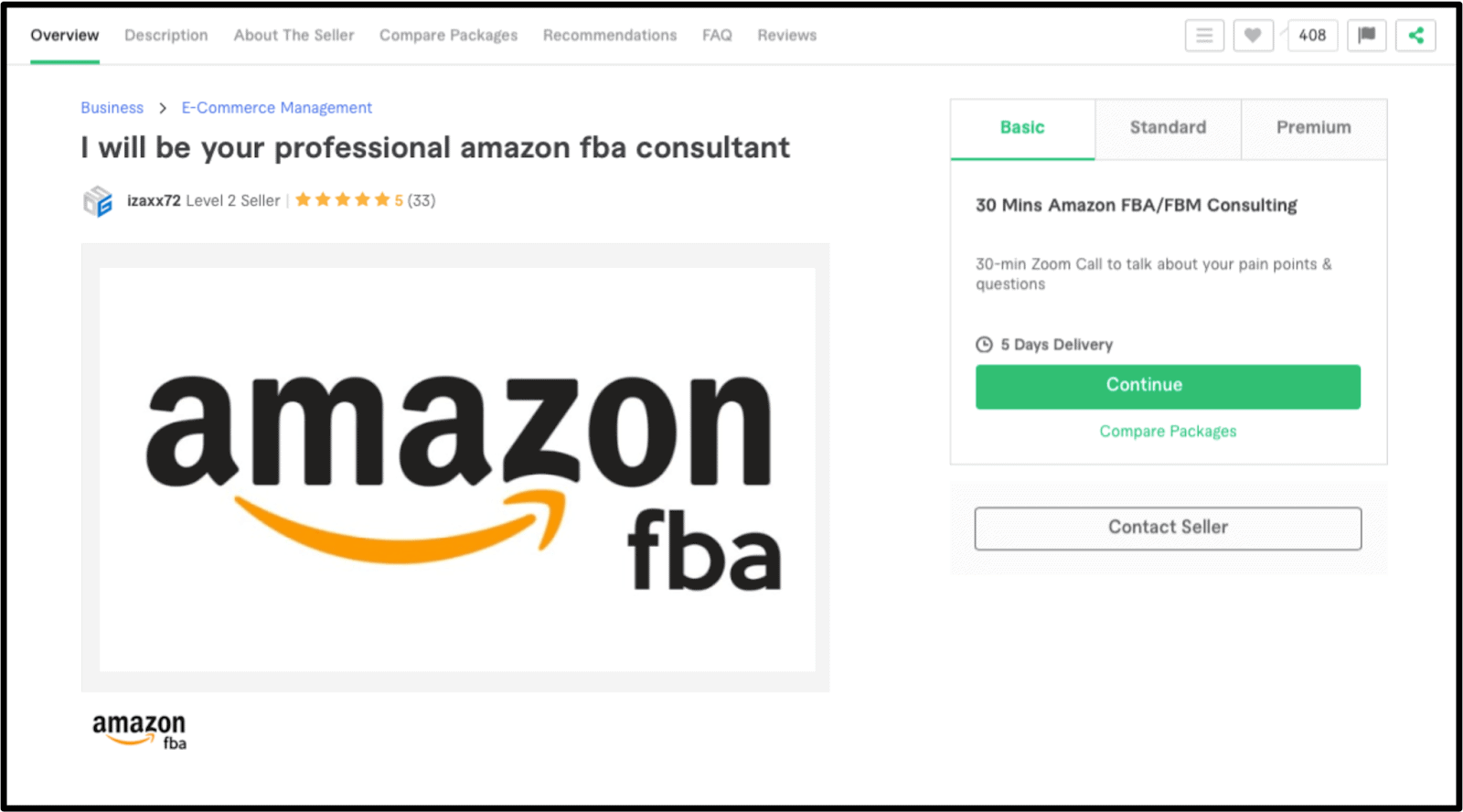 Izaxx72 promises to be "blunt, honest and ruthless", and to "tell you things which you don't want to hear, no sugarcoating".
 If you want a no-nonsense teacher, they could be a good choice for you – their methods clearly work well for some people, as they've received only five-star reviews from past clients.
If you want to see how you get on, a 30-minute consultation will cost you $35. Alternatively, if you're interested in something more comprehensive, their $1,500 package provides six months of Amazon FBA consulting.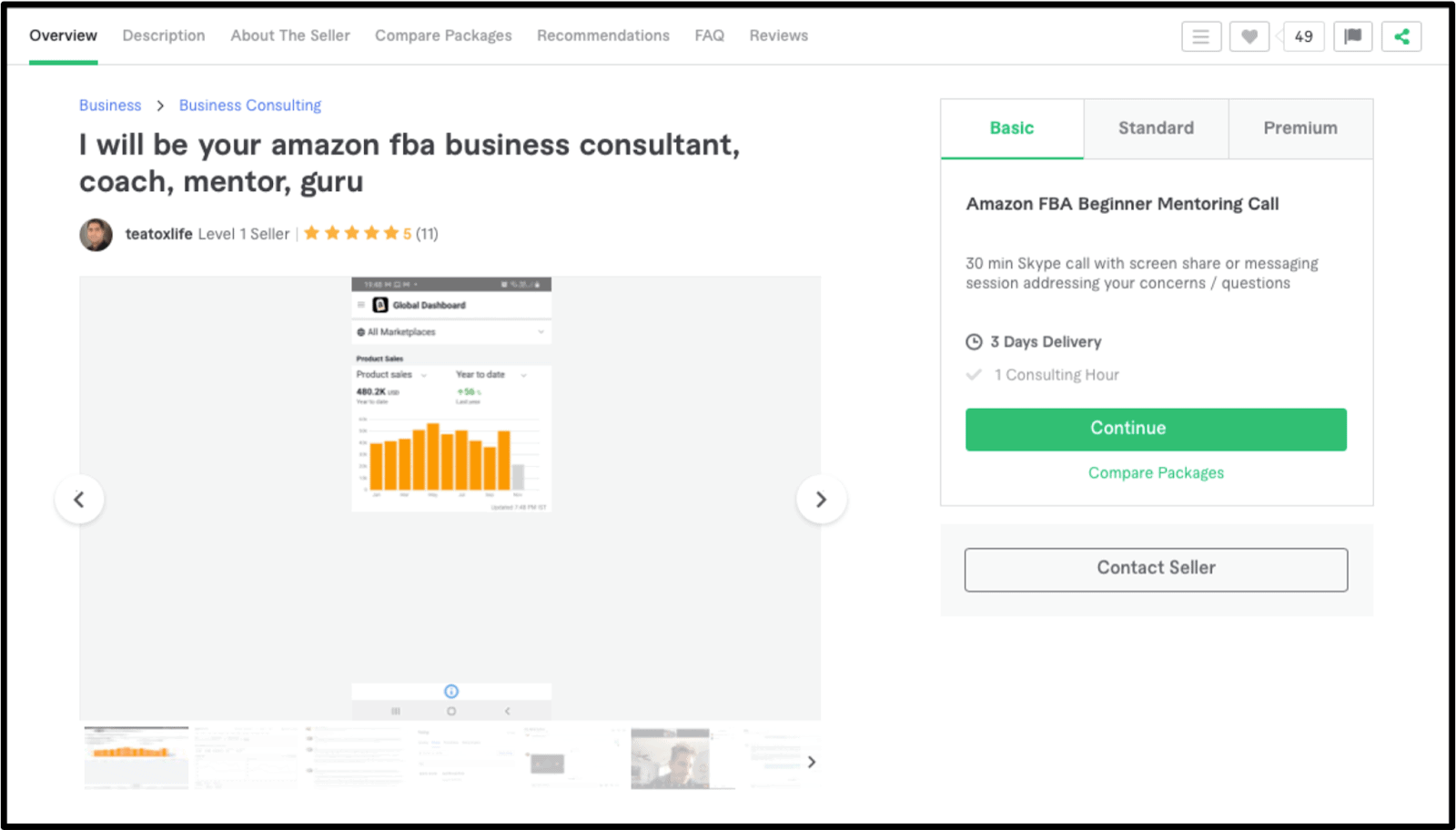 Teatoxlife is a professional, full-time Amazon FBA seller with plenty of experience.
 They're also a Level 1 Seller, which means that they've completed at least 10 orders on time, with a minimum 4.7 rating – which Teatoxlife has exceeded, with consistent five-star ratings.
Prices start at $100 for the Basic package. If you're looking for a short crash course on Amazon FBA, then I'd say this is all you need
, as you'll get a 30-minute Skype call addressing all your questions and concerns. Their higher packages offer a longer Skype call, or seven hours of consultancy over a two-week period.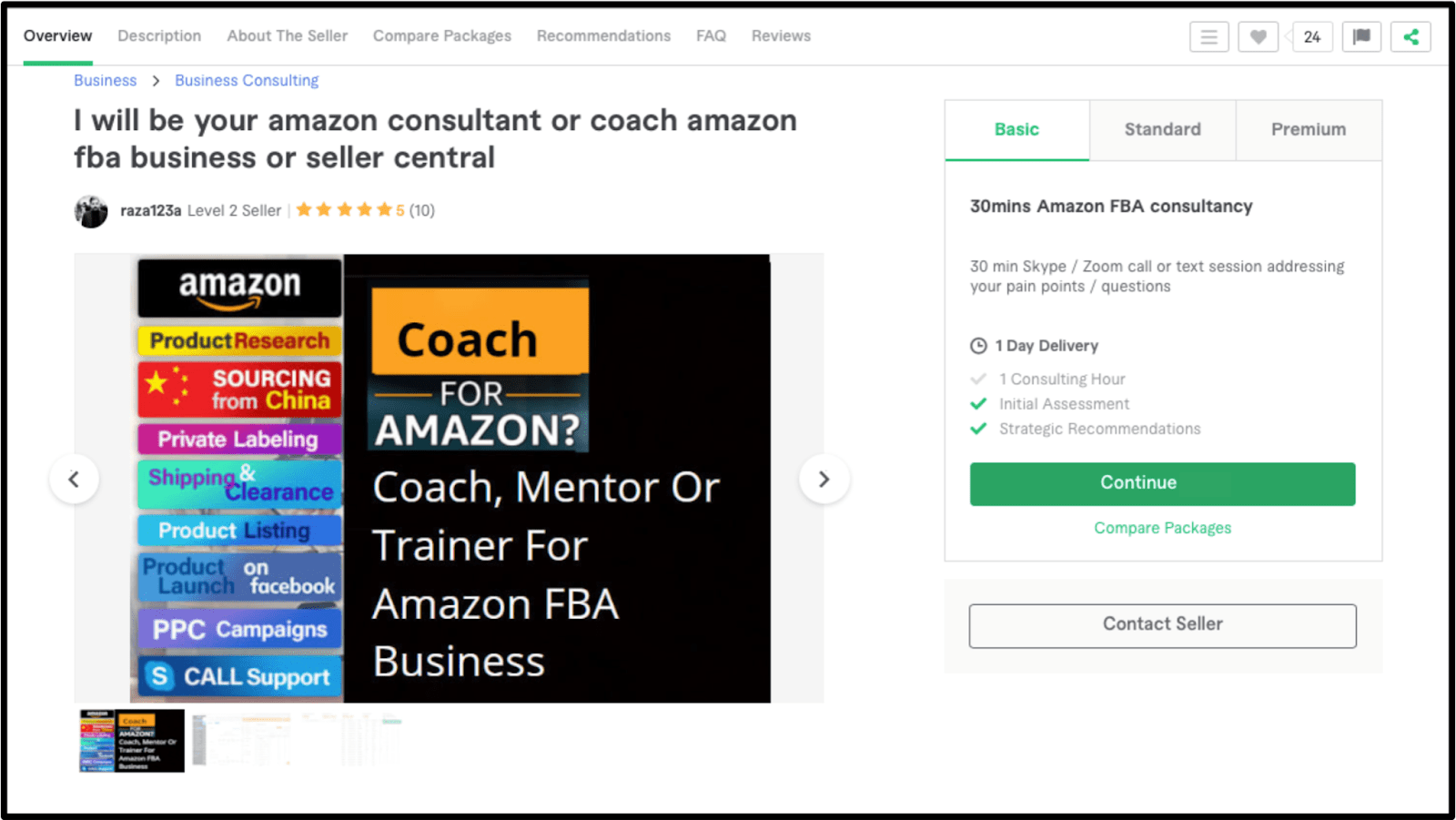 Raza123a has
more than four years of experience as an Amazon FBA seller
, and has been working as an e-commerce consultant for over a year. Already,
they have glowing reviews from their past clients
. Prices start at $50 for a 30-minute Zoom call, in which Raza123a will answer your questions and help identify your pain points – a great starting point if you're on a budget. If you can afford to spend more and want additional support, for $400 you'll get five hours of consultancy over the course of a week.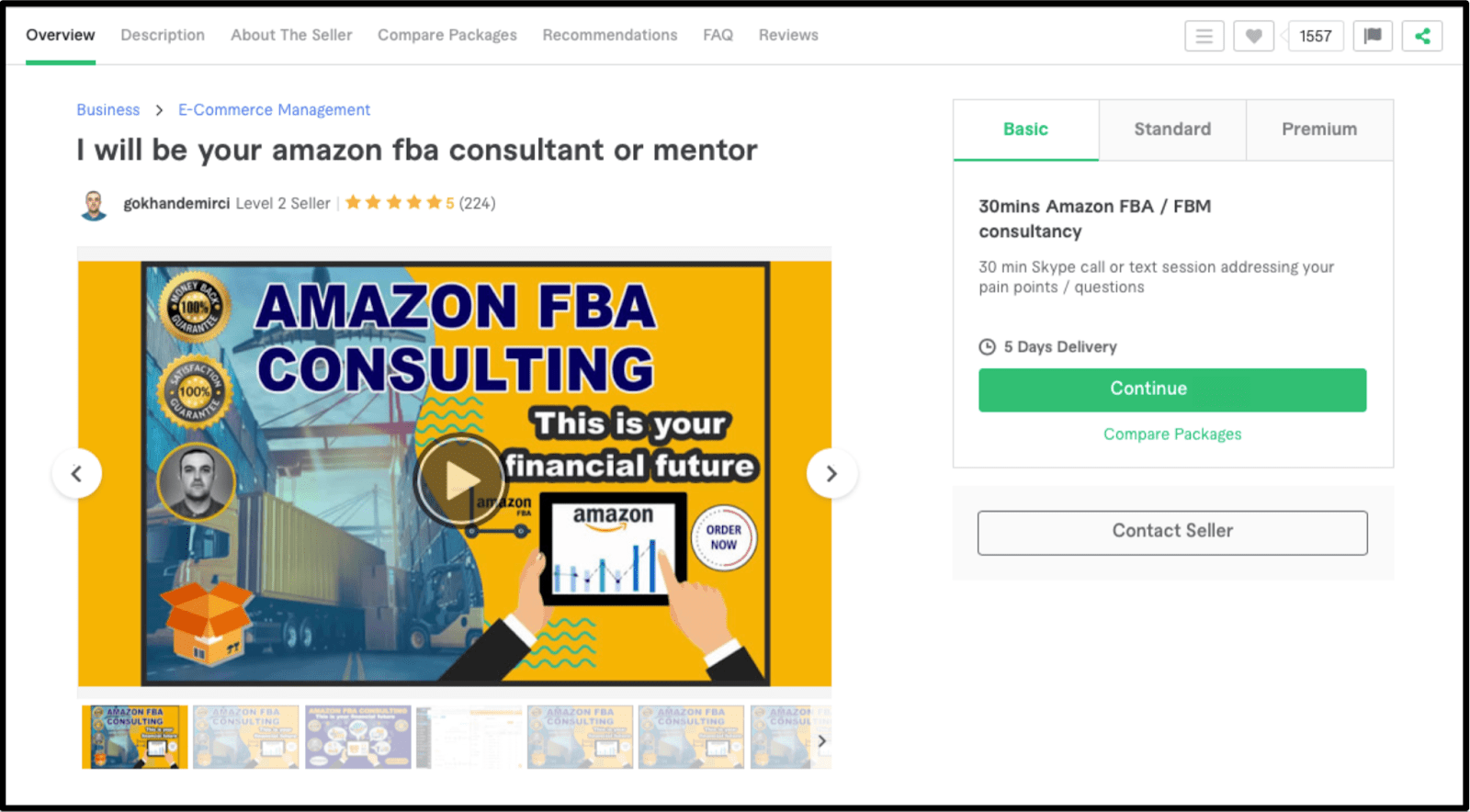 Gokhandemirci has
almost a decade of experience as a professional Amazon FBA seller
. He's also earned the
 Level 2 Seller status on Fiverr, has a five-star rating
, and past clients have complimented him for being extremely knowledgeable and professional, with fast response times. His services start at $35, for which you'll receive a 30-minute consultation call. At $5,000, the premium package is one of the more expensive on this list, but you'll benefit from six months A to Z of Amazon FBA Help, unlimited chat, and weekly five-hour one-to-one calls on Skype.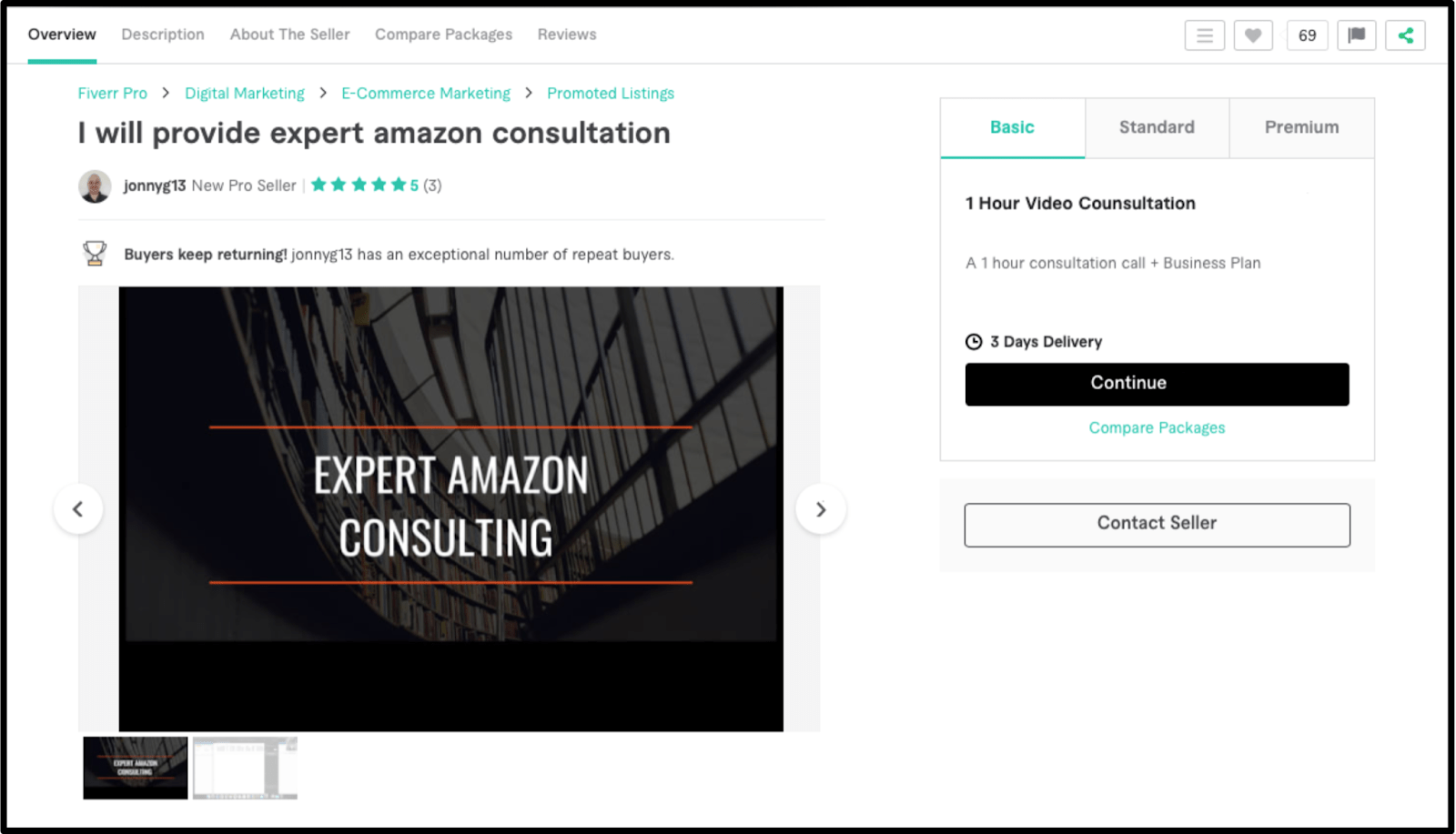 With an exceptional number of repeat buyers that keep coming back for more, it's no surprise that Jonnyg13 is a verified Pro Seller,
meaning they have been hand-picked by the Fiverr team as best-in-class talent. They've served more than 200 hundred satisfied customers. His cheapest package starts at $100, but for that you won't just get an hour-long consultation call, you'll also receive a business plan to take your e-commerce business forward.
How to Hire an Amazon FBA Specialist on Fiverr
Hiring a freelancer on Fiverr is incredibly easy – you're just a few clicks away from the perfect partnership. My favorite thing about it is being able to easily compare freelancers so that you can be sure you're contacting the right person for your needs – you can see how my colleague got on when they tested the platform out for
our Fiverr review
. Hire a freelancer on Fiverr by following these simple steps:
Step 1: Browse available freelancers
Head to Fiverr.com
, click into the search bar, type in the service you're looking for, and hit
Search
. For example, use keywords such as "Amazon FBA Consultant" to show you all the consultants offering this service.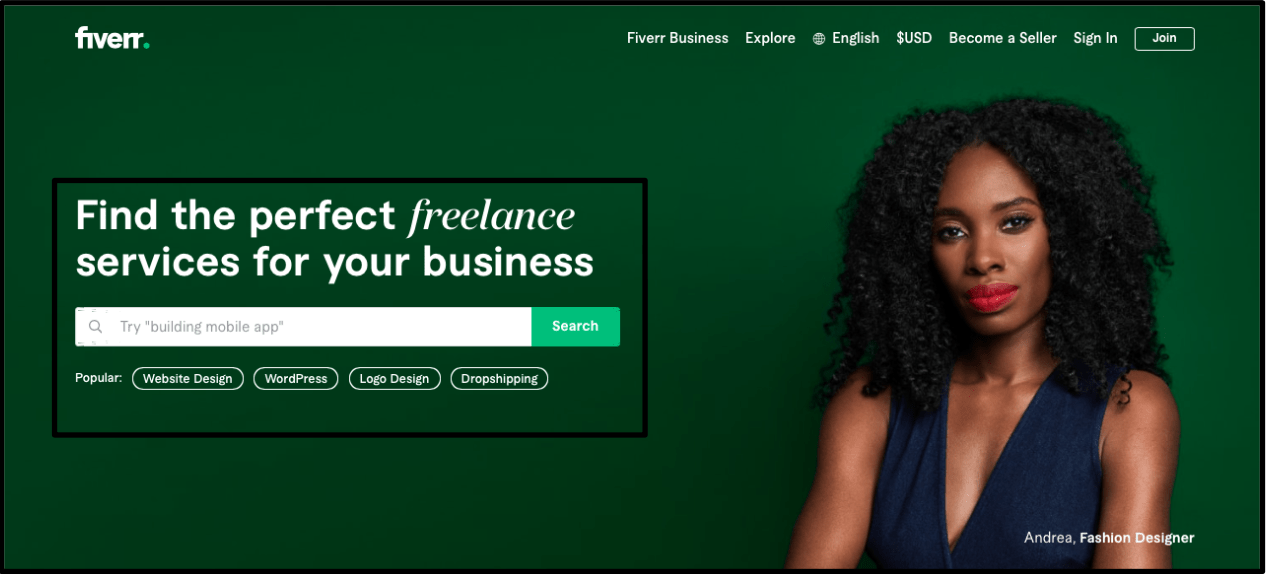 Next, you'll see a page full of freelance experts. Use the dropdown options to filter your search results – you can specify your budget, delivery time, and seller preferences to meet your exact requirements, as you can see below.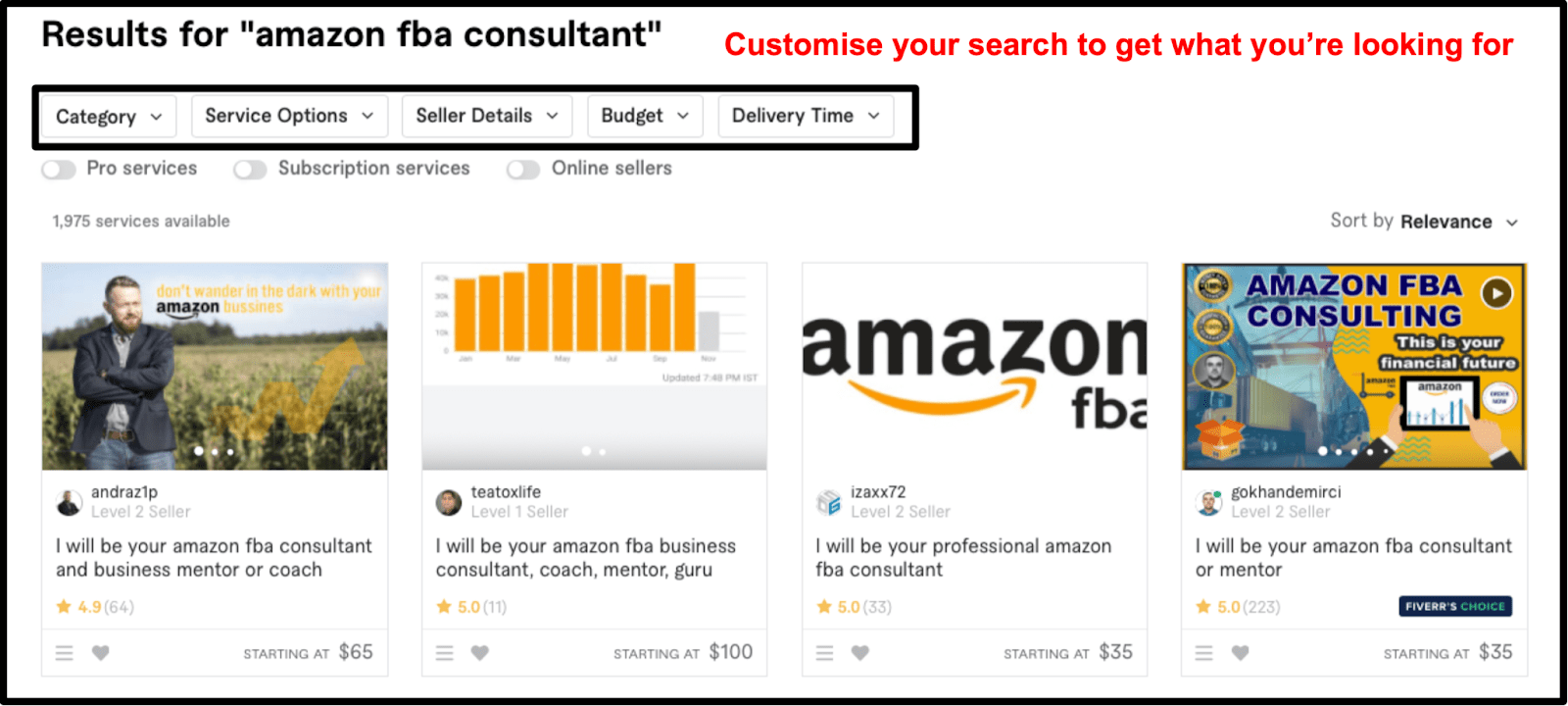 Once you've decided on the freelancers you're interested in hiring, browse through their profiles to find out more about them and the range of services they offer. These are known as "gigs".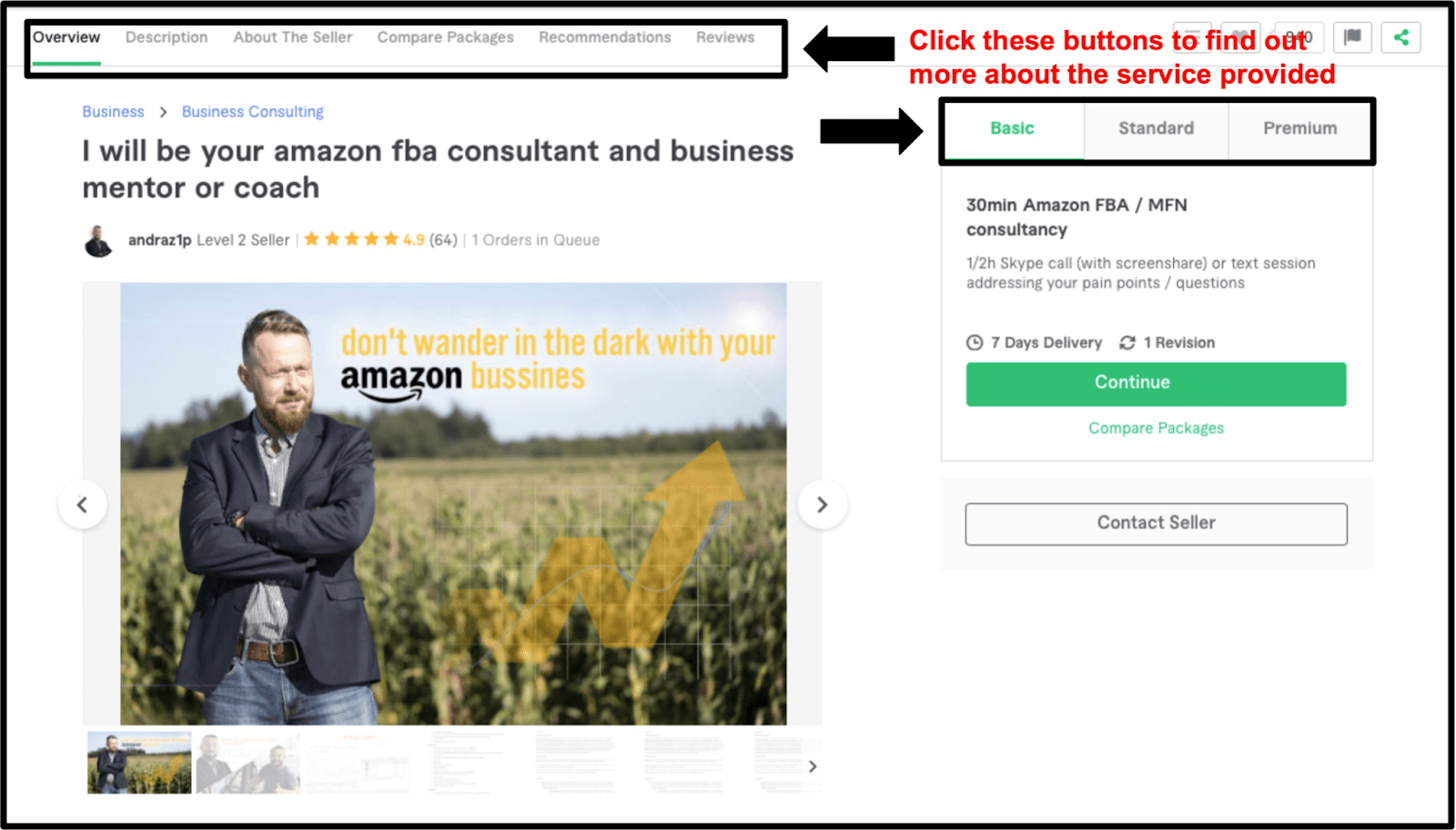 Step 2: Compare past reviews and price points
Most Fiverr freelancers offer a Basic, Standard or Premium gig. They come at different price points and vary in the type of services provided.
Click on the Compare Packages link and you can easily compare them side by side.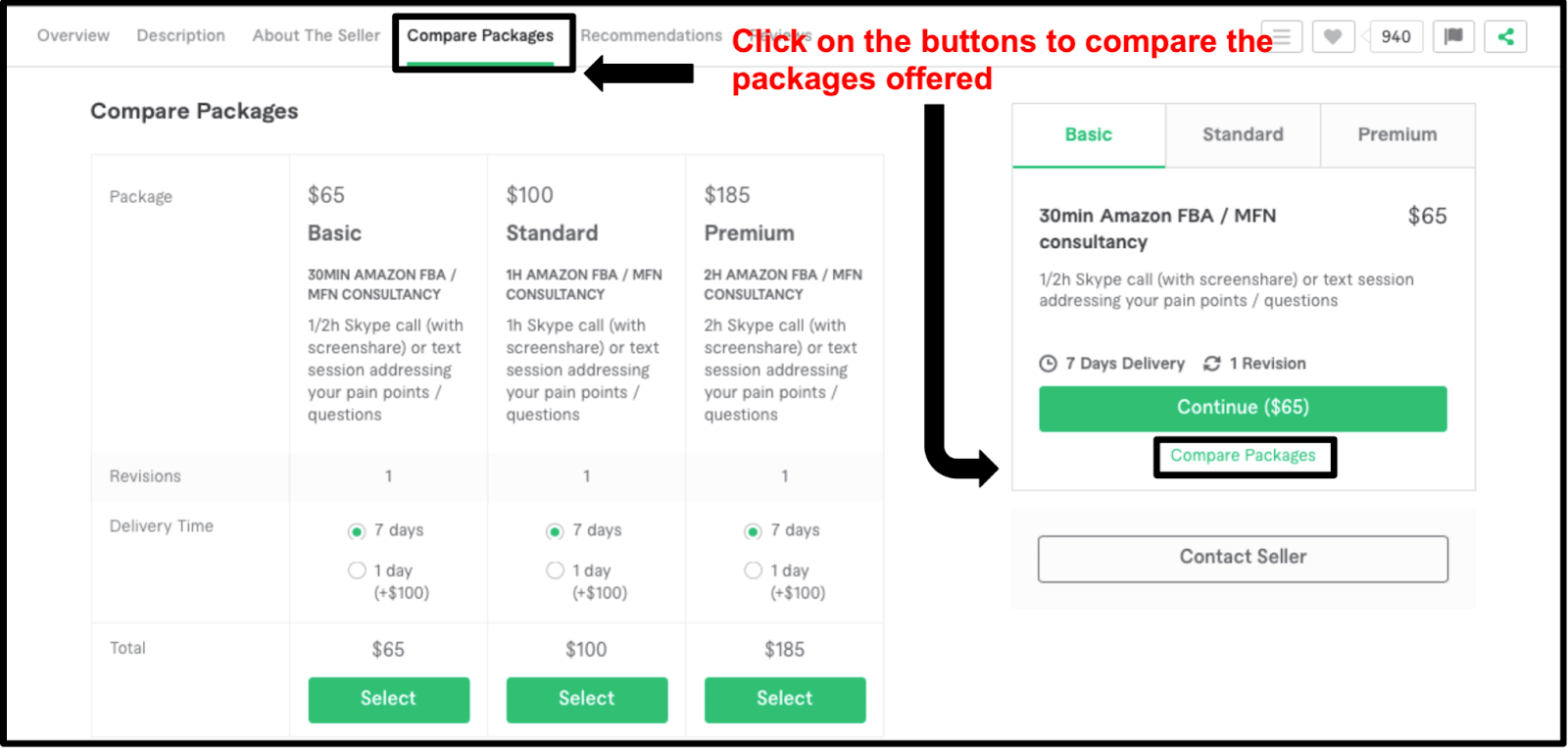 Don't forget to read through past reviews to get a better understanding of what working with this freelancer could be like. Clicking on the freelancer's username allows you to explore additional services they offer on their profile page. Here, you will probably discover other services provided by the seller. Who knows, these services might align better with your requirements.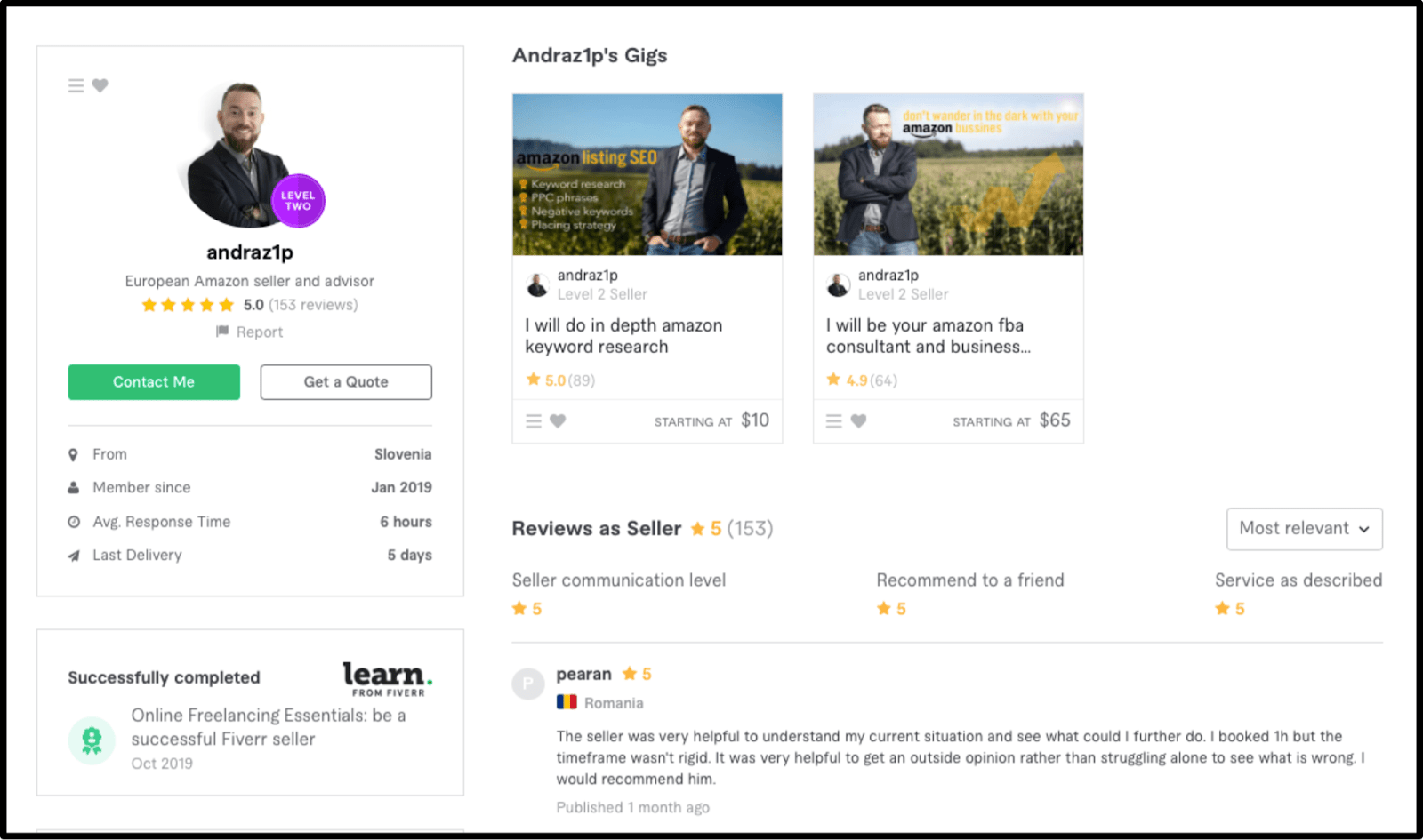 Have a look at their more popular services. Those will have more reviews so will help you gain a better understanding of what the freelancer is like to work with.
Step 3: Contact your freelancer(s) of choice
Once you've checked out some freelancers' profiles and compared their packages, I'd recommend contacting them so they can understand your project better and potentially tailor their services to what you need. Under the
About The Seller
 section, you'll find more information about your potential hire, including a short bio, their response times, and how much time has passed since their last delivery. This is also where you'll find the
Contact Me
 button.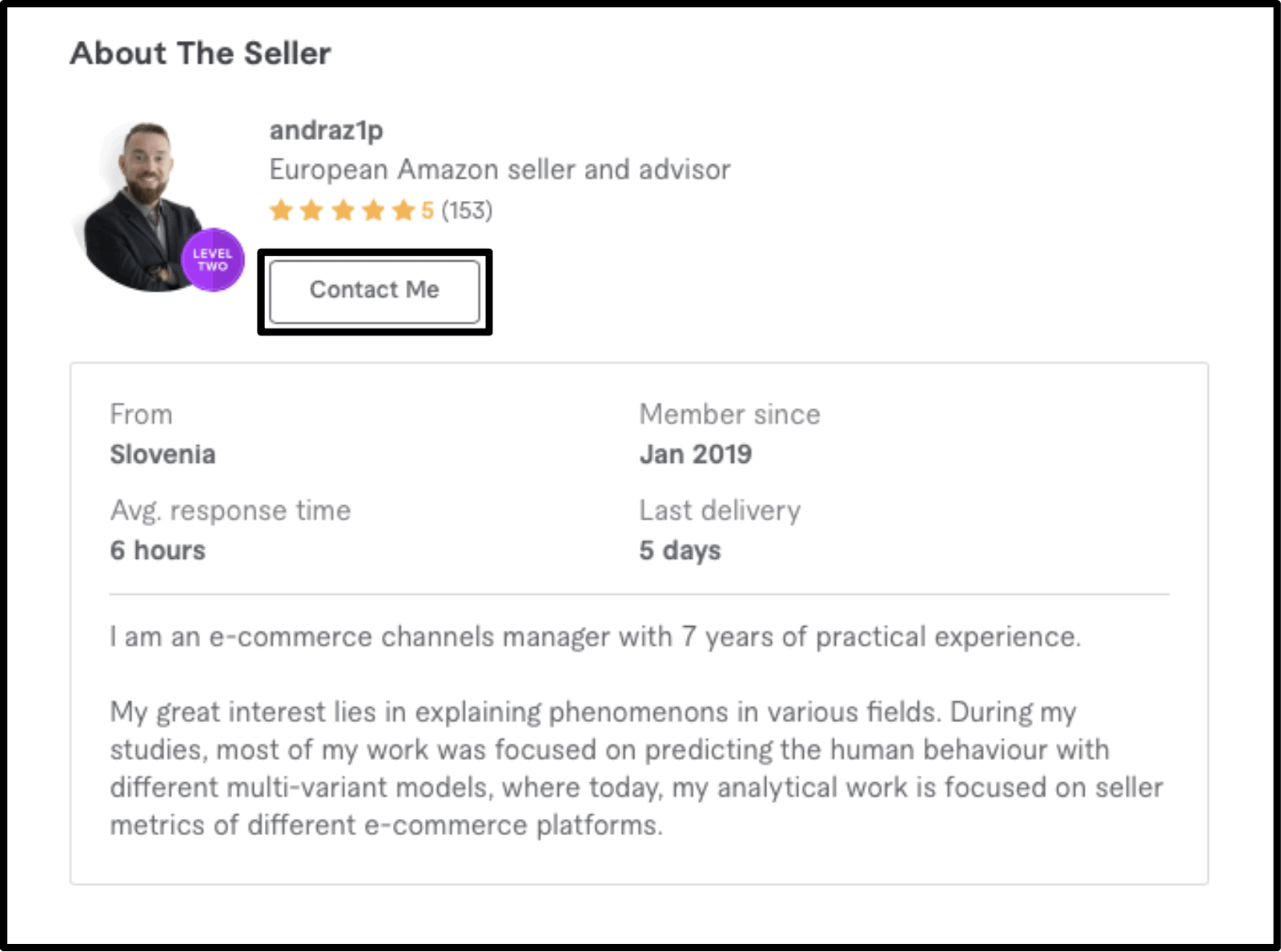 Step 4: Confirm your chosen package and make your payment
Once you've gone through the available services, discussed your project with a freelancer, and decided to hire them, click on the
Continue
 button to head to the checkout page.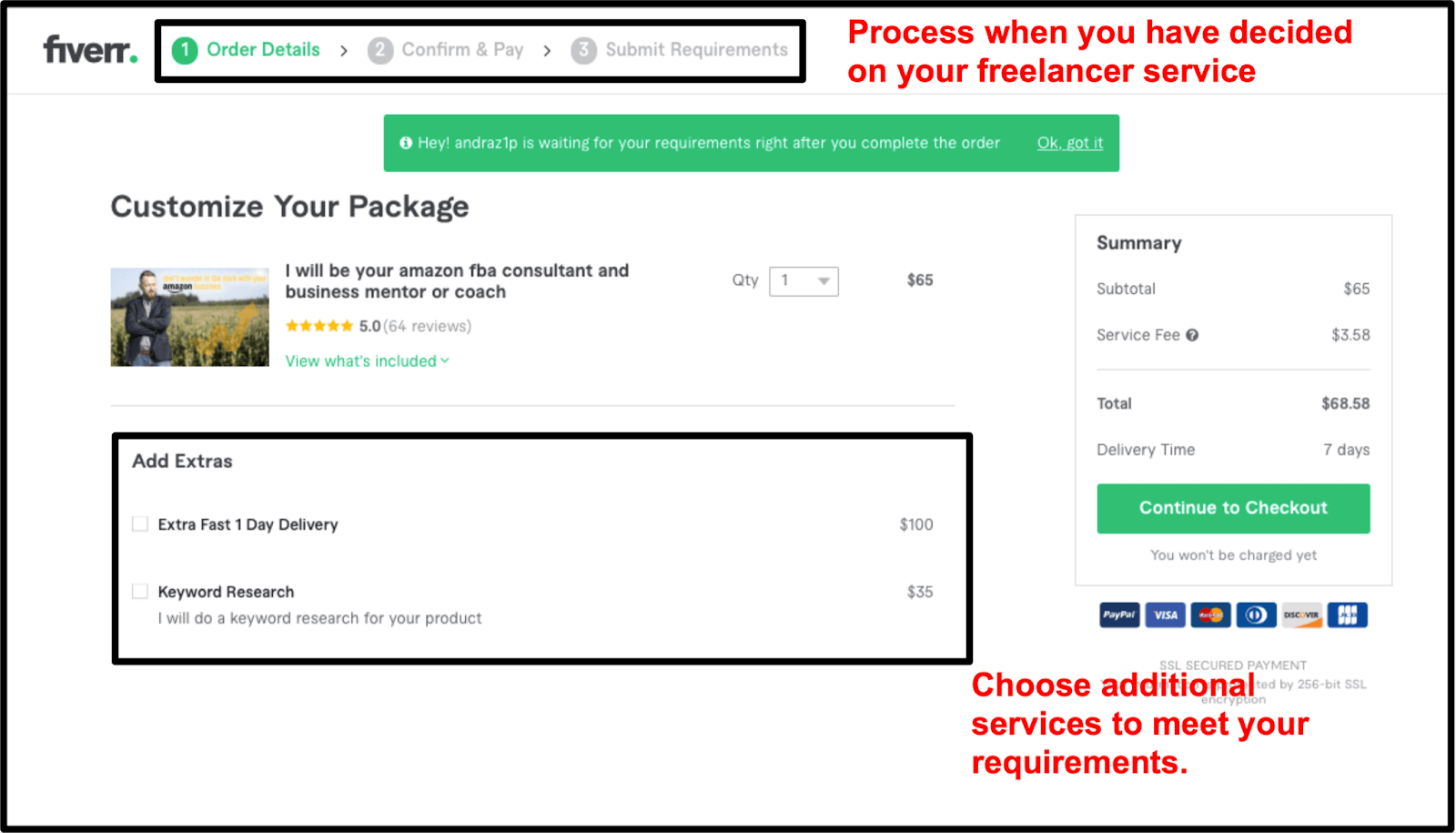 Here you can add any necessary extras like faster delivery. When you're happy with how your order looks, click the green
Continue to Checkout
 button to make the payment so the freelancer can get to work.
What to Look For in a Freelance Amazon FBA Specialist
The process for hiring a freelancer might be easy, but it can still be stressful – the first time I needed to hire a freelancer for one of my projects, I worried a lot about making the wrong choice.
After years of hiring freelancers, I've learned what to look for when hiring someone from platforms like Fiverr.
 There are also a few things you'll want to keep in mind when hiring a freelance Amazon FBA expert.
Sufficient experience and expertise in Amazon FBA consulting. Read the freelancer's profile to see how many years' experience they have, both as a consultant and an Amazon FBA seller.
Ensure they have the right skills you're looking for in an Amazon FBA Consulting Expert. See whether they mention any relevant tools, such as Helium 10.
If you're new to Amazon FBA, make sure the freelancer is a good communicator. You can take a look at their reviews to see whether previous clients thought they could express themselves using simple terms and concepts.
It's also worth checking the reviews to make sure the freelancer is punctual with responses, keeps to deadlines, and is friendly to work with.
Scroll through the images on their profile or ask to see a portfolio of previous work to help you get a better idea of what kind of work you can expect.
Fiverr credentials, such as being a Level One, Level Two, or verified Pro Seller, can also indicate that you'll have a better experience of working with the freelancer.
Are You a Freelance Amazon FBA Specialist Looking to Sell Your Services on Fiverr?
If you want to help others sell on Amazon, there's no time like the present to get started.
Platforms like Fiverr have made it incredibly easy to freelance from home.
Fiverr has managed to
 remove the challenge of finding clients by bringing them to you
. They've also
eliminated – or at least shortened – the negotiation process
, which means that payment makes it to your bank account much faster, so you can focus on completing more projects. Finally,
there's no more anxiety with payments
. Once someone has decided to hire you, they have to pay the money to Fiverr, who will hold the funds until you've delivered the service. To get started,
head to the Fiverr homepage
 and click on the
Become a Seller
 button.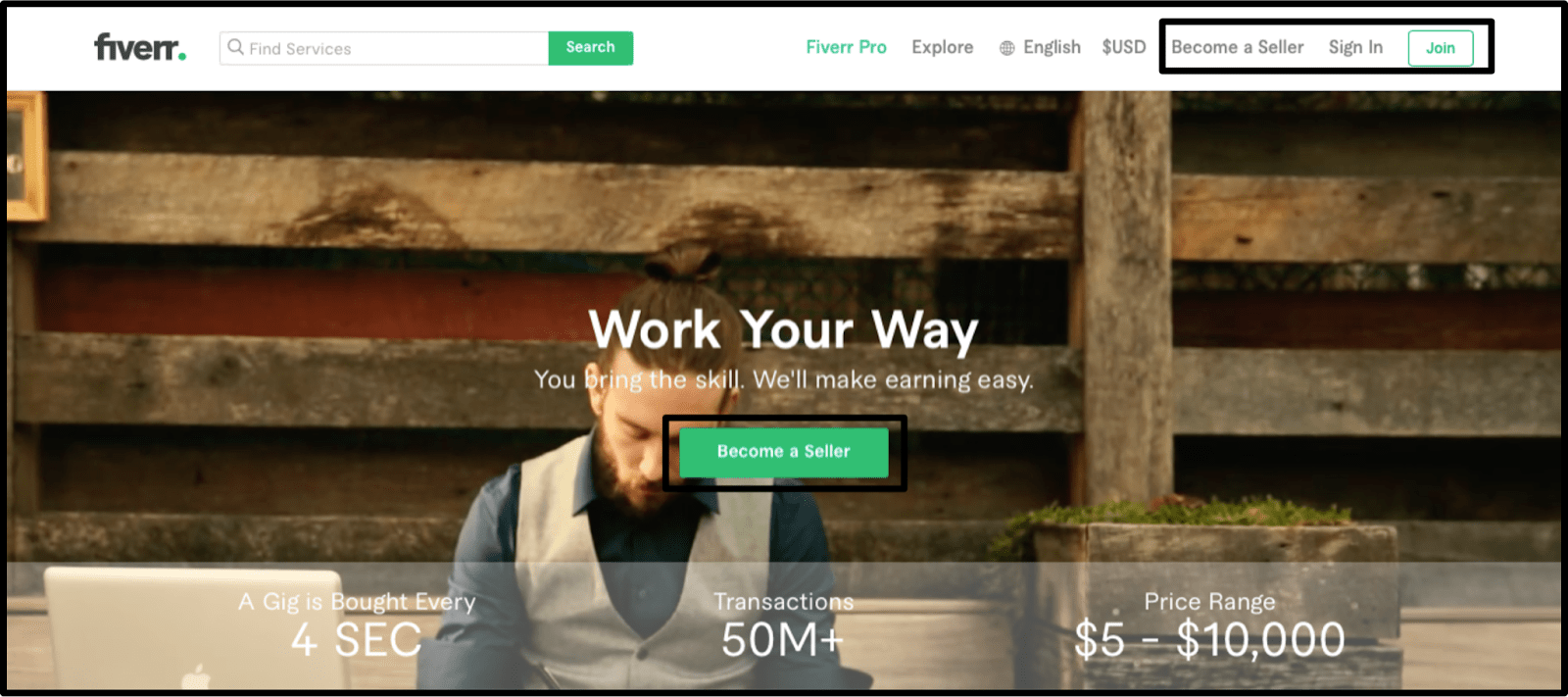 After verifying your account, you'll be redirected to a page that will walk you through the next few steps, which include learning what makes a successful profile, creating your seller profile, and publishing your first gig.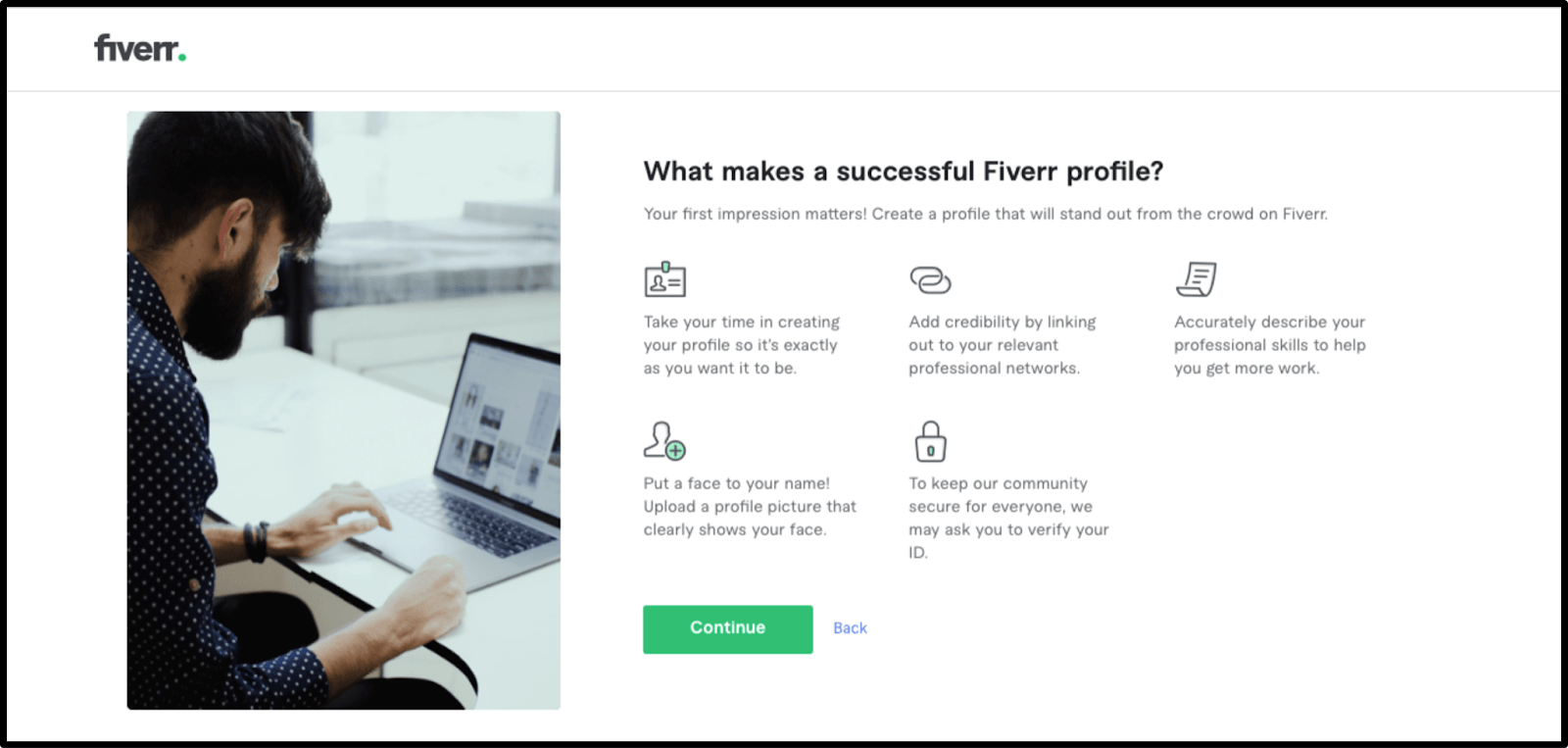 After that, you'll move on to a page that includes a simple yet effective guide on the best ways to set up your profile, as well as information about the platform's policies.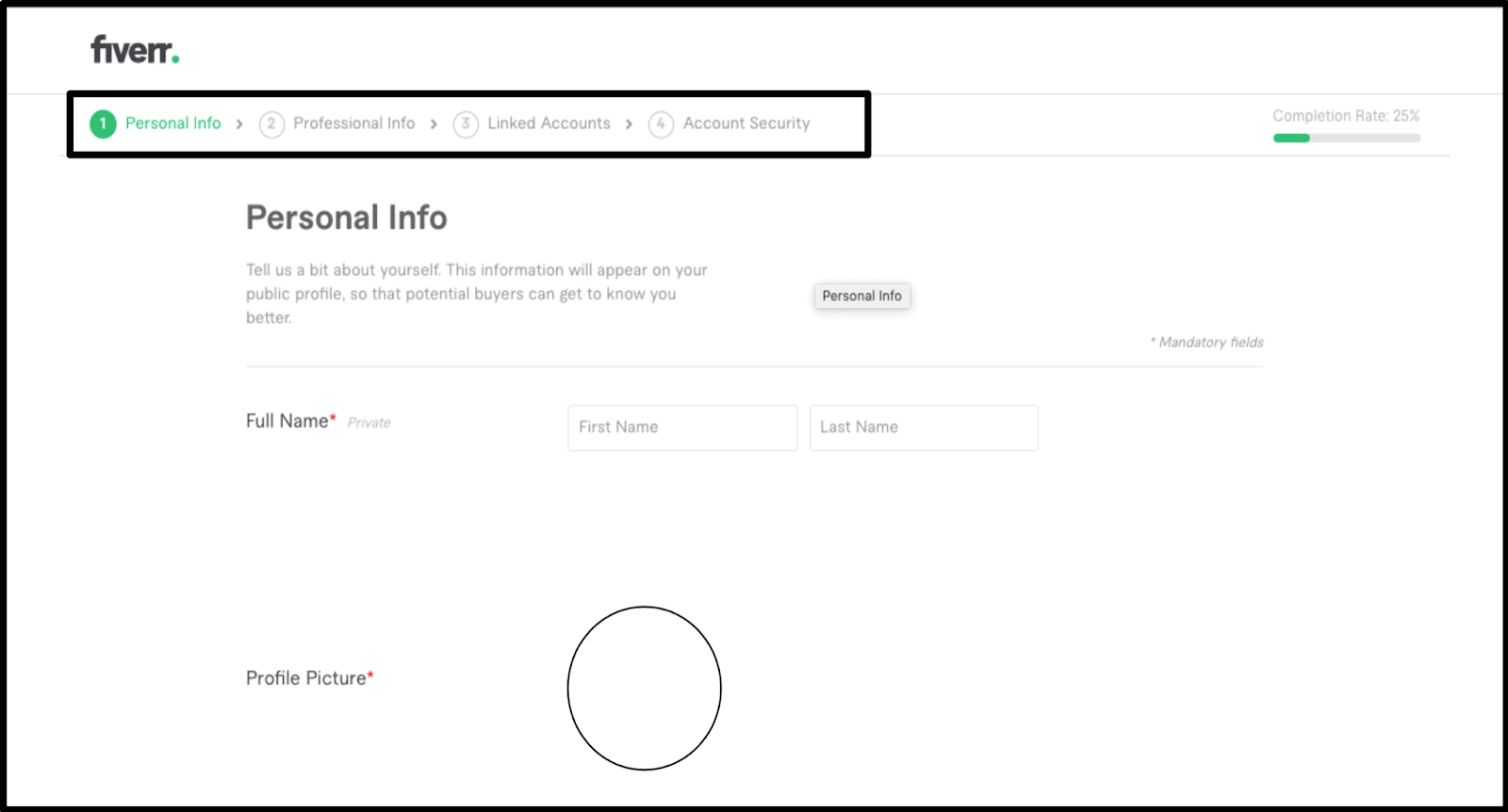 Once that's completed, you'll need to fill out forms with your personal and professional details. Here, you can highlight your skills and expertise. Make sure you tailor this content to appeal to your ideal customer.
 We've even put together a step-by-step guide on how to create a successful Fiverr gig, so if you want some hints and tips, I'd recommend giving it a read first.
You will then be asked to verify and link to other accounts to boost account security.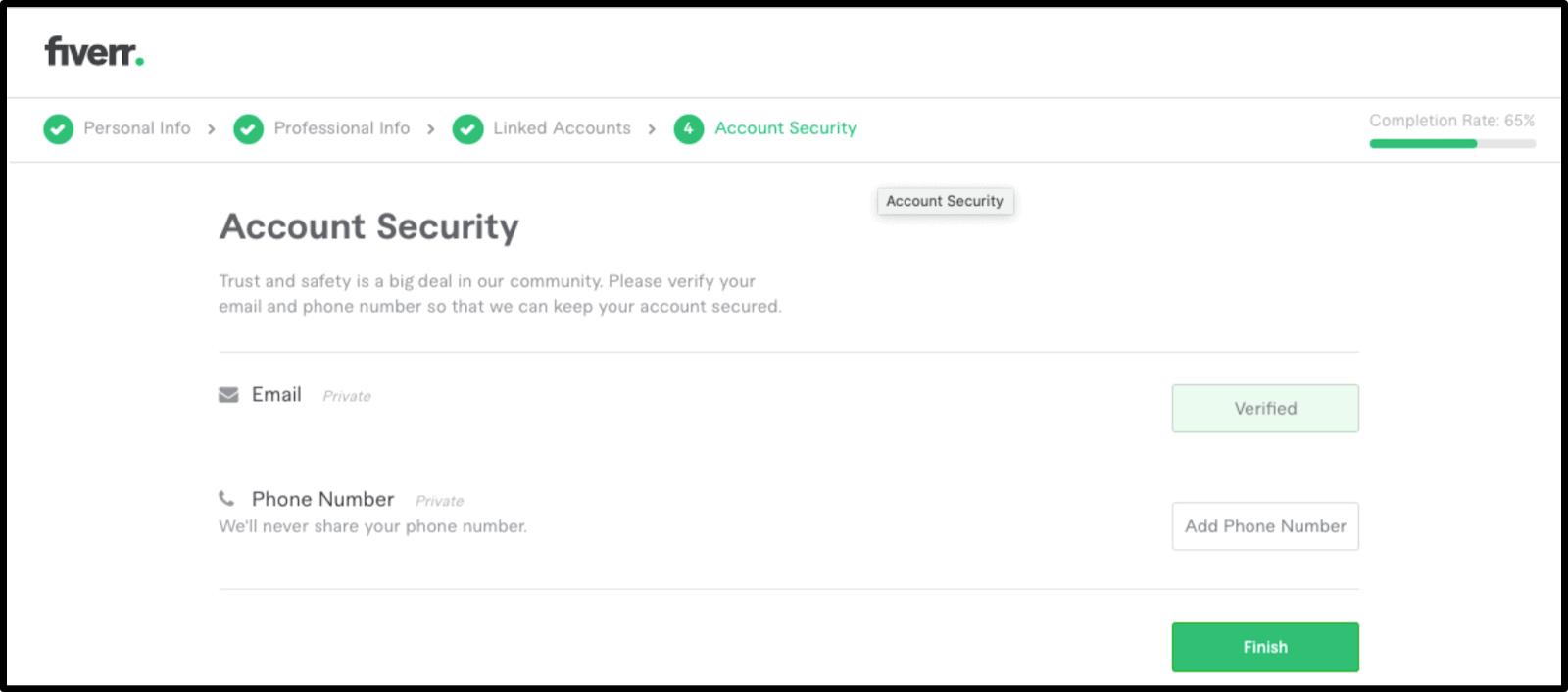 The final step of becoming a seller is clicking through to
Continue
and then to
Create your first gig
. Each gig you make is customizable, which is meant to position you as the most ideal seller for your target audience.
Interested in growing faster than your competition? I recommend that you check out Fiverr as a buyer and purchase a gig yourself
. This will help you understand your competitors and see what works and what doesn't. You can learn about the process a customer goes through, the timings and how to communicate with a seller without having to invest a lot of money  – you can learn it all for as little as $5.
There Are No Limits to What You Can Get on Fiverr
Whether you're starting from scratch as an Amazon FBA seller, or are looking for someone to help grow your existing e-commerce business,
you're sure to find exactly what you need on the Fiverr marketplace. There are plenty of highly rated, experienced Amazon FBA consultants
on the platform, and you only have to read the reviews to hear how others have already benefited from working with them. Even if you're on a tight budget,
with gigs starting at just $5, you don't have to invest a lot
, and can use the knowledge you gain to help you scale up and reinvest. Once you identify your Amazon FBA specialist and enhance your skills, I recommend exploring Fiverr to discover other available services. I continue to be pleasantly surprised by the wide range of freelancers on the platform. During a quick search, I stumbled upon the following offerings:
FAQ
What does an Amazon FBA specialist do?
FBA stands for "Fulfillment by Amazon" which means Amazon picks, packs and ships your orders for you. An Amazon FBA specialist helps you manage your Amazon e-commerce business. They can help you to manage your Amazon FBA products and will develop and apply strategies on selling with Amazon FBA.
How much does an Amazon FBA cost?
Prices vary depending on the consultant's experience and level of expertise but, on average, most certified consultants that go through the Amazon hiring agency require a minimum commitment of $3,000-$4,000 per month. On Fiverr, however, you can find Amazon FBA experts at a starting cost of just $5.
Is selling on Amazon FBA worth it?
With Amazon, all you need is a small initial investment, as the system is friendly to new sellers who are starting small. When you work with Amazon, they provide a lot of traffic, and on the FBA program they are also responsible for packing products and shipping them to customers. The key thing is to make sure you're running your store efficiently, which is where hiring a consultant might help. So, yes! Selling on Amazon FBA is definitely worth it, especially when you have an expert on hand to help maximize results.
Where can I hire an Amazon FBA expert?
You can find Amazon FBA experts through online marketplaces like Fiverr. Simply type "Amazon FBA expert" into the search bar on the home page, then filter the results according to your budget. You can then explore the profiles of different freelance Amazon FBA consultants before contacting them to discuss your project and place an order.
Is Fiverr easy to use?
Yes, Fiverr offers a clean, easy-to-use interface, which is why it's one of our top freelance website recommendations when it comes to hiring – just read our Fiverr review to see how we got on when we tested it out. All you need to do to get started is search for the service you're looking for, for example by typing "Amazon FBA consultant" into the search bar. You can then browse the profiles of different freelancers, and even contact them before placing an order.