hire a Shopify expert for as little as $5
? I reviewed dozens of Shopify designers and developers and compiled a list of the top nine freelancers for hire. Spanning different niches and price points, these professionals can help you get the job done – some starting at just $5. Maintaining a budget can be tough, but with Fiverr's affordable hiring solution, staying within my means has never been easier. If you're in the market for a Shopify pro,
check out my list of the best freelance website builders
.
9 Best Shopify Experts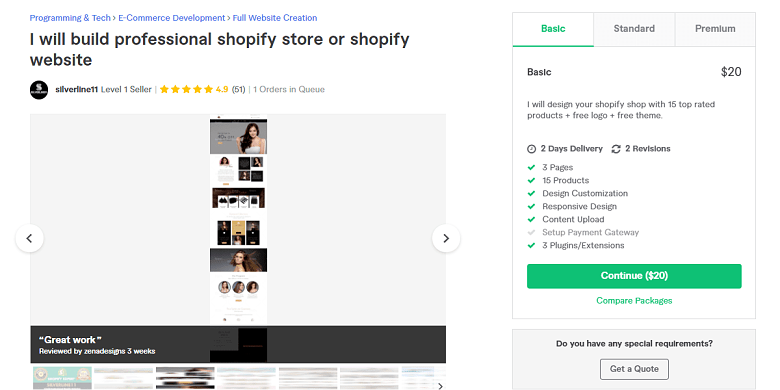 Silverline11 is passionate about creating modern e-commerce websites. Their basic package includes a logo design, theme installation, and three extensions. They will also provide 15 top-selling products to help launch your store. For any of their packages, you can
purchase one-day expedited delivery
.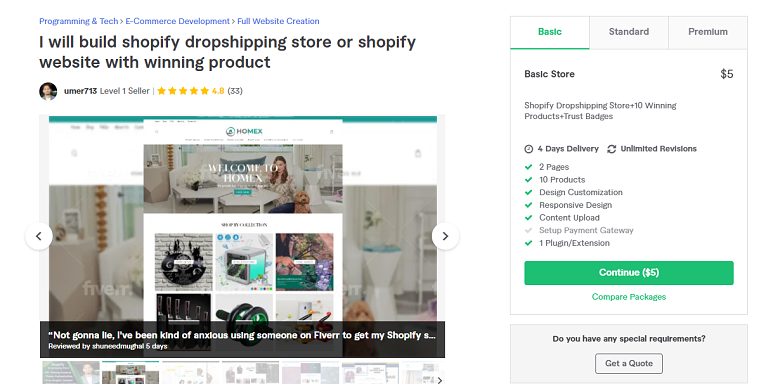 Umer713 is one of the
more affordable Shopify website developers
on this list. Their first package tier starts at just $5 and is perfect for a simple, no-nonsense layout. You'll get a two-page site with 10 winning products, plus unlimited revisions. If you'd like to splurge for their premium package,
you can pay around $50 for Facebook Pixel and Google Analytics integration along with 50 niche products and payment gateway setup
.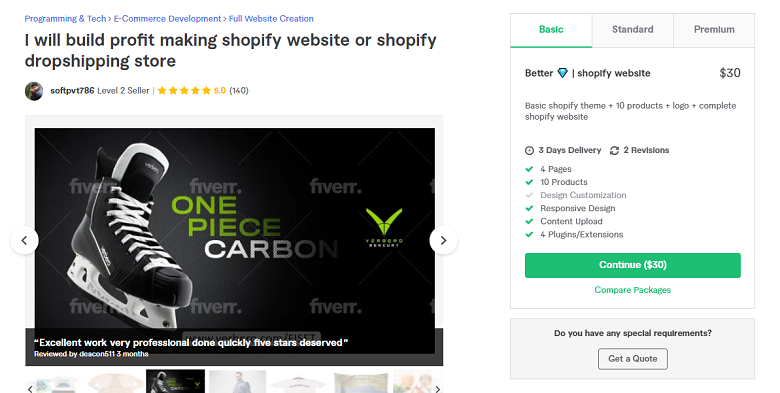 Level Two Seller Softpvt786 has a stellar five-star rating and over 150 customer reviews. Their entry-level package comes with 10 products, a logo, and installation of a basic theme at a fairly affordable price. If you're looking to up your e-commerce game,
this Shopify expert also offers data content security and a marketing guide in their highest-tier package
.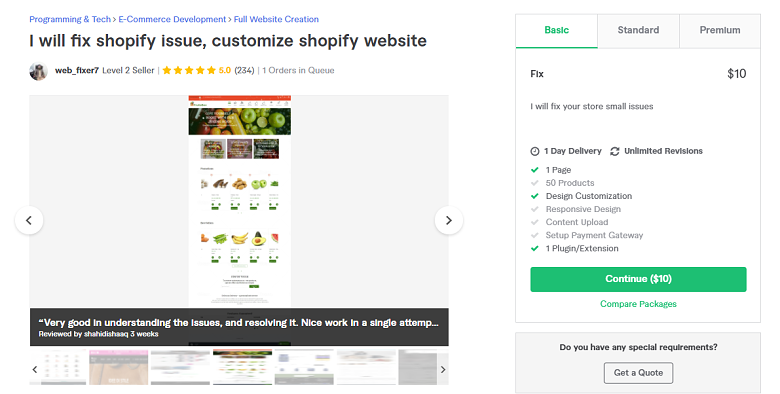 Web_fixer7 is a top-rated Level Two seller who
fixes issues with existing Shopify stores
, like glitches or broken links. Considering that they'll fix a small problem in just one day with unlimited revisions, it's a pretty good deal. You can also opt for Web_fixer7's more expensive packages for more comprehensive website building.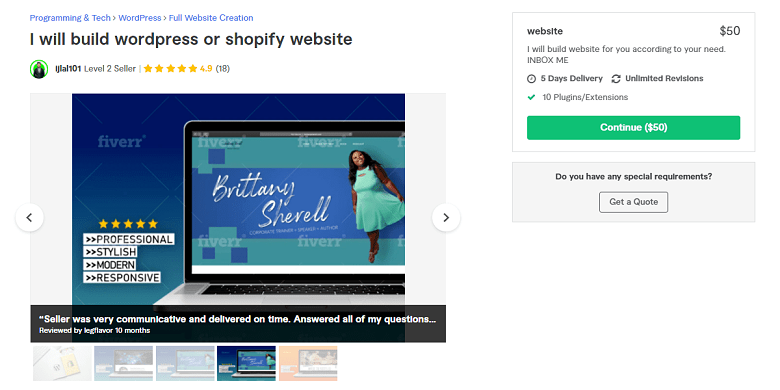 Ijlal101 has only one website building package, which delivers in five days with unlimited revisions.
They will work with you to customize a product based on your needs
, whether it's a dropshipping store or a site for your personal brand. I thought it was interesting that they also offer usability reports to help you with company planning and sales growth.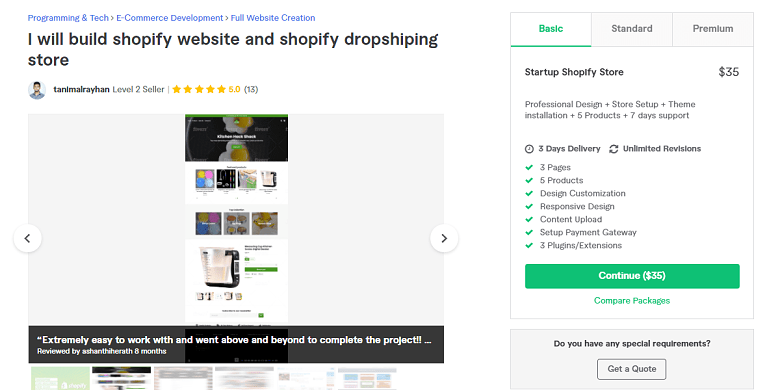 Tanimalrayhan understands the power your brand's website has to make a good first impression. This Level Two Seller's gig for website building has a five-star rating. Their basic package includes a
professional design, theme installation, and full store setup
so they go above and beyond your stand design and development. Jump to a high package tier for extended support after final delivery and more products and customization.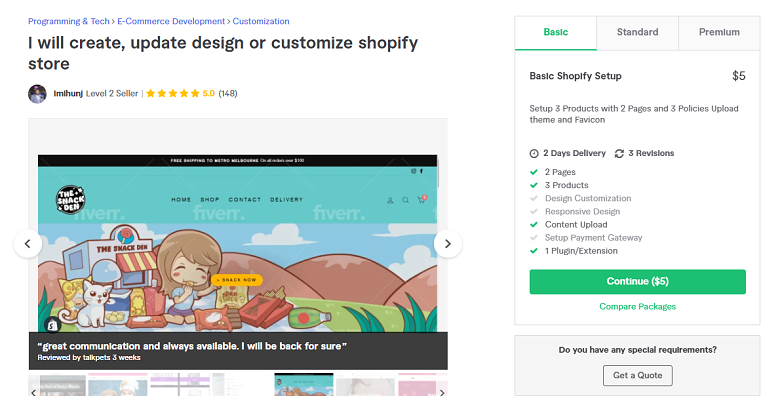 If you're looking for a
website developer to help you get started
, Level Two Seller Imihunj can help. In their basic page you'll get a three-product, two-page site with a theme upload for just $5. Stick with the basics if your budget is tight, or opt for a more expensive package for significantly more products and perks.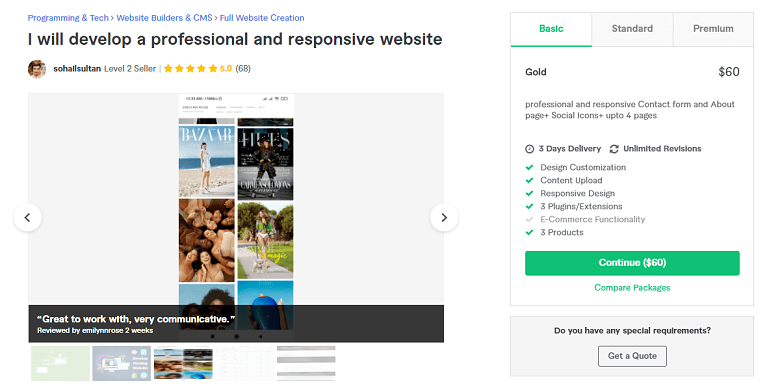 Sohailsultan is a talented Level Two Seller with a quick response time which is worth bearing in mind when you're working to a deadline. Their first tier package is straightforward and includes a four-page website, contact form, and social media icons. For only three products, it's on the pricier side, but
past customers highlight this freelancer's communication skills and creativity
so think quality, not quantity.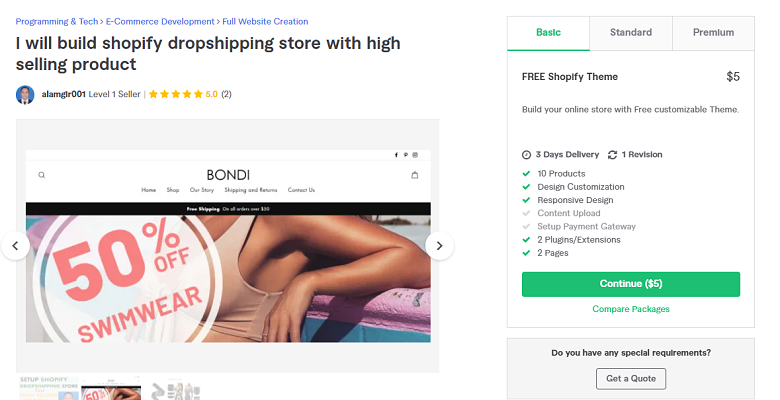 Alamgir001 provides basic dropshipping store setup and design starting at just $5. This includes
a two-page layout using a fully customizable theme
, 10 products, and two plugins. You can also request additional services from this freelancer, such as configuration of the shipping and payment processes which, if you ask me, is definitely worth paying for to save you valuable time and effort.
How to Hire a Shopify Expert on Fiverr
Fiverr is my favorite place to find freelance hires because it makes it quick and painless.
Being able to search for a creative professional in one place has saved me so much time and has made getting projects done virtually hassle-free.
And don't just take my word for it, it scored an impressive
4.9
out of 5 in our
Fiverr review
. On Fiverr, you can search for a freelancer based on your needs and project requirements. For example, if staying on budget is a priority, you can use the search filters to find Shopify website gigs in your price range. You can also filter by delivery time, seller ratings, and more.
Fiverr packages can start as low as $5
, so finding an affordable freelancer you trust is almost a given.
To start your hiring search, head to the Fiverr homepage and type "Shopify expert" into the search bar. Click a gig that interests you to see more details.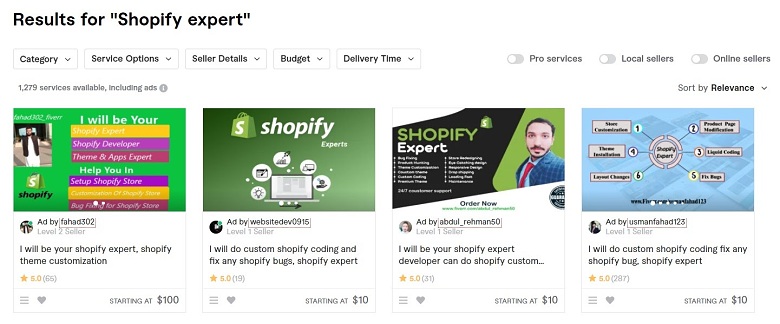 The package overview page displays all the important information about a gig, such as pricing, a description of services, customer reviews, and the seller's bio. You can also use this page to view a seller's portfolio and read more about they offer in the
About This Gig
section.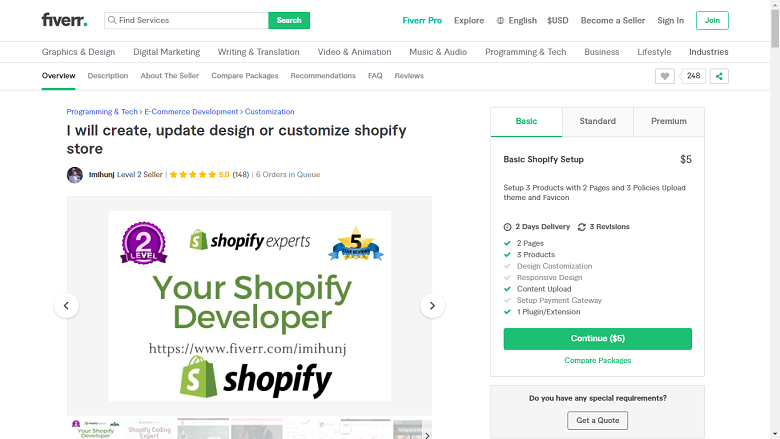 To view pricing options, click the package tabs (
Basic, Standard, Premium
) in the box on the right. You can also click
Compare Packages
to view the info in a side-by-side table.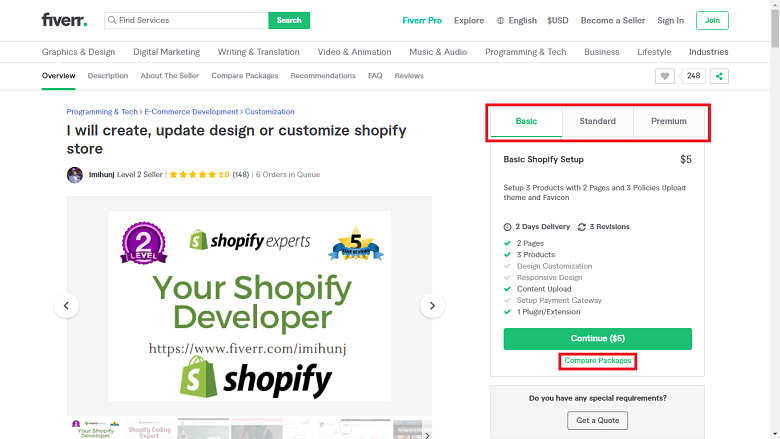 Find the
Contact Me
button underneath
About the Seller
to ask them a general question or if you have any special requirements, click
Get a Quote
to request a custom package.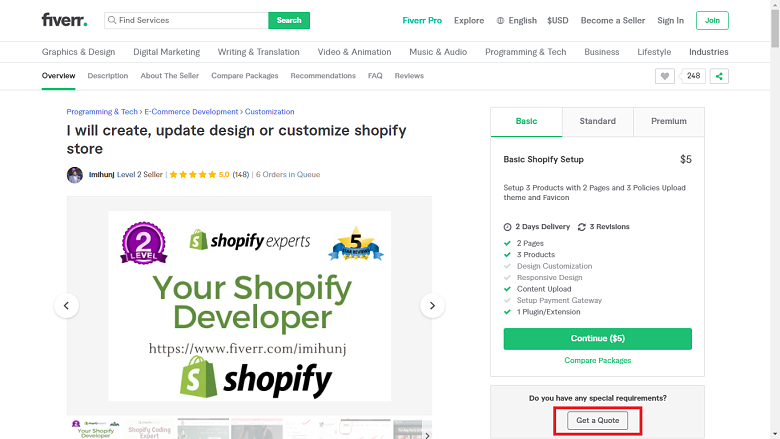 When you're ready to hire, select the package you want and click
Continue
to move to the payment preview page.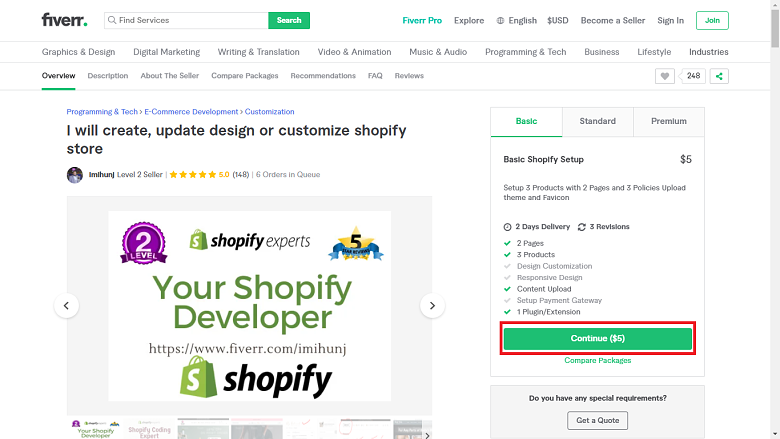 You can now review your final cost and package details before payment. If the seller offers any extras, like an additional page or payment gateway setup, you can choose these add-ons now. Click
Continue to Checkout
to enter your payment details and add your project requirements.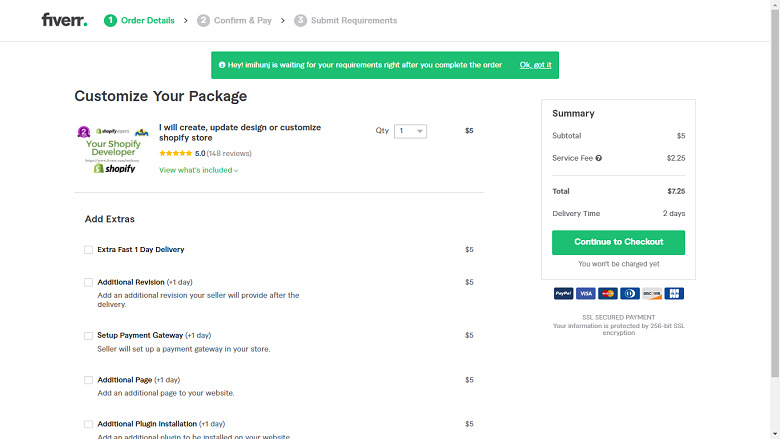 What to Look for in a Freelance Shopify Expert
If you're new to hiring a freelancer, then you need to know what to look for. A Shopify expert could cover any number of skillsets – they could be an expert ecommerce manager, designer, developer, or an all-around Shopify whizz. Here are a few characteristics that I recommend you look for:
Experience with Shopify's platform: It should be very evident from the seller's profile that Shopify is one of their top, if not the top, skill. You can also check which platforms they have listed below the About This Gig section.
Proficiency in standard web design principles: If you're after a freelancer to design your Shopify website, mastery of concepts like typography, imagery, color theory, and navigation are essential. Scroll through a seller's portfolio for examples of their previous work.
Support for your plugins: Sellers can add popular plugins to your site for better functionality. Look for your preferred plugins – payment, social media, analytics, etc. – in a smaller section called Supported plugin type under About This Gig.
Excellent communication rating: Fiverr freelancers have overall ratings as well as separate ratings for things like communication or whether they would be recommended to a friend. You can also look at past customer reviews to see what they highlight.
Are You a Shopify Expert Looking to Sell Your Services on Fiverr?
You can sign up to become a Fiverr seller just as easily as you can hire one. Plus, when you offer your services on its platform,
your gigs could be seen by thousands of buyers each day
. Instead of spending precious time promoting your services, you can rely on Fiverr to provide a safe and secure platform for continued exposure. Many of its freelancers build a strong portfolio and establish not only a steady list of clients but also a steady income.
Head to the Fiverr homepage
and click the
Join
button at the top to get started. You can also click
Become a Seller
for more information.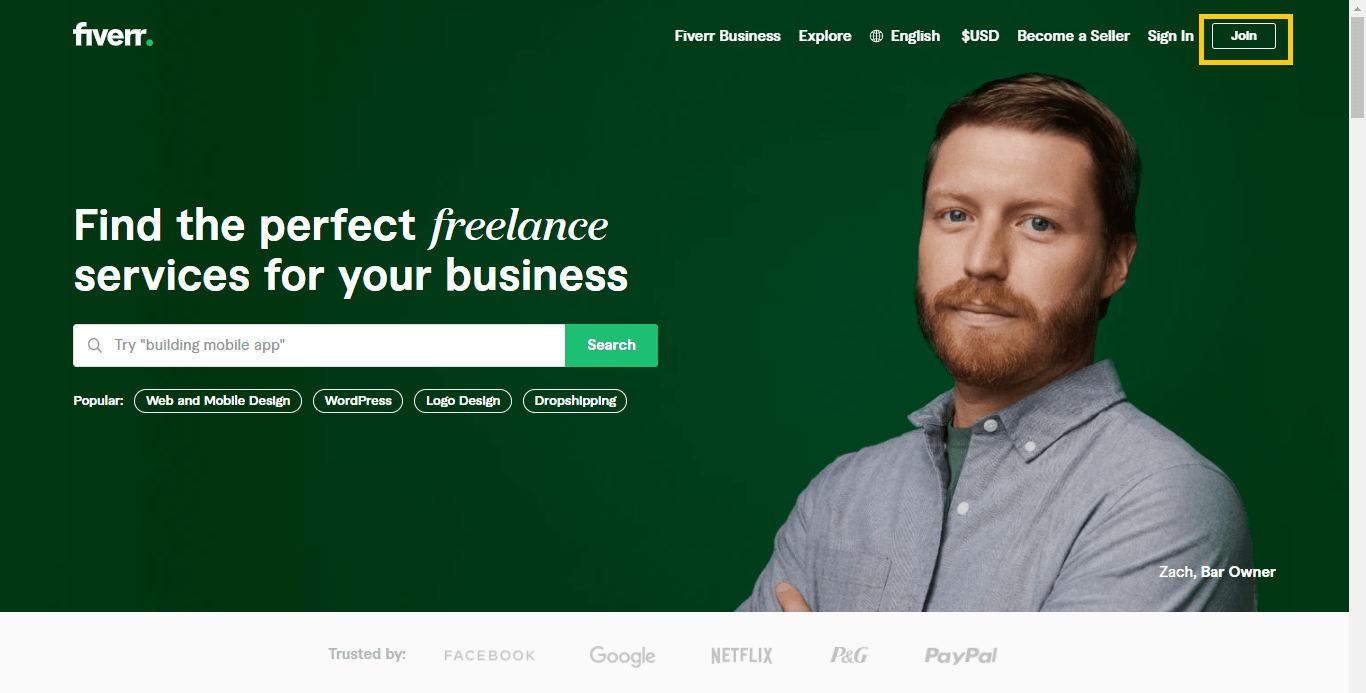 Once you've verified your account, click the circle icon on the right to head to your profile. Here you can upload a photo, connect social media accounts, add professional skills and certifications, and write a brief description of yourself and your work.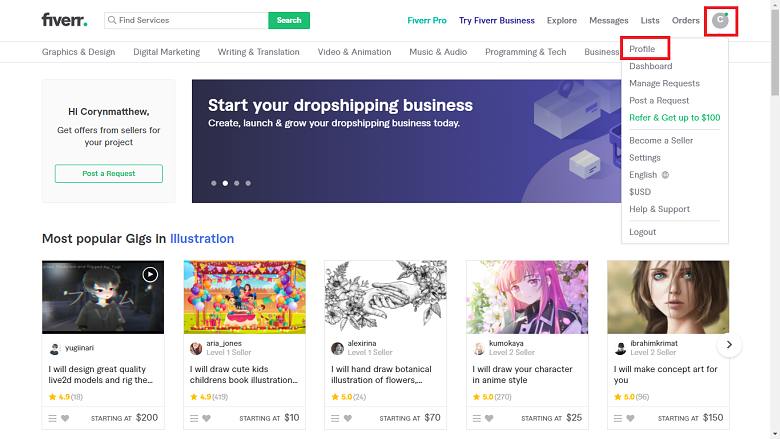 Once you've filled in your profile details, you can begin crafting your first gig. Click the
Create a New Gig
button to choose a gig title, category, and related search tags.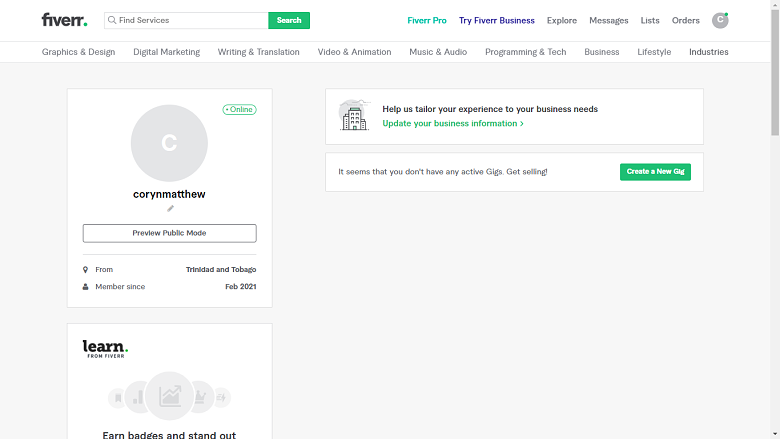 As you continue, you'll be prompted to
create a name for each package tier, outline the included services, and set a price
. If you prefer to simplify things, you can click
3 packages
to switch to a one-package gig. We've put together a handy guide on
how to create a successful gig on Fiverr
so take a look at our recommendations before you go any further. Consider what to include in each package and determine your desired pricing. Develop an FAQ section to address any inquiries potential buyers might have about your gig. Enhance your portfolio by incorporating images of past projects, and thoroughly review your gig details prior to publication.
A pro tip for attracting buyers to your gig? Become a buyer yourself.
Switch to a buyer's profile and search for a freelancer of your own. Don't think too much about the type of project, you're really just gaining insight into the hiring process. Have fun with it – maybe now is the time to get that old family photo restored or commission some new digital art for your apartment. There's no need to break the bank here, so feel free to
hire someone for as little as $5
. Then, switch back to your seller profile and use your newfound experience to optimize your gig and make it stand out from the crowd!
Final Thoughts: Fiverr Makes it Easy to Hire Freelance Pros for Less
Fiverr's ease of use and affordability make it my go-to platform for hiring. And once you've commissioned a professional to design, build, fix or manage your Shopify website, you can return to find someone to help with e-commerce marketing, social media copy, or even video ads. In fact, I've had a little look and found some freelancers for those jobs too:
You can hire social media copywriters to take care of your Facebook or Instagram posts, your tweets, or literally any social media platform you use.
You can hire video ad creators for next to nothing. My colleague put three sellers at different price points to test with some surprising results
Or you can hire experts in marketing strategy to help you with everything from developing a marketing plan to scaling up your business.
There are literally hundreds of thousands of freelancers around the world just waiting to be hired so I'd highly recommend taking a look just to see all of the weird and wonderful things on offer.
FAQ
Where can I find a freelance Shopify expert?
You can find a Shopify expert on Fiverr, one of our top freelance websites in 2023. The platform, which hosts talented professionals from across the globe, makes it easy to hire someone to create a quality website at an affordable price.

How much do freelance Shopify experts cost?
On Fiverr, you can find freelancers offering quality services for only $5. Each freelancer sets their prices based on location, experience, and expertise, so you can search for someone within your budget.
What skills do Shopify experts need?
A skilled Shopify expert could be a specialist in design, development, or marketing and management, but whichever niche you need help with, they should have extensive experience working with the Shopify platform. Their portfolio should demonstrate a mastery of design and development principles or a background in marketing, and past customer reviews should highlight good communication skills.