the template that catches your eye may lack the features and functionality your website needs
. You could end up deep in the design process before you realize your mistake. When you try to add a new feature to compensate, it might be difficult for you to design it to fit the template. Even worse,
you might learn too late that the builder itself doesn't offer the right tools for your business
. Most builders don't allow you to export your content to another platform, so that would be a real waste of time and energy. So with all the website builders and templates to choose from, where do you begin? To get you started I've scoured templates from top builders and put together a
shortlist of 11 templates that have what it takes.
Read on to see my picks and decide if one's right for your project.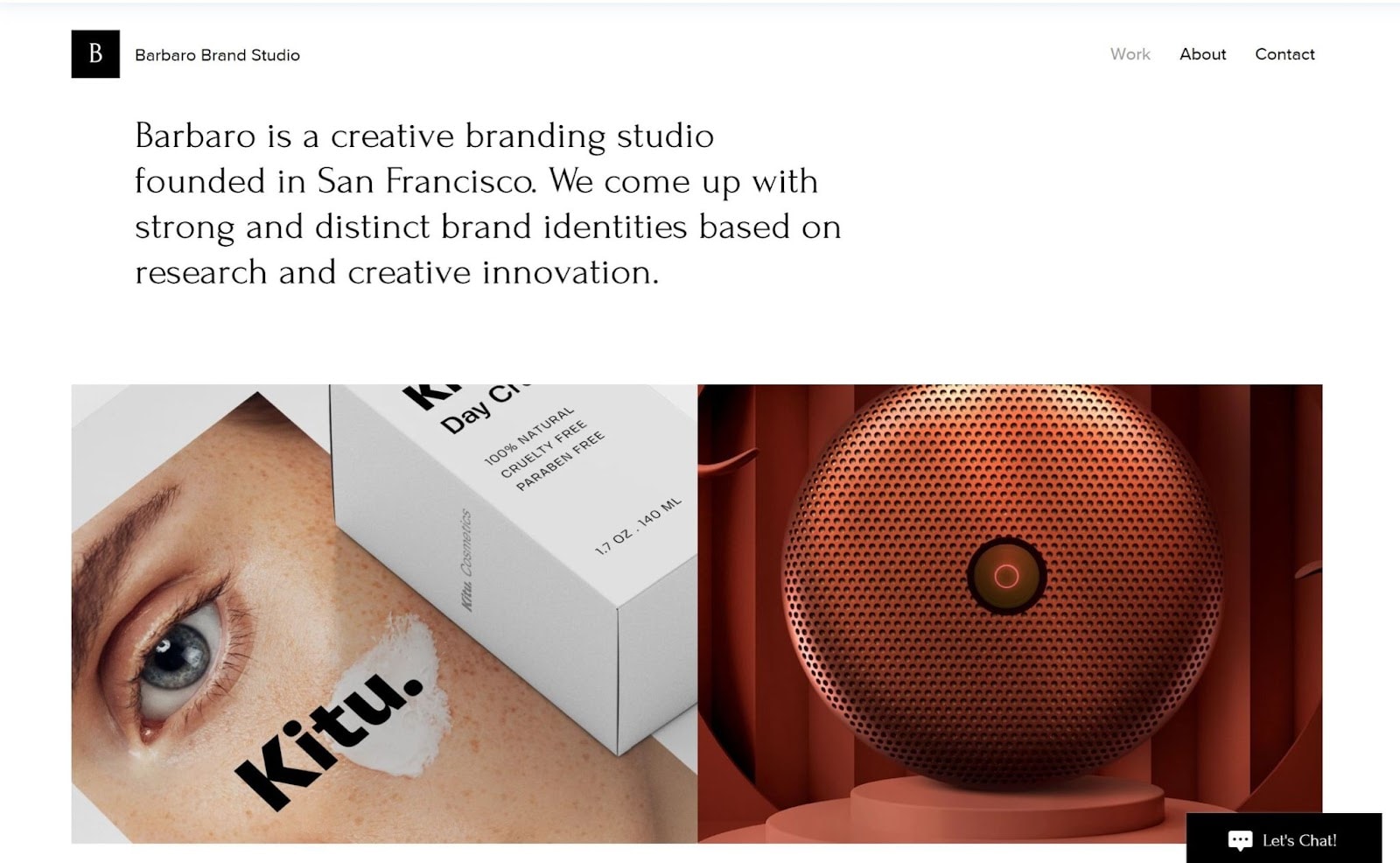 Wix's
Design Studio
is a great option if you need a website that speaks
to the unique identity of your business
.
As potential clients scroll down the homepage, images zoom in and darken in an interactive way.
Concise text on the homepage clearly lays out your value proposition.
The homepage displays 8 individual case studies to demonstrate your creative range
(you can always change the number). Users can easily navigate by clicking on the arrows on the right or left side of the page or on a thumbnail image. A simple About page shows information about your company, services, team, and important clients. An even simpler Contact page rounds out this striking template.
It has a sign-up form for clients and a designated email address for recruitment.
Rounding out this template is a straightforward footer with text links to all your social media channels – Facebook, Instagram, Facebook, Behance, Twitter, and Vimeo.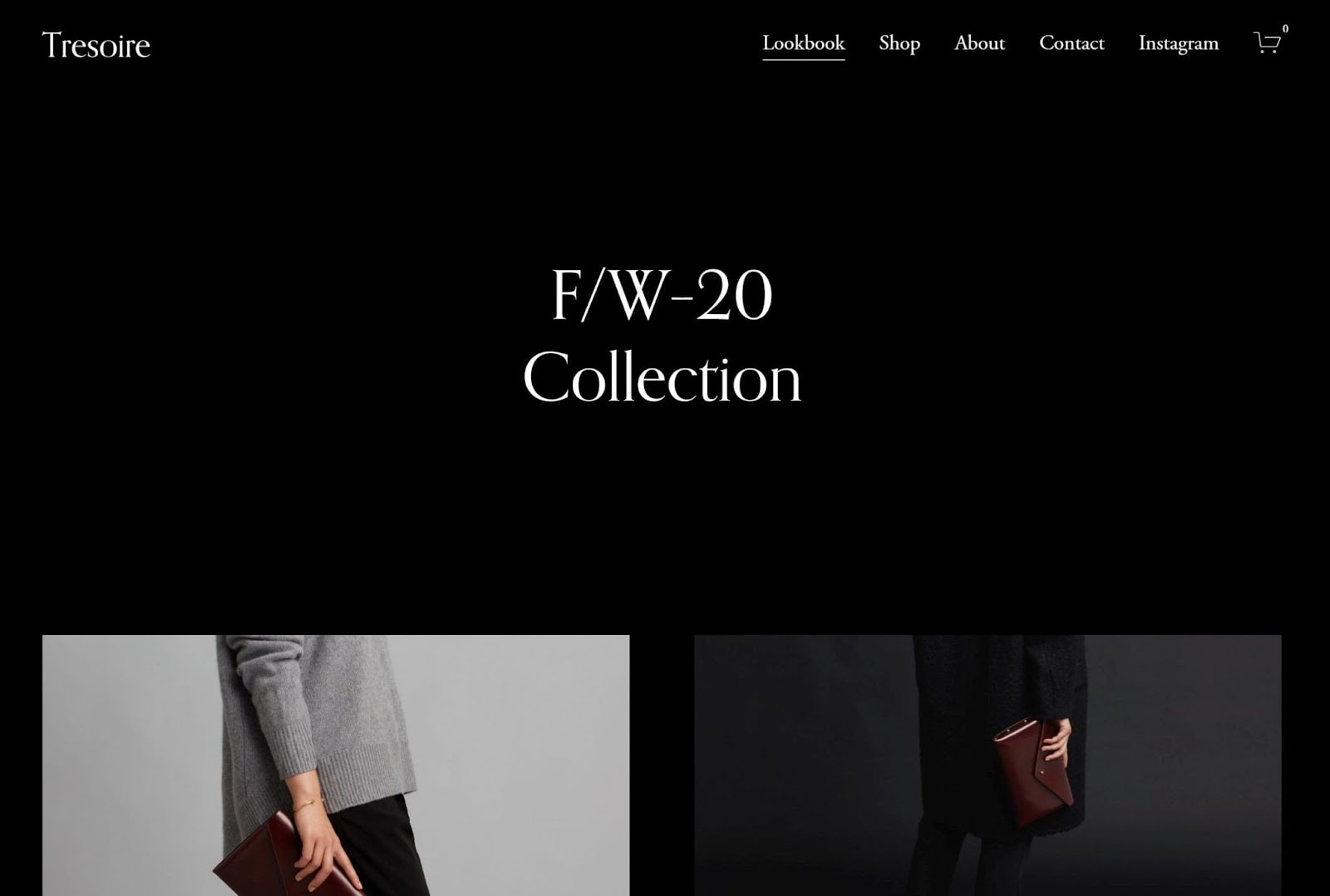 Tresoire
's homepage is simple and clean, but don't be fooled – this template is big on both style and features.
Tresoire's straightforward design makes it easy for shoppers to browse and purchase from your store
, and even set up accounts for faster checkout. A stylish footer nudges visitors to sign up for news about your latest products or sales. The well-designed product galleries on the Lookbook and Shop pages will keep shoppers' eyes focused on your creations. When they hover their cursors over an image,
a button titled Quick View will appear, and allow visitors to see product details without leaving the page
. To make the most of this template, you'd want Squarespace's Business or Commerce plans. That said,
Squarespace plans have a 14-day free trial
, so you can try it risk-free.
Every design element on SITE123's Vertigo Dance Studio's
homepage channels movement and excitement
, which is great for capturing the interest of your target audience. This template has everything you need to show what sets your fitness business apart: multiple image galleries and About, Classes, and Contact pages. When potential clients explore the Classes page, they can click on a thumbnail image to bring up a detailed description, class schedule, and fee.
The Testimonials page
pairs positive client reviews with photos for extra credibility
. (You'll see this page when you're logged into your SITE123 account.) You can use the Schedule Booking tool with this template to make it easy for clients to reserve appointments. And
with a paid SITE123 plan, you can take payments
, integrate live chat, and add tracking plugins like Facebook Pixel or Google Analytics. Every SITE123 template is fully responsive, so your site will look great on any device.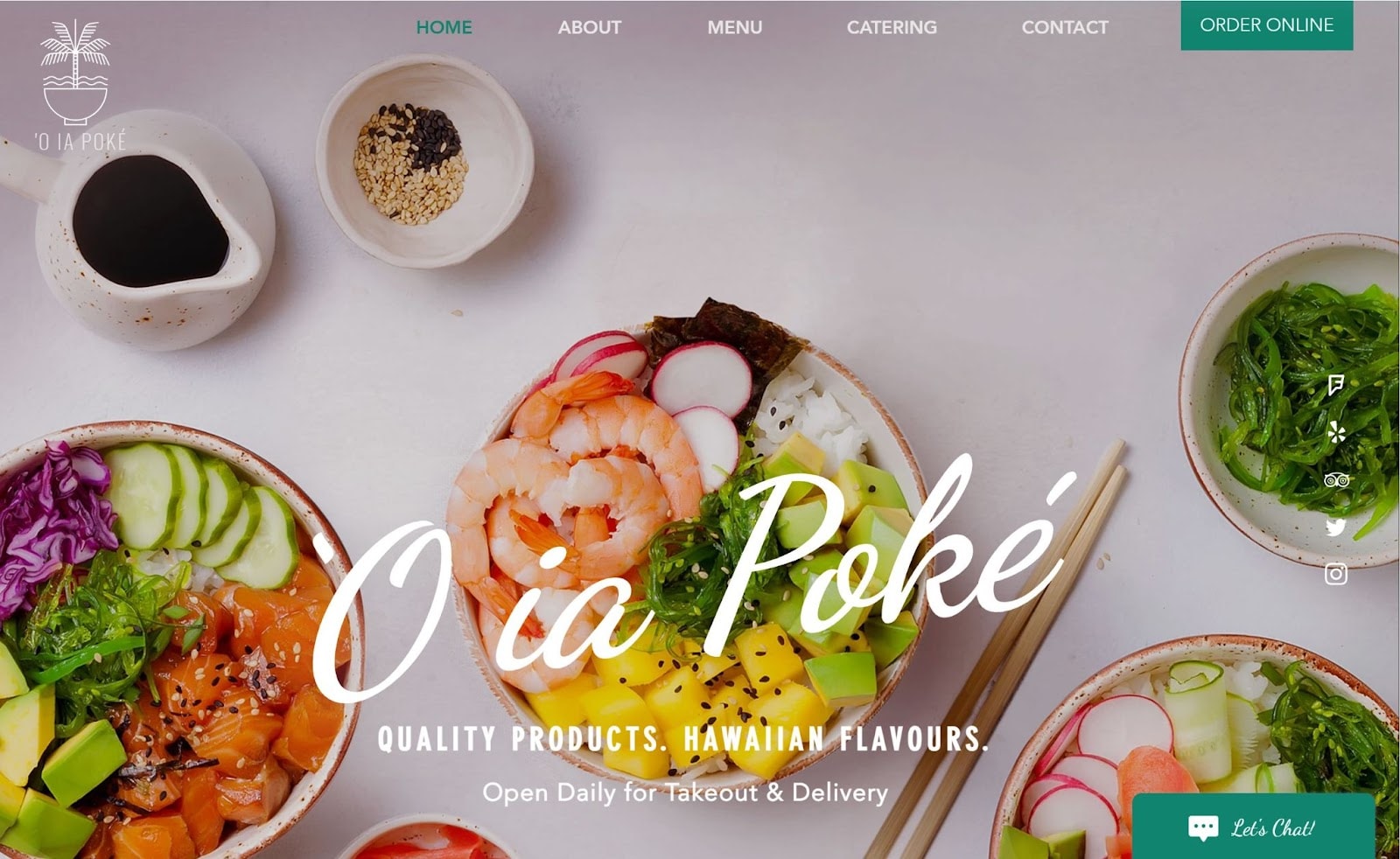 Vibrant colors and quirky animations make Wix's Poké Restaurant fun and appealing, but its built-in features truly set it apart
. The navigation bar at the top of the homepage has links to the About, Menu, Catering, and Contact pages, as well as a colorful CTA that links to a page for online orders. You can
customize text sections and photo galleries
to highlight what's special about your restaurant with free icons, photos, and backgrounds, or use Wix's user-friendly drag-and-drop editor to upload your own. The Wix Menu App makes it easy to design your menus for those dining in, ordering online, or ordering catering. And
the built-in
Wix Reservations and Online Orders apps
let customers book a table or order deliveries with just a few clicks.
Poké Restaurant
places relevant social media links on the right side of every page, so customers can connect with you, and share positive reviews (the default links are for Facebook, Twitter, Instagram, Yelp, and Trip Advisor).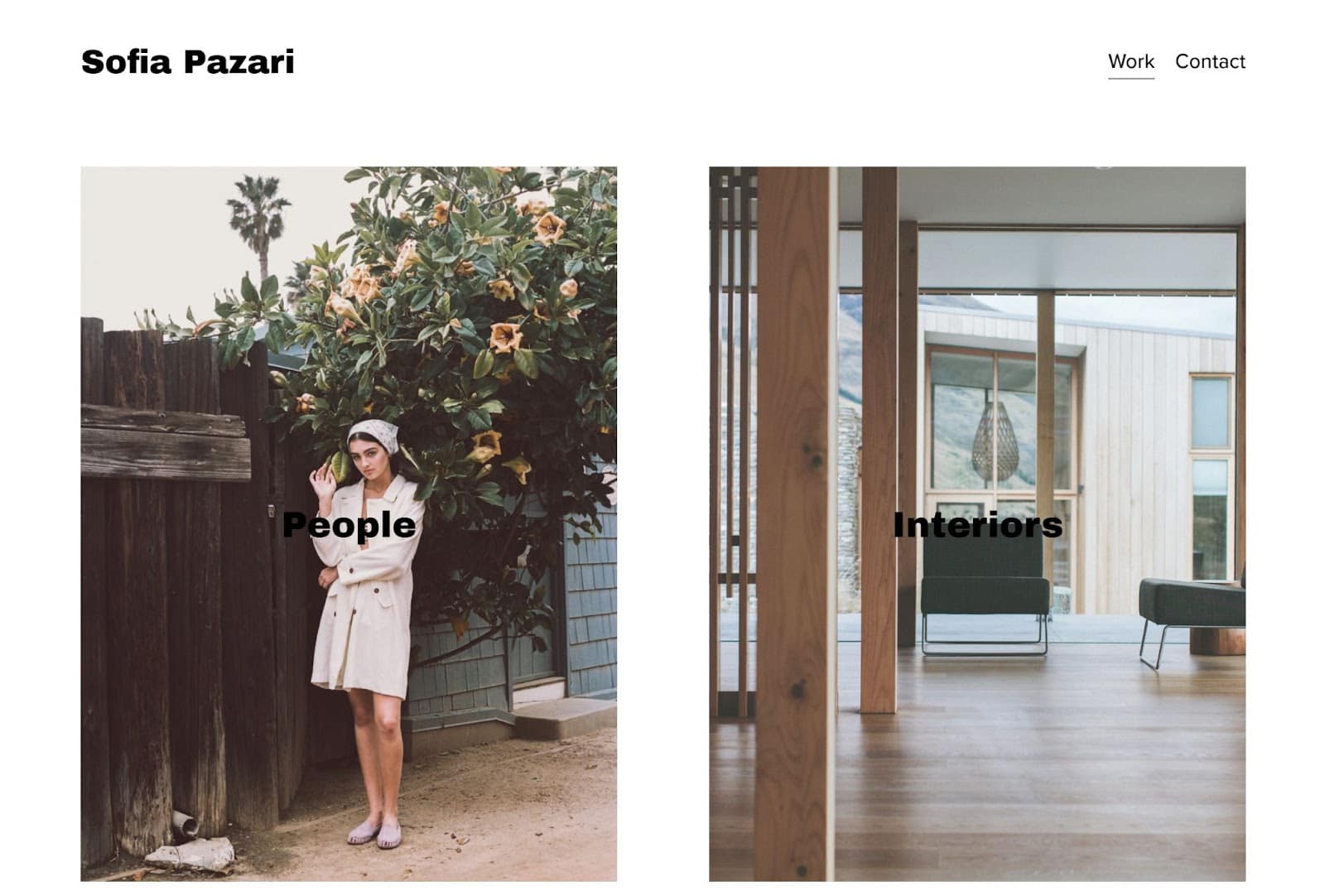 Choose Squarespace's
Sofia Pazari
template, and when visitors land on your page, they'll be treated to four virtual exhibits – each focused on a particular aspect or period of your work. It's my top pick for photographers and artists because
its pared-down design highlights prime examples of your work and doesn't overwhelm visitors.
The homepage has an image for each category of your work, which demonstrates your creative range.
When visitors click on any of the homepage images, they'll be taken to the full gallery
for that category. Text is mostly absent, the better to bring every photo into sharp focus. The Contact page is short and sweet: it has a brief 'about' section, a list of relevant email addresses, and a link to your Instagram account. If you want to share your creative process,
all Squarespace plans make it easy to add a blog
.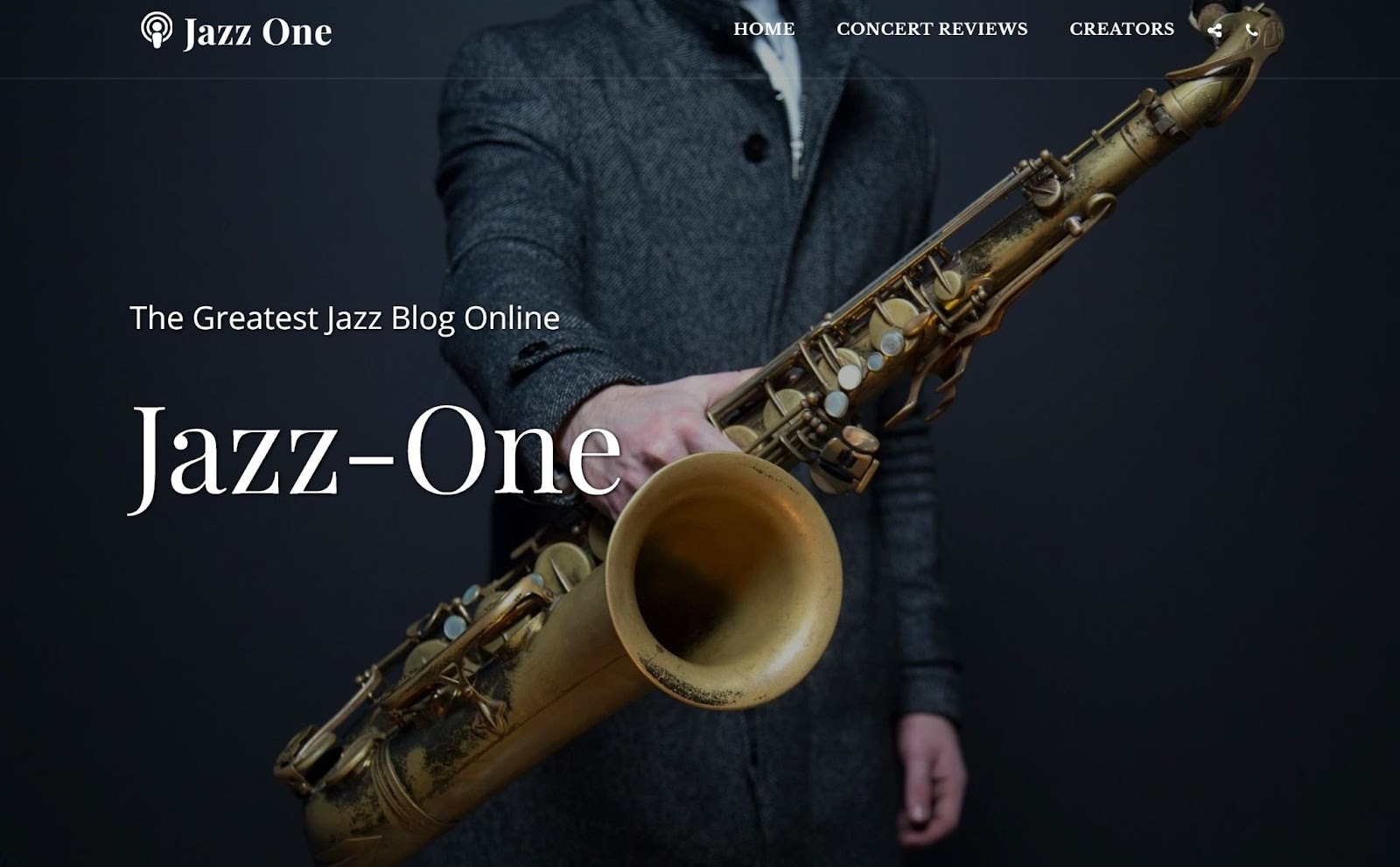 SITE123's
Jazz One
has all the features you need to launch a top-performing entertainment blog or magazine, from
dedicated pages for reviews and for writer profiles
, to a button that lets site visitors add your blog to their RSS news feed. The Concert Reviews page lists your posts by date. Each post has a title, description, and thumbnail image. When readers click on a title, a full review pops up, along with options for sharing on social media.
Posts come with simple comment forms to spark lively conversations
. You can manually screen comments or have them automatically approved.
SITE123 blogging tools let you add free audio files to posts, schedule posts
, and share them on social media. Facebook, YouTube, and Instagram links built into the top navigation menu and footer can help you build a dedicated following. If you want to monetize your site,
SITE123's plans let you sell subscriptions
 and include paid advertising. You can also take advantage of SITE123's affiliate marketing program.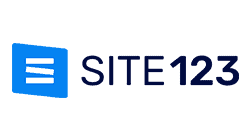 This Black Friday/Cyber Monday, SITE123 is 50 % OFF!
Save 50 % when you sign up for SITE123's annual plan
76 users used this coupon!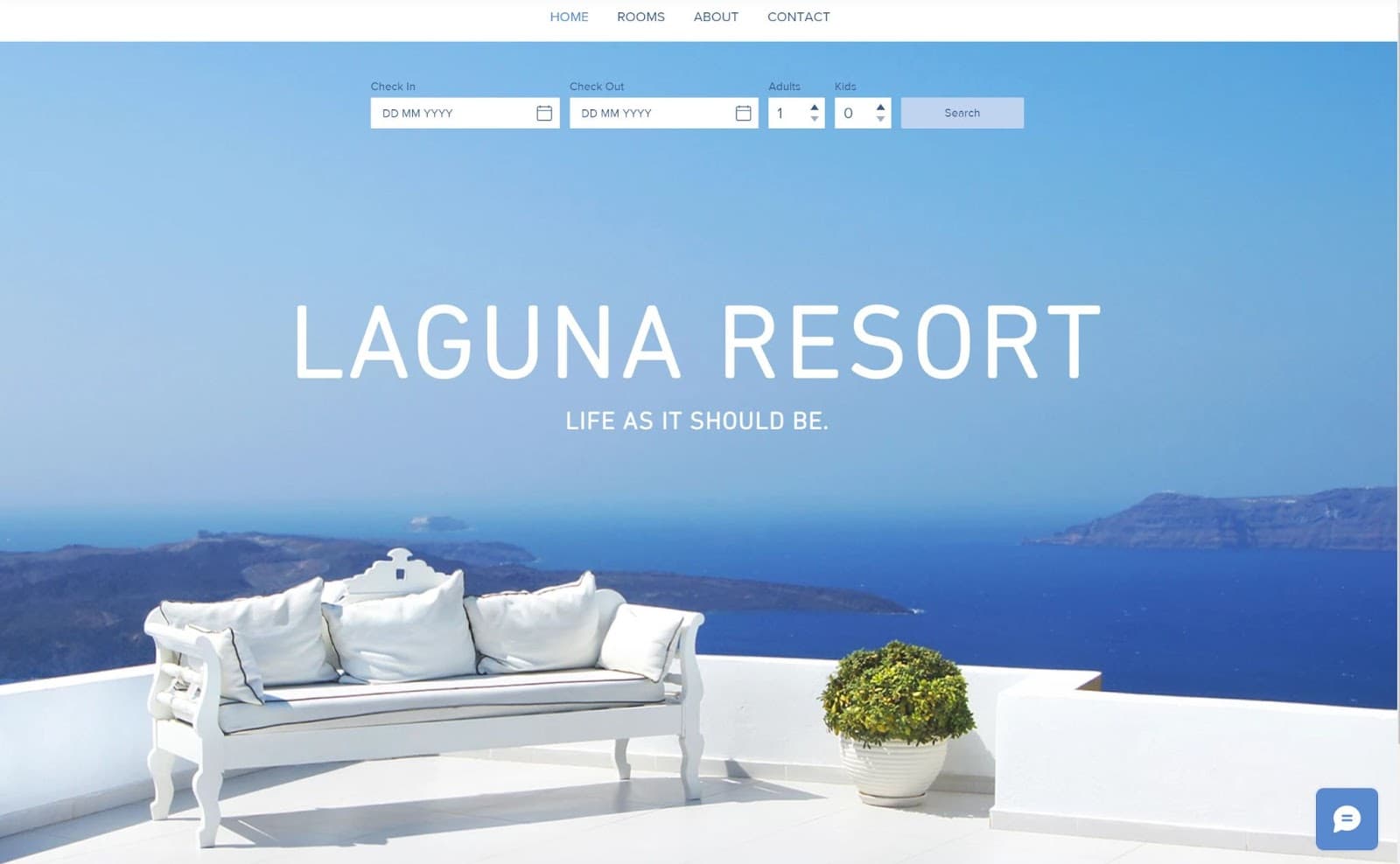 The sleek Wix template
Resort
has a simple homepage design: an oversized header, hero image, and searchable reservation bar.
The navigation menu at the top of every page makes it easy for potential guests to check availability
and book reservations. And they can do it in up to 12 languages from mobile, tablet, or desktop. Each page has a straightforward layout, with a striking banner image at the top and text and visual content below.
The Rooms page lets visitors browse room types, amenities, and rates
. When their cursor moves over a thumbnail image, a
More Info
button appears, enticing them to click to see a more detailed description and slideshow. You can
use the
Wix Hotels app's online booking system
 to set seasonal rates, manage reservations, send automatic confirmations, and accept payments online or in person. It's commission-free, too!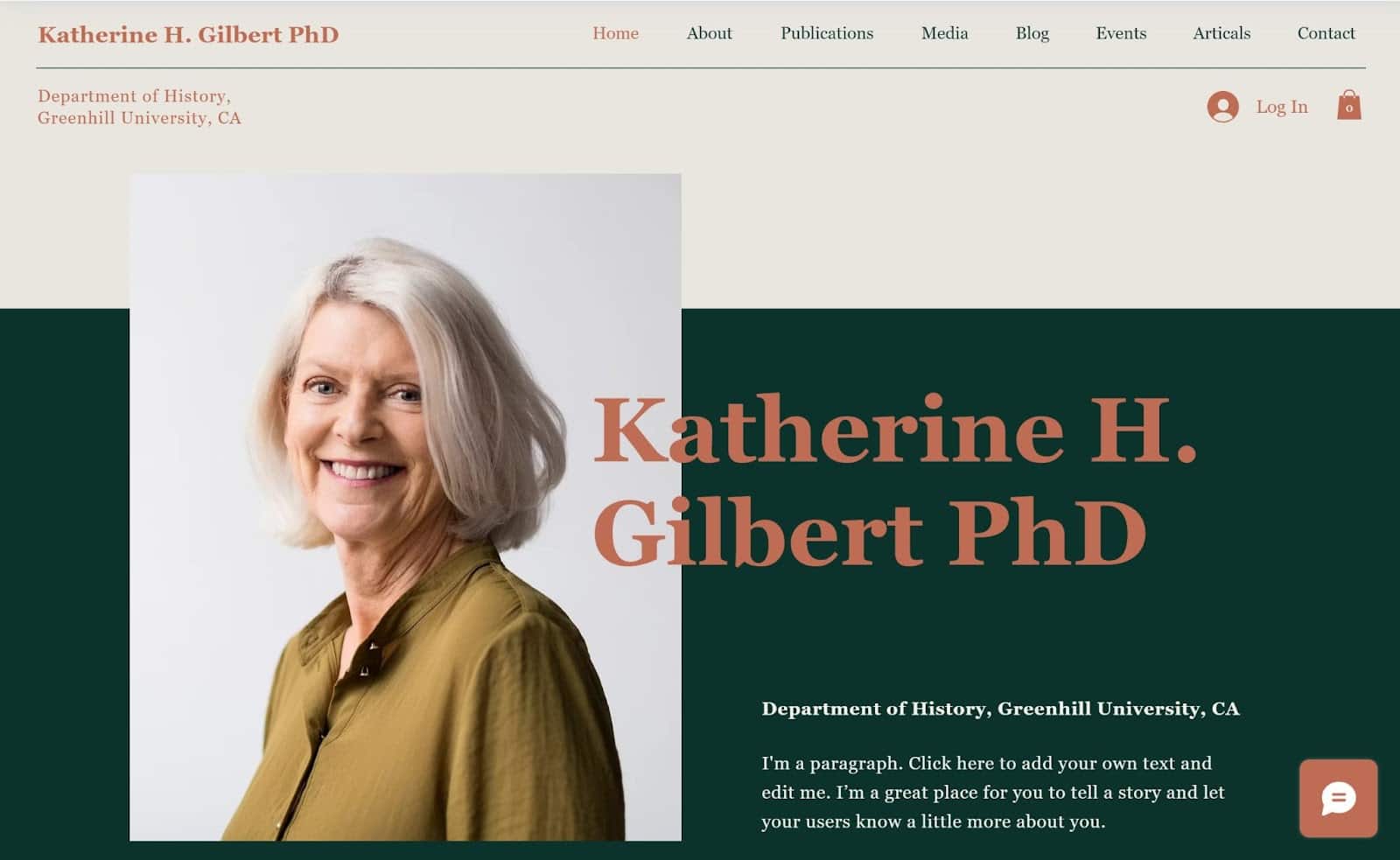 Whatever your area of expertise, I'd recommend the full-featured
Educator
for your
resume/CV or personal portfolio because
it presents your accomplishments in a compelling format
. Warm colors and a clean font set a welcoming, yet polished, tone.
Numerous built-in
features promote your experience, like the
About page, which has a button for downloading your CV
. The homepage has a quick overview while dedicated pages for your research, publications, and media appearances give visitors deeper insight. To bring out this template's full potential,
try a Wix Business plan so you can sell your work
. You can also utilize this plan to sell tickets for upcoming events. You can customize this template with any plan, including the free one, but it's worth noting that many of the built-in features, such as the Publications page, are designed to support monetization.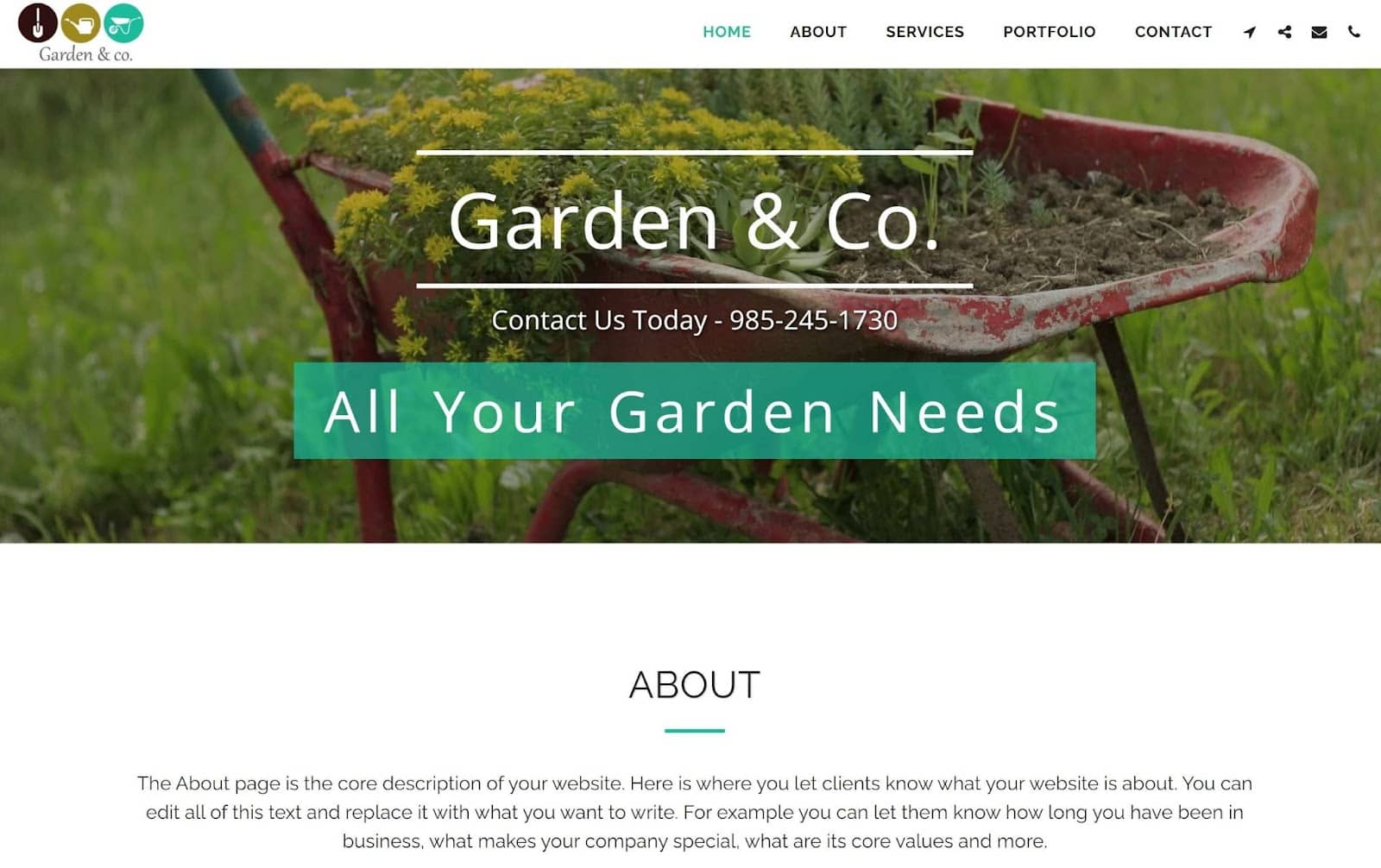 Garden & Co. is a simple one-page site, but like all SITE123 templates, you can convert it into a multi-page site instead. Whichever you choose, you'll find
this template has the important features a small landscaping or gardening company needs
to increase brand awareness, connect with clients, and grow. The About and Services pages (or sections) lay out the core benefits your firm provides and what sets your brand apart. The Services page pairs text snippets and photos with colorful
Learn More
buttons that encourage potential clients to act.
The well-designed portfolio is good for businesses offering design services.
You'll appreciate how
Garden & Co
. makes it easy for clients to find you.
Visitors can just click on the navigation icon in the menu bar to
see directions on Google Maps, Waze, and Moovit
. The built-in contact page also has Google Maps embedded.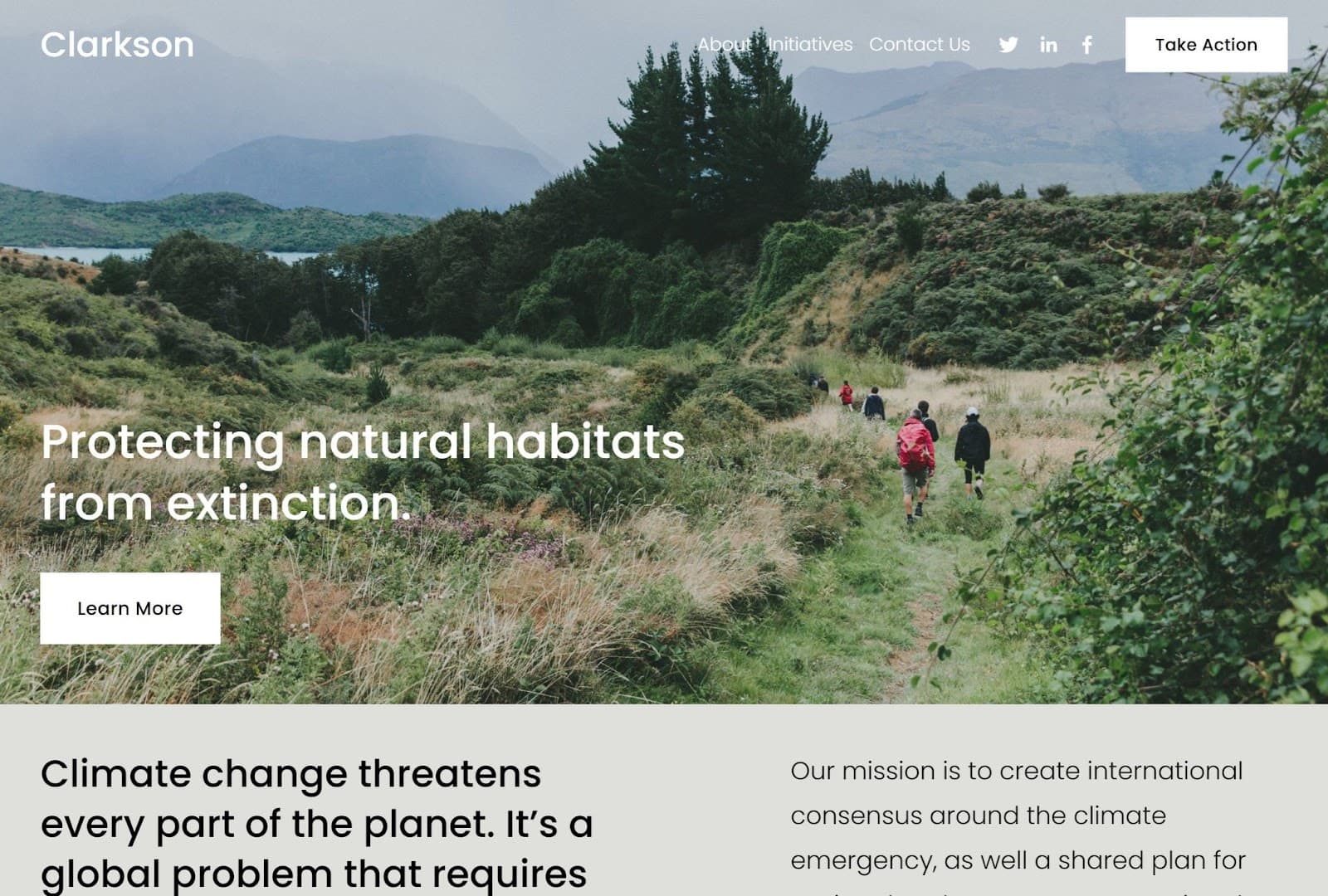 Clarkson
from Squarespace
gives your nonprofit or community organization tools to tell your story, attract funding
, and connect with followers. The homepage is uncluttered and pairs images with short, compelling text. It closes with an email signup form and a footer with your contact information and social media page links. The About page lets you share your group's mission, achievements, and goals. Its text sections are arranged in a grid, framed by bands of whitespace, to draw attention to your key points.
The Initiatives page has an inspiring gallery of your latest projects, so visitors trust your organization.
All throughout the template, CTAs encourage visitors to learn more, donate, or volunteer. Because
Squarespace's Business plan lets you accept donations
, you may want to upgrade to it, to make the most of the template.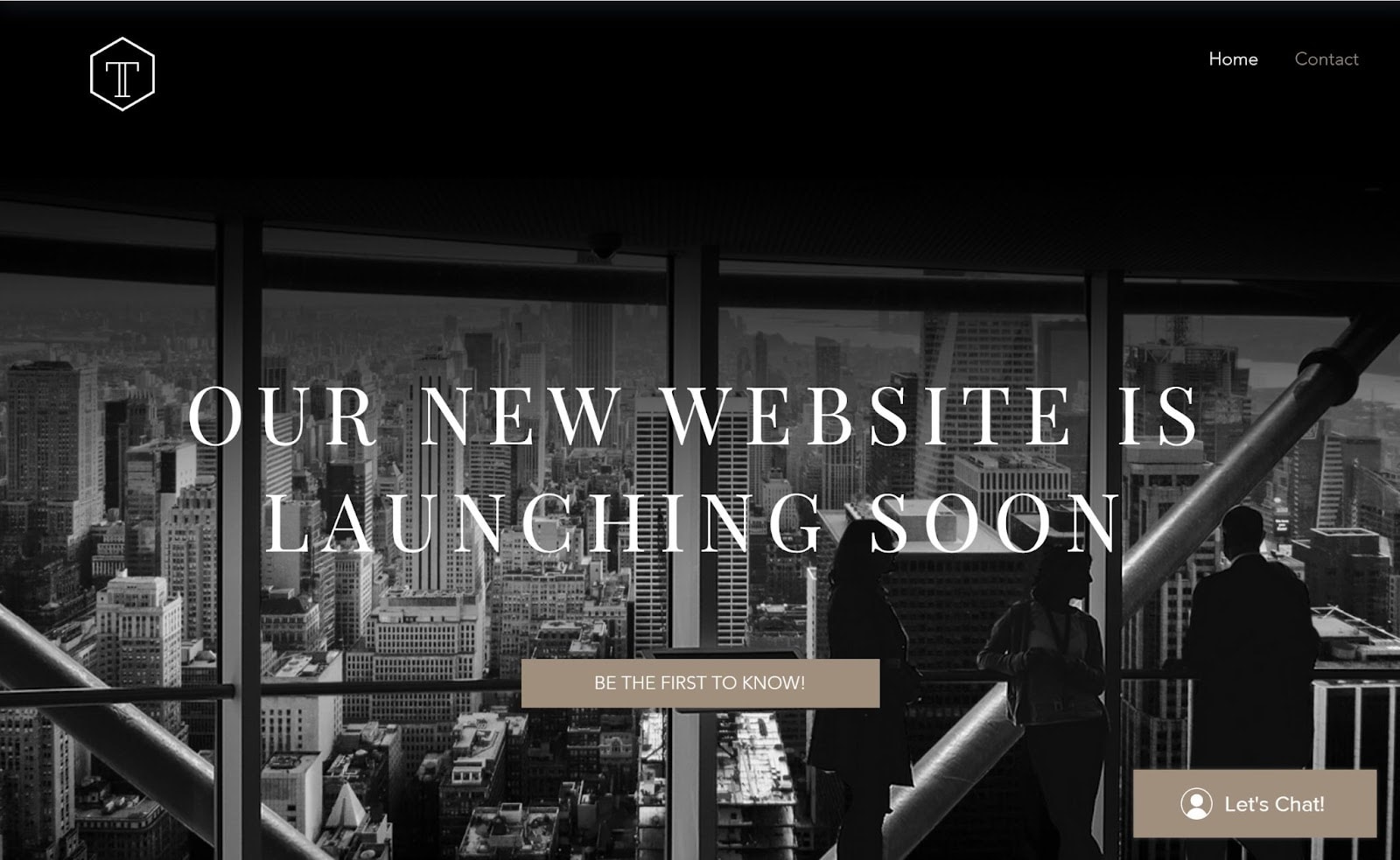 The stylish
Coming Soon
landing page from Wix is a great way for businesses and professionals to
build anticipation about their website launch and generate leads
. It's also good for firms that are revamping their website, and need something useful in place in the meantime. When visitors click on the
Be The First To Know
button they'll be invited to sign up to get notified when your new site goes live.
As you collect these leads, you'll gather contacts you can use to boost your future marketing efforts
and grow your client base.
The template's footer has links for your LinkedIn, Facebook, and Twitter accounts
, so you can still share information about your brand on those platforms. It's also useful if you value your social media presence, and want to keep it boosted while your site is down.
Choose a Template That Will Set You Up for Success
While the overall design and style of your template are essential, it also pays to look deeper to be sure a template has the features you need. It's true that you can always add features the template lacks (assuming the builder offers it), but
customizing new features so they fit the template's look can be time-consuming and difficult.
So ideally, your template will require minimal changes on your part. But you still need to pick a good builder, so you can improve your template as needed. Luckily for you,
the templates in this article all come from beginner-friendly builders
with good features! Generally speaking,
use Wix if you want a lot of customization power
. You can move, resize, and change every element on your template and use hundreds of apps to add extra features. Meanwhile,
SITE123 is best for getting online quickly
. Its point-and-click editor makes editing your template easy and 24/7 live chat support is always there if you have a question.
Squarespace combines power and ease of use
. And as all of Squarespace's new 7.1 templates have the same underlying features, it's harder to go wrong. Once you pick the right template and builder, creating your website can be stress-free. And that's how it should be!
FAQ
Which website builder has the best templates?
It depends. But broadly speaking, you can't go wrong with Wix. It has 800+ templates that are pre-designed for just about every type of website. Meanwhile, SITE123 is good for simple one-page sites, and Squarespace is best for portfolios. To make the most of your templates though, you'll want a paid plan – you can check out our coupons to save some money on your preferred builder.
What is the most customizable website builder?
Wix is the most customizable website builder overall. There are hundreds of page elements (like contact forms, text blocks, buttons, etc) you can add to your site, and you can change the look of anything. Despite this, its user-friendly drag-and-drop builder makes personalizing your template easy. But to see all your options before you start, you might want to check out our list of the best website builders for 2021.
What are the best free website templates?
Most builders will not charge extra for templates, but not all builders are free to begin with. The templates that are truly free are the ones you can access on a free website builder plan. The best of these are templates from Wix and SITE123. What qualifies as the best template depends on your needs. But generally speaking: for creative firms, I recommend Wix's Design Studio; for fitness brands, take a look at SITE123's Vertigo Dance Studio; and for e-commerce, try Squarespace's Tresoire.
Are Wix templates mobile-responsive?
Sort of. If you enable the 'mobile friendly' setting in your template, Wix will resize fonts and images to create a responsive version of your site. Additionally, certain page elements (like slideshows and horizontal menus) are mobile-responsive themselves or can be edited to be responsive.