🏁

Starting price

$

399.00

💲

Fees
No

🏆

Top freelance categories
Account management, writing, HR, marketing, development

🔎

Freelancer screening process
No

⚖️

Dispute resolution
Yes

💬

Live chat support
No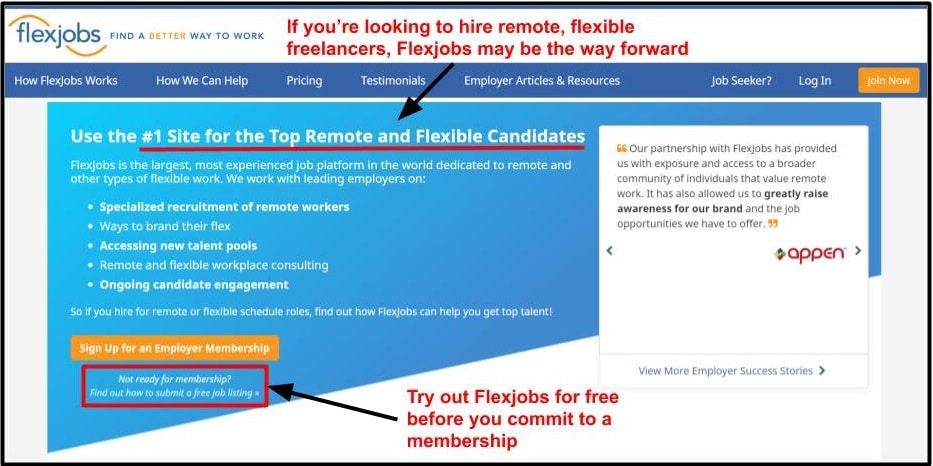 Is FlexJobs Worth the Money?
FlexJobs claims to be the largest, most experienced, number one job site to hire remote and flexible freelancers. Impressive, huh?
The aim of the site is to help people find jobs to fit around their lifestyle, not the other way around. That all sounds pretty great for the freelancers involved, but what does it mean for employers?
FlexJobs claims that by giving you access to different types of workers, like parents trying to combine work with family life or military spouses who need to be able to work from anywhere, you'll be reaching a new pool of talent you'd have missed out on otherwise.
The website is split into two sections: job seekers and employers. For me, this is where its biggest problem lies. FlexJobs obviously needs both elements for the site to run effectively, but at every stage, more importance is placed on the role of the freelancers. As an employer, you're a second thought.
How do I know this? I signed up as an employer and was met with problem after problem. In fact, it was like FlexJobs didn't even want me to sign up – read on to see what I'm talking about. In a nutshell, this is no easy ride. And it's not cheap, either – you'll have to pay for a monthly or annual fee to post jobs and find candidates.
If you're a small business, you should stop right here. There are far better, easier, and more affordable ways to hire freelance talent. Take Fiverr, for instance, where you can hire freelancers for as little as $5.