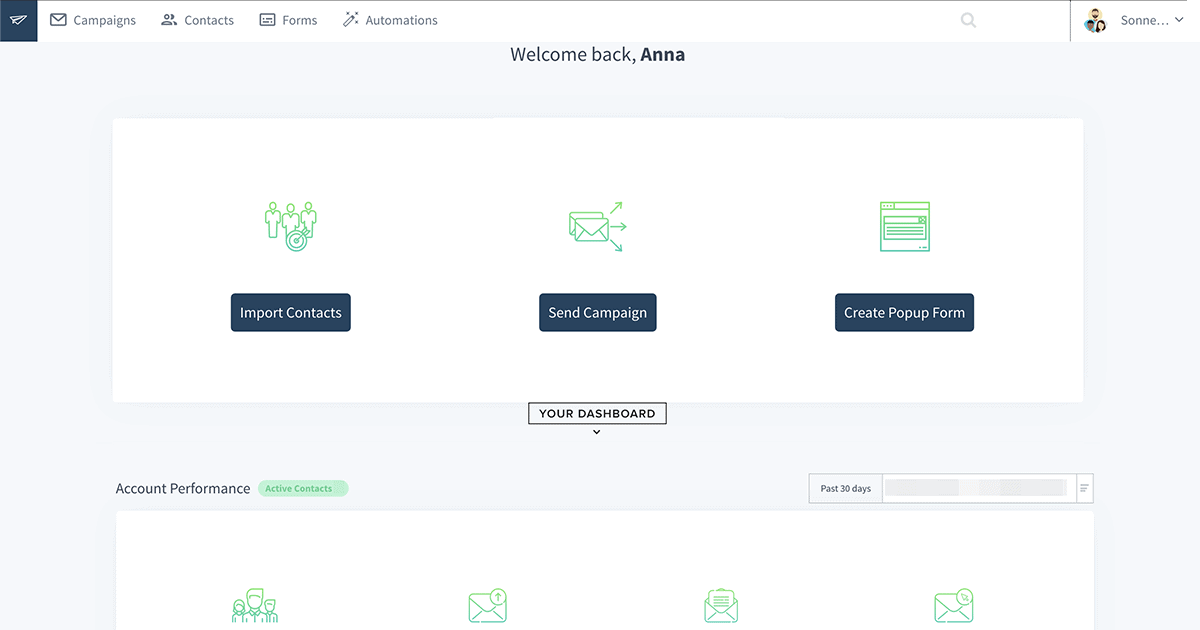 SendX bills itself as an email marketing service with two major selling points: an intuitive interface and affordable pricing plans. Its very simplicity is both a positive and a negative. It's easy to learn, even if you're relatively new to the world of email marketing. This makes SendX ideal for business owners and marketers with smaller lists and straightforward email marketing needs.
However, SendX may not be sufficient for larger businesses with big lists or complex marketing funnels. Simple interfaces generally offer only limited functionality, and that's true for SendX too. In addition, the platform is currently only available in English. If you have a global team or subscriber list and need support for multiple languages, this probably isn't the platform for you – I'd recommend Benchmark instead, which is set up in nine different languages.
Features and Ease of Use
SendX's interface really is easy to use. The dashboard's clean design allows you to find what you need quickly. Each feature has a step-by-step workflow that leads you through any task. Information on your campaigns is clear and easy to track from your dashboard.
This email marketing service includes essential features like:
Premade email templates
Drag-and-drop editor
Drip campaigns
Automated emails
Popup and embedded subscription forms
Landing pages
Contact management and segments
With SendX, you can create email campaigns or drip sequences and set up A/B tests in just a few minutes. The platform has about 50 email templates, with categories like e-commerce, events, and newsletters. You can modify any template or create your own custom design from scratch with the drag-and-drop editor. You can also enhance your email campaigns with SendX's free library of over 500,000 stock images.
SendX also offers forms and landing pages to help you grow your list. You can create popups or embedded subscription forms with over two dozen premade templates. If you want to grow your list by offering a download or hosting a webinar, you can use about a half-dozen templates to create landing pages.
So far I've covered fairly standard email marketing platform features, but SendX includes some options that are a bit more unusual too, like:
Automatically segment new subscribers based on the signup form or information provided.
Pick a send time based on subscriber location or past behavior to boost open rates.
Resend a campaign to people who didn't open the email to give them another chance, and improve open rates.
View a click heatmap for every campaign so you can see which CTAs perform the best.
To make this email marketing service even more useful, you can link it to other apps. SendX offers about a dozen native app integrations. That isn't a lot of integrations when you consider that AWeber offers more than 850. However it's not always about quantity, and the integrations on offer include ones that smaller businesses are more likely to need, including Shopify and WooCommerce for e-commerce, Instapage for landing pages, and Pipedrive for a CRM.
However, once I looked in more depth at the integration offerings, I wasn't particularly impressed. Many of the native SendX integrations are either poorly implemented, out of date, or badly documented. The SendX WordPress plugin, for example, was last updated four years ago. Others require special configuration too, such as configuring webhooks, which would be difficult for someone not technically-minded.
In many cases, you may be better off connecting SendX to Zapier rather than using the native integrations. It offers about 2,000 integrations with a variety of apps and tends to keep its integrations current.
Pricing and Support
SendX doesn't have a free version, but you can test out the platform with a 14-day free trial. Business plans start at $9.99 per month for 1,000 subscribers, and discounts are available for purchasing an annual plan. This is great value for what you get since even the lowest-priced plans have all the essential email marketing features. All SendX plans include unlimited email sending, so you always pay based on your list size.
Unlike many other email marketing services – such as ActiveCampaign and Sendinbluewhich offer more plans based on the number of features you receive – SendX has just two plans to choose from. The Business plan includes all the features most businesses need and is designed for up to 200,000 subscribers. The price you pay for this plan depends on the number of subscribers you have. The Enterprise plan is for organizations that have over 200,000 subscribers and includes personalized training and setup.
SendX also offers select add-ons, although it isn't easy to find out the cost of some of them up-front. For example, you can get a dedicated IP to gain more control over email deliverability. You'll need to contact SendX directly for pricing, as the cost depends on your email volume – a little surprising considering its usual 'pay on list size, not number of emails' policy.
Both the Business and Enterprise plans include 24/7 email and FAQ support, and I was also able to access chat support. I was confused about the acceptable list sizes for the two plans, and I received clarification via chat within minutes. SendX's pricing page allows you to enter how many subscribers you have and instantly see how much you'd need to pay.