I'd choose WP Engine over GoDaddy
. What does WP Engine have that GoDaddy doesn't? In this expert review, I've compared WP Engine vs GoDaddy WordPress hosting in the five key areas you need to evaluate before you make your final choice:
Round 1: WP Engine Has Speed-Enhancing Features That GoDaddy Lacks
WordPress is known for affecting page loading speeds, so WP Engine has taken action to reduce that impact – with some great results.
The secret to WP Engine's performance lies in its bespoke EverCache system.
EverCache includes a built-in CDN (content delivery network), which means your website will be loaded from virtual servers closest to your visitors – no matter where in the world they are. WP Engine has also developed more effective communication between the WordPress platform and WP Engine's NGINX servers, which allows for EverCache's "aggressive" caching. What this means for you:
Both dynamic content (i.e., content that's regularly updated) and static content (such as images) are cached
. Combined, the features in EverCache result in some really impressive speeds: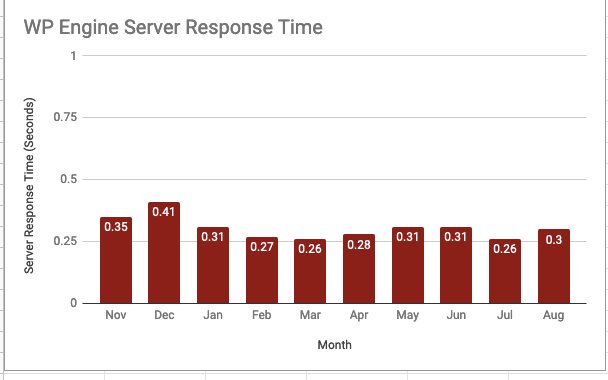 By contrast,
GoDaddy hasn't really put much effort into boosting speeds on its managed WordPress plans
. It uses load-balanced servers and SSD storage and offers PHP 7 (which is much faster than the PHP 5 many budget shared hosting companies use) – but these features are fairly standard and don't do much for page loading speeds. You can use Cloudflare's free (or paid) CDN plan with GoDaddy – but it's not integrated, so you have to set it up yourself or get some expert help to get you started. Instead of offering speed-enhancing features on its regular Managed WordPress plans,
GoDaddy prefers to encourage you to upgrade to one of its Pro plans
 – which are aimed at web designers and freelancers who build and manage websites for clients. Pro plans include a CDN that can boost speeds by up to 75%. On managed WordPress hosting plans, your website could take up to twice as long to load with GoDaddy compared to WP Engine: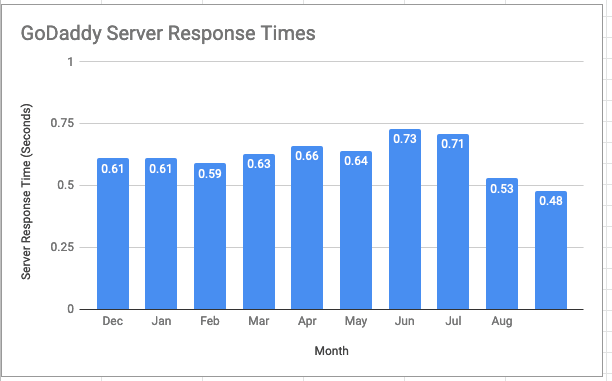 WP Engine has an impressive uptime average of 99.99%
– which means only around three and a half minutes of downtime a month. GoDaddy is less reliable – with an average uptime of 99.97%, or 12 minutes of downtime a month.
And the winner is:
WP Engine. For both speed and reliability, WP Engine leaves GoDaddy far behind, making it a clear winner in this round, and it ranks highly in
our expert review
 too.
Round 2: GoDaddy Gives You a Free Domain Name, but WP Engine Offers so Much More
With
WordPress hosting
, you're less likely to see unlimited storage (which is often featured in shared hosting plans). WP Engine has storage limits between 10 GB and 30 GB, depending on the plan you choose.
However, its standout feature has to be LargeFS, a WP Engine product that can give you almost unlimited storage.
LargeFS uses Amazon S3 – one of the biggest names in file storage and transfer. You can extend your server storage onto S3 easily with LargeFS, though you will need to create an Amazon S3 account. There's a free tier with S3 that gives you 5 GB of storage and transfer each month – but the beauty of S3 is that you only pay for the storage you use, and each additional GB over 5 GB costs only a few cents.
GoDaddy doesn't really have standout managed WordPress features.
You get a
free domain name
on
annual plans
(for the first year), between 10 GB and 30 GB of storage (depending on your plan), and a staging area and SEO Wizard on the Deluxe plan and above. The Ultimate plan also includes a free SSL for one year. To help you compare WP Engine vs GoDaddy on features, here's what you get:
Feature
WP Engine
GoDaddy
Storage Space
10-20 GB, dependent on plan
10-30 GB, dependent on plan
Money-Back Guarantee
60 days
30 days
Free Domain Name
No
Yes, on annual plans (for the first year)
Automatic Backups
Yes, daily, kept for 30 days
Yes, daily
Free SSL Certificate
Yes, on all plans
Only on the Ultimate plan
Free CDN
Yes, built in
Support for Cloudflare
Bandwidth
50-200 GB, depending on the plan
Unmetered, but with recommended monthly traffic for each plan
Free Site Migration
Yes, using the auto-migration tool
Yes, using the auto-migration tool
Extras
Dev, stage, and prod areas for building your website
Staging area available on Deluxe plan and above
Genesis Framework and 35+ premium StudioPress themes
SEO Wizard on Deluxe plan and above
Transferable sites – so you can build a website for someone else and transfer the ownership to them
Built-in signup forms powered by Gravity forms
And the winner is:
WP Engine. It has more WordPress-specific features, gives you the Genesis Framework and free themes, and has LargeFS to expand your storage easily. In comparison, GoDaddy offers very little in the way of extra features, though you do get unmetered bandwidth.
Round 3: WP Engine Puts Security First – GoDaddy Only Offers Security on Top-Priced Plans
Security should be a top concern for web hosts, but there are a lot of hosts that see security as a way to generate more income. Rather than building security features into their plans, they offer security as an add-on to be purchased during the checkout process, sometimes doubling the monthly fees.
WP Engine does include fairly generous security features in its plans
, such as firewalls, malware scanning, intrusion detection, and brute-force attack prevention. Plus you get the option to purchase even more advanced security features during the checkout process. WP Engine also uses disk write protection to ensure that your website can't be infected by malicious code.
GoDaddy, however, is one of those hosts that expects you to pay extra for your security.
There's basic malware scanning on all plans, but, unless you opt for the Ultimate plan, you'll have to remove any malware yourself or pay for the Website Security add-on. Since GoDaddy has frequently been in the top 5 of a list (by URLhaus) of hosts that have a lot of problems with malware, the fact that automatic malware removal is only included in the higher-tier plan is disconcerting.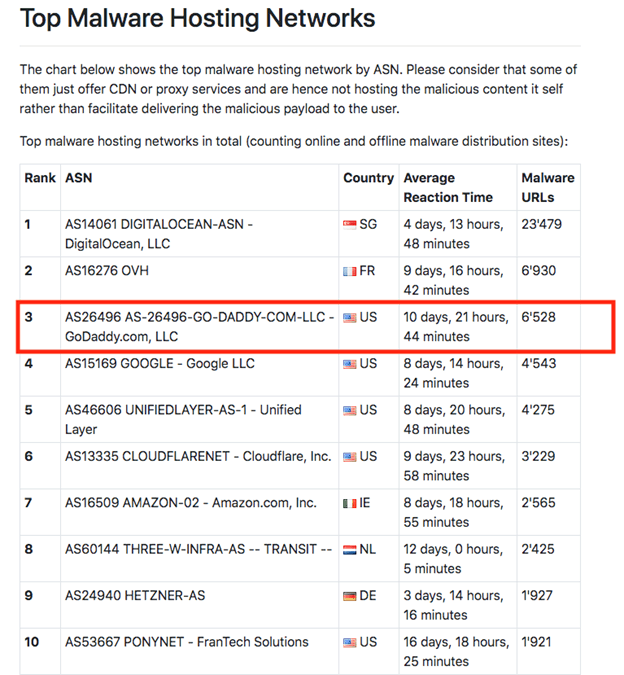 GoDaddy does provide DDoS protection, but its security is poor compared to WP Engine. What's more, only the Ultimate plan includes a free SSL, while WP Engine includes SSL on
all plans
.
And the winner is:
WP Engine. It offers a better level of security than GoDaddy by far, and you won't need to purchase additional security (unless you're building a website that needs very specific security measures).
Round 4: WP Engine Includes Value-Added Features – GoDaddy Wants You to Pay for Them
When looking at value, there's more to consider than just the price you have to pay. WP Engine's prices are considerably higher than GoDaddy's
managed WordPress hosting plans
, but that's only at first glance.
WP Engine does, however, give you valuable features that GoDaddy doesn't
– and when you factor in the costs of buying add-ons with GoDaddy or upgrading to GoDaddy's Pro plans, the costs involved with WP Engine don't seem so bad:
WP Engine gives you options to expand your storage without having to upgrade. With GoDaddy, to get larger amounts of storage, you have to opt for one of the Pro plans.
WP Engine has a 60-day money-back guarantee period, which is twice as long as GoDaddy's.
WP Engine's prices don't require you to pay up front for long contracts. To get GoDaddy's advertised prices, you'll have to commit for three years.
And the winner is:
WP Engine. Despite its high monthly fees, WP Engine has standout features that make it a better value for the money in the long term. With GoDaddy, the additional costs mean GoDaddy's Pro plans are no cheaper than WP Engine plans.
Round 5: WP Engine Has Better Support AND Tons of Tutorials
Unless you're a website developing expert, there's going to be a time when you need to call on customer support. Whether it's a billing issue or some kind of technical problem, you want to know that you can get in touch with the right people to fix the issue, no matter the time. Here's a scenario to demonstrate. Your website goes down at 4 a.m. and you need to contact your host's support team.
With WP Engine, you have the option of phone or live chat support 24/7,
so if you don't want to be talking on the phone in the middle of the night, disturbing your family members, you can hop on live chat to get your issue resolved. However, GoDaddy doesn't provide the same level of luck. They offer 24/7 support, but exclusively through phone communication. Moreover, it's important to note that not all countries have access to 24/7 support. To determine the support availability in your location, you can refer to the global support page. Their live chat service operates strictly from Monday to Friday, between 5 a.m. and 6 p.m. PST. My own experience with GoDaddy's support team has been less than impressive.
With live chat, even during operating hours, you can be waiting for over half an hour to be connected.
Phone support is equally frustrating, leaving you waiting in a queue for up to an hour. WP Engine is better.
I was able to connect to a support agent on the phone relatively quickly
(although I still had to wait for around 15 minutes before I could speak to a support agent). Live chat support is reserved for customers only, and online reviews and customer experiences suggest that it's both quick and efficient most of the time. Plus our
in-depth, expert review
labels it 'friendly, accessible and expert help'. GoDaddy has a knowledge base that you can turn to for help, but WP Engine has a much more user-friendly support center full of how-to guides, tutorials, and videos.
And the winner is:
WP Engine. Ultimately, WP Engine's support is better than GoDaddy's, with better availability, shorter wait times, and an excellent support center.
WP Engine May Cost You More, but It's Still a Better Choice
Our Recommendations
For WordPress hosting,
WP Engine
is really hard to beat. Sure, you have to pay more for, but the benefits are long term and you get a great set of themes for your new website. Personally, I recommend WP Engine if you're a business owner looking for fast, reliable WordPress hosting that takes care of security, backups, and updates, leaving you free to manage your business. Discover more about WP Engine's features in
our expert, in-depth review
. If you don't have a big budget for hosting, however, and you're building a more personal website, such as a blog or online portfolio, then you could still consider
GoDaddy
. Be aware, however, that its advertised prices are based on paying for three years up front, and you'll have to factor in the cost of your security features, too. If you're considering GoDaddy,
find out more in our expert review
.
Performance
The EverCache system ensures websites load fast every time
Performance-boosting features are reserved for the Pro plans, resulting in slower speeds on regular managed WordPress plans
Features
The use of LargeFS makes storage virtually unlimited, although you will have to pay some fees to Amazon S3
Free domain name on annual plans (for the first year) and an SEO Wizard on higher-tier plans
Security
Server-level security keeps your website secure, without any additional costs
Security features are limited on lower-tier plans, meaning you have to purchase better security
Value for the Money
Prices are higher, but you do benefit from speed enhancements and security features
Plans seem cheaper, but you have to pay up front for long periods to benefit from low prices – and the price on the Pro plan is similar to WP Engine costs
Customer Support
24/7 support via live chat and phone, plus a large selection of tutorials and articles to help you resolve issues
24/7 support isn't available in all countries and is only available via phone – live chat is limited to specific times on weekdays