If you use a Wix site to market your business, you might be tempted to use Wix Ascend for email marketing. It's obviously convenient since Ascend integrates with your Wix site and lets you manage all your marketing needs with a single platform. But does Wix Ascend have the features or automations you need to grow your business – or would you be better off with a dedicated email marketing service like Mailchimp? Since the two platforms have very different pricing structures, feature lists, and value propositions, it's hard to decide which to choose without trying both. To compare Wix Ascend vs. Mailchimp,
I tested both platforms for features, ease of use, reporting, and support
. I also created a side-by-side comparison of Mailchimp and Wix Ascend plans. Mailchimp won this comparison fair and square. Although Wix Ascend impressed me with its support and affordability, Mailchimp came out on top in key areas like features and ease of use.
Features
Ascend by Wix Is Fine for Beginners; Mailchimp Lets You Do Much More
When it comes to email marketing features, I prefer Mailchimp for its bigger design library and more complex automations.
If you were hoping for a variety of email templates to choose from, Wix Ascend will disappoint you.
The platform only has about 16 templates, and they all have similar designs.
Mailchimp, on the other hand, offers more than 
50 high-quality designs
on its email template marketplace.
Although they cost extra, these fully-customizable templates are designed by experts, giving your emails a professional look and feel.
If you don't want to use a predesigned template,
Mailchimp lets you choose from about a dozen simple layouts to design a custom template
, which is a nice bonus. If you're more experienced, you can also code or upload your own design. Wix Ascend's automated emails are pretty limited, with most options focusing on transactional rather than marketing workflows. That is, you can take actions like sending invoices to customers, but you can't develop drip campaigns based on subscriber engagement, for example.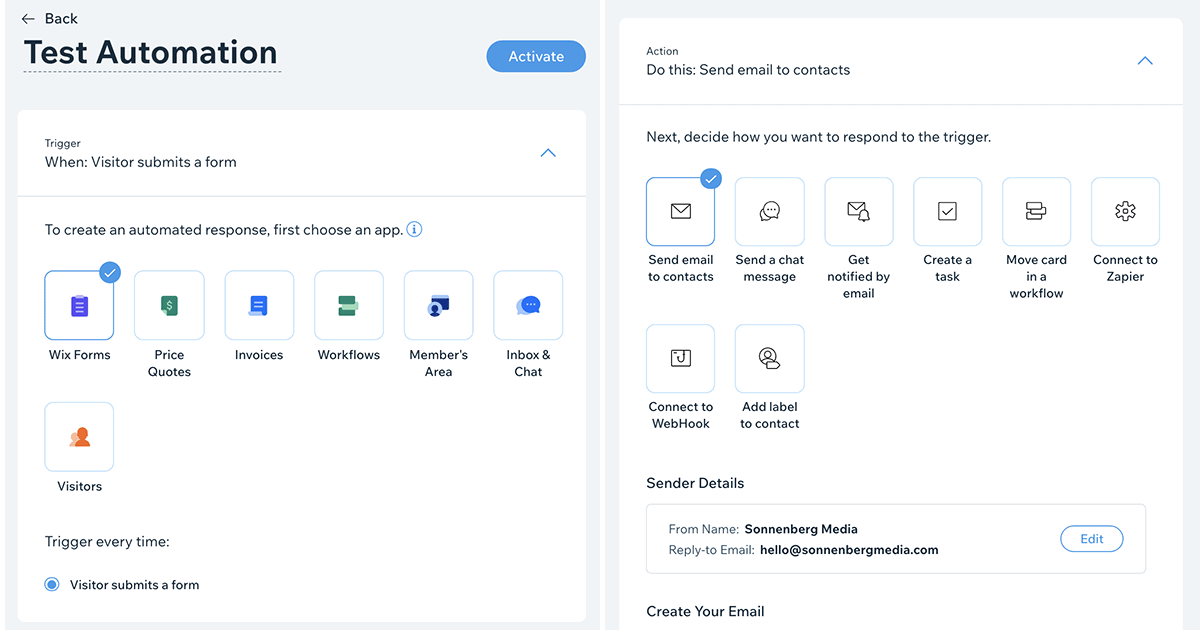 By contrast, Mailchimp has about 30 options for email automations. This includes sending automated messages to new subscribers, remarketing to e-commerce customers, and checking in with certain contacts.
A/B testing provides tons of value as it allows you to test slightly different versions of your email and identify what works best.
Although every paid Mailchimp plan has split-testing, Wix Ascend doesn't offer this feature with any of its plans
. With Mailchimp, you can test up to three versions of the subject line, from name, send time, or campaign content, which is a good variety of factors. You can also choose what percentage of subscribers should receive each version and tell Mailchimp whether you want it to determine the winning version by open rate, revenue, or click-through rate.
Mailchimp comes out on top in this round as its email marketing feature set is considerably more robust than Wix Axcend's.
Ease of Use
Wix Ascend Can Be Tricky to Navigate; Mailchimp Is a Breeze
When you first start using either Wix Ascend or Mailchimp, you can expect a steep learning curve. Personally, I found Mailchimp more intuitive overall.
In my Ascend by Wix review, I found the platform a little challenging to navigate.
 You have to dig pretty deep into the Wix menu system to even find the email marketing platform, and that rings alarm bells. It's also missing some important features, such as subscriber segmentation or a spam tester. However,
 once you find what you're looking for, the platform is easy enough to use
. I was able to import contacts in less than a minute, and I could easily sort through contacts to add labels manually. I could also use a premade template to set up an email campaign in about 10 minutes.
From the start, I found Mailchimp easier to navigate
, as everything I needed was in the single left-hand menu. The platform continually prompted me to try out helpful features. For example, when I went to import contacts, Mailchimp asked if I wanted to create a landing page to get more subscribers or connect contacts from an e-commerce site. Suggestions like that can be helpful if you're new to the marketing world.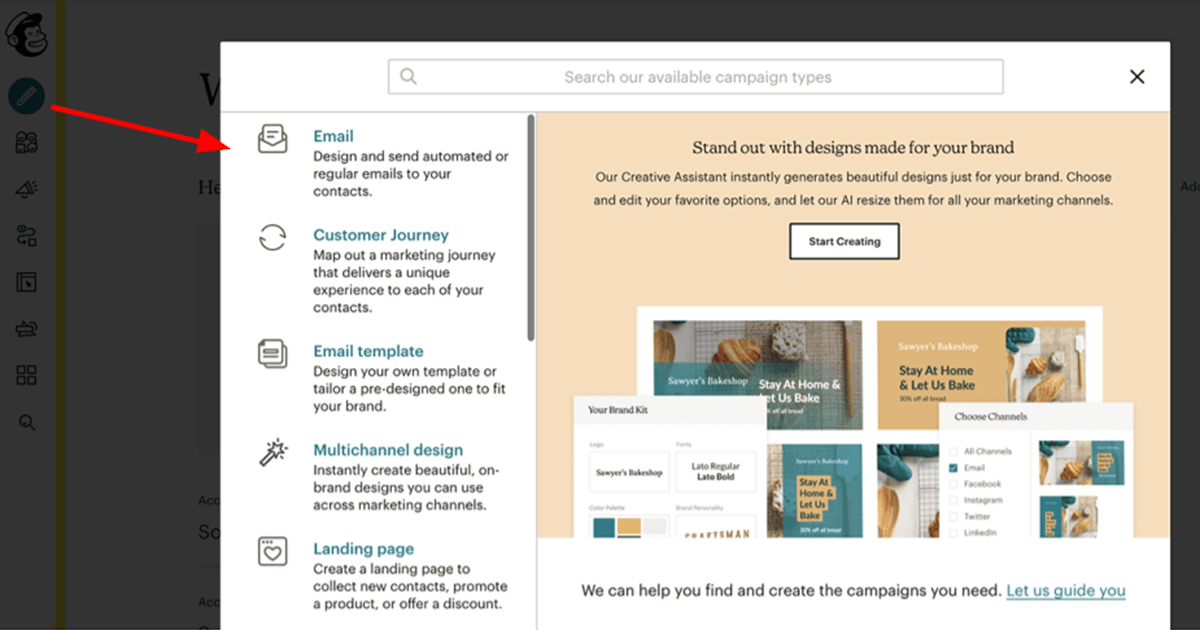 I was able to import contacts to Mailchimp in a few seconds.
Creating a subscriber segment – a feature Ascend doesn't offer – was also simple, thanks to Mailchimp's dropdown menu of preset conditions.
Mailchimp's drag-and-drop editor gave me more fine-tuned control over the layout and design than I got with Ascend.
Combine that with its beautiful templates, and you can really craft some highly-engaging messages.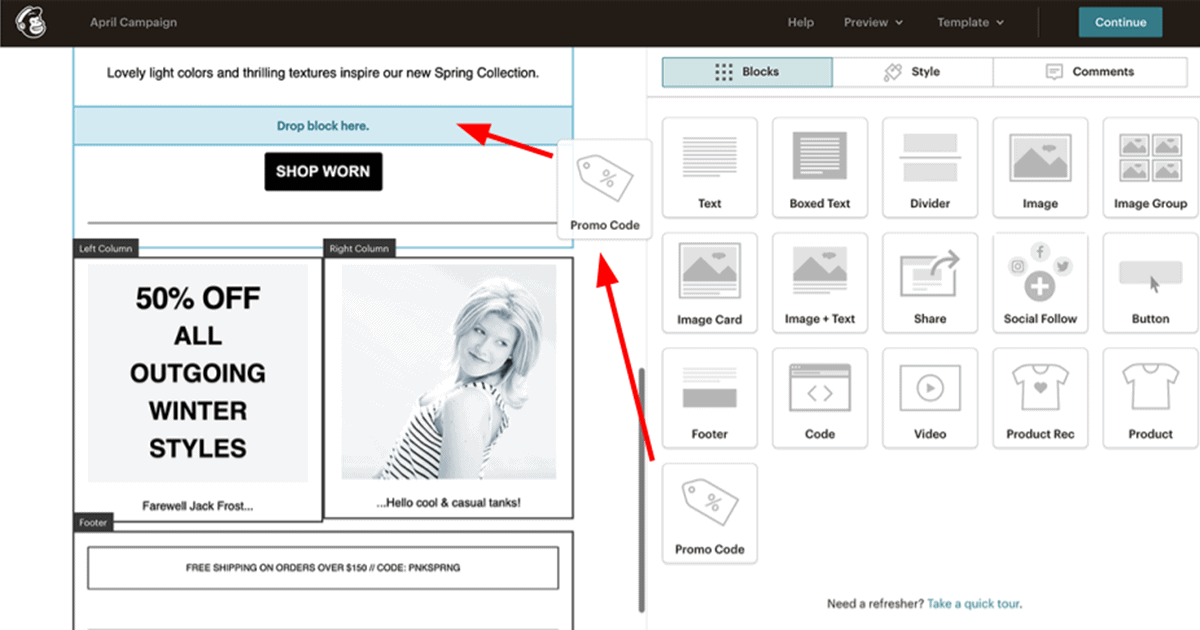 Although Wix Ascend's quite easy to use once you get used to its menu, it can't really compete with Mailchimp's super-intuitive UI.
Mailchimp wins.
Deliverability
Both Platforms Will Deliver Your Emails
Crafting good-looking emails quickly and efficiently is one thing. Ensuring those emails reach their destination is a whole different story. A good deliverability rate is crucial to successful email marketing, but measuring it can be quite tricky.
At Website Planet, we don't rely on traditional deliverability tests for our scores
. The reason is simple: there are way too many variables involved in the sending process, and the results are often unreliable.
Instead, we take a good look at tools and features we know improve overall deliverability.
If you want to learn more about why we do this, you can
read my colleague's updated deliverability guide
. First, we make sure DKIM authentication is available. In a nutshell, DKIM tells email providers whether the emails sent in your name are really sent by you.
Both Wix Ascend and Mailchimp have DKIM, as well as helpful guides to help you set it up
. Spam policies also affect a platform's deliverability rate. Although neither platform tolerates spam,
our research has shown that Mailchimp's anti-spam rules and requirements are a bit stricter
. There's a correlation between relaxed affiliate marketing policies and low deliverability rates. You can't use Wix Ascend or Mailchimp to promote third parties unrelated to your business, but affiliate links that add value to your message are allowed.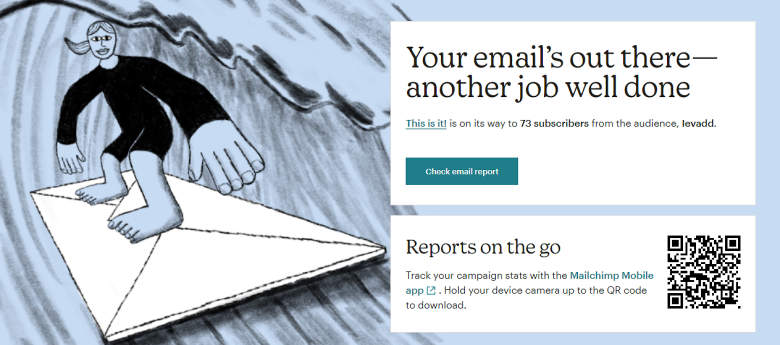 Finally, one of the best ways to boost your deliverability rate reliably is with a private (or dedicated) IP address.
You can purchase a private IP from Mailchimp for an additional monthly fee of $29.95.
If you're using Wix to send emails, then you've most likely connected your website to a custom domain already. It's a close race, but Mailchimp wins this round as well.
Reporting and Analytics
Mailchimp Offers Helpful Insights; Wix Ascend Only Covers the Basics
Although Wix Ascend and Mailchimp offer relatively simple reports, I liked Mailchimp's better. Just be aware that
while Mailchimp offers better reports than Ascend for all plans, you'll need to upgrade to the premium plan to get advanced analytics
. Ascend's email analytics are very basic. You can only track the bare minimum – open rates, click-through rates (CTRs), and URLs clicked. Automation reports are even more limited, as you can only see the number of automations you sent. I was disappointed to find that I couldn't track revenue or other things that would help me make marketing and business decisions. Mailchimp reports cover essential metrics like open rates and CTRs. They also give you a breakdown of the most popular links and tabulate e-commerce results. Although Mailchimp only offers comparative reporting on its highest-tier plan, you can
access campaign benchmarking with every plan
. I found this feature helpful, as it gave me a quick overview of how my campaigns compared to each other and to my competitors'.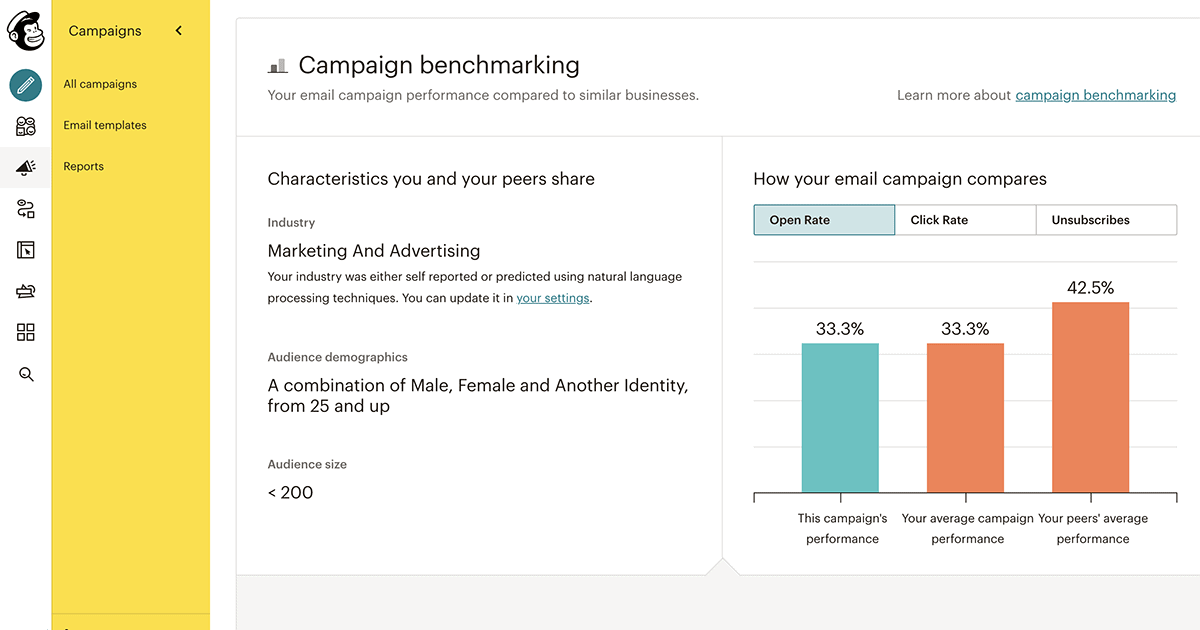 There's a whole section dedicated to links and click data with detailed charts that are updated in real-time. From the main dashboard, you can also access contact geodata and social performance statistics. It's also worth noting that Mailchimp's one of the few EMS that offers landing page analytics with its free plan. Mailchimp offers pretty advanced reports, even if you're on the free plan. Wix Ascend, on the other hand, only does the bare minimum.
Pricing
Mailchimp Gets Expensive Quickly; Wix Ascend Stays Affordable
Both Mailchimp and Wix Ascend offer free and paid plans. But
while Wix Ascend sets flat rates for its paid plans, Mailchimp charges based on how many contacts you have
 – so you could end up paying wildly different amounts for each platform.
Here's What You Get For Free
If you want to do more than just dabble in email marketing, the
free plan
from Ascend by Wix isn't going to work for you. It only allows you to set up two automations and send three email campaigns per month.
Mailchimp's free plan
 is a lot more generous.
With it, you can send a maximum of 2,500 emails to 500 contacts every month. Basic templates, one-step automations, and landing pages are also available for users to test and experiment with. That said, once you outgrow that free plan, Mailchimp's pricing does get expensive relatively quickly.
Here's What You Get If You Pay
The biggest advantage of Wix Ascend's paid plans is that they all let you add unlimited subscribers while charging you a flat rate.
That means you don't have to worry about a price increase every time you reach a new subscriber threshold.
Mailchimp's paid plans have contact-based pricing.
Every time you reach a new subscriber threshold, you'll have to pay more per month. And once you reach the subscriber limit for your plan, you'll have to upgrade to the next plan level. Here's a side-by-side comparison of the lowest-tier paid plans from Wix Ascend and Mailchimp.
Plan
Subscribers
Email Sends
Automations
Support
Monthly Price
Ascend by Wix Basic
Unlimited
5 campaigns
Up to 7 with two steps
24/7 email and callback support

$

10.00

Mailchimp Essentials
500
5,000 emails per month
Multistep journeys
24/7 email & chat support

$

20.00
Support
Wix Ascend Support Is Speedy to Respond; Mailchimp Lags Behind
Ascend and Mailchimp both have decent support. But you shouldn't expect miracles from either platform. First, the bad news:
Wix Ascend doesn't offer any type of live chat or phone support
, even with "VIP support" on the Unlimited plan. However, it does provide ticket support and a callback service, which is available 24/7 for English and Spanish speakers.
I was pleasantly surprised by the email ticketing system – I received a helpful answer to my question about personalizing campaigns in about an hour
. Live chat or phone support presumably would have been faster, but this resolution was pretty prompt.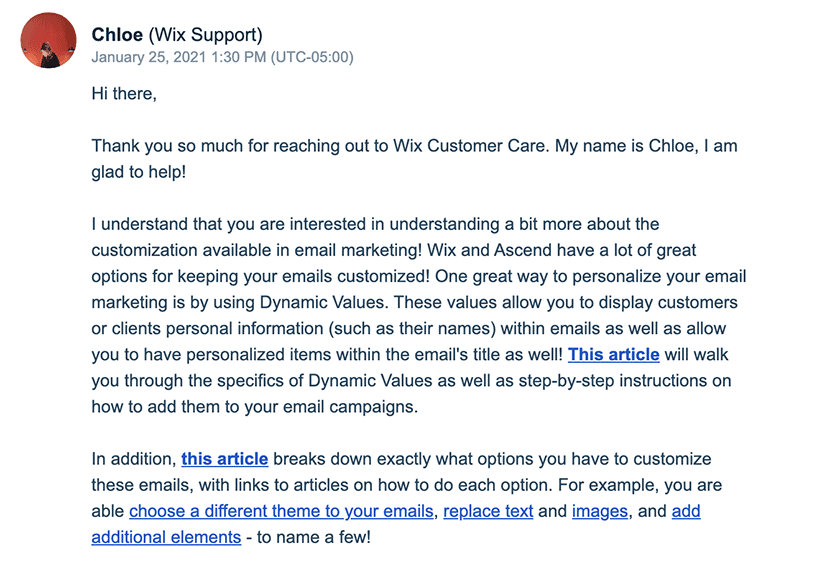 Mailchimp offers a range of support options with its paid plans, including 24/7 email support and live chat available 24 hours a day from Monday through Friday. Additionally, when you opt for the top-tier Premium plan, you'll have access to phone support as well. However,
when I tested Mailchimp's email ticketing system, I was pretty disappointed with the results.
 I had to wait nearly 36 hours for an answer to my question about importing contacts from a Word document.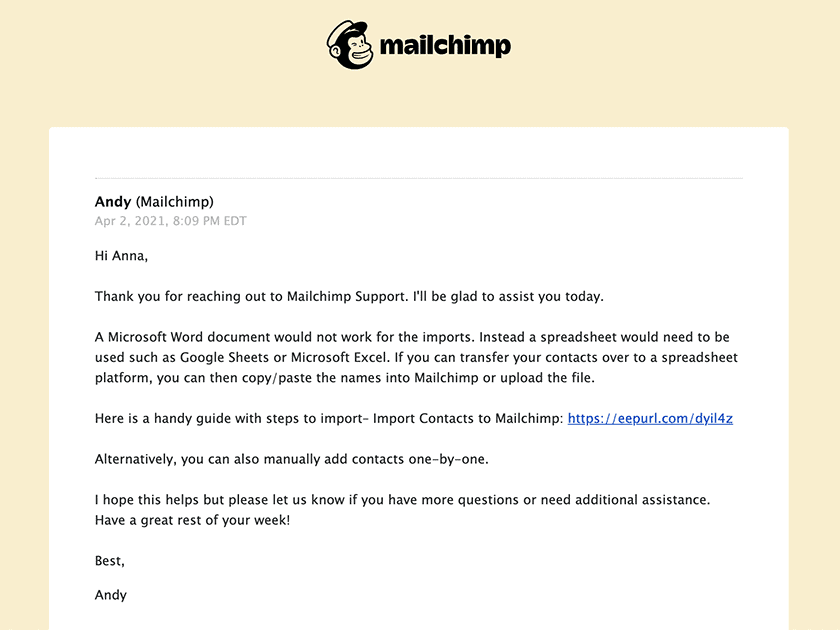 Mailchimp Offers a Better Set of Email Marketing Tools
Compared side-by-side, Mailchimp's advanced set of tools and features outshine Wix Ascend's limited email capabilities.
In most cases, Mailchimp will be the better choice.
Although you'll be paying a bit more, you can set up more advanced automations and generate more advanced reports with Mailchimp. Even 
Mailchimp's free plan
is more generous than Wix's.
Ascend is a decent choice if you already have a Wix website
and are looking for a simple email marketing solution to integrate seamlessly with your existing apps and general workflow.
Features
About 16 email templates, simple premade automations, 250+ app integrations
50+ email templates, premade & custom automations, 250+ app integrations
Ease of Use
Steep learning curve but does have time-saving features
Intuitive platform with user-friendly interface and helpful prompts
Reporting
Ultra-basic reports with no option to upgrade
Basic reports with advanced options for the highest-tier plan
Support
24/7 email and callback support
24/7 email support and chat support 24 hours a day Monday–Friday for all paid plans. Phone support for the highest-tier plan.
Pricing
Free plan available; paid plans have low flat rates for unlimited contacts
Free plan available; paid plan pricing increases based on how many contacts you have
FAQ
What is the best alternative to Mailchimp?
If you want to invest in a dedicated email marketing service but don't think Mailchimp will meet your needs, consider ActiveCampaign instead. ActiveCampaign is a top-performing all-rounder featuring one of the best automation tools and hundreds of pre-built automation recipes. Feel free to check out our list of the best email marketing services for more alternatives.
Is Wix good for email marketing?
If you're already a Wix customer and you're committed to the platform, then Ascend by Wix might be a decent choice for email marketing. However, if you ever outgrow Wix or want to market your business with a more advanced service, you'll have trouble exporting your marketing materials and making the switch.
Does Wix email marketing cost money?
Ascend by Wix offers a free – but rather limited – option. If you want to do more than just send emails, you'll have to spend a bit more on one of the three paid plans. More expensive plans allow you to create more email campaigns and collaborate with more team members.
Which is better: Wix Ascend vs. Mailchimp?
Mailchimp is the better EMS. Although Ascend might be convenient for users who're already using a Wix website, the lack of advanced features (e.g., A/B testing) makes it a less-than-ideal choice for everyone else.