I tested both platforms for features, ease of use, reporting, and support
. I also created a side-by-side comparison of Mailchimp and Wix Ascend plans. Overall, it was difficult to declare an outright winner. Mailchimp came out on top in key areas like features and ease of use, while Wix Ascend impressed me with its support and affordability (not to mention convenience for Wix users). While I found Mailchimp was slightly better than Wix Ascend,
 if I had to choose an email marketing service right now, I wouldn't go with either of them.
I'd go with Sendinblue because of its full-featured free plan and advanced workflow automations.
Features
Ascend by Wix Is Fine for Beginners; Mailchimp Lets You Do Much More
When it comes to email marketing features, I prefer Mailchimp for its bigger design library and more complex automations.
Email Templates
If you were hoping for a variety of email templates to choose from, Wix Ascend will disappoint you.
The platform only has about 16 templates, and they all have similar designs.  
Mailchimp has 100+ templates, but most look outdated
 and probably aren't the best way to advertise your business. Both pale in comparison to other services – for example,
GetResponse offers 500+ attractive, modern templates
.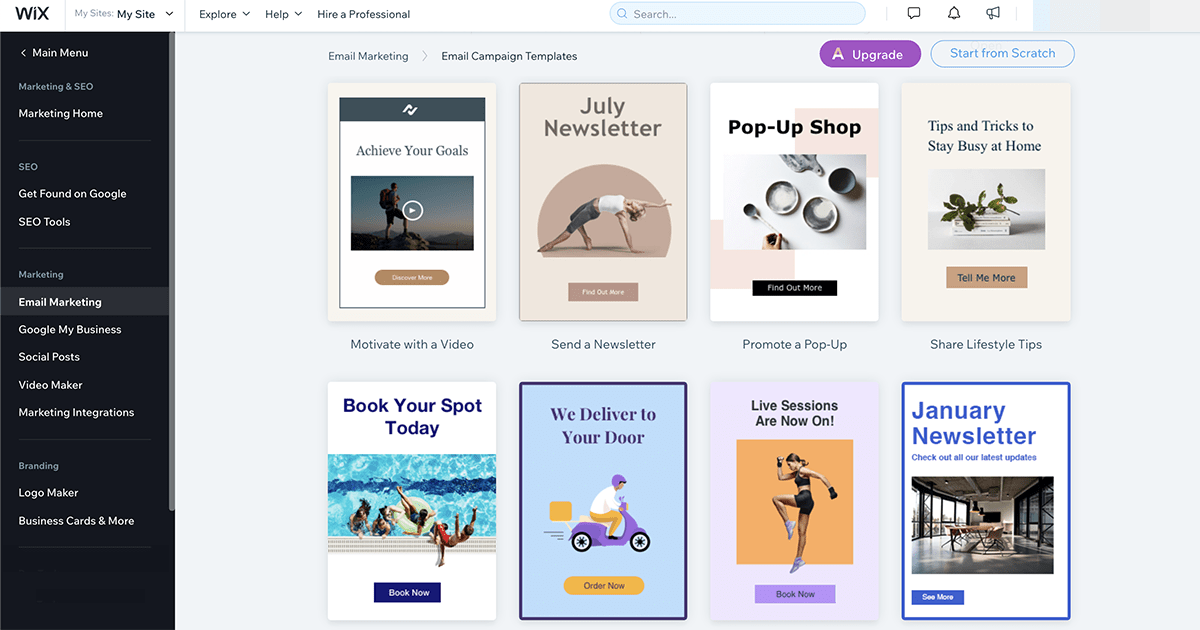 If you don't want to use a predesigned template,
Mailchimp lets you choose from about a dozen simple layouts to design a custom template
, which is a nice bonus. If you're more experienced, you can also code or upload your own design.
Pro Tip:
If you want a truly unique email template, you can hire a designer on Fiverr for as little as $5.
Take a look for yourself
.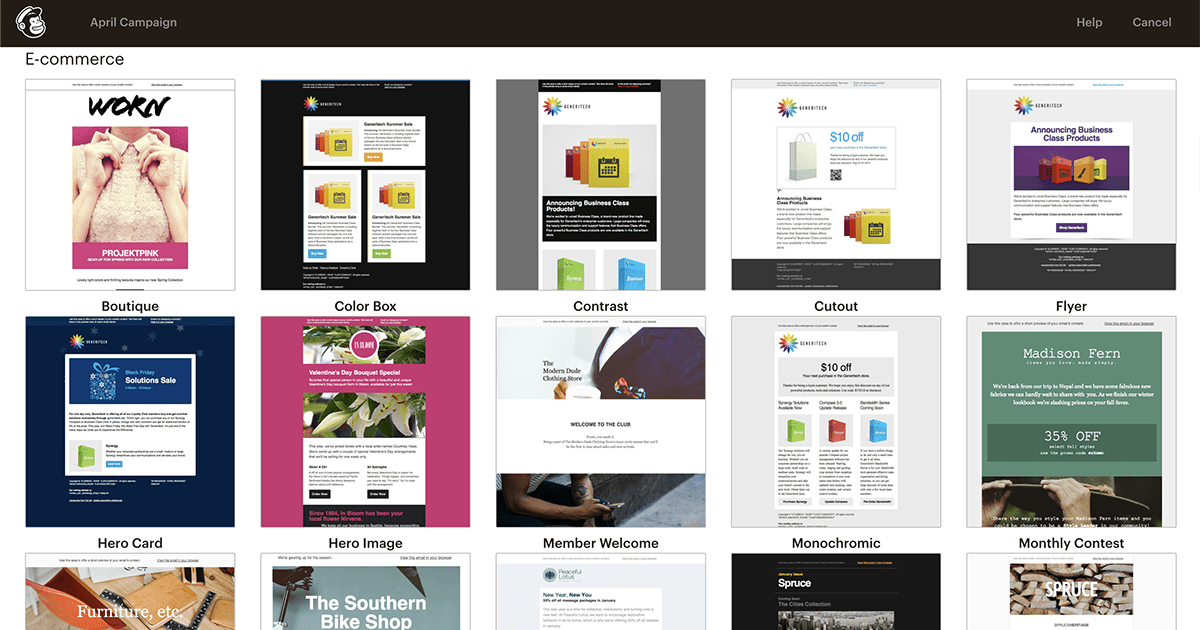 Marketing Automations
Wix Ascend's automated emails are pretty limited, with most options focusing on transactional rather than marketing workflows. That is, you can take actions like sending invoices to customers, but you can't develop drip campaigns based on subscriber engagement, for example.
I liked that Ascend let me automate welcome emails to new subscribers, but I'd prefer some more options.
 For example, the ability to  send more targeted automations to specific subscriber groups or develop customized workflows would be helpful.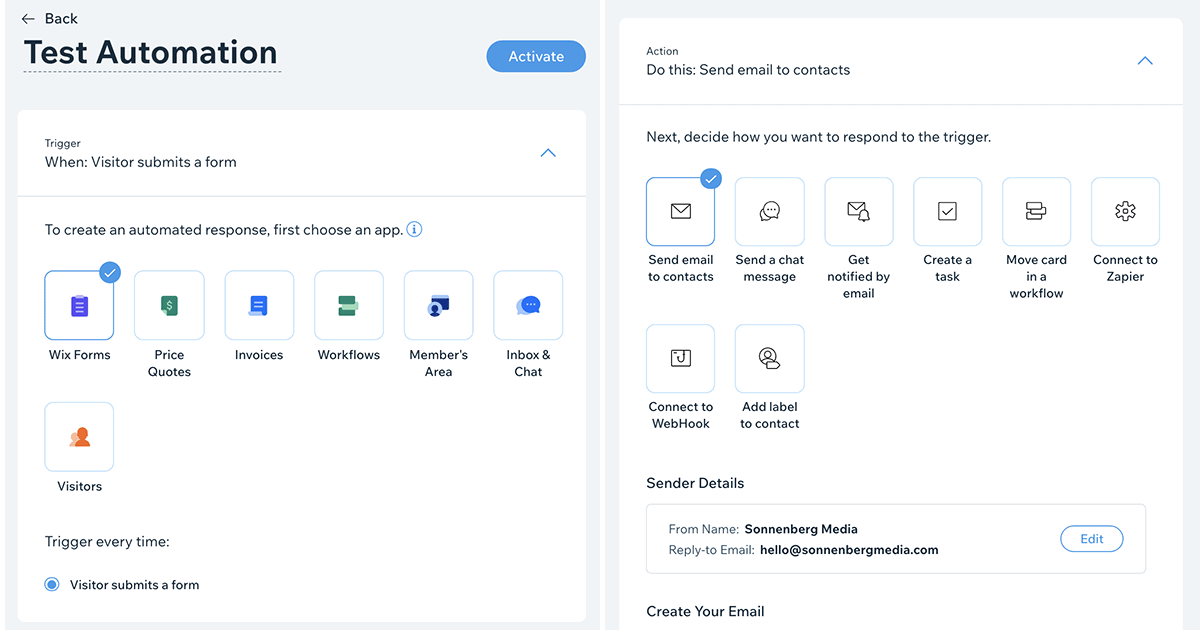 By contrast, Mailchimp has about 30 options for email automations. This includes sending automated messages to new subscribers, remarketing to e-commerce customers, and checking in with certain contacts.
Mailchimp also makes it much easier to create a conversion funnel for your email subscribers.
I found the visual layout of the Customer Journey builder super-helpful for designing and customizing more complex workflows. For example, you can remarket to engaged subscribers or start conversations based on their e-commerce shopping or browsing history.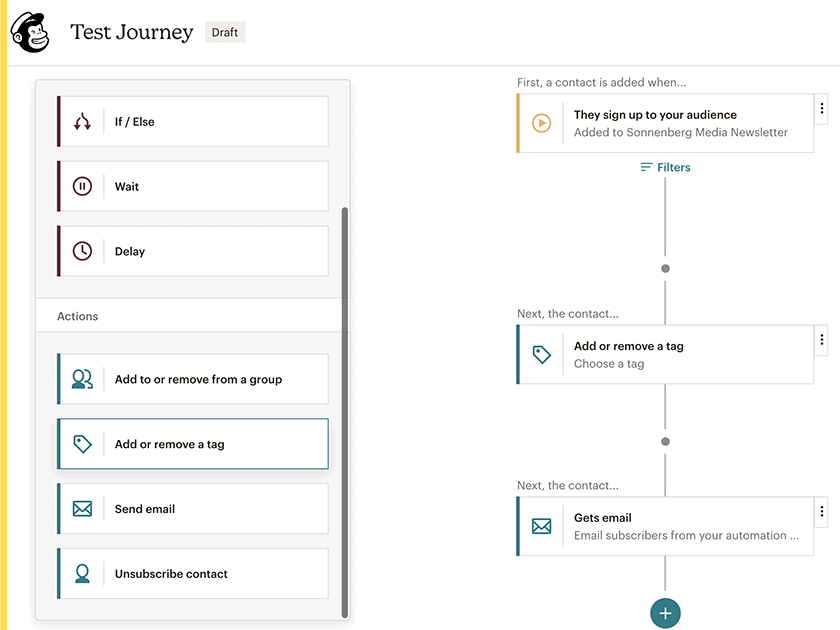 But i
f you're serious about automating your workflows and growing your business, I'd say you're better off with another platform
.
GetResponse, for example, outperforms Mailchimp and Wix Ascend in every way.
In our
GetResponse review
, we found its visual automation builder easy to use, and we were able to save tons of time with the lead funnel creator.
A/B Testing
Also known as split-testing, this feature lets you try out slightly different versions of your email campaigns. Since it helps you identify what works best for your list, A/B testing provides tons of value.
Although every paid Mailchimp plan has split-testing, Wix Ascend doesn't offer this feature with any of its plans
. With Mailchimp, you can test up to three versions of the subject line, from name, send time, or campaign content, which is a decent variety of factors. You can also choose what percentage of subscribers should receive each version and tell Mailchimp whether you want it to determine the winning version by open rate, revenue, or click-through rate. Although I found Mailchimp's A/B testing options to be pretty powerful, I wasn't thrilled to see that
I'd have to sign up to the highest-tier plan to access multivariate testing. To add this feature, the price would skyrocket from

$

17.00

to

$

0

 per month
. For comparison, you can test multiple variables with a
paid Benchmark plan
, which starts at
$
13.00
 per month.
Ease of Use
Wix Ascend Can Be Tricky to Navigate; Mailchimp Is a Breeze
When you first start using either Wix Ascend or Mailchimp, you can expect a steep learning curve. Personally, I found Mailchimp more intuitive overall.
In my Ascend by Wix review, I found the platform a little challenging to navigate.
 You have to dig pretty deep into the Wix menu system to even find the email marketing platform, and that rings alarm bells. It's also missing some important features, such as subscriber segmentation or a spam tester.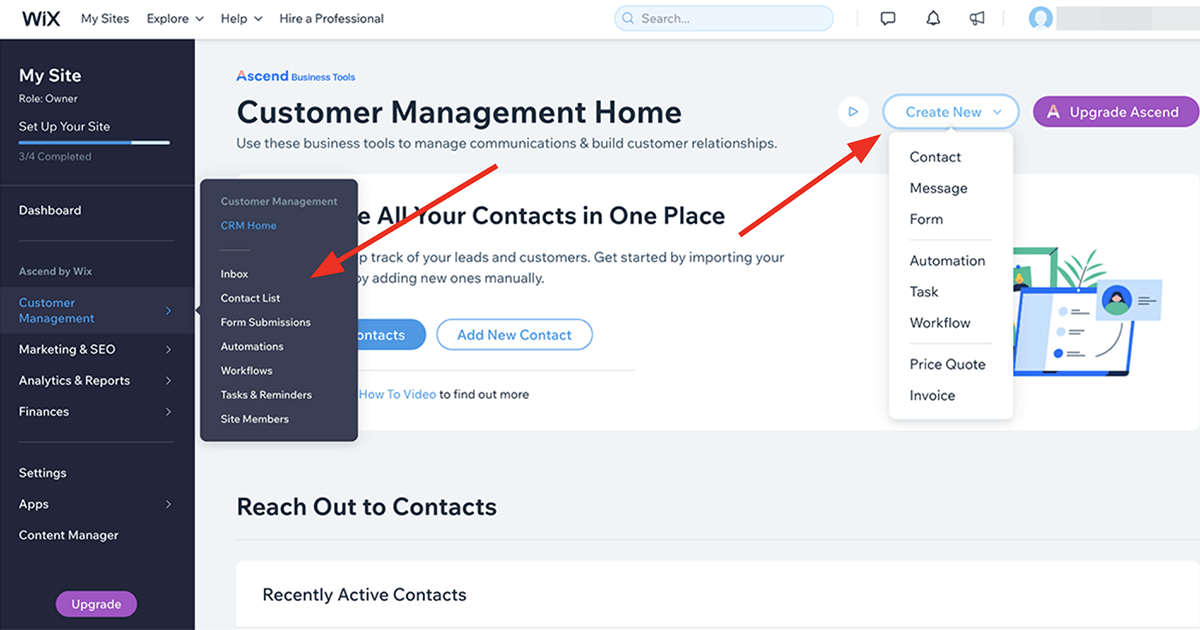 However,
 once you find what you're looking for, the platform is easy enough to use
. I was able to import contacts in less than a minute, and I could easily sort through contacts to add labels manually. I could also use a premade template to set up an email campaign in about 10 minutes.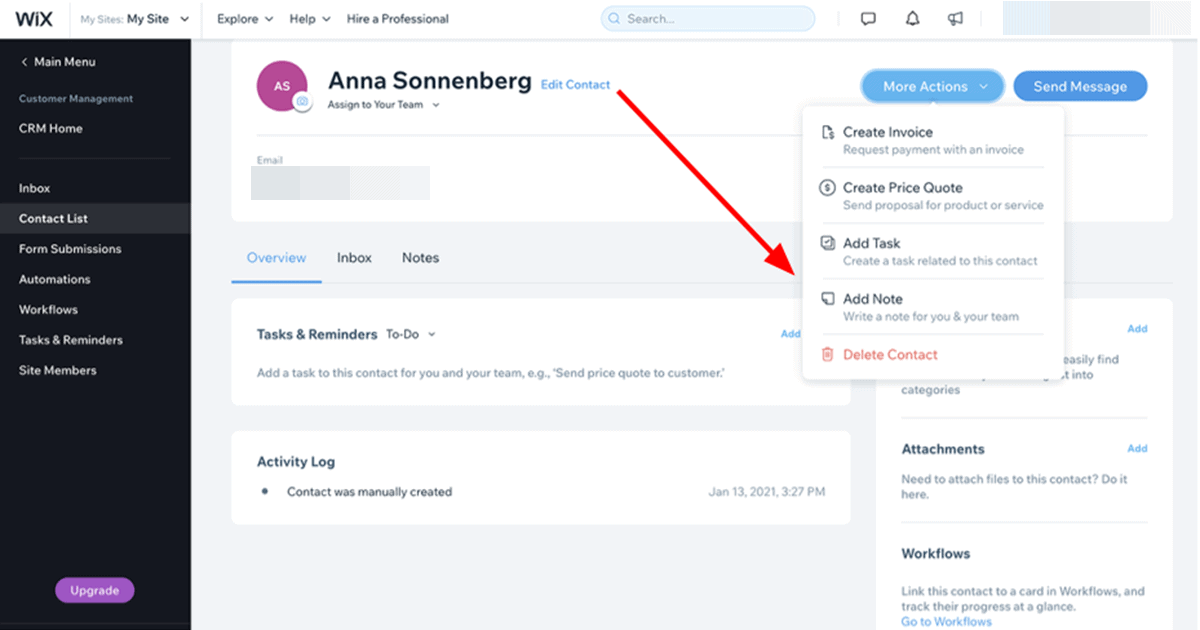 I found Ascend's drag-and-drop editor super-easy to use, and I liked that it let me add links, videos, and even music to my emails.
 When I added a URL to my campaign, the platform automatically imported the title, preview text, and image to save me time. I was also glad to see that I could preview my campaign and send a test email.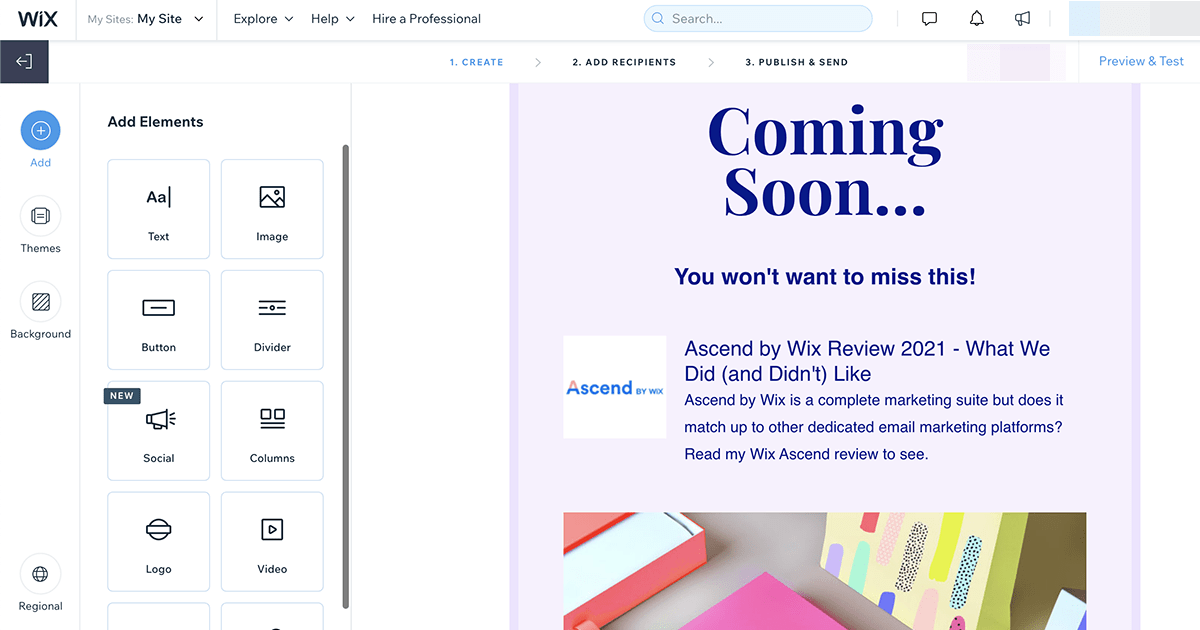 From the start, I found Mailchimp easier to navigate
, as everything I needed was in the single left-hand menu. But before you get drawn in by Mailchimp's slick interface, remember that beauty is only skin deep… it's hiding a lot of shortcomings. But first the things I liked: the platform continually prompted me to try out helpful features. For example, when I went to import contacts, Mailchimp asked if I wanted to create a landing page to get more subscribers or connect contacts from an e-commerce site. Suggestions like that can be helpful if you're new to the marketing world.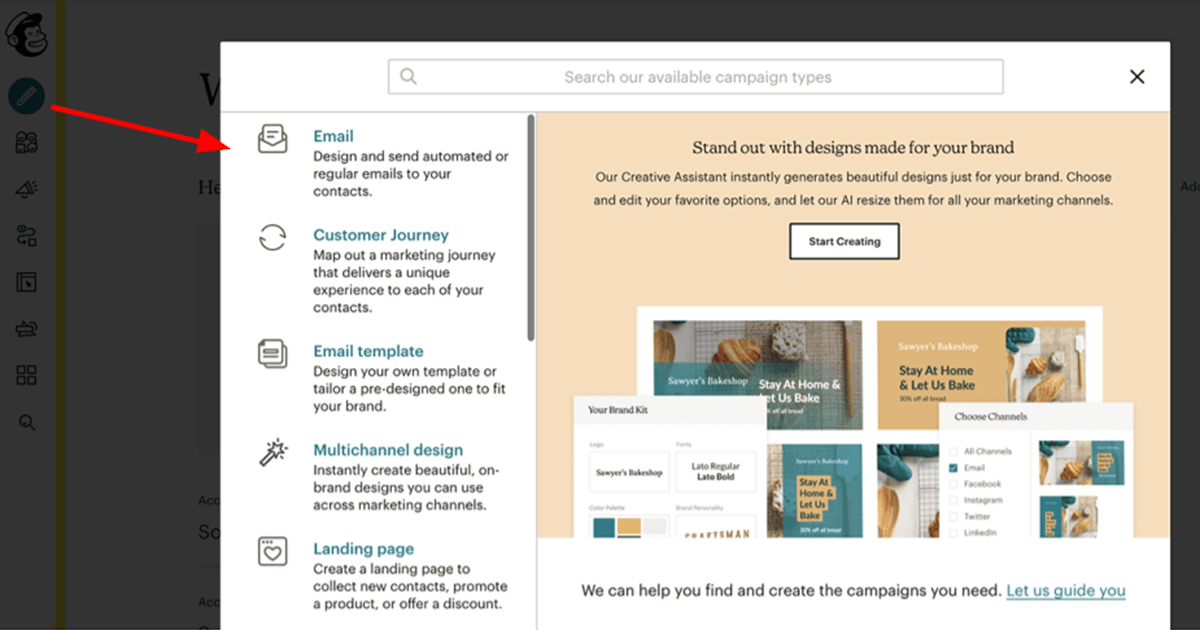 I was able to import contacts to Mailchimp in a few seconds.
Creating a subscriber segment – a feature Ascend doesn't offer – was also simple, thanks to Mailchimp's dropdown menu of preset conditions.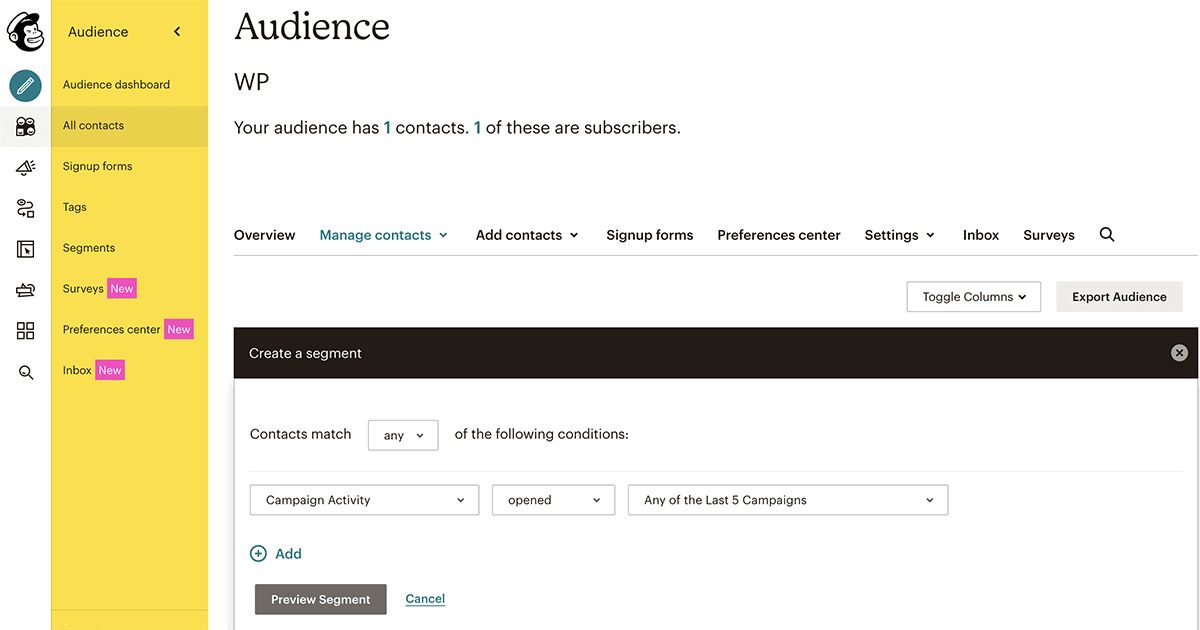 Mailchimp's drag-and-drop editor gave me more fine-tuned control over the layout and design than I got with Ascend. And you're going to want a lot of editing control with Mailchimp because the templates are seriously outdated
.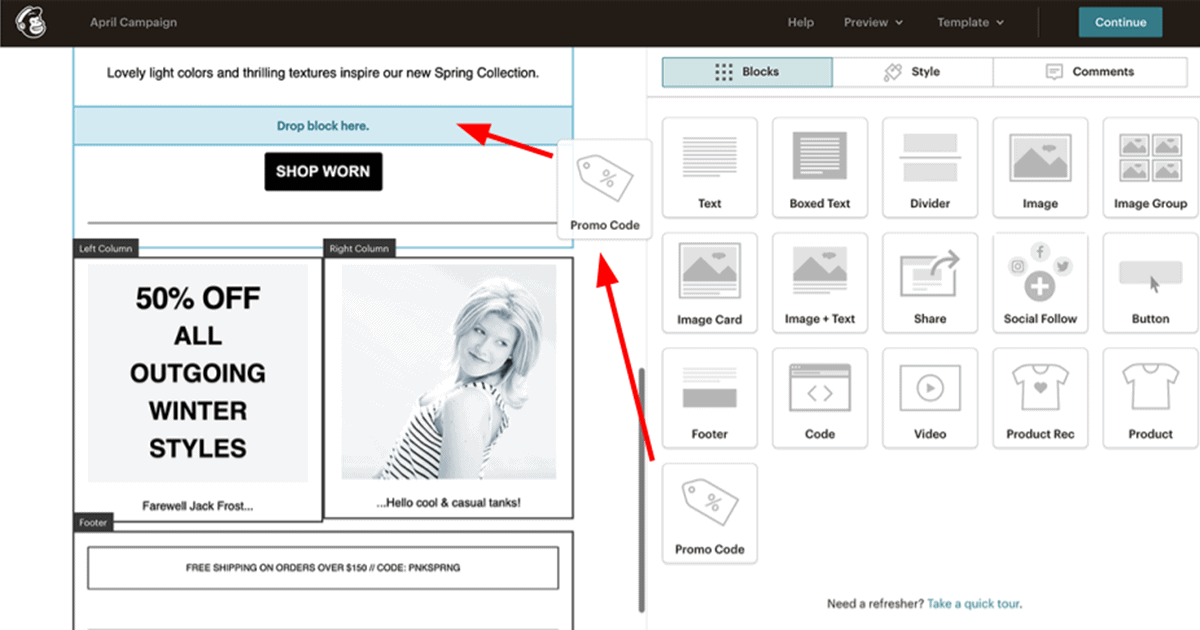 Reporting and Analytics
Mailchimp Offers Helpful Insights; Wix Ascend Only Covers the Basics
Although Wix Ascend and Mailchimp offer relatively simple reports, I liked Mailchimp's better. Just be aware that
while Mailchimp offers better reports than Ascend for all plans, you'll need to upgrade to the (dramatically more expensive) premium plan to get advanced analytics
. Ascend's email analytics are very basic. You can only track the bare minimum – open rates, click-through rates (CTRs), and URLs clicked.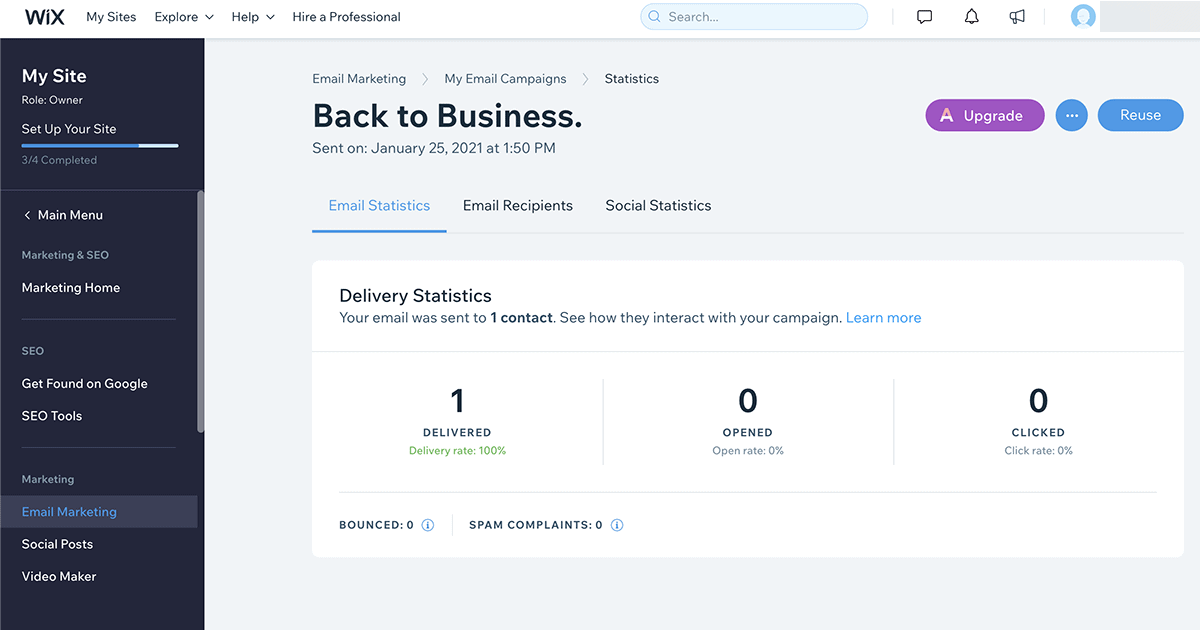 Automation reports are even more limited, as you can only see the number of automations you sent. I was disappointed to find that I couldn't track revenue or other things that would help me make marketing and business decisions.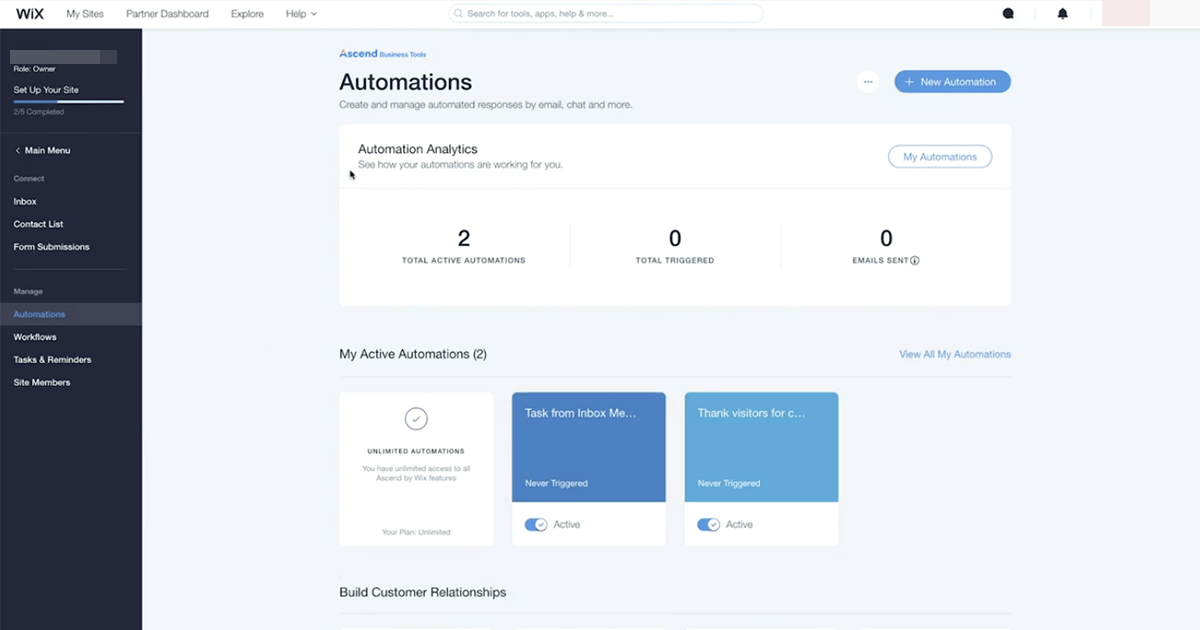 Mailchimp reports cover essential metrics like open rates and CTRs. They also give you a breakdown of the most popular links and tabulate e-commerce results.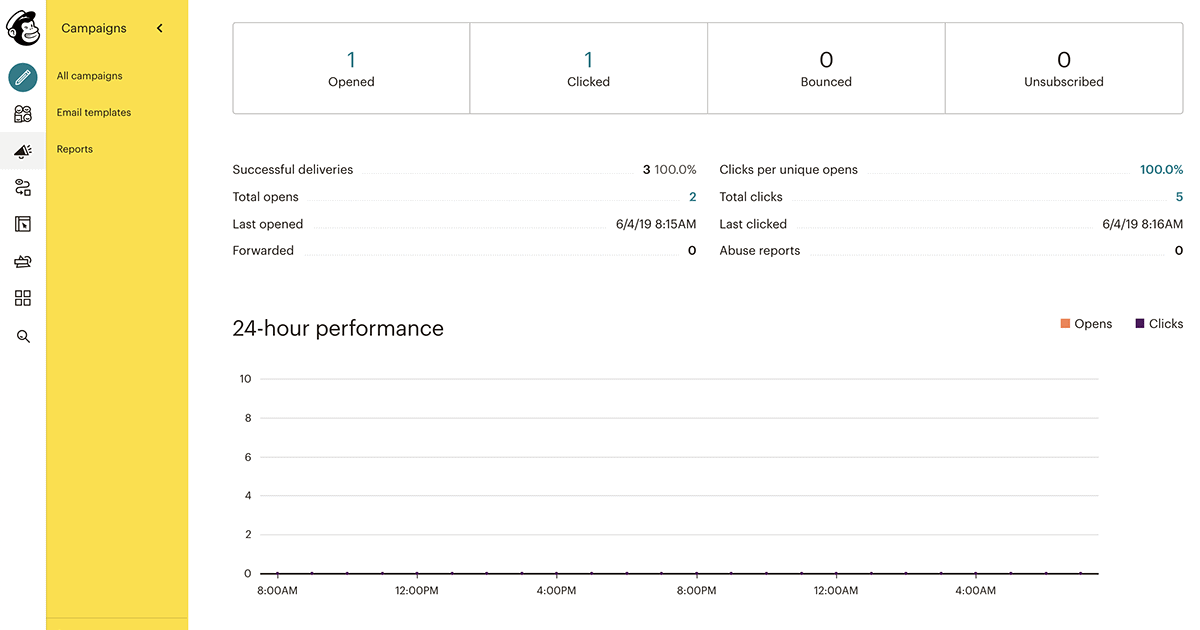 Although Mailchimp only offers comparative reporting on its highest-tier plan (remember that's a cool
$

0

 a month
), you can access campaign benchmarking with every plan. I found this feature helpful, as it gave me a quick overview of how my campaigns compared to each other and to my competitors'.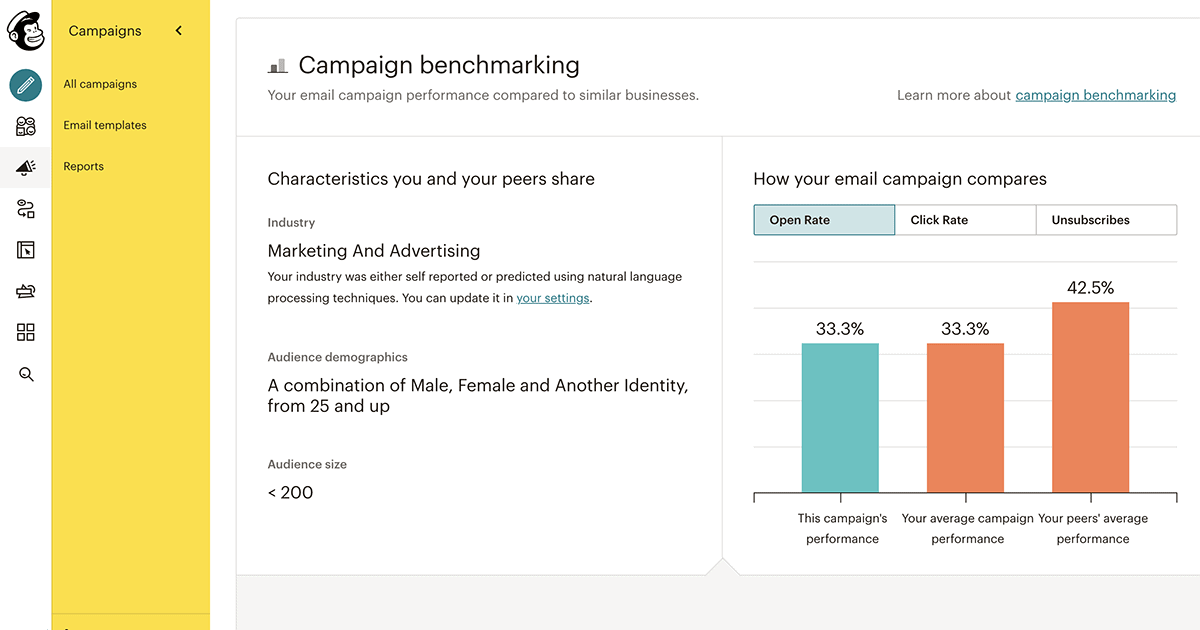 Can email marketing reports really get much better – and should you care? Yes and yes.
In my experience, high-level analytics are critical for making informed marketing decisions. For example,
when I tested GetResponse, I could compare any two campaigns so I could identify ways to improve performance.
 I could also customize my reports by setting unique goals, which saved me a ton of time.
Pricing
Mailchimp Gets Expensive Quickly; Wix Ascend Stays Affordable
Both Mailchimp and Wix Ascend offer free and paid plans. But
while Wix Ascend sets flat rates for its paid plans, Mailchimp charges based on how many contacts you have
 – so you could end up paying wildly different amounts for each platform.
Here's What You Get For Free
If you want to do more than just dabble in email marketing, the
Free plan
 from Ascend by Wix isn't going to work for you. It only allows you to set up two automations and send three email campaigns per month.
Mailchimp's Free plan offers slightly more, but it still has limitations that would be deal-breakers for advanced marketers.
 Unusually, compared to other email marketing services, there's a cap on both email sends
and
contacts. You can send up to 10,000 emails per month, set up 1-step automations, and add up to 2,000 contacts. This might sound generous, but once you've outgrown it, Mailchimp's pricing gets expensive, very quickly. Is it possible to get a more full-featured free email marketing plan? Definitely.
The best free plan I've tried is Sendinblue's
. It lets you add unlimited contacts and gives you access to both advanced subscriber segmentation and a custom workflow editor.
 Sendinblue also has send-based pricing, so when you upgrade to a paid plan you only have to calculate the number of emails you plan to send.
Here's What You Get If You Pay
The biggest advantage of Wix Ascend's paid plans is that they all let you add unlimited subscribers while charging you a flat rate.
That means you don't have to worry about a price increase every time you reach a new subscriber threshold. Here's a quick breakdown of the three paid Ascend plans:
Basic: Create up to five email campaigns and seven two-step automations each month. Price:

$

10.00

per month
Professional: Send up to 20 email campaigns and up to 20 10-step automations each month and add up to 5 team members. Price:

$

24.00

per month
Unlimited: Design unlimited email campaigns and automations and collaborate with unlimited teammates. Price: $49 per month
Mailchimp's paid plans have contact-based pricing.
Every time you reach a new subscriber threshold, you'll have to pay more per month. And once you reach the subscriber limit for your plan, you'll have to upgrade to the next plan level. Here's a brief overview of Mailchimp's paid plans:
Essentials: Add up to 50,000 contacts, send up to 500,000 emails (10x the maximum contact count for your plan), create multi-step automations, and work with up to 3 team members. Starting price:

$

17.00

per month.
Standard: Store as many as 100,000 contacts, send up to 1.2 million emails (12x the maximum contact count for your plan), and collaborate with up to 5 team members. Starting price: $14.99 per month.
Premium: Send up to 3 million emails (15x the maximum contact count for your plan) to up to 200,000 contacts and work with unlimited teammates. Starting price:

$

0

per month.
Here's a side-by-side comparison of the lowest-tier paid plans from Wix Ascend and Mailchimp. I included
Sendinblue's Free plan
 to help you compare what you can get from these paid plans vs. what another email marketing service gives you for free.
Because of its unlimited subscribers, greater sending capacity, and more advanced automations, I'd recommend giving Sendinblue a try.
Plan
Subscribers
Email Sends
Automations
Support
Monthly Price
Ascend by Wix Basic
Unlimited
5 campaigns
Up to 7 with two steps
24/7 email and callback support

$

10.00

Mailchimp Essentials
500
5,000 emails per month
Multistep journeys
24/7 email & chat support

$

17.00

Sendinblue Free
Unlimited
300 emails per day (approx. 9,000 emails per month)
Customizable multi-step journeys for up to 2,000 contacts
24/7 email support

$

0
Support
Wix Ascend Support Is Speedy to Respond; Mailchimp Lags Behind
Ascend and Mailchimp both have decent support. But you shouldn't expect miracles from either platform. First, the bad news:
Wix Ascend doesn't offer any type of live chat or phone support
, even with "VIP support" on the Unlimited plan. However, it does provide ticket support and a callback service, which is available 24/7 for English and Spanish speakers.
I was pleasantly surprised by the email ticketing system – I received a helpful answer to my question about personalizing campaigns in about an hour
. Live chat or phone support presumably would have been faster, but this resolution was pretty prompt.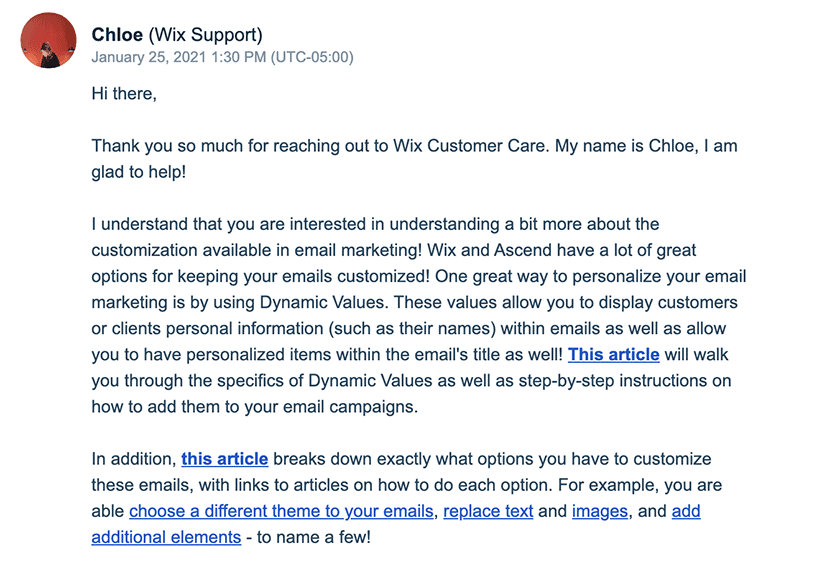 Mailchimp's paid plans offer lots more support options: 24/7 email support and live chat 24 hours a day Monday through Friday. If you invest in the highest-tier Premium plan, you can also get phone support. However,
when I tested Mailchimp's email ticketing system, I was pretty disappointed with the results.
 I had to wait nearly 36 hours for an answer to my question about importing contacts from a Word document.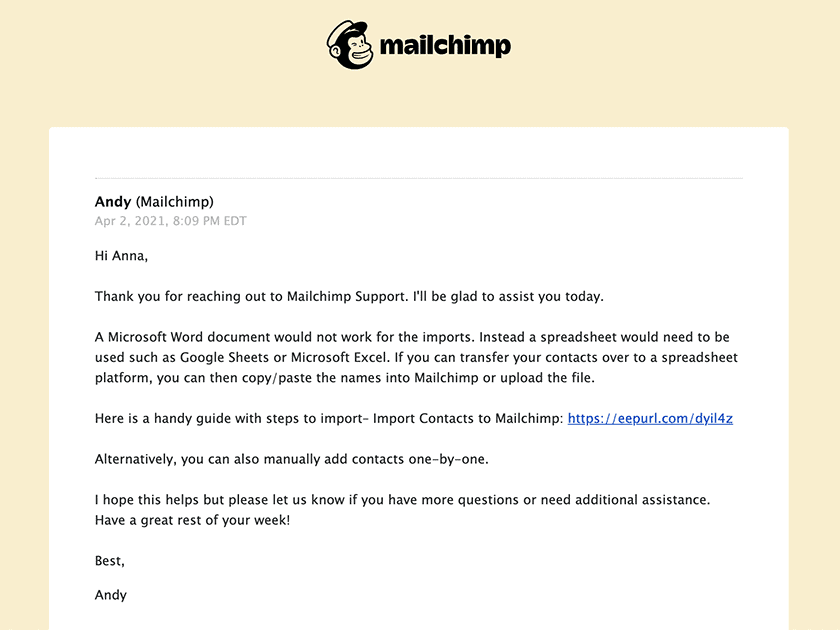 It's a Draw – and You'll Be Better Off with Another Option Anyway
When you compare Mailchimp and Wix Ascend side by side, it's ultimately a draw
. Both platforms have advantages in some areas and shortcomings in others. If you're looking for an affordable email marketing solution that integrates seamlessly with your Wix site and apps, I'd go with Ascend by Wix. Or, if you don't mind paying extra, you could chooseMailchimp to access more comprehensive reporting and customizable automations.
Should you consider another platform instead? If you really want email marketing to help you grow your business, I'd say yes.
With a dedicated email marketing service like
Sendinblue
, you can leverage advanced segmentation and workflows. And
if you want to integrate all your tools and truly automate your marketing and sales efforts, I'd recommend GetResponse
.
Ascend by Wix
Mailchimp
Sendinblue
Features
About 16 email templates, simple premade automations, 250+ app integrations
100+ email templates, premade & custom automations, 250+ app integrations
140+ email templates, 100+ app integrations, premade automations even on the free plan
Ease of Use
Steep learning curve but does have time-saving features
Intuitive platform with user-friendly interface and helpful prompts
Clear, user-friendly design suitable for beginners
Reporting
Ultra-basic reports with no option to upgrade
Basic reports with advanced options for the highest-tier plan
Basic reports on the key facts, advanced options on the Lite plan
Support
24/7 email and callback support
24/7 email support and chat support 24 hours a day Monday–Friday for all paid plans. Phone support for the highest-tier plan.
Email and phone support
Pricing
Free plan available; paid plans have low flat rates for unlimited contacts
Free plan available; paid plan pricing increases based on how many contacts you have
Free plan available, paid plan pricing increases based on email sends not contacts
FAQ
What is the best alternative to Mailchimp?
If you want to invest in a dedicated email marketing service but don't think Mailchimp will meet your needs, consider Sendinblue instead. The Sendinblue Free plan has a generous sending capacity (approximately 9,000 per month) and advanced automations, while paid plans come with advanced analytics and phone support.
Is Wix good for email marketing?
If you're already a Wix customer and you're committed to the platform, then Ascend by Wix might be a decent choice for email marketing. However, if you ever outgrow Wix or want to market your business with a more advanced service, you'll have trouble exporting your marketing materials and making the switch. Instead, I'd recommend investing in one of the top dedicated email marketing services, like GetResponse or ActiveCampaign.
Which is better: Wix Ascend vs. Mailchimp?
Both Wix Ascend and Mailchimp can meet basic email marketing needs, but neither offers a powerful enough solution for advanced marketers. You're better off choosing one of our top email marketing recommendations, which strike the right balance between price and features. If you're on a budget, check out our coupon page for discounts on some of the most popular email marketing services.