Weebly For Education
Weebly have done a fantastic job of helping to bring website creation to the masses with their website builder over the past years, by reaching out to those basic individuals who wouldn't otherwise be able to create a professional looking site and build an online presence. However, Weebly are more than just a service provider to individuals and small businesses, they also run a Weebly for Education program which we wanted to talk more about today.
The idea of this service is to help bridge the gap between teacher, student and parents by providing a creative platform where students can learn the fundamentals of building a website, whilst frequent blog updates help parents keep up-to-date with homework and key events on the schools calendar.
What is Weebly for Education?
The idea is to help create a class website that can be used by teachers and students. The idea is to help students create their own e-portfolios and websites in a well managed and protected environment. It is a great way for students to express themselves in a creative and artistic manner by using various features that are available on the platform.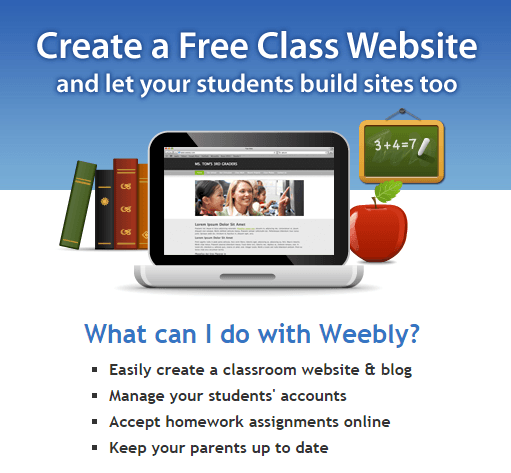 Features of Weebly For Education
Weebly already have the features at their disposal because of their main editor and website builder, so you can expect to see an easy drag-and-drop tool present in the education edition. This toll will allow students to drag in files such as:
Videos
Pictures
Maps
Text
The sites that are built by Students can all be password protected as well, at a higher account level. So all you teachers can easily control which websites are set as public, which are set as private and which websites you want your students to be able to edit. Best of all, this service is completely free to use, with no intrusive ads.
Setting up a Blog
The opportunity to setup a class blog is also available in this Weebly for Education platform, and this really does become a handy feature which you can use for parents as well as students. This is a place where teachers can post class updates for parents, important events and homework assignments for students to refer back to.
Simple Hosting and Maintenance
Just like Weebly's main website builder you have the option to host your site with Weebly with no caps on storage, bandwidth or pages, and because a teacher already has their work cut-out, Weebly provide all the updates and maintenance that you need to keep your site running smoothly.
Summary
It's no doubt to why Weebly are becoming more and more popular in the web building world when they offer such a convenient service like this. Whether you are a teacher, student or parent, the Weebly for Education platform can help in so many ways. So sign up for free today and see how you can benefit from the program.
Don't forget that Weebly also provide services for small businesses, and you can take a look at our Weebly review over here.