As of 1 August 2022, Weebly for Education is no longer available. If you're an educator looking for an alternative to this discontinued platform,
our top recommendation is Wix
. This easy-to-use website builder offers 50+ templates specifically designed for education sites and all the features you need to make e-learning fun and engaging.
You can create online courses by uploading video and audio, making learning resources available for download, embedding quizzes, and more. Wix Groups lets you set up password protected areas where learners can discuss a particular lesson or course. Students can even schedule one-on-one time with you via Wix Bookings, Wix's online calendar and booking tool.
Best of all, every one of these features is available on Wix's free forever plan
 (with some limitations).
Being an educator is not easy. Not only do you have to take care of the day-to-day admin, such as delivering and collecting assignments as well as sending out important information to parents and students, but you also have to continually
find inspiring ways to make learning exciting
. If that sounds familiar, then I may have the answer:
Weebly for Education
. Weebly for Education allows you to create your own class blog or website so you can post learning materials or information for your students or their parents. You can also create accounts for your students, so they can use the same site building tools to make their own websites. In the digital age,
nothing engages kids like being able to spread their creative wings using fun and intuitive technology
, and Weebly for Education's unique approach might just provide the inspiration you need.
If you'd like to learn more about Weebly, be sure to read our in-depth review.
What Is Weebly for Education?
Weebly for Education is an innovative platform that allows you to
easily create your own class website
and blog, and even open accounts for your students. You'll have full control over your students' accounts, and you can add, delete, or arrange them in classes. You can use the class website to upload teaching materials, send out assignments, and provide information to students or parents. There are widgets that allow students to upload assignments directly to the website.
Your students will also have access to the Weebly builder to create their own personal websites
to share information and multimedia, publish their own work, get feedback, and stay in touch from any place, at any time. As a teacher, you'll have extra features that give you the authority to moderate your students' activity.
What Can Weebly for Education Do For Me?
Weebly or Education offers great features for both students and teachers who use their platform:
Drag-and-drop website editor: What makes Weebly for Education special is that you and your students can build your own websites using its beginner-friendly drag-and-drop page builder.
Use multimedia as an educational tool: You and your students can upload video, audio, documents, maps, images, etc. to your websites. You can use Weebly's galleries, video and audio players, document viewers, and other add-ons to display and view the content.
Blogging tools: You can use a blog to send out assignments, distribute teaching material or lessons, or provide information for students and parents. Students can create their own blogs to post their work and even comment on each other's work.
Free Weebly hosting: Weebly generously provides free hosting for your website with unlimited storage and bandwidth. You can build an unlimited number of websites with an unlimited number of pages. You can pay to upgrade your account or buy your own domain to host on.
Customization freedom: You can choose from Weebly's 70+ free templates which you can then fully customize using the drag-and-drop builder. For more advanced courses, or adventurous students, the Weebly builder even provides access to add custom code using HTML and CSS.
That's Great! But Is It Easy to Use?
As you can see in the screenshot below, creating and managing "classes" and student accounts is very easy.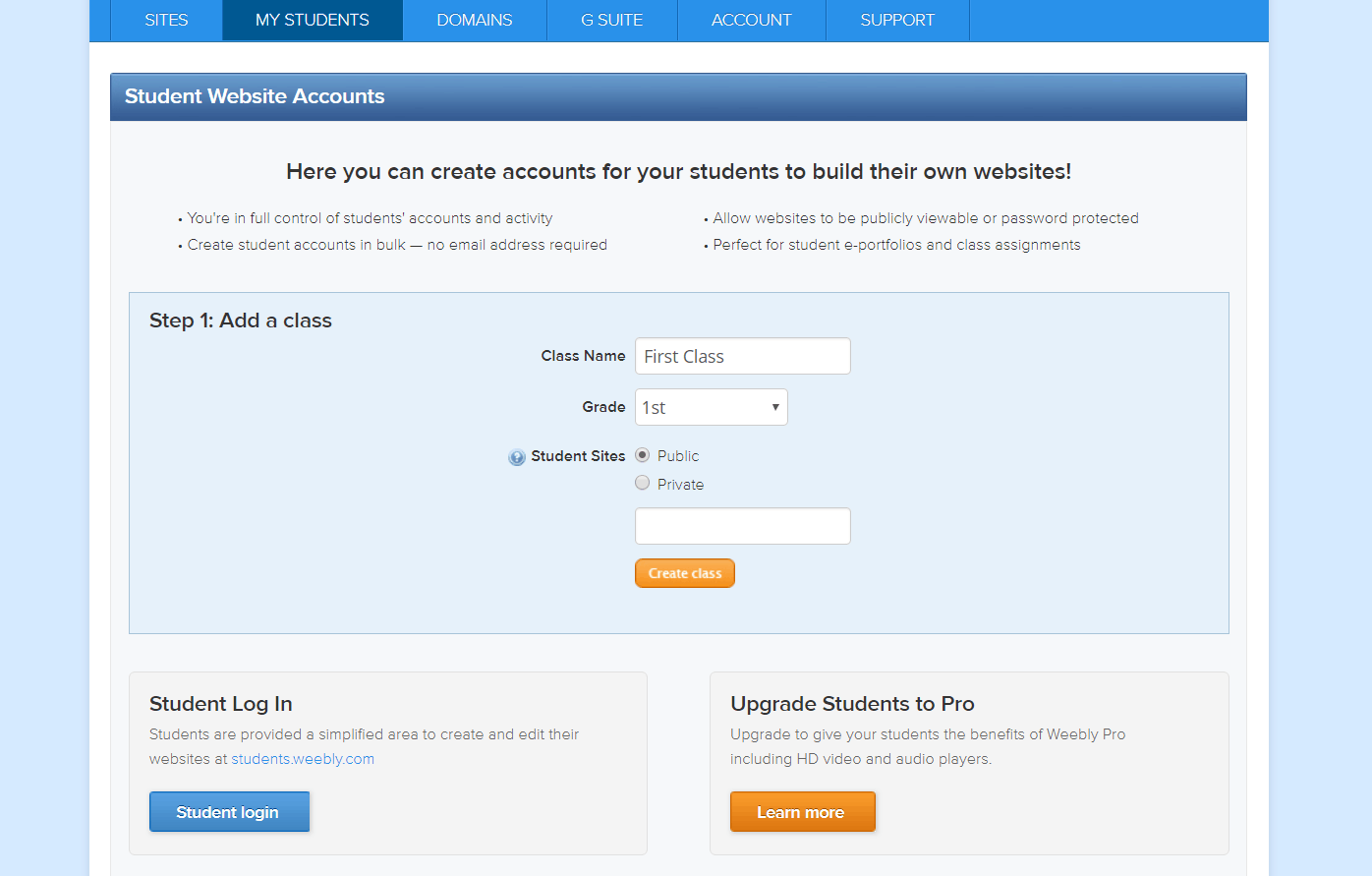 If you're not tech-savvy, no worries – Weebly provides plenty of tips and tutorials. For example, you'll be greeted by these handy introductions when you first sign up: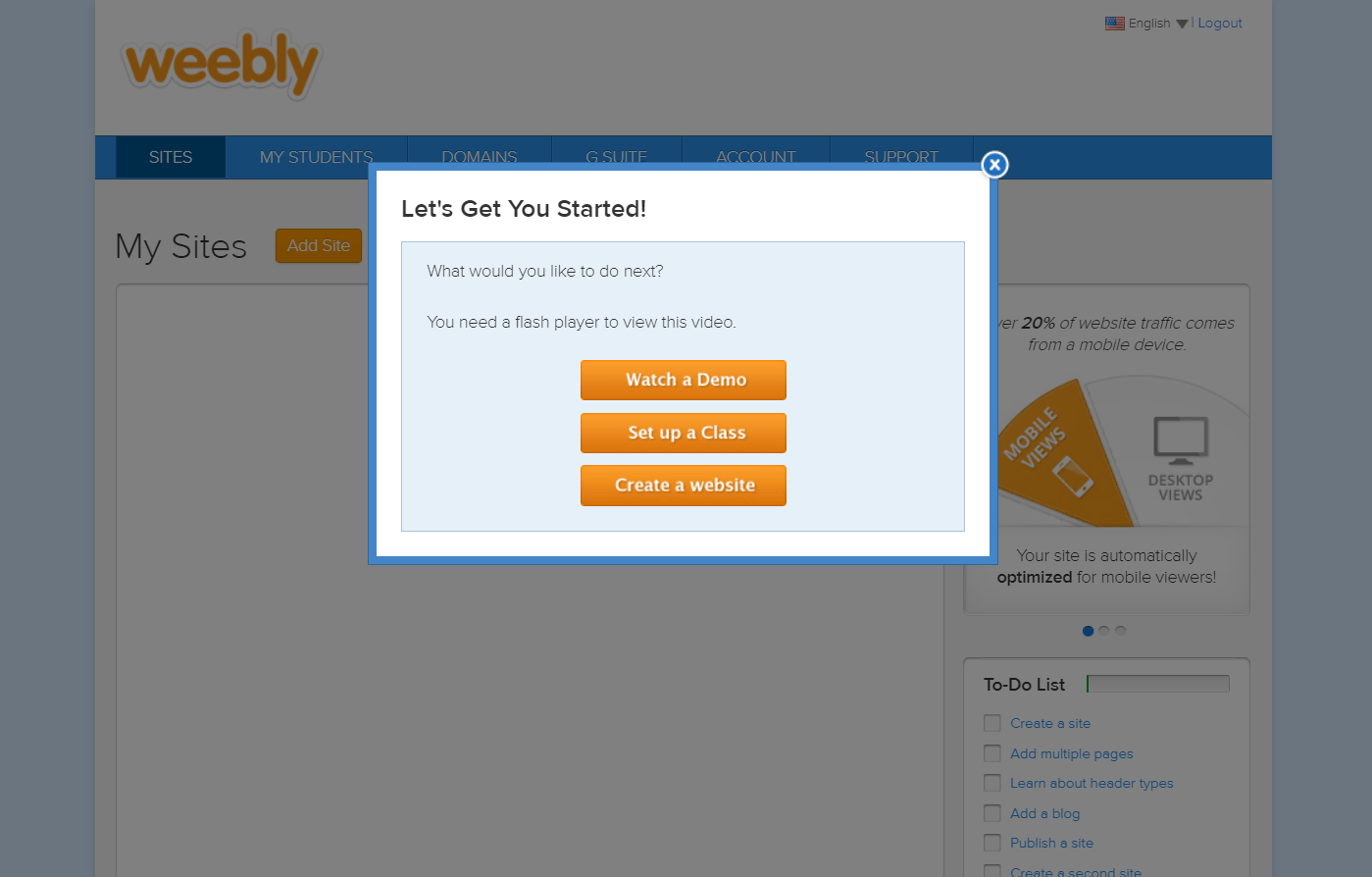 When you or a student use the builder for the first time, you'll also be taken through a step-by-step guide: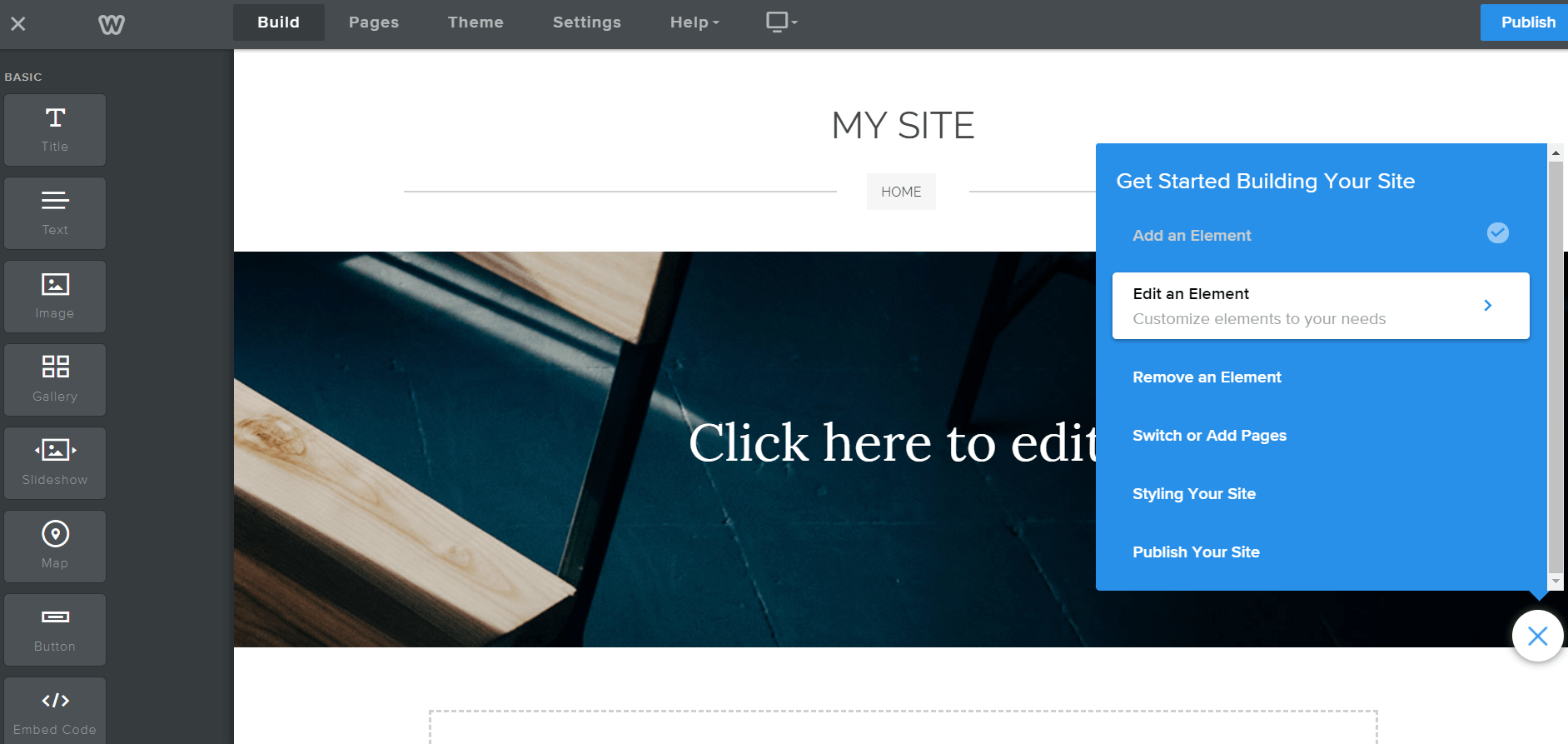 Not only that, but
Weebly has one of the most intuitive and beginner-friendly website builders
. You can drag elements from the left-hand menu straight onto the page. When you click on an element, you can edit its content in a popup box. Creating pages, changing your theme, etc. can all be done in just a few clicks: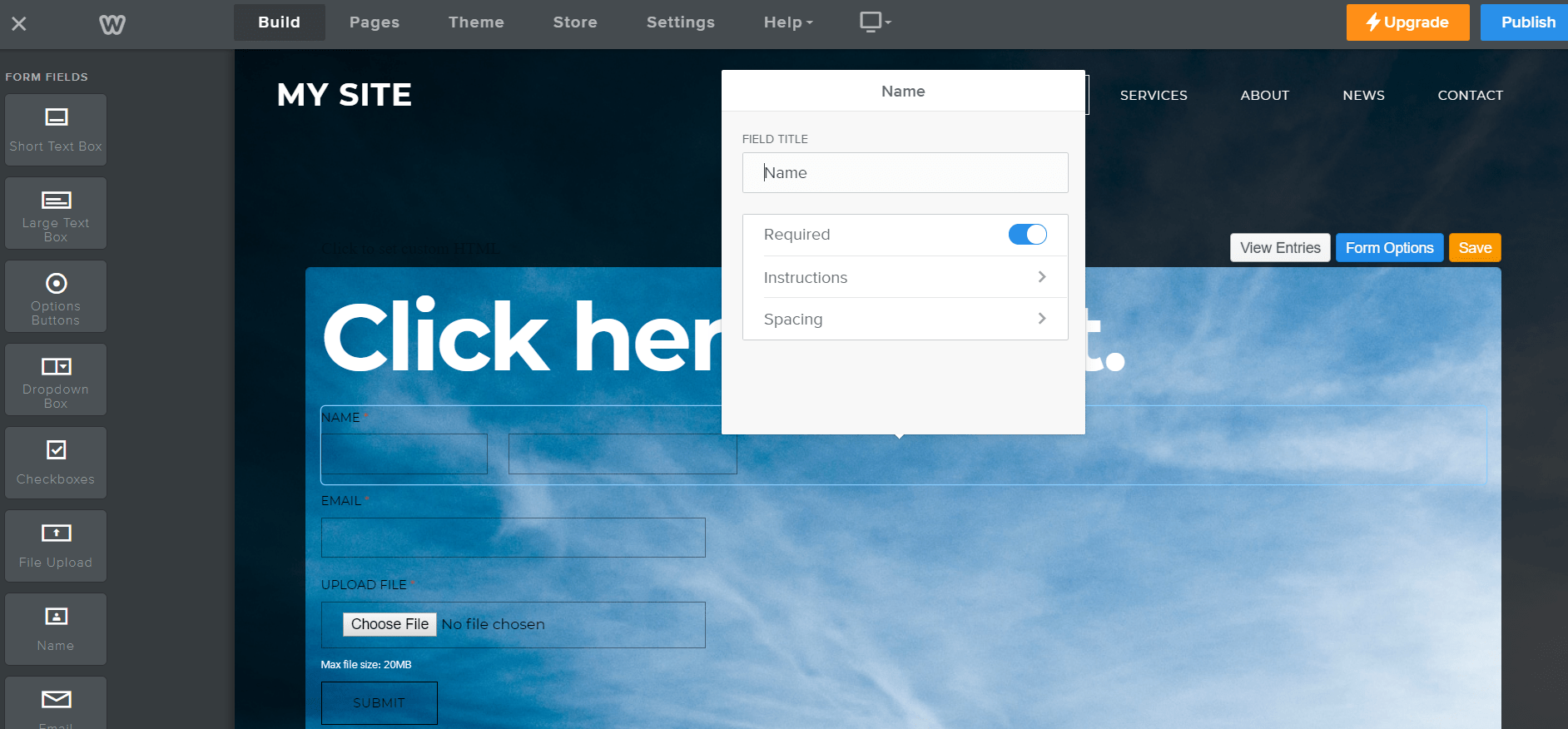 If I had to recommend one website builder for users without any prior experience, Weebly would probably be it.
It's so easy to use that inspired students should be able to get started on their own
, without even needing a teacher's guidance.
How Can I Use Weebly for Education for My Class? What Are the Benefits?
Being able to build your own website opens up a whole new world of possibilities.
Each student's website is like their own "e-portfolio," where they can post their assignments
or even their own pet projects. For example, let's say you're teaching paleontology. Students can create categories in their blog for each age, like the ice age, the Mesozoic age, etc. The posts in each category can be their individual projects, or homework assignments for that age. If there is an assignment specifically on dinosaur fossils, for instance, they can create a post and publish it. Using the builder, they can create a digital presentation with video clips of excavations, images of fossils, and links to interesting articles. Using the commenting feature, students can give each other feedback and share ideas. Imagine what a great opportunity this could be for your shyer students to participate more in class discussions. As a teacher,
you will be able to moderate discussions
in case they get out of hand. I'm sure students will love all these different online tools. Homework will start to feel like fun, instead of like a chore.
Weebly allows you to leverage the time your students would spend on the internet anyway for education:
Students can share their work and ideas with classmates or even with the world at large
Unlike other free hosting platforms or social media, students won't be bombarded with advertisements or distracting/inappropriate content
You can protect your students' privacy by making their websites private to the outside world
Technology is the future and internet literacy has become a must-have survival skill as well as a key to unlock opportunities. And, who knows? The next Mark Zuckerberg, Elon Musk, or Jeff Bezos could be in your class.
As a teacher, there are plenty of ways you can take advantage of Weebly for Education to expand your own teaching methods. You can use your own website or blog to:
Share interesting articles, class notes, or other learning materials as blog posts, or make them available as downloadable files.
Use multimedia throughout your site to make learning more entertaining, especially using Weebly's audio and video players (that come with the Pro plan).
Because a blog is chronological, it can easily be used as a type of newsletter for your course. This can be great for general school announcements, congratulating student achievements, or even releasing test results.
You can use Weebly's assignment widget on your website to collect assignments or other documents students upload.
So, Who Is Weebly for Education For?
Neither teachers nor students need any prior experience to use Weebly for Education
. Your students will need a basic level of computer literacy, but Weebly can also be used to improve computer skills.
The most obvious use for Weebly for Education is for some type of information technology, computer literacy, or digital design course
. Because you can use custom HTML and CSS, Weebly would also be an ideal candidate for an introduction to website design or development. But Weebly for Education can apply to almost any subject, whether it's paleontology, history, science, math, or language studies. It should be suitable for students from elementary school through junior high. Weebly for Education can also be great for you if you are a tutor or private teacher running after-school classes.
Are There Any Alternatives to Weebly for Education?
There are many different website builders available these days, and
Wix
and
Site123
are a couple of the best. While they don't provide a special dashboard for teachers, they do have some pretty impressive features:
23 education website templates for anything from school websites to art classes
Extensive blogging and forum tools
Multimedia support with built-in video players
The ability to upload and download documents from your website
Multiple users per account, meaning you can give students author rights to create posts on your blog
An app market with extra features for teachers
The option to limit access to certain pages using passwords
A few education-related templates
An app market with extra features for teachers
Multimedia capabilities (but no built-in video player)
The ability to create accounts for contributors or blog authors
The option to password-protect the entire site (not individual pages)
A massive advantage Weebly has over both of these is that
each student gets their own account to build their very own website
, giving them a sense of ownership and independence. Weebly is also more beginner-friendly than Wix, although it's very similar to Site123. The most obvious shortcoming of Weebly for Education is that
there are no education-specific templates
, while both Wix and Weebly offer templates for a variety of education niches. That makes Wix the better option if you want to build a great site to communicate with students and teachers, but
Weebly is the best option as an educational tool
. Another big disappointment with Weebly for Education is that
it doesn't provide some basic tools that could be useful for out-of-the-box teachers
, such as a forum or built-in calendar.
Weebly is also not a good option if you want to host live classes
. The only way to do this is to embed live YouTube videos, but you won't be able to interact with viewers. If these tools and features are important to you, you might be better off with Wix or Site123. Read our
in-depth Wix review
to see what else it has to offer.
Is Weebly for Education Really Free?
The short answer is, yes!
You don't have to pay a dime to take advantage of all the best features of the Weebly for Education platform
. However, the free plan does come with some limitations, such as:
No video, audio, or search functionality for teachers and students. However, videos can be embedded using YouTube links
File size limitations
40 students per teacher
1 website per student account
5 pages per student website
If you have more students, then Weebly offers add-on packs that give you 10 extra student accounts. If you have 41 students — bad luck, you'll still need to pay for 10 extra. However, with the average classroom size in the U.S. between 20-30 students, the free plan should be enough for most teachers. This is what you get when you upgrade to the Pro plan:
10 websites per student account
Unlimited pages for student websites
Upload files up to 250 MB each
Use Weebly's audio and video players as well as search functionality
Embedded documents
There are also extra benefits that apply only to the teacher:
Password-protect individual pages
Premium support
Remove or customize Weebly footer
If you decide to upgrade, I think you'll find the prices very affordable. The only catch is that you'll need to pay for the whole year up front. Another big plus is that unlike most free website building platforms,
Weebly won't put ads on your site
so you won't have to worry about any inappropriate content.
The Campus Edition: For Principals and School District Administrators
If you're a principal or a school district administrator and you think Weebly for Education is a great tool for your teachers and students to use, you'll be glad to know that Weebly has a great solution for you.
With a standard Campus Edition account, you can have up to 20 teacher accounts and 500 student accounts
under yours. One extra teacher and 25 extra students accounts can be purchased for a yearly fee. You'll also have the same access to Weebly's website building features. If you already have teachers using Weebly for Education, you can add their existing accounts to your Campus Edition account. All teachers under you will also receive a 38% discount when purchasing a Pro account.
Weebly has transformed its proprietary website builder into an accessible tool for educational applications by teachers and students. The simplicity of this initiative makes it challenging to fathom why other companies aren't adopting a similar approach. It's a breath of fresh air that might just change how you and your students see digital education. The generous free plan should give you and your students enough room to work with, and even the Pro plan is quite affordable. If you're thinking of trying it out, you've got nothing to lose. Who knows? Whether you stick with it in the long term or not, it could even be a quick one-off activity that you and your students will enjoy.