One of the most interesting things I've discovered about web hosting is that while it comes at a wide range of prices, more expensive doesn't necessarily mean better.
 Of course, there are some very cheap hosts that aren't even worth your time, but on the other hand, some hosts charge a LOT for fancy features most of us don't even need. My colleagues and I have tested hundreds of web hosts from all over the world, and now I'm here to tell you how you can get excellent hosting quality for a cheap price. Yes, it's possible. No, you don't have to make compromises or put up with slow loading speeds or ads all over your site. So, how much
does
 web hosting cost?
The Quick Answer
The very quick answer is that you can get hosting for as cheap as $1 USD per month (yes, it's true –
click here to see Hostinger's latest deal
), but most of the cheaper companies average around $5-6 USD per month. To find out
which
 hosting companies offer prices that low, and which ones are actually worthwhile, read on!
Can You Really Trust Cheap Hosting?
Yes, but only if you find the right company. It's certainly true that there are loads of companies that promise the moon for monthly payments of $5 USD, but couldn't ship you a regular rock if they tried. However, technology keeps getting faster, smaller, and cheaper, so
some of those super-cheap hosts are absolutely worth looking at for the decent service they provide.
Starting Prices for Popular Hosting Companies:
To show you just how cheap hosting can be these days, I've compiled a list of hosts that we here at Website Planet have rated
very
 highly – you'll even find them on our list of
the best web hosting services for 2023
. You'd think the best of the best would be expensive, but… well… nope. They're not. I
do
 love being the bearer of good news. All of these companies have plans for beginners, small businesses, expert programmers, agencies, and corporations. For the purposes of this article, I'm going to list the starting prices for:
Shared hosting plans – Where your site is on the same server as other people's websites. This is generally the cheapest option.
Virtual private servers – aka VPS, where your site still runs on the same server as others, but in its own "virtual" operating system. Look, it sounds nerdy as heck – and it is – but it's usually better than plain old shared hosting.
Dedicated servers – Where your site runs on its own separate server hardware, and you control it all yourself. It ain't cheap.
Not all of these hosts have dedicated server plans. So keep that in mind.
InterServer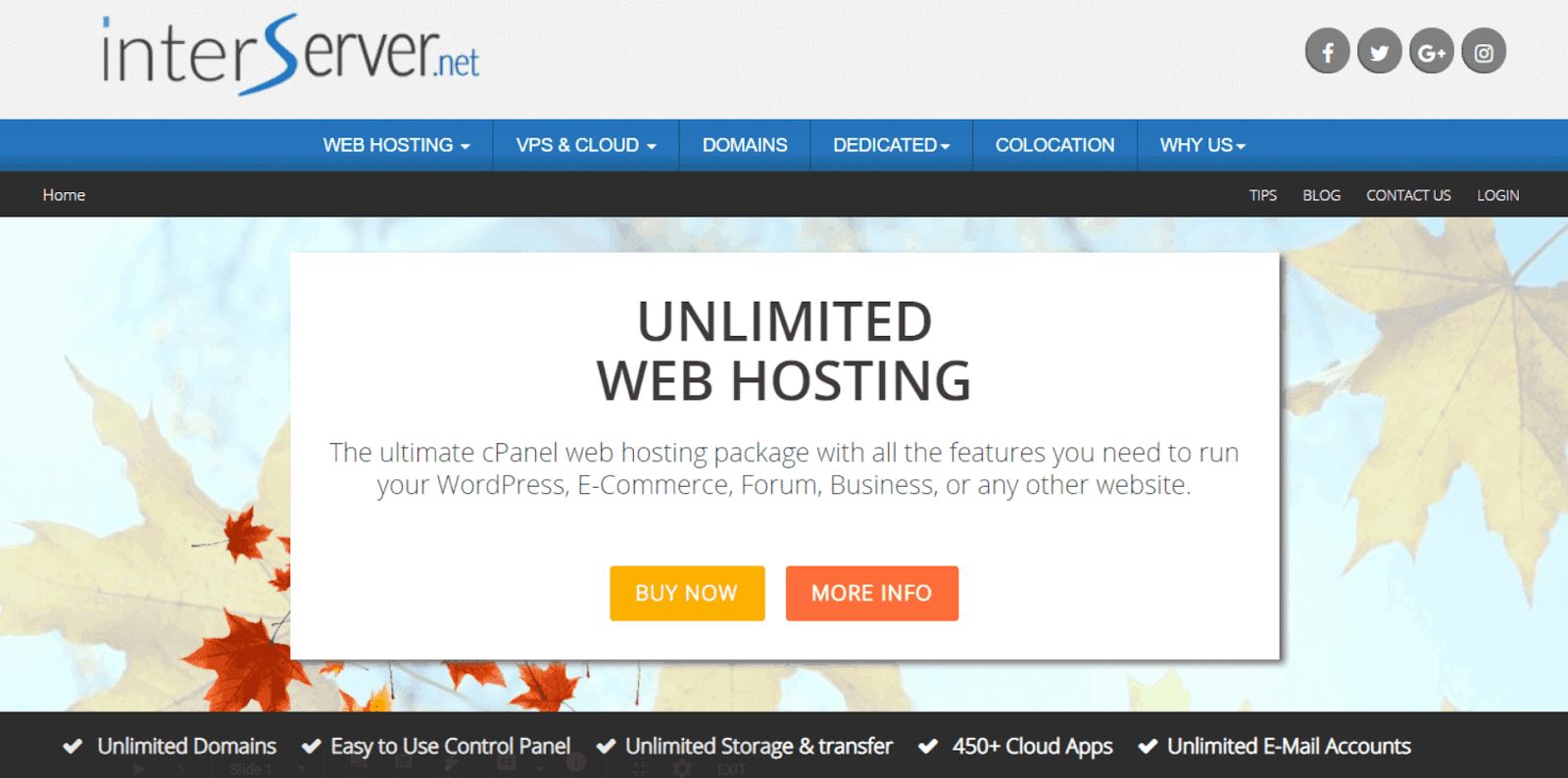 InterServer is a provider that has a little bit of everything.
 Sure, it's got
very
 affordable shared hosting plans, but it's also got Windows-based ASP.net servers, dedicated storage servers, GPU-based servers, dedicated home servers, rapid deploy servers… It has nerd stuff, and plenty of it, but you don't have to be a nerd to use it.
The average consumer will be most interested in InterServer's Standard web hosting plan, which costs

$

2.50

 per month.
 There are no strict limits placed on bandwidth or storage, but that
usually
 means that if your site gets tons of traffic, the company will ask you to upgrade. Be warned.
$
6.00
per month, with 1 core, 2GB of RAM, and 30GB of SSD storage. The cheapest dedicated server costs a lot more:
$
67.00
per month.
To find out more, read our full InterServer review
.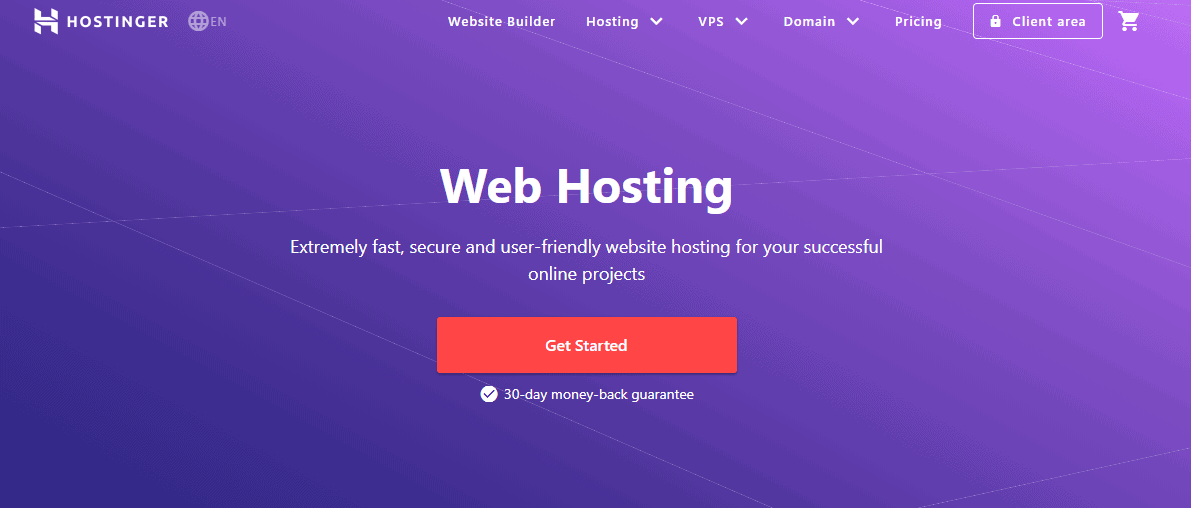 Hostinger is both Website Planet's highest-rated hosting platform and the cheapest company on this list.
 That's right, you get the best service for just about the lowest prices. It's a pretty good deal, is what I'm trying to say. It has shared hosting, email servers, WordPress hosting, VPS, Windows-based hosting, and even Minecraft servers.
Shared hosting starts at

$

1.99

 a month if you sign up for a long-term plan.
That'll get you 10GB of storage and 100GB of bandwidth, which isn't bad at all for a starter website.
$
5.99
per month, with 1 CPU core, 20GB of storage, and 1,000GB of bandwidth.
To see how Hostinger came out on top in our performance tests, read our full review
.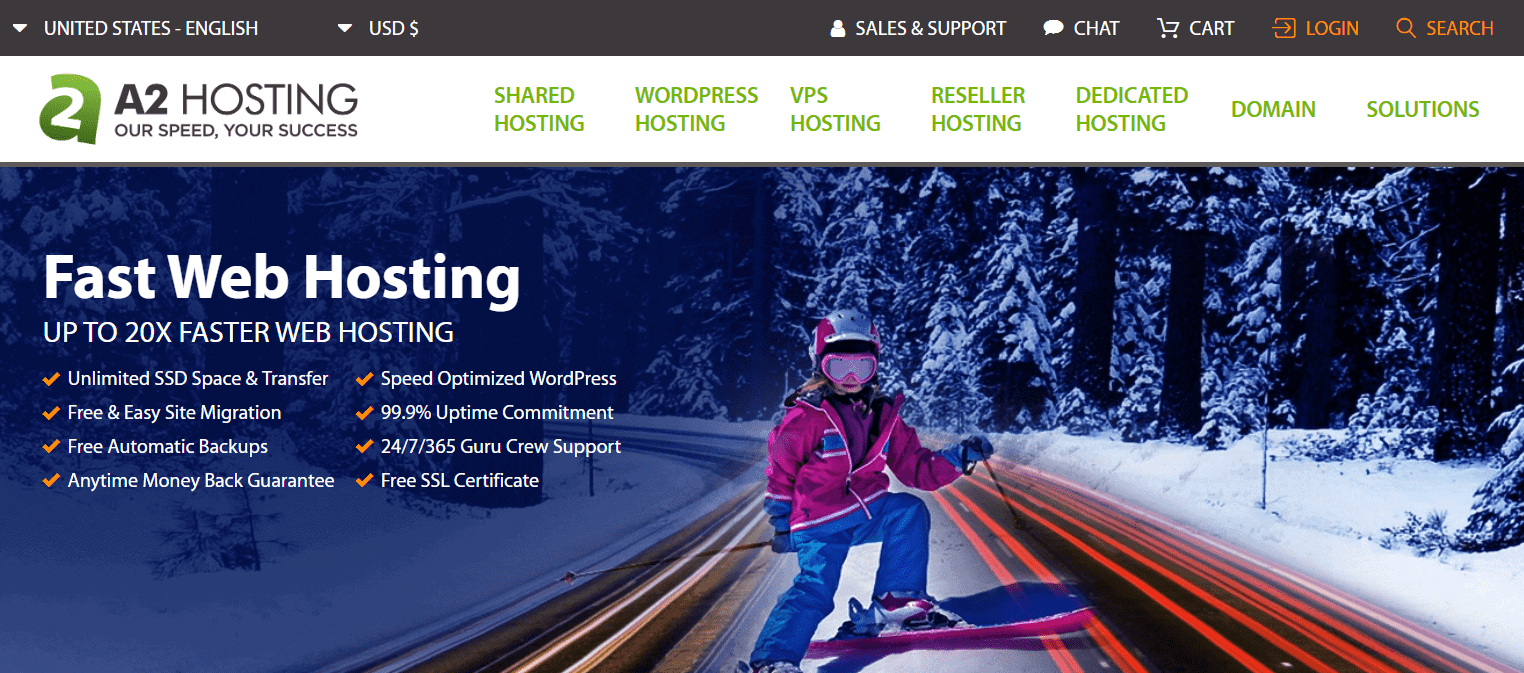 A2 Hosting is ambitious, offering shared hosting, WordPress hosting, VPS hosting, reseller hosting, dedicated servers, and more.
What makes it ambitious is that it does all of that while staying as eco-friendly as it can.
 Hosting servers can actually impact the environment more than you'd think, so A2 Hosting prides itself on using the most efficient, cost-effective, and eco-friendly server hardware available. That's not a bad thing, if you're the breathing kind of person.
That green-friendly focus doesn't seem to have affected its prices, as the shared hosting starts at

$

2.99

 per month.
 This will net you a
fantastic
 100GB of storage, with no set limit on bandwidth. Hostinger might be slightly cheaper, but this is an amazing deal too.
$
2.99
per month, but that's the cheapest unmanaged hosting package (1 CPU core, 2TB of bandwidth, 20GB of storage) which means you'll have to set up the whole sever yourself, remotely. Managed VPS hosting is a bit pricier. Unmanaged dedicated servers start at
$
105.99
per month, which is one of the better prices I've seen.
Discover all A2 Hosting's pros and cons in our in-depth review
.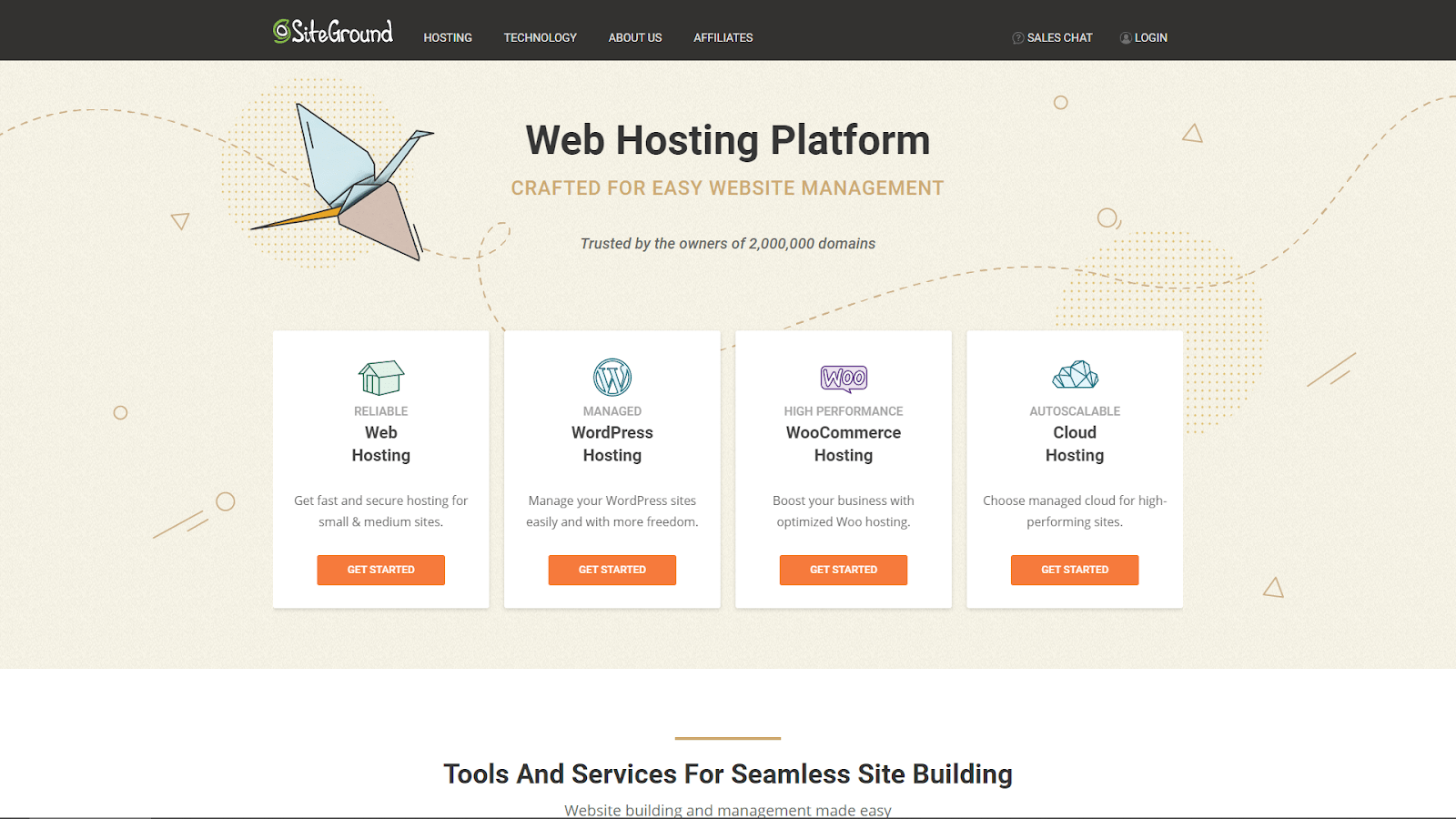 SiteGround has been one of the big players on the market for a while. Since the platform is built on top of Google Cloud, the company does not rent out servers – you won't find VPS here. What it does have is the usual shared hosting, WordPress hosting, WooCommerce hosting, and "cloud hosting" which is basically regular hosting with extra perks.
The shared hosting plans start at a slightly-less-cheap

$

2.99

 per month for your first term,
but the renewal fees are quite high. If you want the cheaper price, it's best to pay for several years in advance. The starter plan will get you 10GB of storage and no limits on your bandwidth, but your site is limited to about 10,000 visits every month.
these are actually all the same plans, just with different names.
To see if SiteGround is worth the higher price, read our expert review
.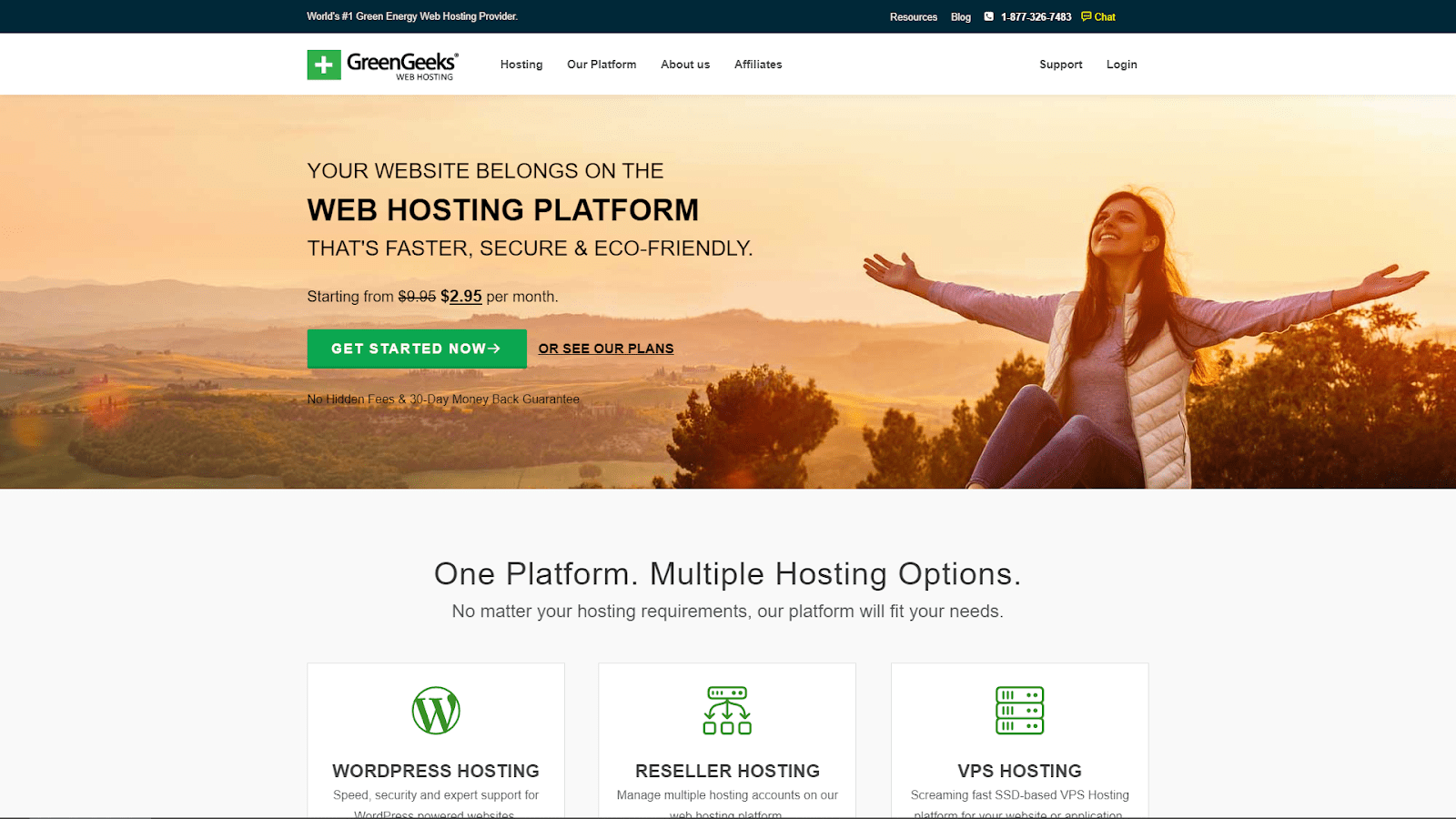 GreenGeeks is a somewhat smaller company with shared hosting, WordPress hosting, reseller hosting, and VPS hosting.
 Its claim to fame? It's in the name! I'm so sorry! Anyway… it does "green" hosting, kind of like A2 Hosting. Unfortunately, this green-ness comes at the cost of slightly more expensive plans. The cheapest shared hosting plan has a "special price" of
$
2.95
per month, with no set limits on storage or bandwidth. After your initial purchase expires (you have to pay for three years in advance to get the cheapest price), that price goes up to three times as much, so you'll need to take that into account.
$
39.95
per month for 4 CPU cores, 50GB of SSD storage, and 10TB of bandwidth.
For more information, read our full GreenGeeks review
.
Which Host to Choose and When to Upgrade Your Plan
The best host for you will ultimately depend on your website and its needs, but if you're just starting out, you can't go wrong with
Hostinger, which delivers the best performance for a great price
. If you need some more options before you make a decision, you should check out our
list of the best web hosts for 2023
. But then what? What if you sign up for a plan, but your needs change over time? Basically, there are two common things that might force you to upgrade:
Running out of space or bandwidth
Needing more advanced hosting features and more direct control
If you run out of space or bandwidth, the hosting company itself might very well send you a notification, telling you to purchase an upgrade.
 And you probably should, unless your site isn't making you any money, in which case you should figure out how to optimize your server usage. Occasionally, individuals require greater control over their hosting services. Certain hosting companies, for instance, might not grant you the option to select your preferred PHP version unless you opt for a pricier plan or a VPS.
FAQ
How much does it cost to host a website?
The cost of hosting a website can differ a lot. It ranges greatly. You can find hosting for a very low price – for example, Hostinger only charges

$

1.99

per month if you commit to a long term plan. Some hosts are much more expensive. Liquid Web, for instance, is an excellent web host that offers premium solutions, and its WordPress hosting plans start at

$

15.83

per month. You can find a whole range of options in our list of the best web hosting services.
How much does a website cost per month?
Hosting prices of $1-$2 per month are actually on the really low end. It's common for hosting companies to average more like $5-$6, with some going as high as $10 for their cheapest plans. So, you know, the price of a decent coffee from anywhere-but-Starbucks will get you a month of hosting. Additionally, those really low prices are often what you pay when you pay for the whole year up-front. Paying on a month-to-month basis will often cost you a few dollars more, or sometimes double the yearly price. Look, they really want to lock you into a commitment if they can. They're service businesses. It's what they do. Either way, before you sign up for a hosting plan, you should check out our frequently updated web hosting coupon page to make sure you're getting the best deal. On the other hand, if you'd rather use a website builder like Wix, which has a great free plan, you can build and publish your site for free, without having to pay extra for hosting. You'll have to put up with a few limitations, though, such as smaller storage space and Wix branding on your site. (You can see some other awesome website builders here.)
Does Google host websites?
Well, yes. There are technically two Google tools that allow you to run a website. The big business tool is Google Cloud Platform, which is a sort of "pay for only what you use" service. You can absolutely host a website on it. That said, the service is mostly designed for programmers who want to build massive, complicated apps and corporate sites. This makes Google hosting pricing a little hard to calculate, but you can host something like a WordPress site for an estimated $15-$20 per month, at the low end. Then there's Google Sites, which is a small site builder. It's not very advanced, like Wix or Squarespace, and you can't upload a regular web page to it. It's integrated with Google Drive though, which is cool, and it has collaborative editing. But it's not a hosting service at all.
How much does a website domain cost?
The average price is around $15 these days. That's for .com, .org, and .net domain names, in any case. And then some domain names with highly in-demand keywords might cost you hundreds or even thousands of dollars to register. Less expensive domain names that end in things like .online, or .me can be acquired for as little as $1. It all depends on the keywords you choose for your domain name and where you register it. Learn all about domain names, keywords, and how to register them in our ultimate guide to choosing a domain name.
How much does it cost to run a server?
Running a server in your own home costs you in terms of electricity, potentially loads of time, and hundreds of dollars of hardware. Plus, you have to spend a long time learning how. Running a dedicated server rented from a hosting company is a lot simpler, but it can easily cost $100-$200 USD per month, and often more. It all depends on what you need. And then you need to factor in what you might be paying to developers and IT people to actually make the server work and it's … a whole thing. It's the kind of thing better written off as a business expense.