SiteGround vs Heart Internet isn't one of those tricky web hosting comparisons; it's pretty much a one-horse race. While U.K-based Heart Internet offers cheap web hosting, SiteGround is better value for money, hands down. After testing both web hosts in terms of features, pricing, performance, security, and support, I found that even though SiteGround is slightly more expensive, it has more premium features and better performance. In saying that, if I had to make a gun-to-the-head choice, I'd go for
Hostinger
 for providing high-quality hosting, exceptional performance, and affordable prices.
Click here to see SiteGround's latest deals
or keep reading to find out what makes SiteGround the winner of this comparison.
1. Plans and Pricing
Heart Internet Is Cheaper, but SiteGround Is Better Value for Money
SiteGround offers shared, reseller, WordPress, WooCommerce, cloud hosting, and dedicated servers. At the same time, Heart Internet has plans for shared, reseller, VPS, WordPress hosting, and dedicated servers. You'll notice that Heart Internet's plans are cheaper than SiteGround, but there's a reason for that. More on why in a moment.
A free domain name is included with some hosting plans from SiteGround
Heart Internet Web Hosting
Unlike Heart Internet, SiteGround offers fully managed WordPress hosting plans that come with more WordPress-oriented features and infrastructure (details in the Features section). You won't get a free domain with SiteGround, but it provides free website migration (except on the smallest shared and WordPress hosting plans). Heart Internet provides a free domain name and site migration, and you'll get a 30-day money-back guarantee with both hosts. Despite Heart Internet's lower prices, you get your money's worth with SiteGround. That's why it wins this challenge. However, if you're looking for even more affordable hosting, I recommend
Hostinger
.
2. Features
SiteGround's Managed WordPress Hosting Plans Outshine Heart Internet
SiteGround has three managed WordPress hosting plans (StartUp, GrowBig, and GoGeek). You can host from 1 to unlimited websites and get 10 GB to 40 GB SSD storage, 10,000 to 100,000 monthly visitors, unlimited email accounts, and unlimited databases. All packages include free daily backups, free SSL certificate, free Weebly site builder, and a free CDN. With the GrowBig and GoGeek plans, you get speed-boosting caching, site staging, and the ability to add collaborators to your site with separate SiteGround accounts. The GoGeek plan also gives you White-Label Clients, access to more server resources, pre-installed Git, and priority support. In contrast, Heart Internet's plans aren't optimized for WordPress. However, you can install it with the application installer. On Heart Internet's four WordPress hosting plans, you can host 1 to 200 websites, get 100 GB to unlimited disk space, and unlimited bandwidth. All packages come with cPanel and free setup. If you want a free SSL certificate, you'll have to go for the higher-tier plans. Compare SiteGround and Heart Internet using the following side-by-side table:
| | | |
| --- | --- | --- |
| | SiteGround | Heart Internet |
| Hosting Types | Shared, WordPress hosting, WooCommerce, cloud, reseller, dedicated servers | Shared (Linux and Windows), reseller, VPS, WordPress hosting, dedicated servers |
| Free Domain | ✘ | ✔ |
| Free SSL Certificate | ✔ | Only with managed VPS |
| Disk Space | 10 GB to 120 GB | 10 GB – Unlimited (depending on the plan) |
| Bandwidth | Unmetered | Unlimited |
| Automatic Backups | Daily | ✘ |
| Control Panel | Site Tools | eXtend, Plesk, cPanel (depending on the service) |
| Email Accounts | Unlimited | 1000 – Unlimited (depending on the plan) |
| Free CDN | ✔ | ✘ |
| Free Site Migration | Yes, but not on the cheapest shared or WordPress plans | ✔ |
| Money-Back Guarantee | 30 days | 30 days |
The winner is SiteGround. As you can see, SiteGround offers more premium managed WordPress hosting as opposed to Heart Internet's basic packages.
3. Performance
SiteGround has Better Actual Uptime and More Performance Features
SiteGround has data centers in the U.S.A., the U.K., the Netherlands, and Singapore. Heart Internet's servers are only located in the U.K. since it mainly targets users in that region, and SiteGround has a bigger audience worldwide. SiteGround uses SSD storage with all its plans, while Heart Internet only uses it with some. When it comes to performance, SSD storage is preferable as it processes data faster than traditional HDD storage. Another performance-boosting feature is a CDN (Content Delivery Network). When activated, a CDN boosts your website's loading speed from different locations worldwide, making it more accessible. SiteGround provides a free CDN with all its plans, but Heart Internet doesn't. Both hosts promise a 99.9% uptime guarantee. When tested, SiteGround delivered a perfect actual uptime and no downtimes. On the other hand, Heart Internet showed a few occasional downtimes. When it comes to page loading speeds, SiteGround is pretty good, but not as fast as I would've liked.
Read more about its performance in this expert SiteGround review
.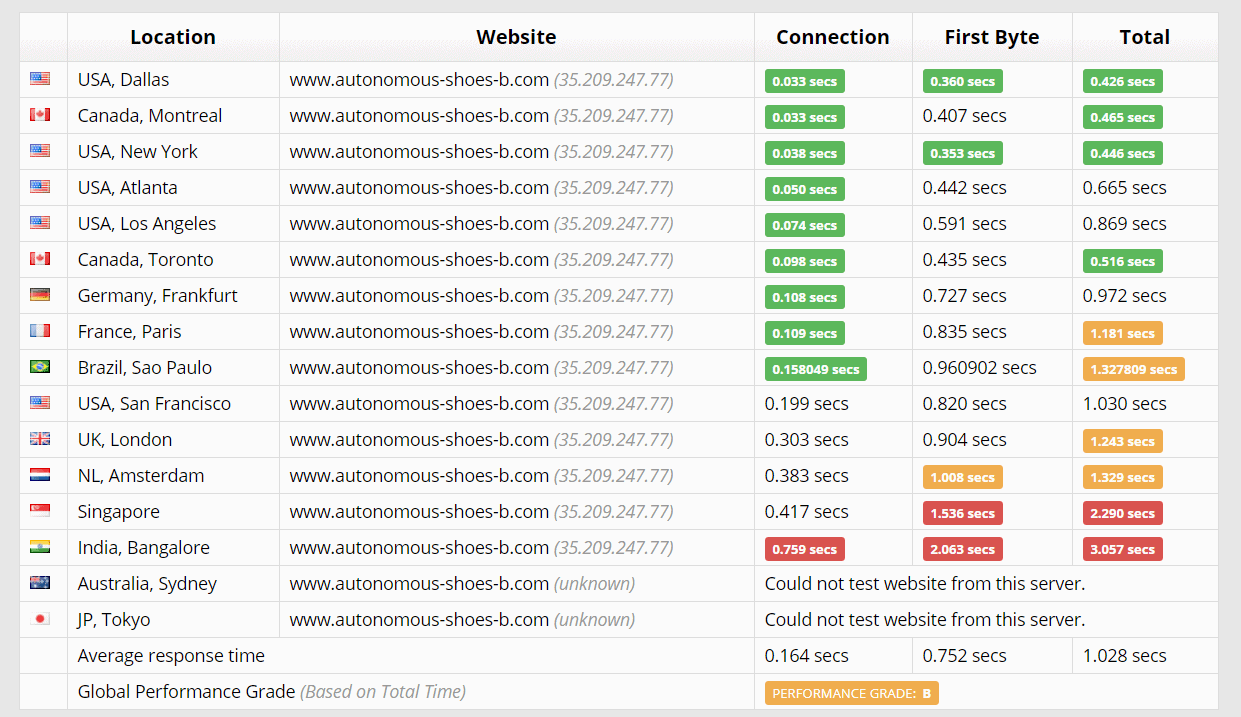 In contrast, Heart Internet showed impressive speeds in almost all locations.
Find more details in this in-depth Heart Internet review
.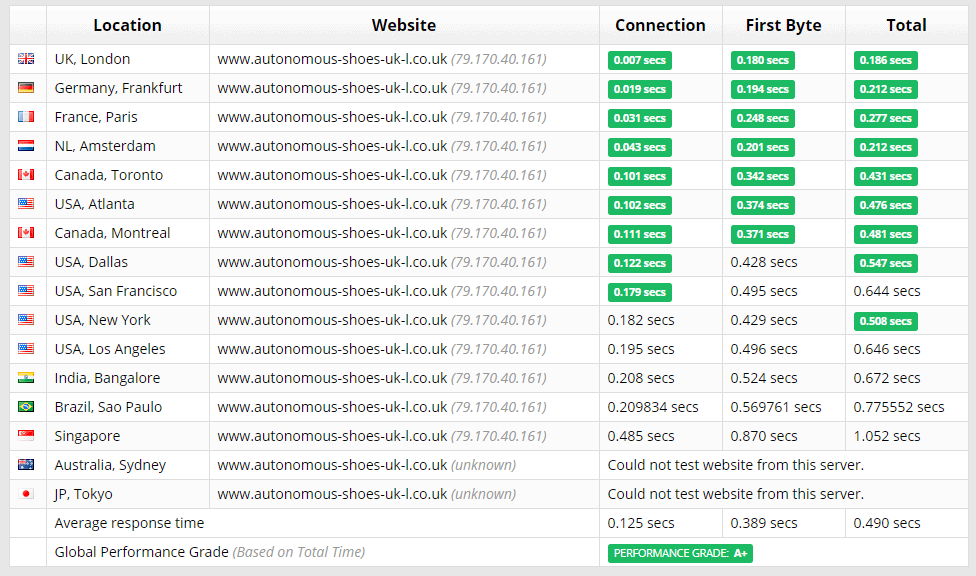 SiteGround has better actual uptime, and Heart Internet has slightly better loading speeds. However, SiteGround provides more performance-boosting features making it the winner of this round. Yet, neither SiteGround nor Heart Internet comes close to
Hostinger's blazing-fast speeds and reliable uptime
.
4. Security
SiteGround Has Much More Security Features
SiteGround's plans come with a bunch of security features as standard. These include a Web Application Firewall (WAF), an artificial intelligence (AI) anti-bot system (protecting against malicious attacks including DDoS and Brute-Force), 24/7 server monitoring, and access to the Sucuri-developed SG Scanner (antimalware). On the other hand, Heart Internet's security features are limited. It provides a high-end firewall to protect your website against external threats such as DDoS and Brute-Force attacks, as well as anti-spam and antivirus with all plans. SiteGround uses a system similar to CloudLinux OS called Unique Account Isolation. This system runs on all of SiteGround's shared servers. It's responsible for securely isolating each account on a server, protecting your account from threats targeting others. SiteGround includes free automatic daily backups with all its plans, a perk that Heart Internet lacks. SiteGround is the winner of this round for offering a wider range of security features with its hosting packages for free.
5. Support
SiteGround's Support Team Is Easier to Contact
Both SiteGround and Heart Internet have comprehensive knowledgebases with a range of essential articles and tutorials. However, SiteGround's knowledgebase is better organized, making it easier to find the information you need. You can contact SiteGround's support 24/7 via live chat or phone. I went for the live chat and was instantly connected to an agent. They were very professional, polite, knowledgeable, and answered all my questions in detail. Very helpful indeed.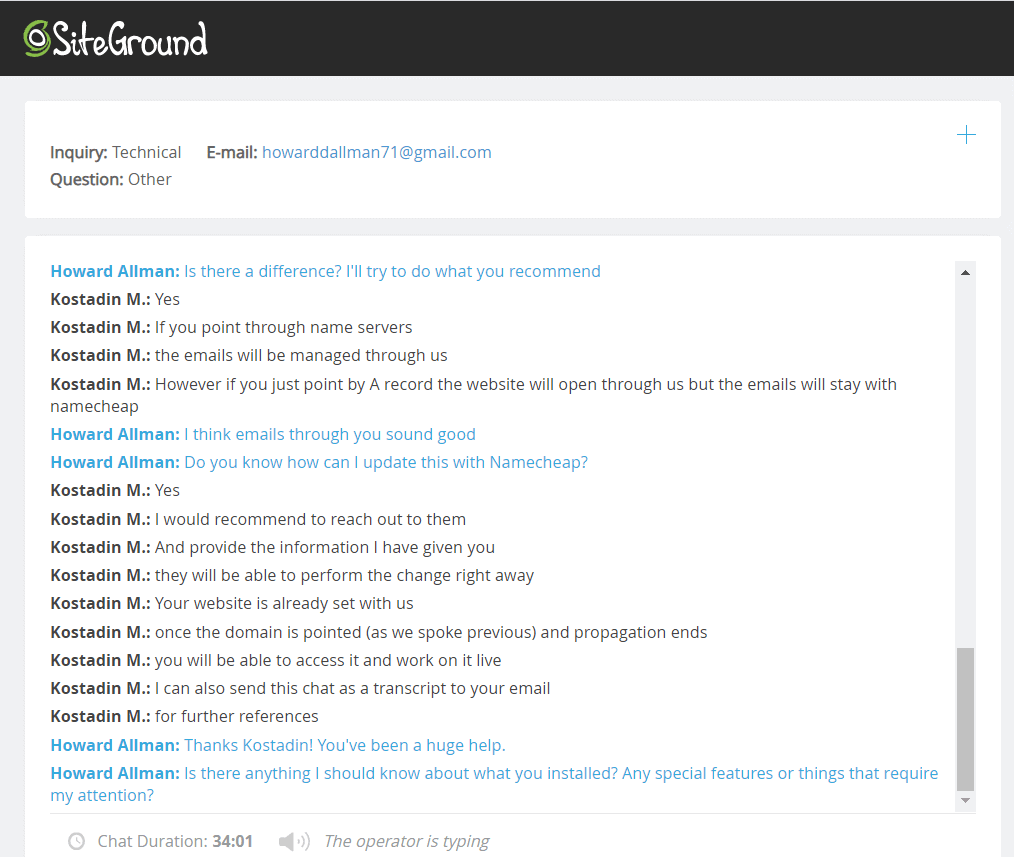 Heart Internet's support is also available 24/7 via live chat, email, phone, and support ticket. The live chat is only available in the final stages of buying a plan, and even then, I found it challenging to get connected to an agent. The ticket support, on the other hand, was quite responsive. I submitted a ticket and within 10 minutes received a detailed reply with all the information I needed.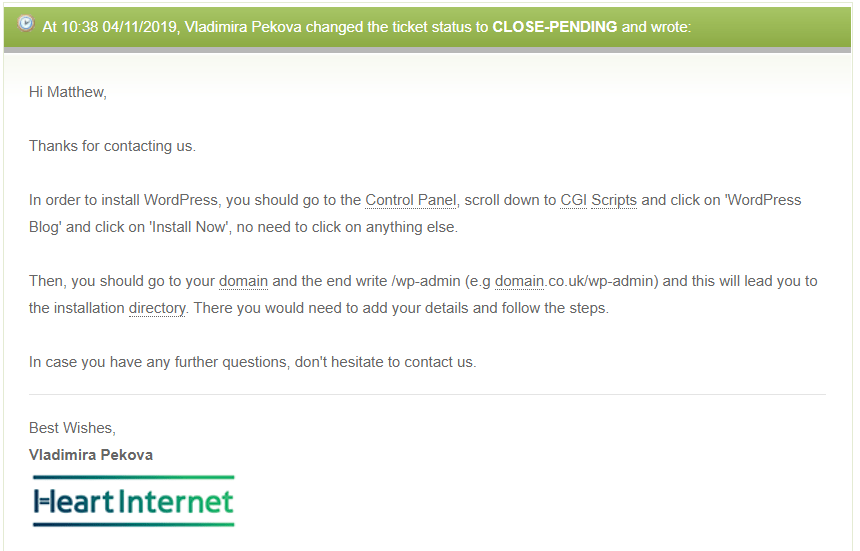 Both hosts have reliable customer support, but SiteGround's better-organized knowledgebase and responsive live chat make it the winner of the support round by a small margin.
Why Heart Internet Loses Out to SiteGround
Despite its low prices, Heart Internet has many limitations compared to SiteGround in terms of features and WordPress hosting capabilities. SiteGround also has a more stable uptime, better security, and more responsive customer support. If SiteGround is a bit expensive for your needs,
Hostinger is an even better option
 for small to medium-sized businesses. Unlike SiteGround and Hostinger, Heart Internet didn't get a spot in our exhaustive
list of the best web hosting services
.
SiteGround
Heart Internet
Plans and Pricing
More expensive. 30-day money-back guarantee
Cheaper prices. Plans for Linux and Windows. 30-day money-back guarantee
Key Features
Free website migration, free SSL, SSD storage, free website builder
Free SSL certificate with higher-value plans, free site migration (with VPS)
Performance
More server locations, free CDN with all plans, 99.9% uptime guarantee, no downtimes, slower loading speeds
Fewer server locations, 99.9% uptime guarantee, few downtimes, faster loading speeds
Security
WAF, AI anti-bot system (protects against malicious attacks including DDoS and Brute-Force), 24/7 server monitoring, SG Scanner, Unique Account Isolation, free automatic daily backups with all plans
Strong firewall (DDoS/Brute-Force protection), antivirus, anti-spam
Support
Comprehensive and well-organized knowledgebase, 24/7 live chat and phone support, highly responsive and helpful
Comprehensive knowledgebase, 24/7 live chat, phone, email, and support ticket, the live chat is difficult to connect to, the support ticket is responsive and helpful
FAQ
Is SiteGround better than Heart Internet?
Yes, it is. Compared to Heart Internet, SiteGround's packages come with more inclusive premium resources, and it boasts a robust infrastructure to give you optimum performance. It's no surprise that SiteGround is one of the top 10 best web hosting services.
Does SiteGround use SSD?
SiteGround uses SSD by default with all its hosting packages. The smallest SSD storage that you can get is 10 GB. SiteGround is also featured in our list of the best cheap and fast SSD hosting services.
Does Heart Internet use cPanel?
It depends on your plan. Although Heart Internet offers cPanel with most packages, you get the eXtend control panel with Windows hosting. Want more options? Check out my top recommended cPanel alternatives.
Does SiteGround offer VPS hosting?
No, it doesn't. However, SiteGround does offer scalable and fully managed cloud hosting solutions. You also get CPU and RAM resources dedicated to your account that aren't shared with other users in the same hosting environment. SiteGround not quite right for you? Don't miss this list of the best VPS hosting services.