We all know that there are more than enough comparisons between these two giants of the e-commerce hosting industry. Shopify and BigCommerce both have an attractive service to offer e-commerce entrepreneurs at any scale. But how do they stack up against each other in terms of drop shipping?
That's what many of you who are excited about this new way of selling might wonder as you naturally gravitate toward one of these two top options. It's impossible to give a balanced and knowledgeable answer without first looking at some of the general e-commerce aspects of each as well as their drop-shipping capabilities.
Which Platform Provides the Best Value for Your Money?
In general, there's little difference in the pricing structure of Shopify and BigCommerce. Both have three pricing plans which cost almost exactly the same, with only Shopify's top Advanced plan being slightly more expensive than BigCommerce's Pro plan. However, they're different in terms of which features they offer at what level.
For example, gift cards are included in BigCommerce's most basic plan, while they're unlocked only with Shopify's second plan. Conversely, abandoned cart recovery is included with the most basic Shopify plan, while it's offered only with the second BigCommerce plan. Both of these are great tools for drop shippers to maximize their conversions and entice new customers.
Another example is that BigCommerce offers the ability to make use of a custom SSL certificate on its Pro plan, while the same functionality is available only on a custom Shopify Plus+ package. BigCommerce also has no limits on how many staff accounts you can have.
One big feature in favor of Shopify is its Shopify Lite option. Shopify Lite is much more affordable than the platform's standard options and is for entrepreneurs who want to sell using Shopify through social media channels, like Facebook and Instagram, or on their existing website hosted elsewhere. In this way, you can use Shopify for all its great e-commerce capabilities like advanced reporting, accounting tools, and point-of-sale (POS) integrations, but sell on any website or channel you wish.
This is particularly interesting for drop shippers, as Instagram and Facebook have become highly effective tools to market to and engage your audience in one go.
What Can You Expect When It Comes to Transaction Fees?
Shopify charges a transaction fee for every purchase made on your store. The only exception is if you use Shopify Payments as your payment provider. Otherwise, the fee is either 2.0%, 1.0%, or 0.5% depending on which plan you choose.
While none of the fees are huge, the one you end up with is still worth factoring in, as drop shippers usually already work on tight margins. Drop shippers typically make only 20-40% of each sale in profits, which means that the 2% will feel more like 10% against your profits.
On the other hand, BigCommerce doesn't charge any transaction fees, no matter which plan you opt for. Although Shopify's fees are very small, there's no way around one unless you use Shopify Payments. However, it's worth mentioning that Shopify Payments is a pretty decent payment processor option, if not the best.
What are the Sales Limits?
The biggest disadvantage of BigCommerce is the fact that it has a sales cap of $50k, $150k, or $400k based on which plan you have. If you reach the sales cap on a lower plan, you'll be automatically upgraded and billed for a higher plan from the following month. If you're already on the top Pro plan, you'll be charged extra for each set amount you go over the limit, or asked to sign up for a custom solution for your needs.
Although the sales caps on BigCommerce's plans aren't terribly low, most marginally successful sellers will need to upgrade to at least the Plus plan, and more ambitious sellers will need a Pro or Enterprise plan. By contrast, Shopify's plans have no sales limits, leaving you to scale your business out as much as you wish.
If you look at the potential profit you should be making by selling at the sales limits, the price you have to pay for the next tier pricing plan should be almost negligible. Still, it's one less thing to worry about on Shopify.
Which Has the Best Drop-Shipping Features and Integrations?
Now that we have all the formalities out of the way, let's get to the heart of the matter: Is BigCommerce or Shopify better when it comes to drop-shipping capabilities?
It's no secret that Shopify is the first e-commerce platform brought up when it comes to starting a drop-shipping business. But is it really so much better? And can BigCommerce compete?
The most important thing for drop shippers is to be able to quickly and easily source products from suppliers, add them to their store, and have the selling and shipping process automated. In this regard, Shopify's partnership with Oberlo is its headline feature for drop shippers. Oberlo is the go-to tool to search for products on AliExpress, which is the go-to supplier for a massive selection of goods at wholesale prices.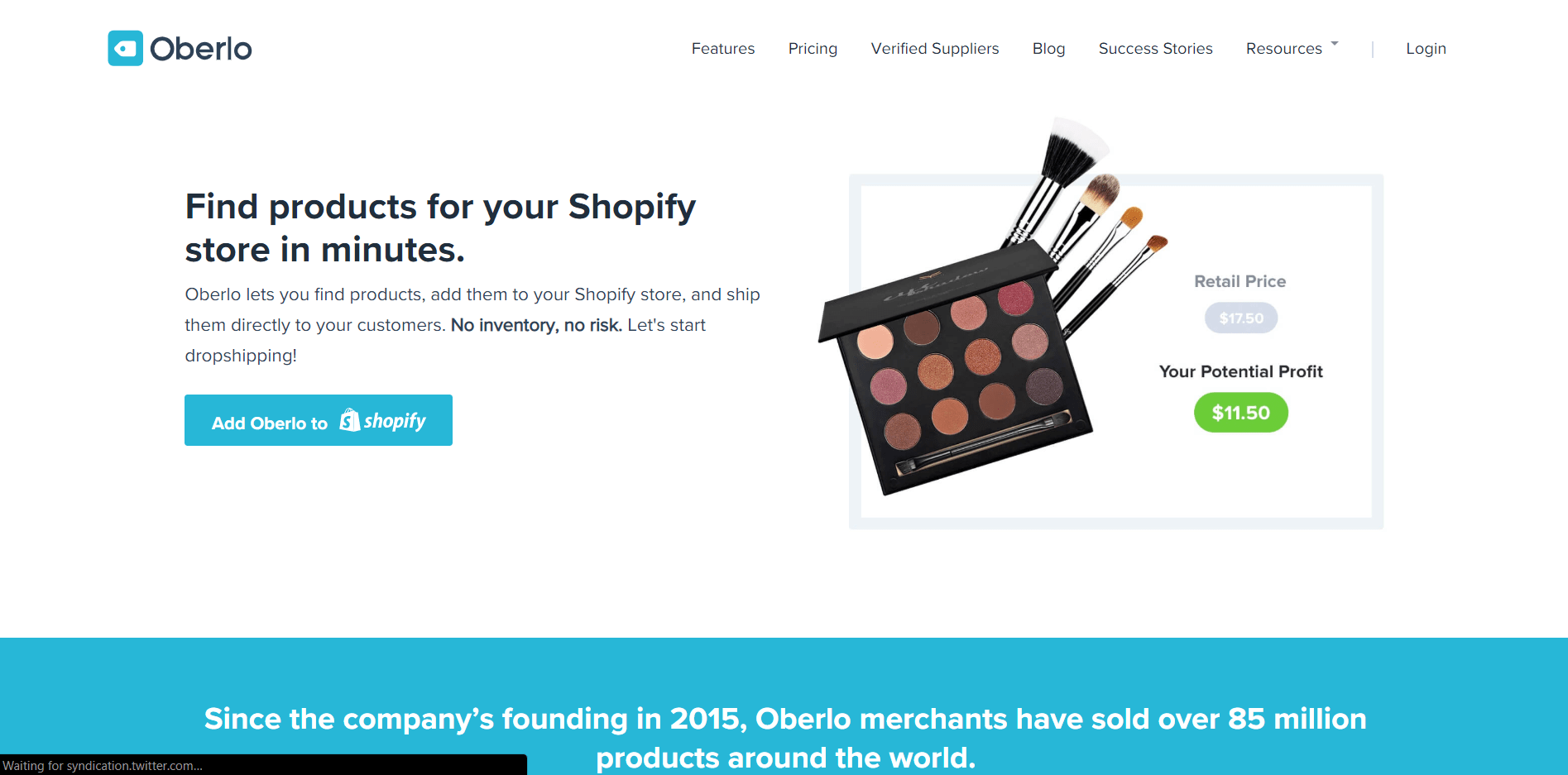 There are many similar apps available on the Shopify app market that focus on different niches, marketplaces, or regions. Because of Shopify's high curation standards, they're almost all highly rated and good at what they do.
For BigCommerce, things are a bit bleeker. BigCommerce also has a decent app marketplace, with a few great product-sourcing apps like Inventory Source, e-ProductPlug, and Modalyst. However, the quality of BigCommere's other apps vary dramatically, and none of them are as established and comprehensive as Oberlo.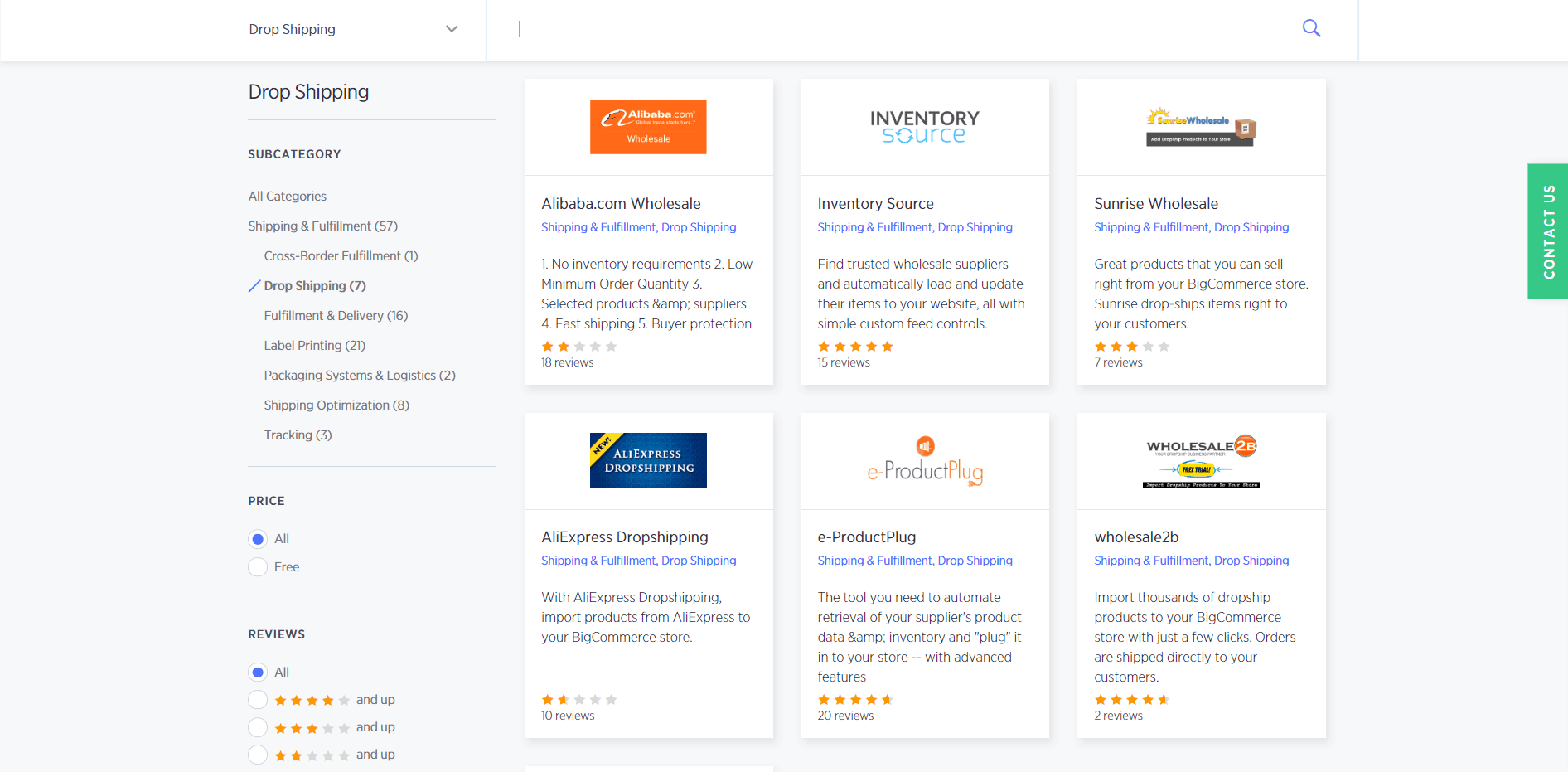 Although both platforms have apps that let you do everything from source products to set up shipping through your suppliers, Shopify's selection just has the most consistent quality, and Oberlo is the one powerful tool that gives Shopify the upper hand for drop shipping.
Shopify vs BigCommerce — Which Should Be Your Drop-Shipping Platform?
It's a tight race, with both taking the lead in some aspects and lagging behind in others. If it came down purely to drop-shipping capabilities, Shopify lives up to its name as the drop shipping e-commerce service; however, it's impossible to compare this aspect in isolation. Considering that so much of which one is the better option depends on your personal preferences and situation.
On the one hand, BigCommerce has sales limits that might force you to pay more in subscriptions than you expected, but you don't have to contend with transaction fees. On the other hand, Shopify has transaction fees for anything except Shopify Payments, but no sales limits.
Both also cost relatively the same, making the decision even tougher.
BigCommerce mounts a decent challenge, with better SEO, product customization, and more built-in features; if these appeal to you, feel free to check out our article about how to set up drop shipping on BigCommerce. You can also read our expert review​​ or visit the BigCommerce website.​​
However, between its powerful Oberlo integration and its cost-effective Shopify Lite option, I think that Shopify does just enough to win as the platform that's better geared toward drop shipping. Here's our article about how to set up drop shipping on Shopify. You can read our expert review of the platform, or check out Shopify's website as well.