Too many online stores make it out of the gate but never cross the finish line – a record 80% fail within the first year. That's why choosing the best e-commerce builder for your unique needs is so important. When it comes to BigCommerce and Shopify, both are excellent e-commerce platforms with powerful built-in tools that will help you succeed in the online retail space. But how do you decide which is better for
your
business? To help you make the right choice, I thoroughly tested their e-commerce tools, scalability, pricing, and support.
BigCommerce doesn't charge transaction fees,
and its features make it more suitable for larger stores, international retailers, and wholesale businesses. It can also be more challenging to use if you're an e-commerce newcomer. In contrast, Shopify is easy to use regardless of your skill level. And it doesn't skimp on e-commerce functionality.
Shopify's basic plan packs many features, many of which BigCommerce locks behind its paid plan.
After taking everything into account,
Shopify came out on top.
Keep reading to learn why.
Templates
Both Have Well-Designed Store Themes, But Shopify Scores on Design and Choice
Both BigCommerce and Shopify offer plenty of themes. They're all attractive, mobile responsive, and easy to search and filter – finding one that will suit your business is pretty straightforward.
The Shopify theme store has 140+ themes, and 12 are free.
You can filter them by industry, price, catalog size, and features: quick view, mega menu, countdown timer, color swatches, and more.
Themes come with excellent built-in features such as galleries, slideshows, product pages, and a blog.
Customizing your theme's homepage is easy with Shopify's drag-and-drop editor. You can change elements like the colors, fonts, and banners or add new sections (image carousels, video, blog posts) to create a fresh overall aesthetic.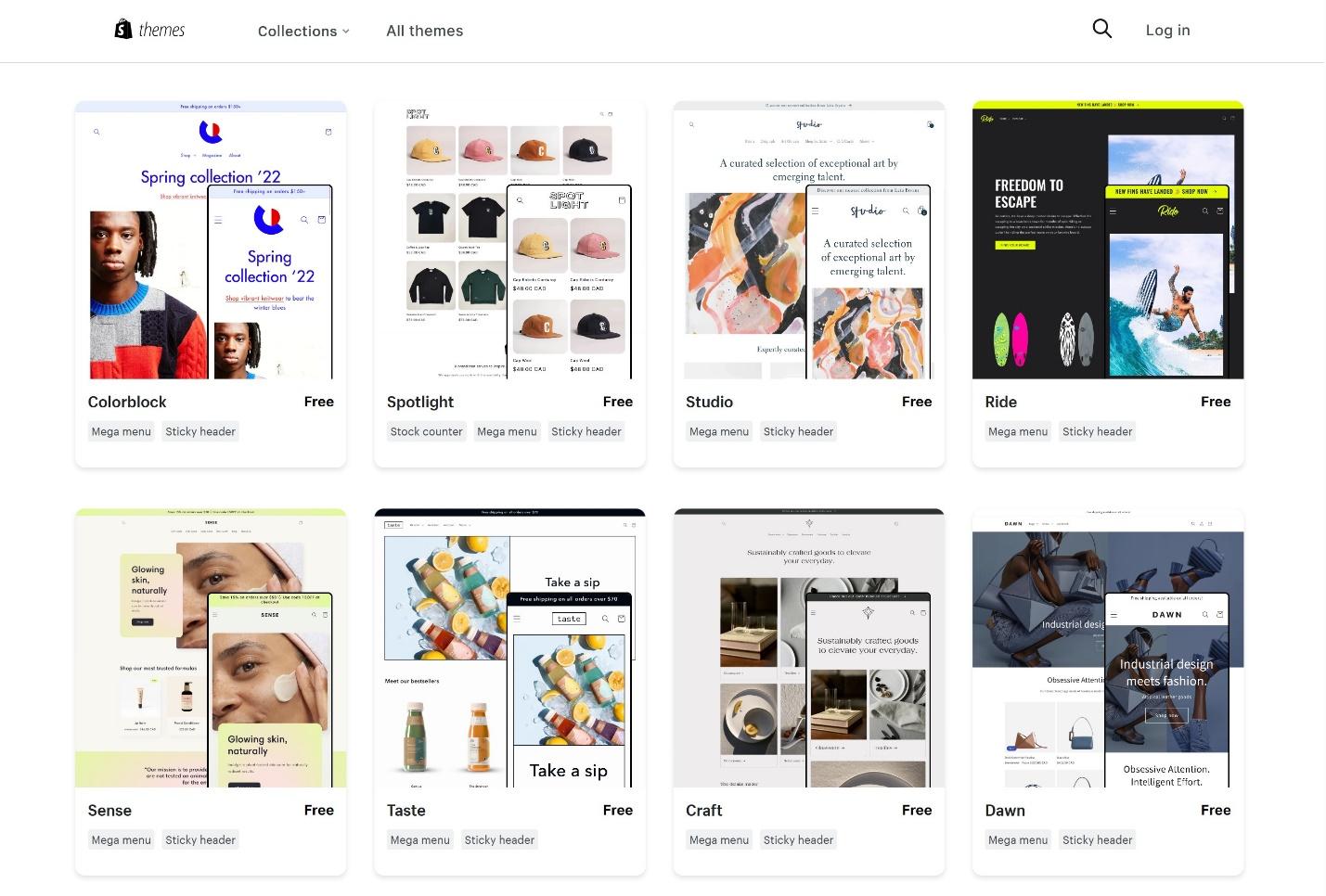 For those with technical skills and a desire for extensive customization,
accessing your theme's code allows you to craft a bespoke shopping experience.
That said, Shopify's built-in editor and wide range of apps (many free) make it easy for beginners to create a visually compelling e-commerce store. Meanwhile,
BigCommerce has 252 good-looking themes, of which 15 are free.
Many themes come in multiple variations – the Vault free theme is a good example. You can choose Vault bright (orange tones), cool (blue), or natural (green). Note that the overall design and built-in features are the same – only the overall color scheme differs.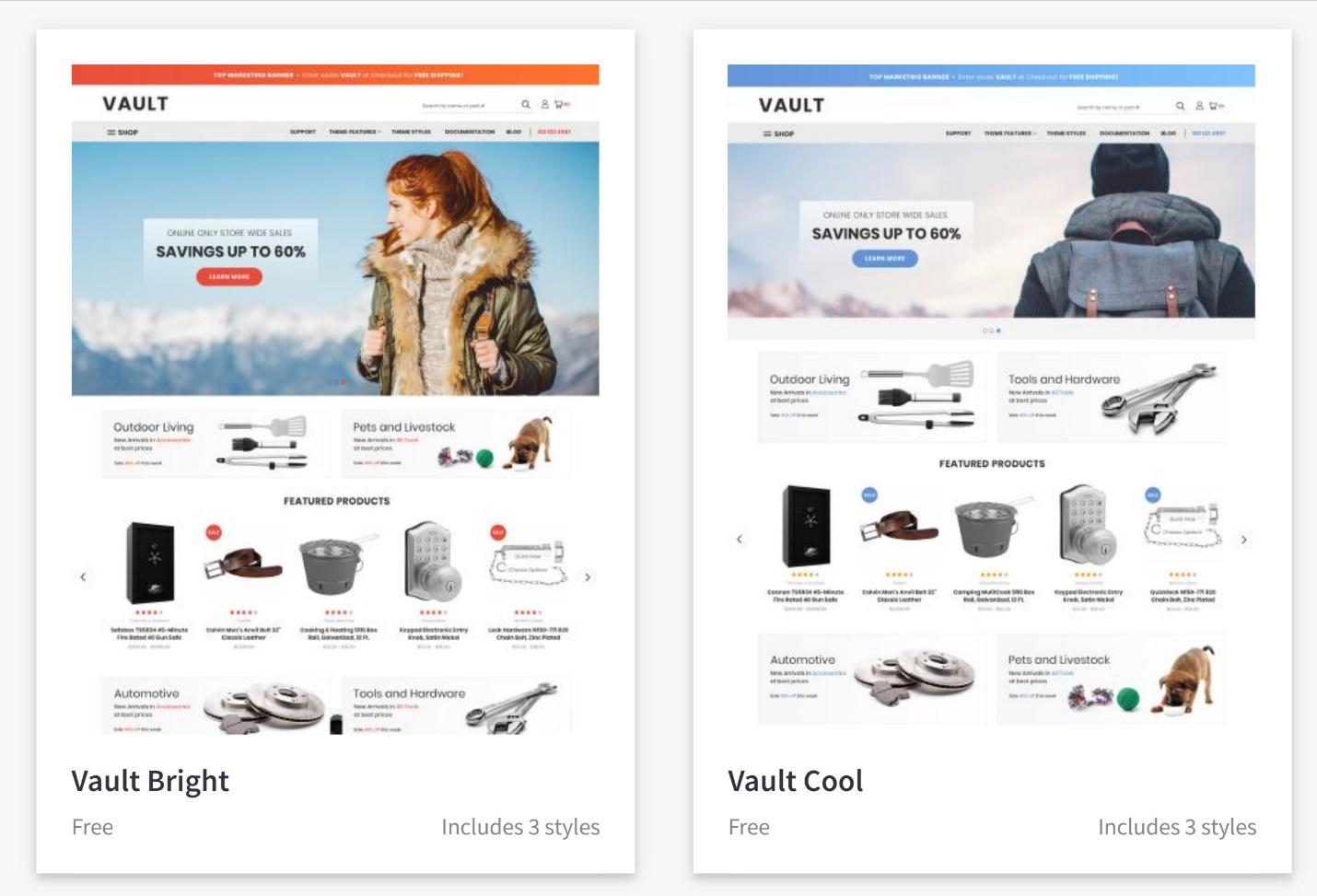 You can customize your theme by updating the colors and fonts, adding text, images, and more.
To further personalize the design, you drag and drop widgets, such as image carousels, banners, and videos
. Like Shopify, BigCommerce lets you access your theme's HTML/CSS code for even greater customization. While both BigCommerce and Shopify offer good-looking themes, Shopify has an edge.
Shopify offers more themes and more varied designs
, making it easier to find one that suits your brand's style.
Features and Ease of Use
Shopify Combines Ease of Use With Powerful Built-In Features
Once you choose a theme that aligns with your brand,
Shopify walks you through setting up your store,
from adding products and sales channels to setting up payment providers, shipping, and fulfillment.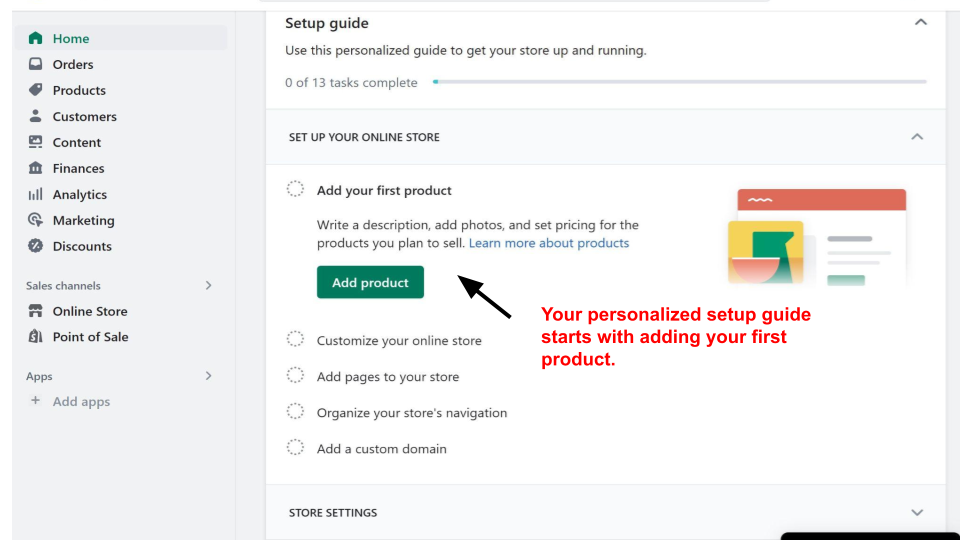 Your Shopify store comes with a robust set of built-in features,
from unlimited products, product variants, and product reviews to more advanced tools that allow you to filter and group customers and design and automate marketing notifications. You access all these features in the side editing panel of your dashboard. While
setting up your store on BigCommerce is not as straightforward,
it's still not that hard. All the settings you need, including the ones for design and store management, are neatly located on the left-side panel of your dashboard. Adding products is a more complicated process due to the sheer number of options, which can feel overwhelming if this is your first website.
You'll also have to upgrade your BigCommerce plan to access features that come standard on every Shopify plan,
like abandoned cart recovery, product filtering, stored customer credit card data, and more. As for other features that can help you build a successful store, BigCommerce and Shopify both have effective SEO tools to increase your online presence, including auto-generated XML sitemaps, optimized page URLs, and automatic 301 redirects and URL rewrites when you rename a product. Both also have built-in blogging engines to help you increase your brand's visibility. Still,
Shopify offers more advanced tools – you can pre-schedule a publication date to time a blog post with the launch of a new collection or product.
Apps
Shopify's App Store Has Everything an E-Commerce Business Might Need
BigCommerce boasts an impressive app marketplace with over 1,000 useful apps and integrations (free and paid). These Apps make up various categories: analytics, financing, content management systems (CMS), and order management.
App collections are an easy way to find the tools you need.
For example, the "Must Haves" collection is a curated selection of essential tools for new store owners that includes apps for inventory management, email marketing, accounting, and shipping/fulfillment. Other collections focus on product sourcing, design, and multi-storefront retailing. However, when it comes to sheer variety, Shopify has the edge. With
8,000+ free and paid apps
,
you'll find a Shopify or third-party app for every feature or function you could want. There are apps for dropshipping/product sourcing (Oberlo, Printful, Handshake), marketing (MailChimp, Hubspot), product reviews, and social media integration.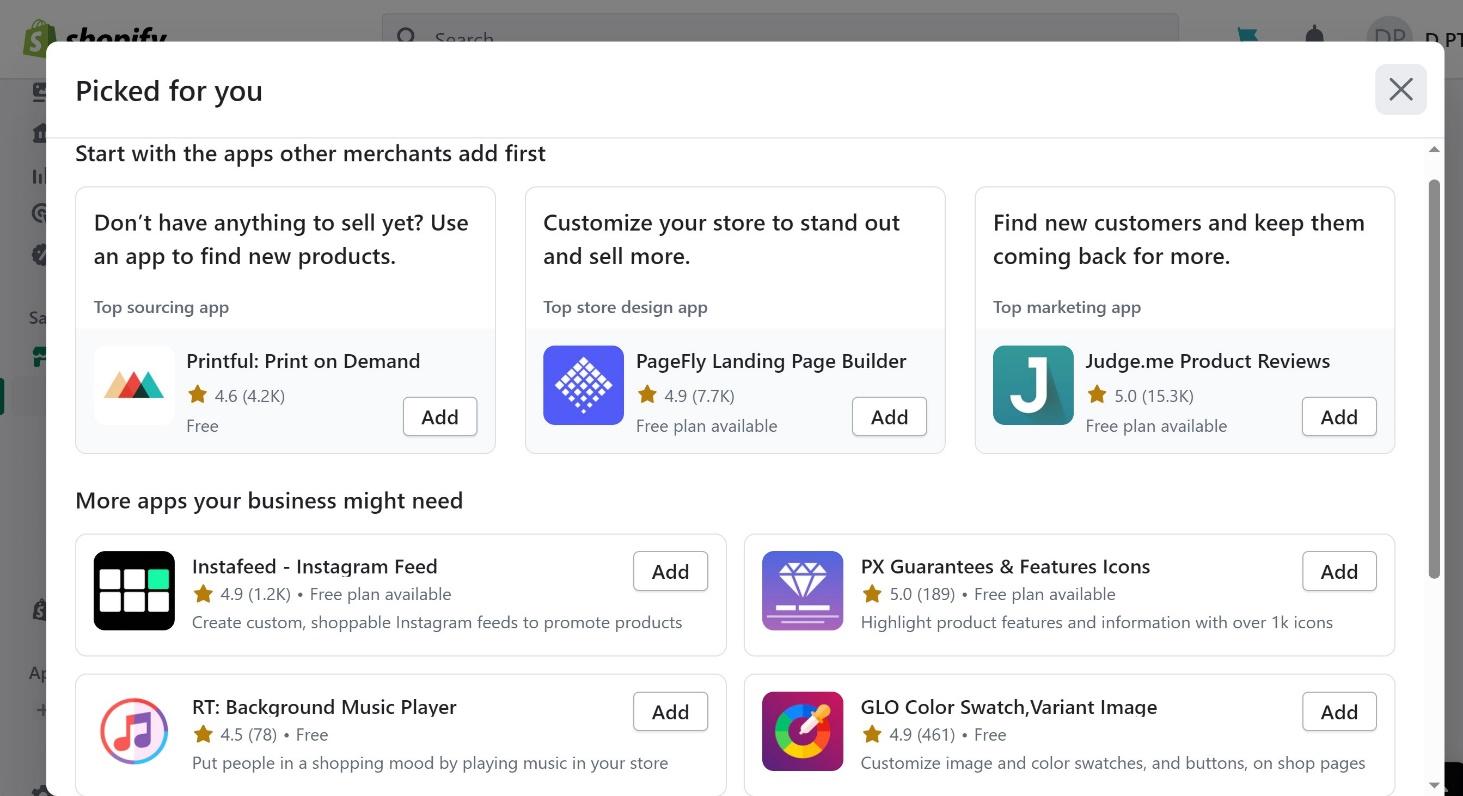 Many apps offered by BigCommerce and Shopify are free or come with a basic free plan. For others, you'll have to pay a fee, either upfront, recurring, or both
. While you can expect to pay for apps with both builders, your costs will likely be lower with Shopify
– the platform has more built-in features.
E-Commerce
Both Have Robust E-Commerce Features, but Shopify Is Hard to Beat
Shopify plans offer all the tools you need to start and grow your retail business. From one convenient dashboard,
you can manage all your store settings: payment providers, the checkout experience, taxes, shipping and delivery, and customer notifications
.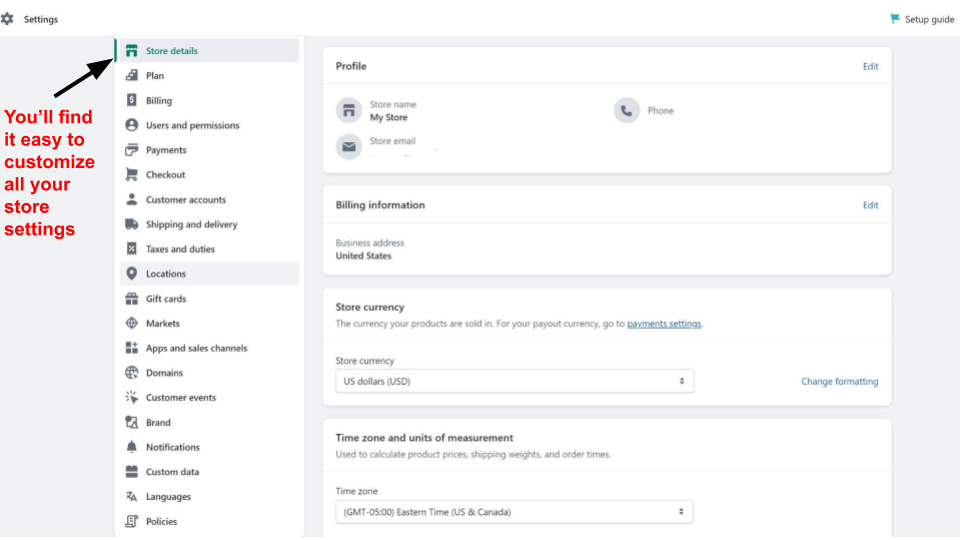 Suppose you already have a brick-and-mortar shop or plan to sell at pop-ups or marketplaces. In that case,
Shopify's POS system lets you sync data between physical and online stores
. With BigCommerce, you'd need to integrate a third-party service like Square, Clover, or Vend. BigCommerce caters to larger stores with its built-in e-commerce tools. For example,
if you have more than one brand,
you can create and manage a unique storefront for each brand from your BigCommerce dashboard.
Shopify doesn't give you that option. Other features that suit bigger organizations include unlimited staff accounts, up to 600 product variations, and multiple inventory locations. There's also a powerful product management system for managing inventory and setting shipping rules. While you can choose between 100+ payment providers,
Shopify charges a transaction fee unless you use Shopify Payments
. BigCommerce has the advantage here. You won't pay a transaction fee whichever payment gateway you choose – there are more than 50.
Sell Wherever Your Customers Are
Shopify and BigCommerce both allow you to sell on social media platforms and online marketplaces. Still, as with store design, things are easier with Shopify. During account setup,
Shopify will ask which social channels and third-party marketplaces you want to add.
Your selections will be waiting for you in your dashboard.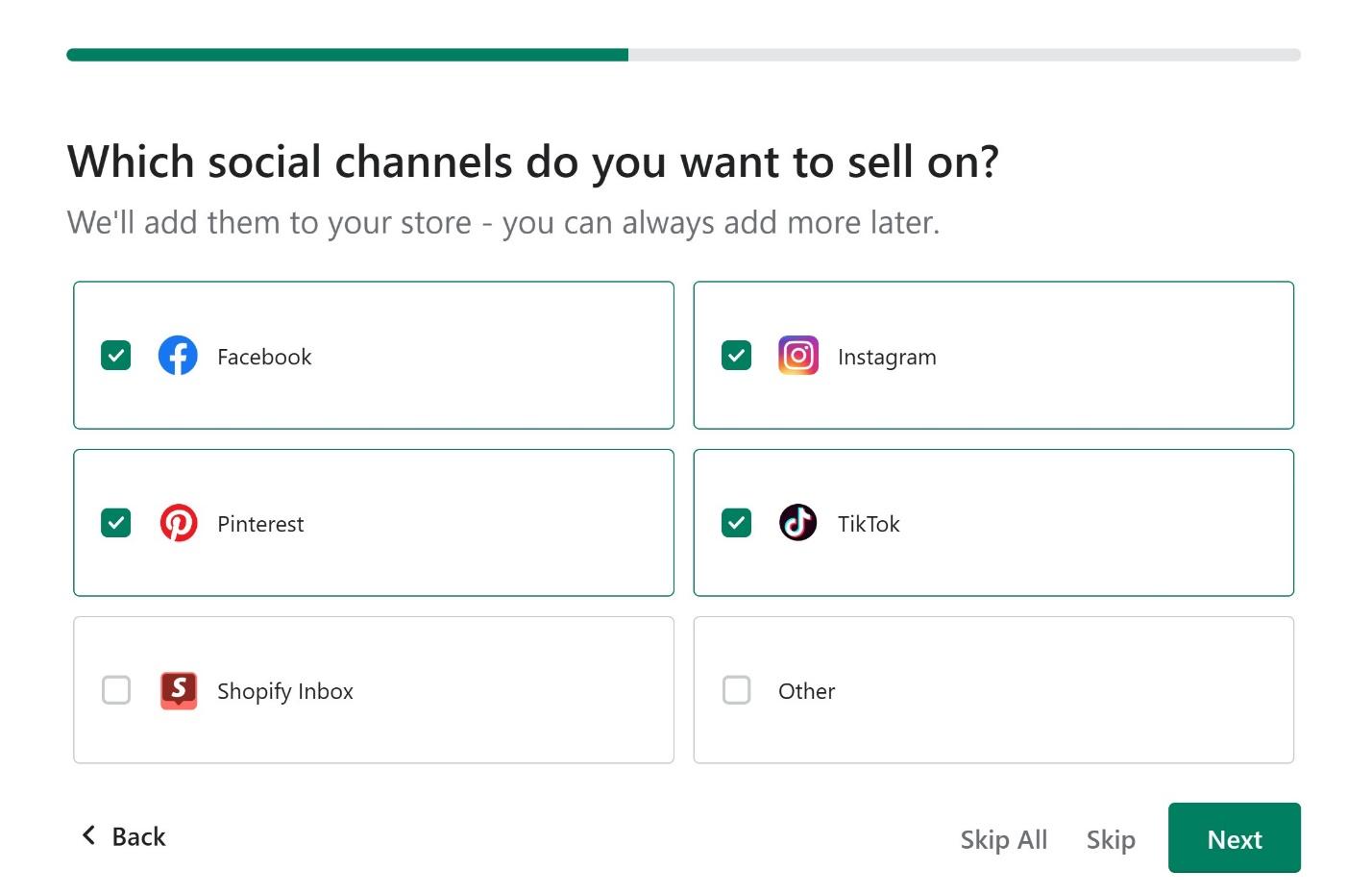 If you didn't add any marketplaces or social platforms while creating your Shopify store, adding them takes a few clicks. You can
link your store to popular marketplaces like Amazon, eBay and social media platforms like Facebook, TikTok, and Instagram.
You can also add a
Buy Button
to any website or blog to sell an individual product or complete collection
.
Your inventory automatically syncs across all your sales channels, and you can manage them all from your Shopify dashboard.
BigCommerce doesn't stint when it comes to sales channels
, whether you want to sell on third-party marketplaces like Walmart, Amazon, and eBay or integrate social sites like Facebook Shop or Instagram Checkout. As with Shopify, you can manage your sales channels from your BigCommerce dashboard. This was a tough call because both platforms have their e-commerce strengths. Still, I felt Shopify had better e-commerce tools for most merchants, especially on its entry-level plan.
Pricing
Similar Pricing, but You Get More Features With Shopify
BigCommerce and Shopify offer similar plans with comparable pricing. That said, Shopify delivers better value and more built-in e-commerce features, especially with its entry-level plan.
Here's What You Get for Free
BigCommerce and Shopify don't offer free plans, but they offer free trials that give you time to choose and customize a theme, set up your store, and test their features.
BigCommerce has a 15-day free trial (no credit card required)
that should give you ample time to decide if it's a good option for your business. I was surprised to learn you're entitled to just one free trial, so use the time wisely. A workaround is to sign up using a different email address, which got me a 2nd free trial. On the other hand
, Shopify has replaced its 14-day free trial with a 3-day trial and a steep discount on your first month – it will cost you just $1
. If you need extra time, you can contact customer support to request an extension on your free trial. I love that Shopify has no limit to the number of free trials and test stores you can create.
Here's What You Get If You Pay
BigCommerce offers four paid plans: Standard

$

29.00

, Plus

$

79.00

, Pro

$

299.00

, billed monthly,
and Enterprise (price on request). For most online stores, the Standard plan is the sweet spot. You'll get unlimited storage, products, and staff members. Other perks include multi-channel selling, reporting tools, and real-time shipping quotes. However, you'll have to upgrade to the BigCommerce Plus plan for advanced features such as abandoned cart recovery, customer segmentation, product filtering, or credit card data storage. Note that BigCommerce
automatically upgrades your plan when you hit a preset sales volume
.
Shopify has a similar pricing structure with three paid plans: Basic

$

29.00

, Shopify

$

79.00

, and Advanced

$

299.00
, and for enterprise-scale businesses, Shopify Plus.
Unlike BigCommerce, all Shopify plans include core and advanced e-commerce features – even the Basic plan.
Naturally, you'll get unlimited products, storage, and bandwidth. Shopify also provides in-house marketing tools to design, track, and automate campaigns and notifications. Shipping and payment tools are some other functionalities BigCommerce charges for. If you want to start small and offer your products or services on social/messaging sites like Instagram and TikTok,
Shopify offers a Starter plan priced at $5.
You'll get a simple store with essential tools for order management, performance metrics, and 24/7 customer support. Because Shopify offers more built-in features for the same price, it's cheaper for most web stores. Here's an overview of BigCommerce and Shopify entry-level plans.
Mobile Responsive Themes
Yes, 225 with 15 free
Yes, 140+ with 12 free
Unlimited Products, storage, and bandwidth
Yes
Yes
App Store
Yes, 1,000+ apps and integrations
Yes, 8,000 apps
Multi-channel selling
Yes
Yes
Detailed Reporting
Yes
Yes
24/7 Tech Support
Yes (phone, live chat, and ticket)
Yes (phone, live chat, email)
Support
Both BigCommerce and Shopify Offer Fast and Responsive Support
BigCommerce and Shopify offer 24/7 live chat, email, and phone support
. They have extensive knowledge bases and self-help resources, from articles and webinars/tutorials to downloadable guides. When I tested live chat support on a holiday, I got replies within minutes on both platforms. I engaged in my initial conversation with BigCommerce. Their response regarding the export of site content didn't align with the straightforwardness I had hoped for. From their reply, I inferred that it's not feasible to export store content to a different platform, such as WordPress.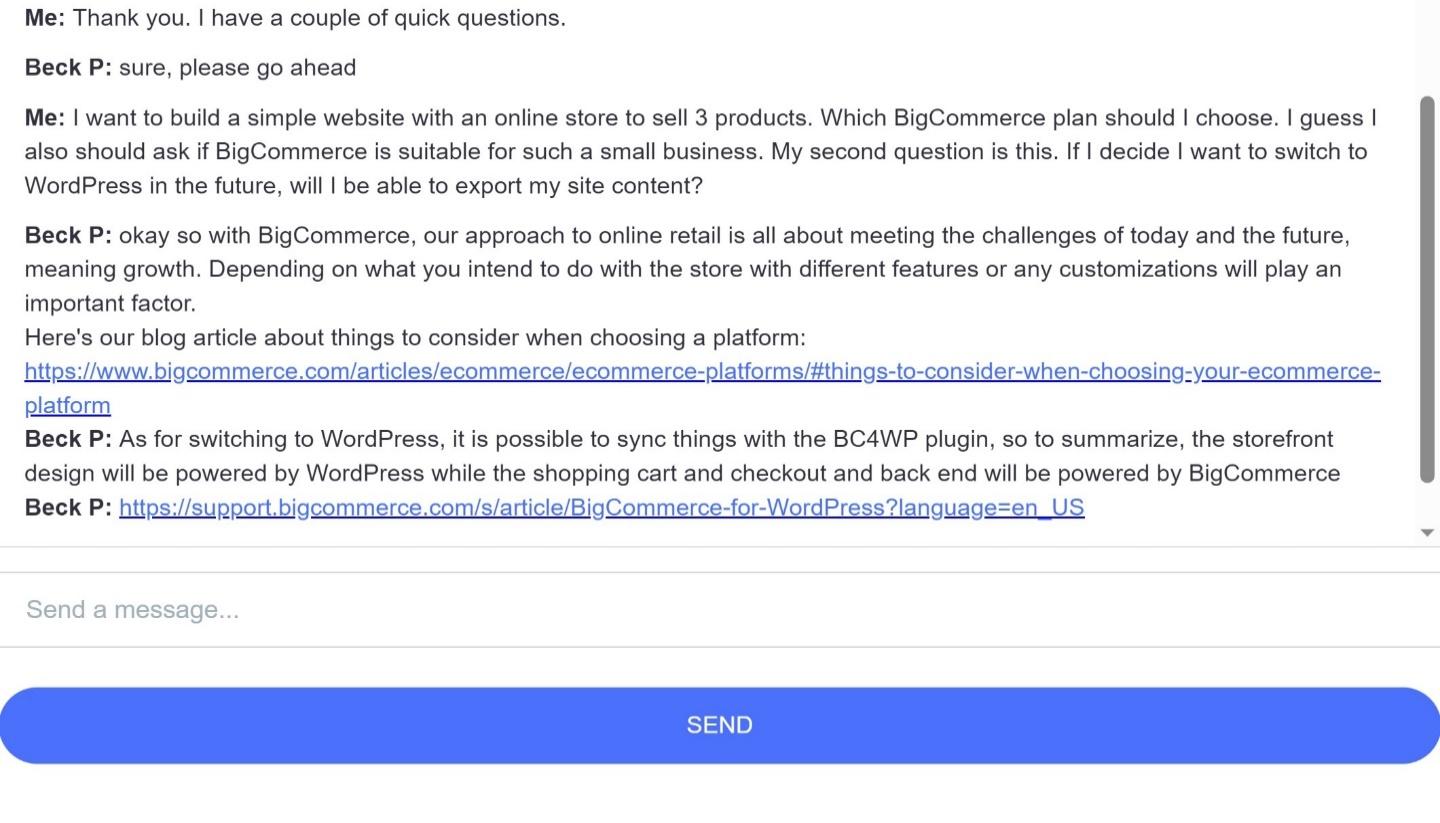 Then I started a chat with Shopify and asked the same questions. I appreciated my Shopify support rep's honesty about exporting store content to WordPress.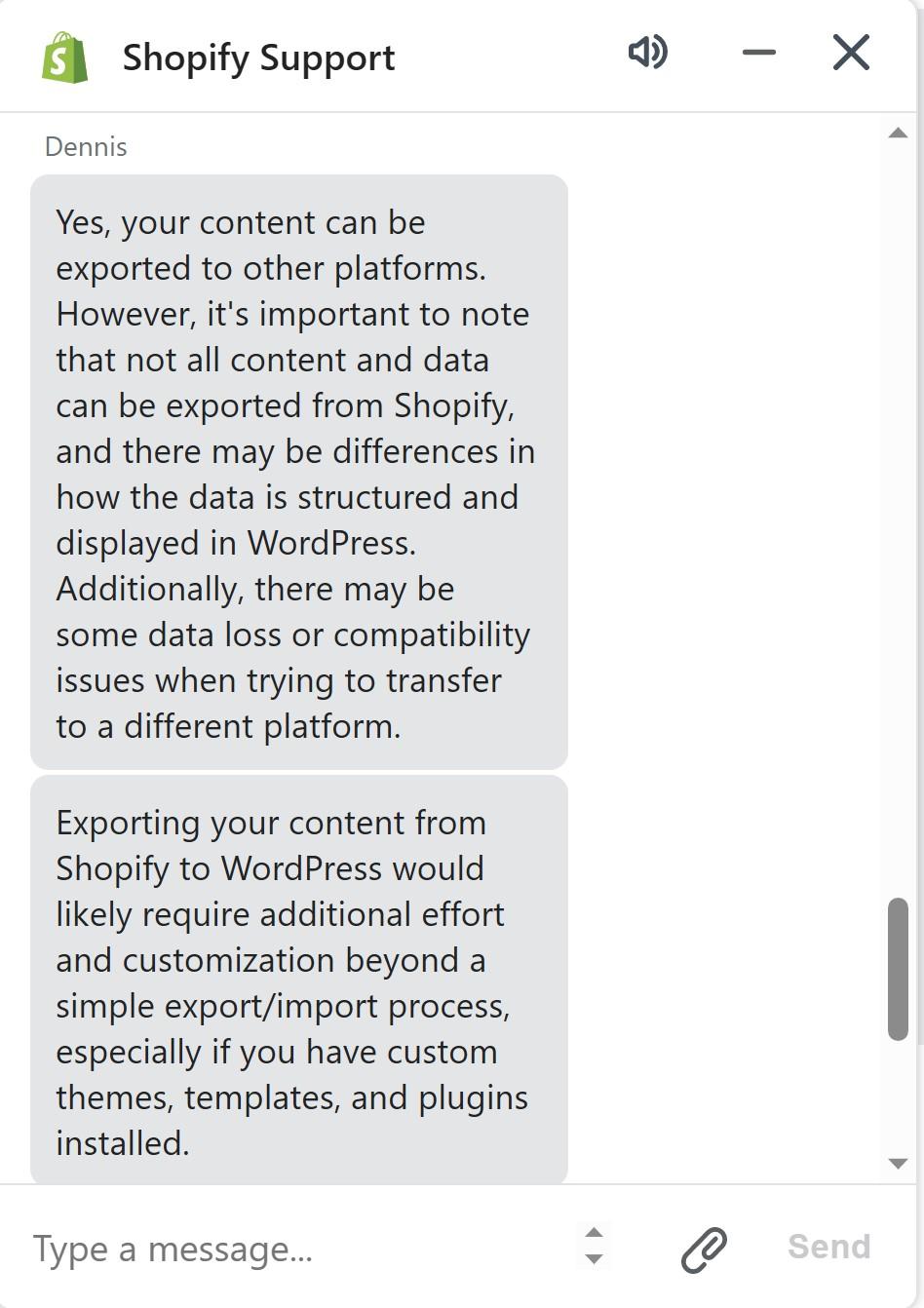 I also liked that my Shopify rep forwarded an email link to our chat and extended my free trial period without my having to ask.
Choose the Best E-Commerce Builder for Your Store
If you're looking to build an online store, both BigCommerce and Shopify are top-tier e-commerce platforms that can help you achieve your goals. However, after considering the built-in features and costs,
Shopify stands out as the better value option
 for both new and established retail businesses. It's also an excellent choice for merchants who want to sell both online and in person. Conversely, larger retailers and multi-brand stores may find BigCommerce more suitable due to its scalability and tools that cater to larger organizations.
Templates
250+ themes,15 free. Paid themes from $150–$399
140+ themes,12 free. Paid themes from $180–$360
Features & Ease of Use
Ideal for users with some experience, beginners will have a bit of a learning curve
Beginner-friendly e-commerce platform for any type of online store
Apps
App store with 1,000+ free and paid apps organized by category
App store with 8,000 free and paid apps organized by category
E-Commerce
Solid e-commerce features, though some advanced tools require an upgrade to a higher-tier plan
Excellent e-commerce tools for selling products and marketing your store
Pricing
Fairly-priced with zero transaction fees, but many features cost extra
Excellent value for smaller businesses, considering all the platform's built-in features (that competitors charge extra for)
Support
24/7 chat, phone, email, and knowledge base with guides, videos, and other resources
24/7 chat, phone, email, community forum, knowledge base, free business courses through Shopify Learn
FAQ
Which is better: BigCommerce vs Shopify?
BigCommerce and Shopify are both excellent e-commerce solutions, though they suit slightly different needs. BigCommerce stands out for its multi-store management, support for larger teams, and scalability, which are crucial for larger businesses. On the other hand, Shopify's more user-friendly interface and simplified setup make it the better option for smaller businesses or beginners.
Is BigCommerce good for beginners?
While BigCommerce caters to larger businesses with more complex needs, it can still be suitable for beginners. It offers an intuitive interface, customer support, and a variety of pre-designed templates that make it easy for novices to set up an online store. That said, building an online store with Shopify is faster and easier for those without prior technical experience.
Do BigCommerce and Shopify charge transaction fees?
Shopify charges transaction fees unless you use Shopify Payments. These fees range from 2% per transaction on the Basic Shopify plan to .5% when on Shopify Advanced. On the other hand, BigCommerce doesn't charge transaction fees on any plan, regardless of the payment gateway a customer uses.
Is Shopify cheaper than BigCommerce?
When you consider all the costs, Shopify offers better overall value. That's especially true of the entry-level plan because it has more built-in features. On the other hand, BigCommerce can be more cost-effective for businesses with higher sales volumes because it doesn't charge transaction fees. Check out our list of the 10 best website builders for 2023 for even more affordable e-commerce options.