You may think that BigCommerce is suitable only for larger stores, when in reality, this e-commerce website builder has a lot to offer to small businesses and enterprises alike. But is it enough to beat a popular platform like Shopify?
BigCommerce doesn't charge transaction fees,
plus some of its advanced features – such as multi-channel selling – are available on all plans. However, it's primarily designed for teams, so it can be challenging to use if you're an e-commerce newcomer. In contrast, Shopify is easy to use regardless of your level of expertise. And simplicity doesn't come at the expense of function, as
Shopify has plenty of built-in and third-party tools to help you scale quickly
. Just be aware that the more apps you use, the more you'll have to pay.
Try Shopify's free trial now
, or read on to find out why I ultimately decided it was the better web builder for e-commerce sites.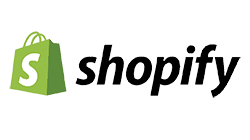 Save up to 25 % on your Shopify plan!
Limited-time offer - Don't miss it!
293 users used this coupon!
Templates
BigCommerce Has More Themes, but Shopify Has Better Designs
BigCommerce offers 300+ themes, 12 of which are free
. These are all mobile-friendly and divided across categories such as Fashion, Home, and Sports. All templates are on the minimalistic side, and they look modern and professional.
Both free and paid options also have several different color schemes (called 'styles')
that you can easily switch between.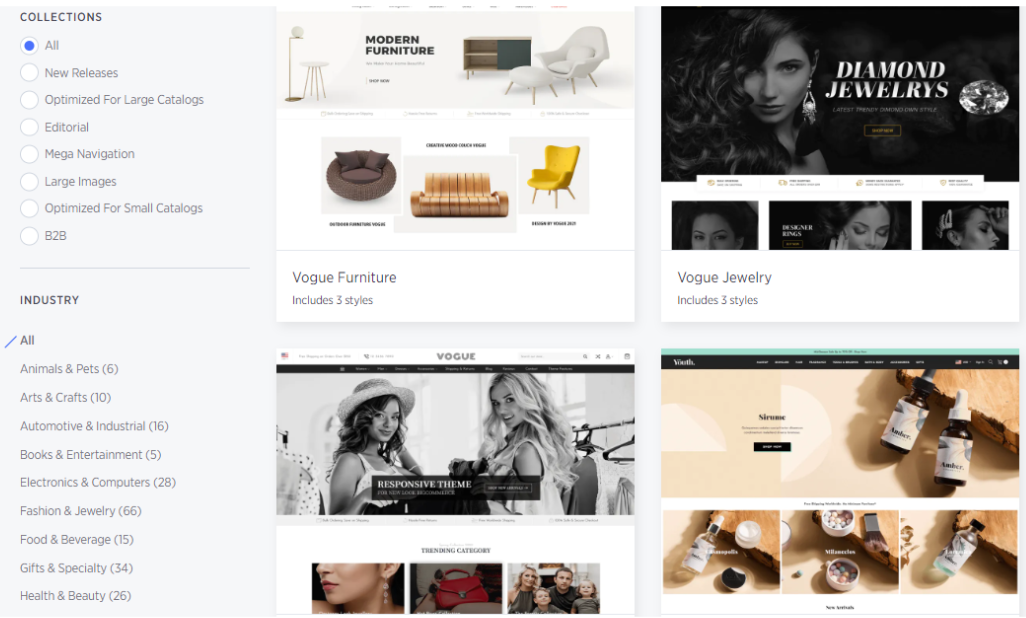 If BigCommerce's native designs don't cut it, you can import a template from ThemeForest. Either way, once you've settled on a theme you can customize it to fit your needs by changing layout, colors, and typography. You can add images, buttons, global widgets, as well as edit HTML/CSS files.
Shopify currently offers around 90 themes, including 9 free designs
. These are categorized by industry, layout, and design styles, so it's easy to find something that suits your brand. Shopify's themes look polished and they come with excellent built-in features, such as galleries, product pages, slideshows, and social media.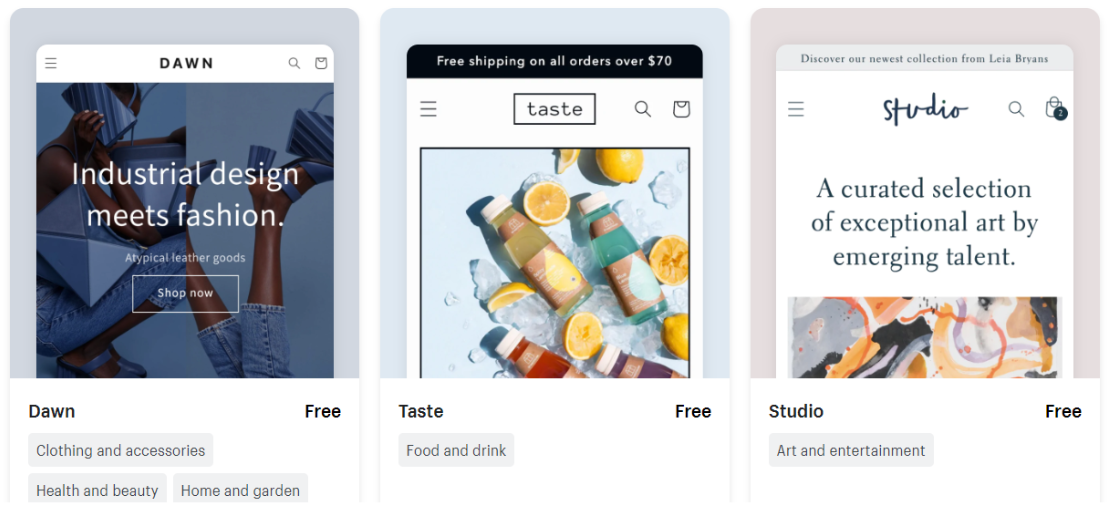 Shopify also lets you edit your theme's fonts, colors, and code, provided you're proficient in Shopify's coding language. If you need more choice, you can import third-party themes, or alternatively,
you can hire developers to create custom designs
. While both BigCommerce and Shopify have high-quality designs, I'd say you get more variety with Shopify.
Despite having fewer themes, Shopify provides more diverse designs
and the ability to choose between minimalist and content-rich layouts, depending on your style and preference.
Features and Ease of Use
Shopify Creates a Better Balance Between Ease of Use and Power
As soon as you sign up with BigCommerce
, you can tell that it was designed for experienced online store users. There are no pop-ups or tour guides to help you get started, so you're left on your own to explore. Still, BigCommerce isn't hard to use. All settings, including the ones for design, your account, and store management, are neatly located on the left-side panel of your dashboard. And
BigCommerce's drag-and-drop editor lets you easily add logos, videos, social media links, and create a homepage carousel
to showcase specific products, among other things. However,
adding products to your BigCommerce store isn't such a straightforward process
. The sheer number of options in the sidebar may seem daunting, especially if this is your first time building an online store, so you'll likely need to consult the knowledge base once or twice.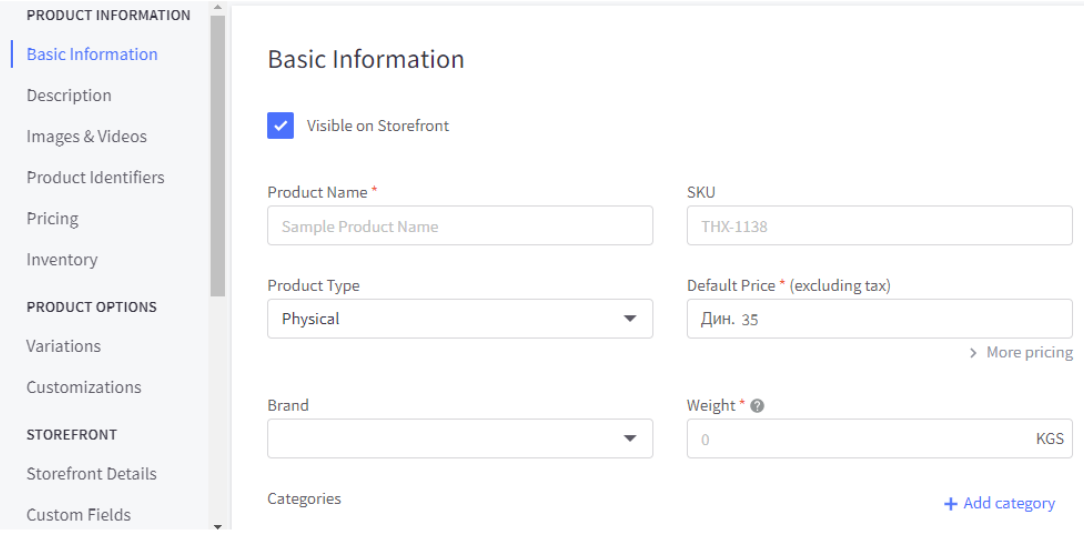 In contrast,
Shopify is easy to use both on the design and store management sides
. You can use
Shopify's intuitive drag-and-drop editor
 to customize template sections like sign-up forms, testimonials, slideshows, and more. The initial process of
adding store items is also easier and quicker with Shopify
, as it doesn't overwhelm you with too many options right from the start.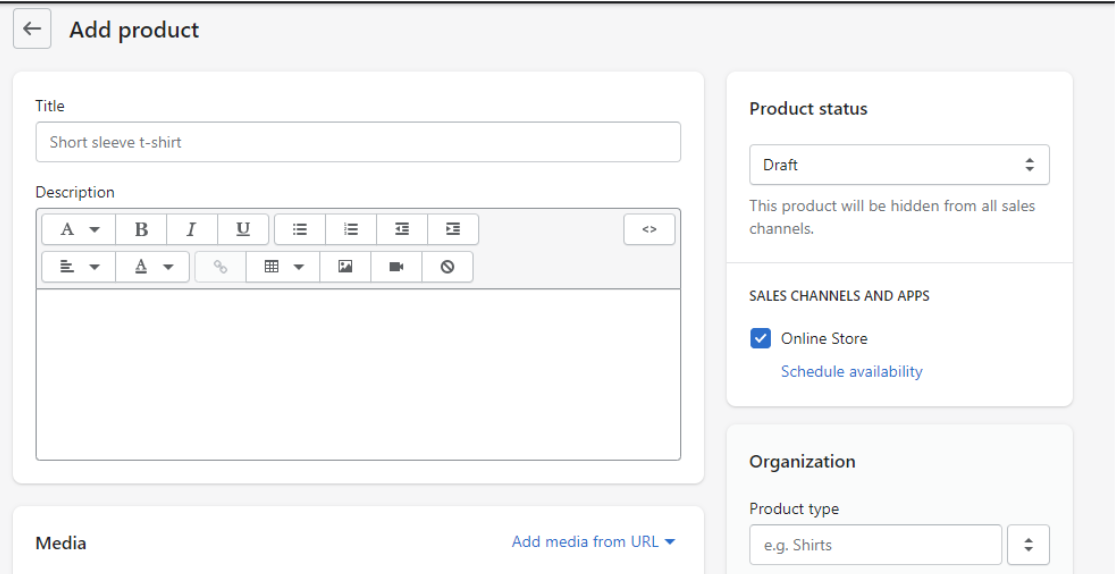 If you do get stuck for any reason, Shopify offers tutorials to guide you through the process of building your online shop.
BigCommerce and Shopify both provide unlimited products and storage on all plans, so you can use them to build a store of any size
. They also both have effective SEO tools to increase your online presence, including heatmaps, automatically optimized page URLs, and automatic 301 redirects and URL rewrites when you rename a product. Both have blogging platforms to help you keep your customers up to date on product-related news and tips – but
Shopify's blog has more advanced tools
. Aside from standard stuff like setting featured images and adding tags, Shopify lets you schedule the publishing of posts in advance. This can be handy if you want to time certain posts with product launches. Shopify also allows you to publish (or unpublish) multiple posts at once. Even though both builders have plenty of e-commerce and marketing features,
overall I'd say Shopify offers more powerful tools
, which I'll discuss in more detail below.
E-Commerce
Both Are Feature-Rich, but Shopify Offers More Built-In Tools
Since it's designed for teams and enterprises, BigCommerce has a wide selection of e-commerce tools. And yes, that includes all the standard stuff, such as customer memberships, single-page checkouts, and product reviews.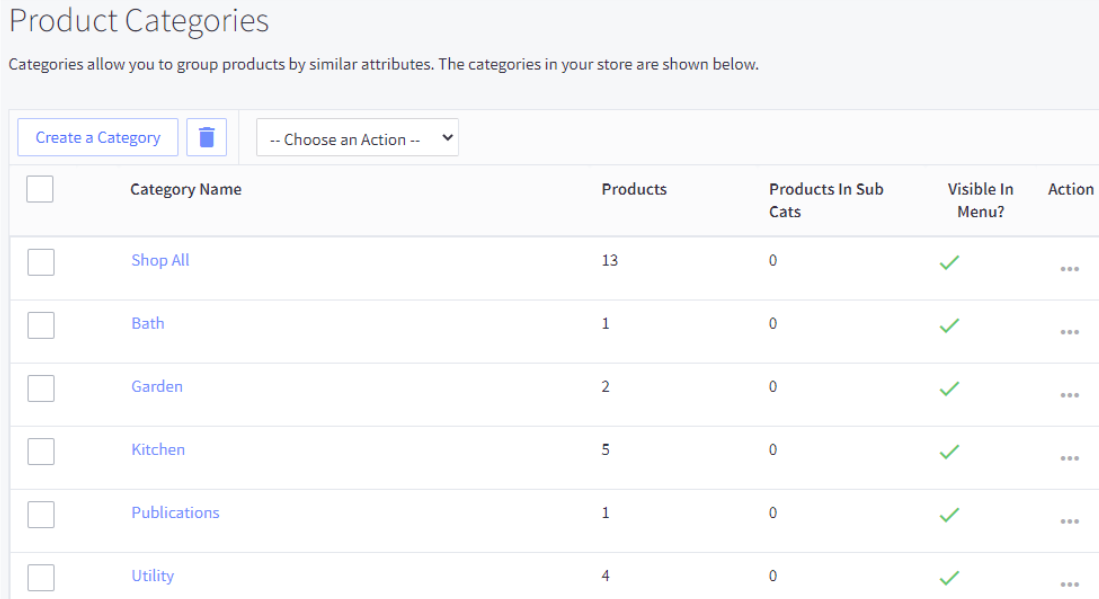 On the fancier side of things,
BigCommerce allows you to build multilingual sites and have separate site versions and catalogs for different areas, like Amazon
. Another nifty feature is customer segmentation, which allows you to sort customers into groups (for pricing, promotions, or product access) so that you can sell and market to them in different ways. Still,
BigCommerce's biggest advantage is that it doesn't charge transaction fees
. Even so,
Shopify provides more advanced e-commerce functionality.
You get customizable customer login areas and one-click checkouts to let your customers shop hassle-free. Plus, on top of international selling and customer segmentation,
Shopify has a rich set of built-in features that would require integrations on most other e-commerce platforms
, including BigCommerce.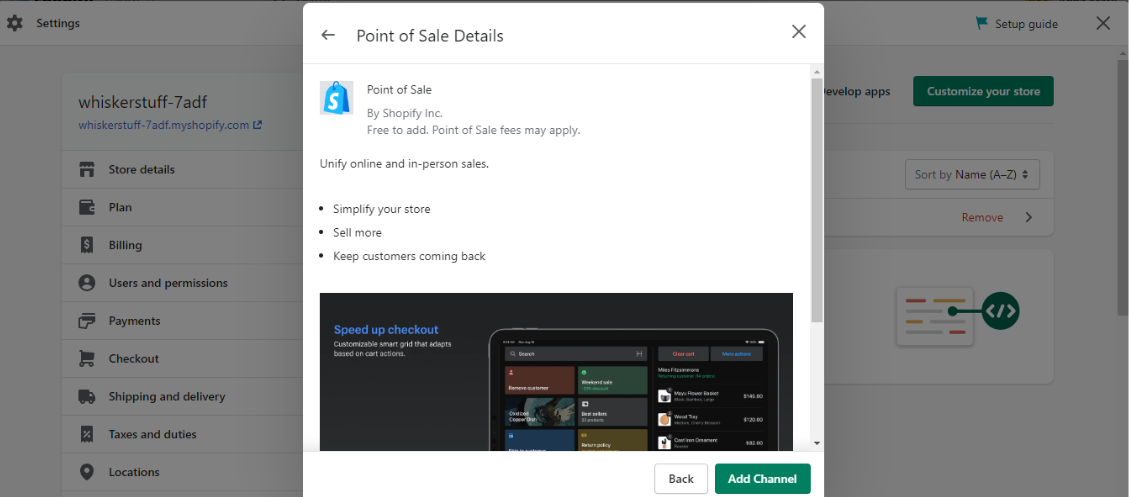 For example, if you already have a brick-and-mortar shop,
Shopify's POS system
 lets you sync data between physical and online stores. With BigCommerce, you'd need to integrate a third-party service like Square or Vend, which will cost you more. Shopify additionally allows you to integrate more payment gateways than BigCommerce, and
it has its own payment solution, Shopify Payments, which eliminates transaction fees
. Shopify beats BigCommerce on shipping as well. Even though BigCommerce's Shipper HQ integration is handy,
Shopify's native shipping tools are more powerful
. For example,
Shopify Fulfillment Network speeds up the process of shipping your products to fulfillment centers
. Meanwhile, Shopify Shipping (although available only in the US) displays shipping rates in real-time, and it can save you up to 88% on shipping.
Marketing
Both Offer Multi-Channel Selling, but Shopify Has Free Email Marketing
One of BigCommerce's strong points is that it includes multi-channel selling on all plans
. You can integrate your store with Facebook/Instagram checkout, Google Shopping, Amazon, eBay, and Walmart. BigCommerce also allows you to make coupons and discounts and sell gift certificates, and it has a built-in newsletter tool.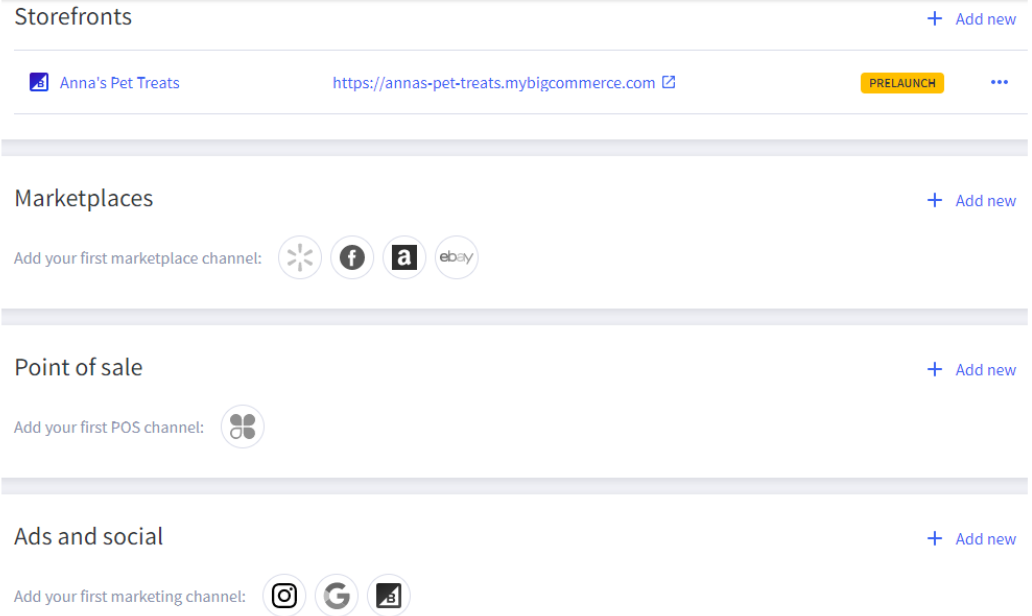 However,
Shopify's marketing features are tough to beat
. Shopify's built-in email marketing tool, Shopify Email, lets you run and analyze marketing campaigns – you can send up to 10,000 emails a month for free. All you have to do is choose from prebuilt email templates that automatically pull your logo, products, and store colors. You can even create marketing automations to automatically send emails at key points throughout your customer's journey. For instance,
you can set up automations for welcoming new subscribers, first purchase upsells, or abandoned checkouts
.

Shopify also lets you sell on various marketplaces, with an additional perk – you can
launch one-click multichannel marketing campaigns
to showcase products on Facebook, Instagram, TikTok, eBay, Walmart Marketplace
, and more.
Apps
Shopify's Extensive App Store Has Everything Any E-Commerce Business Might Need
BigCommerce has a robust app marketplace that offers over 1,000 apps
(free and paid). These are divided across numerous categories, from analytics and financing to CMS and order management. You can also search through apps via collections. For example, the 'Must Haves' collection can help beginners find what they need right away. Still, while BigCommerce provides a solid number of integrations,
Shopify's huge app store has over 6,000 free and paid apps
. There's a tool for virtually everything, including dropshipping apps, countdown timers, loyalty programs, and loads of other helpful stuff.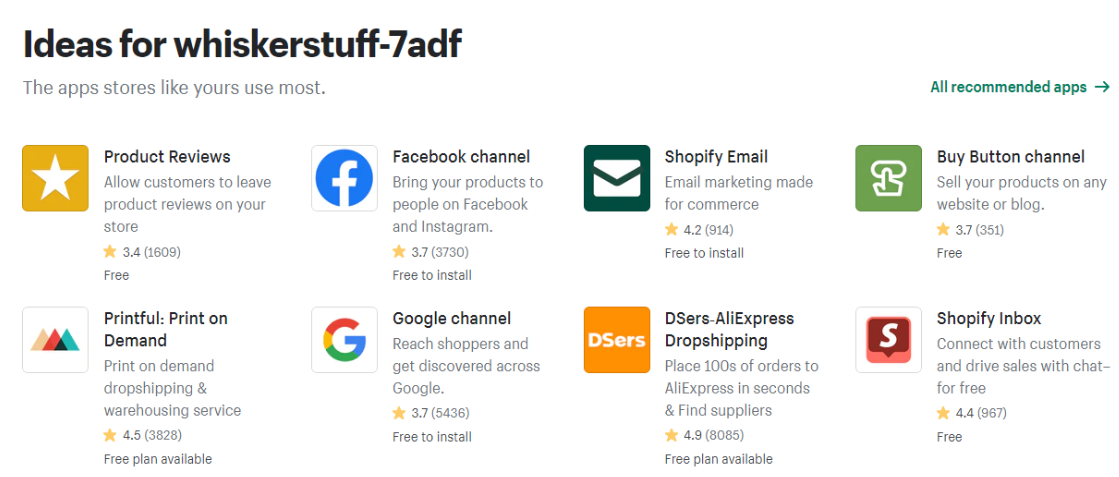 Even with such a large number of integrations,
Shopify's app store is easy to navigate, so you can quickly find what you're looking for.
Pricing
BigCommerce and Shopify Are Similarly Priced, but You Get More Features With Shopify
Now, you might argue that
neither
BigCommerce nor Shopify is a cheap option. But the fact is, their prices are pretty much industry standard nowadays. Both platforms cost almost exactly the same, and you get a lot of useful features in return. That said,
Shopify makes a slightly better offer.
BigCommerce has a 15-day free trial
and four paid plans: Standard, Plus, Pro, and Enterprise. I'd say the
Standard plan will likely be enough for most online stores
– you get unlimited storage, products, and staff members, multi-channel selling, reporting tools, and real-time shipping quotes. If you want fancy features like customer groups, product filtering, and the ability to manage multiple stores, you'll need to upgrade. Shopify has a similar pricing structure: a
14-day free trial
 and three paid plans: Basic, Shopify, and Advanced.
But compared to BigCommerce, Shopify provides better value
. For example,
Shopify's Basic plan includes features like abandoned cart recovery and customer segmentation
– none of which are available on BigCommerce's cheapest plan. Shopify also provides in-house shipping and payment tools that cost extra with BigCommerce.
With both platforms, it's important to pay attention to hidden costs
. Shopify charges transaction fees (unless you use Shopify Payments), and the initial cost can build up significantly depending on how many apps you use. With BigCommerce, there are no transaction fees – but you still have to pay for your chosen payment gateway's fees. Here's a closer look at the cheapest paid plans by BigCommerce and Shopify to help you compare and contrast.
Support
Both BigCommerce and Shopify Have Fast and Responsive Customer Support
Both BigCommerce and Shopify offer 24/7 live chat, email, and phone support. When I tested out live chat, I got replies within minutes on both platforms: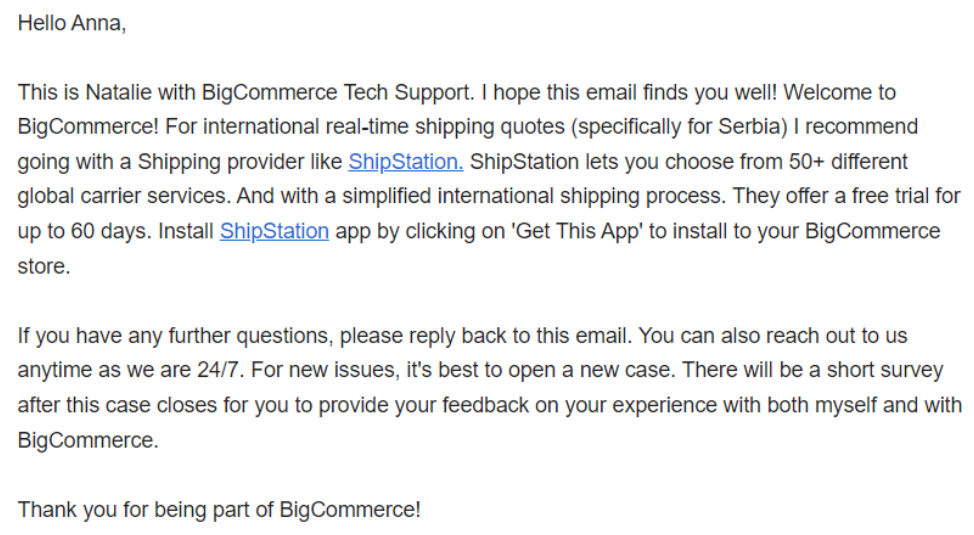 Answers via email can take up to 24 hours with both BigCommerce and Shopify customer teams. Nonetheless, their respective agents give elaborate and helpful answers.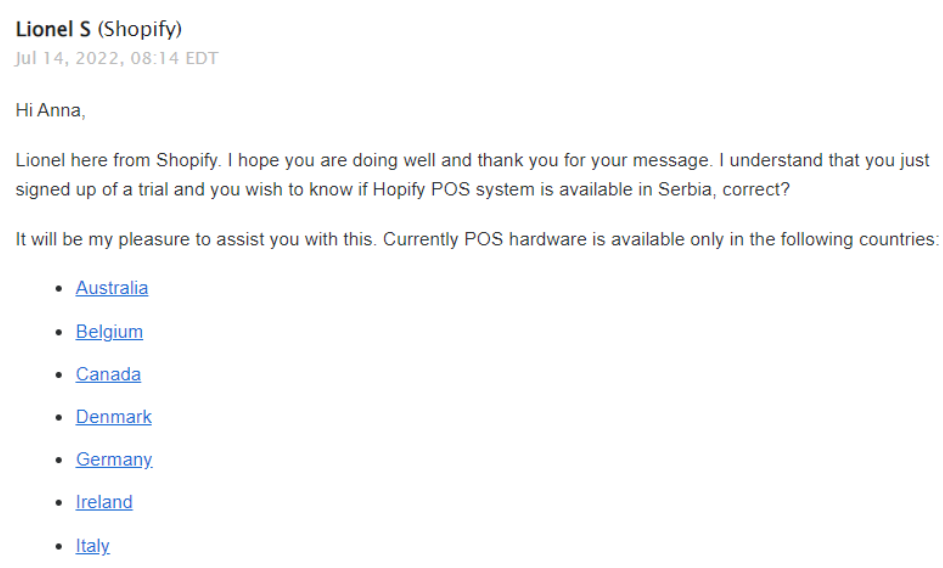 Both BigCommerce and Shopify offer extensive knowledge bases with articles and tutorials on all stages of online store building. It was close, but overall
Shopify just has the edge, since it offers an in-app tutorial for beginners and a community forum
, which BigCommerce lacks.
BigCommerce Is a Worthy Competitor, but Shopify Remains Undefeated
BigCommerce and Shopify have similar features and almost identical pricing, but there are some key differences between the two. BigCommerce was designed primarily for teams, so e-commerce newbies may find it challenging to navigate – simply because of the sheer number of options you get. In contrast, Shopify is still loaded with features but makes it easy for beginners to get around. Even though both platforms allow you to scale quickly,
Shopify's built-in tools are cost effective
 as you get more functionality right off the bat. Shopify provides more than BigCommerce at the same price points, so I have to conclude it's a better option overall.
Features & Ease of Use
Drag-and-drop editor, interface may be tricky for newbies due to so many options
Intuitive drag-and-drop editor, that makes adding items quick and easy
E-Commerce
Multilingual sites, customer segmentation
Built-in POS, shipping, and payment tools
Marketing
Multi-channel selling on all plans
Multi-channel selling and free email marketing tool
Pricing
Free trial and four feature-rich plans
Free trial and three paid plans that provide great value
Support
Help center
Live chat support
Email email support
Phone support
(all available 24/7)
Help center
Community forum
Live chat support
Email email support
Phone support
(all available 24/7)
FAQ
Which is better, BigCommerce or Shopify?
Both BigCommerce and Shopify offer extensive e-commerce features, but Shopify has more built-in tools. Shopify also provides more features for roughly the same price, so it's a better option for online stores overall.
Can you build an online store for free?
Neither BigCommerce nor Shopify have free plans, but they both offer free trials. Their respective pricing tiers also offer many benefits. For instance, Shopify's cheapest plan is quite affordable when you consider the various features you get, such as multi-channel selling and marketing automations. Whether you go with Shopify or not, see our guide on how to build a website for tips on running an online store affordably.
Does Shopify charge transaction fees?
Shopify charges transaction fees unless you use Shopify Payments, the company's proprietary payment solution. If you integrate a third-party payment gateway such as PayPal or Stripe, there are varying transaction fees based on your subscription.The Basic plan has a 2% fee, the Shopify plan charges 1%, and the Advanced plan charges 0.5%.
What is the best e-commerce platform?
Both BigCommerce and Shopify are easy to use and provide a wealth of online store tools, but the best platform for you depends on your needs. BigCommerce is a good option for teams and experienced users, while Shopify works great for beginners and experts alike. If neither of these platforms suits you, check out our list of the best website builders in 2023 for more online store options.