So, you want to start an online store? If you've already narrowed down your choices to BigCommerce and Shopify, great job! These are two of the best e-commerce website building platforms in the market. However, they're very similar, so you might be unsure which to pick.
Don't worry. I was there, too. So to help you out, I'll shed some light on the small differences that can ultimately have a huge effect on your decision regarding which is likely going to be the better option for your online store.
Ease of Use
Getting started with BigCommerce is a piece of cake. You just need to provide an email, password, and a few answers regarding the size of your business and what you're selling. You can then immediately start creating your store. There's a bit of a lack of guidance at the beginning, which means you'll need to explore a bit to get used to it. However, I found the dashboard extremely easy to navigate and use; it takes little time to get comfortable with managing both your store's customers and products.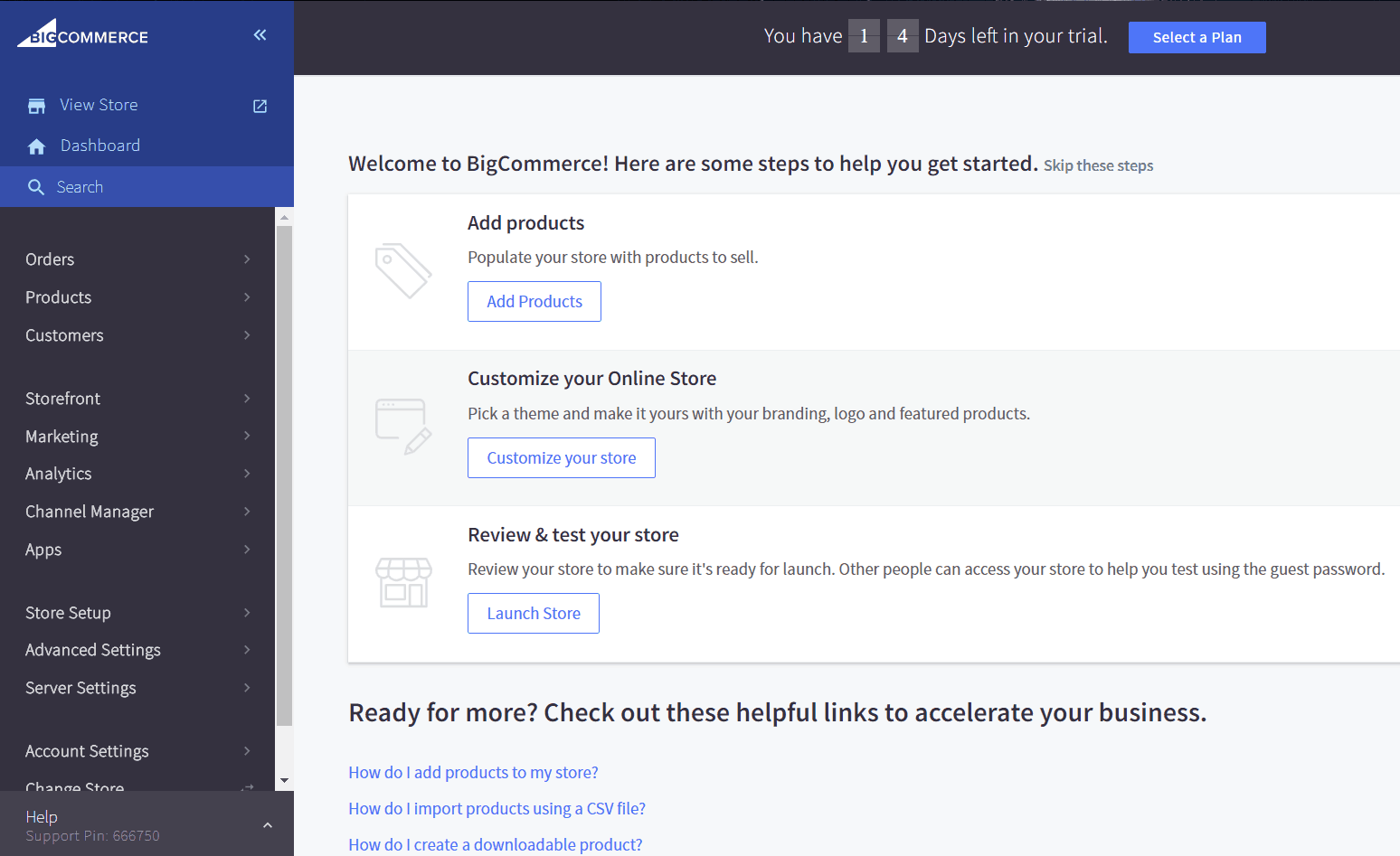 The signup process with Shopify is similar. However, once you're at your dashboard, you'll notice it's much simpler than the BigCommerce dashboard. While the navigation is flatter on the BigCommerce dashboard, on Shopify you'll need to dig around a bit to find certain advanced settings or features such as marketing and user groups. However, which platform you prefer will largely come down to personal taste.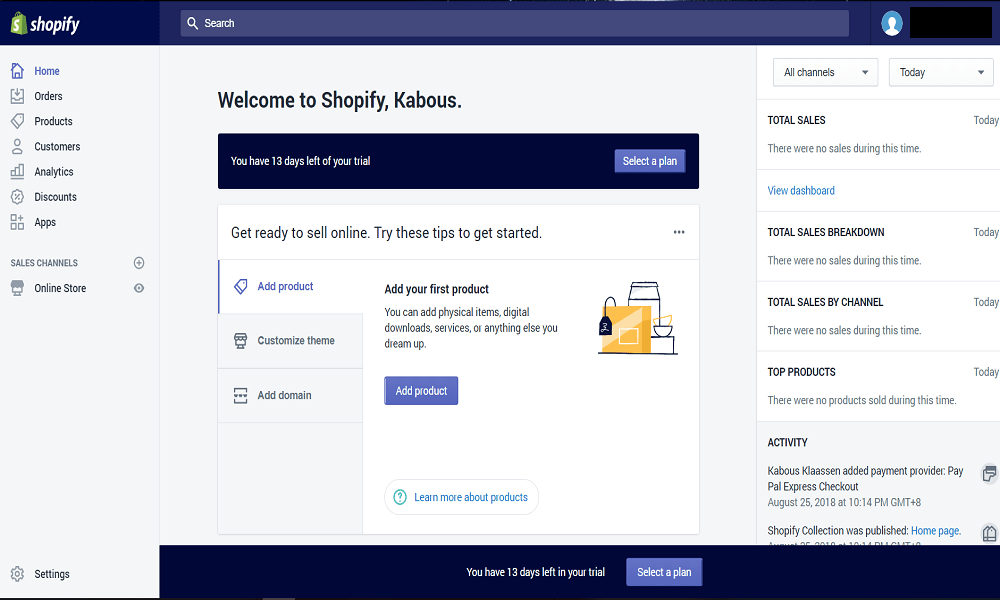 One thing that does make BigCommerce slightly more comfortable to use is the fact that most features are built in from the start. On Shopify, you need to install more apps to unlock them. Fortunately, both platforms take care of your domain and SSL certificate, so those require no additional setup or steps.
E-commerce Features
As the main purpose of both platforms is e-commerce, I've highlighted and compared some of their most used e-commerce features:
Product Creation/Management. Both present adding and managing products front and center for quick access. Personally, I found that managing products was easier in BigCommerce. There were also more extensive options in terms of showcasing individual products, especially when it came to creating variants of products.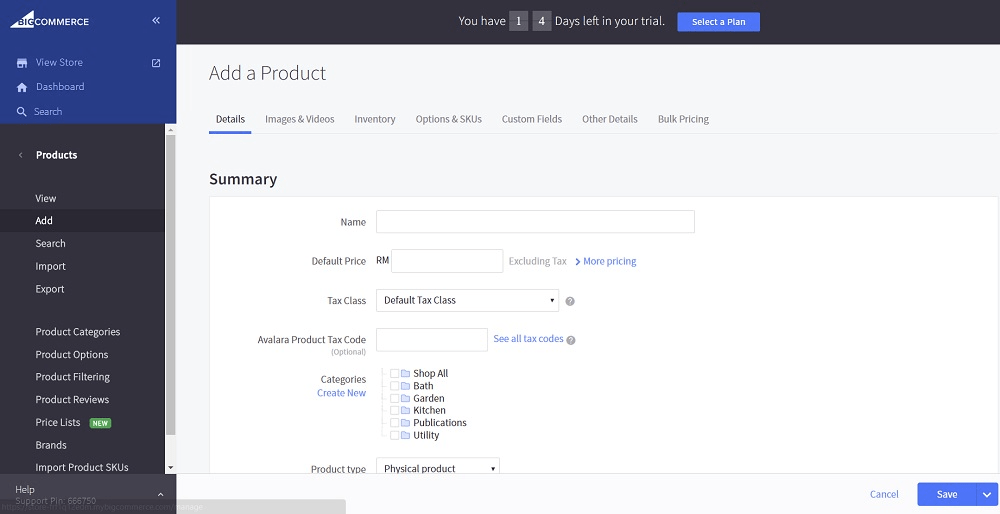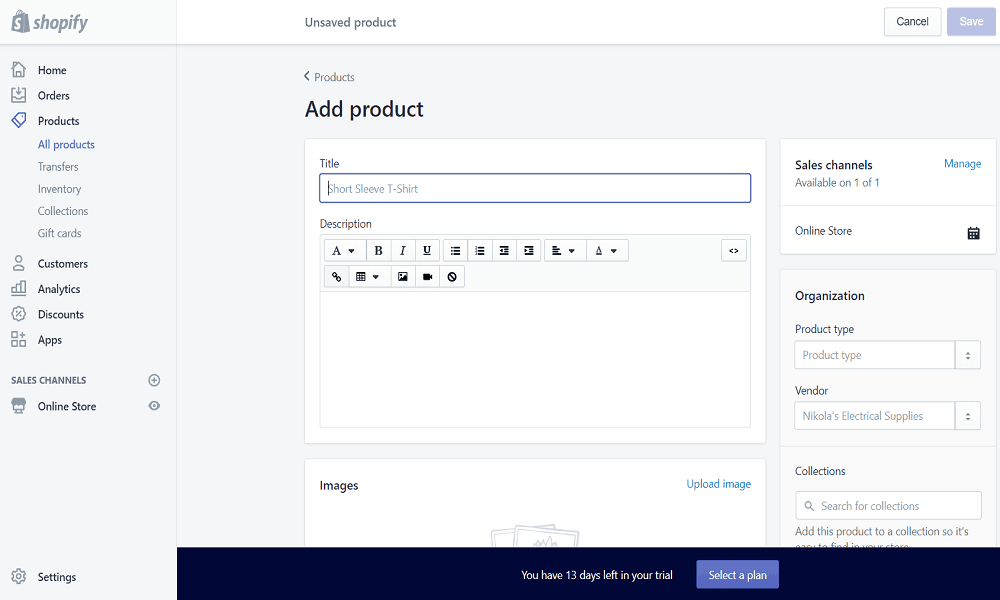 Shopping Cart. There isn't much to choose between the two here. Both allow for automatic abandoned cart recovery.
Performance Reports. Once again, this is one area where both platforms shine. BigCommerce and Shopify provide advanced reporting tools regarding business performance and website-traffic performance. However, Shopify's reports go a bit more in-depth, including things like sales attributed to marketing campaigns.
Shipping Rates. Both let you show customers third-party shipping rates that are calculated on the fly at checkout time. BigCommerce makes use of ShipperHQ, which is one of the best shipping rule engines.
Point-of-Sales (POS) Integration. This is one area where BigCommerce falls far short of Shopify. Shopify specializes in integrating your physical store or selling efforts with your online one. BigCommerce doesn't really offer anything similar, but to be fair, neither do most other e-commerce platforms.
Overall, both platforms are very similar. Which one is better will depend largely on your needs. If you require a system that's able to help you manage your physical store as well as your online store, there's almost no alternative to Shopify. However, if you just want a powerful online store with great product management, then BigCommerce takes a narrow lead.
Templates
Even for an online store, design and customization are important. The first thing you would likely compare is the templates on offer by both platforms. BigCommerce has around 120+ templates available; seven are free and the rest require payment. On the other hand, Shopify has just over half that amount, with ten free themes. Prices for both range around the $200 mark.
In terms of quality, there's nothing to complain about on either platform. The themes all have decent, modern designs, and they're all mobile-responsive. However, I felt that BigCommerce provided slightly more variety, especially when it came to interesting niche-themes like a sports nutrition or doughnut shop. Shopify's themes, although high-quality, were more generic, with only slight differences between them.
Payment Processors
Both BigCommerce and Shopify won't disappoint in the range of payment processors or payment gateways they support. Both support the most common and popular online payment methods such as Amazon Pay, PayPal, Stripe, etc. You can also set up credit card payments on either through third-party processors like PayPal or Authorize.Net.
Shopify beats BigCommerce in sheer numbers, but BigCommerce still provides 99.99% of the most used methods. Shopify Payments is their in-house Stripe-based payment processor with 0% transaction fees, while all the other methods are subject to transaction fees. On BigCommerce, you only need to worry about any rates your payment processor might charge.
Support
Once again, both platforms provide 24/7 support via live chat, email, or phone on all pricing plans. The most tangible difference I could detect between the two is when it comes to holding times. Both perform well overall, but BigCommerce is just slightly faster in most cases.
For example, I've had reason to contact BigCommerce support on multiple occasions, once for a migration issue via the phone line, and another time for a theme issue via live chat. Both were at slightly odd hours for U.K./E.U. times, but I still got through on the phone in under 45 seconds, and the live chat reply was almost instant. By comparison, I've often had to wait for a minute or two for similar queries on Shopify.
The slightly longer delays on Shopify might be due to the fact that they have a larger customer base. They also handle more intense problems when it comes to their POS products.
Pricing
When it comes to pricing, these two plans are extremely similar. In fact, at the time of writing, the three corresponding pricing plans on offer from each have almost exactly the same price. The biggest difference between the two is that BigCommerce offers an Enterprise package that's set up on a custom basis for large-scale clients.
Both platforms let you create and sell unlimited products as well as use unlimited bandwidth and storage. Both also provide support with all plans. The ways the plans are structured are also similar in terms of which plan unlocks certain features or capabilities. However, there are some important differences.
For one, Shopify allows you to implement abandoned cart recovery on all pricing plans, while you unlock that feature only with the second-tier BigCommerce Plus plan. That said, the biggest advantage comes from BigCommerce, which charges 0% transaction fees on all plans. By contrast, Shopify charges 2.0%, 1.0%, and 0.5% for its plans, respectively.
Neither offers a free plan, but Shopify offers a 14-day trial, while BigCommerce offers a 15-day trial.
BigCommerce Takes the Lead
As you can see, this was a very tight race to the finish line, with both platforms repeatedly taking the lead from one another. Picking a winner certainly wasn't easy. Both platforms do an excellent job of providing powerful features when it comes to running an online store, such as shipping rate calculators, advanced reporting tools, great store creation tools, and extensive product management.
However, this comparison was about helping you identify the best online store. In that category, I believe that BigCommerce comes out on top. Here are the three biggest reasons why:
Zero percent transaction fees on any pricing plan
Superior product management, which simplifies adding advanced options, such as variants, to your products
Quicker support response times
There are instances when Shopify is better, but this is mostly confined to when you need to perfectly integrate powerful in-store capabilities with an online store. However, for most users, BigCommerce will present the better value-for-money prospect.