It wasn't easy, but I researched and tested dozens of other options and came up with a handful of excellent alternatives to Kinsta.
These hosts are not only cheaper, they also offer similar performance and some great features to boot.
For instance, some are more flexible than Kinsta, so you can use them with other CMSs (content management systems) in addition to WordPress.
There's even one host that has better customer support, which is pretty extraordinary given that Kinsta already sets the bar very high. Also, Kinsta may be easy to use, but it doesn't give you root access to your server. In fact, most managed WordPress hosting services don't. But don't worry.
If you're a developer and you want full control of your server, I've found an option for you too.
So if Kinsta isn't right for you, read on to find out which of these alternative hosts is.
Short on time? These are the best alternatives to Kinsta in 2023:
Liquid Web – Fully managed solutions for WordPress, WooCommerce, Magento, and more
Hostinger – Incredibly cheap WordPress hosting with an intuitive control panel and automatic updates
A2 Hosting – Fast and reliable WordPress servers at a midrange cost
What We Look For in the Best Alternatives to Kinsta
Kinsta is a tough one to beat, but there are some other great options out there. To find the best alternatives, I've prioritized these features:
Affordability. Kinsta's pricing is its only major flaw. I've looked for web hosts that have similar performance and features but won't break your budget.
Speed. Kinsta is the fastest web hosting service that my colleagues and I have tested so far. The hosts on my list are not quite as speedy, but some of them come very close.
WordPress features. I've included hosts with WordPress-optimized servers and managed WordPress features like automatic updates and backups. You'll have everything you need to build and host a professional website.
Powerful control panel. Although some of the hosts on my list offer cPanel, most of them come with a proprietary solution. Like MyKinsta, these in-house dashboards are better organized and easier to use.
Security. I've only included hosts that offer free SSL certificates, automatic backups, and other website security features. In most cases, you'll have to activate these tools yourself, but they won't cost extra.
Liquid Web is the only host on my list that offers a level of managed support similar to Kinsta.
The tech team takes care of server maintenance, performance, and security so you can focus on building your website and promoting your business. But there are a few key differences.
Unlike Kinsta, Liquid Web supports other CMSs in addition to WordPress.
For instance, you can opt for managed Magento or WooCommerce hosting if you want to build an online store. Or you can go with a managed VPS plan, and install a different CMS like Joomla or Drupal.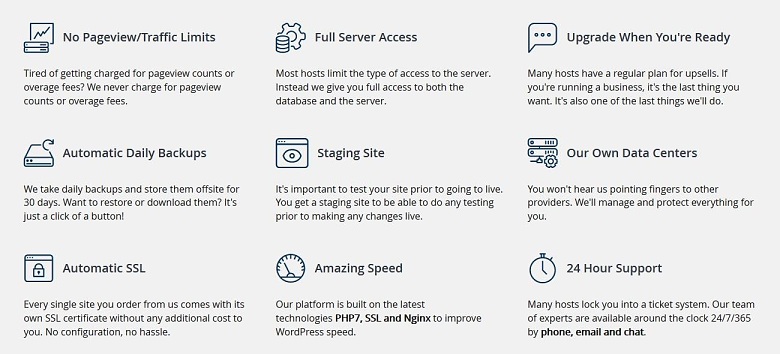 If you do choose managed WordPress, the entry-level plan is cheaper than Kinsta's and includes many of the same features, including a streamlined control panel.
Plus, Liquid Web doesn't cap your monthly visits, so you never have to pay overage fees for increased traffic.
Features:
WordPress experts. Most web hosts claim to offer specialized WordPress support, but only a handful of them actually deliver on this promise. I've personally tested Liquid Web's live chat service and happily discovered that the agents are specially trained to work with this CMS.
WordPress-optimized servers. NGINX, server-side caching, image compression, and the latest PHP version are all preconfigured to speed up your WordPress website. During traffic spikes, more CPU and RAM are temporarily added to your account so that your website continues to load quickly.
Managed plugin updates. Liquid Web regularly sets up a clone of your website to test new WordPress core and plugin upgrades. If everything runs smoothly, the tech team applies the patches for you, so you never have to worry about them yourself.
Premium security. In addition to an SSL certificate, iThemes Security Pro is included in all managed WordPress plans. You get automatic backups, brute force protection, file change detection, and several other tools to keep your website safe.
To find out more, read our full Liquid Web review.
Managed WordPress
Fully managed
Performance features
NGINX, preconfigured caching, automatic CPU and RAM scaling
Security
iThemes Security Pro
Pricing

$

15.83
If you want decent performance on a tight budget, Hostinger is your best bet.
There are
four managed WordPress plans
 to choose from, and if you're only hosting one small website, you can get away with paying roughly 15 times less than you would with Kinsta.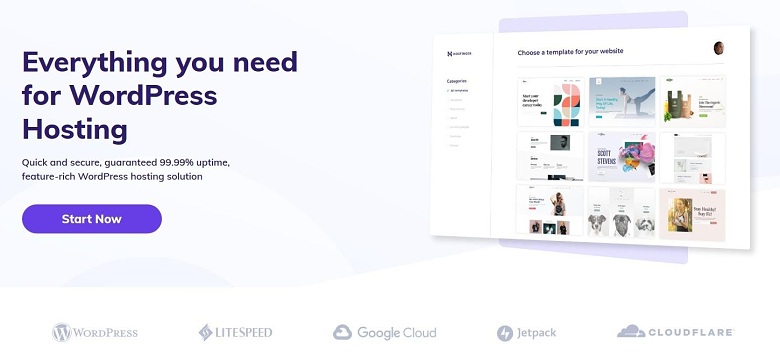 Does the lower cost come with compromises? That depends.
During our performance tests, Hostinger was almost as fast as Kinsta, and uptime was just under 100%.
You also get a generous amount of storage space and bandwidth, even on the cheapest plan. That said, Hostinger's WordPress plans are hosted in a shared environment, so you can't expect the same stability or scalability that you'd get with Kinsta or Liquid Web.
If your website sees a lot of traffic, you'll likely have to upgrade to one of Hostinger's VPS plans.
These aren't too expensive, but they're self-managed, so you need some technical knowledge to set them up.
Hostinger WordPress Hosting
A free domain name is included with some hosting plans from Hostinger
Features:
LiteSpeed web server. This is arguably the best server for WordPress websites, and it's included in all Hostinger plans. Compared to the more traditional Apache, LiteSpeed is faster and more stable under pressure.
Integrated caching. It's never been easier to improve your website's performance. LiteSpeed caching is integrated straight into your dashboard, so you can turn it on with just a few clicks.
Automatic updates. You don't have to worry about vulnerabilities due to outdated software. Hostinger installs WordPress core and plugin updates for you as soon as they're available.
Intuitive control panel. hPanel does pretty much everything cPanel can do, but the interface is less cluttered, making essential settings easier to find.
Managed WordPress
Automatic updates and backups
Performance features
LiteSpeed web server and caching
Security
BitNinja
Pricing

$

1.99
A2 Hosting has a proven track record of consistent speeds and uptime.
It's not as cheap as Hostinger (no other decent host is, really), but its managed WordPress plans are more affordable than Kinsta's, especially if you opt for a long-term contract.
Even the cheapest, one-site plan gives you plenty of storage space, unmetered bandwidth, and access to A2 Hosting's optimized Turbo servers.
You can choose to have WordPress preinstalled during setup, so it's super easy to start building your website.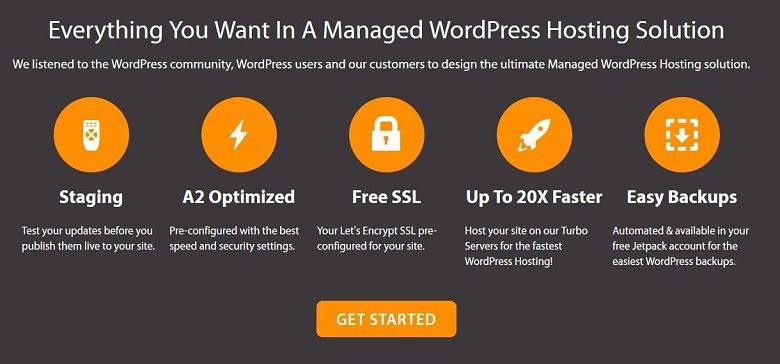 The downside with A2 Hosting is its subpar customer support, so don't get your hopes up when you read about the "Guru Crew."
I've tested the live chat feature
, and the agents are slow and unhelpful.
The most I ever got was a bunch of links to DIY guides in A2's knowledge base, and that was after I waited for about an hour to get a reply.
A2 Hosting WordPress Hosting
Features:
Jetpack Personal. A must-have plugin for WordPress, Jetpack comes with automatic backups, malware scanning, brute force protection, site analytics, integrated caching, and more.
Turbo servers. All managed WordPress plans are hosted on A2 Hosting's Turbo servers, so you get more CPU and RAM, and you share these resources with fewer users. LiteSpeed technology is also included, which can further speed up your website.
A2 Optimized. WordPress is installed on your account alongside several performance and security plugins. These are already configured, so you don't have to spend hours fidgeting with settings.
Website staging. You can safely test new features by cloning your website with A2 Hosting's one-click staging tool. Once you're sure that everything works properly, implement the changes on your live site.
Managed WordPress
Fully managed
Performance features
A2-optimized installations, Turbo servers
Security
Jetpack backups and scans
Pricing

$

11.99
If you're a tech-savvy user, Kamatera should be at the top of your list.
Unlike Kinsta, Kamatera gives you root access to your server, so you can set up your hosting environment to meet very specific requirements.
It's also cheaper than Kinsta, but since the servers are self-managed, it's not for beginners. There's a
30-day free trial
, so you can easily see if it's right for you.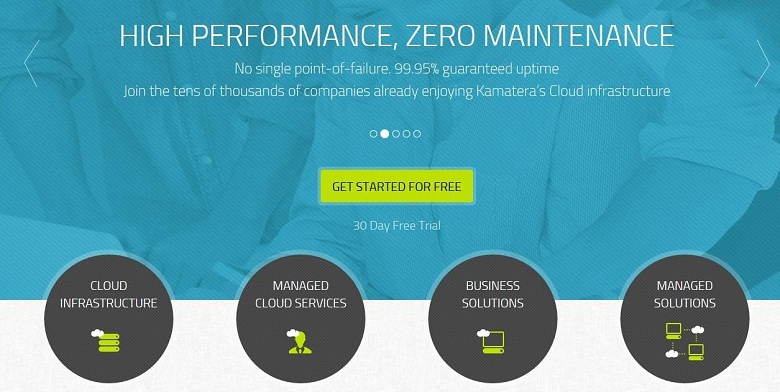 Aside from the OS, nothing is preinstalled, and you don't get a one-click installer for WordPress or any other CMS.
You can buy managed cloud services as an add-on, but this can more than triple your total cost. That's why I only recommend Kamatera for custom websites and users who know their way around a server (or are paying someone who does).
It's also an excellent option for developers who need direct access to the cloud.
Features:
Fully customizable server. You choose exactly how much CPU and RAM goes into your cloud configuration. There's a broad selection of operating systems, including dozens of Linux distros and Windows.
More power. While most hosts avoid costly hardware upgrades, Kamatera offers state-of-the-art Intel Xeon Platinum 8270 CPUs for outstanding performance and stability. Processors are categorized into availability, general purpose, burstable, and dedicated.
Instant scaling. Kamatera's management portal makes it easy to add or remove CPU, RAM, disk space, firewalls, load balancers, and more. At the end of the month, you only pay for the resources that you've actually used.
Israel data centers. Although Kinsta has 24 data center locations around the world, it has none in the Middle East. Kamatera has five data centers in Israel, which are strategically positioned to serve the surrounding region. Other locations include the US, Canada, Europe, and Asia.
For a full list of features, read our in-depth Kamatera review.
Managed WordPress
No
Performance features
Cloud hosting, state-of-the-art infrastructure
Security
Cloud firewall available
Pricing

$

4.00
InterServer offers cloud-based VPS hosting with full root access at an affordable cost.
Unlike Kamatera, however, it has a semi-managed WordPress VPS solution that's easy to use and includes a one-click installer for WordPress (and dozens of other CMSs).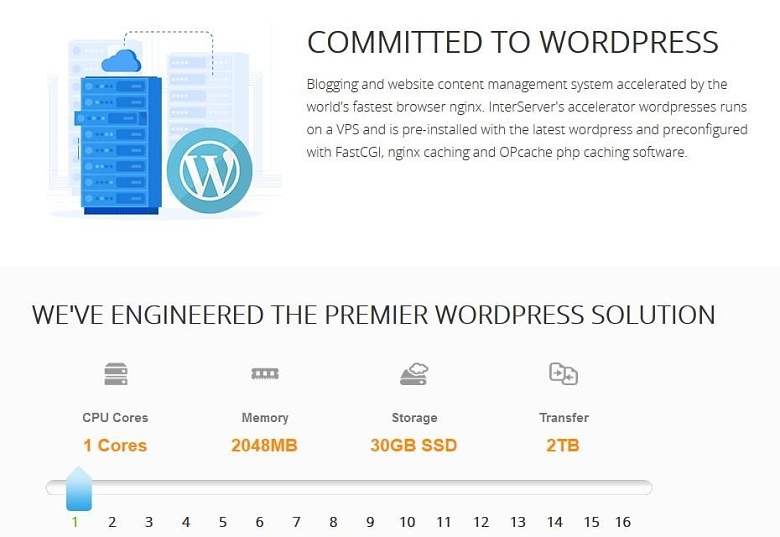 InterServer sells VPS hosting by the "slice." Each slice includes 1 CPU core, 2GB of RAM, 30GB of SSD storage, and 1TB of bandwidth.
So even if you opt for the cheapest server, you have more than enough resources to host a small to medium website.
You can also go with InterServer's Standard shared hosting plan for a low-traffic site, but if you need more power, VPS is your best bet.
Either way, don't expect much from InterServer's customer support. Live chat is outsourced to a company in India, and the agents are of little to no help. But, hey, you can't have it all.
Features:
Webuzo control panel. If you're worried about managing your own server, don't be. Webuzo makes it easy to install your favorite CMS, manage your domains, and set up a website, all without writing one line of code.
Speed-optimized servers. InterServer uses the latest software, including NGINX and FastCGI, to speed up your website. If you opt for a WordPress VPS solution, these are already installed and configured for you.
Integrated caching. InterServer's WordPress VPS is preconfigured with OPcache and the Fastest Cache plugin. Both can be activated with a couple of clicks, straight from the dashboard.
Remote backups. For a modest fee, InterServer will create backups of your VPS and safely store them in a remote location. Even if your server is hacked, you won't lose your work.
Want to know more about InterServer?
Don't miss our expert review.
Managed WordPress
Automatic updates
Performance features
NGINX, FastCGI, integrated caching
Security
Remote backups and reinforced DDoS protection available
Pricing

$

6.00
Given its prices, you'd expect Kinsta to offer prompt, effective, and easily accessible support. Well, it does all that, but it doesn't quite go the extra mile.
GreenGeeks, a much cheaper shared hosting provider, actually has better customer support.
I've asked both hosts to help me optimize my website for better performance. Kinsta's agent told me to activate the CDN (content delivery network) and pointed me to a DIY guide for further optimizations. Meanwhile,
when I tested GreenGeeks
the agent spent an hour speeding up my website for me
. He then spent even more time explaining everything.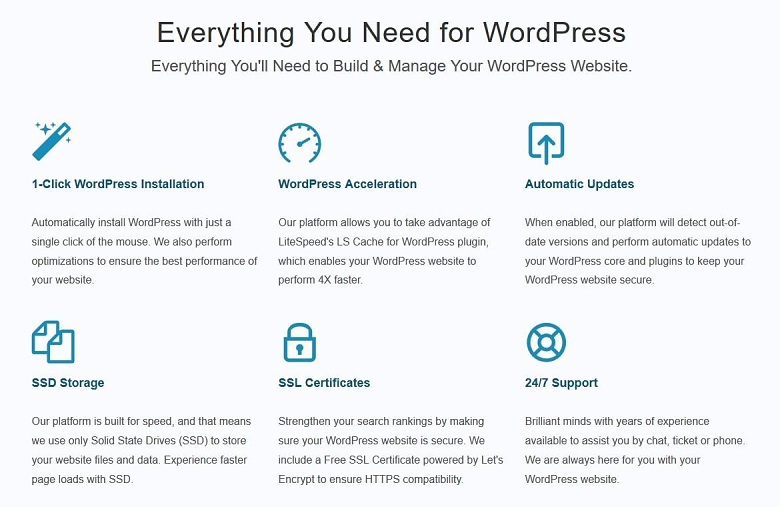 So if you want to spend less on WordPress hosting, but you don't want to compromise on support, GreenGeeks is an outstanding alternative to Kinsta.
Its
WordPress plans
are hosted in a shared environment, so they're not as powerful, but they do include some great features.
GreenGeeks WordPress Hosting
A free domain name is included with some hosting plans from GreenGeeks
Features:
Scalable shared hosting. GreenGeeks gives you unlimited storage space and bandwidth on all WordPress plans. You can also add more CPU and RAM to your account without having to upgrade to an expensive VPS plan.
Complete account isolation. Other users on the same server can't dig into your resources, nor can they spread security breaches to your website.
Automatic WordPress updates and backups. GreenGeeks might not have all the WordPress features included with Kinsta, but it does cover the basics. Backups of your website are created on a daily basis, and you can easily activate automatic WordPress updates from the dashboard.
Hack fix guarantee. Several security measures are implemented at the level of the server, but if your website does get hacked, GreenGeeks will help you clean it up.
Managed WordPress
Automatic updates and backups
Performance features
LiteSpeed web server and caching
Security
Complete account isolation, hack fix guarantee
Pricing

$

2.95
Which Kinsta Alternative Is Best for You?
Choosing an alternative to Kinsta doesn't have to be bittersweet. Sure, Kinsta is the fastest WordPress host right now, but there are other options that come close in terms of performance without costing a small fortune. If you're not sure which of these hosts you should pick, here are my recommendations:
For a similar level of managed support at a slightly lower price, I'd go with Liquid Web.
If you opt for managed WordPress hosting, you have access to fully optimized servers, and you won't be charged extra for traffic overages.
Alternatively, if you want the cheapest possible WordPress hosting for a small to medium website, Hostinger should be at the top of your list.
It's the fastest low-cost host that we've tested and it gives you everything you need to launch a website, even on the entry-level plan.
If you're willing to pay a bit more for cloud-based VPS hosting, go with InterServer.
Its WordPress VPS solutions come with NGINX, FastCGI, and caching preinstalled, so it's relatively easy to get started.
Or, if you're tech-savvy and you want full control of your server for a custom project, Kamatera is a great alternative.
The servers are self-managed, but they're also super affordable for the resources included. Here's a quick summary of my list:
Standout Features
Starting Price
Liquid Web
Fully managed WordPress hosting, managed core and plugin updates, optimized servers, iThemes Security

$

15.83

Hostinger
Incredibly cheap WordPress hosting, easy-to-use control panel, LiteSpeed web server and caching

$

1.99

A2 Hosting
Consistently fast WordPress servers, A2 Optimized CMS installations, Jetpack Personal license

$

11.99

Kamatera
Fully customizable cloud VPS at an affordable cost, root access, Middle East data centers

$

4.00

InterServer
Cheap cloud VPS with preinstalled WordPress, NGINX, FastCGI, and caching

$

6.00

GreenGeeks
Outstanding customer support, automatic WordPress updates and backups, scalable shared hosting

$

2.95
FAQ
Which is the best Kinsta alternative?
It depends. If you want a similar level of managed support at a lower cost, Liquid Web would be my choice. Its managed WordPress plans are cheaper than Kinsta's, and they come with many of the same features. Plus, you don't have to pay overage fees when your traffic spikes. If you want cheap cloud-based hosting and root access to your server, Kamatera is a better option. Its plans are self-managed, though, so you'll need some technical know-how to use them properly. Hostinger could be the best Kinsta alternative if you're on a tight budget and have a small to medium website. Its managed WordPress plans are hosted in a shared environment, but I've put them to the test and the results were good. That said, if none of these hosts feel like the right fit, you can find lots of other options in our list of the best web hosting services.
Are there free alternatives to Kinsta?
There are lots of free hosting services out there, but none of the ones I've tested so far can compare to Kinsta. Kinsta is fast, reliable, and easy to use, whereas most free hosts are none of these things. Free hosting comes with a few significant limitations. For example, you get very little storage space and bandwidth to work with, and your website is not monitored for security purposes. What's worse, most hosts put random ads all over your site. Not cool. If you're looking for affordable alternatives to Kinsta, you're better off with one of these cheap, but reliable WordPress hosting services. And you can always check out the best discounts on our coupon page.
How do I cancel my account with Kinsta?
You can easily cancel your account from the MyKinsta dashboard. You'll find the Cancel button under the Company section on the left-hand side of the panel. If you do this during the first 30 days of your contract, you're entitled to a full refund. Even after the first month of service, you can get a prorated refund for any unused hosting. However, you'll have to get in touch with customer support to request it. Read our in-depth article if you want more details on how to cancel your Kinsta account.
Which is the cheapest and most reliable Kinsta alternative?
Hostinger is, hands down, the most affordable alternative to Kinsta. Its entry-level managed WordPress plan is about ten times cheaper than Kinsta's, but it still offers decent performance and covers all the features you need to build and host a small to medium website. If you need more power, you can pay a bit more for one of InterServer's WordPress VPS solutions. NGINX, as well as other essential software, is preinstalled, so it's almost as easy to start working on your site.