If you want to serve a European audience, you can choose a smaller company based in the region, like Hetzner, or go with a bigger, global provider like Kamatera. It's not a clear-cut decision – sometimes a local host will offer you better latency and support than a bigger host, who may find themselves spread too thin. However, this wasn't the case here.
Kamatera offers better performance, even on Hetzner's own turf
. Additionally, Kamatera's servers are much more customizable. Despite this, there were still areas where Hetzner came out on top. For this comparison, I tested both of these hosts thoroughly, looking at performance, features, and more. It was actually quite a close competition – read on for all the nitty-gritty details, or
click here for Kamatera's latest deals
.
1. Plans and Pricing
Hetzner Provides More Resources for Your Buck
Hetzner offers a variety of different hosting types – there's budget shared hosting, managed and unmanaged cloud hosting, and dedicated servers. On the other hand, Kamatera only offers managed and unmanaged cloud hosting. To keep things fair, I've only compared their cloud VPS plans.
Hetzner charges by the hour, whereas Kamatera charges by the minute
 (although its price calculator estimates by the hour). Any incurred costs from the usage of your server, scaling up or down, or adding premium extras will be simplified into a transparent monthly bill. There are no renewal fees, nor is there any need to commit to a long-term contract.
Kamatera lets you custom-build a server from the ground up,
 allowing you to set RAM, storage, and vCPU to the exact parameters you desire. Hetzner lacks this level of customizability – you will have to choose from a set of rigid plans. Hetzner's basic plan includes 1vCPU, 2GB RAM, 20GB SSD, and a whopping 20TB data transfer.
The cheapest server configuration with Kamatera is slightly more expensive than Hetzner, yet it features half the RAM
 and just a quarter of the allotted data transfer (although the overage fee is a nominal $0.01/GB). All in all, although Hetzner offers significantly less flexibility, its plans are more affordable than Kamatera's.
2. Support
Kamatera Offers Optional Premium Support – Hetzner Won't Touch Anything Technical
As is the case with many cloud hosting services,
free technical support is limited with both Kamatera and Hetzner
. While both hosts offer a multitude of ways to get in touch, support only extends to issues with the cloud platform – you'll struggle to get help optimizing your server, for example. Still, I tried the customer support services of each host to see how they compared. Kamatera offers 24/7 support through tickets, email, and phone, so I sent a ticket asking for assistance with connecting a domain to my new server.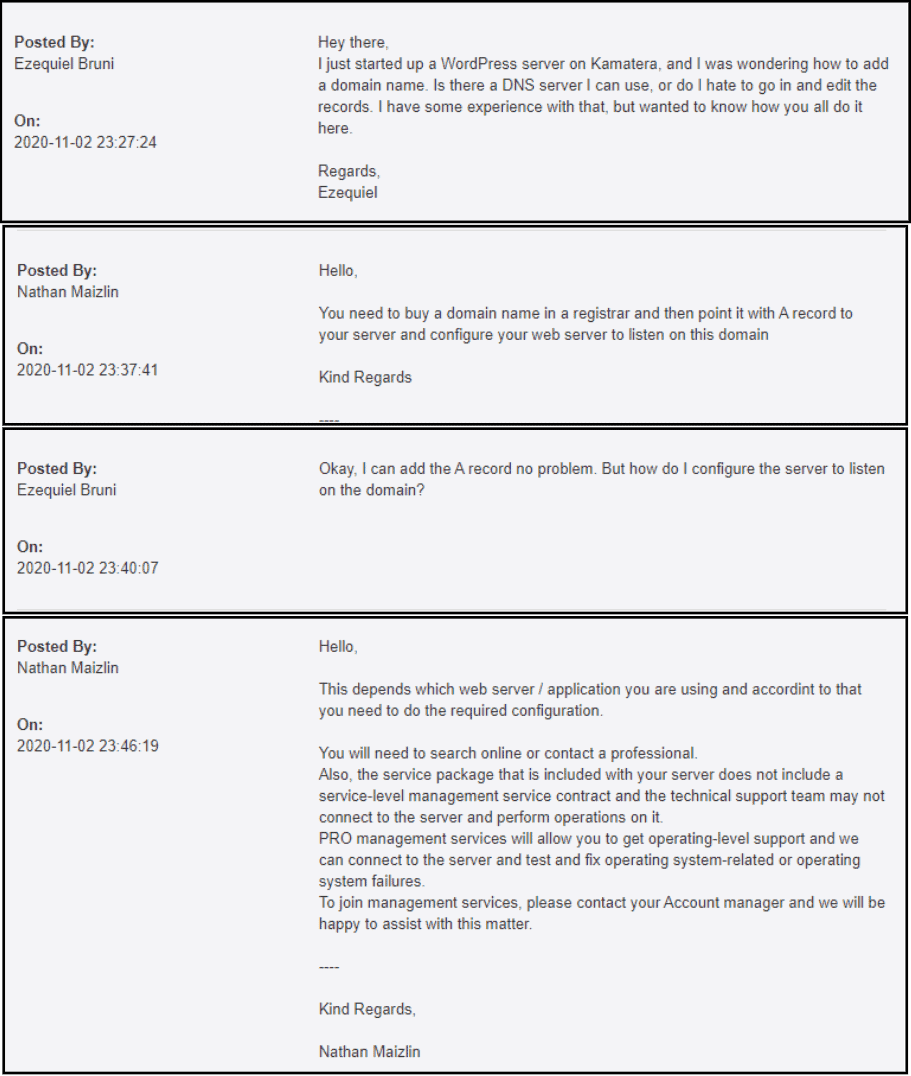 Unfortunately, the response was about what I expected. The agent advised me about what I needed to do, but offered no hands-on help. Instead, they recommended that I search for a solution myself, or purchase Kamatera's optional managed service add-on. This was a good recommendation –
Kamatera's managed service includes technical support for every aspect of your server and software configuration, including backups, upgrades, and monitoring.
This can include advanced expertise required for a very large and complex deployment, or it can simply be a replacement for in-house systems administration. Pricing for Kamatera's managed service varies by type, but is generally charged on a per-month, per-server basis. Fees start out low, but can become very expensive at the top tier. You can get a cheaper managed VPS plan elsewhere. Still,
I was impressed with the responsiveness of Kamatera's basic customer support – I waited only an average of ten minutes for each reply.
Next up was Hetzner. Unlike Kamatera, Hetzner offers live chat, along with email and phone support. However, phone support is only available Monday to Friday from 8AM – 6PM (CEST). As with Kamatera, I sent Hetzner's support agent some basic questions to feel out how much help I could get for free. I asked how much technical support I could expect, and whether or not they could help me install WordPress.

I waited a full day for the response. The support agent was direct and honest about the level of support on offer. As I expected, they could only offer advice and basic support regarding the cloud platform.
Hetzner did state that they'd help connect my domain
, but only if that domain was registered with them. Still, Kamatera doesn't offer domain registration at all. Overall, I'd say Kamatera offers better support overall – while the level of free technical support is similar with both hosts, Hetzner lacks any level of managed service.
3. Features
Kamatera Keeps Backups Cheap – Hetzner Charges a Premium
As primarily unmanaged solutions, Kamatera and Hetzner's cloud servers do not include huge feature lists. However, there are still some nice extras on offer, especially when it comes to speeding up deployment.
Both hosts offer a variety of server images that can be easily installed onto your server.
Hetzner's images offer some popular Linux versions, along with full development stacks and apps like WordPress. Also,
every Hetzner plan allows you to create and store VPS snapshots.
You also get a floating IP, which can allow you to quickly point your address to a fresh instance if any server issues arise. On the other hand,
Kamatera offers a much wider variety of server images
, which include more total OSs (including Windows), control panels, and more. And Kamatera automatically installs a free SSL certificate for you when you deploy a website hosting instance, whereas you'd have to install this manually with most cloud VPS hosts.
Kamatera does include a much cheaper backup solution
 – with Hetzner, you'd have to pay 20% of your total instance price to enable backups, whereas daily backups with Kamatera are charged by your total SSD storage. Overall, I'd say Kamatera is the better option here, thanks to its superior number of server images and affordable backups.
| | | |
| --- | --- | --- |
| | Kamatera | Hetzner |
| Hosting types | Cloud VPS | Shared hosting, cloud VPS, dedicated servers |
| Automatic SSL certificates | ✔ | ✘ |
| Disk space | 20GB – 16TB, can add more with block storage | 20GB – 960GB, can add more with block storage |
| Bandwidth | 1TB – 5TB, $0.01/GB overage fee | 20TB, $1.40/TB overage fee |
| Automatic backups | Premium add-on | Premium add-on |
| Control panel | Your choice | Your choice |
| Free CDN? | ✘ | ✘ |
| Free site migration? | ✘ | ✘ |
| Money-back guarantee | 30-day free trial | None |
4. Performance
Kamatera Speeds Past Hetzner
As previously mentioned, Hetzner mainly serves the European market. It only has three data centers – two in Germany, and one in Finland. Conversely,
Kamatera offers 13 data centers covering every major continent
, making it a better choice if you're targeting an audience outside of Europe. Both Kamatera and Hetzner make use of powerful processors to deliver the best performance. With Kamatera, you'll be receiving the benefits of Intel Xeon Platinum, while Hetzner offers a choice between Intel Xeon Gold or 2nd generation AMD EPYC processors. Hetzner's AMD EPYC is the best of the bunch. Additionally,
Hetzner also offers a choice between low latency NVMe SSD, or highly redundant Ceph storage
. Both of these options are superior to the standard SSD drives offered by Kamatera. Despite having the advantage in technology,
Hetzner proved to be significantly slower than Kamatera in my performance tests
. The only competitive speed Hetzner produced was within Germany, which was still slightly slower than some of my Kamatera tests. Everywhere else, Kamatera delivered consistently faster speeds. As for uptime, Kamatera offers a 99.9% uptime guarantee on an annual basis. If this promise isn't met, Kamatera will consider refunding a month's bill. While Hetzner aims to provide 99.9% uptime, it isn't guaranteed. As such, there may be no compensation in the case of downtime. With all this in mind, Kamatera is the clear winner of this round. Kamatera achieved impressive loading times worldwide. To see the results for yourself, check out
our detailed Kamatera review
. Unfortunately, Hetzner scored poorly in our performance tests. You can see them for yourself in
our Hetzner review
.
5. Security
Hetzner Offers Plenty Of Free Extra Protection – Kamatera Charges For The Luxury
Both Kamatera and Hetzner take the security of your server seriously. The data centers of both hosts are protected by multiple layers of security and redundant power systems. Kamatera and Hetzner also heavily encrypt all data travelling across their cloud network, but
only Hetzner includes automatic DDoS protection free of charge.
Hetzner also includes multiple cloud firewalls – you can create up to five per server free of charge
. These servers feature customizable rulesets that can be edited to meet your exact needs. Kamatera also offers a few different versions of cloud firewalls, but none of them are free. The unmanaged Kamatera Express firewall is the cheapest option. It starts at a low price which rises as your server grows. Alternatively, Kamatera also offers a firewall with its managed service, but this is by no means cheap. All in all, while Hetzner offers less expensive security upgrades, Kamatera's cloud servers already offer a high level of default security, which will be more than adequate for most use cases.
Kamatera Takes the Crown
Despite offering better prices and some nice extras, Hetzner couldn't match Kamatera's impressive worldwide performance
. And Hetzner can't compete with Kamatera's managed service options. While it costs more, Kamatera is definitely worth the extra investment if you're looking for the best possible performance, especially outside of Europe. I recommend considering Hetzner primarily when targeting a German audience. In my performance tests, Hetzner performed exceptionally well in this regard, closely rivaling Kamatera's consistently fast loading times. To fully leverage an unmanaged cloud VPS, you will need a sufficient level of technical expertise. For a managed cloud service, Kamatera is hard to beat – in fact, it topped
our list of the best managed VPS hosting providers for 2023.
Plans and Pricing
Fully customizable servers, but less server resources for a higher price
Lacks customizability, but offers more server resources for cheaper prices
Support
No live chat, but highly responsive ticket support, optional managed service
Live chat, but very slow email support, no managed service
Features
Wider choice of server images, automatic SSL installation, cheaper backup solution, but no snapshots
Limited selection of server images, more expensive backups, but includes snapshot functionality
Performance
13 data centers across the globe and consistently fast performance, 99.9% uptime guarantee
Only two data centers in Europe and slower loading times, no uptime guarantee
Security
Cloud firewalls cost a premium with optional managed service available, no free DDoS protection, but default security adequate
Multiple cloud firewalls per server for free along with automatic DDoS protection, no managed service
FAQ
Is Kamatera a good host?
Kamatera's highly customizable cloud VPS offers impressive performance across the globe. Because of this, I'd rank it highly among cloud hosts. However, there are better options if you're just looking for an easy way to host a simple website with good speeds. See the top picks on our list of the best web hosting services for 2023.
Is Hetzner cheaper than Kamatera?
Hetzner offers the lower prices of the two hosts, and it boasts great quality hardware. You get access to a free configurable firewall, and load balancers are also available for less than with Kamatera. However, Kamatera's servers are quite secure by default, and much more customizable. Also, it offers better performance all over the world. For the very cheapest web hosting services in 2023, have a look at our coupon page before you make a final decision.
Does Kamatera use cPanel?
You can choose to purchase a cPanel licence during server setup. If you do, it will be installed for you. Alternatively, you have full freedom to install whatever control panel you like. Check out our list of the best alternatives to cPanel for more detailed recommendations.
Which Hetzner plan is best?
It depends on your needs. If you're looking for an affordable starting point, the entry-level CX11 plan offers just enough server resources to get started. Need to run something that requires more consistent performance? You may want to try Hetzner's dedicated vCPU plans, such as the CCX12 server . But keep in mind that Kamatera scored much higher on our performance tests, and is a better option if performance is the most important consideration for you.