Between JustHost and GoDaddy, GoDaddy is certainly the more popular option, but is it also the better service? As it turns out – yes, it is. The two hosts come close in terms of features and performance, but
GoDaddy is cheaper overall and offers better quality.
If you want to use WordPress to build your website, GoDaddy is the only real option
 since JustHost doesn't offer managed WordPress hosting. In fact, GoDaddy's WordPress plans don't cost much more than its regular shared hosting.
To check all the finer details in this JustHost vs GoDaddy matchup, I researched and tested both hosts extensively.
 GoDaddy came out on top in most categories, but JustHost also scored a few victories.
Click here to see GoDaddy's latest deals
, or read on to find out more.
1. Plans and Pricing
GoDaddy Is Cheaper Across the Board
Generally speaking,
GoDaddy offers better prices and also gives you better features than JustHost.
 In terms of shared hosting, for example, GoDaddy's Economy plan is cheaper than JustHost's Basic and includes 100GB of storage vs JustHost's 50GB.
GoDaddy Hosting Web Hosting
A free domain name is included with some hosting plans from GoDaddy Hosting
A free domain name is included with some hosting plans from JustHost
In addition, JustHost's attractive pricing only applies if you pay for three years upfront. If you opt for a two-year billing cycle, the price goes up by 25%, whereas a monthly subscription will almost double your costs. GoDaddy also offers better prices for long-term plans, but the differences are not as steep. If you choose to pay once every two years, for instance, you pay the same as you would with a triennial plan. Plus,
GoDaddy's renewal fees are slightly better, whereas JustHost will double the cost of most plans on renewal.
When it comes to managed WordPress hosting, GoDaddy is clearly in the lead since JustHost doesn't have any WordPress-optimized hosting plans. More importantly,
GoDaddy's WordPress hosting plans cost almost the same as regular shared hosting, but include extra features,
 such as preinstalled WordPress and automated backups and updates.
For VPS hosting, GoDaddy is still the cheaper option.
 For example, GoDaddy's 2 vCPU offer includes 4GB of RAM and 100GB of SSD storage, whereas JustHost's equivalent, Enhanced plan is significantly more expensive and only gives you 4GB of RAM and 60GB of storage.
If you're after a dedicated server, it might seem that JustHost has the better offer due to its lower prices. However, if you take a closer look at what is included in these plans, you'll notice that even JustHost's most expensive plan doesn't give you as much in terms of resources as GoDaddy's cheapest. While JustHost has a standard 30-day money-back guarantee, GoDaddy provides a similar guarantee only for long-term plans.
If you opt for a monthly plan with GoDaddy, you have just 48 hours to change your mind and apply for a refund.
2. Support
JustHost's Agents Are More Knowledgeable
The quality of customer support can make or break a web hosting service. Unfortunately, you can't actually test technical support prior to becoming a customer, but the good news is that I've already done this for you. This way, you know exactly what to expect from both JustHost and GoDaddy before you sign up with either service.
Both hosts offer 24/7 live chat and phone support, while JustHost also gives you the option to contact support by email.
 If you prefer to fix things yourself, JustHost and GoDaddy both have decent knowledge bases with plenty of tutorials. GoDaddy even has its own discussion forums where you can get answers from other customers. JustHost was recently acquired by EIG (Endurance International Group), along with dozens of other web hosting providers – including Bluehost. This explains why during my interactions with two different JustHost support agents, they both ended up talking about Bluehost as if that was the service I was asking about. I'm still slightly confused about the extent to which these two hosts share resources such as customer support, but
overall, my experience with JustHost was decent and informative.
For instance, when I asked Kristian to recommend a plan for a simple landing page, he gave me two valid options, including
JustHost's cheapest Basic plan
.
Since I wanted to use WordPress to build my website, the agent directed me to several articles explaining how I could use WordPress with JustHost. He also told me that
he could help me set everything up
 once I settled on a plan, which is always great.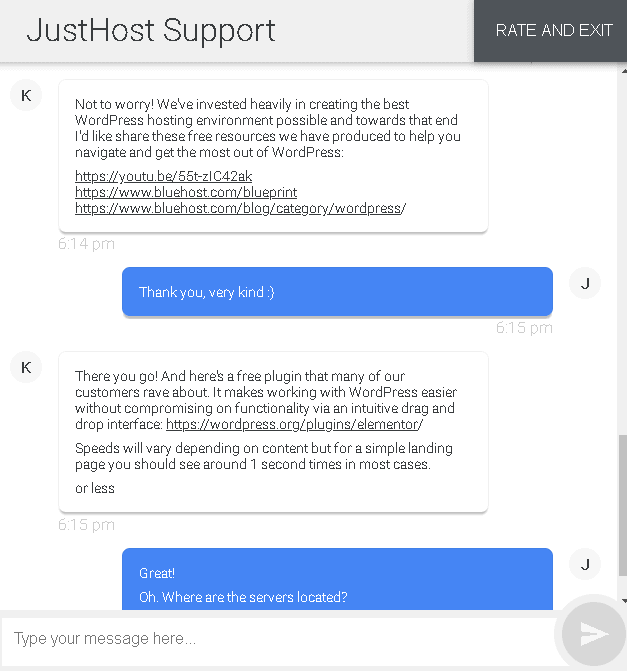 I also asked Kristian about the website loading speeds that I could expect for visitors from Asia and Australia. He said I could use the integrated Cloudflare CDN (content distribution network) to ensure good performance for users from around the world.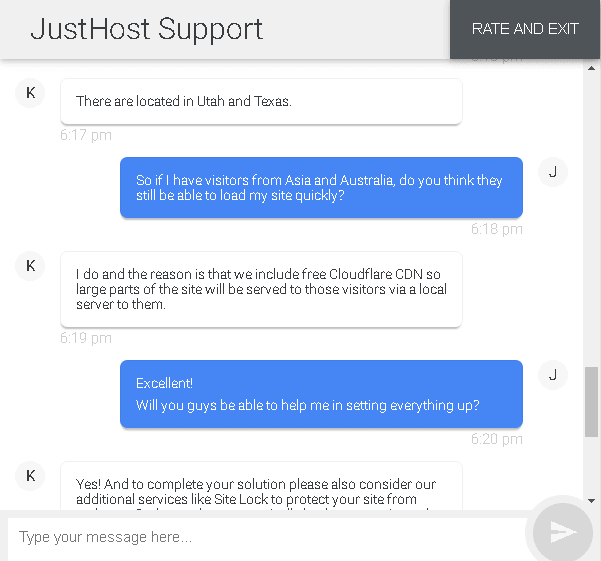 All in all,
Kristian knew his stuff and he had the language skills to convey all the information I needed.
 You might think this is no big deal, but I've found out the hard way that fluent conversations can be a rare occurrence when you're dealing with outsourced support.
My interaction with GoDaddy's agent, for example, didn't go nearly as well.
When I asked Sawati Walia to suggest a plan,
she immediately tried to sell me a more expensive plan
 instead of recommending a simple shared hosting plan. When I asked whether WordPress came preinstalled on one of the recommended plans, she simply pasted a link to GoDaddy's sales page, with no additional explanation.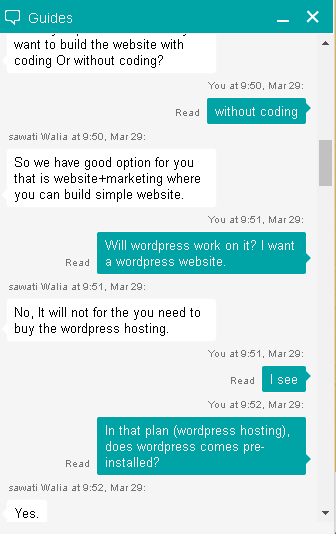 I didn't appreciate the fact that the support agent tried to get me to commit to a purchase several times throughout the conversation, but
what I was most disappointed with was the quality of the responses.
 Not only were the answers difficult to decipher due to the agent's poor use of English, but at times, it seemed that she did not understand simple web hosting concepts.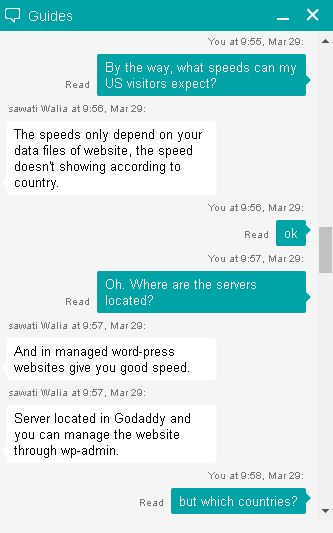 In the exchange above, for example, I asked where GoDaddy's servers were located and the answer I got was "in GoDaddy," which almost made me laugh. When I wanted to know more about website loading speeds, I was told that all websites built with this provider have great performance, but this was not very convincing.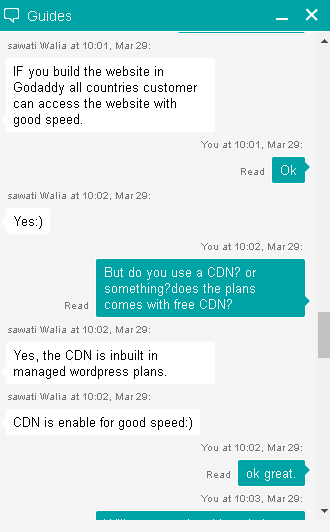 I had to ask about CDN technology myself because, even though GoDaddy offers a free CDN on all WordPress plans, the support agent was either unaware of it or did not understand what it's used for. Overall,
I had a very disappointing experience that made me seriously question whether I could count on GoDaddy's support to resolve a real issue once I became a paying customer.
3. Features
JustHost and GoDaddy Offer Similar Features, but GoDaddy Wins for WordPress Hosting
When it comes to extra features and freebies, JustHost vs GoDaddy is a tight race.
 On shared hosting plans, for example, both hosts give you a free domain for one year, as well as unmetered bandwidth and plenty of storage space. With
GoDaddy's Economy plan
, you get double the amount of storage included in JustHost's Basic plan, in addition to a free website transfer tool. JustHost, on the other hand, gives you an integrated CDN and free SSL certificates on all plans. With GoDaddy, these are free only for higher-tier plans. It's worth noting that JustHost gives you 5 email addresses or more with all plans, whereas GoDaddy charges you extra for its email service after the first year.
Website builders are also available with both hosts.
 The
GoDaddy Website Builder
is a separate product, and the builder plans include hosting. With JustHost, you get a free version of the
Weebly site builder
with the hosting plans. GoDaddy pulls ahead with its managed WordPress plans, which are just slightly more expensive, but include several extra features.
You get
WordPress preinstalled and optimized, automatic WordPress updates, daily backups, an integrated CDN, and thousands of extra WordPress themes.
To help you better compare JustHost and GoDaddy, I've summarized their most important features in the table below:
| | | |
| --- | --- | --- |
| | JustHost | GoDaddy |
| Hosting Type | Shared, VPS, dedicated servers | Shared, managed WordPress, VPS, dedicated servers, reseller |
| Free Domain | Yes | Yes |
| Free SSL Certificate | Yes, on all plans | Yes, but only on some plans |
| Disk Space | 50GB to Unlimited | 100GB to Unlimited on shared hosting, 30Gb to Unlimited on WordPress plans |
| Bandwidth | Unmetered | Unmetered |
| Automatic Backups | Yes, but only on Choice Plus and Pro | Yes, on all WordPress plans, available as an addon for shared hosting plans |
| Control Panel | cPanel | cPanel |
| Email Accounts | 5 to Unlimited | Up to 400 email addresses, free for the first year |
| Free CDN | Yes | Yes, on all WordPress plans |
| Free Site Migration | No | Yes, via a one-click migration tool |
| Money-Back Guarantee | 30 Days | 30 Days for yearly plans, 48 hours for monthly plans |
4. Performance
GoDaddy Is Fast and Reliable, While JustHost Makes No Promises
At a glance, JustHost seems to have the performance category in the bag. It offers
SSD storage
, which is known to be up to 20 times faster than regular HDD storage, and an integrated version of Cloudflare CDN on all plans. When you use a CDN, your website is cached and stored in dozens of servers across the world. As a result, even if your site is hosted on a server in the US, visitors from different regions can still load it quickly because they connect to the server that is closest to them. This slightly makes up for the fact that JustHost operates a single data center, in Utah, US.
GoDaddy, on the other hand, has nine data centers located around the world.
The fact that GoDaddy doesn't offer SSD storage or CDN integration on its shared plans is definitely a disadvantage, but
GoDaddy's WordPress hosting plans
 do come with both SSD storage and a CDN. Most importantly,
GoDaddy has a standard 99.9% uptime guarantee
 and will give you credits worth 5% of your monthly fee if you experience more than 0.1% downtime during a month. Meanwhile, JustHost hardly even mentions the phrase "uptime guarantee" in its network uptime agreement. Although it claims to offer "the best in the industry,"
the provider does not back this claim with a solid guarantee, nor does it offer any compensation in case of downtime.
GoDaddy achieved a great score in our performance tests. To find out more, check out our
expert GoDaddy review
. So far, we haven't had the chance to run the same tests on JustHost, but you can read more about its performance-enhancing features in our
in-depth JustHost review
.
5. Security
Both JustHost and GoDaddy Make You Pay for Security
In this category, neither host is a real winner.
Both hosts take advantage of the fact that security is an essential aspect of building a website, attempting to make you purchase add-ons that other hosts include for free.
JustHost, for example, automatically adds no less than four security add-ons to your cart if you opt for the Basic shared hosting plan: two website backup tools, Codeguard Basic and Site Backup Pro, Domain Privacy to hide your WHOIS information and protect you from spam, as well as the SiteLock Security addon for malware detection and removal.
All of these are included for free only in the Choice Plus and Pro plans.
GoDaddy, on the other hand, automatically adds Website Backup to your checkout cart for all shared hosting plans. You can also purchase SSL certificates on checkout, together with Essential Website Security for daily malware scans and automatic removal.
All of these tools are included for free only on the managed WordPress Ultimate and Ecommerce plans.
The major difference between JustHost and GoDaddy in this category is that
JustHost offers SSL certificates for free across the board, while GoDaddy includes them only on top-tier plans
for both shared and WordPress hosting. For this reason, JustHost has a slight advantage over GoDaddy in security.
GoDaddy Wins for Pricing, Features, and Performance
Although the race was close in many respects and JustHost scored a clear victory in customer support,
GoDaddy is the obvious winner of this comparison.
Think about it:
GoDaddy is cheaper across the board
 and has better features than JustHost. Add to this the fact that it achieved a great score in our performance tests, and you can see why JustHost is simply not worth it. That said, neither host made it into our
list of the best web hosting services
. Before you make any final decisions, I'd suggest you take a look.
Plans and Pricing
Slightly more expensive than GoDaddy, best prices are only available for triennial plans, no managed WordPress plans
Cheaper than JustHost across the board, WordPress plans come with additional freebies
Key Features
50GB to unlimited storage, unmetered bandwidth, at least 5 email addresses, Weebly website builder, 30-day money-back guarantee
100GB to unlimited storage, unmetered bandwidth, up to 400 email addresses for one year on all plans, automatic updates and backups, as well as thousands of WordPress themes included on WP plans
Performance
SSD storage, integrated Cloudflare CDN on all plans, one data center in the US, no uptime guarantee
SSD storage and integrated CDN on WordPress plans, three data centers in the US, 99.9% uptime guarantee
Security
Free SSL certificates on all plans, website backups, domain privacy, and malware detection and removal included in Choice Plus and Pro
Free SSL certificates on higher-tier plans, website backups and malware scans included in all WordPress plans, malware removal tools included in WP Ultimate and Ecommerce plans
Support
24/7 support via email, live chat, and phone; decent knowledge base
24/7 support via live chat and phone; decent knowledge base and discussion forums
FAQ
Which is better, JustHost or GoDaddy?
I've compared JustHost and GoDaddy based on five essential aspects of web hosting and GoDaddy came out on top in most categories. GoDaddy offers better prices for shared, WordPress, and VPS hosting, while most of its plans include more features compared to JustHost. For instance, all managed WordPress offers come with plenty of SSD storage, as well as automated site backups and WP updates. That said, before you make a long-term commitment, you should check our list of the top 10 best web hosting services right now.
Is GoDaddy's WordPress hosting good?
GoDaddy has decent WordPress hosting, especially compared to JustHost, which doesn't offer any WordPress-optimized plans. WordPress comes preinstalled on all of GoDaddy's WP plans and automated updates for the CMS and any related plugins are included for free. The Ultimate and Ecommerce offers also include SSL certificates and security tools for malware removal and hack repair. However, GoDaddy's WordPress hosting is not as good as it could be. For better alternatives, take a look at our list of the best managed WordPress hosting services.
Is JustHost owned by EIG?
Yes, JustHost is currently part of the Endurance International Group, alongside other web hosting providers such as Bluehost and HostGator. Unfortunately, being acquired by EIG did not make JustHost a better service. On the contrary, many users have complained that EIG promotes server crowding, which can decrease the performance of your website if you opt for a shared hosting plan. Many EIG-owned hosting companies offer attractive deals, but you can do better – check our coupon page for the best hosting deals right now.
Which GoDaddy plan should I choose?
If you want to host a small presentation website for yourself or your business, GoDaddy's Deluxe shared hosting plan gives you generous resources and the possibility to install your CMS of choice with just one click. However, my recommendation is to go with GoDaddy's managed WordPress Deluxe. Although slightly more expensive, this plan includes free automated backups, daily malware scans, a website staging tool, and the Yoast SEO optimizer. Plus, WordPress comes preinstalled on your account and GoDaddy takes care of plugin updates for you. For more information, see our in-depth GoDaddy review.