If you're looking for an affordable hosting plan, Bluehost probably keeps popping up. Let me tell you from the very beginning: this doesn't have to do with the quality of Bluehost's service. The company has a generous affiliate program, where it pays reviewers big bucks. Meanwhile, JustHost is a sister company with slightly better offers, but it shares many of Bluehost's fundamental issues.
Having researched and tested both hosts extensively, I can only say that in this JustHost vs Bluehost comparison, neither is a real winner.
Although JustHost is somewhat more reliable, my recommendation is to keep looking.
Hostinger, for example, offers many additional features and actually costs less.
Click here to see Hostinger's latest deals
, or read on for a detailed comparison of JustHost and Bluehost.
1. Plans and Pricing
Both JustHost and Bluehost Offer Cheap Prices, but Only If You're Willing to Commit
If you compare JustHost and Bluehost purely in terms of pricing, Bluehost has a marginal advantage since its shared hosting plans are cheaper across the board. However, the difference is negligible.
A free domain name is included with some hosting plans from Bluehost
A free domain name is included with some hosting plans from JustHost
One major drawback of both hosts is that
the attractive prices you see when you browse their plans are only available if you are willing to pay for three years of service up front.
In fact, with Bluehost's entry-level shared hosting plans, you don't even have the option of a billing cycle that's shorter than one year.
JustHost, on the other hand, allows you to pay on a monthly basis, but if you do, the prices increase dramatically.
Renewal fees for both JustHost and Bluehost are nearly double the initial promotional price. Add to this the fact that the two hosts push additional monthly expenses, in the form of add-ons during checkout, and you reach a total cost that is much higher than the market average. Bluehost, for instance, automatically adds CodeGuard site backups and SiteLock Essentials for malware detection to your cart when you choose the Basic plan.
If you don't opt out of these services, they effectively double your total cost.
The same holds true for JustHost, which tries to add two different site backup tools that serve the same purpose, in addition to Domain Privacy and SiteLock Essentials. This is ironic, given that on its homepage, JustHost claims to offer free SiteLock security tools on all plans.
Hostinger is worth another mention here – with much better features and prices starting at

$

1.99

, you really can't go wrong.
A free domain name is included with some hosting plans from Hostinger
2. Support
The Plot Thickens: JustHost's Support Comes from Bluehost
Bluehost has a less-than-stellar record when it comes to customer support, but most of the real complaints get lost in the sea of positive reviews from affiliates. This can be a problem. Before you commit to any host, you need to know exactly what kind of support you're going to get if you have an urgent issue. JustHost and Bluehost offer 24/7 support through live chat and phone, while JustHost also gives you the option to get in touch by email. To accurately compare the two, I tested the live chat option for both services.
What I didn't expect to find was that
both companies seem to share the same customer support team.
For example, I asked an agent from JustHost support about the hosting solution that would work best for my needs. In the middle of the agent's attempt to upsell an additional feature,
they apparently forgot that I had contacted JustHost support, and told me that all Bluehost customers have access to a free service called Blue Flash.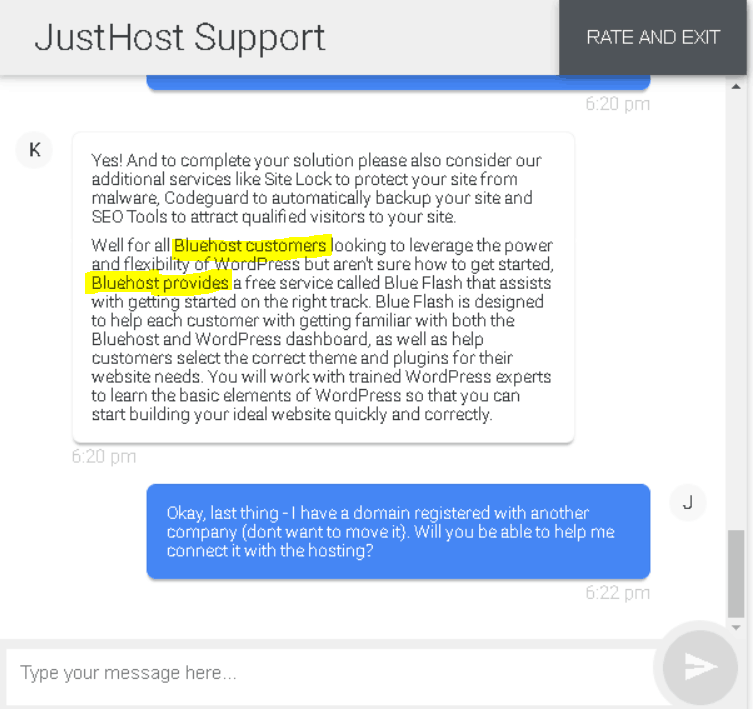 This felt confusing, so the second time I got in touch with a support agent from JustHost, I asked for clarification.
Joshua let me know that since JustHost and Bluehost are sister companies, he could answer questions about both and sign me up for either service.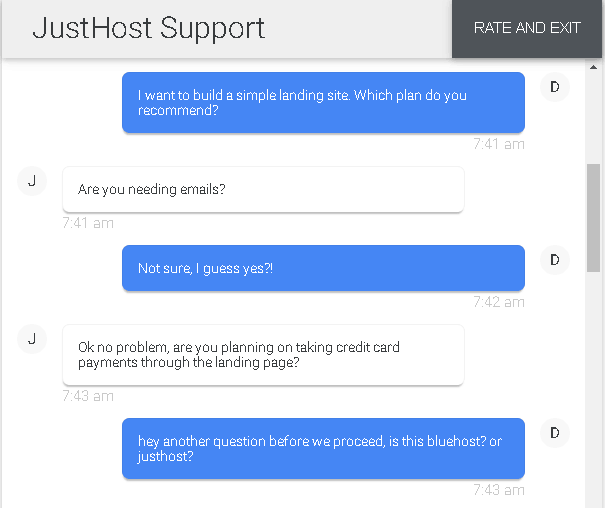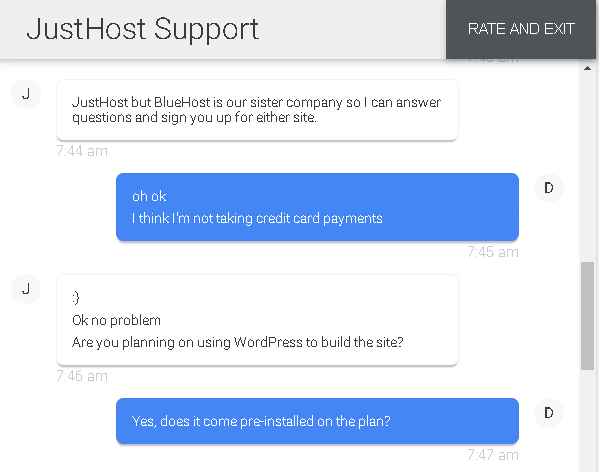 Don't get me wrong: this is not necessarily a bad thing. But according to many reviewers, Bluehost's customer support often fails to fix issues and leaves paying customers hanging. Given the arrangement between the two companies, you shouldn't expect anything different from JustHost. Other than that, my interaction with Bluehost's support agent went reasonably well.
Aside from the fact that I was offered a better, more expensive hosting solution when I didn't really need one, I got all of the information I was looking for and the average response time was one to two minutes.
Bear in mind that this was a pre-sales situation, and I was not committed to a plan when I asked these questions.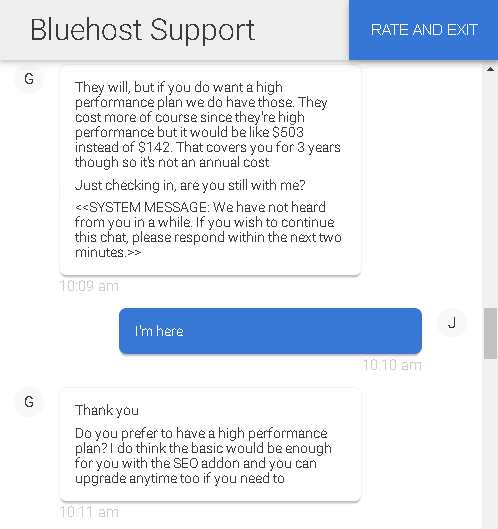 If you prefer to look for answers yourself, both Bluehost and JustHost have an extensive knowledge base with useful articles and tutorials.
 The two hosts actually share this resource between them, but I suppose this isn't a surprise.
3. Features
JustHost and Bluehost Are Two Peas in a Pod… But Not in a Good Way
When it comes to shared hosting, you'll be hard pressed to find any major differences between these two hosts.
 This is not bad in and of itself, but despite JustHost's claim to offer "unheard of value," the list of features you get with either service is not at all impressive.
One good thing is that both JustHost and Bluehost are fairly generous with resources.
 Even on their cheapest plans, they each include 50GB of SSD storage and unmetered bandwidth, which is enough to support even an e-commerce store with hundreds of product images. You also get at least five email accounts and a free domain registration when you sign up with either host, but that's about as far as the two services go in terms of freebies. Automatic backups are a bit problematic because, on its Basic and Plus plans, Bluehost only runs "courtesy backups" at its discretion. These are stored for a maximum of 30 days and the company does not assume any responsibility for lost data. JustHost – you guessed it – has the exact same policy.
Proper automatic backups are only included in Bluehost's Choice Plus and Pro plans, via Codeguard Basic.
The same is true for JustHost's Choice Plus and Pro,
although both hosts allow you to add Codeguard to cheaper plans for an extra fee. It's also worth mentioning that
while these providers advertise a 30-day money back guarantee on all plans, you will not get a refund for any add-ons.
 And if you opted for either host's free domain registration and you apply for a refund, you have to pay a $15.99 fee to keep your domain. In the table below, I've included all the important features for both JustHost and Bluehost, although given how similar the two services are, I may as well have put them both in the same column:
| | | |
| --- | --- | --- |
| Feature | JustHost | Bluehost |
| Hosting Type | Shared, VPS, Dedicated Servers | Shared, Managed WordPress, VPS, Cloud, Dedicated Servers |
| Free Domain | ✔ | ✔ |
| Free SSL Certificate | ✔ | ✔ |
| Disk Space | 50 GB to unlimited | 50 GB to unlimited |
| Bandwidth | Unmetered | Unmetered |
| Automatic Backups | Yes, but not guaranteed on all plans | Yes, but not guaranteed on all plans |
| Control Panel | cPanel | cPanel |
| Email Accounts | 5 to unlimited | 5 to unlimited; 1 Microsoft email account, free for 30 days on all plans |
| Free CDN | ✔ | ✔ |
| Free Site Migration | ✘ | ✘ |
| Money-Back Guarantee | 30 days | 30 days |
4. Performance
Neither Host Is Great, But at Least JustHost Tells You Where It Stores Your Website
To start on a positive note, both JustHost and Bluehost offer SSD storage on all plans,
as well as an integrated version of Cloudflare CDN, which takes care of caching for your website and cuts down on loading speeds. Cloudflare creates a cached version of your website and stores it on servers around the world, in order to deliver it faster to users in different regions. This makes up slightly for the fact that
JustHost only has a single data center in Utah.
Bluehost, on the other hand, goes against all common practice in the web hosting industry and doesn't disclose the location of its server (or servers), which is odd, to say the least.
Even if Bluehost has multiple data centers, it's irrelevant since you cannot choose where to host your website.
JustHost is one step ahead here. Even if it can't give you the option to choose between multiple servers, at least it's more transparent regarding its infrastructure.
Unfortunately, this does little to alter the fact that neither JustHost nor Bluehost offers any kind of uptime guarantee.
In fact, you'll find little to no mention of uptime on either website, which is never a good sign. The issue is brought up in Bluehost's Network/Server Uptime Agreement, which promises that the company strives to offer "the best in the industry," but makes no other assurances. JustHost's Uptime Agreement uses the exact same text, word for word.
I understand that the two are sister companies, but at this point, they're starting to look more like identical twins.
Bluehost scored very low in our performance tests. Find out what went wrong in our
expert Bluehost review
. We have not yet had the opportunity to run these tests on JustHost, but you can read more about its performance-enhancing features in our
in-depth JustHost review
.
5. Security
Both Hosts Make You Pay to Keep Your Website Safe
No matter the type of website you have – but especially with e-commerce stores – you'll want an SSL certificate to protect your customers' information and help your site rank better in Google searches.
Both JustHost and Bluehost feature a free SSL certificate from Let's Encrypt, which will ensure that your website is padlock protected.
Aside from this, neither host does much to keep your website safe on the entry-level shared hosting plans. With Bluehost, you get Domain Privacy and Protection on the Choice Plus and Pro plans. While this can help reduce spam, it cannot protect your website against malware.
For proper malware detection and removal, you have to buy the SiteLock Essential add-on, which will basically double the cost of a Basic plan.
JustHost also offers SiteLock Essential as an add-on to secure your website, although for the Choice Plus and Pro plans, the add-on will cost you less than it does from Bluehost. In addition, if you go with JustHost's Pro bundle, you also get a Comodo PositiveSSL certificate, which provides the same level of encryption as the free SSL on Bluehost's equivalent plan, but comes with a warranty and access to Comodo's customer support. Minor differences aside,
JustHost and Bluehost both make you pay for security features that other services include for free.
 Such tools are now considered basic (and essential) in the web hosting industry, but it seems that these two hosts are more preoccupied with upsells than with creating a complete offer for their users.
Save Yourself the Trouble: Keep Looking
JustHost vs Bluehost is, unfortunately, a comparison between two hosts you're better off avoiding altogether.
 Even if JustHost is marginally better, the fact that so many of its features (and website copy) are identical to Bluehost's equivalents gives me reason to believe that both services are equally mediocre. Moreover, reconsider your expectations regarding improved customer support from JustHost. Based on my interaction with the live chat services of both providers, it appears that the same agents handle inquiries in both scenarios. As a result, you can anticipate receiving an equivalent level of support quality. My recommendation is that you
take a look at Hostinger's plans
 before you make any final decisions. There's a good reason why neither JustHost nor Bluehost made it into our list of
the 10 best web hosting services
.
Plans and Pricing
Relatively low prices, but essential add-ons come with additional fees
Cheaper than JustHost, but will still charge extra for essential features
Key Features
Unlimited storage on most plans, unmetered bandwidth, and automated backups included in Choice Plus and Pro
Unlimited storage on most plans, unmetered bandwidth, and automated backups included in Choice Plus and Pro
Performance
SSD storage, free Cloudflare CDN, no Uptime Guarantee
SSD storage, free Cloudflare CDN, no Uptime Guarantee, unknown server locations
Security
Free SSL certificates, free Domain Privacy and Protection on Choice Plus and Pro, Comodo PositiveSSL included in Pro, SiteLock Essential available for a fee
Free SSL certificates, free Domain Privacy and Protection on Choice Plus and Pro, SiteLock Essential available for a fee
Support
24/7 support via email, live chat, and phone; extensive knowledge base
24/7 support via live chat and phone; extensive knowledge base
FAQ
1. Are JustHost and Bluehost the same company?
JustHost and Bluehost started out as different web hosting services, but are currently owned by the same company, Endurance International Group. If the name rings a bell, that's likely because EIG has acquired more than 80 web hosting providers over the past decade, including big names like Bluehost and HostGator. This is also the main reason why JustHost and Bluehost, now sister companies, offer such similar services. If you're looking for an alternative to EIG-owned companies, be sure to check our list of the top web hosting services.
2. Is Bluehost easy to use?
Bluehost might not offer as many features as other providers, but this, in addition to its clean interface, makes it very easy to use. Creating an account, installing WordPress, and connecting a domain are all simple tasks, and Bluehost's neat to-do list will help you keep track of everything you need to do before you launch your website. However, there are much better alternatives for WordPress hosting.
3. Where is Bluehost based?
Bluehost is based in Orem, Utah, but this says little about its current data center(s). For unknown reasons, Bluehost does not disclose the actual location of its servers, which means that you cannot choose where to host your website.
4. Is GoDaddy better than Bluehost?
GoDaddy does its fair share of upselling, but overall, it has better features than Bluehost. While Bluehost is easier to navigate, GoDaddy gives you an automatic website migration tool, a better website builder for beginners, and a choice between nine data centers around the world. More importantly, GoDaddy has a better performance record and the upper hand in terms of customer support.