There are dozens of InterServer alternatives out there, but only a handful of them are actually better than InterServer itself.
After all, it's not easy to top an affordable shared hosting plan with unlimited websites, storage, and bandwidth. Heck, most other low-cost web hosting services don't even come close. That said, InterServer does have some drawbacks.
For one, it only has data centers in the US
, so you can't expect your website to load quickly for visitors from Asia or Australia. The integrated content delivery network (CDN) will speed up your site a bit, but it won't work magic.
Customer support is also a major disappointment.
Live chat is outsourced to a company in India, and the agents are mostly unable to help. Email support is better, but it's much slower. The knowledge base isn't very well-organized either, so most of the time, it's just you and Google. If any of that sounds like a deal breaker to you, then you're going to need a good InterServer alternative.
I've researched and tested dozens of options to find hosts with similar prices that have a broader global presence and significantly better support.
In a hurry? These are the best InterServer alternatives:
Hostinger – incredibly cheap shared hosting with great performance and a global fleet of data centers
GreenGeeks – the best customer support for shared hosting
A2 Hosting – consistently fast, low-cost servers with optimized CMS installations
What We Look For in the Best Alternatives to InterServer
The web hosts that made it on my list do well in key areas where InterServer falls short. These are the features that I've prioritized in my search:
Dependable customer support. With one exception (*cough* A2 Hosting *cough*), I've only selected hosts that offer effective customer support. I've personally tested the live chat service for every provider on this list, so you don't have to.
Multiple data center locations. I've looked for alternatives with servers in different regions around the world. You'll find hosts with data centers in North America, South America, Europe, Asia, and Australia.
Streamlined control panel. cPanel is a decent tool, but it doesn't have the most user-friendly interface. Unlike InterServer, most of the web hosts on my list offer alternative control panels that are far less cluttered and easier to use.
Outstanding performance. InterServer has good loading speeds overall, but there are faster hosts out there. I've included some of them on my list in case performance is your top priority.
Pricing.

While InterServer is definitely cheap, many of the hosts below manage to beat its prices – especially in the long term.
You won't find a decent shared hosting provider that's more affordable than Hostinger. Its Single shared hosting plan
 is outrageously cheap (even compared to InterServer), and it doesn't force you to compromise on performance. The cost will go up on renewal, but even so, the plan is still very affordable. In fact,
Hostinger is the fastest low-cost provider that my colleagues and I have tested
. It did better than InterServer during speed tests, and it even beat premium services like Liquid Web.

You don't get unlimited resources, but a generous amount of storage space and bandwidth is included in every plan.
For instance, the Single plan gives you one website, 10GB of storage, and 100GB of bandwidth – more than enough for a small to medium site. To host multiple sites, you have to upgrade to the Premium shared hosting plan, which comes with double the storage and unlimited bandwidth.
Even if you do upgrade, you still pay less than you would with InterServer, both before and after renewal.
A free domain name is included with some hosting plans from Hostinger
Features:
User-friendly control panel. Hostinger's hPanel lets you do pretty much everything cPanel does, but it's better organized and simpler to use. There's also a one-click installer for dozens of CMSs, so it's easy to get started.
Data centers around the world. The best way to speed up your website is to host it closer to your audience. With Hostinger, you can choose a data center in the US, Brazil, the UK, the Netherlands, Singapore, Indonesia, or Lithuania.
LiteSpeed cache plugin. This tool is integrated into your dashboard, so it only takes a couple of clicks to turn it on. Once you do, you can expect your website to load faster, especially if you're using WordPress.
Managed WordPress features. There's a WP starter wizard to help you quickly set up your website, and WordPress updates are done automatically.
Control Panel
hPanel
Storage Space

10GB to 100GB

Bandwidth
Unmetered on most plans
(100GB on Single)
Speed Optimizations
LiteSpeed web server and caching
Customer Support
Slow, but helpful
Starting Price

$

1.99
If you want extensive help setting up and optimizing your hosting, GreenGeeks is a great alternative to InterServer.
You still get unlimited storage space and bandwidth on all plans, but unlike InterServer, GreenGeeks' support team will go a long way to make you happy.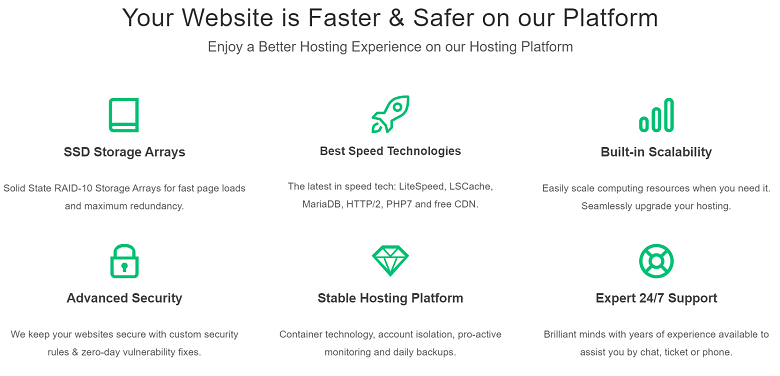 Whenever I test a web hosting service, I ask support to help me optimize my website for performance.
GreenGeeks' support agent actually made a bunch of optimizations for me, and even took the time to explain everything he did in detail.
By comparison, InterServer told me to get in touch with my web developer. Ugh.
The downside with GreenGeeks is that it's a bit more expensive.
The
Lite and Pro plans
 look cheap at a glance, but when it's time to renew, you'll be paying up to three times the initial cost. But a lot of great features are included, and if customer support is a priority for you, GreenGeeks is definitely worth the price.
A free domain name is included with some hosting plans from GreenGeeks
Features:
Scalable shared hosting. You can add CPU and RAM to your account without being forced to upgrade to a more expensive plan. With InterServer, you'd have to switch to a VPS to get this kind of scalability.
Automatic backups. Most hosts make you pay extra for this service, but GreenGeeks includes free nightly backups on all plans. If disaster strikes, it's easy to restore an older version of your website.
Optimized LiteSpeed web server. Arguably the best web server for WordPress websites, LiteSpeed is fast and reliable. InterServer also uses this technology, but GreenGeeks did better during our speed tests.
Integrated CDN and a choice of data centers. Cloudflare is built directly into your dashboard, and you can turn it on to improve loading speeds for visitors from around the world. You can opt for a data center in Canada or Europe if that's where most of your visitors are.
Control Panel
hPanel
Storage Space
Unlimited
Bandwidth
Unmetered
Speed Optimizations
LiteSpeed web server, scalable CPU and RAM
Customer Support
Outstanding
Starting Price

$

2.95
If you need your website to load as quickly as possible, but you don't want to spend a small fortune on a premium host, A2 Hosting is a good alternative.
It's faster than InterServer and has more consistent performance than Hostinger.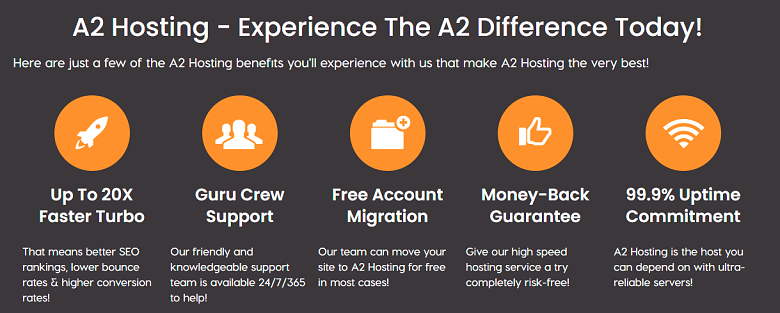 A2 Hosting is also more expensive than both Hostinger and InterServer, but its prices are still pretty low compared to other hosts with similar performance.
You also get unlimited storage space and bandwidth on most plans, and a generous 100GB of storage on
the entry-level Startup
.
The real downside with A2 Hosting is that its customer support is just as bad as InterServer's.
Live chat is outsourced to a third party in India, and even though the agents are usually well-intentioned, they don't offer much help. If you don't mind a more DIY approach, the
other features included in A2 Hosting's plans
make up for this shortcoming.
Features:
A2 Optimized installations. Both InterServer and A2 Hosting have one-click installers for WordPress, but A2 goes one step further with preconfigured setups that include several performance and security plugins.
Turbo upgrade. If you can afford the Turbo Boost or Turbo Max plan, your website will be hosted on a LiteSpeed web server with more resources and fewer neighbors. These servers might not be 20 times faster – as A2 Hosting claims – but they will speed up your website considerably.
Free security. A2 Hosting's proprietary security suite includes reinforced DDoS protection, a dual firewall, virus scanning, an SSL certificate, and the Patchman tool for outdated software.
Anytime money-back guarantee. You can get a prorated refund at any time during your contract. With InterServer, you only have 30 days to cancel your plan and get your money back.
Control Panel
cPanel
Storage Space
Unlimited on most plans
(100GB on Startup)
Bandwidth
Unmetered
Speed Optimizations
Preconfigured CMS installations, Turbo servers
Customer Support
Slow and ineffective
Starting Price

$

2.99
For a WordPress website, Kinsta is a dream.
It's fast, simple, and packed with great features. Plus, it puts InterServer to shame in terms of customer support and global data centers. So why isn't it #1 on my list? I won't sugarcoat it: It's excruciatingly expensive.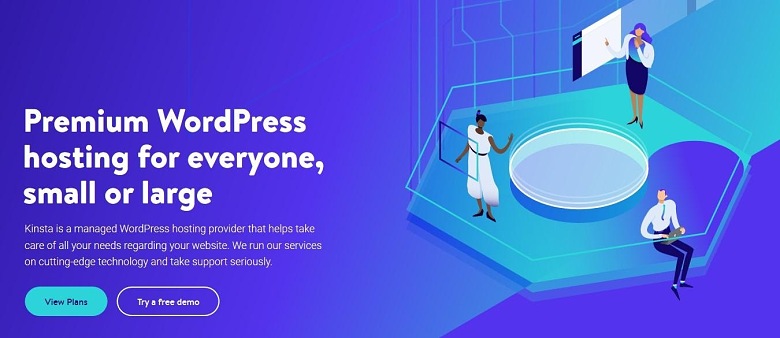 Kinsta's entry-level Starter plan will cost you six times more than InterServer's Standard.
It's pricier than anything else on this list – and it only supports one website. So, if you want affordable hosting for several small sites, Kinsta isn't it. But if you expect your website to grow quickly or you already have a site with a decent amount of traffic,
you won't find a better managed WordPress solution
.
Kinsta takes care of everything for you – from WordPress updates and backups to website security and performance – while you focus on your core business.
Features:
Expert support. Support agents go out of their way to make sure that your WordPress website runs as smoothly as possible. If you ever have questions, there's 24/7 live chat support, and if you're migrating to Kinsta from InterServer or any other host, support will transfer your website for you.
Powerful dashboard. Say goodbye to cPanel and get ready for something simpler, more powerful, and, frankly, much better looking. The MyKinsta dashboard lets you install plugins, manage and clone your websites, view detailed site analytics, and more – all in one place.
Built on Google Cloud. Unlike InterServer, Kinsta is entirely cloud-based, so you can expect faster loading speeds, better uptime, and improved scalability. You also have 24 data center locations to choose from.
Optimized NGINX servers. You don't have to install or manage any performance plugins. All optimizations are done at server level using state-of-the-art technology like NGINX, the latest PHP versions, and MariaDB databases.
Control Panel
MyKinsta
Storage Space
10GB to 250GB
Bandwidth
Unmetered
Speed Optimizations
Built on Google Cloud, NGINX web server, managed caching
Customer Support
Outstanding
Starting Price

$

24.00
If your main audience is in India, East Asia, or Australia, InterServer simply won't do. You could go with a local host, but in many cases, the language barrier will get in the way. There's Kinsta, but even its cheapest plan will cost a small fortune.
FastComet, on the other hand, gives you an easier and more affordable solution.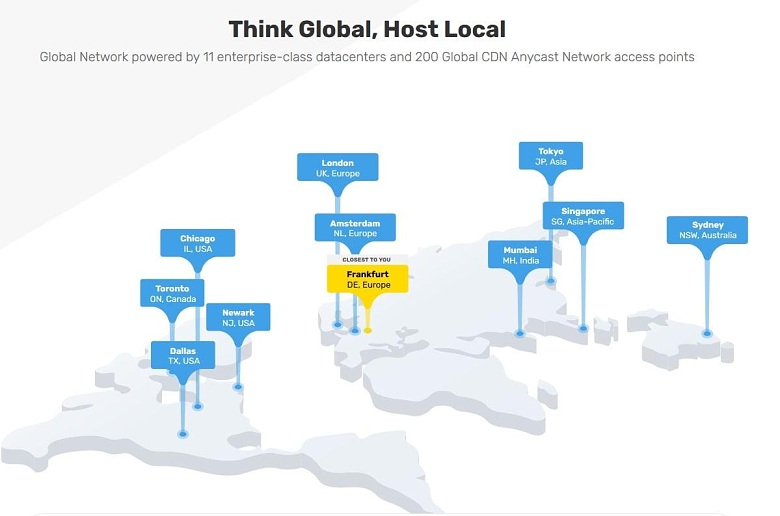 With 11 data centers around the world, FastComet can bring your website closer to your visitors without breaking your budget.
Its shared hosting plans are not quite as cheap as InterServer's Standard package (keep an eye on those steep renewals), but they're not expensive either.
Plus, you get everything you need to build and host a website even on the entry-level FastCloud plan.
A generous 15GB of storage space and 30GB of bandwidth are included, which is pretty decent for a single site. You also get a website builder, unlimited email, and an integrated CDN.
Features:
Data centers in Asia and Australia. FastComet has servers in locations that other low-cost international hosts don't reach. These include Singapore, Tokyo, Mumbai, and Sydney.
RocketBooster servers. The FastCloud Extra plan comes with five different layers of caching, including Varnish, Memcached, and APC. You also get more RAM and CPU, and you share them with fewer neighbors, which can drastically improve your website's loading speed.
Quick live chat support. Unlike InterServer, FastComet offers dependable customer support that is actually available 24/7. I've never had to wait more than a couple of minutes to get in touch with a knowledgeable agent.
Free expert migrations. You don't have to do a thing. The tech support team will move your site, as well as your databases and email.
You can see the full list of features in our in-depth review.
Control Panel
cPanel
Storage Space
15GB to 35GB
Bandwidth
30GB to 90GB
Speed Optimizations
Five layers of caching
(on FastCloud Extra)
Customer Support
Quick and effective
Starting Price

$

2.19
InterServer has a few decent WordPress features, including a one-click installer and automatic updates, but that's about it.
If you want proper managed WordPress hosting without having to spend a fortune on Kinsta, SiteGround is the next best thing.
SiteGround is built with ease of use in mind. It has several tools for developers on the more expensive plans, but it's also very accessible for beginners. For example,
SiteGround's WordPress starter wizard is included on all plans, even the entry-level StartUp, and will guide you through every step of creating your first site.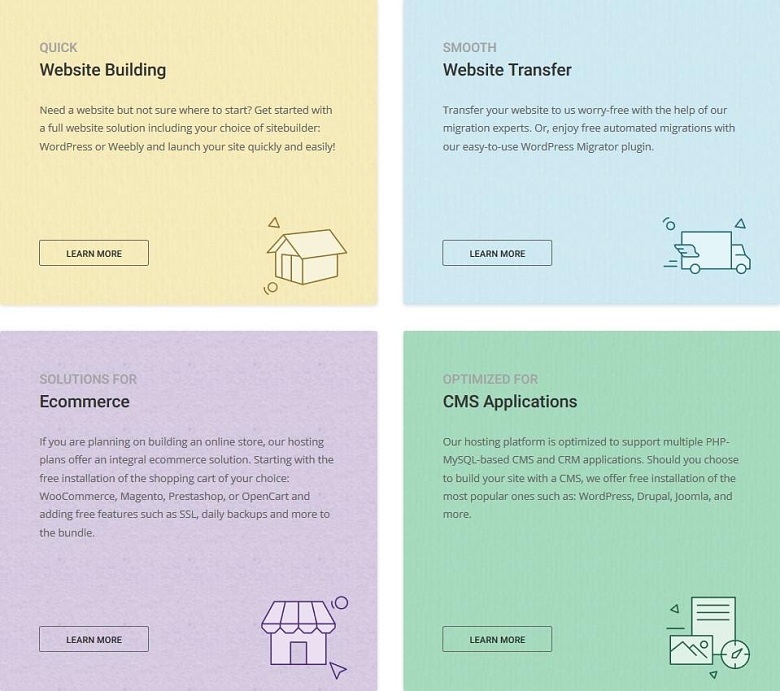 The downside with SiteGround is that its performance is not as good as it used to be.
You can still get decent loading speeds on the entry-level plan, but
according to my tests, SiteGround is the slowest host on this list
.
A free domain name is included with some hosting plans from SiteGround
Features:
Streamlined user experience. InterServer is cheap and packed with resources, but it won't hold your hand as you build and launch your website. SiteGround will. Its proprietary control panel, Site Tools, is one of the simplest I've ever used, and if you ever run into trouble, there's 24/7 customer support.
Specialized WordPress support. You can only access SiteGround's live chat support after filling out a pretty lengthy form, so it can be a bit time-consuming. That said, the agents are knowledgeable and eager to help, especially when it comes to WordPress.
WordPress-optimized servers. SiteGround uses Apache with NGINX as a reverse proxy to quickly deliver PHP-based content to visitors. Its proprietary caching plugin – the SuperCacher – is built specifically for PHP CMSs like WordPress, and it's included on all plans. GrowBig and GoGeek users have access to additional performance tools.
Developer-friendly features. As a web developer, you can use SiteGround's GoGeek plan to offer white-label hosting to your clients. It's also easy to add collaborators to your account, and Git is already integrated.
Control Panel
Site Tools
Storage Space
10GB to 40GB
Bandwidth
Unmetered
Speed Optimizations
NGINX as a reverse proxy, SuperCacher plugin
Customer Support
Effective, but difficult to reach
Starting Price

$

2.99
Like InterServer, InMotion Hosting has data centers in the US only.
It's about as fast as InterServer in this region, but its
shared hosting plans
 are more expensive and renewals are pricier.
So what makes InMotion Hosting a good alternative? The decent customer support.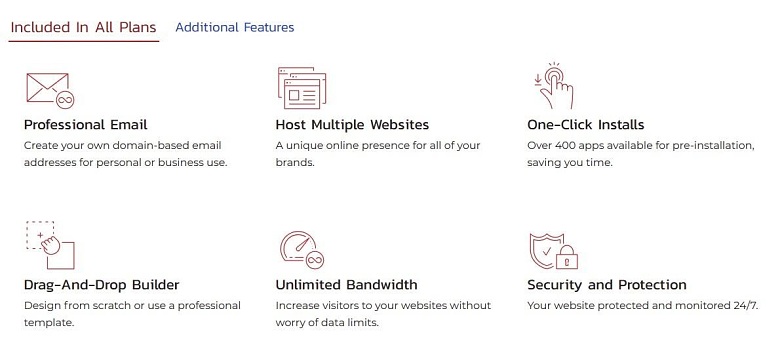 Now, don't get me wrong: I have seen better live chat services.
That said, InMotion Hosting hasn't outsourced its support to a third party in India, and the agents I spoke to were knowledgeable and very helpful.
The only downside was that I had to wait for almost an hour every time I wanted to start a live chat conversation.
But I was able to find a quick solution for most of my issues using InMotion's massive knowledge base.
The guides were well-organized and easy to find, which is more than I can say for InterServer's large, but messy, database.
InMotion Hosting Web Hosting
Features:
UltraStack servers. InMotion Hosting uses NGINX as a reverse proxy, which translates into faster and more stable servers. Redis caching, Brotli compression, and other technologies are also used to speed up your website.
No-downtime website transfers. If you want to move an existing website to InMotion Hosting, the support team will do everything for you. More importantly, the transfer won't force you to take your website offline.
WordPress site builder. BoldGrid consists of a drag-and-drop interface that makes it easier to build a WordPress website. This tool is preinstalled on all plans, together with dozens of existing themes.
QuickStarter websites. To get online quickly, you can ask InMotion Hosting to build a one-page website for you. It's not a very cheap service, but it's significantly more affordable than hiring a web developer.
For more on what InMotion Hosting has to offer, check out our expert review.
Control Panel
cPanel
Storage Space
50GB to 200GB
Bandwidth
Unmetered
Speed Optimizations
NGINX reverse proxy, Redis caching, Brotli compression
Customer Support
Slow but helpful
Starting Price

$

3.29
If InterServer Isn't for You, There Are Plenty of Other Great Options
Any host on my list could serve as a viable alternative to InterServer, but it doesn't necessarily guarantee suitability for your specific needs. Selecting the optimal choice hinges on factors such as your location, budget, and your level of experience in web hosting. Here are my recommendations:
For a broader selection of data centers and better performance overall, I'd go with Hostinger.
Storage space isn't unlimited, but you don't actually need more than 10GB for a small to medium website. Plus, it's cheaper than InterServer, even after renewal.
For outstanding customer support that goes the extra mile to help, choose with GreenGeeks.
It's a bit more expensive than InterServer, but you get unlimited storage space and bandwidth, and you can add more CPU and RAM to your account without switching to a VPS.
If your website mainly serves visitors in India, East Asia, or Australia, your best bet is FastComet.
Live chat support isn't bad either, and the FastCloud Extra plan has some excellent caching solutions. Finally, if you want a much faster WordPress website and you don't mind paying extra for it,
go with Kinsta
. In performance and ease of use, Kinsta blows every other host out of the water and it has 24 data center locations around the world. But even the cheapest plan will cost you a pretty penny. In case you're still weighing your options, I've included a summary in the table below:
Standout Feature
Data Centers
Pricing
Hostinger
Great performance for a very low cost
US, Brazil, UK, the Netherlands, Singapore, Indonesia, Lithuania

$

1.99

GreenGeeks
Outstanding customer support
US, Canada, the Netherlands

$

2.95

A2 Hosting
A2 Optimized installations, Turbo servers
US, the Netherlands, Singapore

$

2.99

Kinsta
WordPress-optimized servers, expert support, powerful dashboard
24 locations in the US, Brazil, Europe, India, Singapore, East Asia, and Australia

$

24.00

FastComet
Data centers in Asia and Australia, advanced caching
US, Canada, UK, the Netherlands, Germany, Singapore, Japan, India, Australia

$

2.19

SiteGround
Managed WordPress, streamlined control panel
US, UK, the Netherlands, Germany, Singapore, Australia

$

2.99

InMotion Hosting
UltraStack servers, US-based customer support
US

$

3.29
FAQ
Which host is better – InterServer or Kinsta?
In performance, ease of use, and customer support, Kinsta is better than InterServer.
By far
. In fact, Kinsta is the fastest managed WordPress host
 that we've tested
, and the best part about it is that all performance and security optimizations are done for you.
That said, Kinsta's cheapest plan
is roughly six times more expensive than InterServer's Standard shared hosting package, and it allows only a single website.
InterServer's Standard plan offers unlimited storage space and bandwidth, and it can host an unlimited number of websites. If you want to host several small sites or a small-business landing page, InterServer just makes more sense.
What is InterServer's refund policy?
InterServer has a standard 30-day money-back guarantee on its shared hosting plans, so you can apply for a full refund during the first month of your contract. VPS and dedicated servers do not come with a money-back guarantee, but these are paid on a month-to-month basis, and you can cancel your subscription at any time. For more information on InterServer's pricing and refund policy, head over to our in-depth InterServer review.
What are the best free web hosting alternatives to InterServer?
There are lots of free hosts out there, but not many of them are actually suitable for a professional website. For instance, Hostinger's free hosting platform, 000webhost.com, won't put any ads on your website, but it'll only give you 300MB of storage, 3GB of bandwidth, and no SSL certificate. That's enough to get you started with a small landing page, but too little for a proper website. For reliable free web hosting alternatives to InterServer, check out our list of the best free web hosting services.