GoDaddy claims it's for everybody and every budget, but pleasing everyone on every aspect of website hosting just isn't possible – you end up with mediocre service that isn't great for anything.
That's why in this battle of InMotion Hosting vs GoDaddy, I think InMotion Hosting is the much better bet. Its websites load faster, it offers free features that GoDaddy charges for, and it's just a better value all around (click here to see InMotion Hosting's best plans).
For this comparison, I tested both hosts by signing up for their services myself, using online tools to evaluate their speed and reliability, and even trying out their customer support. Ready to discover the results? Let's dive in.
Performance
InMotion Hosting's Speed Enhancements Leave GoDaddy in the Dust
Despite GoDaddy claiming on its web hosting page to be "the world's #1 web host" with "industry-leading load times," when I tested the actual performance of GoDaddy-hosted websites, the results were disappointing. By comparison, InMotion Hosting delivered faster server response times, thanks to its speed-enhancing features (which I'll explain more below).
When testing web hosts, I either use my own test websites or select websites that are configured similarly in terms of WordPress plugins and content. With my test websites, I utilize the speed-boosting tools the hosts provide, such as caching tools and CDNs, to demonstrate how these value-added features can make a big difference for page loading speeds.
I used the GTmetrix tool to look at how quickly webpages loaded for sites hosted on GoDaddy's and InMotion Hosting's shared hosting servers. You can see the results in the screenshots: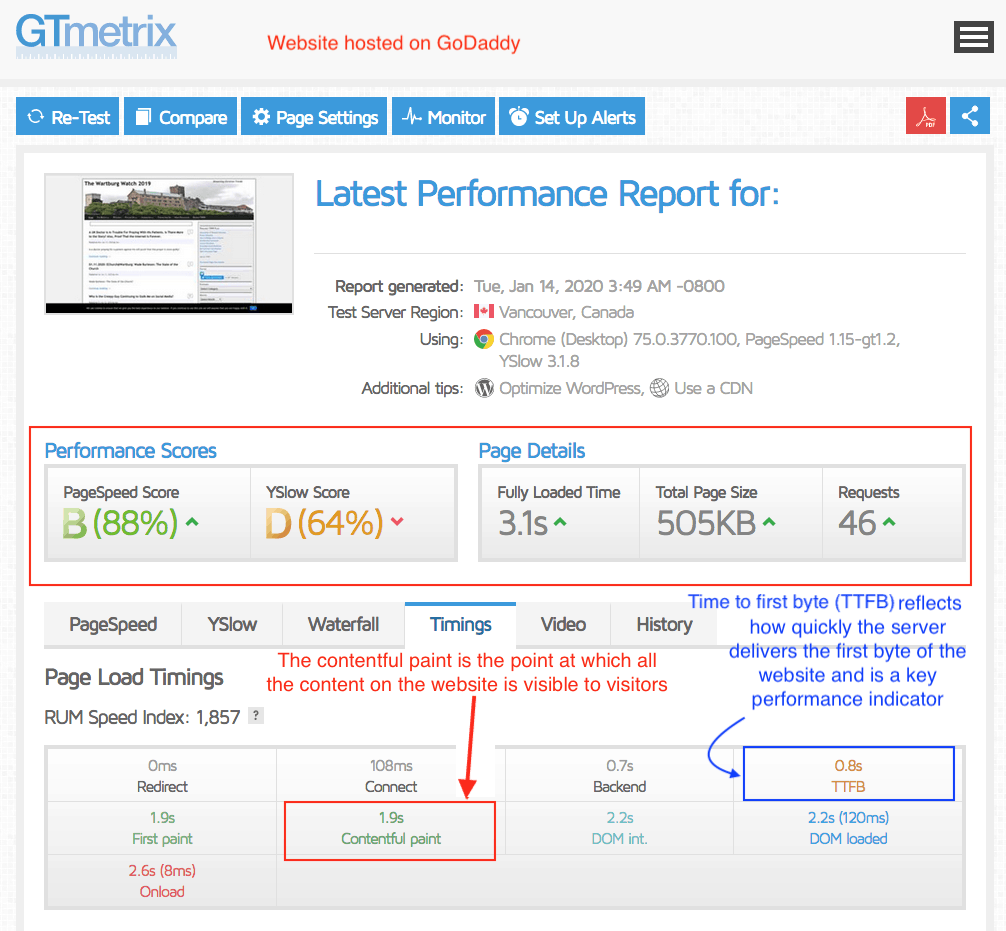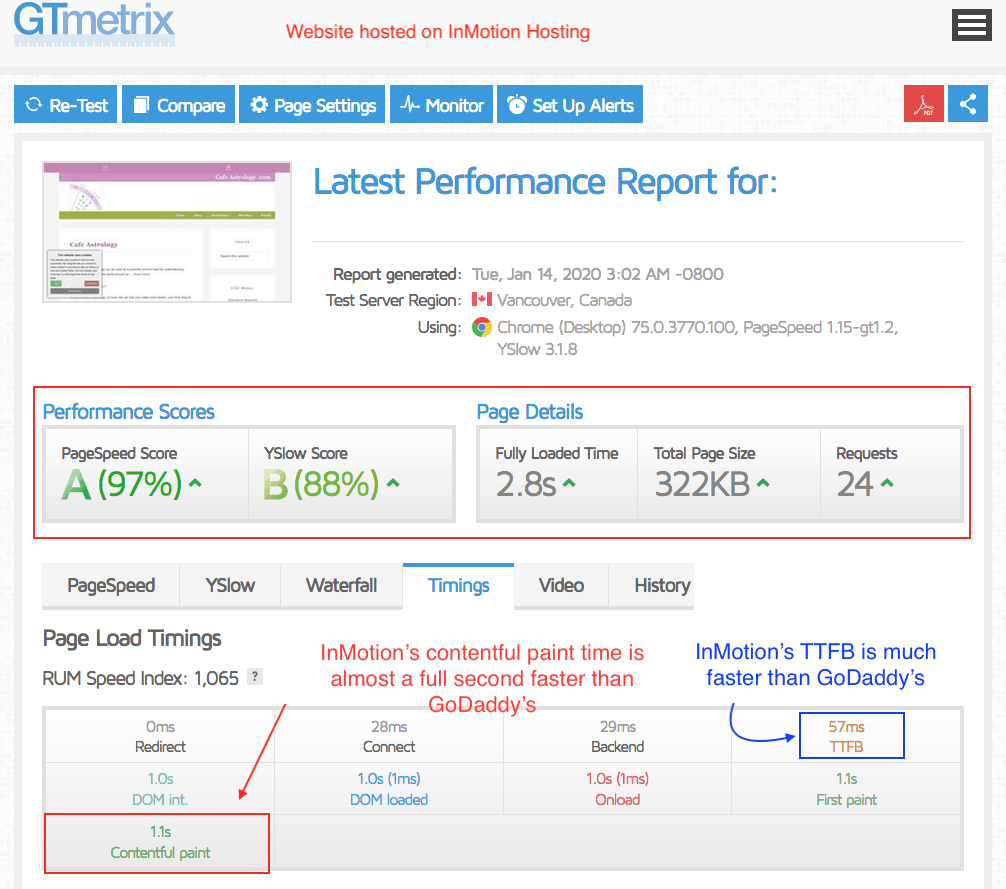 Although the fully loaded time for both GoDaddy and InMotion Hosting isn't hugely different (3.1s on GoDaddy vs 2.8s on InMotion Hosting), there are some interesting differences when you look at the Timings data GTmetrix provides.
First, the time to first byte (TTFB) speed is drastically different. TTFB reflects the time it takes from the moment a visitor's browser requests your webpage to the moment the first byte of data is received – a good indicator of the server's speed. The InMotion Hosting-hosted website had a TTFB of 57ms (0.057s) compared to 800ms (0.8s) for the GoDaddy-hosted website.
Another important factor is the "contentful paint" speed. Contentful paint is the time it takes for content to be displayed in a visitor's browser (i.e., when the content is loaded but things like JavaScript may still make requests until the page can be considered fully loaded). For the GoDaddy-hosted website, the contentful paint figure is almost a full second (0.8s) longer than for the InMotion Hosting-hosted website.
The reason for the big difference in performance scores (as you can see in the GTmetrix data) is likely because of InMotion Hosting's speed-enhancements, which it calls Max Speed Zone™. This is a combination of multiple data centers (you can choose Washington DC or Los Angeles), premium bandwidth providers, and advanced routing technology designed to produce fast page loading speeds and a better experience for your visitors. Both data centers sit directly on internet exchange points (IXP).
GoDaddy doesn't offer these features, and according to one of the support agents, there are no plans to introduce them – so as more web hosts add speed-boosting optimization on their servers, GoDaddy is left further behind.
Both GoDaddy and InMotion Hosting have 99.99% uptime guarantees. They also have a history of meeting those targets, with average uptime scores of 99.97% for both, equal to less than three hours downtime in a year. For reliability, the two hosts are equal.
And the winner is: InMotion Hosting. Speed optimization features, including the option to choose the location of your server, ensures that your website will load quickly, giving your visitors a better experience and reducing the risk of visitors clicking away due to long page loading times.
For a full list of features, read our in-depth InMotion Hosting review.
Plans and Pricing
GoDaddy Seems to Be Cheaper – But InMotion Hosting Offers Better Value Overall
Taking a glance at the pricing pages for GoDaddy and InMotion Hosting, GoDaddy's hosting plans seem to be a little cheaper – but you could be in for a shock when you get to checkout. You only get the price on the sales page if you pay for three years upfront. If you would rather not pay for such a long period, you can pay quarterly (every three months), but the equivalent monthly cost is almost double what's advertised.
InMotion Hosting's pricing also varies depending on the length of the plan, but it offers one-month, one-year or two-year and three-year hosting plans. Its two-year plans work out to be marginally cheaper than GoDaddy's two-year plans.
GoDaddy has four shared hosting plans – Economy, Deluxe, Ultimate, and Maximum. The Economy plan only allows you to create a single website and limits storage to 100 GB.
InMotion Hosting offers four shared hosting plans – Lite, Launch, Power, and Pro. The Power plan starts at just $4.99/mo but it allows you to create 50 websites and offers 100GB storage, which means it gives you more value than the comparable GoDaddy plan.
You can create WordPress websites on all shared hosting plans, but GoDaddy and InMotion Hosting both offer WordPress hosting plans which offer more specialized features. InMotion Hosting's WordPress hosting features include automatic installation of WordPress, automatic updates, and a staging area. GoDaddy includes automatic backups and daily malware scanning.
In addition to shared and WordPress hosting, GoDaddy and InMotion Hosting both offer VPS (virtual private server) hosting and dedicated servers.
With both hosts, you'll face price increases when your initial term is over:
With GoDaddy, the renewal price is up to 50% higher than the initial term (depending on the length of your initial term).
With InMotion Hosting, you'll pay around 20% more when you renew (and your price will remain the same if you choose a one-year term).
Both GoDaddy and InMotion Hosting have money-back guarantees – GoDaddy's is 30 days, while InMotion Hosting's is an exceptionally generous 90 days, no questions asked.
And the winner is: InMotion Hosting. This is a close round, but ultimately InMotion Hosting offers better overall value as well as lower renewal prices, and its 90-day money-back guarantee is one of the most generous on the market.
Features
InMotion Hosting Offers Free Extras; GoDaddy Charges You Extra
I want to draw your attention to some of GoDaddy and InMotion Hosting's biggest differences in features:
Free SSL. With InMotion Hosting, you get a free SSL certificate on all plans, while you only get a free SSL with GoDaddy for the first year on Ultimate plan, or for the life of the plan on Maximum. If you choose the Economy or Deluxe plans, you have to pay extra for an SSL certificate.
One-click app installation. GoDaddy offers 125 one-click applications. InMotion Hosting supports over 400, and you can opt to have your chosen app (e.g., WordPress) installed for you during the checkout process.
Website builders and other add-ons. GoDaddy doesn't really have any extras to boast about. With InMotion Hosting, however, you can take advantage of marketing tools (including free advertising credits), an advanced website builder, e-commerce-level security, and customer management tools. GoDaddy offers a separate website builder you can use to build an online store, so those features aren't included in its shared hosting plans.
Storage restrictions. One important thing to note about GoDaddy is that the terms "unlimited" and "unmetered" are not entirely accurate. The hosting agreement notes that your website may be restricted or suspended if you are using too much bandwidth or disk space and your usage puts the stability and performance of its servers at risk. There are reports of websites being suspended without warning.
| | | |
| --- | --- | --- |
| | GoDaddy | InMotion Hosting |
| Storage Space | 100 GB to unlimited (depending on the plan) | 10 GB to 200 GB |
| Bandwidth | Unmetered | Unlimited |
| Free Domain Name | Yes, for the first year on annual plans | Yes, for the first year on all plans |
| Free SSL | Free GoDaddy SSL certificate on selected plans | Free (forever) Let's Encrypt SSL on all plans |
| Free Website Migrations | No | Yes |
| Backups | Not included – available for an additional monthly fee | Backup Manager Available |
| One-Click App Installation | 125+ applications | 400+ applications |
| cPanel | Yes | Yes |
| Email Accounts | 1 free Office365 email address for the first year | 1 to Unlimited |
| Free Website Builder | Separate website builder hosting packages | Yes |
| SSH Access | Yes | Yes |
| PHP 7 | Yes, but must be requested | Yes |
And the winner is: InMotion Hosting. InMotion Hosting offers far more features, giving you everything you need to get started with your new website immediately.
To see if GoDaddy is still worth considering, check out our full GoDaddy review.
Security
GoDaddy Makes You Pay for Security – InMotion Hosting Protects You for Free
The security of your website is vital, but many hosting companies seem to see this as a potential way to make more money. So instead of including the high levels of security you need, they tend to charge you extra for it. GoDaddy is guilty of this tactic and even automatically selects the backup and basic security add-on in the checkout process.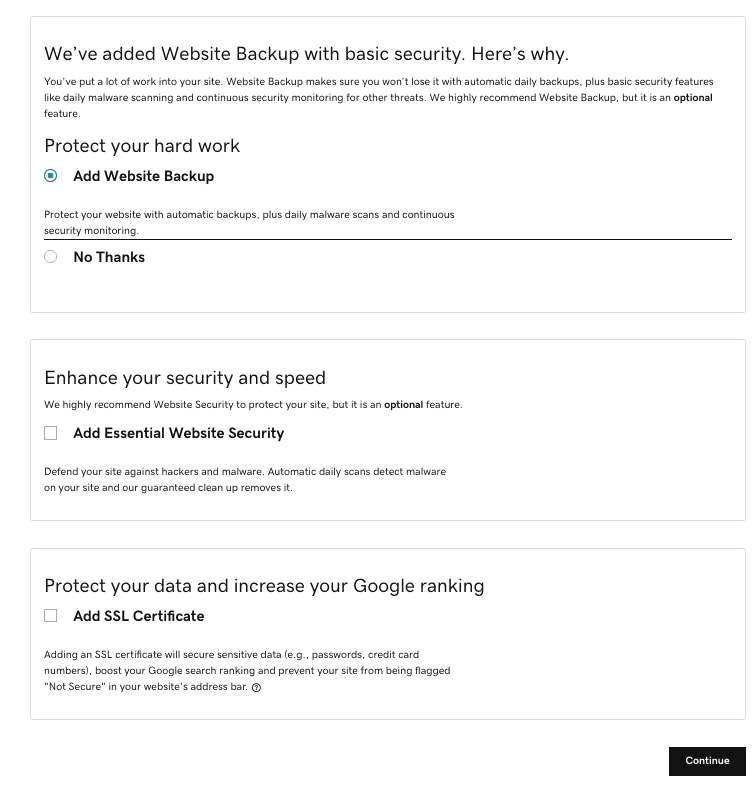 Adding both Website Backup and Essential Website Security to your hosting plan will essentially double your monthly cost – and if you add the SSL certificate, you'll be paying three times what the sales page states, or even more if you choose a shorter term.
InMotion Hosting includes its Website Security Suite for free. It protects you from hacking attempts, malicious traffic, malware, and DDoS (distributed denial of service) attacks. Weekly automatic backups are included, but you have to pay extra for the full features of the backup manager. This, however, still costs less than the GoDaddy's Website Backup add-on.
And the winner is: InMotion Hosting. Essential security shouldn't be a money-making opportunity. Sure, you have to pay more if you want daily backups, but do you really need to back up your website every day?
Support
GoDaddy's Support Is Minimal;  InMotion Hosting Is Quick to Fix Problems
Although customer support is less important (at least to me) than speed and security, it's still something that needs to be investigated. You don't want to sign up for a hosting plan to find that the support is inadequate – especially if you're new to hosting and might have questions.
GoDaddy's support is confusing – at least when it comes to understanding exactly when it's available. If you're in the US, support is 24/7 via live chat and phone, but if you're anywhere else in the world, it's not so simple. You have to check the Global Support page to find out when (and how) you can get help. For example, I'm in the UK, so live chat is only available to me Monday through Friday, all day, but I can get phone support 24/7.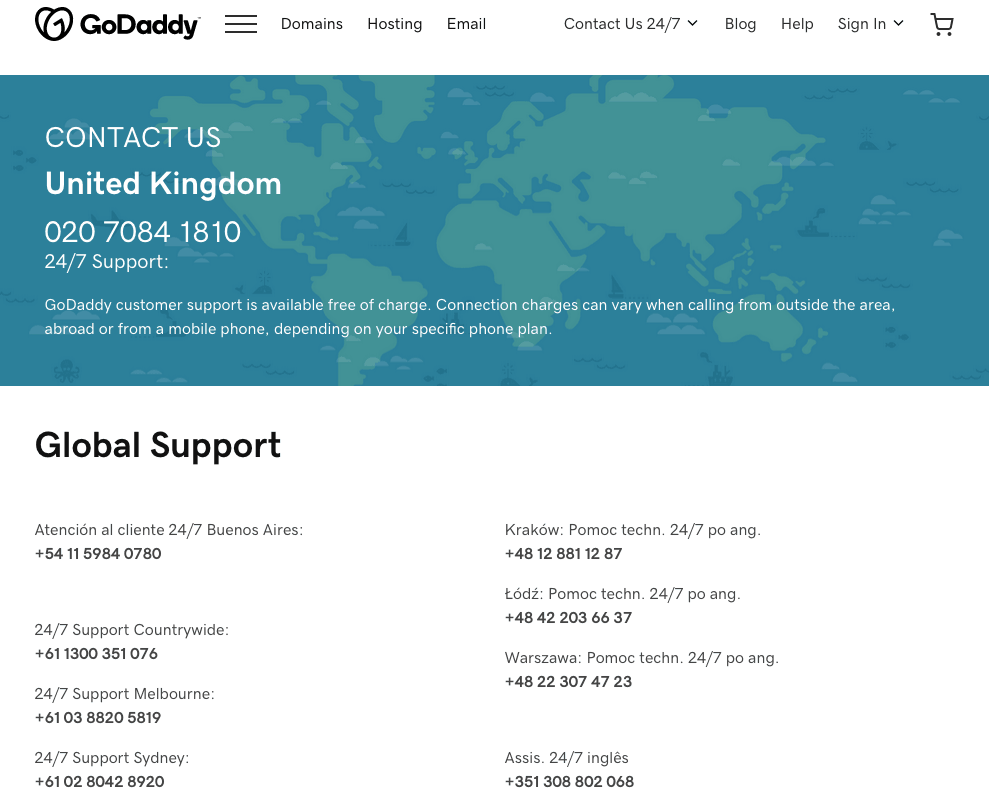 I tested out the live chat support with GoDaddy, and while connection times have improved since the last time I tried it out, my overall experience wasn't great. My questions were answered, but rather than helping me resolve an issue with a slow website, I was just given a link to a support article that didn't really resolve the problem.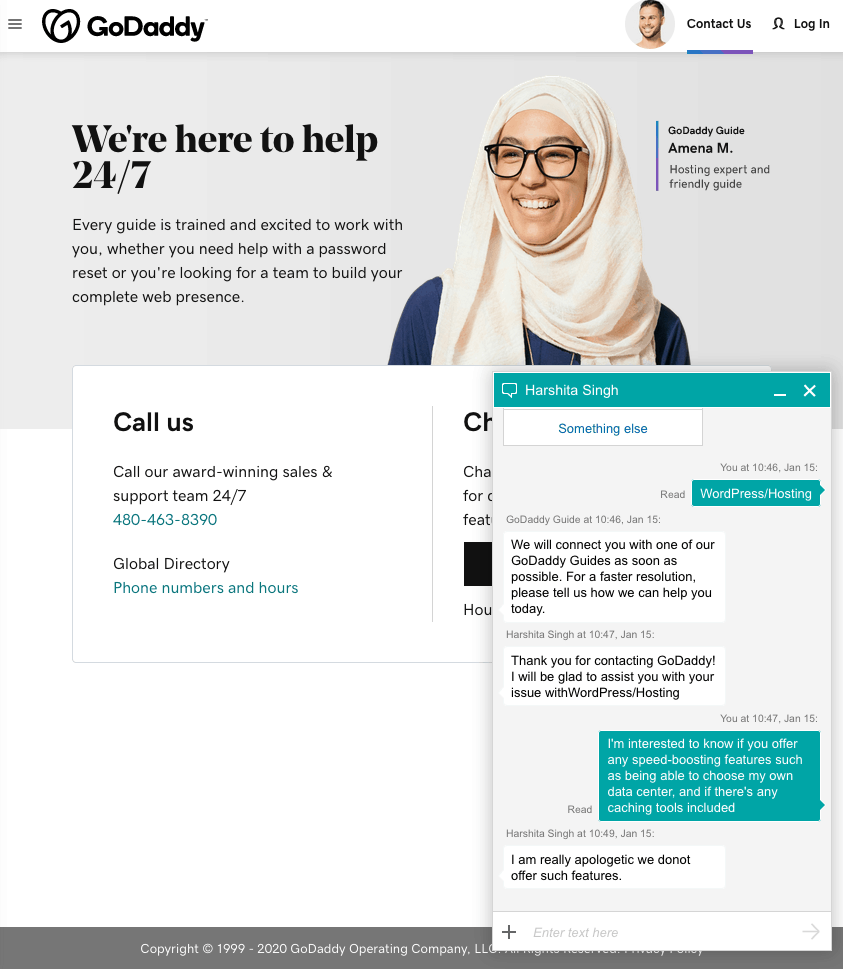 InMotion Hosting offers U.S.-based support via live chat, phone, and ticket/email. Support is available 24/7/365, and my experience with the live chat agent was much better than my experience with GoDaddy. I was connected within seconds, and while the support agent initially offered me a guide to installing the free SSL on my website, when I asked for additional help, she offered to install it for me.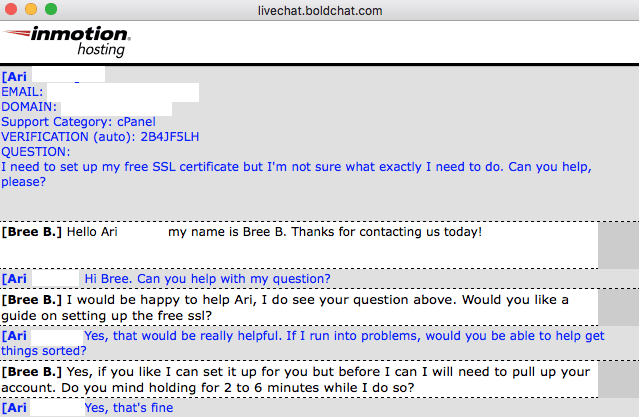 And the winner is: InMotion Hosting. Not only is support available 24/7/365 worldwide, you also have more options for contacting them. Plus, my experience with InMotion Hosting's support team was much more positive.
GoDaddy Simply Can't Compete with InMotion Hosting
It's rare for one host to win every round in these kinds of comparisons – but InMotion Hosting really is that much better than GoDaddy. If you're looking for shared hosting that won't let you down, choose InMotion Hosting, because it's superior in all aspects. It even made our list of the top 10 hosting providers.
InMotion Hosting's shared hosting is suitable for all kinds of websites – from blogs to online stores – and if you have a really large website or your site is growing faster than you expected, you can easily upgrade to VPS hosting.
Performance
Page loading speeds aren't terrible, but GoDaddy lacks any speed-boosting features
InMotion Hosting offers a range of speed enhancements called Max Speed Zones™, which make your pages load faster and give your visitors a better experience
Price
Advertised prices can be misleading:  you only get the discounted rate when you pay for three years upfront – and your renewal prices will be higher
Plans look more expensive than GoDaddy's, but you get better value
and support 
– plus your renewal prices won't be too much higher than your initial rate
Features
Plans include most of the standard features you'd expect with shared hosting, but you don't get a free SSL on lower-priced plans
Plans include free SSL certificates and value-added extras such as marketing credits and the BoldGrid website builder
Security
Website security is an add-on
A range of security features included, such as malware scanning, DDoS protection, and protection against malicious traffic
Support
Support has improved, with shorter waiting times, but it's not 24/7 worldwide – some countries will only get support Monday through Friday
24/7/
365 U.S.-based
support via live chat, phone, and ticket – and the support agents are knowledgeable and resolve issues quickly
FAQ
1. Is InMotion Hosting good?
InMotion Hosting's web hosting service is one of the best options out there. Whether you're looking for specialized InMotion Hosting WordPress hosting plans, VPS solutions, dedicated servers, or affordable shared resources, your website will benefit from industry-leading performance, security, and support.
2. How much is hosting on GoDaddy?
GoDaddy is known for having some of the lowest web hosting prices. Beware, though: The price you sign up for is only valid for a limited time and renewal prices are usually higher. 

In addition, GoDaddy will try to get you to buy add-ons, resource upgrades, and various features. Even at the low entry point, you might not save money with GoDaddy's hosting plans, so be sure to read the fine print.

To find out which host is the best for you, check our list of the top web hosting services.
3. Does GoDaddy use SSD?
Unlike InMotion Hosting and many other web hosting companies, GoDaddy has not upgraded all of its data centers to state-of-the-art, responsive SSD storage.
GoDaddy's VPS and Managed WordPress solutions all run on SSDs, and you can upgrade any dedicated server you purchase to run on SSD, but they're neither standard, nor cheap.
GoDaddy's shared plans (with the exception of Managed WordPress hosting) do not run on SSD.
Click here for a list of the best VPS hosting services.
4. Where is my cPanel in GoDaddy?
To access your GoDaddy cPanel, you have to log into your GoDaddy account, go to the product page, and then click the
Manage
button under the
Web Hosting
dropdown.