GoDaddy claims it's for everybody and every budget, but pleasing everyone on every aspect of website hosting just isn't possible – you end up with mediocre service that isn't great for anything.
That's why in this battle of InMotion vs GoDaddy, I think InMotion Hosting is the much better bet. Its websites load faster, it offers free features that GoDaddy charges for, and it's just a better value all around (click here to see InMotion's best plans).
For this comparison, I tested both hosts by signing up for their services myself, using online tools to evaluate their speed and reliability, and even trying out their customer support. Ready to discover the results? Let's dive in.
Performance
InMotion's Speed Enhancements Leave GoDaddy in the Dust
Despite GoDaddy claiming on its web hosting page to be "the world's #1 web host" with "industry-leading load times," when I tested the actual performance of GoDaddy-hosted websites, the results were disappointing. By comparison, InMotion delivered faster server response times, thanks to its speed-enhancing features (which I'll explain more below).
When testing web hosts, I either use my own test websites or select websites that are configured similarly in terms of WordPress plugins and content. With my test websites, I utilize the speed-boosting tools the hosts provide, such as caching tools and CDNs, to demonstrate how these value-added features can make a big difference for page loading speeds.
I used the GTmetrix tool to look at how quickly webpages loaded for sites hosted on GoDaddy's and InMotion's shared hosting servers. You can see the results in the screenshots: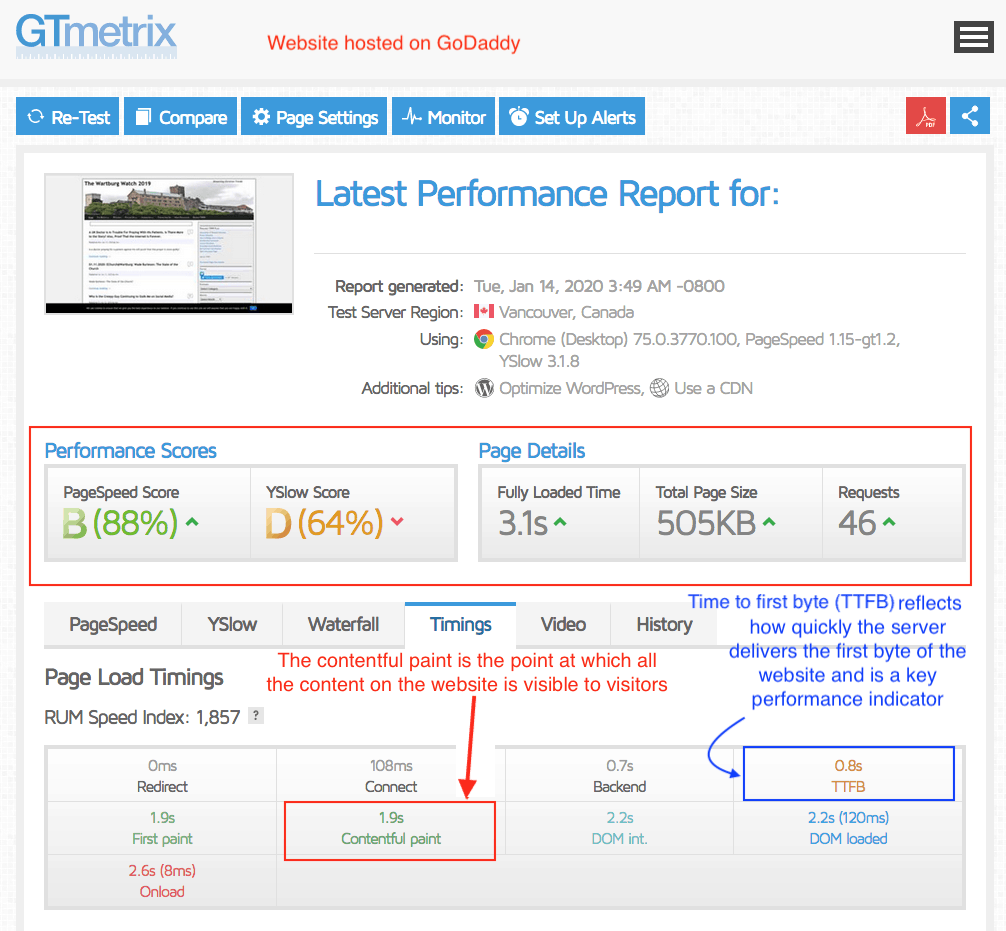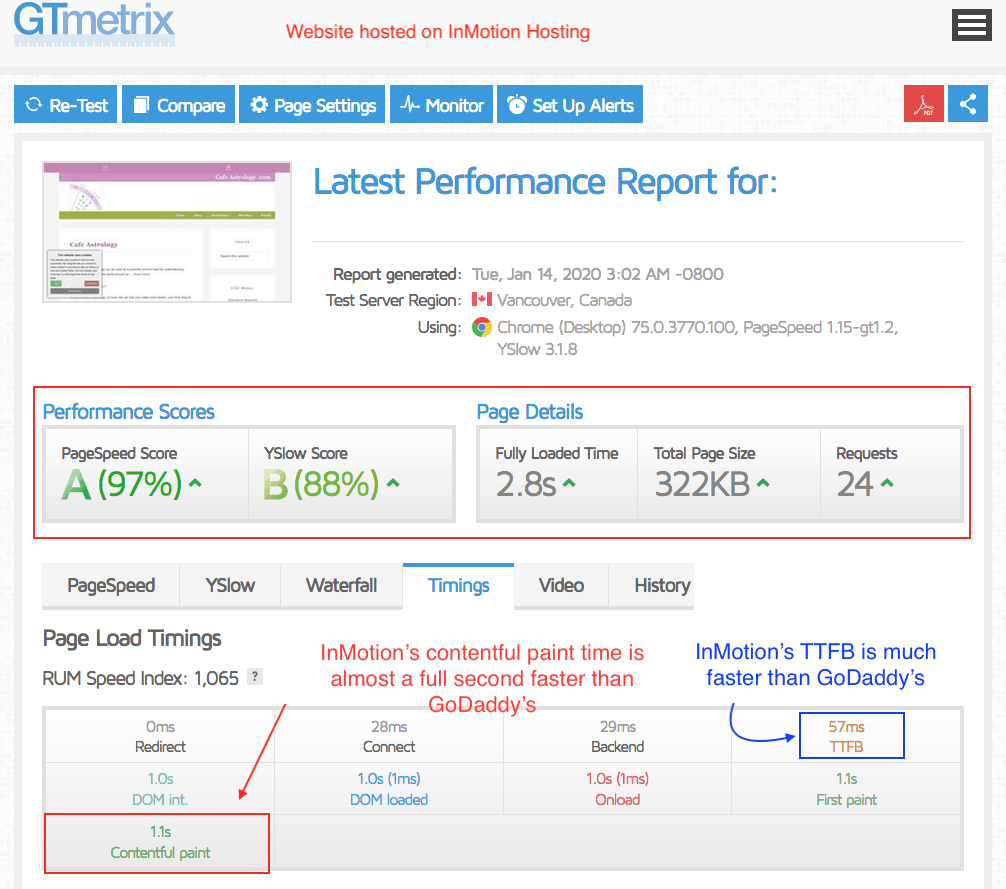 Although the fully loaded time for both GoDaddy and InMotion isn't hugely different (3.1s on GoDaddy vs 2.8s on InMotion), there are some interesting differences when you look at the Timings data GTmetrix provides.
First, the time to first byte (TTFB) speed is drastically different. TTFB reflects the time it takes from the moment a visitor's browser requests your webpage to the moment the first byte of data is received – a good indicator of the server's speed. The InMotion-hosted website had a TTFB of 57ms (0.057s) compared to 800ms (0.8s) for the GoDaddy-hosted website.
Another important factor is the "contentful paint" speed. Contentful paint is the time it takes for content to be displayed in a visitor's browser (i.e., when the content is loaded but things like JavaScript may still make requests until the page can be considered fully loaded). For the GoDaddy-hosted website, the contentful paint figure is almost a full second (0.8s) longer than for the InMotion-hosted website.
The reason for the big difference in performance scores (as you can see in the GTmetrix data) is likely because of InMotion's speed-enhancements, which it calls Max Speed Zone™. This is a combination of multiple data centers (you can choose East Coast US or West Coast US), premium bandwidth providers, and advanced routing technology designed to produce fast page loading speeds and a better experience for your visitors.
GoDaddy doesn't offer these features, and according to one of the support agents, there are no plans to introduce them – so as more web hosts add speed-boosting optimization on their servers, GoDaddy is left further behind.
Both GoDaddy and InMotion have 99.9% uptime guarantees. They also have a history of meeting those targets, with average uptime scores of 99.97% for both, equal to less than three hours downtime in a year. For reliability, the two hosts are equal.
And the winner is: InMotion Hosting. Speed optimization features, including the option to choose the location of your server, ensures that your website will load quickly, giving your visitors a better experience and reducing the risk of visitors clicking away due to long page loading times.
For a full list of features, read our in-depth InMotion Hosting review.
Plans and Pricing
GoDaddy Seems to Be Cheaper – But InMotion Offers Better Value Overall
Taking a glance at the pricing pages for GoDaddy and InMotion, GoDaddy's hosting plans seem to be a little cheaper – but you could be in for a shock when you get to checkout. You only get the price on the sales page if you pay for three years upfront. If you would rather not pay for such a long period, you can pay quarterly (every three months), but the equivalent monthly cost is almost double what's advertised.
InMotion's pricing also varies depending on the length of the plan, but it only offers one- or two-year hosting plans. Its two-year plans work out to be marginally cheaper than GoDaddy's two-year plans.
GoDaddy has four shared hosting plans – Economy, Deluxe, Ultimate, and Maximum. The Economy plan only allows you to create a single website and limits storage to 100 GB.
InMotion offers three shared hosting plans – Launch, Power, and Pro. The Launch plan allows you to create two websites and offers unlimited storage, which means it gives you more value than the comparable GoDaddy plan.
You can create WordPress websites on all shared hosting plans, but GoDaddy and InMotion both offer WordPress hosting plans which offer more specialized features. InMotion's WordPress hosting features include automatic installation of WordPress, automatic updates, and a staging area. GoDaddy includes automatic backups and daily malware scanning.
In addition to shared and WordPress hosting, GoDaddy and InMotion both offer VPS (virtual private server) hosting and dedicated servers.
With both hosts, you'll face price increases when your initial term is over:
With GoDaddy, the renewal price is up to 50% higher than the initial term (depending on the length of your initial term).
With InMotion, you'll pay around 20% more when you renew (and your price will remain the same if you choose a one-year term).
Both GoDaddy and InMotion have money-back guarantees – GoDaddy's is 30 days, while InMotion's is an exceptionally generous 90 days, no questions asked.
And the winner is: InMotion Hosting. This is a close round, but ultimately InMotion offers better overall value as well as lower renewal prices, and its 90-day money-back guarantee is one of the most generous on the market.