GoDaddy is one of the biggest names in web hosting, so you might assume it offers good service. InMotion Hosting isn't nearly as popular. Can it compete with GoDaddy? During my time testing hosting providers,
I've come to realize that a host's popularity is often more reflective of the quality of its marketing rather than its quality of service
. Unfortunately, GoDaddy is a prime example.
GoDaddy charges a premium for an SSL certificate – an essential piece of security –
while InMotion Hosting includes one for free. I also found GoDaddy's support service to be very unhelpful, unlike InMotion Hosting's detailed and knowledgeable support team. With all this in mind,
I found InMotion Hosting to be the better choice
 – but that's only the short of it. I compared both hosts on performance, support, and more. Read on for the juicy details!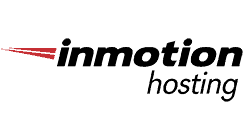 Save up to 75 % on your InMotion Hosting plan!
Limited-time offer - Don't miss it!
42 users used this coupon!
1. Plans and Pricing
InMotion Hosting Offers Superior Value
GoDaddy and InMotion Hosting offer shared, WordPress-specific, VPS, and dedicated server hosting. However,
both providers specialize primarily in cheap shared hosting.
They offer major savings on these plans through discounts for new customers. These disappear upon renewal, so be aware that the prices of both hosts will rise significantly down the line. For the best deal, you'd have to sign up for three years in advance with GoDaddy. On the other hand, InMotion Hosting offers its best prices with a biennial plan.
With these discounts, both hosts' entry-level deals incur the same monthly fee
– InMotion Hosting just requires a shorter commitment.
GoDaddy Hosting Web Hosting
A free domain name is included with some hosting plans from GoDaddy Hosting
InMotion Hosting Web Hosting
While the pricing is similar,
InMotion Hosting certainly offers better value
.
The basic Launch plan includes an SSL certificate for free.
With GoDaddy, an SSL certificate costs extra
– you'd either have to purchase a higher-tier plan or buy the Website Security add-on for an ongoing monthly fee. InMotion Hosting offers a 90-day money-back guarantee. GoDaddy offers a 30-day money-back guarantee with annual or longer commitments, while shorter plans are only protected for 48 hours. All in all,
InMotion Hosting offers a much better deal for your money, but be careful – some premium add-ons may be pre-selected during the checkout process.
2. Support
GoDaddy's Agents Lack Critical Knowledge – InMotion Hosting's Agents Know Their Stuff
Both providers offer similar avenues of support.
GoDaddy and InMotion Hosting offer 24/7 live chat, phone support, a community forum, and a knowledge base filled with guides and tutorials on the basics. InMotion Hosting also provides ticket support, if that's more your thing. However, I wasn't going to get an adequate sense of the actual support on offer without testing it myself. To that end, I decided to test both hosts' live chat platforms by asking some basic questions. I started with GoDaddy. Let me be really clear: this wasn't a good experience.
Just maintaining a connection with an agent was troublesome.
Sometimes I'd randomly disconnect and be thrown out of the chat. Other times, this would happen to the agent. It'd be quite comical if it didn't mean I'd have to rewrite my questions again and again. GoDaddy does not save your support interactions, so if you disconnect, you have to fully re-explain your issue to another agent. Which brings me to my next problem:
support agents seem to lack basic knowledge of GoDaddy's services
.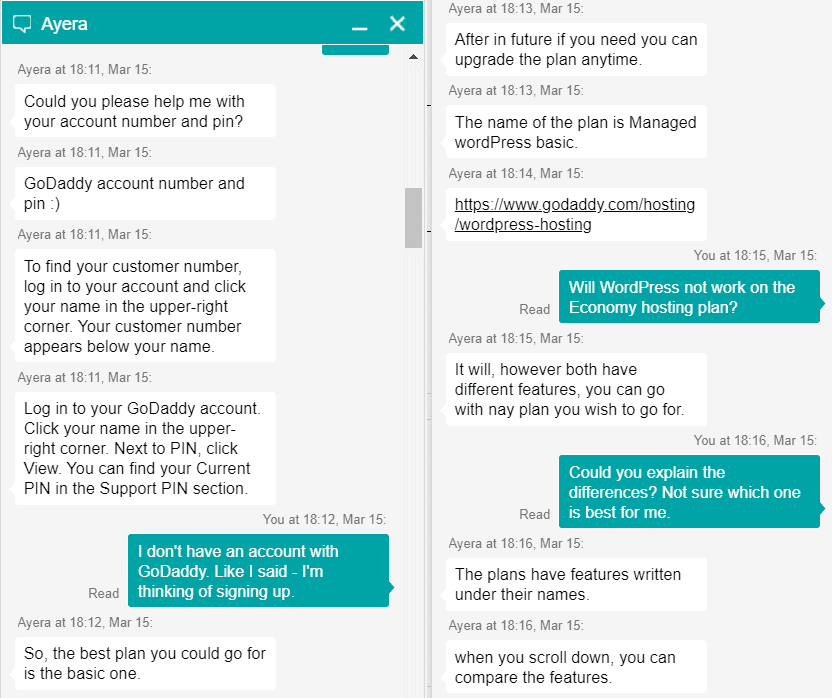 The agent began with rapid-fire, copy-paste responses into the chat window about how to provide my GoDaddy account number and PIN. But I didn't even have an account yet, as this was a pre-sales chat. When I told her this,
she tried to sell me the basic WordPress plan, without knowing any of my needs.
The funniest part was when I asked about the differences between the shared Economy plan and the basic WordPress plan.
She just replied that the features are listed under each plan on the website, and that I should compare them myself.
A truly pointless interaction. Next, I tested InMotion Hosting. My initial experiences with support were great.
The agent was completely honest about the scope of InMotion Hosting's performance and offered fast, detailed responses
to my questions.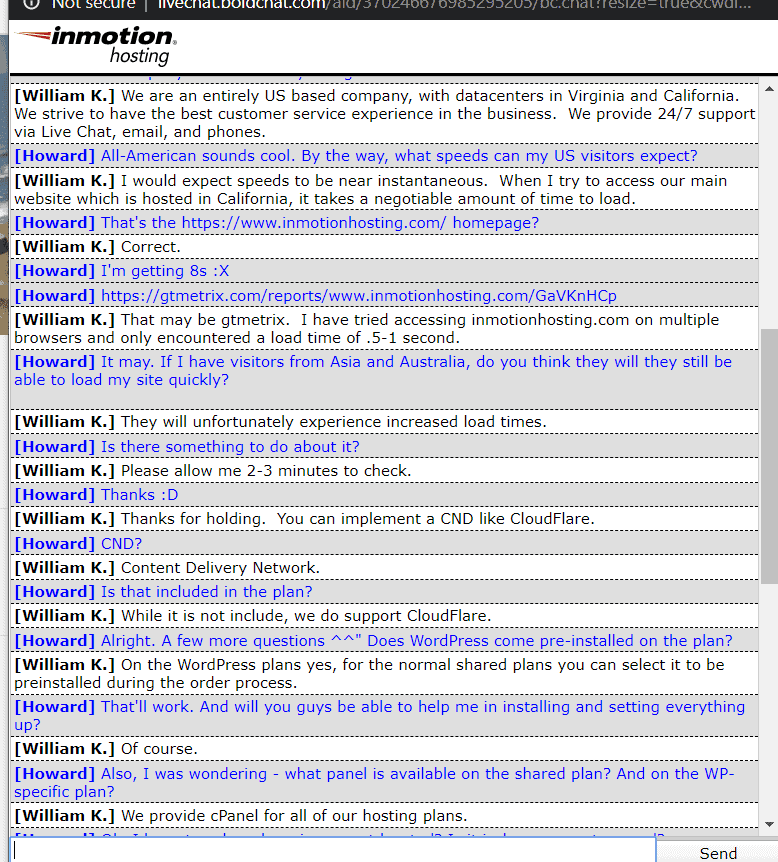 Sadly, as I moved from sales support to technical support, a big problem became apparent. On average,
I waited 30-40 minutes just to get a live chat support session started.
Worse still, once I connected, there was a delay between responses. I'd ask a question, and it'd take a few minutes to hear the answer.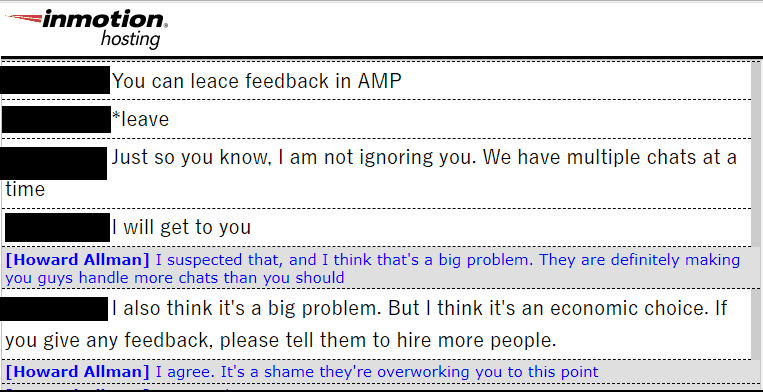 When I complained about the slow response times, the agent agreed with me. They told me that they have to handle multiple chats at once, and even stated that they're understaffed and overworked. All in all, I had problems with support from both hosts. However, I'd still say
InMotion Hosting provides better service.
You'll get helpful support at the very least, which is more than I can say about GoDaddy.
3. Features
GoDaddy Paywalls the Basics – InMotion Hosting Offers Them for Free
Unfortunately, GoDaddy's nasty habit of withholding basic features to sell as premium add-ons doesn't stop at security.
You also don't get any permanent email accounts unless you pay extra.
You do get a trial Microsoft 365 email account for a year, after which it'll automatically renew at full price. In comparison,
InMotion Hosting gives you 10 email accounts with its basic shared hosting plan.
It also offers a free website migration service, while GoDaddy charges extra for this. If you'd like to migrate your site for free with GoDaddy, you'll have to do it manually.
GoDaddy offers more storage space than InMotion Hosting,
on all plans. GoDaddy's cheap Economy plan features twice as much storage than InMotion Hosting's similarly priced Launch plan. Upgrading to the Deluxe plan with GoDaddy nets you unlimited storage – InMotion Hosting doesn't offer this in any plan.
InMotion Hosting offers $150 in advertising credits
with every plan, which can provide a small boost to your site's discoverability. GoDaddy offers nothing of the sort. Overall, InMotion Hosting may offer less storage to work with, but it beats GoDaddy in every other respect.
| | | |
| --- | --- | --- |
| | GoDaddy | InMotion Hosting |
| Hosting types | Shared hosting, WordPress, VPS, and dedicated servers | Shared hosting, WordPress,  VPS, and dedicated servers |
| Free domain | ✔ | ✔ |
| Free SSL certificate | ✔ | ✔ |
| Disk space | 100GB – Unlimited | 50GB – 200GB |
| Bandwidth | Unmetered | Unlimited |
| Automatic backups | ✘ | ✘ |
| Control panel | cPanel | cPanel |
| Email accounts | 1 (one-year free trial) | 10 – unlimited |
| Free CDN | ✘ | ✘ |
| Free site migration | ✘ | ✔ |
| Money-back guarantee | 30 days with an annual plan or longer; 48 hours for shorter plans | 90 days |
4. Performance
GoDaddy's WordPress Plans Speed Past InMotion Hosting
Next, I compared speed and reliability. Strangely,
GoDaddy is vague about the locations of its data centers.
All I could find is that it has data centers in America, Europe, and Asia. The exact number is unknown. Still,
this is better coverage than InMotion Hosting, which offers only two data centers on either coast of the US.
GoDaddy's shared hosting plans do not advertise any speed optimizations. Your choice of plan determines the amount of CPU and RAM available to your site, so you can upgrade for better speeds. But that's pretty much it. Instead,
I'd recommend the WordPress plans for better performance
– these come at a slightly higher price, but with an optimized WordPress installation and access to a free CDN. All of
InMotion Hosting's shared plans use UltraStack
,
a proprietary system with an NGINX proxy to cache website content for faster delivery to your visitors. It also includes advanced compression optimizations that lead to faster speeds for first-time visitors. There's no CDN support, but you can get this by upgrading to
a WordPress plan
.
It's also worth noting that GoDaddy offers a 99.9% uptime guarantee.
If you experience lower uptime than this in any given month, you may be eligible for compensation via service credits.
InMotion Hosting doesn't appear to offer any general legal uptime guarantee
, except on Pro plans, where a "Pro Support SLA" guarantees 99.99% uptime
.
In our performance tests, GoDaddy's shared hosting plans delivered disappointingly slow loading speeds. However, its WordPress plans were much faster. Check out our
GoDaddy review
 to see complete results. InMotion Hosting did okay on our performance tests. It provided faster loading speeds than GoDaddy's shared hosting plans, but it was outperformed by GoDaddy's WordPress plans. Take a look at our
InMotion Hosting review
 for the details. All in all,
InMotion Hosting is the better performer with its budget plans.
5. Security
GoDaddy Lacks Free SSL on Basic Plans – InMotion Hosting Provides SSL on All Plans
As I've mentioned previously,
GoDaddy's basic Economy and Deluxe shared hosting plans don't include a free SSL certificate
– this is only offered with the much more expensive Maximum and Ultimate plans. If you're interested in obtaining an SSL certificate at a reasonable price through GoDaddy, you must acquire the Website Security add-on, which involves an ongoing fee. This add-on not only grants you an SSL certificate but also includes other vital security features such as a firewall and malware protection. However, GoDaddy doesn't leave you completely unprotected without the add-on.
Every plan benefits from 24/7 server monitoring by GoDaddy's security team,
who will attempt to put a stop to any malicious activity. You also get DDoS protection for free.
InMotion Hosting, like nearly every other host out there, offers an SSL certificate with every plan.
It also includes free hack and malware protection, so your site will be scanned regularly for potential vulnerabilities. There's also some basic DDoS protection to top it off. Overall, both of these hosts offer a similar level of security, but InMotion Hosting offers more for free, making it the winner of this round.
InMotion Hosting Is My Winner
While GoDaddy has higher potential for performance, InMotion Hosting is the better provider overall. With GoDaddy, many of the basics cost extra. Just migrating your site over could end up costing more.
InMotion Hosting includes everything you need to get started
without any nonsense. GoDaddy sometimes delivers better loading speed, though its performance is inconsistent. For great performance on a budget,
I'd instead recommend Hostinger, which offers superior performance to both InMotion Hosting and GoDaddy.
It also manages to be
far less expensive
 than either. Before you make your final decision, I'd recommend you take a look at our list of the
best web hosting services
. You may find an alternative to these two hosts that better suits your particular needs.
Plans and Pricing
30-day money-back guarantee with annual plans or longer
90-day money-back guarantee
Support
Support agents are unhelpful and lack key knowledge; live chats often disconnect without warning
Knowledgeable and helpful agents, but long waiting times and delays in chat responses
Features
No free email accounts or website migration service, but more storage space
Less storage, but it includes 10 free email accounts and a free hands-on migration service
Performance
Speedier performance with WordPress plans, but abysmal speeds with shared hosting
Faster than GoDaddy's shared hosting plans, but doesn't live up to GoDaddy's WordPress performance
Security
Basic security included, configurable security features cost extra
Comprehensive security suite is included for free
FAQ
Is GoDaddy a good host for WordPress?
GoDaddy's WordPress plans are better than its shared hosting plans, as loading speeds are higher and CDN access is included. However, there are better options for WordPress hosting – check out our list of the best managed WordPress hosts for our recommendations.
Is InMotion Hosting cheap?
InMotion Hosting offers affordable entry-level prices. That said, there are cheaper hosts out there, before you make a final decision, you may want to take a look at the latest deals on our coupon page.
Does GoDaddy use cPanel?
GoDaddy uses cPanel for its shared hosting and WordPress plans, but certain features may be limited or unavailable. For example, shared hosting plans do not have access to cPanel's webmail.
Is InMotion Hosting fast?
InMotion Hosting provided satisfactory performance during our tests. However, the speeds weren't anything special, and may prove insufficient for a large and popular site. Many of the hosts in our list of the best web hosting services outperformed InMotion Hosting.