Between Hostinger and OVHcloud, there's one clear winner. With Hostinger, you get super low prices. But that's not all that has me excited about this host. My recent tests revealed that Hostinger's loading and uptime speeds for its shared hosting service far exceed the sluggish speeds of OVHcloud. Hostinger's flawless and speedy performance was quite impressive since generally shared services aren't that fast. Not only is Hostinger the most affordable option between these two hosts (and one of the cheapest available), but it also offers a 30-day money-back guarantee. So you can test it out before committing. OVHcloud only offers partial refunds with some plans, which isn't inspiring if you decide it's not for you. When looking at these two hosts side by side, the combination of Hostinger's fast and stable performance and its unbeatable prices convinced me it is the best.
Click here to see Hostinger's latest deals
or keep reading to find out what makes Hostinger the winner of this comparison.
1. Plans and Pricing
OVHcloud Provides Cheaper Cloud Hosting Plans, but Hostinger Has More Options and a Money-Back Guarantee
OVHcloud offers shared hosting, cloud hosting, VPS, and dedicated server plans. Nice, right? Well, Hostinger raises the bar. It has a more extensive range of hosting plans, including the same options as OVHcloud and WordPress and Minecraft hosting. With the popularity of WordPress and the enhanced security and privacy of having your own Minecraft server, it's hard not to be excited about these additional hosting plans. Both hosts sell fully-managed, SSD-powered cloud hosting packages. Even though Hostinger has super attractive promotional discounts, its cloud hosting packages renew at a higher rate than OVHcloud. Nevertheless, you get more resources with Hostinger, and therefore, you get your money's worth.
A free domain name is included with some hosting plans from Hostinger
A free domain name is included with some hosting plans from OVHcloud
With OVHcloud, you can only subscribe on an annual basis. So what if you don't want to commit for an entire year? With Hostinger, you have several payment options. You can choose to subscribe monthly or annually, and even for terms of two, three, or four years. The longer your subscription, the more cost-effective it is. Both hosts provide a free domain name with cloud hosting plans for the first year. But that's where the similarities end. Hostinger has a 30-day money-back guarantee, whereas you only get partial refunds with OVHcloud, depending on your plan. It's also worth mentioning that
canceling an account with OVHcloud is a tough ride
. OVHcloud charges you to migrate your website, but Hostinger offers free website migration. Why pay extra when you don't have to? The winner? Hostinger. Although OVHcloud has cheaper cloud hosting prices, I chose Hostinger for offering more hosting options, a guaranteed 30-day refund policy, and flexible contract terms.
2. Features
Hostinger's Cloud Hosting Plans Come With More Resource Allocations
With Hostinger's fully managed cloud hosting, you get 200 GB to 300 GB of SSD storage, 3 GB to 16 GB of RAM, and 2 to 8 CPU cores. There are also unlimited websites with daily backups. All Hostinger plans include a free SSL certificate for life, a free Cloudflare CDN license, a free domain (with annual subscriptions for the first year), and a free dedicated IP. If you're familiar with cPanel, then you won't have any trouble using Hostinger's in-house hPanel control panel. I learned that I could install more than 100 popular CMS apps using the one-click application installer during my extensive testing. It couldn't have been easier! Similarly, OVHcloud has fully managed cloud hosting plans. However, it offers fewer resource allocations than Hostinger. The freebies you'll get with OVHcloud include a free domain (for the first year) and a free SSL certificate. See how Hostinger and OVHcloud differ in this side-by-side comparison table:
Hostinger
OVHcloud
Hosting Types
Shared, VPS (Linux and Windows), cloud hosting, WordPress hosting, email hosting, Minecraft hosting
Shared, VPS, cloud, dedicated servers
Free Domain

✔

(Depending on the plan)

✔

Free SSL Certificate

✔

✔

Disk Space
30 GB SSD – 300 GB SSD (depending on your plan)
40 GB – 640 GB (depending on the plan)
Bandwidth
Unlimited
Unlimited
Automatic Backups
Daily, weekly (depending on the plan)
Daily
Control Panel
hPanel
OVH control panel
Email Accounts
1 – unlimited
10 – 1,000 (depending on the plan)
Free CDN

✔

(Depending on the plan)

✘

Free Site Migration

✔

✘

Money-Back Guarantee
30 days
Depends on the plan
Hostinger's more generous resource allocations and free extras make it the winner of this round.
3. Performance
OVHcloud Can't Beat Hostinger's Nearly Flawless Performance
Hostinger provides SSD storage with all plans, whereas OVHcloud only offers SSD with some – the rest have HDD storage. SSD storage performs much faster than HDD in processing website data, reflecting on your website's overall performance. This draws me to Hostinger for its dependable and flawless performance with SSD storage. I was impressed by the global presence of both hosts. Hostinger has data centers in the U.K., Brazil, the U.S.A., Indonesia, Singapore, the Netherlands, and Lithuania. OVHcloud's data centers are in the U.K., the U.S.A., Singapore, the Netherlands, Australia, Poland, Germany, Italy, and Spain. Both hosts have standard 99.9% uptime guarantees and offer compensation should your site experience anything less. During my extensive testing, Hostinger had zero issues achieving an uptime of over 99.99%. And while OVHcloud also provides a 99.9% uptime guarantee, you may find it difficult to contact the customer support team for assistance if you have excessive downtime. Despite its more extensive server network, OVHcloud's performance test results were underwhelming compared to Hostinger.
See what went wrong in our expert OVHcloud review
. Hostinger, on the other hand, really delivered, achieving the highest performance scores out of all the shared hosting services our team tested. See the full test results in our
detailed Hostinger review
. Even though OVHcloud delivers decent performance, it doesn't come near Hostinger for speed or stability. The winner? Hostinger, hands down.
4. Security
Hostinger Offers More Reliable Security Features – OVHcloud Just Gives You the Basics
During my research, I found that you get DDoS protection with both hosts – and yes, you need this! However, Hostinger takes it up a notch. It implements DDoS protection on multiple layers, including Wanguard anti-DDoS traffic analyzer and intelligent firewall rules on switch level, and BitNinja or Immunity360 (Web Application Firewall) on each server. OVHcloud relies on VAC technology, which is a real-time traffic analyzer similar to Wanguard. Hostinger uses CloudLinux OS on all its servers, which prevents the websites on a shared server from influencing one another. For example, CloudLinux OS helps stop a vulnerability spreading from one site to another, making your shared hosting account as secure as a VPS or cloud-hosted site. At the same time, it ensures fair server resource allocation among all accounts. OVHcloud uses a similar (but less reliable system than CloudLinux) known as LXC technology (Linux Containers) to serve the same purpose. If automatic backups are a feature on your list of security requirements, then you'll be happy to know that both hosts provide them. Hostinger offers daily and weekly automatic backups depending on your plan, whereas OVHcloud offers automatic daily backups (up to 30 days). Both hosts take security seriously, but in my opinion, Hostinger is more proactive and smart about website security. Its multilayer security system earns it the winning title of this comparison.
5. Support
Hostinger Has More Responsive Customer Support – OVHcloud Makes You Wait
Both Hostinger and OVHcloud have highly informative and resourceful websites that include extensive knowledgebases and thorough FAQ sections. You can contact Hostinger's customer support via live chat or through a support ticket – I chose live chat. Even though it states that support is available 24/7, live chat can sometimes be unavailable, and you'll need to submit a ticket. Even when I connected to a live chat representative, the response took a while to come through.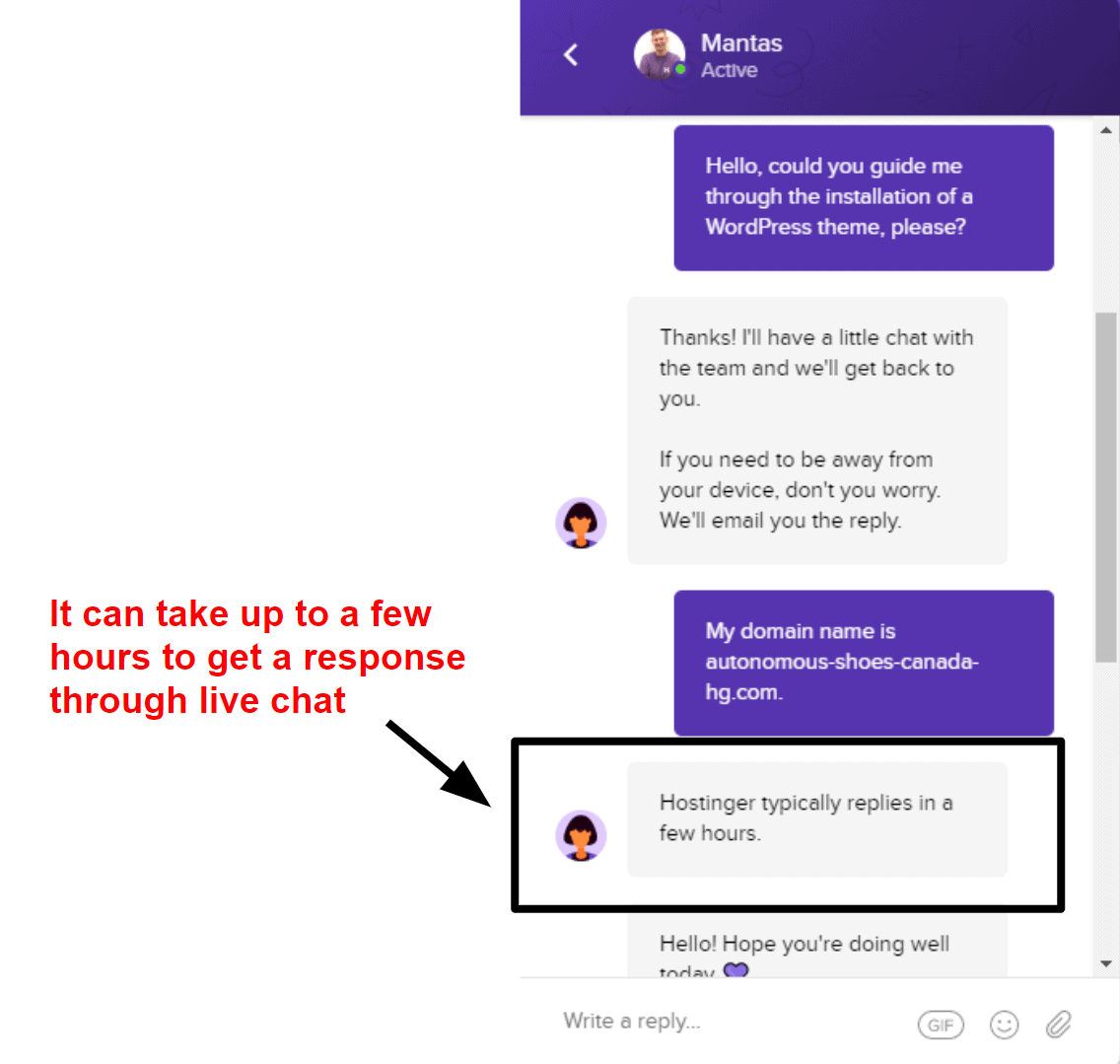 OVHcloud lacks a live chat option, requiring customers to reach out to support either by phone or through a support ticket. Upon submitting a ticket, it took the support team two days to notify me that they had transferred my ticket to the technical team. Subsequently, it took the technical team another day to respond to my query. In total, it took three days to address a simple question.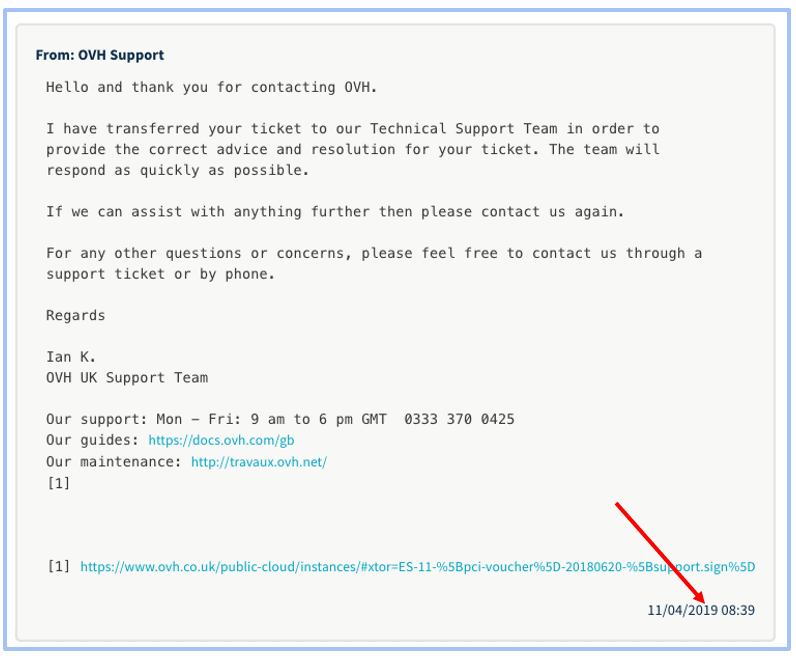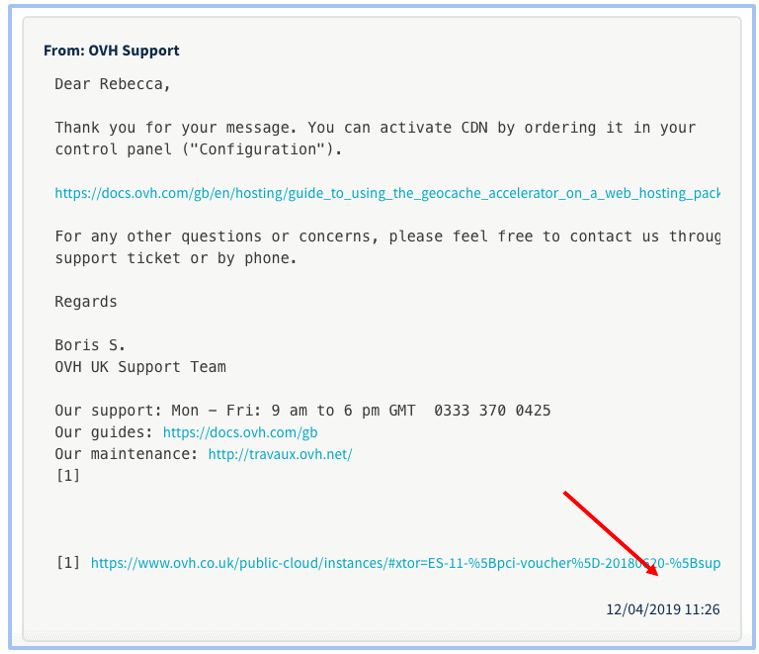 While neither Hostinger nor OVHcloud has speedy customer support, it took more time to get help from OVHcloud, making Hostinger the winner.
Hostinger Defeats OVHcloud in ALL Five Categories
I must say, this wasn't a tough battle, even though both Hostinger and OVHcloud are old players in the hosting industry. Each host offers feature-packed plans. However, when it comes to the better choice and value for money, Hostinger comes out on top, as it's the clear champion of all five hosting categories that I researched and tested. Hostinger offers more hosting plans, a wider range of features, additional free extras, better performance, reliable security, and more responsive support than OVHcloud. No wonder it's in
our expert list of the best web hosting services.
Plans and Pricing
More expensive cloud hosting plans, 30-day money-back guarantee, several contract terms (monthly, annually, and more)
Cheaper cloud hosting plans, only offers partial refunds (depending on the plan)
Key Features
Free domain, free website migration, free SSL certificate for life, and SSD storage (with all plans)
Free domain, free SSL certificate (with some plans), and SSD storage (with some plans)
Performance
99.9% uptime guarantee, CDN, a global network of servers, high performance
99.9% uptime guarantee, SSD (with specific plans), a larger global network of servers, slightly lower performance
Security
Wanguard anti-DDoS traffic analyzer, intelligent firewall rules, BitNinja or Immunity360, CloudLinux OS, daily and weekly backups (depending on the plan)
VAC real-time traffic analyzer (anti-DDoS), LXC (Linux Containers), daily backups
Support
Knowledgebase, 24/7 live chat, support ticket, slow responsiveness
Knowledgebase, support ticket, phone, slower responsiveness
FAQ
Is Hostinger better than OVHcloud?
Yes, it is. Even though there are similarities between Hostinger and OVHcloud, Hostinger offers better performance, extra features, more hosting plans, and more efficient security features. OVHcloud may be slightly cheaper than Hostinger (depending on the plan), but you get your money's worth with Hostinger.
Does OVHcloud offer WordPress hosting?
No. OVHcloud doesn't offer WordPress hosting packages. However, you can install WordPress and other CMS applications like Joomla!, Drupal, and PrestaShop from the one-click software installer when you purchase a web hosting plan. I personally recommend any of these managed WordPress hosting services.
Does Hostinger offer VPS hosting?
Yes. Hostinger offers a wide range of VPS plans for Linux and Windows. All VPS plans come with SSD storage, full root access, a dedicated IP address, and a 30-day money-back guarantee. Hostinger isn't quite right for you? Check out these cheap and trusted VPS hosting services.
Does OVHcloud use SSD?
OVH doesn't offer SSD storage with all its hosting packages. You can get SSD storage with higher-tier web hosting plans or some dedicated server plans. If you want SSD, don't miss our expert list of the fastest and cheapest SSD hosting services.