OVHcloud, We Need to Talk. Seriously.
Once upon a time, we tested five of the most popular web hosts to see if they could be hacked. The results were very interesting and somewhat disturbing, and if you haven't read them yet,
you really should
. But today, that's not what our story is about. To test these different web hosts, I had to sign up for their services. That part was easy enough. When our research was complete, it was time to cancel the services (after we managed to hack them all, we didn't need them anymore). As they all offer money-back guarantees, you'd think that would be just as easy. In some cases, it was. HostGator was probably the easiest. Canceling my account took no time at all. Canceling my Dreamhost account was also simple, and Bluehost actually canceled my account themselves after it was flagged for "suspicious activities." Canceling my iPage account was a bit more complicated, but definitely not impossible. But here I am, over a month later, still stuck with an OVHcloud account. I want to cancel it. I really, REALLY want to cancel it. But like a stage-five clinger, I just can't get rid of it. My quest to cancel my OVHcloud account began in the same place all major quests begin – Google. I thought this would be a good place to start, knowing that if you search for "How to cancel HostGator" or just about any other web host, you instantly get the link you need.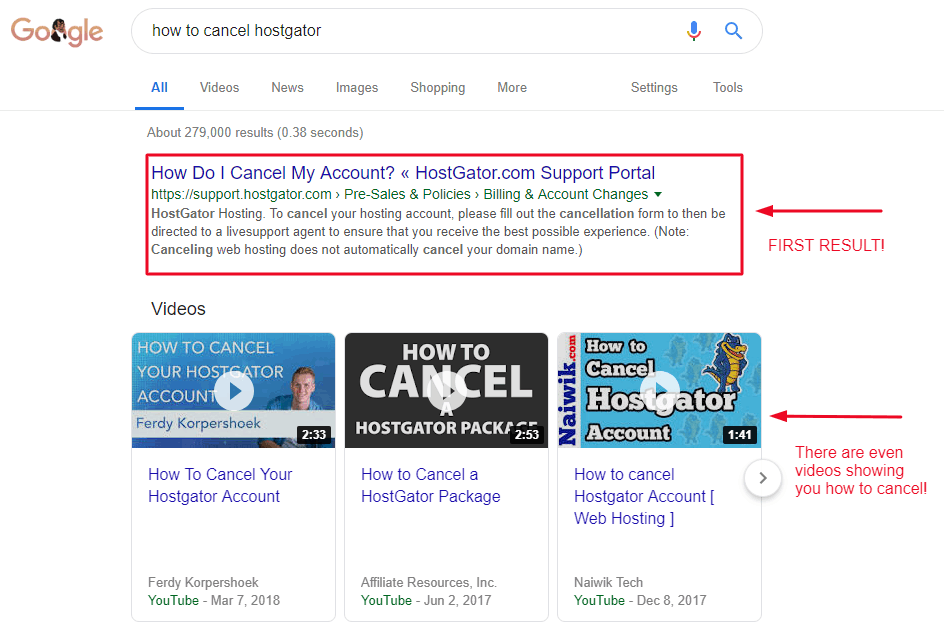 As someone who uses Google services quite often, I knew you can also find cancellation guidelines in the Google Knowledge Graph when you search for "How to Cancel ____"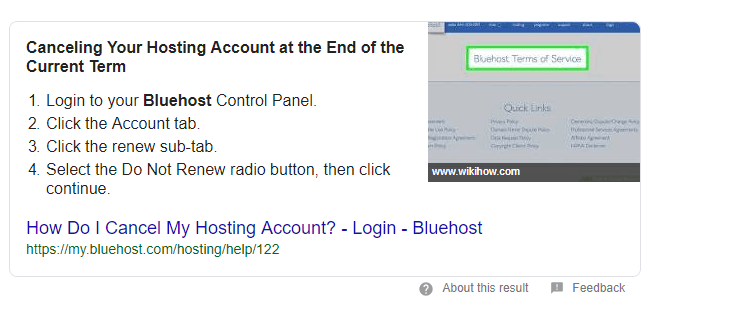 Easy, right? You can find a link to cancel just about anything (well, besides a stage-five clinger). But oh no, not OVHcloud. Seriously, take a look at the search results for "How to cancel OVHcloud":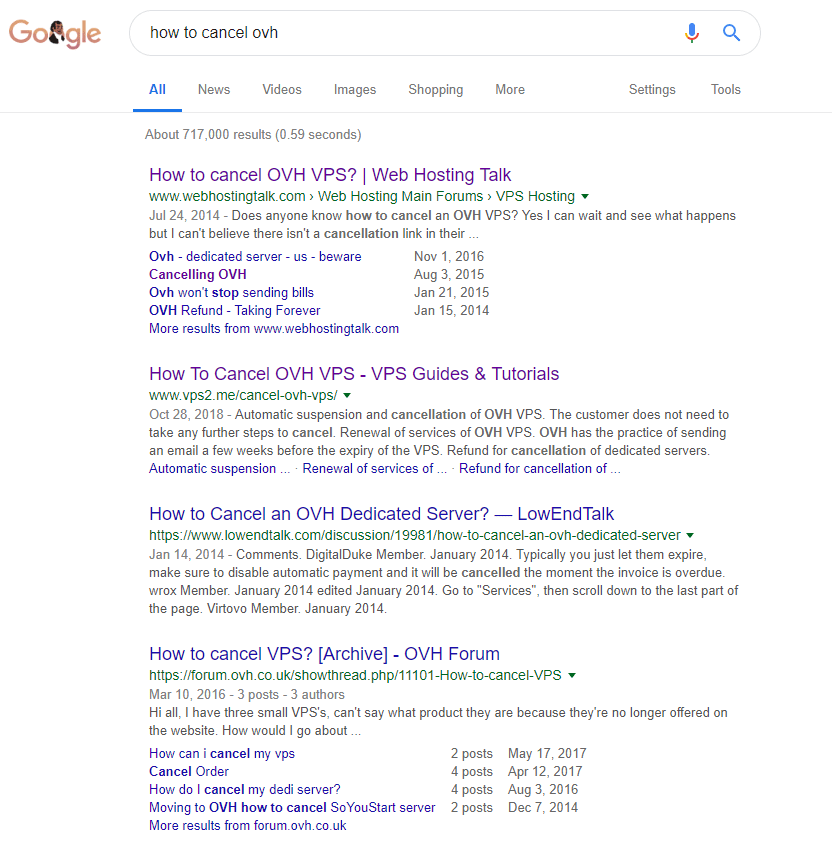 The first thing you probably noticed is that none of these results are from the OVHcloud website. They are all from forums. And trust me – I've visited those forums. I couldn't find any information on how to cancel an OVHcloud account, but I found a whole lot of disgruntled users complaining about how difficult it is. Silver lining – I was not alone.

Even the tutorial article (search result #2) is all about how difficult it is to cancel OVHcloud's VPS service.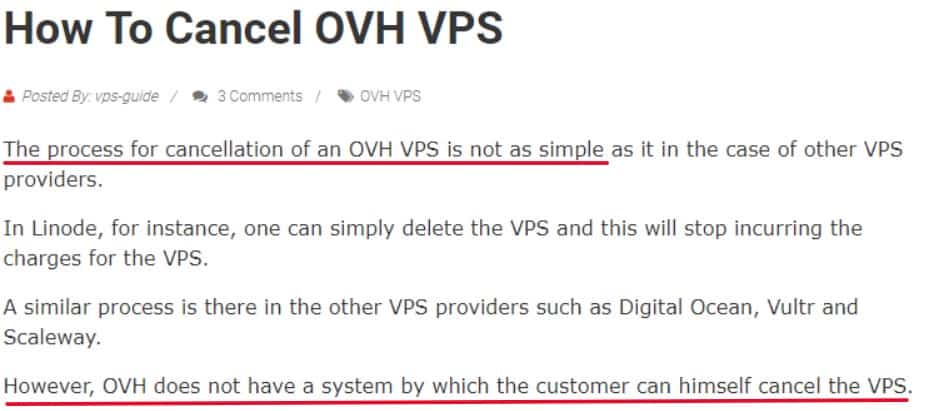 My Cancellation Story
I'm no newbie to the world of web hosting, and using the internet to figure things out is part of my job (which I am quite good at, thank you very much). But eventually, I realized there was no possible way I could figure out how to cancel my OVHcloud account. On January 2nd, I gave up and sent my initial message to OVHcloud.

Fast forward to a few days later, and still no word from the OVHcloud customer service team.

Finally, on the 9th – a whole week later – hell froze over. Okay, not really. But I did receive a message from OVHcloud.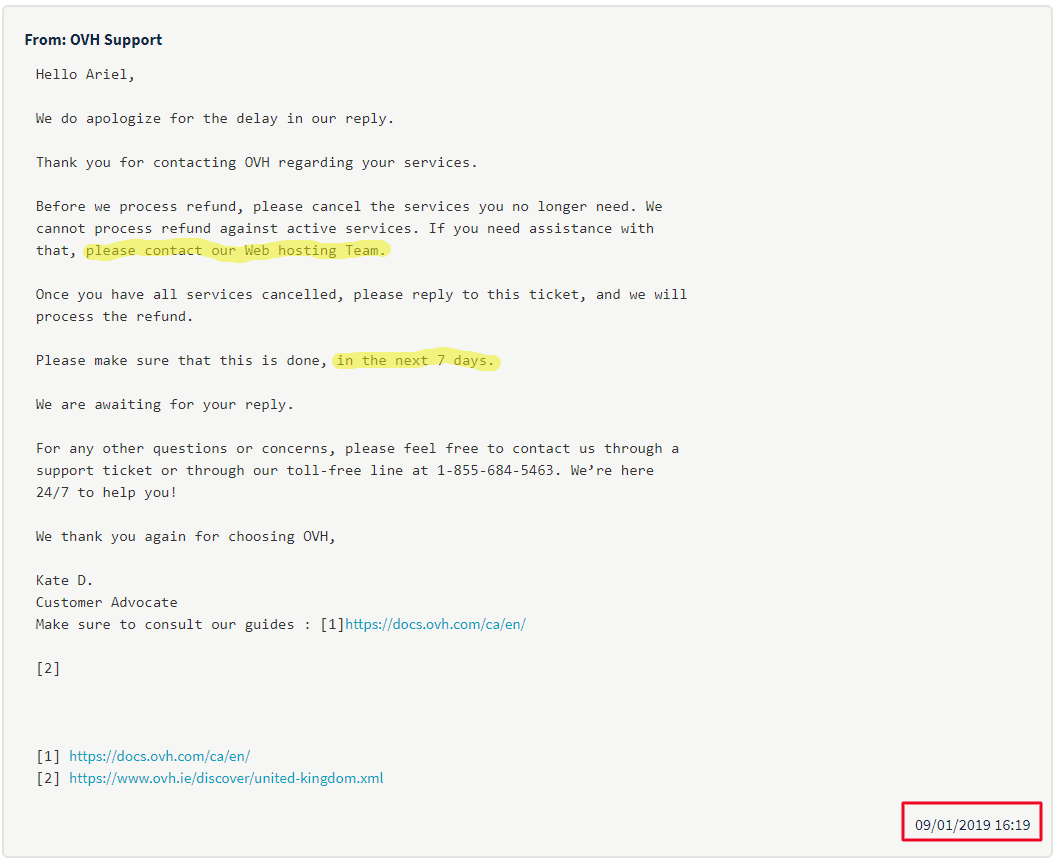 Now, I'd like to point out a few things:
They did apologize for the delay in response, which was nice.
I was told to contact the web hosting team if I needed assistance – but they didn't give me any information on how to do that. (The inner grammar freak in me would also like to note that the "w" and "t" in Web hosting Team were capitalized, but the "h" was not. This annoyed me on a whole different level.)
Someone informed me that I should address this matter within a span of seven days. However, it wasn't specified whether these seven days encompass all days or just seven business days. Additionally, upon acquainting myself with OVHcloud's unfavorable history concerning customer service, I couldn't help but experience a sense of concern about the possibility of encountering issues. (As a hint, I'm fairly convinced that my apprehensions turned out to be accurate.)
None of the links provided offered any information on contacting this supposed team.
I immediately responded, politely asking to be directed to this elusive team, although every bone in my body was itching to start a fight and throw in some choice four-letter words. Then…crickets.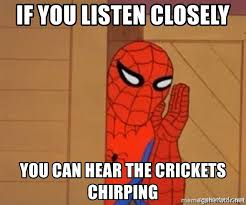 Subsequent messages on the 15th and the 23rd have elicited no response.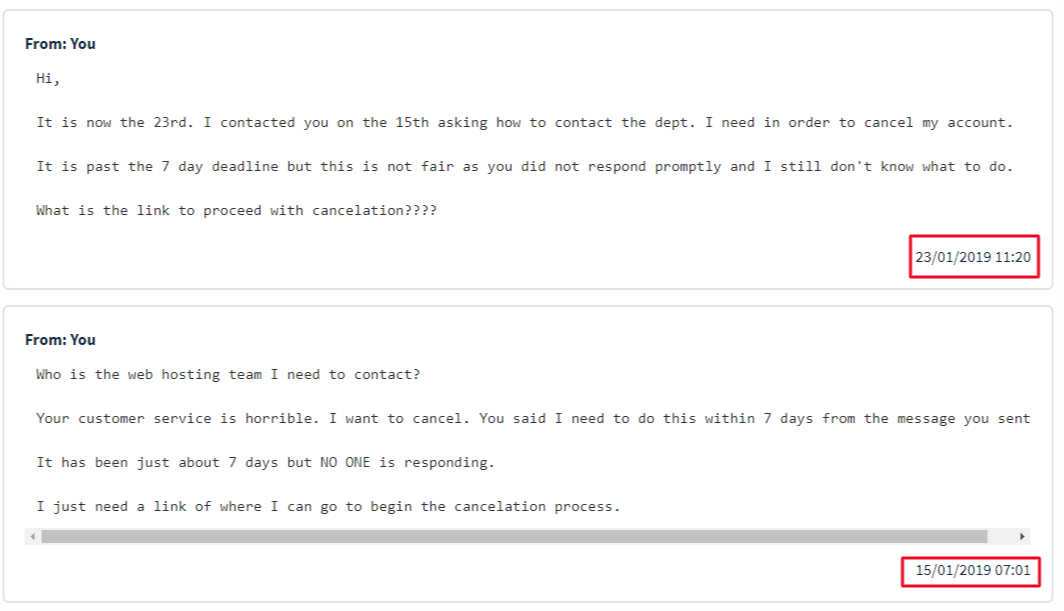 It has now been almost a month. The only upside to all this is that I know I'm in good company. A quick visit to OVHcloud's TrustPilot page tells me all I need to know: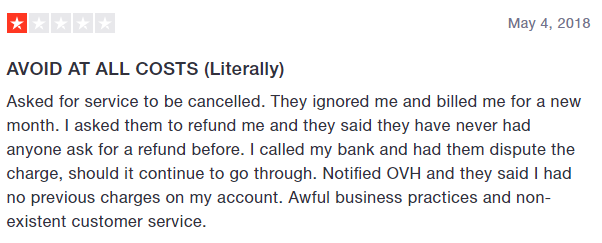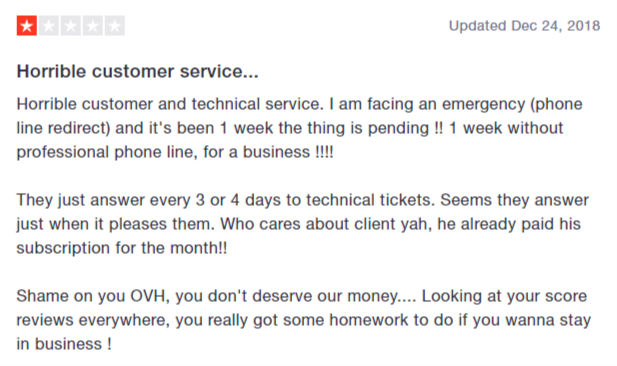 If you're thinking of using OVHcloud as your next web host, you might want to read this next review. I think it sums it all up nicely.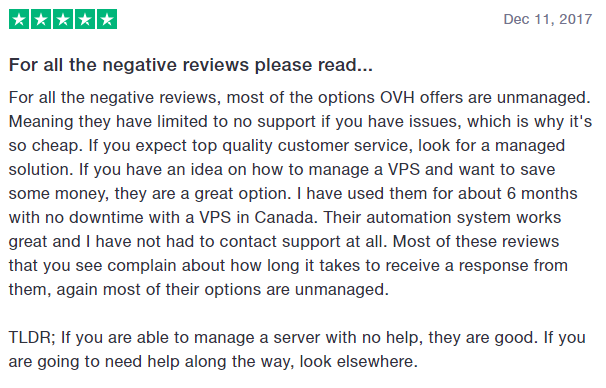 Dear OVHcloud, I am calling you out. Please help me cancel my account!