You've narrowed your choice of web host down to Bluehost vs Hostinger – but which one is really the best for your website? Who offers you more storage space? Better customer service?
You've probably seen a lot of glowing Bluehost reviews, but that doesn't mean it's the best host. The truth is that Bluehost is an average hosting provider with one of the best affiliate programs. Many reviewers are happy to sing its praises just to earn a little extra cash.
I want to give you accurate advice rather than let my expert opinion be swayed by an affiliate program. You can be sure this head-to-head comparison of Bluehost vs Hostinger is 100% honest and impartial.
I've compared these two hosts in five important areas:
Round 1: Can Cheap Web Hosting Give You Everything You Need?
Before you choose a web host, you want to know exactly what you're going to get in terms of storage, bandwidth, the number of websites you can have, and other included features. The more features included, the better the deal, right? Well, not always. Sometimes you get more features but lose out in terms of support and reliability.
At first, it seems like Bluehost offers more than Hostinger – but when you look closer, it's a much tighter race. Let's take a look at them side by side:
| | | |
| --- | --- | --- |
| | Bluehost | Hostinger |
| Free Domain | ✅ | ✅ |
| Free SSL | ✅ | ✅** |
| Number of Websites | Unlimited* | Unlimited* |
| Disk Space | Unlimited* | 10-30 GB (depending on plan) |
| Bandwidth | Unlimited* | Unlimited* |
| MySQL Databases | Unlimited | Unlimited* |
| Weekly Backups | ? | ✅ |
| Website Builder | ✅ | ✅ |
| Email Accounts | Unlimited* | Unlimited* |
| Subdomains | Unlimited* | 100* |
| Max Files & Folders (Inodes) | 200,000 | 400,000* |
| Multiple PHP Versions | ✅ | ✅ |
| Cache Manager | ? | ✅ |
| CDN | ✅ | ✅ |
| Cloud Linux | ? | ✅ |
| Free Site Migration | ? | ✅ |
*On all plans except Basic
**Only on the Business plan
Truly unlimited shared hosting is a myth; there are always limits somewhere along the line. With Bluehost, this comes in the usage policy that covers disk space, bandwidth, and inodes (the fancy name for the number of files on your account). All shared hosting companies operate fair usage policies, but Bluehost's is quite strict.
Bluehost notes that 99.95% of people will never exceed its fair usage policy, but if you're hosting a lot of large multimedia files, you could fall victim to it. You only get 48 hours (maximum) to reduce the number of files stored on your account before "corrective action" is taken – often in the form of suspending your account.
The maximum number of files and folders (inodes) you can have on a Bluehost web hosting plan (across all of your websites, if you have more than one) is 200,000. Hostinger, however, gives you double that number, making it less likely that you'll face issues.
Hostinger adds features like a cache manager (to improve your website speed) and Cloud Linux (for more reliable servers), as well as automatic backups of your hosting space. These are features Bluehost doesn't provide. It's these valuable extras that make it harder to pick a winner here.
And the Winner Is…
Hostinger. I know what you're thinking. What about Hostinger's limits? Isn't Bluehost giving you more? To be fair, yes. Bluehost gives you "unlimited" storage and subdomains. However, Hostinger's storage space isn't small. On the mid-level plan (which is cheaper than Bluehost) you get 20GB of SSD space. Unless you need to upload huge multimedia files, that's more than enough – and Bluehost discourages large file uploads anyway.
The cache manager and Cloud Linux that Hostinger offers are features that make your website perform better, which is more important than storage space you'd probably never use. As for unlimited subdomains – it's pretty unlikely that you'll need more than 100 subdomains, to be honest.
Round 2: Bluehost's Lack of Uptime Guarantee Is Disappointing – Plus Hostinger Is Faster
Statistics say that if it takes more than 2–3 seconds for your website to load, the majority of people will click away. For that reason, one of your top considerations when choosing a web host is its performance and reliability.
Page loading speeds are something that Bluehost customers have been talking about for a long time. Improvements have been made, and Bluehost does support the Cloudflare CDN (content delivery network) that uses worldwide cloud servers for speed boosts. Cloudflare means that your content is delivered to your website visitors using the server closest to them, which can make pages load faster.
Hostinger also uses Cloudflare – and adds in a cache manager to further boost your website performance. Caching allows for static content (e.g., pages that aren't updated often, images, and multimedia) to be stored on local servers for even faster page loading speeds.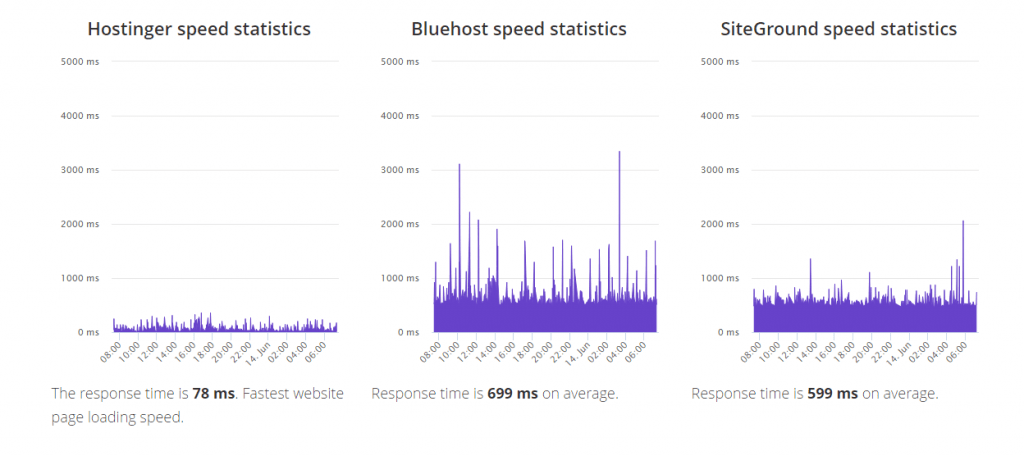 This screenshot shows the results of a speed test comparing server response times in Hostinger and Bluehost. Hostinger's 78 ms response time puts Bluehost to shame – it's up to 8x faster. Plus, just look at those spikes in Bluehost's results, showing more than 3,000 ms response times and frequent occurrences of response times in excess of 1,000 ms.
Hostinger is more reliable, too. It offers a 99.9% uptime guarantee – so if it doesn't meet that uptime level consistently, you can get a 5% credit on your monthly fee. Although Bluehost claims to have an average uptime of 99.99%, there's no uptime guarantee. In the past, Bluehost's uptime rate has been less than great – and there's no compensation for downtime.
And the Winner Is…
Hostinger. The server response time on Hostinger leaves Bluehost trailing far, far behind. You don't have to worry about uptime issues, either. Even if Hostinger's uptime falls below Bluehost's, you get compensated for the loss of service.
For an in-depth view of Hostinger, read our expert review.
Round 3: Hostinger Takes Your Website Security Seriously – While Bluehost Makes You Pay Extra
In the past few years, website security has become more of a hot topic than ever before. Most browsers will put a warning notice in the address bar if your website doesn't have an SSL certificate installed.

SSL is the protocol that gives you https:// prefixes instead of http:// and ensures that your website visitors' data is encrypted and secure. SSL certificates aren't just for e-commerce websites – you need one if you collect any kind of personal data from your visitors, whether through a contact form or a newsletter signup banner.
Bluehost offers a free SSL certificate on all its plans, while Hostinger offers a free SSL certificate on only the most expensive shared hosting plan. However, if you want to go with Hostinger, there's a couple of ways you can get an SSL certificate on the cheapest plan.
Firstly, Let's Encrypt offers free SSL certificates for everyone. Hostinger doesn't have an automatic installation tool for the Let's Encrypt SSL certificate, but if you're more tech-savvy, it does offer a tutorial for how to install it yourself.
The second option is to buy one of Hostinger's "Lifetime" SSL certificates. You pay a relatively low fee once, Hostinger installs the certificate, and you never have to worry about the SSL status of your website again. You can do this if you have more than one domain name, too. With Bluehost, if you want more than one SSL certificate, you face an annual charge for each additional SSL certificate.
There's more to security than SSL, of course. Both Bluehost and Hostinger give you some protection against security threats directed at your website – but Hostinger gives you more. All Hostinger plans include BitNinja protection, which is an all-in-one security solution that protects you against spam, hacking attempts, botnets, brute force and DDoS (distributed denial of service) attacks, malware, and script injection.
Bluehost offers SiteLock Lite for all users – which sounds like a great deal. Until you look at what's actually included in SiteLock Lite. Bluehost doesn't actually tell you – I had to do a deep search of the internet to find the details.
This is what Bluehost says about SiteLock Lite: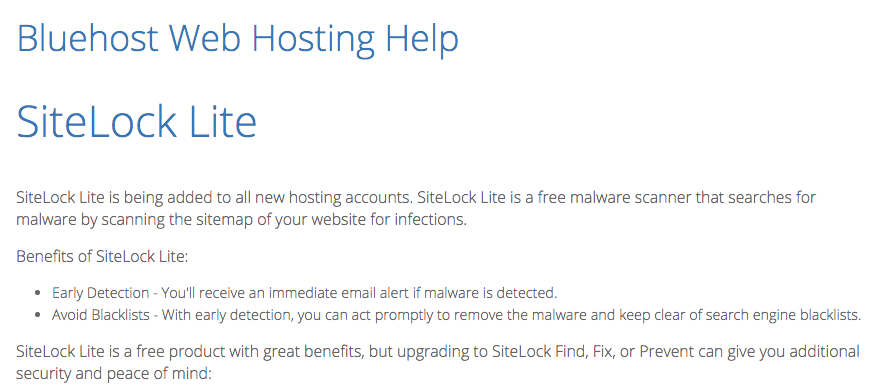 What Bluehost doesn't tell you, however, is that SiteLock Lite is limited to scanning five pages. Yes, five. If you want any more protection than that, then Bluehost strongly advises you to upgrade to one of the more expensive plans. Compared to Hostinger, Bluehost's security is incredibly limited.
And the Winner Is…
Hostinger. Okay, so Bluehost gives you a free SSL certificate on all plans – but will ask you to pay per domain, per year for SiteLock Find (the most basic of the paid SiteLock plans). Hostinger's security solution is much more effective – and free – so it's a more valuable asset than a free SSL certificate.
Round 4: Hostinger Offers You Value, While Bluehost Offers You Upsells
Shared hosting is the most budget-friendly type of hosting around, and Bluehost and Hostinger are a couple of the cheapest hosting companies within that category. There's one important thing you need to know to understand how I've evaluated Hostinger and Bluehost in the value-for-money category: The price listed is probably not the price you're going to get.
The advertised price on the pricing pages is almost always misleading, for every web host. That's because of that sneaky word in very small type before the price: "from." The quoted monthly prices, designed to grab your attention, usually require you to pay up front for anything between two and four years.
For example, to get the advertised price from Bluehost, you have to pay for 36 months (3 years) up front. With Hostinger, you have to commit to 48 months (4 years) — but this is for hosting that's still considerably cheaper than Bluehost.
I've also taken into consideration renewal fees and hidden costs. Let's see how Bluehost and Hostinger compare:
Ultimately, there are more hidden costs and upsells with Bluehost – and if you're not careful, you can end up paying for upsells without realizing they've been added! Hostinger doesn't automatically select upsells in your cart, so you're less likely to be hit with hidden charges.
And the Winner Is…
Hostinger. Having won the previous three rounds, Hostinger also wins this one. Its prices are cheaper overall and its upsells are also better value for money compared with Bluehost. You also get the option of paying month-to-month instead of up front – although you will pay a much higher monthly price if you choose this option.
Round 5: You Have to Wait How Long for Support??
You've built your website, everything is running smoothly, and then you try to log on but get one of those horrifying 403 "Forbidden" errors. Typically, this happens at the worst possible moment. When you choose your web host, you need to know you can get expert customer support no matter what time of day it is.
Hostinger and Bluehost both offer 24/7 technical support, so if your website goes down at 4 a.m., you don't have to worry. With both, you can use live chat, email, or ticket support. Bluehost also offers phone support – which Hostinger doesn't provide.
So far, it seems fairly even. Support is available when you need it, and there are different ways you can access it. However, it's not just a matter of support being available. You want to know that your questions are going to be answered quickly and any issues resolved swiftly.
Neither Hostinger nor Bluehost are going to win any customer service awards anytime soon, unfortunately. For Hostinger, you have to be a logged-in customer to be able to access the live chat support – so you can't ask questions during the signup process. You'll also likely have to wait, on average, 5–10 minutes to get a response from the support team.
Compared with Bluehost, however, Hostinger's customer service is significantly better. With Bluehost, the only time you get a fast response is if you're contacting the sales team! Using live chat, you can expect to wait anywhere between 10 minutes and an hour – just to get a response. That's pretty shocking. The average wait time is 20 minutes – double Hostinger's.
If you want to solve problems yourself, both Hostinger and Bluehost have decent knowledge bases, but many of Bluehost's support articles are a bit out of date. There are YouTube videos from Bluehost with some basic tutorials, however.
And the Winner Is…
Hostinger. No surprises there – you might not have the option to call Hostinger, but you get responses to your questions quicker than with Bluehost. Of course, if you don't like using live chat and want to call to speak to a support agent, then Hostinger isn't going to work for you.
There's a Clear Winner … and It's Not Bluehost
It's clear that Bluehost's affiliate program has heavily influenced all those glowing reviews. Hostinger is our clear winner in all categories. If you want to find out more about Hostinger, why not check out our in-depth review?
Our Recommendations
If you're looking for the best overall value, reliability, and features, then Hostinger is our top recommendation, whether you want to build a big, small, or medium-sized website. It's suitable for you whether you're an individual or a business.
However, if being able to speak to a customer support agent over the phone is a must for you, then Hostinger is not for you. Bluehost offers phone support – just be prepared for a lengthy wait.