Bluehost pays reviewers very well for positive reviews
, which is why it tops a lot of the "best web hosting" lists. But I wanted to see which of these two hosts is actually better in terms of performance, features, and value for money – so I conducted real tests.
Hostinger exceeded my expectations, while Bluehost simply didn't live up to the hype – or the price tag.
Click here to see Hostinger's latest deals
, or read on to find out how it beat Bluehost in my tests, and why there's simply no reason to pay nearly twice as much for Bluehost.
1. Plans & Pricing
Hostinger Offers More Value and Greater Transparency
Hostinger offers three core pricing tiers while Bluehost offers four, and both providers have add-ons and custom packages available upon request. But in the pricing category, Hostinger gives you more value for your money – and it's not even close.
A free domain name is included with some hosting plans from Hostinger
A free domain name is included with some hosting plans from Bluehost
You can get started quickly and cheaply with Hostinger's lowest-priced Single Shared Hosting plan.
 Bluehost's comparable Basic plan costs three to five times as much, depending on the billing term you choose. Hostinger offers more billing choices; giving you the option to pay monthly, yearly, every 24 months, or every 48 months. Just keep in mind that Hostinger's Single Shared Hosting plan comes with a small mandatory setup fee if you choose a monthly plan (which I think is more than fair considering the low price point). Setup is free with all other plans. You also have Hostinger's Premium Shared, Business Shared, and three cloud hosting packages to choose from.
With Bluehost, your choices are the Basic, Plus, Choice Plus, or Pro package.
 As mentioned, you'll be paying more than you would for a comparable Hostinger plan, and without the same billing cycle flexibility. Bluehost currently only offers 12-, 24-, and 36-month plans. Both Bluehost and Hostinger also offer managed WordPress hosting plans, and this is the one instance where Bluehost can be the cheaper option based strictly on the sticker price. Some of Hostinger's WordPress plans cost a little bit more, but they come with free, automated backups (weekly for the lowest-tier plan and daily for the two higher-tier plans).
Hostinger WordPress Hosting
A free domain name is included with some hosting plans from Hostinger
A free domain name is included with some hosting plans from Bluehost
I'm sure there are plenty of people out there who pay a premium because they've heard of Bluehost or think it's somehow "better" than Hostinger.
But based on my testing, your money is much better spent with Hostinger.
2. Support
Bluehost Support Falls Incredibly Short
Technically, Bluehost does provide customers with 24/7 support via live chat and phone.
 Email support is also available, in addition to a fairly well-designed help center on the Bluehost website. However, when I put Bluehost's 24/7 customer service to the test, my live chat experience was less than ideal. I waited about two minutes before receiving a chat response from an agent, and while he did appear to be an English speaker, a few of his initial responses seemed to be automated or copied and pasted. Then, in the process of answering my question, the agent simply disappeared for about seven minutes.
When the Bluehost agent finally returned, he was professional enough, but I did not appreciate the constant upsells.
For example, when I asked him about the loading speeds for customers in the Asia/Australia region, he immediately tried to upsell me on a more expensive plan for "better performance" than the one I asked about.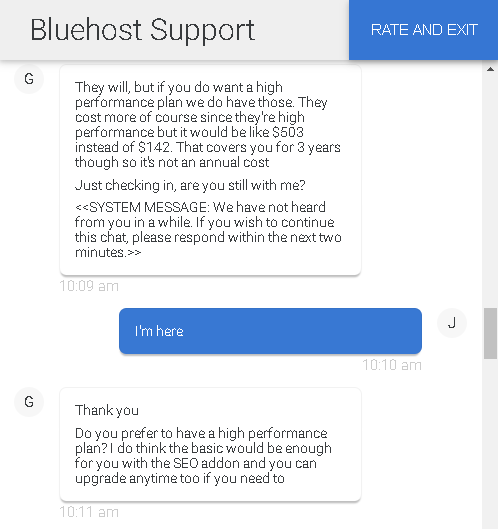 In total, my chat support interaction lasted a whopping 38 minutes before I got all the answers I needed. The agent also tried to "set me up with a WordPress plan" more than once, which was a sneaky tactic to sell me a more expensive plan than the plan I was asking about. And I know this wasn't just a one-time thing –
when my teammate tested Bluehost's support, the results were a disaster
. My Hostinger experience was the exact opposite. I tested the 24/7 live chat support and was impressed with the sleek interface and rapid response time. The agent was even ready to help when I asked if she could translate things into a foreign language. Additionally, Hostinger's online knowledge base is robust, helpful, and well laid-out.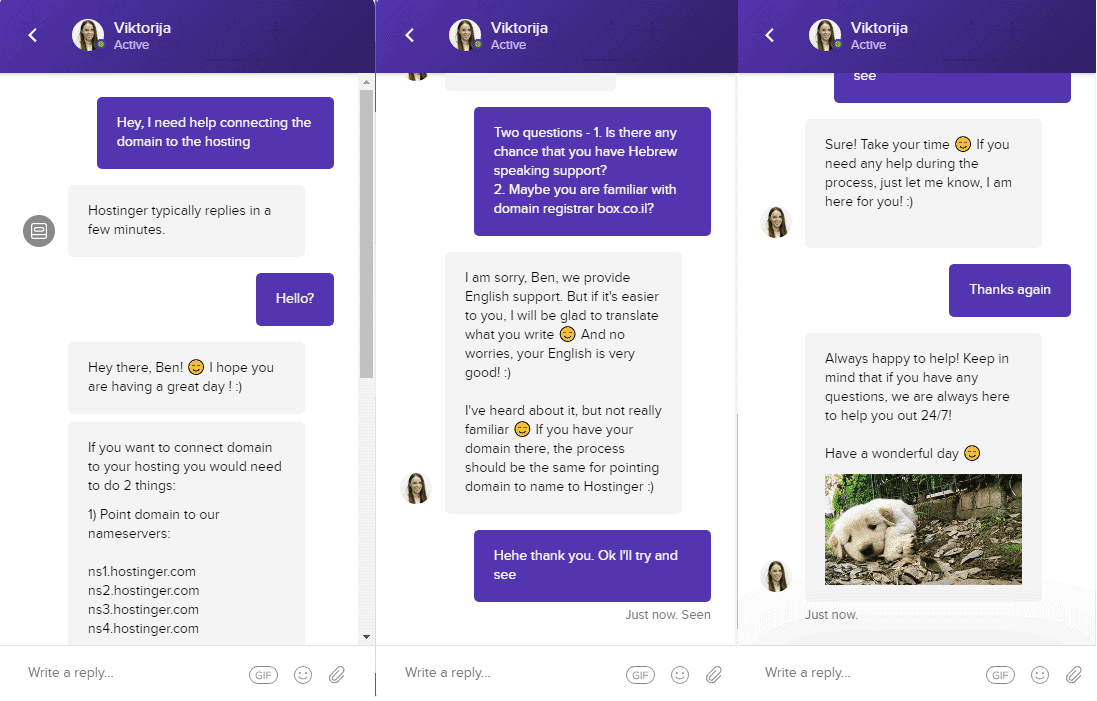 The only drawback is that Hostinger does not offer phone support.
But for overall support experience, Hostinger wins decisively.
3. Features
Hostinger Offers More Features for Less Money
Customer support isn't where the upsells end with Bluehost. Its plans are more expensive than Hostinger to begin with, and you'll often have to pay for pricey add-ons to get the same functionality as an equivalent Hostinger plan.
For example, all Hostinger plans come with unlimited free email addresses.
 The only exception is the Single Shared plan, where you get one email address. Compare this to Bluehost, which only offers a single Microsoft 365 email address on a 30-day-trial basis. After that, you're stuck paying extra for every single email address you need. If you don't want to use WordPress, all Bluehost's plans include access to the
Weebly website builder
. If you want to use Zyro, Hostiner's proprietary website builder, you'll have to sign up for a separate builder plan – but you can also
try Zyro out for free
.
In the end, Hostinger offers more features at a better value than Bluehost.
| | | |
| --- | --- | --- |
| | Bluehost | Hostinger |
| Hosting Types | Shared, WordPress, VPS, dedicated servers | Shared, VPS, cloud, WordPress, email, dedicated servers |
| Disk Space | 50GB – unlimited | 20GB SSD – 300 GB SSD |
| Free Domain | Yes – all plans | Yes – except Single Shared plan |
| Site Builder | Weebly site builder | Zyro site builder |
| Free SSL Certificate | Yes | Yes |
| Backups | Daily (for an extra fee in Basic and Plus plans, included in higher-tier plans) | Weekly or daily (included in all plans except the Single Shared plan) |
| Bandwidth | Unmetered | 100GB – unlimited |
| Subdomains | 25 – unlimited | 2 – 100 |
| Control Panel | cPanel | cPanel |
| Email Accounts | One free Microsoft 365 email account (30-day trial only) | Unlimited free email accounts (one account for Single Shared) |
| Advertising Credits | $200 in Google & Microsoft ads | No advertising credits |
| E-commerce | WooCommerce online stores (additional cost) | WooCommerce, PrestaShop, Magento hosting (additional cost) |
| Money-Back Guarantee | 30 days | 30 days |
4. Performance
Hostinger Is Faster and More Reliable Than Bluehost
For starters, Hostinger offers a 99.9% uptime guarantee, while Bluehost offers none.
This was an early red flag for me, even before I began performance testing. Sure enough, Hostinger lived up to its uptime guarantee when I put it to the test with a focus on the US and European markets. But even if it doesn't, it's not a complete loss, as users receive a 5% refund of their monthly fee. Hostinger has a more robust infrastructure than Bluehost, with servers in the US, the UK, Brazil, the Netherlands, Singapore, Indonesia, and Lithuania. Hostinger's speeds were also impressive. On average I found that Hostinger's speed and page loading times were up to 8x better than Bluehost. In fact,
when my colleague tested Hostinger's performance over a period of three months
, he discovered Hostinger's speeds were among the fastest available for shared hosting.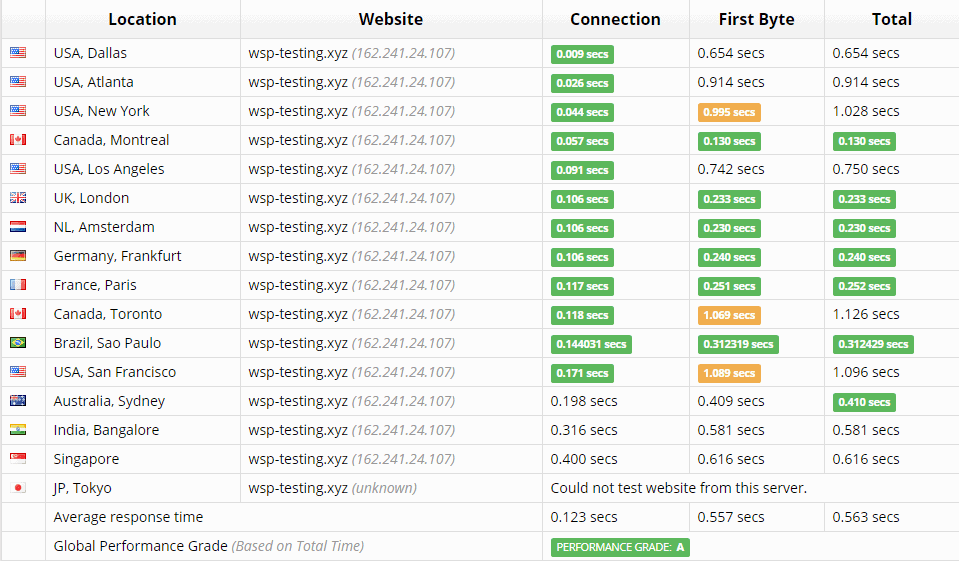 The results from my Bluehost performance tests were below expectations.
Specifically, I found that loading times varied substantially depending on location. While Canada and Western Europe showed good loading times, the US and East Asia lagged behind. So you should think carefully about where your users are before you choose a provider. Bluehost has servers located in Utah, London, Mumbai, Hong Kong, and Shanghai.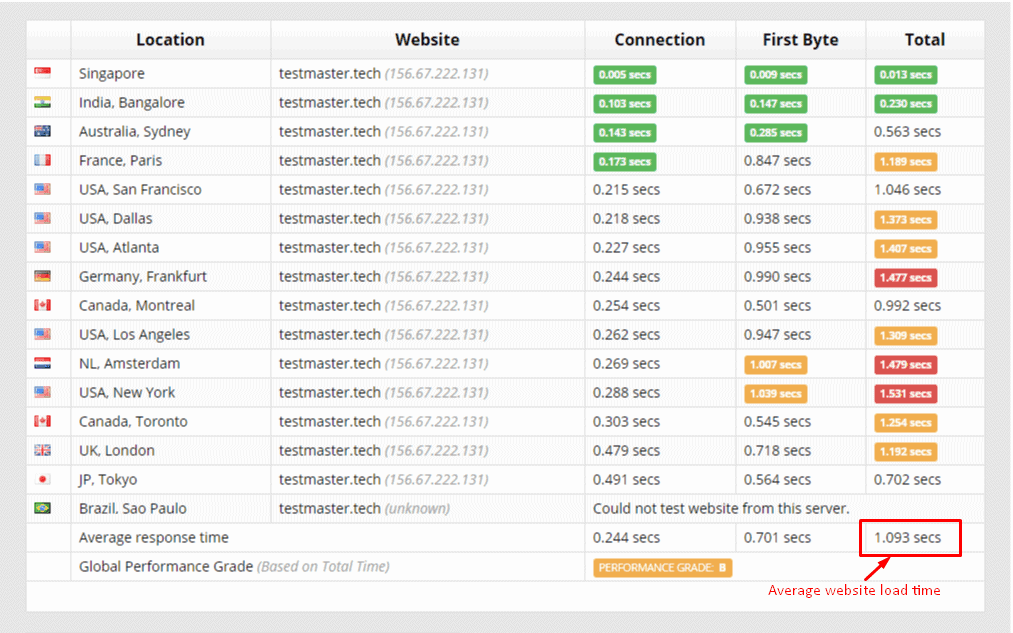 5. Security
Your Data Is Safer in the Hands of Hostinger
Both hosting providers give you a free SSL certificate to protect your site visitors' data, but with a few minor caveats and exceptions.
 With Bluehost, you'll need to talk to support and perform a few technical steps. If you have Hostinger's most basic plan, you'll need to pay a little bit extra for the SSL certificate. Hostinger provides Cloudflare protection for all plans, which protects against spam, DDoS attacks, malware, and other forms of cyber threats.
Bluehost, on the other hand, works according to a business model of pricey add-ons.
All you get for free is the SpamExperts email filter. If you want anything more, you'll need to purchase the SiteLock add-on for an equivalent feature set to Hostinger. Moreover, SiteLock can only scan 5 to 10 web pages at a time. Bluehost might provide a free SSL certificate with its most basic plan, but it's only a minor detail.
Hostinger offers stronger, more reliable security without the headache of add-on purchases.
Hostinger or Bluehost – Which Host Should You Choose?
It's really a no-brainer.
Hostinger's plans are cheaper, have more features, and perform better
than Bluehost. From my testing, it's clear that Bluehost is simply trying to charge higher prices based on its brand recognition.
With more features, more sophisticated security, and better support, Hostinger is the clear winner over Bluehost.
Hostinger didn't just beat out Bluehost, it's actually number one on our
list of the best web hosting services
.
Plans & Pricing
Generally overpriced
Good overall value
Key Features
Weebly site builder, WooCommerce online stores, tight WordPress integration
Zyro site builder, weekly or daily backups, e-commerce hosting, GitHub integration
Performance
No uptime guarantee. inconsistent performance
99.9% uptime guarantee; excellent performance
Security
Basic spam protection and SiteLock add-on
Cloudflare security suite protects from most threats
Support
24/7 chat and phone support; email and help center also available; below-average support experience
24/7 chat support; live chat experience is sleek, modern, quick, and professional; industry-leading knowledge base
FAQ
Is Hostinger better than Bluehost?
Yes, Hostinger is superior to Bluehost in general. Hostinger's shared hosting plans are typically at least half the price of Bluehost's plans and often come with more features. You can also rest assured that you'll have a professional support team available when you need it.
Is Hostinger the best host?
For shared hosting, Hostinger is definitely one of your best options. We tested all the major web hosts over a period of three months, and Hostinger's loading speeds were very impressive, matching the performance of much more expensive services, like Kinsta.
Is Bluehost good for an online store?
Yes, setting up an online store with Bluehost is actually pretty simple, provided you're using WooCommerce. Bluehost's WooCommerce online shops can be added onto any Bluehost plan, and lets you build your online WooCommerce store from scratch.
Does Bluehost offer cloud hosting?
No. If you need cloud hosting for larger projects, then you'll need to pick Hostinger over Bluehost. However, neither host cracked our list of the best cloud hosting services, which you might want to read before selecting a cloud host.