I would 100% recommend HostGator over Arvixe
. If you want to find out what's so wrong with Arvixe (and what HostGator is doing right), I've evaluated five crucial areas in this HostGator vs Arvixe debate:
Round 1: HostGator's Speed and Uptime Are above Par – Arvixe Isn't Even in the Game
How your website performs can be the difference between online success and failure – with pages that are slow to load seriously affecting your bounce rate. So what are the performance differences between Arvixe and HostGator? Unfortunately, Arvixe has had some serious issues with both uptime and performance in the past year.
Arvixe's uptime record has improved, but its performance problems haven't completely gone away
– meaning you could potentially be faced with long periods of downtime if you opt for Arvixe. In one recent month, for example, uptime was a shocking 57.98% – with periods of downtime lasting up to 19 minutes at a time. In one day, there were over 300 periods of downtime recorded on a test site, each lasting between one and nine minutes.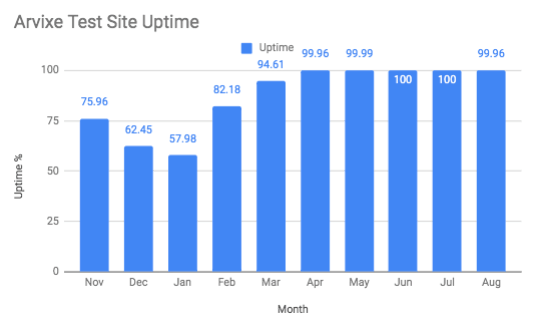 By contrast, HostGator has a much better uptime record. Uptime for HostGator has been between 99.95% (which equates to around 22 minutes of downtime in a month) and 100%, with most uptime between 99.98% and 100%.
Server response times with Arvixe have also been poor
– which means that page loading speeds are considerably slower than most hosts, and up to 6x slower than HostGator. The screenshot below shows monthly average server response times: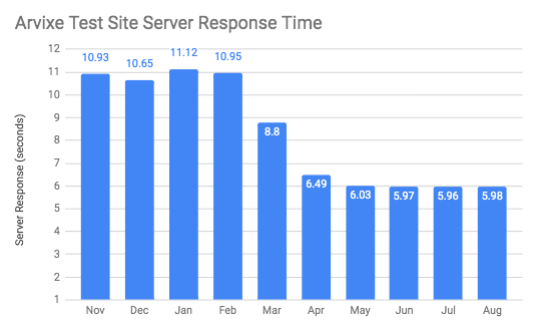 HostGator's server response time is also a vast improvement on Arvixe's – though its speeds still seem slow when compared to other hosting providers.
Its server response times ranged between 0.9 seconds and 1.78 seconds recently.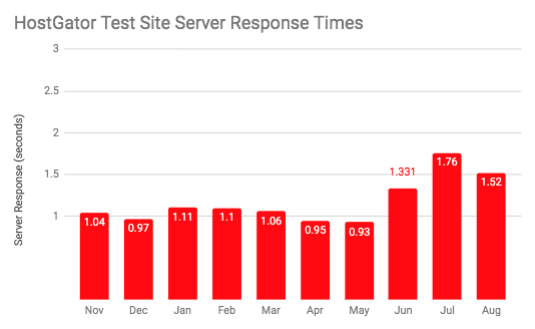 And the winner is:
HostGator. Although Arvixe's performance in uptime has improved since, its poor record is a reason for caution, and its server response times are still considerably slower than HostGator's. With HostGator, you can be sure that your pages will load at least 3x faster than with Arvixe.
Round 2: HostGator Gives You an SSL that Arvixe Makes You Pay For
A cheap host doesn't necessarily mean you're getting good value for your money. You might end up having to buy add-ons or deal with slow speeds (I'm looking at you, Arvixe.) So when it comes to value, that really depends on what you need from your host.
HostGator gives you a free SSL certificate, a free website builder, ad credits, and will migrate your website
from another provider – as long as you request this within the first 30 days of your contract. HostGator is also cheaper overall than Arvixe. An SSL (and that padlock in the toolbar) is important for your website's ranking in Google, and it lets your visitors know that you're serious about their privacy.
With Arvixe, you will have to purchase an SSL certificate as an add-on
, which can have a pretty high cost if you opt for the wildcard SSL option. Arvixe also offers free migrations (with some serious terms and conditions), a website builder, and ad credits – but ad credits are only available if you're in the U.S. or Canada. You can opt for Windows hosting, too, which HostGator doesn't offer, so this could count as a value-added option. The monthly hosting fee is higher with Arvixe than many other budget hosting companies, and – like HostGator – you will have to sign up for two years to get the advertised price. Both HostGator and Arvixe offer 45-day money-back guarantees, which is two weeks longer than the standard 30-day guarantee most hosting companies provide.
And the winner is:
HostGator. The inclusion of an SSL, better site migration provisions, and (worldwide) ad credits, in addition to HostGator's lower prices overall, means that Arvixe really can't compete with HostGator when it comes to value.
Round 3: Both Experience Security Issues, but Which Are Least Problematic?
You want your web hosting space to be secure – but with shared hosting you often find yourself paying more for basic security. Neither HostGator nor Arvixe offers outstanding security features, but with Arvixe, you will benefit from protection against DDoS (distributed denial of service) attacks and brute force attacks, as well as firewall protection against malware. Your website will also be backed up daily – but with the R1 snapshot system, which is not really a full backup. HostGator expects you to pay for security on your hosting account, and even automatically selects the SiteLock add-on during checkout (which you should watch out for). HostGator runs "complimentary" backups every week but will advise you to make your own backups – or purchase the CodeGuard add-on (also already checked off at checkout) to make backups automatically. It does, however, do weekly malware scans.
HostGator and Arvixe both have security vulnerabilities with their PHP versions.
Most web hosts offer up to PHP 7.3 (or, at least PHP 7.2), which improves speed, reliability, and security, but HostGator and Arvixe will start your hosting package with PHP 5.6. Outdated versions of PHP can put your website at risk, as these versions aren't as secure. I contacted the support teams for both Arvixe and HostGator to ask about the PHP versions. Initially, Arvixe's support agent assured me their servers support up to 7.2 and 7.3, but as I questioned further, it turned out that "most of the newly updated servers" support 7.0. With HostGator, servers are currently able to support 7.2, but you have to manually change to this in your control panel. One thing that did alarm me when I was researching Arvixe was that
Google Chrome warned me that Arvixe's website could be trying to steal my information
if I visited any page other than the sales pages. This happened with the community help forum and the blog, for example. While this was due to an expired SSL certificate, it didn't give me a lot of confidence about the hosting company.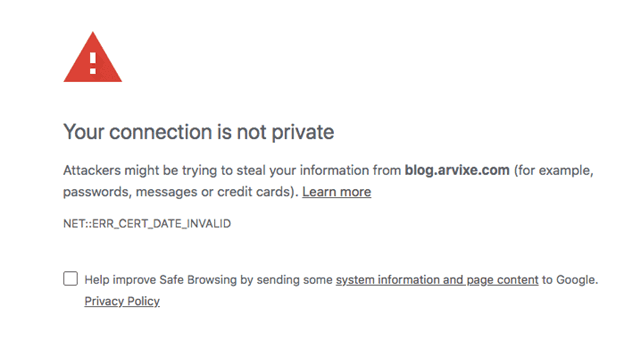 And the winner is:
It's a tie. Neither Arvixe nor HostGator really excels at security. Arvixe can't keep its own SSL certificate updated, and HostGator wants you to pay extra for security.
Round 4: Arvixe Offers Lots of Features, but with Lots of Restrictions
The features you need for your website could be the deciding factor between two similar hosts. What if you prefer Windows hosting? Arvixe has that. Or maybe a free SSL is more important to you. That's all HostGator. To help you see how Arvixe and HostGator compare, I've put together an at-a-glance table.
| | | |
| --- | --- | --- |
| Feature | Arvixe | HostGator |
| Bandwidth | Unlimited on all plans | Unlimited on all plans |
| Data Storage | Unlimited on all plans | Unlimited on all plans |
| Free Domain Name | Yes, for one year | No |
| Migrations | Free during the first 45 days, but limited to 5 GB and with no guarantee if something goes wrong | Free during the first 30 days of your contract |
| Backups | Daily, but they are R1 snapshots rather than full backups | Weekly, with restore tools |
| Website Builder | Yes, but limited in features compared to HostGator's | Yes |
| Free SSL | No | Yes |
| Ad Credits | Yes, but only in the U.S. and Canada | Yes |
| Hosting OS | Linux and Windows | Linux only |
And the winner is:
HostGator. While HostGator and Arvixe have similar features, HostGator stands out with its SSL certificate, more advanced website builder, and ad credits that aren't limited to customers in two countries. You can see the full list of features that Hostgator offers in our
in-depth, expert review
.
Round 5: HostGator Has Several Support Options – Arvixe Wants You to Pay for Priority
What happens if something goes wrong? Knowing that there's a skilled technical support team available takes some of the stress out of buying web hosting.
Both HostGator and Arvixe have 24/7 support — but with HostGator, you have more support channel options.
Arvixe provides support via live chat and a ticketing system, but there's no option for phone support. You also have to purchase (expensive) priority support if you want your queries to be resolved quickly. I tested out Arvixe's live chat system and found that although I was connected to an agent in less than five minutes, the actual waiting time for responses was really quite bad –
it took the support agent an average of eight minutes to reply each time
I responded to his messages. A simple issue took well over an hour to be resolved. Other users report waiting up to 20 minutes just to be connected to a support agent. With HostGator, support is available via phone, live chat, email, and a help desk system. There is also a large knowledge base and a great selection of over 500 video tutorials if you want to solve problems yourself. On
selected plans
, you also have access to priority support. During my test of HostGator's live chat, I experienced a pleasant surprise as I got connected to a knowledgeable support agent swiftly. The agent efficiently addressed my questions, and I didn't encounter any extended waiting periods between responses, either.
And the winner is:
HostGator. Compared to Arvixe, my own experience with HostGator's customer support was much better, and the tutorial videos are a great addition to the support system available. Arvixe's support is better than some hosts, but its knowledge base is lacking.
HostGator Leaves Arvixe Far Behind
There are a lot of similarities between HostGator and Arvixe, but the clear winner is
HostGator
. It stands out not only for its superior performance, but in value, features, and customer support, too.
Our Recommendations
HostGator
is just plain superior
.
Its uptime is particularly impressive for a budget hosting provider and it also offers great value for the money
. To find out more about the hosting company, why not check out our
HostGator review
? Given
Arvixe
's performance issues recently, it would be difficult to recommend the host over HostGator in any situation. Read our
Arvixe review
for more information about the hosting options available. Do remember that there are alternative options out there like
Hostinger
and
InMotion Hosting
.
Performance
Uptime has recently improved, but it has had some serious issues with long periods of downtime
With an average uptime of between 99.95% and 100%, it's more reliable
Value for the Money
More expensive than HostGator, and you don't get a free SSL
Lower prices and more value-added features
Security
Basic security features are included, but you won't have access to the latest PHP versions
Malware scans are included, but for more security features, you have to pay for a SiteLock add-on
Features
Includes a free domain name with all plans
Free SSL certificate and a more advanced site builder
Customer Support
Support is available 24/7, but response times can be slow
Great support team that's supplemented by tutorial videos