While neither GoDaddy or Wix are the first names that come to mind when you think of e-commerce, they both provide a surprisingly good alternative to more expensive and complex enterprise solutions like Shopify and BigCommerce.
For example, did you know that Wix has close to 80 ready-to-go templates to create an online store, and GoDaddy provides all the e-commerce functionality you need, built right into its platform? There's much to consider, and it's critical that you compare your options carefully.
Pricing Plans and What You Get
Wix has five pricing plans. However, only the top two allow for online-store functionality. With both the eCommerce and VIP plans, Wix provides unlimited bandwidth and 20 GB of storage. While the unlimited bandwidth is great for a serious online store that needs to scale traffic indefinitely, the 20 GB maximum storage limit is quite limiting compared with most other hosts.
Another tricky thing about Wix's pricing that you should know is that it can vary dramatically from region to region. Not only do the prices differ (which could make you end up paying more), but some plans don't exist at all in certain regions while some regions have their own unique plans.
Of course, you also get the $75 dollars in ad spend as well as the premium Form Builder and Site Booster apps for free. The VIP plan doesn't really contribute any additional e-commerce features. However, for a serious online store, the priority support could be vital, and the ten free email campaigns are handy selling tools.
Only GoDaddy's top plan enables online store features. It lies pretty much in between the price of the Wix eCommerce and VIP plans. In contrast to Wix, GoDaddy offers unmetered storage and bandwidth, meaning that so long as you're reasonable and use the hosting for its intended purpose, there are effectively no limits. Just like Wix, you also get 24/7 support (although non-priority) and all the platform's e-commerce features.
With both builders, you also get a free domain. However, GoDaddy doesn't provide other freebies like Wix does. You can unlock full e-commerce features for a few dollars cheaper on Wix's top VIP plan compared with GoDaddy's top Online Store plan. In fact, the VIP plan is almost the same price as the cheapest plans on e-commerce platforms like Shopify and BigCommerce, and it comes with premium features like priority support and email campaigns. Both Wix's and GoDaddy's prices are billed annually. Wix has a month-to-month option, but you won't qualify for the domain or free gifts.
Although all the templates are free with both builders, Wix has an app market with purchasable apps. You don't need to buy any of them, but they might contribute to your ultimate spend.
Winner: Wix
Overall, Wix is cheaper and seems to be the better value-for-money option. Not only do you unlock e-commerce for less, but you also get generous freebies. The only downside is the more restrictive resource limits.
Templates and Customization
In terms of sheer power, options, and possibilities, Wix is the clear winner. To be fair, the same would be true for Wix compared with most other website builders too. For starters, Wix has a massive template library of over 500 templates. There are 11 online store categories, with over 70 templates you can unlock on an eCommerce plan. The quality of these templates are generally very good, and all are mobile-optimized.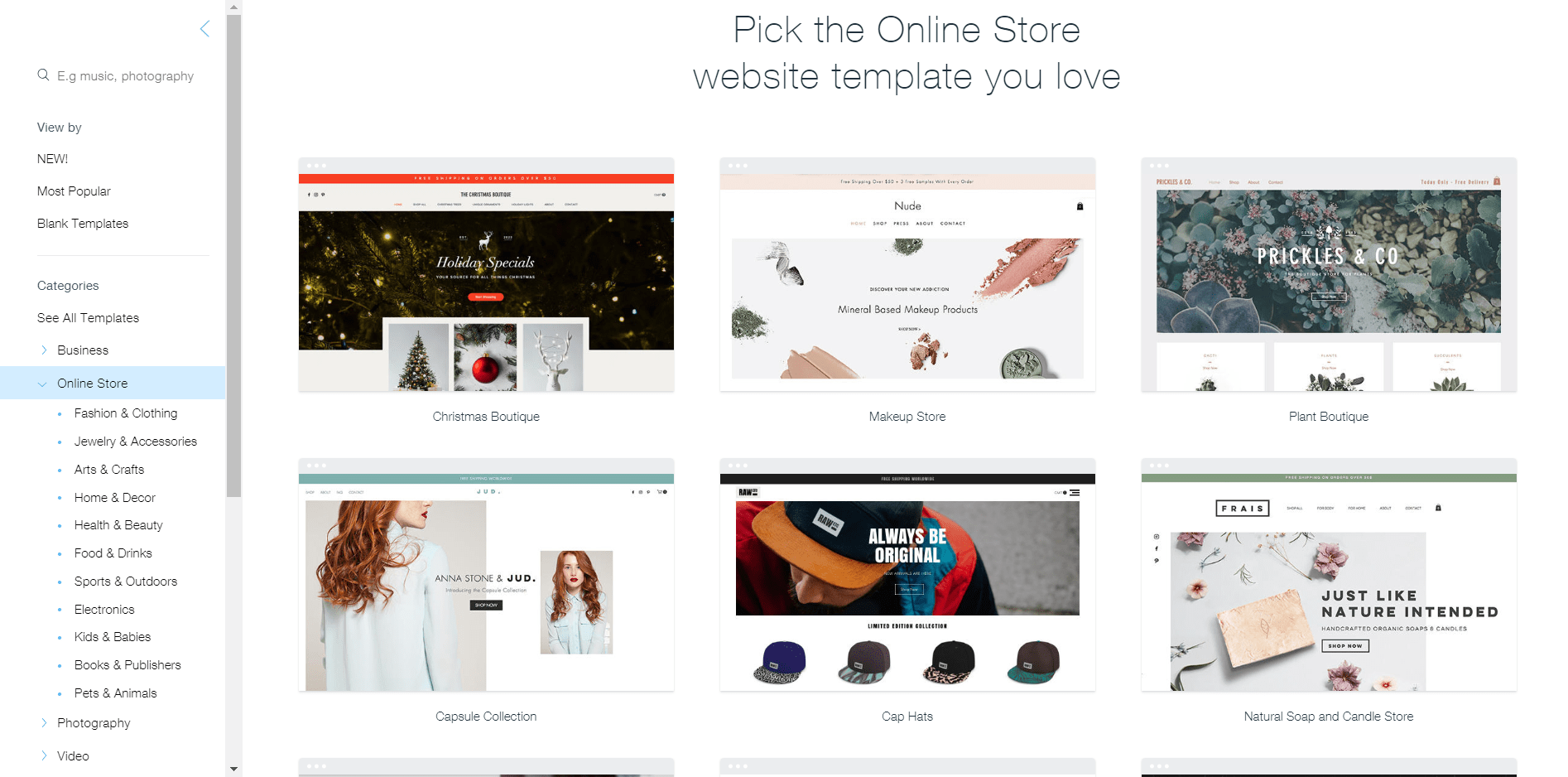 The Wix Editor is also one of the most powerful drag-and-drop website builders around, allowing you to extensively customize any of these templates. Its pixel-perfect functionality allows you to drag and drop webpage elements literally anywhere you wish.
While this sounds great, a common complaint is that the Wix Editor can be a bit overwhelming for beginners, requiring a bit of a learning curve to get comfortable with. Many of the apps can also increase overall complexity, as they might even alter the way your webpages behave.
If you're not confident with your designing abilities but still want to be a part of the process, you can use the Wix ADI (artificial design intelligence) wizard to design a store for you.
By contrast, GoDaddy provides a much more streamlined, simpler, and quicker way to put together your store. Yes, this does come with a much more restrictive design process and limited customization, but it allows you to get your store up and running in less time with a simpler setup process. GoDaddy provides only 16 free and mobile-optimized templates to choose from. The designs and layouts themselves also feel much more generic than Wix's templates.
Instead of an "anything goes" webpage editor like Wix, the customization options are much more superficial. A good example is how you can edit the color scheme and fonts for the entire webpage only, but not for the individual webpage elements. There's also no drag-and-drop capability.
The tradeoff here, then, is not so clear-cut. If you have faith in your own design abilities and time to pour into your website, Wix enables you to create a more unique online store experience. However, GoDaddy is the much easier and simpler way to go about it. One big advantage GoDaddy has over Wix is that you can change the template of your website at any time, while on Wix you need to create a new website and transfer your premium plan to it.
Winner: Wix
Although it will take you longer to build and customize your website with Wix, it's hard to argue against its extensive template library and powerful editor. Just be sure you pick the right template from the start so you don't have to create a new website from scratch.
Ease of Use and Setting Up Your Store
There are actually multiple ways to create an online store on your Wix website, and each can make for a different experience. This is because Wix offers other third-party online store apps as well as its own two in the App Market. Let me focus on the official Wix Online Store app.
If you don't create a website using an online store template, you'll first need to add the Online Store app from the Wix marketplace. Once you've done this, you can manage your store from both your website builder dashboard as well as your backend dashboard with virtually the exact same tools.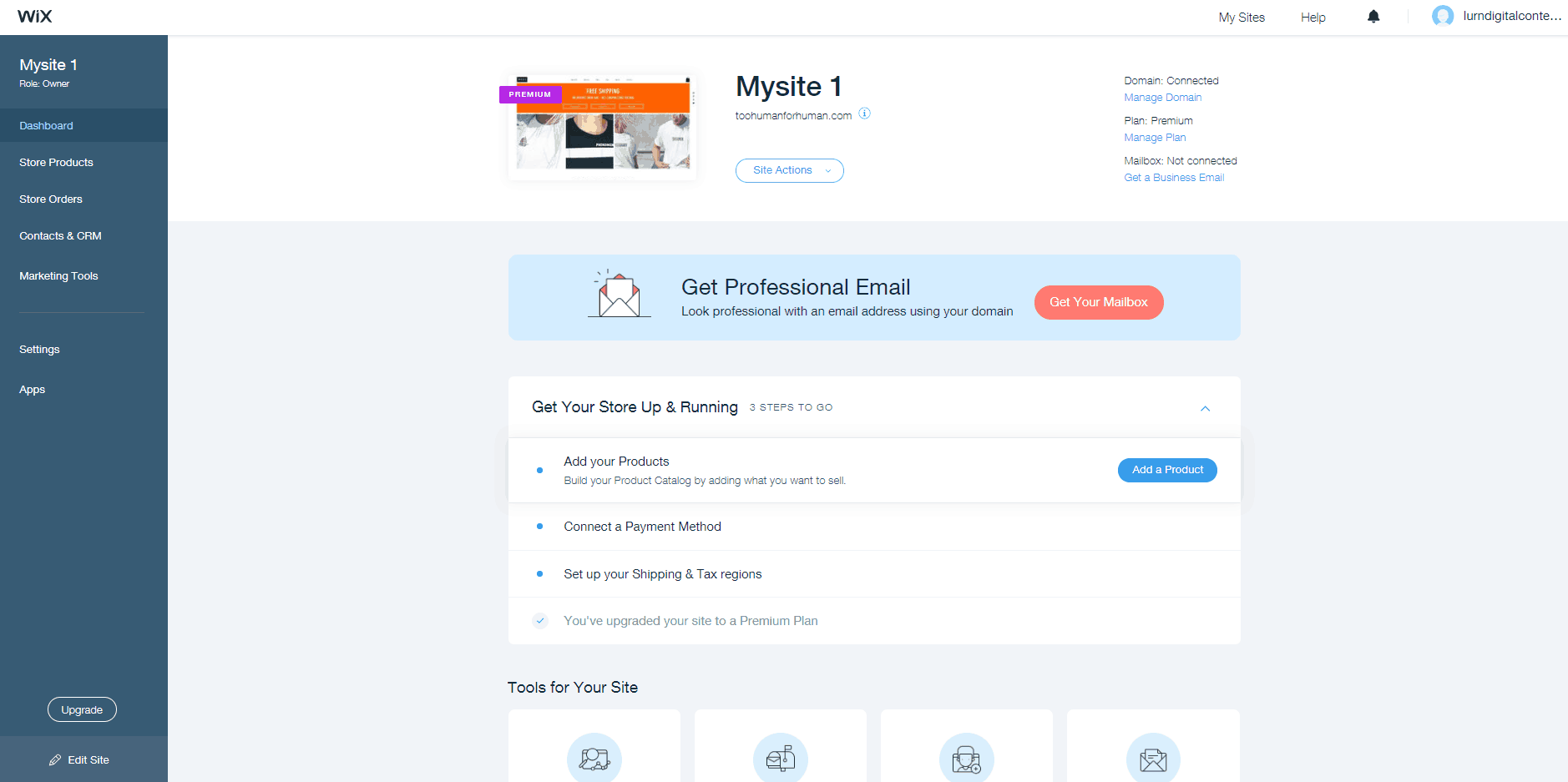 With GoDaddy, when you sign up for an online store plan, all the e-commerce functionality will already be built in. You can manage your store at any time by clicking on the appropriate button in the menu on your website builder webpage.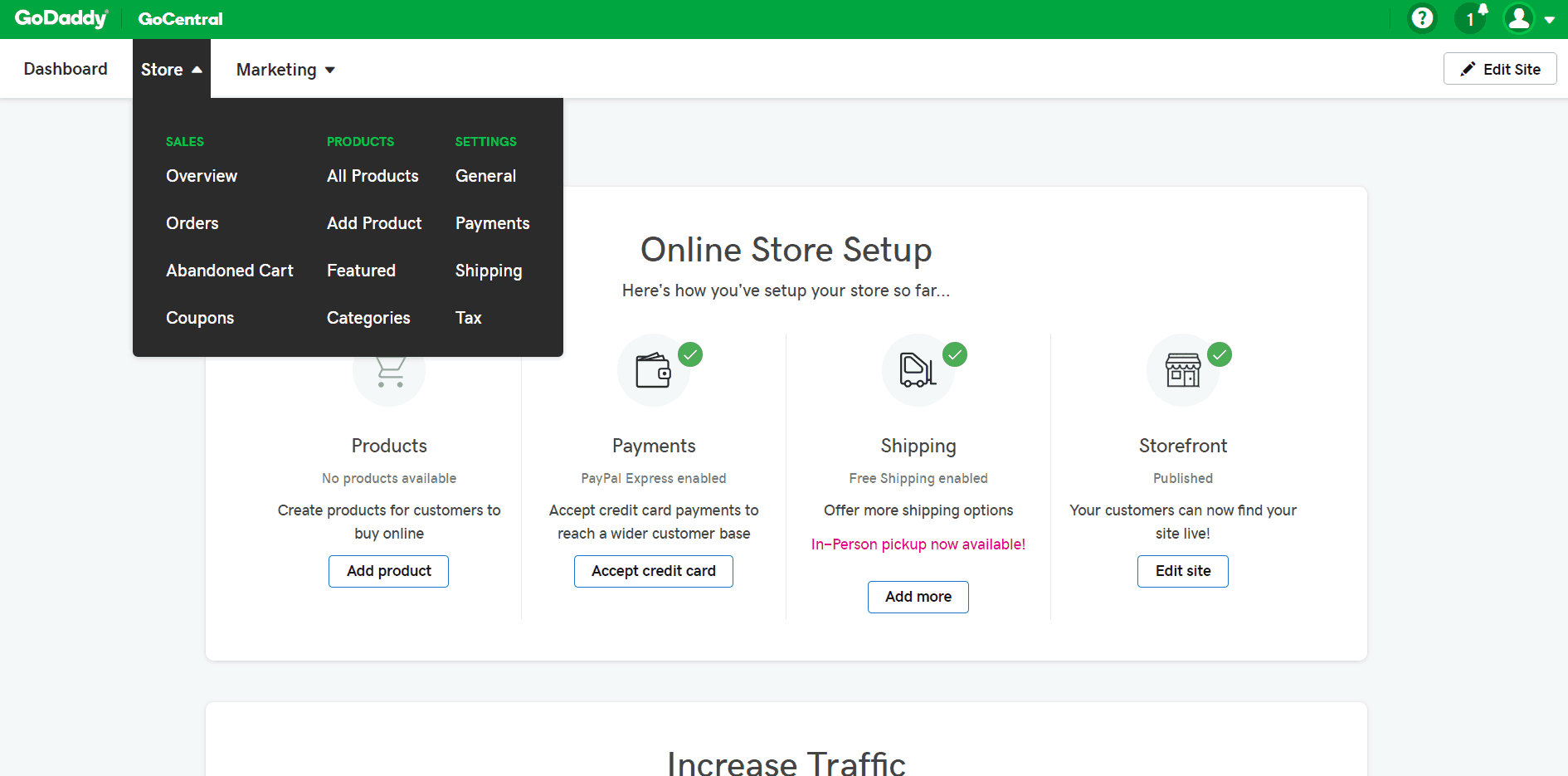 The setup process aside, from here on forward you'll have a very similar experience using GoDaddy's online store management dashboard, and Wix's. Both immediately provide you with the options to manage or add products, set up payments, or set up shipping and tax. Other features such as marketing tools, coupons, and categories are also easy to find.
The process of creating products, managing them, and navigating through all the more in-depth online store features on Wix is a little more complex than on GoDaddy. Certain settings are hidden under multiple levels of navigation, and there are generally more things to cover that aren't necessarily always needed. However, you can create a Wix online store in minutes with some guidance.
Winner: GoDaddy
GoDaddy is simply one of the quickest and easiest ways to put together an online store. The interface is streamlined, and you never feel like you're lost trying to find a certain setting or feature.
E-Commerce Features
Both of these website builders provide all the essential e-commerce features. These include an integrated shopping cart, shipping integration and rules, coupons and discounts, and tax tools. Both also provide the ability to sell digital products. Wix provides this ability through the Wix Art Store, while it's built-in with GoDaddy.
Both support multiple payment methods for customers on your store. On GoDaddy, you can set up PayPal, Stripe, and Square. These will allow you to process payments via credit/debit cards as well as Apple Pay. Square, moreover, allows you to accept payments in person.
Wix also supports payments through these platforms, but also through AliPay, Authorize.net, and more. Wix has a slightly better variety, but GoDaddy still supports all the most important ones.
When it comes to your products, GoDaddy has a limit of 5,000 products you can list on your store, whereas Wix has no limit. Both provide the ability to add color or size options out-of-the-box, and you can create your own options with their own sub-options (e.g,. green, red, blue for color).  Wix allows up to six product options, with 30 choices each; whereas GoDaddy allows only three options, but up to 100 choices each (of which three are searchable). Both also support categories and search filtering, although unfortunately they don't allow you to create nested categories.
In my opinion, having more options with Wix is more useful because the three options seem too restrictive, and almost no one will ever use up 100 choices. You can see an example of both product creation pages below — first for Wix, and then for GoDaddy: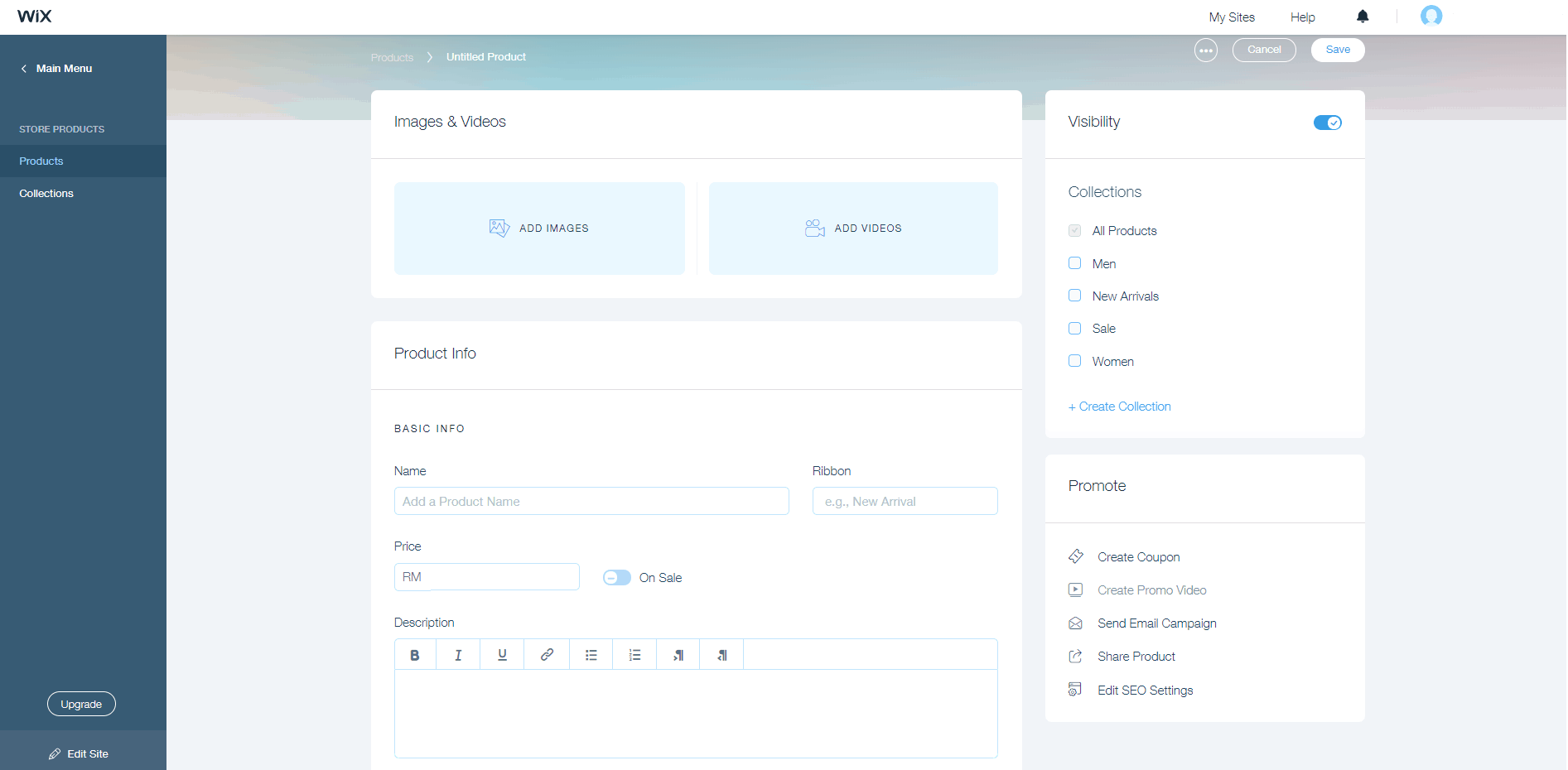 Wix also recently made Wix Store part of Wix Code, meaning that you can access the API to make custom changes and extensions in code. This provides a huge upper hand to those with the technical ability to extend the functionality of their store and integrate with third-party apps.
It's worth mentioning that via the apps in the Wix App Market, you have access to many more features in general, which may or may not be e-commerce related. These range from analytics tools, to document viewers/editors, to multimedia presentations.
Winner: Wix
Wix just about edges out GoDaddy in this race. Although GoDaddy is easier to use, you're afforded more control using Wix, especially since they made the store API available via Wix Code.
Marketing and SEO
Both Wix and GoDaddy allow for email marketing campaigns. With Wix, you'll need the more expensive VIP plan, and you'll be limited to 10 campaigns per month. With GoDaddy, you're limited to your email marketing plan, which starts at 5,000 emails a month, regardless of the number of campaigns. Both also allow you to create lists for newsletter subscribers.
When it comes to SEO, the experience offered by these two are very different. Wix allows you a lot of freedom to customize your URLs, metadata, and more. For most of Wix's other SEO functionality, you can install apps such as the Site Booster, which helps you list your website in directories, submits it to Google, and helps you optimize keywords. This app is also provided for free with the eCommerce and VIP plans.
GoDaddy, on the other hand, runs you through a simple wizard to optimize your webpages: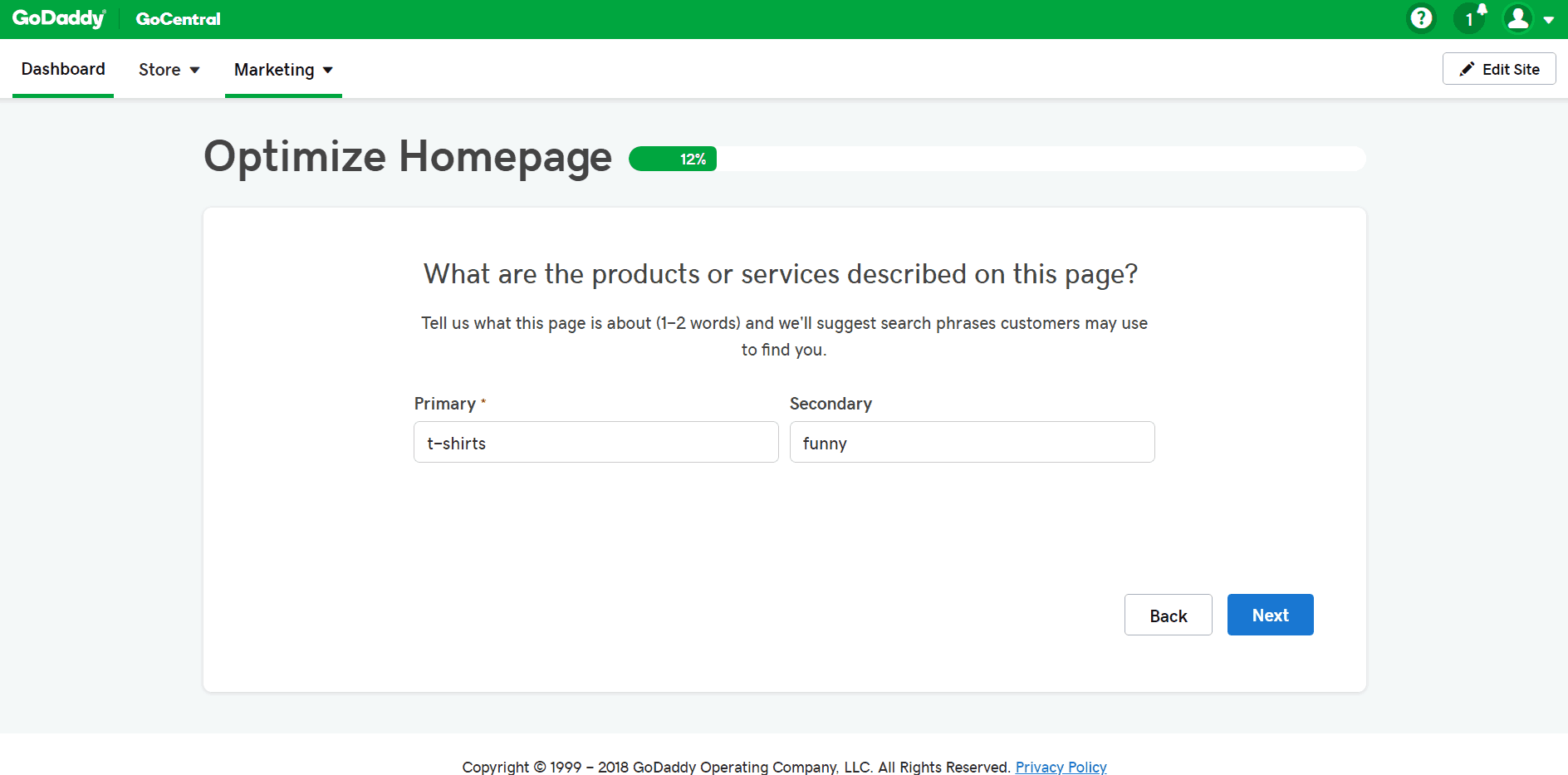 This mostly revolves around using certain keywords in your webpage and metadata, but doesn't allow you to edit your URLs. This makes it really easy to implement basic SEO for beginners, but is really limiting in the long run.
Winner: It Depends
Both provide all the essentials to implement SEO on your online store. However, the trade-off is between features and control. If you want greater control and don't need any guidance, go with Wix. If you're completely new to SEO and want some help, go with GoDaddy.
GoDaddy GoCentral Online Store vs Wix Store – A Roundup
GoDaddy
Wix
Pricing Plans
-Only one Online Store plan

-Still an affordable e-commerce plan

-Two e-commerce-enabled plans

-One of the cheapest e-commerce plans

Templates and Customizability
-16 simple templates

-No drag-and-drop builder

-No learning curve

-Simple and limited webpage builder

-500+ templates, with over 70 online store templates

-Drag-and-drop webpage builder

-Wix Editor provides extensive customization

-Slight learning curve

Ease of setting up
-All features are built-in

-The easier way to set up a website and store

-Relies on apps for many features

-A bit more complex, with deeper navigation

E-commerce Features
-Coupons, shipping rules, tax calculator, email notifications

-Up to 5,000 products

-No transaction fees

-PayPal, Stripe, and Square

-Three product options, with 100 choices

-Coupons, shipping rules, tax calculator, email notifications

-Unlimited products

-No transaction fees

-PayPal, Stripe, Square, and more

-Six product options, with 30 choices

Marketing and SEO
-5,000 to 50,000 emails per month

-Basic, guided SEO

-10 email campaigns per month

-Editable URLs

-Unguided SEO

-SEO apps are available
If you've been keeping score, you can probably already guess who the winner is. Wix trumped GoDaddy in most categories and would in most cases be your top pick to create an online store. However, things are rarely that simple, and it doesn't mean that Wix is always the better option for everyone.
For more information on Wix, check out our comprehensive expert review.
Because you'll likely have to rely on apps for most of your functionality, or use the more complex Wix Editor, or deal with the greater depth of features and navigation, Wix is also definitely the more challenging of the two to use.
GoDaddy has the edge when it comes to providing a streamlined website builder that allows you to create, set up, and host your store live in as little time and with as little effort as possible. Sure, this level of user-friendliness will always come with its limitations, but GoDaddy nevertheless covers all the essentials of e-commerce.
For more information on GoDaddy, read our in-depth review.
So, if you want a feature-rich website alongside your store with the option to extend the functionality via third-party apps and the API, then Wix is the better choice because of its App Market and Wix Corvid.
If you want a streamlined, quick, and effortless way to set up and run an online store, then GoDaddy is the better choice for its simplicity and guidance through using features like SEO.
If you want greater freedom when it comes to the design and uniqueness of your store, then Wix is the better choice because of its massive template library and extensive Wix Editor.
If you want to set up a fully functional online store for a non-enterprise solution that doesn't cost a fortune, then either Wix or GoDaddy is a great choice because they both provide all the features you need at an affordable price and easy-to-use platform.