I've been a web designer for 15+ years. You'd think I would have learned by now to lower my expectations of shiny new platforms.
But after testing both website builders thoroughly, I can tell you right now that GoDaddy should just stick with what it does well – and that's not website building. There's no real competition here – Wix won this battle of giants by a landslide. Read on to find out why, or
click here to see Wix's best plans
.
Overview
Wix Is Focused on Making the Perfect Site Builder, GoDaddy Apparently Has Other Concerns
Wix has a true drag-and-drop editor, in the sense that you can literally drag and drop any element of your site almost anywhere. You can lay out your content (almost) exactly as you like. In addition to that, you can change every color, every background image, and there are over 100 fonts to choose from. On more expensive plans, you can upload your own fonts, so long as you have the rights to use them. Wix lets you add animation, scroll effects, media galleries, and even host videos on the Wix platform itself.
Wix also has an AI-powered design engine called Wix ADI (Artificial Design Intelligence)
, which will basically generate an entire website for you based on your answers to some questions, complete with sample content. Wix comes packed with built-in features. There's everything from custom forms, analytics, and email marketing, to member login features, social tools, events, and more, and all you have to do is drag and drop them from the sidebar into your site.
Wix has a huge App Market, which includes both apps developed by Wix and third-party apps
. You'll find apps for just about anything you might want to include on your site, from simple pricing tables, to integration with third-party sites and software, real estate listings, bookings, Google Sheets integration, and… well… more.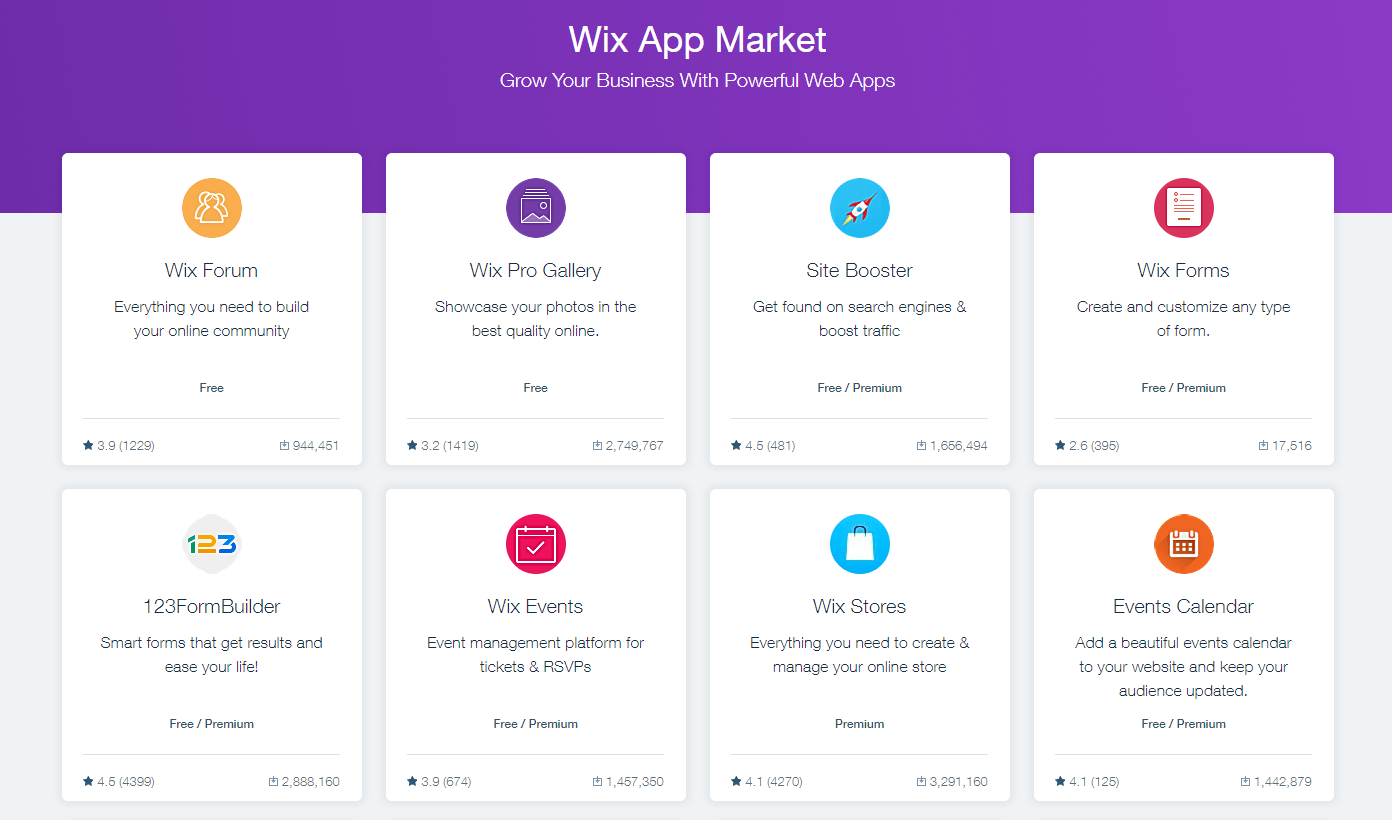 GoDaddy's site builder is far more basic. It does have some drag-and-drop functionality, but it's much more limited than the Wix editor. You basically build your site from pre-made content blocks. You can't place them wherever you like, but you can determine their order on the page. It's not a bad approach for a site builder, but it doesn't allow for quite as much creativity.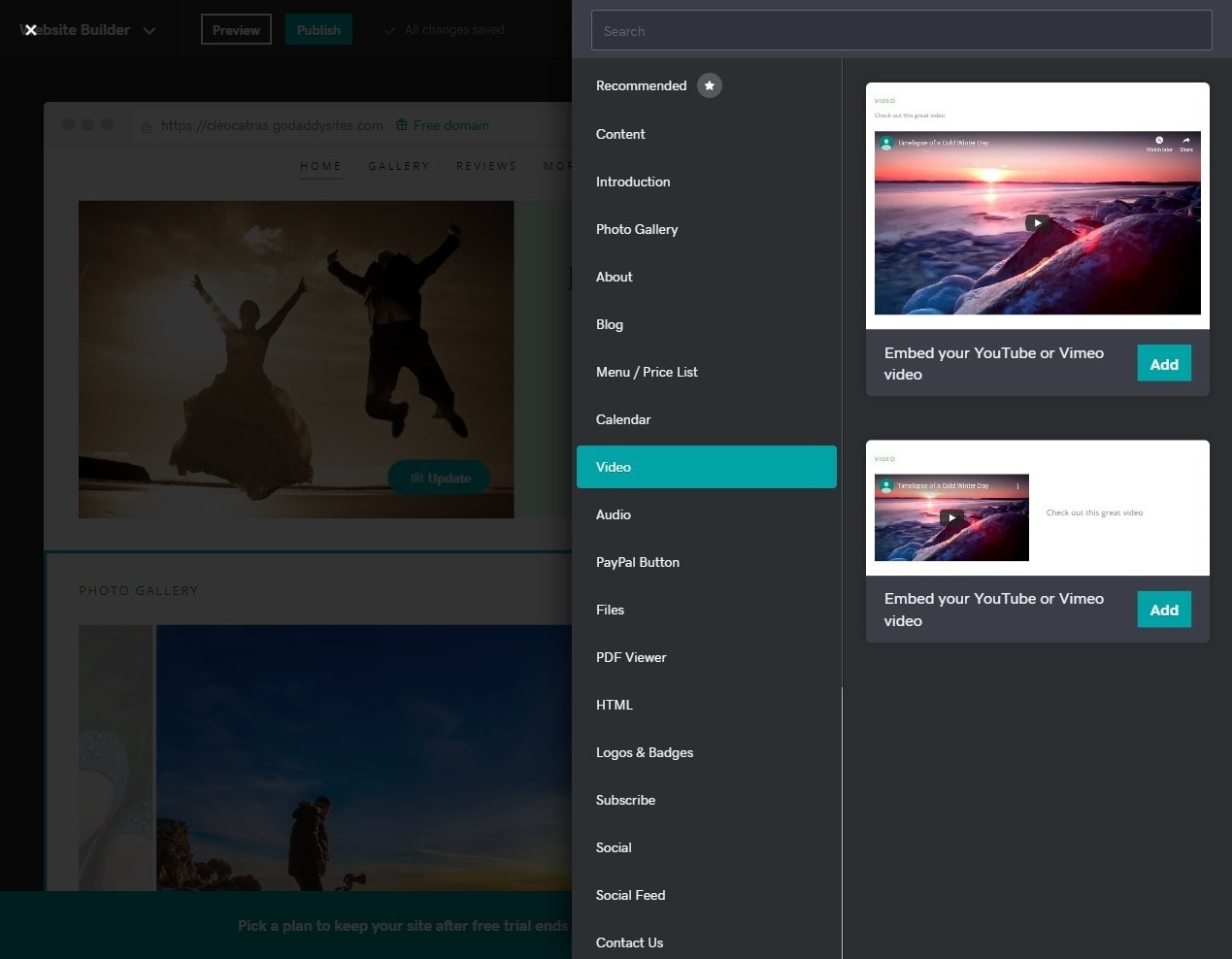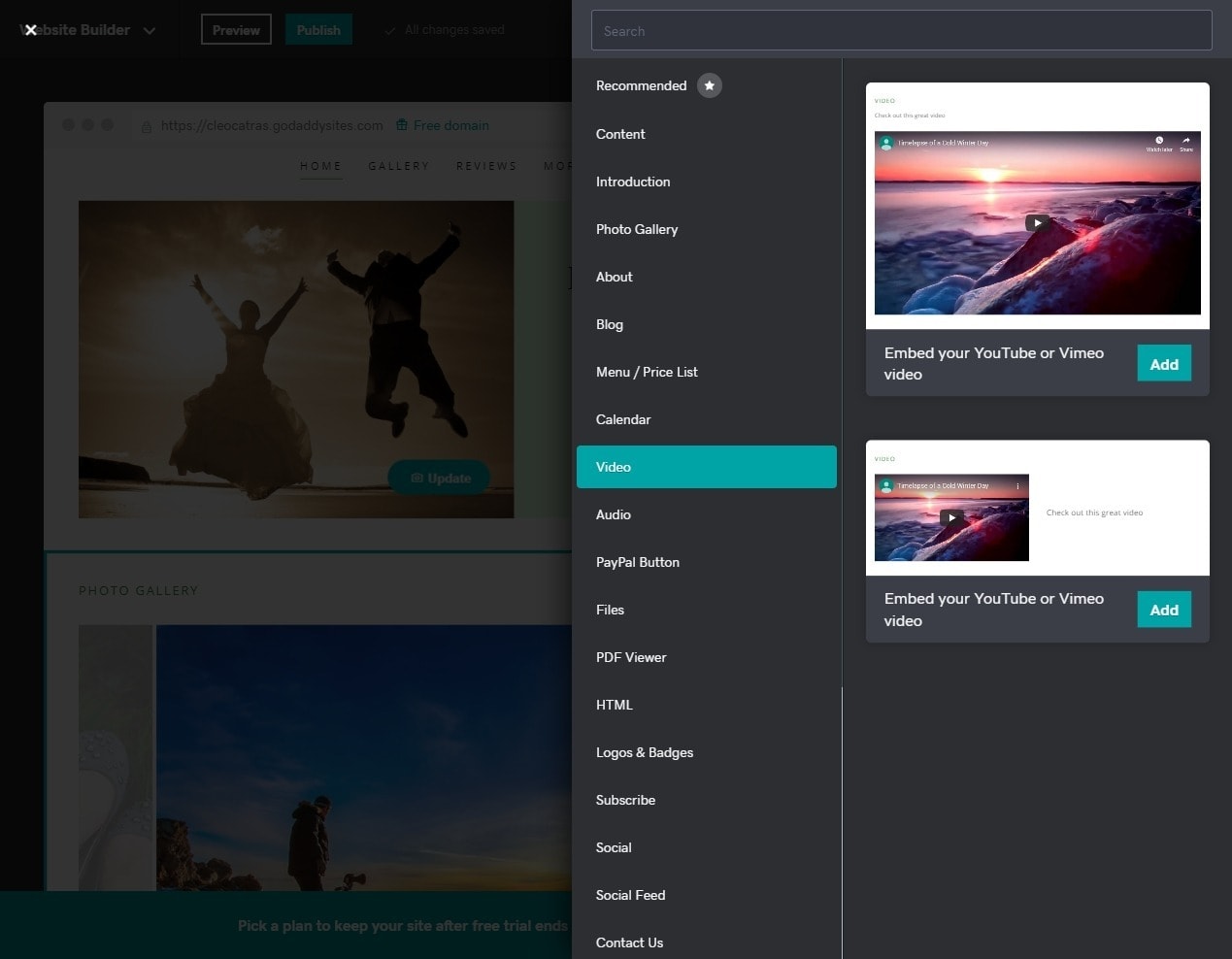 GoDaddy's blogging and marketing tools are very simple and basic, but its e-commerce feature is pretty decent. In addition, there are ways to build restaurant menus, book appointments, embed PDFs and photo galleries, contact forms, and other basic kinds of content you might need.
GoDaddy's site builder does integrate with some third-party platforms – Google Adsense, for instance – but that's about it. I could find no other add-on or app functionality. This is rather limiting.
Templates
Wix Has Over 900 Customizable Templates; GoDaddy Limits Your Theme Choices
GoDaddy vs Wix: round two! The main thing about site builders is that you want a good-looking site. It would be ideal, too, if that site didn't look like almost every other site out there. For that second thing, are you of luck? Well, when you use a template for your website, even if you customize it, your site can still look similar to others based on the same template. But
Wix has found a way to side-step this problem
, if you put the work in. For starters, you can choose from over 900 templates, in 17 primary categories. Having a selection that large is a big deal. Then, you can use the drag-and-drop editor to place elements pretty much anywhere on the page to create a design that feels original.
Wix doesn't have responsive templates, though.
It does have a second, mobile-focused version of each template (which you can customize separately) for the smartphone experience. If you've made a lot of changes to your template and moved the elements around the page, it won't adapt as well to the size of your browser and you will have to adjust it in the mobile view editor. Another potential drawback is that once you pick a template, you're stuck with it.
The only way to switch templates is to build a new site from scratch.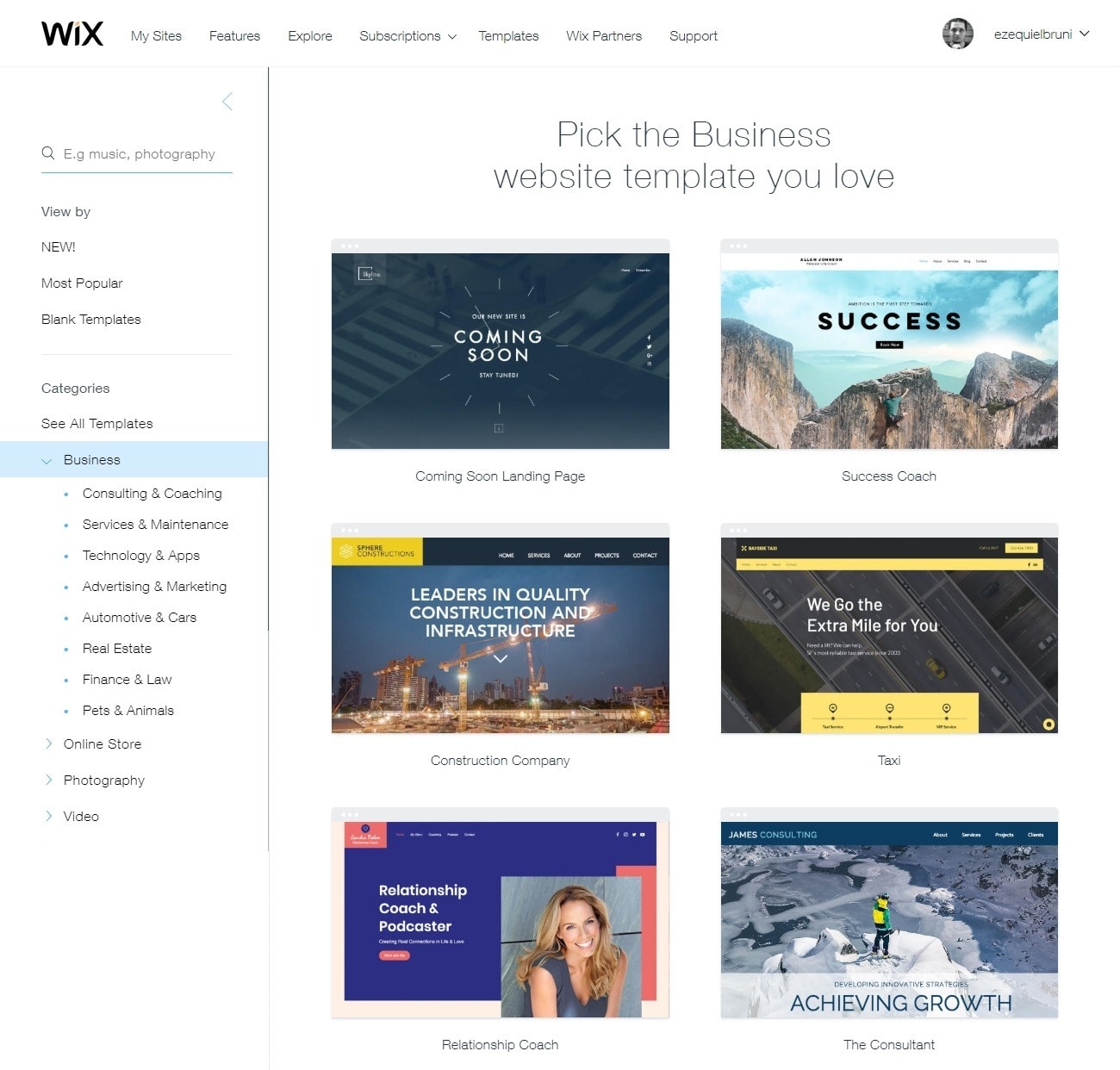 GoDaddy has measly 22 themes. Although there is a templates page on the GoDaddy website with around 100 templates on it, when speaking to the support team it was made clear that there are just example sites and not templates you can actually use to build your website with. Frankly, this is one of the more frustrating limitations on GoDaddy's platform. The themes do seem to all be responsive, though, and unlike with Wix, you can switch between them on the fly without losing content. I will say that the themes are very high-quality.
The designs are a little predictable, but they look gorgeous.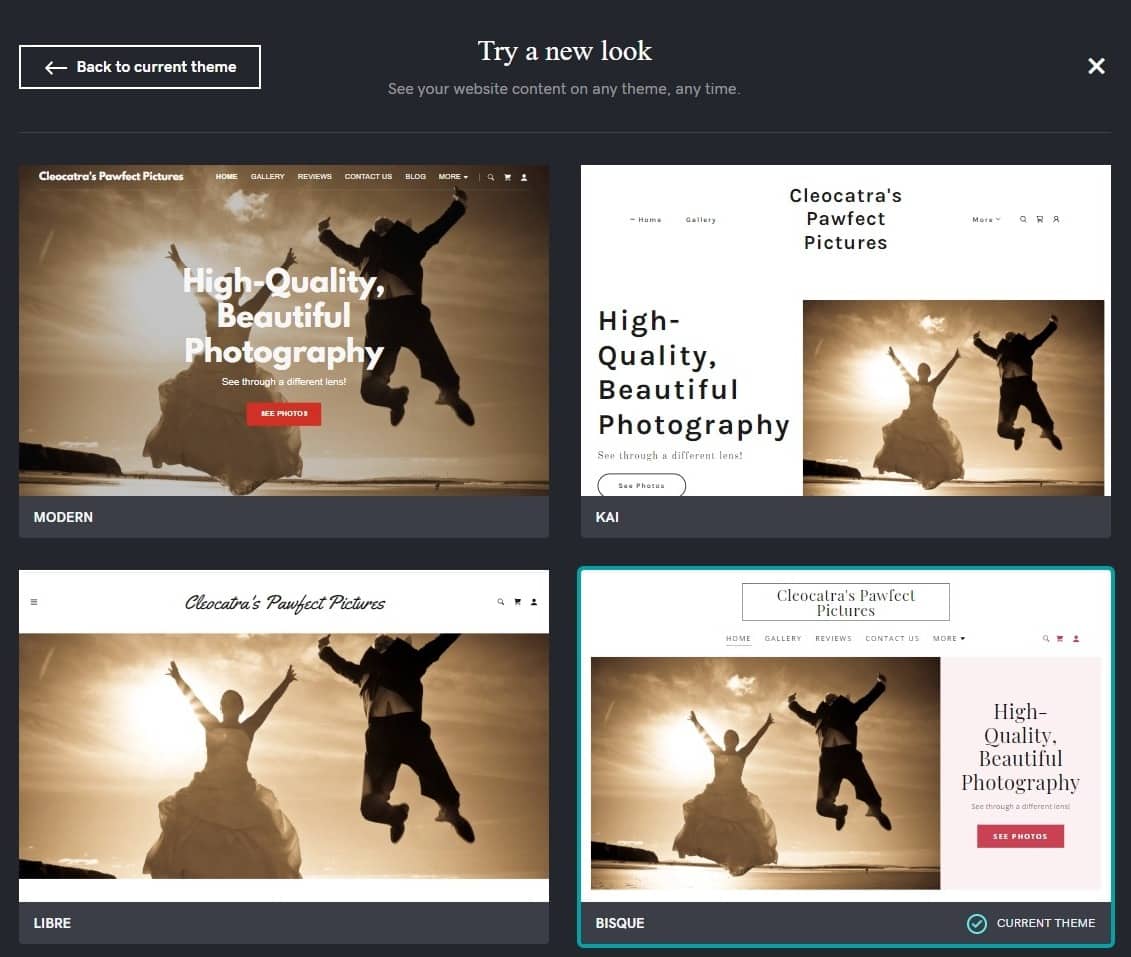 Unfortunately, you can barely edit them. We're talking about the "pick one color for the whole theme" sort of limitation. Where Wix provides design tools, GoDaddy provides design presets, and that's a pretty big distinction.
Ease of Use
Wix Is Completely Customizable; GoDaddy Is Simple But Not Flexible
As I mentioned above, Wix's drag-and-drop editor lets you customize your template and move elements almost anywhere.
With so many features and options, the app can take longer to learn. It's not hard, exactly, but it definitely has a learning curve. However, of the two services we're reviewing, I feel Wix does a better job of teaching you how to build a site on the platform, and that sort of guidance can be invaluable. The upside to Wix's drag-and-drop editor is freedom. The downside is that you can accidentally move things to the wrong spot, and you may need to make liberal use of the
Undo
button. On top of that, there's enough functionality and complexity that the app can take longer to learn.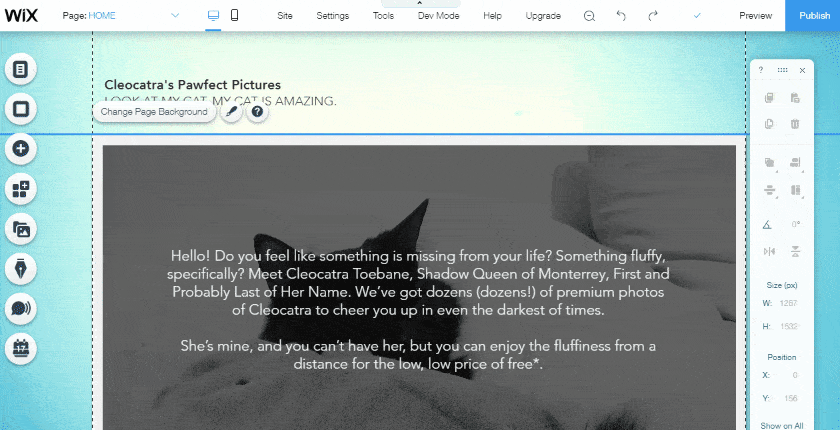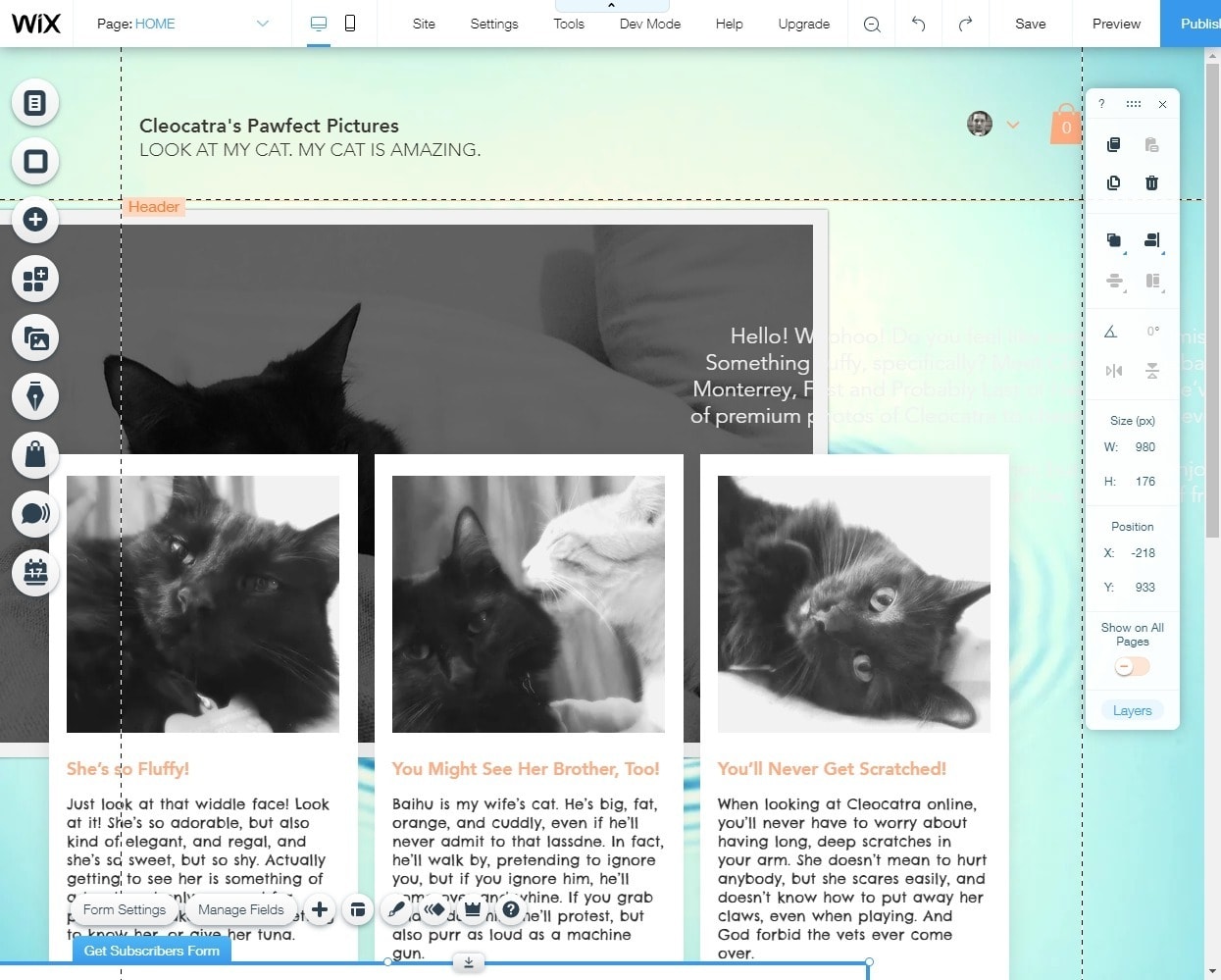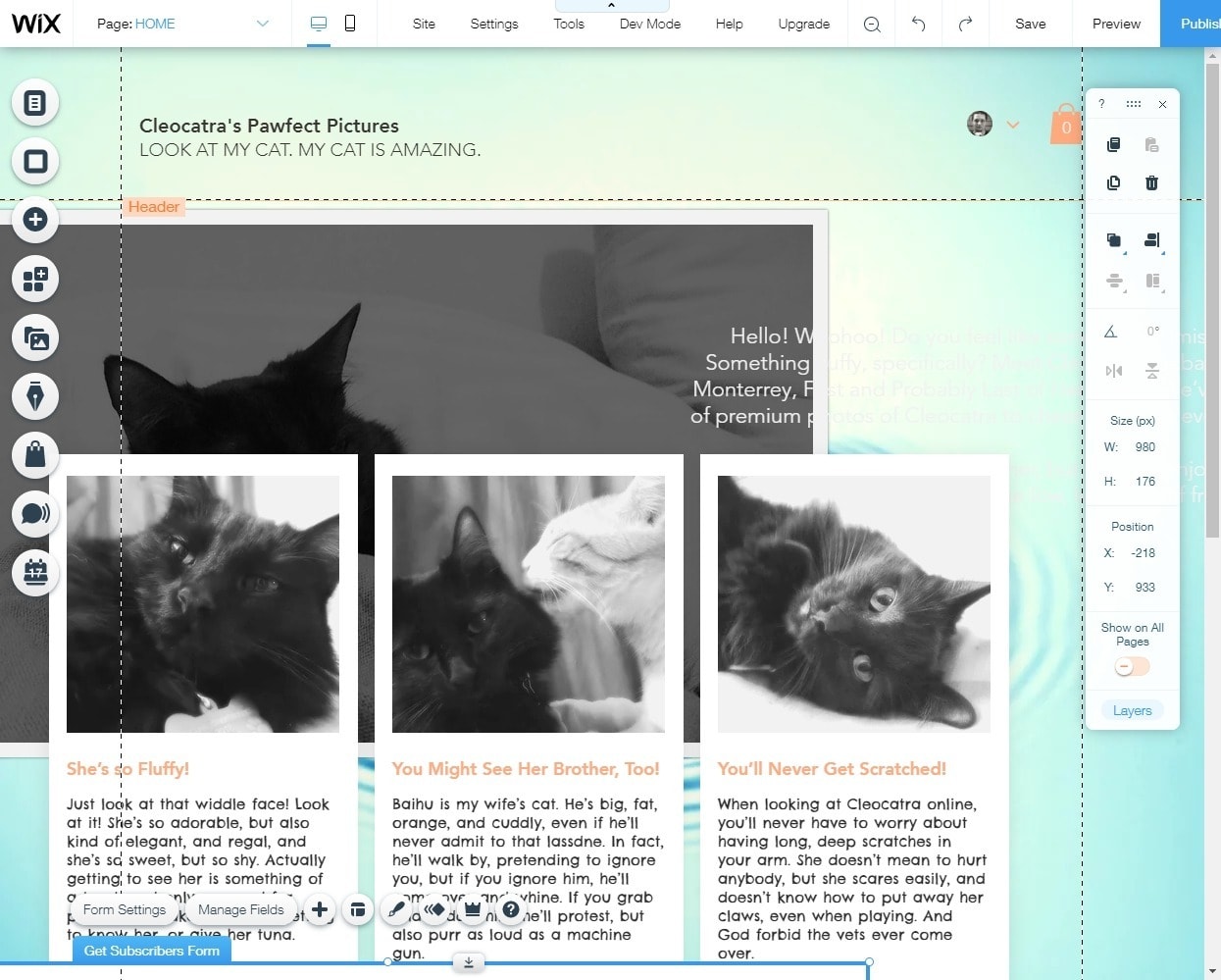 The advantage of the GoDaddy website editor is that with the recent major updates, it's simpler than Wix's editor.
It uses a design system with a bunch of premade components that you can arrange in a simple, vertical layout. The downside is a lack of flexibility, and you can't be as creative with your design. The upside is that it's harder to accidentally screw it up.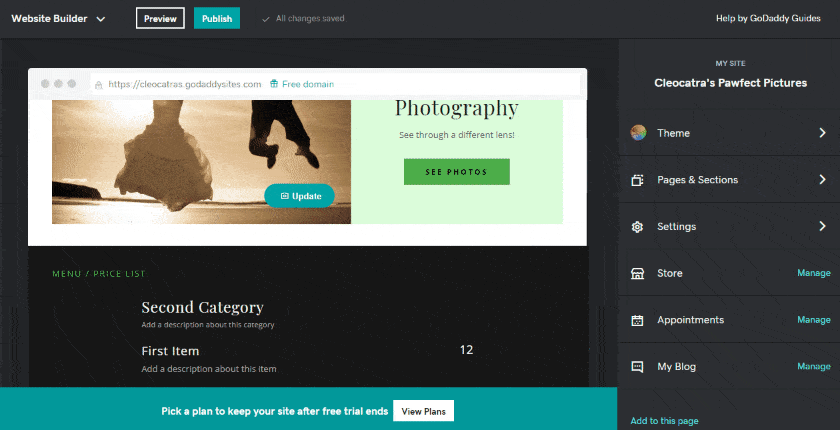 E-Commerce
GoDaddy and Wix Both Have Solid E-commerce Features
This is one area where GoDaddy didn't skimp on features.
Both builders have all the e-commerce bases covered, including:
Automatic tax calculation
Digital products
Physical products
Appointment scheduling
Selling via social media
Import catalog from CSV files
Wix stands out in that you can sell subscription plans,
and not just products. This is perfect if you're starting a service that you want people to pay for on a monthly or yearly basis. Wix also provides more product page layouts than GoDaddy.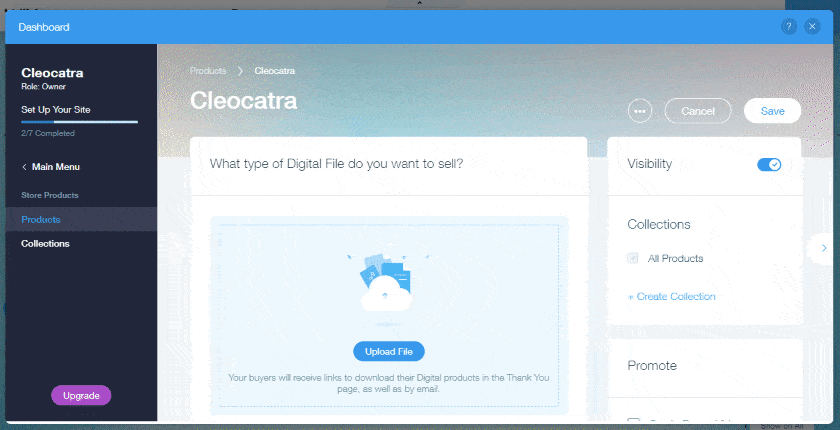 GoDaddy stands out in that you can sync your catalog with up to three marketplaces, such as Amazon, eBay, and Etsy.
This synchronization includes your inventory, which makes selling on multiple platforms darned easy. There seem to be fewer available product layouts, however.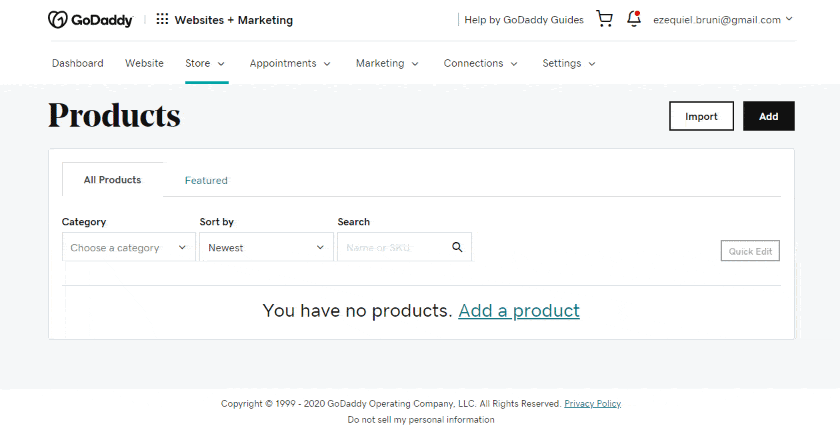 If e-commerce is your main concern, go ahead and read our
expert GoDaddy Website Builder review
 to get a better idea of what it has to offer.
Blogging
Wix's Comprehensive Blogging System Beats GoDaddy's Basic Features
Well this is going to be a short section.
On both platforms, you use a blogging app, not the main site editor, to write blog posts. Wix does it better.
Simply put, GoDaddy's blogging app will let you write posts, add categories, and schedule a publishing time. And that's it. You don't get tags, formatting is minimal, and you can't do a lot with the layout. Wix's blogging app does everything GoDaddy's app does, but it also offers more layout options for posts and lets you add tags. I'm not a huge fan of either platform for blogging, if I'm honest, but Wix's blogging app is better.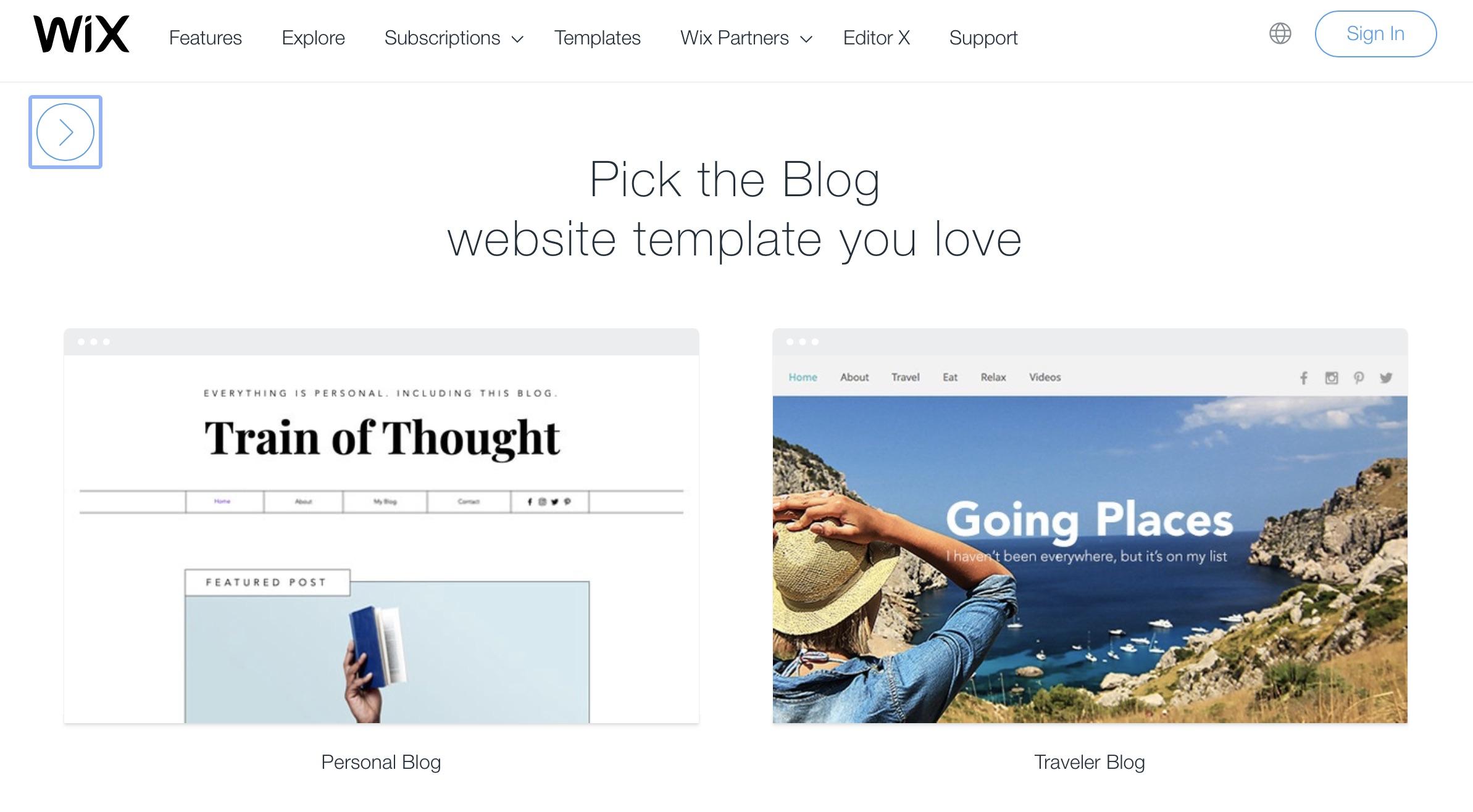 Let me rephrase that: Wix's blogging app is less basic. If blogging is the main focus of your site, consider trying out
WordPress.com
 or
Squarespace
.
Marketing and SEO
Wix Has More Marketing and SEO Tools Than GoDaddy
Marketing and SEO would usually get their own sections for comparison, but there's almost nothing to compare here.
While GoDaddy does have some basic marketing and SEO tools, Wix has a lot more options. This is thanks in part to the fact that the Wix team has just… built more tools, and thanks in part to Wix's third-party apps. If you plan to take a less automated, more word-of-mouth approach to advertising, along with a few ads, GoDaddy is fine. You can link to your Facebook and Instagram pages, use the email marketing tools, and get ad credits for popular search engines like Google, Bing, and Yelp. But that's about it. Wix's automated tools can make your marketing life easier, especially if you're doing everything yourself. For example, the Wix SEO Wiz is an artificial intelligence (AI) tool that will ask you a few questions about your website, then come up with a personalized SEO strategy for you. On Wix, you can also integrate your site with Instagram, Facebook, and other social media networks, and use third-party analytics apps and marketing tools like
Hootsuite
. The Wix Chat app allows you to provide support and talk directly to potential customers. Want to run A/B tests and generate heat maps based on what visitors do on your site? With the Crazy Egg app, you can do that, too. I'm not saying Wix is necessarily a marketer's dream, but it's a lot closer to it than GoDaddy is.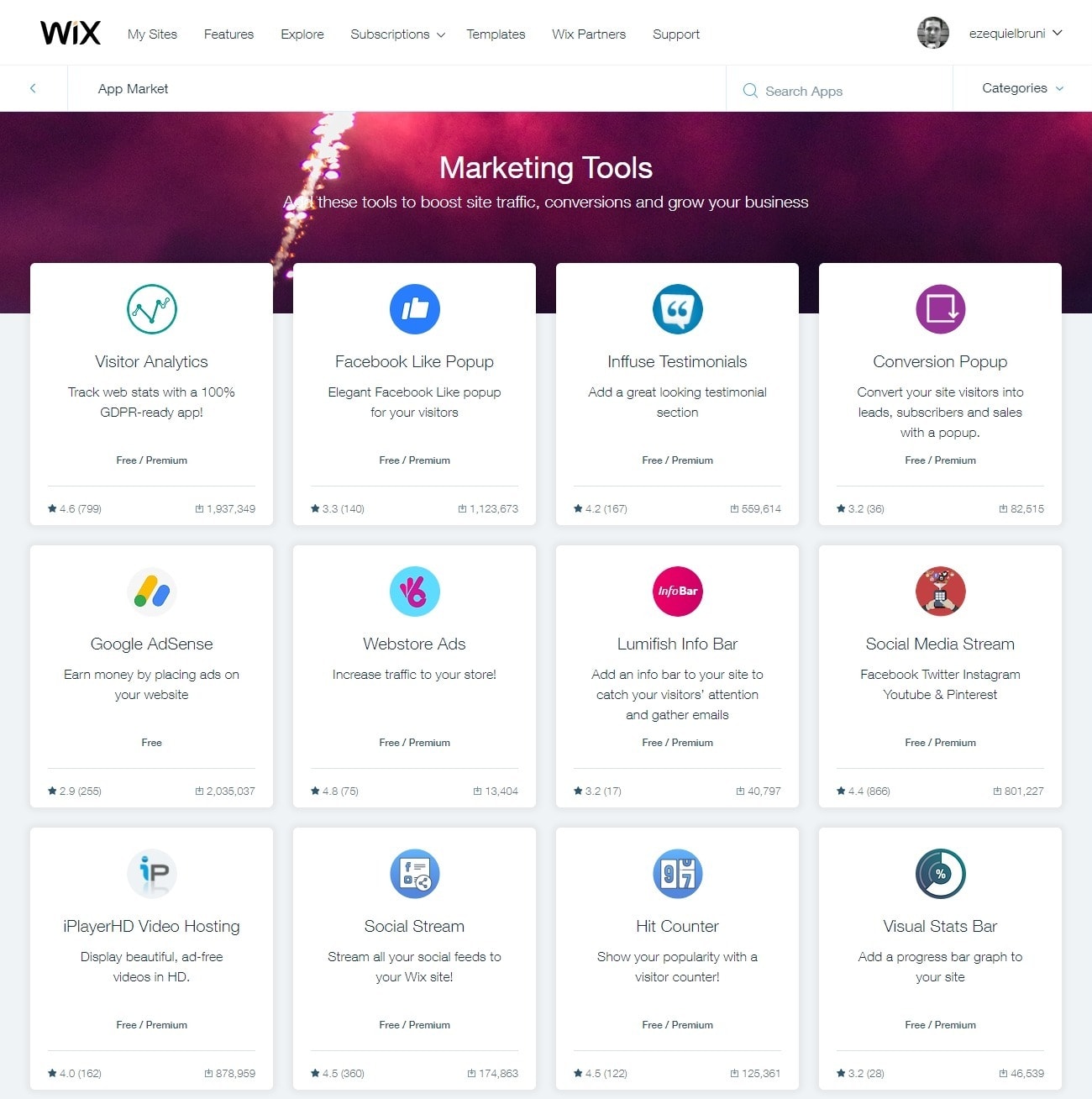 Pricing
GoDaddy Is Cheaper Than Wix, and That's Hard to Argue With
Wix's pricing plans vary, depending on your location. Each offers a fairly wide variety of benefits for an affordable price
. Most people with a few hundred dollars to start a business could make do with one of the basic plans, and go on from there. There is also a free plan, but it won't cover any real business needs. If you want to take donations, sell products, or even use a custom domain name (i.e. mynewbusiness.com), you'll need one of the Business plans. On Wix, you will need to make individual payments for many of the third-party apps as well. If you find yourself using a large number of these apps, the expenses can accumulate rapidly.
GoDaddy's plans are streamlined, and a bit cheaper in general.
They offer some things that Wix's plans don't, even if they offer less in terms of general features. There are no real hidden fees, and no third-party fees. What you see is what you get. One big difference, though, is that a lot of Wix's plans include a free domain name for one year. GoDaddy's plans all have the
ability to connect a domain name
, but you have to pay for it separately, right from the start. This isn't surprising, considering that one of GoDaddy's biggest businesses is selling domain names. I have incorporated simplified comparison tables to assist in simplifying your decision-making process. Kindly bear in mind that these tables are not exhaustive, and Wix's plans generally encompass numerous additional features.
Wix Website Plans
| | | | | |
| --- | --- | --- | --- | --- |
| | Combo | Unlimited | Pro | VIP |
| Free Domain (1yr) | Yes | Yes | Yes | Yes |
| Bandwidth | 2GB | Unlimited | Unlimited | Unlimited |
| Storage | 3GB | 10GB | 20GB | 20GB |
| Remove Wix Ads | Yes | Yes | Yes | Yes |
| Total Video Storage | 30 Minutes | 1 hour | 2 hours | 2 hours |
| SEO App | No | Yes | Yes | Yes |
| Analytics App | No | Yes | Yes | Yes |
| Priority Support | No | No | No | Yes |
| Logo from Wix Logo Maker | No | No | Yes | Yes |
| Google Ads Vouchers | None | 300 USD | 300 USD | 300 USD |
Wix Business Plans
| | | | |
| --- | --- | --- | --- |
| | Business Basic | Business Unlimited | Business VIP |
| Free Domain (1 yr) | Yes | Yes | Yes |
| Bandwidth | Unlimited | Unlimited | Unlimited |
| Storage | 20GB | 35GB | 50GB |
| Total Video Storage | 5 hours | 10 hours | Unlimited |
| SEO App | Yes | Yes | Yes |
| Analytics App | Yes | Yes | Yes |
| Priority Support | No | No | Yes |
| Logo from Wix Logo Maker | No | Yes | Yes |
| Google Ads Vouchers | 300 USD | 300 USD | 300 USD |
| Google Analytics | Yes | Yes | Yes |
GoDaddy Plans
| | | | | |
| --- | --- | --- | --- | --- |
| | Basic | Standard | Premium | Ecommerce |
| Connect Custom Domain (Not Included) | Yes | Yes | Yes | Yes |
| Bandwidth & Storage | Unlimited | Unlimited | Unlimited | Unlimited |
| 24/7 Support | Yes | Yes | Yes | Yes |
| Business Phone and Email for 1 year | Yes | Yes | Yes | Yes |
| SEO features | No | Yes | Yes | Yes |
| Analytics | Yes | Yes | Yes | Yes |
| Marketing Emails / Month | 100 | 500 | 25,000 | 25,000 |
| Free ad credits for Google, Bing, and Yelp | No | No | Yes | Yes |
| Book one-time appointments online | Yes | Yes | Yes | Yes |
| Book recurring appointments online | No | No | Yes | Yes |
| Appointment reminders | No | No | Yes | Yes |
| E-commerce Features | No | No | No | Yes |
Wix Is Focused on Helping You Build the Perfect Website – and GoDaddy Can't Compare
As I previously mentioned, Wix has focused on developing one product, a website builder.
That focus has, simply put, delivered a better product. If you just want to build a site quickly and easily, and you need to do it all yourself, Wix is the better platform. With Wix's third-party apps, it's a
lot
easier to expand on your site's functionality. Look at our
full Wix review
if you need more convincing. You might still choose GoDaddy if you're on a small budget and don't need Wix's more complete feature set. But to be honest, even in this case I would go with a different website builder like
Site123
, that offers the same simplicity Wix sometimes lacks at a similar price.
FAQ
Does GoDaddy have better templates?
GoDaddy has 22 beautiful-looking themes, all of which are mobile-responsive, but there's little you can do to customize them. On the other hand, Wix has over 900 designs
 that you can modify to your heart's content. One downside of Wix templates is that they aren't responsive – so you'll have to use the mobile editor to make them look good on smaller screens. 
Is Wix better for SEO?
Compared to GoDaddy, Wix has a more powerful set of SEO tools, which include the built-in Wix SEO Wizz and numerous third-party apps. GoDaddy doesn't provide third-party integrations, and it has a limited set of SEO features. Still, it does have some useful email marketing features – read our expert GoDaddy review

to see if the platform works better for your needs. 
Is Wix better for blogging?
Wix offers more blogging features than GoDaddy, including extra layout options and the ability to add tags. That said, neither Wix nor GoDaddy excel in this area – if blogging is the main focus of your site, you may want to try out a blog-oriented platform like WordPress
. 
Is GoDaddy cheaper than Wix?
Wix's plans vary in price and benefits, but they're all quite affordable. Depending on how many apps you use, the cost can go up, but
our coupons will get you the best deals
. 
GoDaddy's plans are a bit cheaper in general, and there are no third-party fees, but you need to pay for a domain name separately. Both platforms have pros and cons, but if neither cuts it for you, feel free to check out our
top website builder recommendations
for more options.