Which provider should you choose to host a website for an Indian audience: a local Indian company like HostingRaja, or an international name like GoDaddy? Sure, HostingRaja may provide you with a data center nearer to your target audience, but that alone doesn't make for quality hosting. That's why I decided to take a comprehensive look at both GoDaddy and HostingRaja. I tested each host's speed, features, and more. After tallying the data, I have to say that GoDaddy is the clear winner.
GoDaddy even managed to provide faster loading times than HostingRaja in India,
in spite of some performance issues of its own. This wasn't the only unexpected revelation in my comparison. GoDaddy may be a big brand and the winner of this comparison, but it could stand to learn from HostingRaja in some areas.
Have a look at GoDaddy's latest deals,
or read on for all the details.
1. Plans and Pricing
HostingRaja Requires a Big Commitment – GoDaddy Offers Flexible Payment Options
On the whole, GoDaddy's budget plans are far more expensive than HostingRaja's.
Prices start impressively low with HostingRaja
,
thanks to some hefty discounts for new customers. Even upon renewal, HostingRaja remains the cheaper option. However, there is a major caveat.
HostingRaja's entry-level plan requires a three-year commitment, while other plans require at least a year
. There's no monthly billing option. For the best prices, you'd be expected to commit to
five
years. The wording of HostingRaja's money-back guarantee makes a commitment this long a concern.
It only offers a full refund in the first 30 days if you can prove you've had a "valid technical issue" with the service.
Who decides the validity of a technical issue, and how do you prove it?
GoDaddy Hosting Web Hosting
A free domain name is included with some hosting plans from GoDaddy Hosting
GoDaddy's entry-level plan requires a minimum three-month commitment, but the rest allow for monthly terms. Obviously, a longer-term commitment gets you a lower price.
GoDaddy also offers a 30-day money-back guarantee
,
but it only applies to annual or longer plans – anything less only gets you a 48-hour guarantee. This is a close one, but GoDaddy wins this round, despite being more expensive – it's simply the safer option for your cash.
2. Features
GoDaddy Takes Backups Seriously – HostingRaja Can't Be Relied Upon
Both hosts provide the tried-and-tested cPanel bundled with the useful Softaculous app installer. If you've used cPanel before, you'll have no problems getting started. If you haven't, it's pretty easy to learn once you get over the sheer number of features (and realize that you probably won't use most of them). While HostingRaja does offer automatic backups, they are only performed monthly and they aren't guaranteed.
GoDaddy offers daily cloud backups,
but this service costs extra. You can of course run manual backups with cPanel at any time. Email services from these hosts differ significantly. HostingRaja offers fifty basic email accounts for free with its cheapest plan. GoDaddy only offers a free one-year trial for a single Microsoft 365 email account, but once the trial is up you'll have to pay for it.
GoDaddy offers unmetered bandwidth on all its plans,
whereas HostingRaja limits you to 20GB on its entry-level plan. That being said, you can use that 20GB to host up to three websites, whereas GoDaddy's cheapest plan only allows for a single site. GoDaddy lists a great number of features that HostingRaja doesn't, like a free domain name, site stats software, CloudLinux with CageFS to keep your shared hosting account separate from others, and much more. If HostingRaja offers any of these features, they aren't listed on its website. If you need email accounts based on your domain name, HostingRaja might be a better choice. But GoDaddy offers a better range of features overall, even if its plans do cost more.
GoDaddy
HostingRaja
Hosting types

Shared hosting, WordPress, VPS, and dedicated servers

Shared hosting, WordPress, VPS, cloud VPS, dedicated server, private cloud

Free domain?

✔

 (one year)

✘

Free SSL certificate?

✘

✔

Disk space

100GB – unlimited

100GB – unlimited

Bandwidth

Unmetered

20GB – unmetered

Automatic backups

Available as premium add-on only

Monthly, but not guaranteed

Control panel

cPanel

cPanel

Email accounts

1 (one-year free trial)

50 – unlimited

Free CDN?

✘

✘

Free site migration?

✔

✔

Money-back guarantee

30 days with an annual plan or longer; 48 hours for shorter plans

Potential refund in first 30 days if user can prove technical difficulties
3. Performance
GoDaddy Is More Reliable, Backed by a Better Guarantee
Through a range of partners, HostingRaja offers data centers in at least nine Indian cities, including (according to its website) Bangalore, Mumbai, Hyderabad, Noida, Delhi, Kolkata, Pune, Jaipur, and Chennai. GoDaddy has data centers all over the USA, as well as one in Amsterdam and another in Singapore. The latter is your best bet for serving an Indian audience with a plan from GoDaddy. With premium plans, HostingRaja also offers the popular, WordPress-optimized LiteSpeed web server. GoDaddy doesn't reveal what kind of web server it uses, likely because this would not be of interest to a typical GoDaddy customer, but there is no mention of LiteSpeed or the LSCache for WordPress plugin. Unfortunately, HostingRaja's 99% uptime guarantee comes up short when compared to GoDaddy's industry-standard 99.9%.
HostingRaja also proved to be less reliable in our tests
, delivering a disappointing uptime score of 99.4% over a month of testing. This adds up to about 4.5 hours of total downtime. GoDaddy managed to provide 99.7% uptime over four months, which is not much better, especially considering this is below its guarantee. In our page loading speed tests, HostingRaja scored good but inconsistent speeds in India. Sometimes a page would load in under a second – other times, it took closer to seven seconds. See
our HostingRaja review
for details. GoDaddy's shared hosting provided more consistent speeds in India, but at three seconds on average, page loads were not up to the recommended standard of under two seconds. Performance on GoDaddy's WordPress hosting was better, but it was also less reliable. Check out
our GoDaddy review
to learn more. All in all, while GoDaddy is far from being a monster performer, it is the faster and more reliable option.
4. Security
GoDaddy Charges Extra For Simple Security Measures
HostingRaja takes your security seriously.
Every shared hosting plan offers free SSL certificates and ConfigServer's server-based protection against DDoS and brute force attacks
. Premium plans also feature a free malware removal service. Disappointingly, many of GoDaddy's security features are locked behind the paid Website Security add-on. The add-on itself isn't bad, offering an SSL certificate, malware scanning, a firewall, and an annual site cleanup service. But it's expensive, and there's a noticeable lack of security features without it. For example,
GoDaddy doesn't even offer free SSL certificates outside of its most expensive shared hosting plans.
HostingRaja easily wins this section as it offers more security features than GoDaddy at no extra charge.
5. Support
HostingRaja Struggled to Answer Even Basic Questions in a Timely Manner
GoDaddy offers 24/7 live chat and phone support, and there's even a dedicated phone line for Indian customers. HostingRaja provides 24/7 live chat and tickets, and while it also offers phone support, this is only available from 10AM – 6PM IST (Indian Standard Time). I wasn't too happy with the support service I received from either host. GoDaddy's live chat is rarely available within an acceptable time frame.
HostingRaja was even less responsive – sometimes my queries were simply never answered.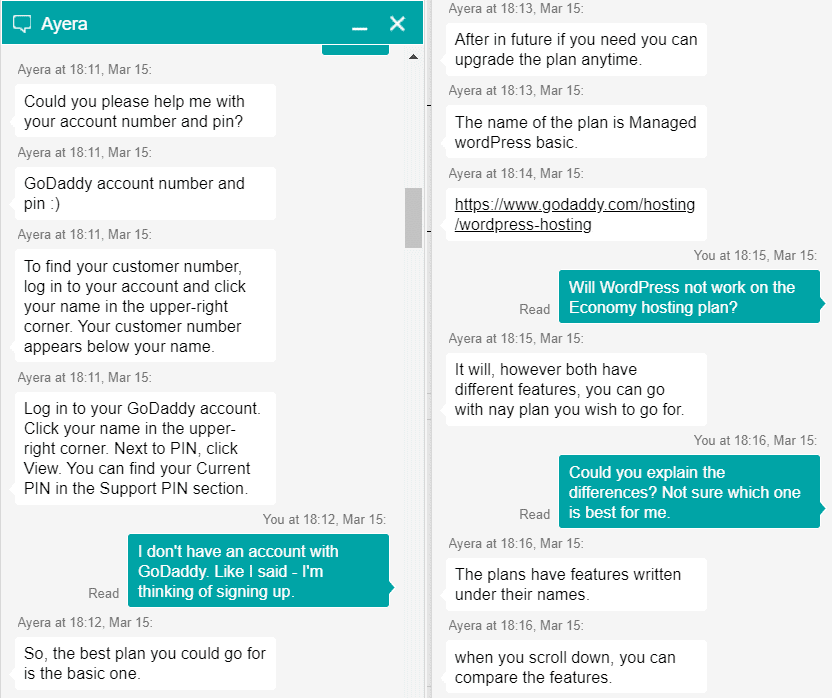 Both GoDaddy and HostingRaja preferred an upselling approach. GoDaddy did
attempt
to help with my queries, but we often spoke in circles.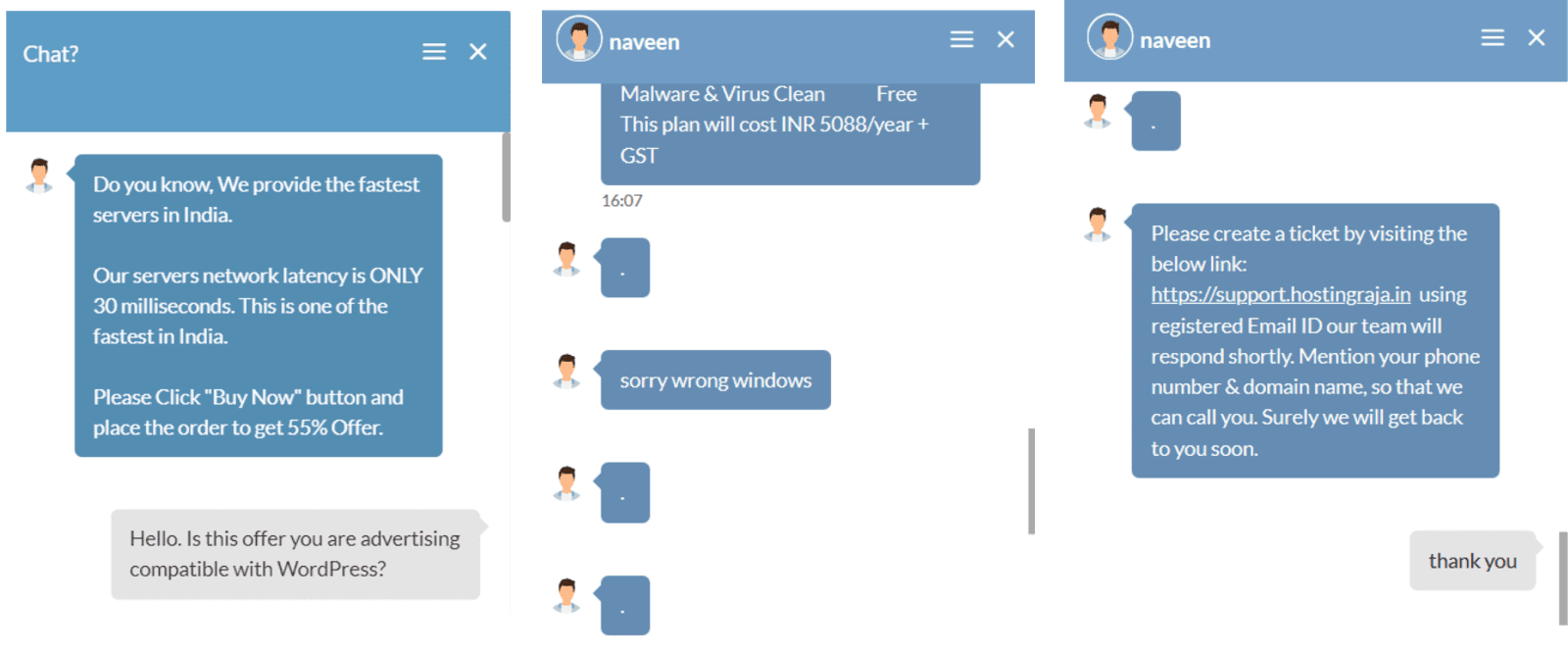 However, I found this assistance to be superior to the help I received from HostingRaja. After navigating through the upsells, I was promptly directed to their ticket support, which unfortunately proved to be slow, even for resolving basic issues. While GoDaddy's support service may have its own noticeable shortcomings, it does offer the advantage of providing live chat responses, ensuring you receive timely answers.
GoDaddy Is Our Winner
Although GoDaddy is the more expensive option,
it offers superior performance and a wider selection of features
.
Sure, you could save money with HostingRaja in the long term – but with loading times of up to seven seconds, your website won't retain many visitors. Neither of these two hosts manage to stand out from the competition. Many of the hosts in
our list of the best web hosting services
offer far better page loading speeds in India, often for comparably low prices. For example,
Hostinger manages to compete with HostingRaja's pricing
 while offering better performance
than GoDaddy.
Plans and Pricing
More expensive, but offers shorter payment terms; 30-day money-back guarantee for annual or longer plans
Far cheaper, but only available with annual or longer payment plans; money-back guarantee is limited
Key Features
Unmetered bandwidth on all plans; free domain name
Automatic monthly backups and free email accounts on all plans
Performance
99.9% uptime guarantee, somewhat poor reliability, but more consistent performance
99% uptime guarantee, worse reliability, and inconsistent loading speeds
Security
No SSL certificates with cheaper plans, many security features are only available with an expensive add-on
Free SSL certificates, ConfigServer & Security with DDoS and brute force attack protection
Support
24/7 live chat and phone support; Not very responsive, and agent upsell attempts
24/7 live chat, tickets, and phone support; agents are rarely available, heavy upsells, live chat often redirects to ticket support
FAQ
Does HostingRaja have free hosting?
HostingRaja does not offer any kind of free hosting. We generally recommend against free hosting, as security and performance are often weak. You'll have a better hosting experience for a very low price with a budget solution like Hostinger. If you're committed to finding the latest deals and the lowest prices, check out our coupon page.
Is GoDaddy reliable?
GoDaddy has some reliability issues. Despite offering a 99.9% guarantee, GoDaddy only achieved 99.7% uptime over four months of performance testing. Many of the hosts on our list of the best web hosting services have proved to be much more reliable.
Is HostingRaja good for WordPress?
HostingRaja offers LiteSpeed web servers and caching with every WordPress hosting plan. While these plans guarantee a page loading speed of two to three seconds (depending on your chosen plan), this lags a little bit behind the recommended maximum.
Which is better, HostingRaja or GoDaddy?
GoDaddy is the better of the two hosts. It offers superior performance in India, despite not having a local data center. Adding value further is a free domain for the first year, and unmetered bandwidth on all plans. While you could save more money with HostingRaja, you would have to commit for five years to get the best value.