GoDaddy, like so many other web hosting companies, wants to be your one-stop shop for domains, servers, site builders, ecommerce, and more. I've had the opportunity to review several of those services, and now… it's time to talk about GoDaddy's VPS hosting solutions. Is it any good? Does GoDaddy do anything interesting with VPS tech? How does it compare to the competition? Is it right for your business? Well… in order: It's okay. No. Not very well. It might be, depending on how you want to manage your hosting resources. Read on to find out exactly what GoDaddy has done right (and wrong) in the VPS space, and make your own call.
GTmetrix performance score
B
Free SSL?

✔

(only one per plan, for first year only)
Uptime guarantee
99.9%
Money-back guarantee
30 days
Starting price

$

4.99
Features
GoDaddy's Feature Set Is Solid, Though Boring
FEATURES SCORE: 4.3 out of 5
Let's be clear. GoDaddy has done nothing interesting with its VPS hosting.
 That's not a bad thing as such; the primary purpose of hosting is to serve your website(s) to visitors. Still, it would make my job as a reviewer easier if I had something unique to showcase. But hey, that's enough about my problems. Here's what you need to know: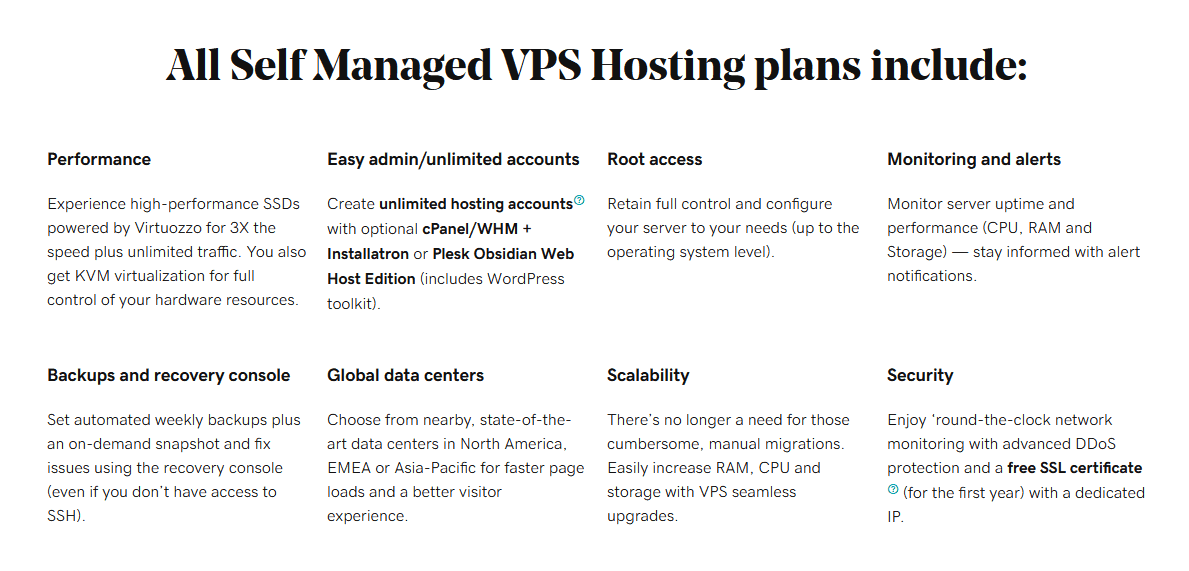 There are two sets of (unmanaged) VPS plans:
Standard RAM
and
High RAM
.
 The High RAM plans are exactly what you might think: they're basically the same as the regular plans, but they kick the RAM up a notch, just in case you need it.
All plans are seamlessly scalable,
allowing you to purchase more resources whenever you need them, with no fuss. You can also get root access to your server, which lets you configure it pretty much however you want. You have your choice of three operating systems: CentOS (version 7 for now), Ubuntu, and Windows. Lastly, each VPS gets a dedicated IP address, which is very nice. No need to rely on DNS for everything.
The cheapest plan includes a single CPU core, 1GB of RAM, 20GB of SSD storage, and one additional IP available upon request.
So yeah, if you want to host two apps on different IPs, but keep them on the same server, you can do that. Another couple of things you need to know: because the cheapest plan has so few resources, you are restricted to Linux. Also, you can't install a control panel add-on, for the same reason.
The most expensive (unmanaged) plan
comes with 8 CPU cores, 32GB of RAM, 400GB of SSD storage, and 3 additional IPs available upon request. You know, for when you want to put virtual machines on your virtual machines.
Install Dozens of Apps Easily
If you pay extra for a control panel (cPanel or Plesk), you get the Installatron app installer for free.
 No extra fees for Softaculous, or what-have-you. That means you, or any of your potential hosting customers (if you want to resell hosting) can easily install a load of different apps. These apps include, but are not limited to: WordPress, MediaWiki (which powers Wikipedia), Drupal, Joomla (ewww), Magento, PrestaShop, Nextcloud, and many more. So that's a nice little bonus. As someone who has set up his own server from scratch a few times now, I prefer having an installer.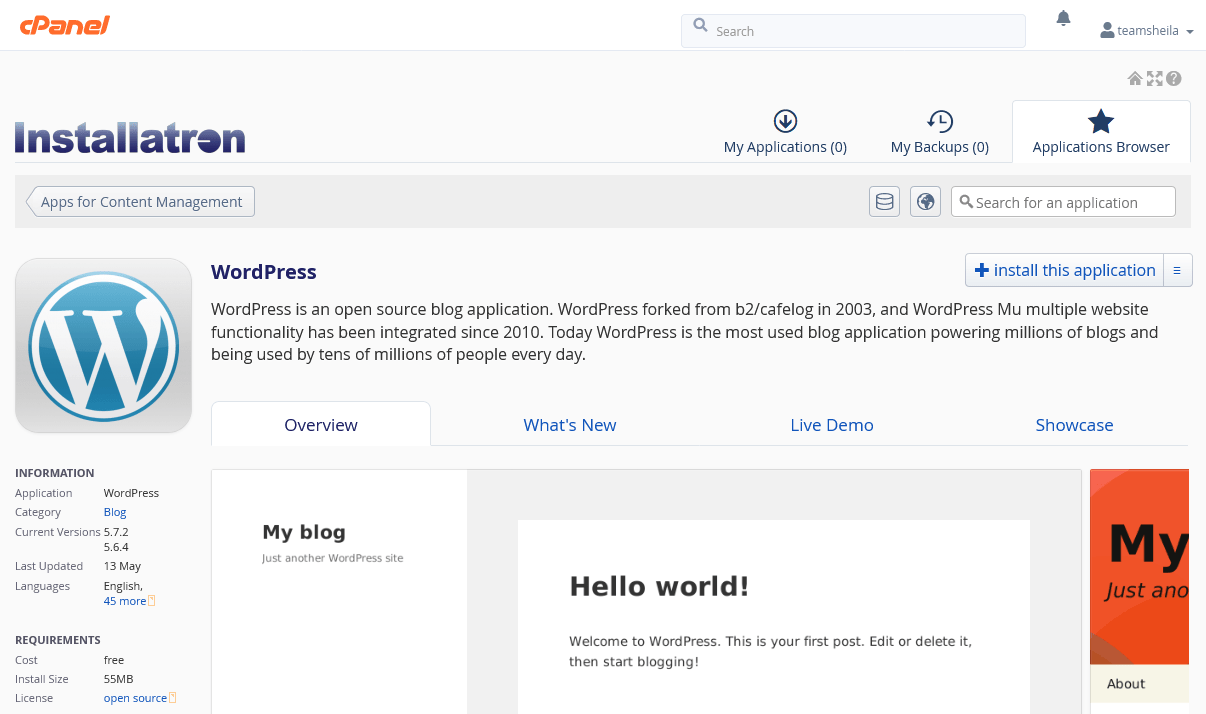 There Are Automated Backups and On-Demand Manual Backups
Weekly automated backups are free.
 Now, weekly backups may not be enough for sites with a lot of content, so a third-party backup solution could help. Otherwise, you can make manual backups at any time.
You can only keep one manual backup at a time,
 though. Every time you make a new one, the previous manual backup will be overwritten. Honestly, this system could be a little bit better – but that being said, some hosts charge extra for any backups at all.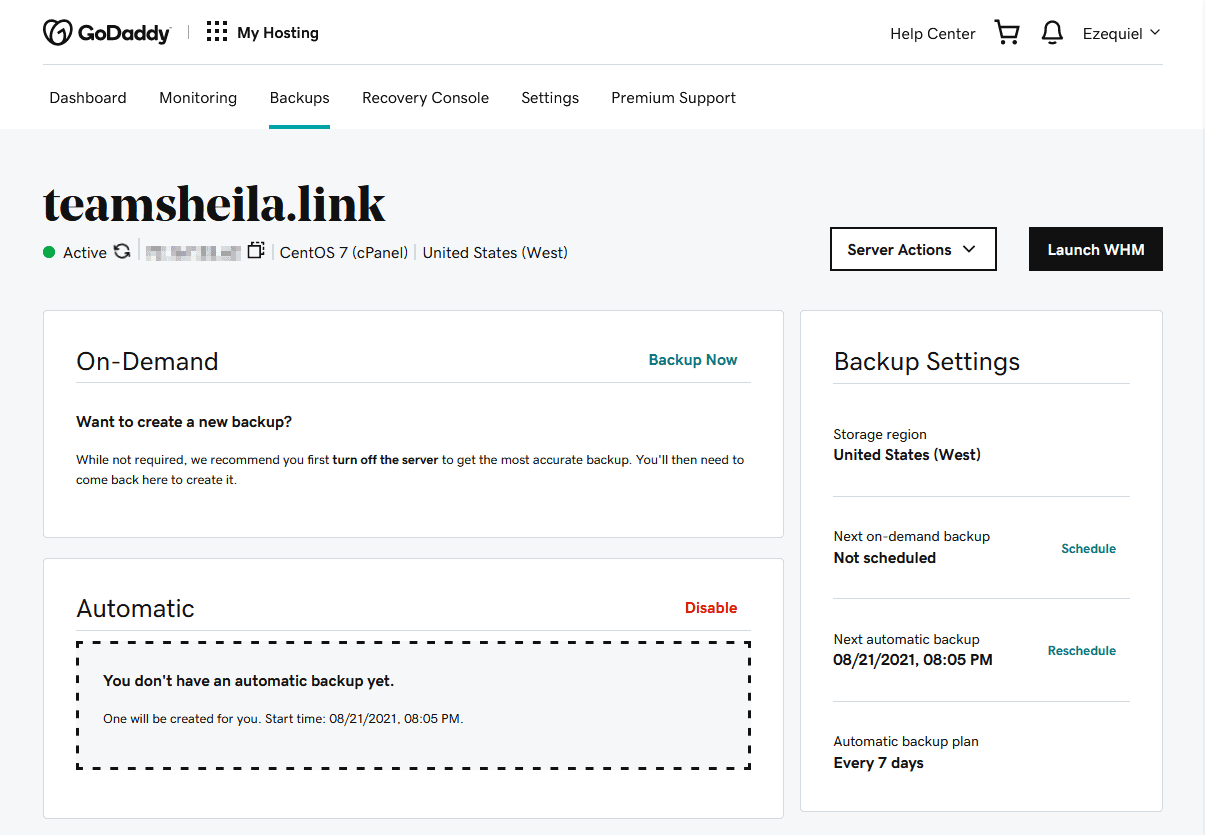 Fully-Managed VPS Hosting Is Available… but Expensive
So by default, all VPS packages are unmanaged, meaning you have to handle all server maintenance, fixes, and updates.
 Now, I enjoy doing that sort of thing. Makes me feel like a proper nerd, especially when I do it all from the command line. However, if you'd like someone to handle all of that for you, you can get that. It's just
waaaay
 more expensive than on many other services. Like, the cheapest plan costs nearly
20 times more
 if you want it managed. You can get very good managed VPS hosting for so much less over at
GreenGeeks
.
That said, the server management team can also handle app installs for things like WordPress, or more complex CMS options.
However – Bryan, a tech support agent I spoke to, really,
really
 wants people to know that GoDaddy cannot support any apps you install on your server. That's third-party code, and it's not the server teams' job to deal with that. For any help you need with those apps, you'll want support from the developer of the app in question, or your own developer. Look, I'm just passing this along because he's right.
All Servers Are PCI-Compliant
This is important.
PCI compliance means that all of the servers have the basic security required for things like payment processing.
So, if you want to start an online store for your artisanal cupcakes with slam poetry written on them (free terrible business idea for you), this is something you'll want to keep in mind when choosing your host. Nothing screws up a relationship with your customers like having their credit card data stolen from your website.
Ease of Use
It's About as Easy as VPS Hosting Gets
EASE-OF-USE SCORE: 4.8 out of 5
VPS hosting will always come with a learning curve for beginners, but the overall experience of managing my VPS on GoDaddy was simple and convenient. There's a dashboard that lets you manage your plans and monitor your servers' resources.
The experience is largely smooth and clean, and a whole lot less confusing than it used to be.
 The UI used to be the worst thing about using GoDaddy.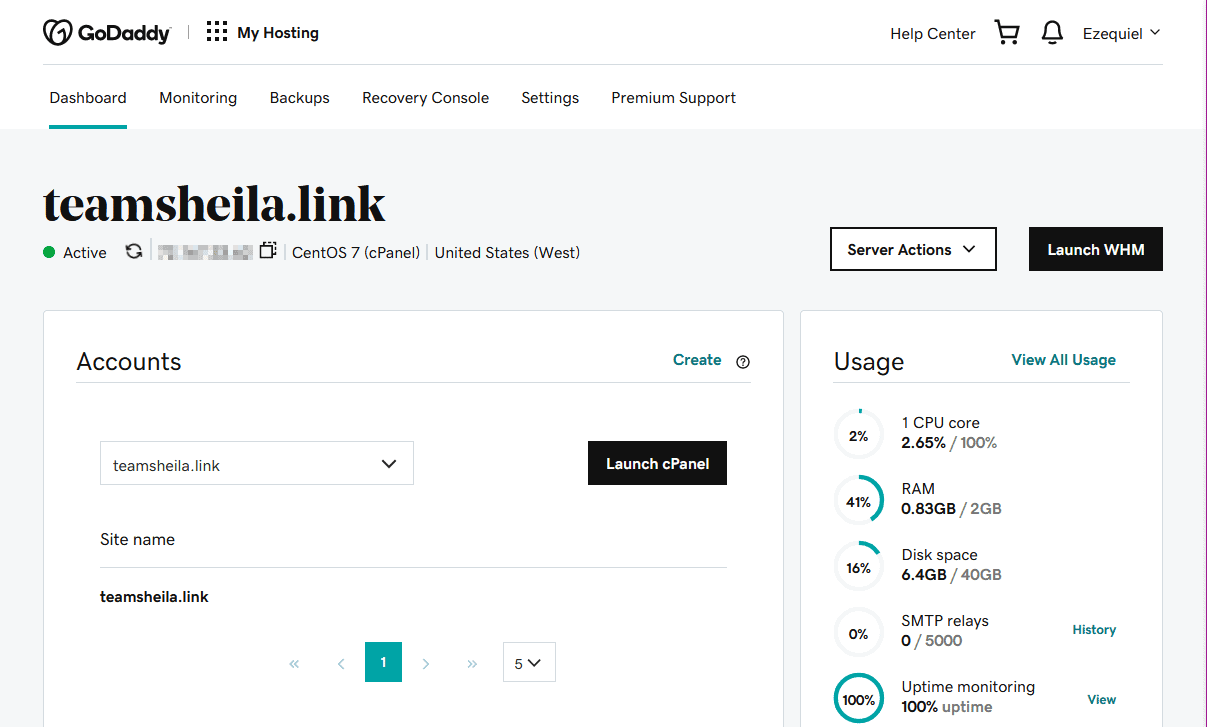 Once you actually have a server, you can configure it the hard way, via the command line.
If you pay extra (and this always costs extra), you can install one of two control panels: cPanel/WHM or Plesk Obsidian.
 If you get either one of those, the experience should be pretty darned familiar. Case in point, cPanel:
Here are some other ways GoDaddy tries to make your work easier:
There's a Basic Knowledge Base
It's nothing fancy, but there's a simple knowledge base with advice on how to manage your server from the GoDaddy admin panel.
 There's not a lot of advice on actually running a server or anything like that, but if you need help using the GoDaddy dashboard, you're covered. If you need any more advanced support than that, you'll need to make a phone call, and perhaps shell out for the
managed VPS hosting
.
Site Migration Is Available… at a Price
If you have a website set up elsewhere, you can pay to have the server team move everything from your old host or VPS to your new VPS.
It's that simple. Not cheap, but simple. When time is money, paying that extra cash can save you a lot of time in the long run. It should be noted, however, that
tons
 of hosts do this for free at least once. And if you pay for GoDaddy's nice, expensive managed service, you
can
 get five free site migrations, and a 70% discount off the service fee for additional site migrations.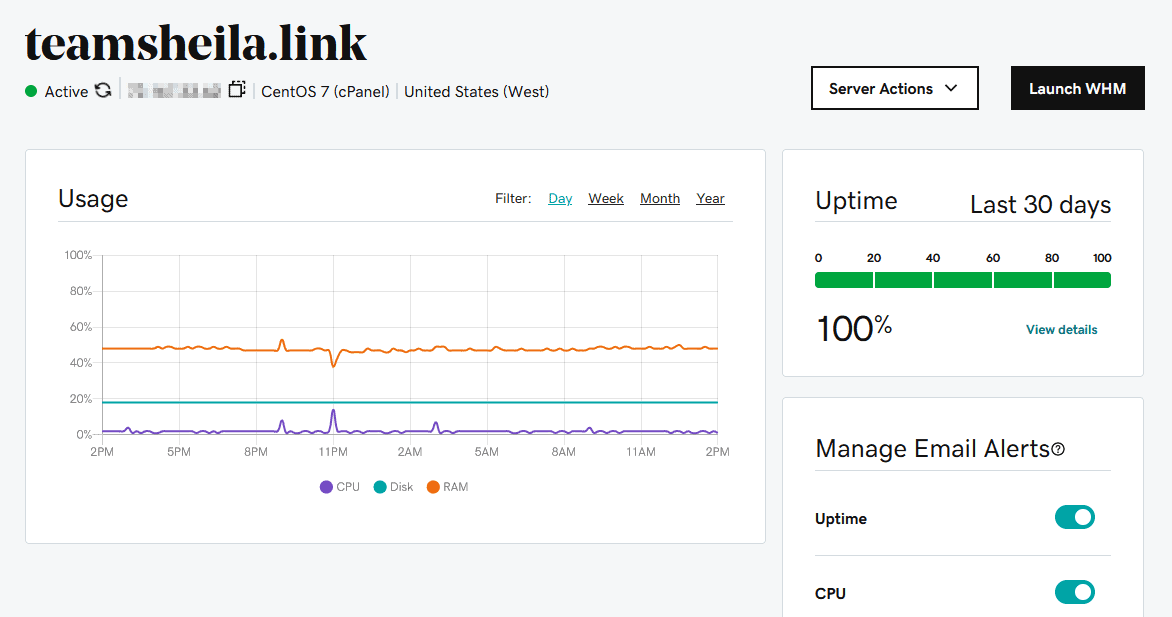 Monitoring and Alerts are Built In
Want to be notified if anything goes wrong, or even just goes weird on your server?
There are some semi-detailed resource monitoring tools,
 and you can get email alerts whenever anything unusual happens. You have to set up these sorts of alert systems yourself most of the time, so it's nice to see them built-in.
Performance
Server Performance Was Good, but It Was Slightly Inconsistent
PERFORMANCE SCORE: 4.6 out of 5
And here, I was somewhat disappointed.
 I was hoping the performance would be more reliable than GoDaddy's shared hosting performance, and it was… but not by much. First up, some basic info: You can put your VPS on servers in vaguely-labelled regions: the US (west coast), EMEA (Europe, the Middle East, and Africa), and the Asia-Pacific. I went with a US-based server. Now see, I like to put these servers through a real challenge. So, I installed WordPress, then installed a rather heavy theme with fancy animations and unoptimized images. Then, I ran some speed tests. When testing other VPS hosts, I could run and rerun the same tests, and get nearly the exact same results every time. With GoDaddy, the results varied a lot more, and that's with only one person (me) ever visiting the site and running tests.
The speed problems would become far more apparent with greater traffic.
Here's what you need to know:
The average page load speed was 1.45 seconds, which isn't bad –  it should generally be under 2s. However, the page load times varied a lot (indicating server instability), with a fastest time of 1.1s, and a slowest time of 2.2s. Website uptime sat at 100% though, which is good.
If you want a few more details about our performance tests, read on. Otherwise, go ahead and skip down to the
support section
.
GTmetrix
GTmetrix is the tool we use to measure site page loading time. As previously mentioned, you generally want to keep the full page load time under two seconds, to keep people from losing patience and bouncing off to a different site. This was the best result I got from my tests: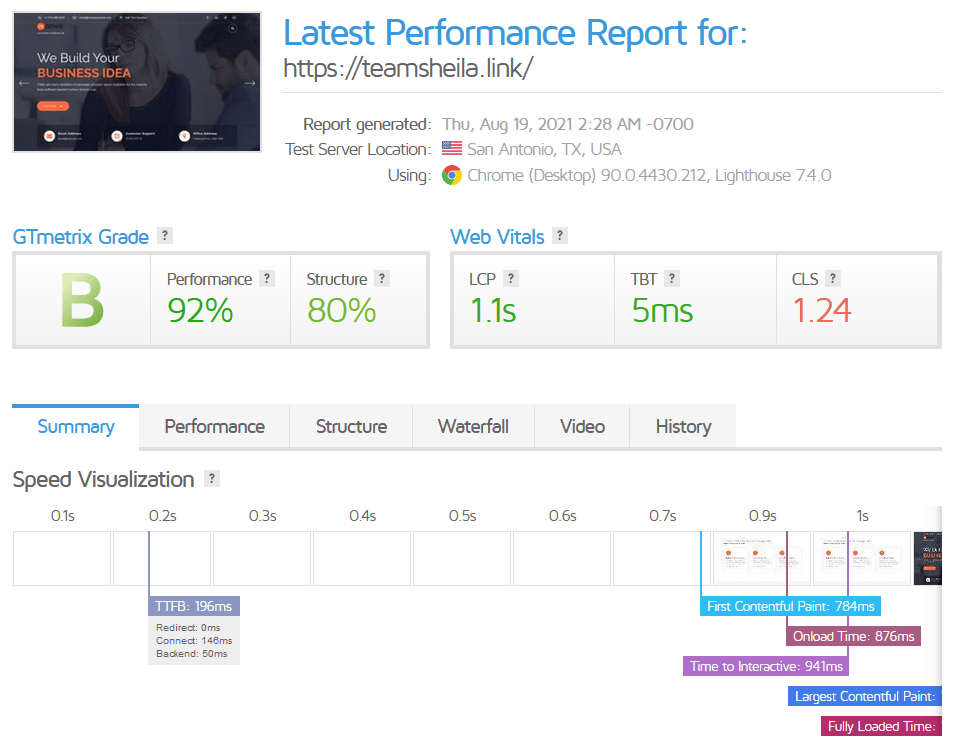 UptimeRobot
We use UptimeRobot to check on our test websites regularly, and to make sure they're still running. I only tested uptime for a relatively short period, but you can never complain about a solid 100%. On the other hand, I can totally complain about that ping rate graph. Those are some nasty lag spikes out of nowhere.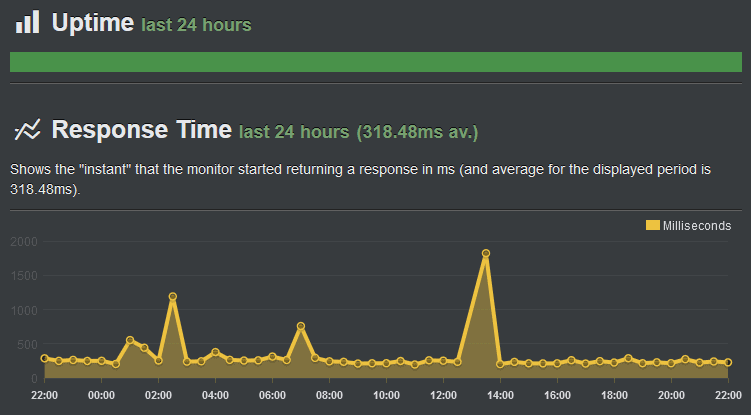 Support
Who You Gonna Call? GoDaddy! 'Cause the Live Chat Sucks
SUPPORT SCORE: 4.3 out of 5
Okay so here's the good news: you can get 24/7 support.
The bad news is that you'd better get it by phone. My experience with the support team was… mixed. I don't mean to say anyone I talked to was unhelpful, it's just really hard to reach an agent. You have two options: live chat, and phone. But the live chat is more theoretical than useful. Let me explain.
Live Chat
The first time I tried to ask a question in the live chat, I did not get far.
 I was given an estimated waiting time of 77 minutes,
and I, like a real person with a real life, did not have time for that. The second time, I tried late at night, when I figured the team would be less busy. I was told someone was on their way to help me. They never showed up.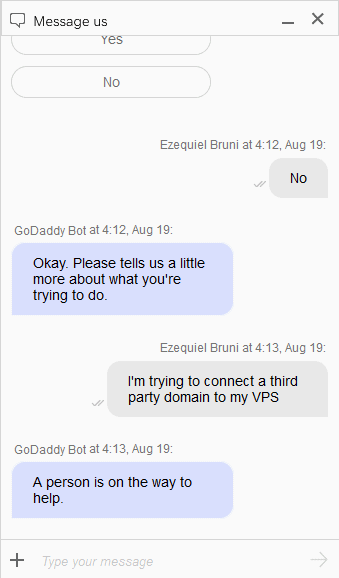 Phone
Having become sick of the live chat, I bit the bullet, swallowed my anti-talking-to-people bias, and called GoDaddy via Skype. And you know what?
GoDaddy offers the option to wait without music.
I
love
 that this option exists. I got an answer to my call in 7 minutes. I asked how to connect domains to a GoDaddy VPS, and the easiest way by far is with A records. The tech agent (the aforementioned Bryan, who is awesome and deserves a raise) also outlined a solution that involves running my own DNS server. But because I don't know how to do that… I didn't.
Anyway, I liked the phone support a lot.
 Hey, I called in the middle of the night, I got connected to the uber-nerds, and had a grand old time.
Pricing
PRICING SCORE: 4.4 out of 5
The pricing for unmanaged, Standard RAM plans is pretty competitive, actually.
The cheapest one starts at
$
4.99
per month, and the more expensive plans are reasonable enough for what they offer. And here's the kicker:
any discount you see carries over at renewal time.
 That's huge. Most hosts will give you a cheap price to start with, then jack it up a fair bit come time for renewal. GoDaddy apparently doesn't do that. It's nice. The only plans I'd say are outright not worth it are the managed plans. You can get a similar service for so much cheaper elsewhere. If you do decide to go with GoDaddy, you can pay with Visa, MasterCard, Amex, Discover, JCB, Diner's Club, PayPal, In-store credit, GoDaddy gift card, and Good As Gold. Keep in mind that payment options will vary from country to country, and the aforementioned options are for the USA.
Cancellations and Refunds
Cancelling is a bit of a multi-step process. First, you have to cancel your hosting or VPS package from your GoDaddy dashboard. Then, if you're eligible for a refund (you have to cancel within 48 hours on a monthly plan), you have to request that refund from support.
Don't worry – if you pay for a year, you have a full 30 days to make your decision.
 But yeah, that 48-hour time limit on the monthly plan hurts a bit. Funny story: when I wanted to cancel, the live chat wait time was only 4 minutes. I guess the Account Management team has it easier.
The Bottom Line
OVERALL SCORE: 4.5 out of 5
GoDaddy's VPS hosting
is okay. Just okay. You can find unmanaged VPSs for comparable prices, and with a lot more features. You can find managed VPS hosting elsewhere a
lot
 cheaper. For price, go with
Hostinger
. For features,
InterServer
. For helpful support,
GreenGeeks
. They're all better options in general.
FAQ
What projects are best suited to VPS hosting?
The beauty of VPS hosting is, if it's set up right you'll have a fair amount of processing power that doesn't have to be shared with any other customers. But this makes it overkill for something like a simple business or brochure site. The power it provides is better suited to any project where you anticipate a lot of traffic, and user interaction. Think of web apps, online stores, and membership sites. If you want to make darned sure that your site will stay up and running under heavy use, a VPS is a good way to go. Also, if you like configuring your own server just the way you want it, or want to build a custom app from the ground up, VPS hosting is good for that, too.
What's the difference between VPS and shared hosting?
VPS makes use of virtualization, which allows one computer to pretend to be a lot of separate computers, or virtual machines. The main benefit of this is that each machine gets treated as a separate entity. If you were to build two sites on two separate VPS servers residing on the same physical machine, and one of those sites became overwhelmed with traffic (or hacked), the other would remain unaffected. Shared hosting means that a whole bunch of websites share the resources of the same server. If one of them goes down as a result of being overwhelmed with a surge of traffic (or a DDoS attack), it's likely that all the other sites on that shared server will go down as well. That said, shared hosting is generally much less expensive, and is just fine for small websites that aren't expected to get huge numbers of visitors. Shared hosting is a good option for those just starting out, really. VPS hosting is what you should consider when it's time to upgrade. If you're just looking for a simple shared hosting plan, be sure to have a look at our 10 best web hosting services for 2023.
Why is VPS hosting so expensive?
Well, what does expensive mean to you? You can get pretty cheap VPS hosting from InterServer, for example. But generally speaking, it's more expensive to get because it's more expensive to provide. Using a full virtual machine to run a single busy website – or multiple sites – takes up more processing power, storage, and RAM than it does to run a small blog site on a shared server. In addition, many VPS hosting providers also offer more in-depth service, like help with server configuration and intensive tech support for when you run into those really finicky problems. All of that adds up to a higher price. But hey, if you're looking for a discount on your first VPS package, check out our coupon page with the best web hosting deals for 2023. 
Is GoDaddy's VPS hosting worth it?
Honestly? It's okay. Not terrible, not great, and definitely not all that interesting. The slightly inconsistent server performance doesn't help either.  You can get better support and cheaper managed servers from GreenGeeks, cheaper initial prices on long-term deals from Hostinger, and very reliable service from the aforementioned InterServer. If you don't mind making your wallet nervous, Kinsta offers fantastic WordPress-optimized VPS hosting. The only reason I might choose GoDaddy for a VPS would be if I already had other services with them and I really wanted to keep all my hosting and domain products in one place. But that isn't my situation, personally.