I decided to find out where you can get the best quality design for the best price, and there was one clear winner.
Fiverr. The winner is Fiverr.
 I personally tested both of these hiring platforms thoroughly, as part of
my quest to find the best new logo for Website Planet
. While 99designs undoubtedly provides an excellent contest-running experience with great designers, Fiverr is just a little bit better. Read on, I'll prove it to you.
Note: Keep in mind that I only compared the two platforms in terms of their design categories. 99designs only does, well… design.
Fiverr also offers other services, like having people draw a portrait of you as a mermaid, and other crazy things I didn't even know existed.
1. Platform Structure and Workflow
Fiverr Is All About "Gigs," 99designs Does Projects and Contests
Let's start with Fiverr.
 Fiverr has a somewhat unique structure in that it emphasizes "Gigs," or individual services provided by its community.
 These services are provided on a one-time basis per payment, and a Gig can be just about
anything
. I really do mean
anything
. You can hire people to design logos,
like I did when I tested Fiverr
. You can hire them to make a music video, make music for your music video, write articles and copy for you, yodel for you, or almost anything else you might have in mind. If it can be done via the internet, someone on Fiverr will do it. (As long as it's legal.) Every Fiverr seller can list more than one Gig/service that they will perform, so there isn't much emphasis on user profiles themselves. There's more emphasis on searching for Gigs that match your needs.
You can filter Gigs by budget, user ratings, estimated delivery time, the language you speak, and more.
That said, you
can
 view user profiles, if you click on  a Gig associated with the user. To contact a particular user, hit the
Contact Seller
 button on one of their Gig pages to ask questions before you hand over any money. You can also contact them via their user profiles. If you want to hire them, you can go to a Gig and pay for it. It really is that simple.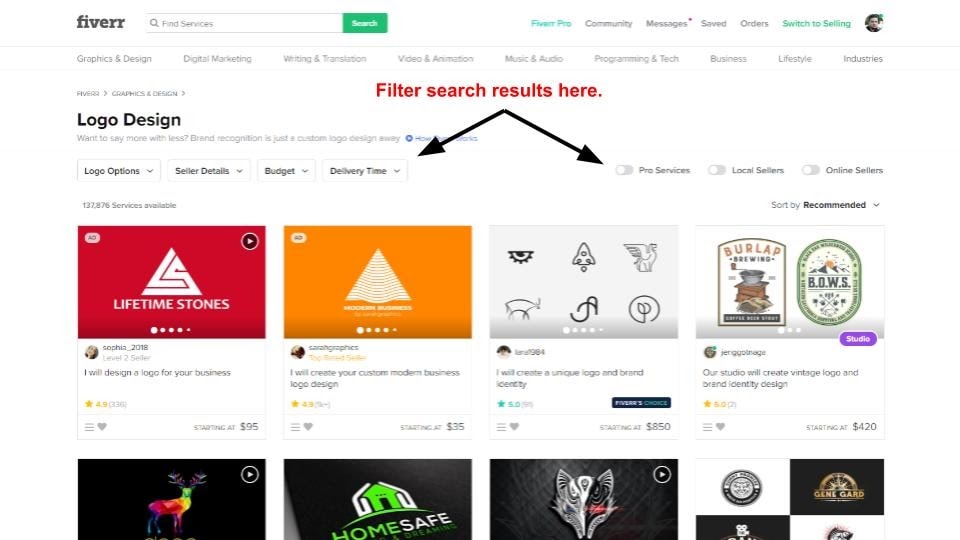 If you want to do all of this via your mobile device, Fiverr has both a mobile-friendly website and an app for Android and iOS. The app basically
is
 the mobile site with a few tweaks, and all the features from the main site are there.
99designs is… well… all about design.
 Sure, the platform can handle anything from web design to print media, but it's
all
 design — no yodeling — and the way the design work is handled varies depending on what kind of work you need done.
99designs' big thing (and cheaper option) is its contests.
 Design contests are what the whole community was built on, after all. If you want a logo design, you can pay up, answer some questions about what kind of logo you want, and then, if all things go well,  a whole ton of people will pitch designs for your logo.
You can then sort through the designs, find one you like, and ask the designer to make a few small revisions until it's exactly right.
 It's not a perfect system, but it's worked pretty well for lots of people. You can
sort of
 hire designers directly, but you'll need to start a project first. A project is like a contest, but usually more expensive, and more detailed/customized. You start a project by detailing exactly what you want, then you can browse through the 99designs community to find designers you like.
You can filter designer profiles by the services they offer, the industries they usually design for, how active they've been recently,
 their level of design experience, and the language you speak. Once you've found a designer you want to work with, you can invite them to work on your project.
If
 they're interested, they'll send you a quote, and you can negotiate all of the details from there. To sum up the differences: In contests, people come to you, you don't have as much control, and it costs less. In projects, you go to them, you pay more, but you have more control over the outcome of the design, and can ask for more revisions. Projects also take longer.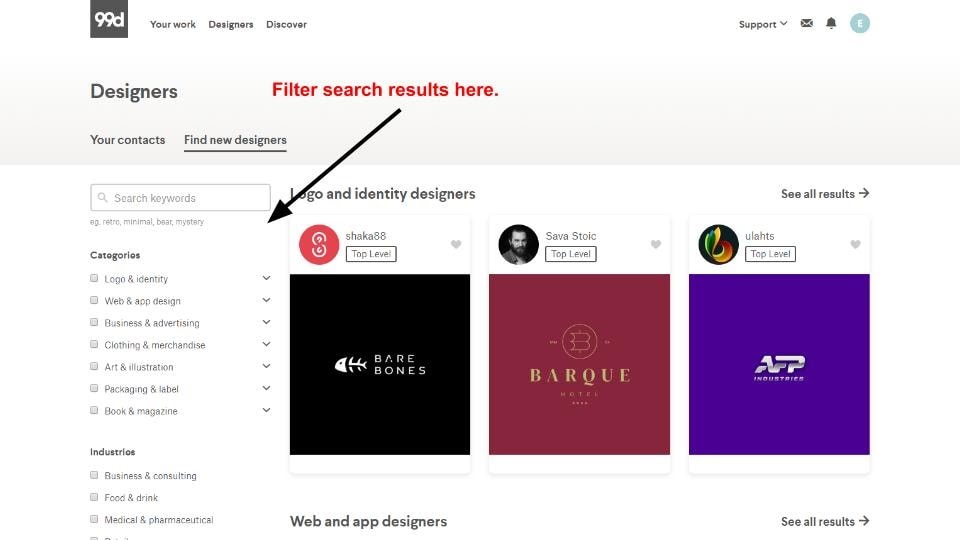 On the go? The mobile-friendly version of the main site works just fine. Please note that 99designs does not have an official mobile app. If you find one for iOS, make sure it's not actually just a company called "24Task" using the 99designs logo. 'Cause that's a thing I found, and it's not cool.
Winner:
 It's a tie. I know that's never satisfying, but both services have achieved what they set out to do, and give you the right features for the job at hand. Fiverr lets you hire individual people fast and cheaply. 99designs lets you get design options from dozens-to-hundreds of people at once, or hire an individual designer for a larger project.
2. Ordering Your Graphic Design
Fiverr's Ordering Process Is (Generally) Very Simple, 99designs (Usually) Wants More Details
Well, your experience with Fiverr might vary a
little
, but it generally goes like this:
you hit the big green
Continue
 button on a Gig, select any extra services you want, and pay.
 Then you fill out a short questionnaire with exactly what you want the seller to do. What kind of logo you want, for example. The questionnaire can be changed by the seller, though, and that's where potential variation comes in. For a logo, I only had to provide the text I wanted on the logo, my preferred colors, and a basic description of what I wanted. I could also upload optional reference materials.
On 99designs, your experience will definitely vary.
 The contests have a more lengthy ordering process, because they need lots of information for the (potentially tons of) designers who will be working on your project. You start by defining your design style by choosing between some sample designs and moving some sliders around. Then you have to write out all of your requirements (text, color, preferred layout, etc.) in more detail, and you can upload reference images. It doesn't take
too
 long, but it does take some extra effort and thought.
See my full 99designs review for more information about the process
.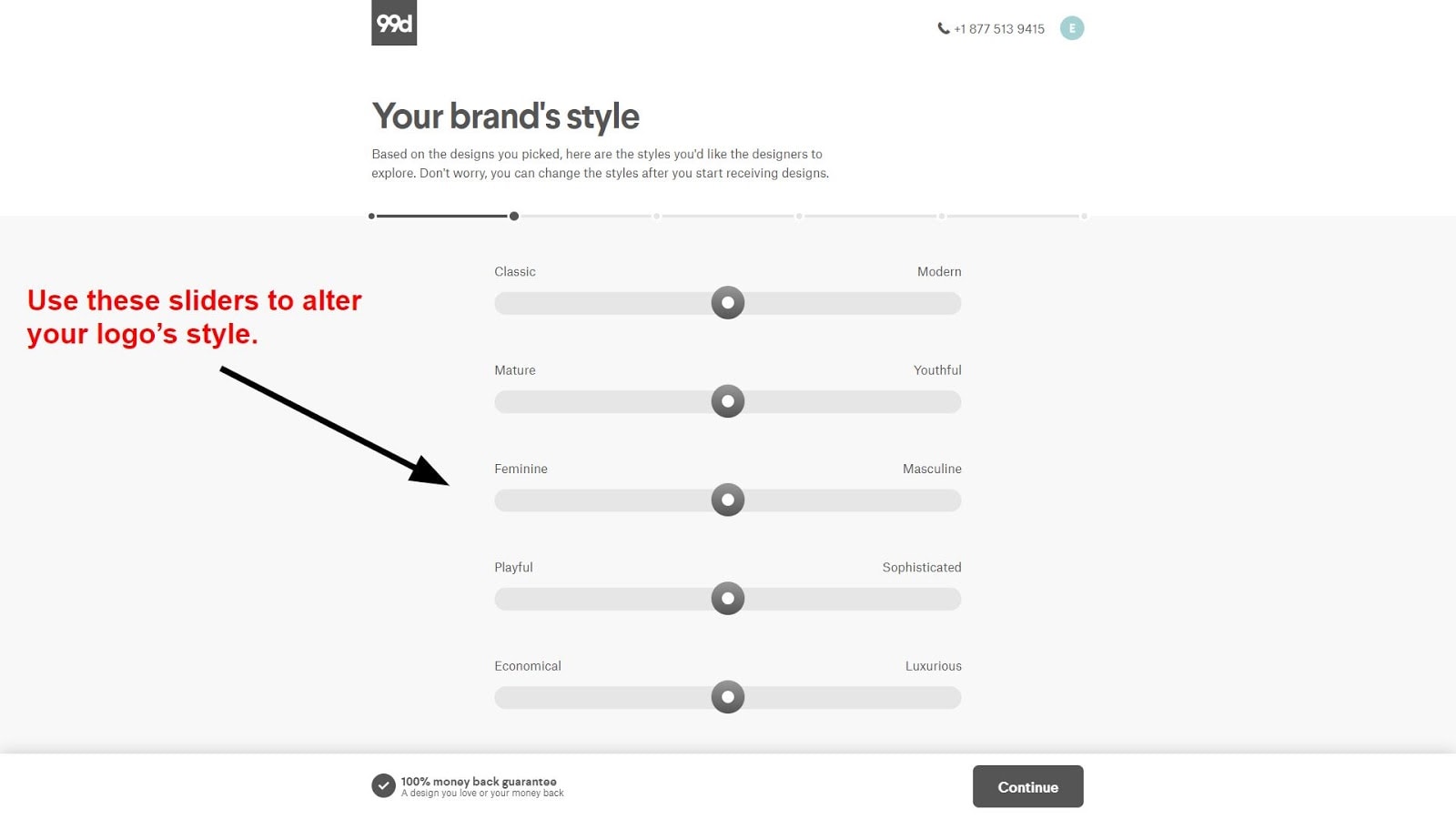 The system for ordering projects on 99designs is simpler than the process for contests.
 There are a couple of text fields where you can outline exactly what you want. You can also upload reference files for the designers to look at. The idea is that more details will be discussed and negotiated between you and the designer you hire.
Winner:
 Fiverr. While 99designs' ordering process is good for the task at hand, I love the speed and transparency of Fiverr's hiring process. The Gig system gives you a clear picture of what you'll get, and Fiverr makes you jump through fewer hoops in general.
3. Working with a Freelance Graphic Designer
This Will Always Depend on the Designer
So here's the deal. My experiences on both platforms were fairly similar in terms of customer satisfaction. On 99designs, I worked with just one designer once I'd selected a contest winner. On Fiverr, I actually worked with three designers at once, all hired at different price points.
On both platforms, selecting a designer means that you are directed to an instant messaging area
 where you can discuss your brief further, ask for revisions, and generally just check on how your project is going. Once both parties are satisfied, they give you the files, and you release the payment. The designers were all communicative, accommodating, and happy to make the changes I requested.
One Fiverr designer in particular (username: juancharles) went above and beyond to deliver on the changes I asked for
. They asked questions, and gave me what I needed. They were all creative in their own way, though creativity is usually restricted by the brief.
Well, there was a slight issue with the most expensive Fiverr designer disappearing for a while, but that was due to some unforeseen travel circumstances, so I don't blame them.
I would absolutely hire each of the designers again, depending on the project and my budget for it.
 Oh, and the time limit. Potential travel delays may be understandable, but they must still be accounted for when dealing with deadlines. When all is said and done, you get the files.
On Fiverr, the files you get are entirely determined by the designer you hired.
 They will typically list the files you get on the Gig page. Cheaper plans usually include high-quality JPG and/or PNG files. More expensive plans get you editable vector files and source files as well.
On 99designs, the list of file formats changes depending on what kind of design you ordered.
Logo designers will give you:
The original, editable file (i.e. AI)
A vector EPS file for digital (RGB)
A vector EPS file for print (CMYK)
A web preview file (PNG, JPEG, PDF)
Advertising designers will give you:
Editable AI, PSD, PDF, EPS, INDD, PPTX, SWF, or DOCX files
Web preview files (PNG, JPEG)
If the design is a full-bleed print design, bleed areas must be included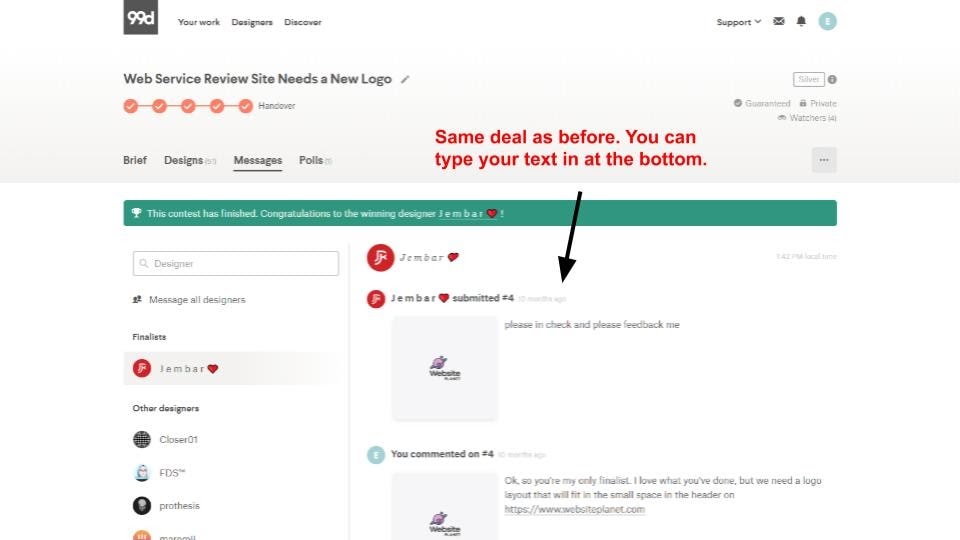 Winner:
 *Shrugs*. It's not so much of a "tie" so much as a "this is down to luck" situation. Every platform has good and bad designers, and my experiences were good overall, or at least good enough.
4. Pricing
Fiverr Is Insanely Cheaper than 99designs
Okay, so both platforms are free… to use. You only pay once you hire somebody. On Fiverr, that can mean paying as little as 5 USD, with a two-dollar processing fee (that's to keep the lights on at Fiverr). Now, you might think designers
that
cheap can't be that good, but you'd be wrong.
Many of the cheap and mid-priced designers on Fiverr have impressive portfolios, so don't let the prices fool you.
Do read the Gig descriptions carefully. Different designers might have the same prices, but they won't necessarily offer the same services or benefits for that price. On 99designs, even the cheapest contests will cost at least a couple hundred dollars.
This is fair enough, considering you're paying for dozens of designers' time, but it's still pricey.
For that amount, you could hire several Fiverr designers of your choosing and run your own contest. 
In fact, you could do that for much
less
 money than it would take to run a contest on 99designs. And don't get me started on projects. Those are
expensive
 for the average small business owner.
As for buyer security, Fiverr provides some basic measures. Most notably, you can withhold your payment if you're not happy with the service,
though this might end with a dispute. (
See the section on disputes below
.)
99designs does things pretty much the same way.
The platform also has a 100% money-back guarantee. That is, if you start a contest and want to cancel it, you can. However, there are exceptions:
You can't get a refund more than 60 days after payment.
You have to request your refund before the final round of the contest.
If you've started a "guaranteed contest" (which is where you promise to choose a winner), then you can't get that money back.
Winner:
 Fiverr. I can say without a single doubt that Fiverr is where you go when you're on a budget. 99designs might be right for you if you're running a large company, but even then, it's still pricey.
5. Copyright and Usage Rights
All the Rights for Everyone
This is pretty simple overall.
On 99designs, you get all copyrights, now and forever.
It's yours.
On Fiverr, it's a little more complicated:
 you automatically get all copyrights,
unless
 the seller specifies otherwise. Some actually charge a little more for the full copyright, so once again…
Read the Gig page carefully.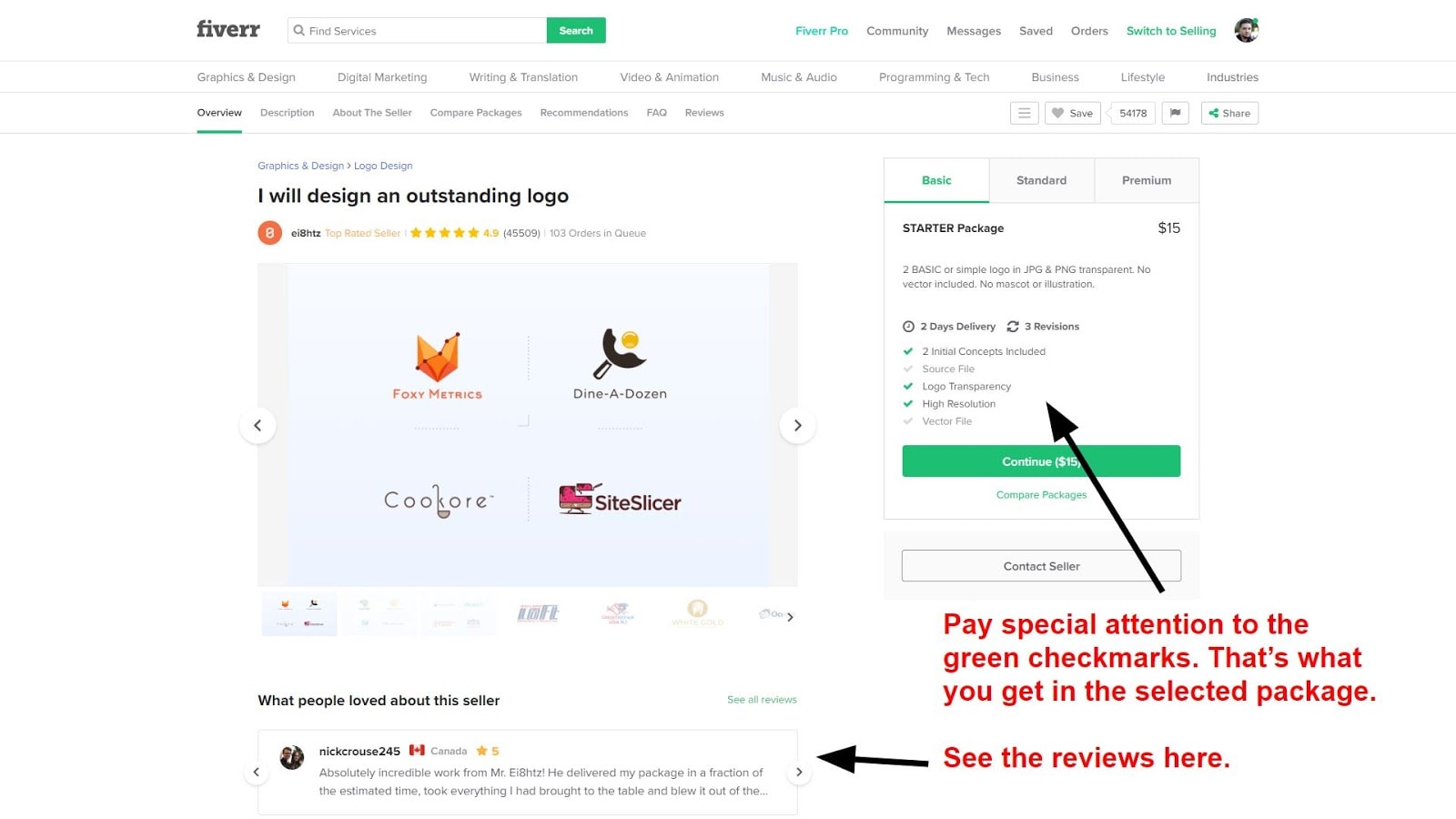 Now, in the case of copyright infringement (i.e. the designer used a design you bought for another client, or used copyrighted material in a design you ordered), both 99designs and Fiverr allow you to report the designer. If they have sufficient proof that there has been copyright infringement, you get a refund, and the designer gets in trouble.
Winner:
 It's another tie. Enough said.
6. Dispute Resolution
To Get Legal, or Not to Get Legal
Mostly, both platforms hope you can sort things out with the designer you hired.
 This is usually the best way to do things when/if you can. Almost all sellers will do anything to get a five-star rating. However, there are instances when everything goes awry. In these cases, designers occasionally disregard the provided brief or incorporate copyrighted material (as noted earlier). They also surpass their deadlines at times, and regrettably, they abstain from putting in the effort to rectify the situation.
When you need to get someone else involved, both platforms offer ways to report designers, and bring disputes to the support team.
 99designs lets you do it right from your contest or project management interface, and on Fiverr you can do it from user profiles. On Fiverr, this means someone from the support team will step in to decide who is right and who is wrong. Fiverr's decision is final. 99designs follows a similar approach. However, because of the significant amounts of money involved, they have certain policies in place for legal situations. In most countries, resolving a dispute in court means going through the legal process. However, if you're in the US, the Terms of Service will require you to go through legal arbitration instead of going to court. Just something to consider.
Winner:
 It's a tie. Legal arbitration and courts are expensive, but some people will definitely want that option. Others won't want the hassle at all. This choice is based entirely on your individual preference… but let's hope it never comes to that.
Fiverr Offers Great Quality for Great Prices
Fiverr and 99designs are both good platforms, which is why they both made it onto my list of
the best logo design services
. But which is better? Well, if you're in a corporate environment and want an easy way to hire/work with tons of designers or even full agencies,
99designs has ways to do that
.
But for the average consumer,
Fiverr wins by a pricing landslide
.
 It can be a little bit easier to use, too, all things considered. I love Fiverr's focus on simplicity, and streamlining the hiring process. It's also important to point out that numerous Fiverr designers operate at a rapid pace. In theory, you could get a logo completed in a day, if you're not fussy about the changes. Quickness and quality don't always go together, but there are times when you're pressed for time. Also, hosting a contest demands a significant amount of your time, as the buyer. Fiverr saves you money and time. It's hard to argue with that.
Freelancer Vetting
Limited
FAQ
Should you go with 99designs or Fiverr?
I'd almost always say Fiverr. Between its simplicity and its pricing, it's just the better choice in most cases. I'd suggest you head over to the site and browse some design samples to see what I mean. Again, I should mention that 99designs has some attractive offerings for corporate customers, and anyone who is comfortable with its more expensive pricing. 99designs has some very good, well-vetted designers, and great customer support.
Which freelance platform is cheaper?
I'll say it again. Fiverr. Definitely Fiverr. We're literally comparing a lowest price of 5 dollars to a few hundred. If you have budget constraints (don't we all?), Fiverr is the way to go. But can you actually get good quality on Fiverr for such cheap prices? That's what I wanted to know when I tested several different designers from the platform. The TL;DR version? Yes, you can!
Which is better – hiring an individual designer or running a design contest?
It's a personal choice, but I always prefer hiring an individual. I say this for two reasons:
Contests are kind of a waste of time for all the designers who don't win. It's not really fair to them, and this model encourages them not to bother trying their best. They often throw a dozen iterations on the exact same logo at you, and it can often be really similar to the logos they use for every other contest.
You'll almost always get a better design from a designer you've researched, especially if you take the time to build a relationship with them. Good design is made in partnerships, not in factories.
Which is easier to use, Fiverr or 99designs?
Honestly? They're both pretty intuitive and well-designed services. I personally prefer the way Fiverr works (you should check out my full Fiverr review for more details), as I think it encourages a better client/designer relationship when everything goes right.
Is Fiverr safe?
It's as safe as any other online service. In other words, always be careful who you give your personal information to, and never share your passwords with anyone, and follow all of the other classic online safety advice. Other than that, when you pay for a Gig on Fiverr, the platform holds your money in escrow until you're happy with the work you've received. It doesn't get much safer than that.
What does 99designs cost?
We're talking about a minimum of hundreds of dollars for the cheapest contest plans. See my full 99designs review for pricing plans, but yeah. It's not cheap. However, you can find great deals on 99designs and other logo design services so you can save a few extra dollars.