FastComet offers shared hosting, VPS, and dedicated servers. There's something here for everybody, everywhere. And I do mean
everywhere
. The company has 11 data centers all over the world. There's a certain emphasis on e-commerce, with optimized shared hosting plans for WooCommerce, OpenCart, and Magento… and also WordPress for more general users. There's also a lot said in the marketing about security, with protection from hacking, spam, and acts of [insert your preferred deity here].
Now we come to the eternal question: "But is it actually good?"
Well, VPS hosting is
almost
 guaranteed to be better than shared hosting in general, but we want specifics. So I signed up for a FastComet VPS account and ran a test site to get them. FastComet performed excellently in my tests, and the support team was mostly helpful. It's not the cheapest, but you do get good value and a decent set of features for your money. I'd be even more enthusiastic about FastComet in the future if they'd just… update their software a little. And that's a sad thing to say.
Features
Nearly All-Inclusive Features Are Good Value for the Money
I started with the appropriately named Cloud 1 plan, which starts at
$
2.74
per month, and
comes with 50GB SSD storage, 2TB bandwidth, a single-core (2.5GHz) processor, and 2GB of RAM.
 Now keep in mind that those are guaranteed resources. For the uninitiated, sometimes a VPS host will oversell its servers, like airlines do with plane seats. These unscrupulous companies are banking on you, and everyone else, not actually using all the hardware resources you've paid for. Having guaranteed resources, like with FastComet, means that you'll
always
have that CPU core and those 2GB of RAM available to your site. That's all good, but here's one small downside:
You can't upgrade your resources individually.
 If you need a bit more RAM or storage, you have to upgrade your entire plan. And that's why the Cloud 2 and Cloud 3 plans aren't that much more expensive than Cloud 1. Like any service, the idea is for you to upgrade.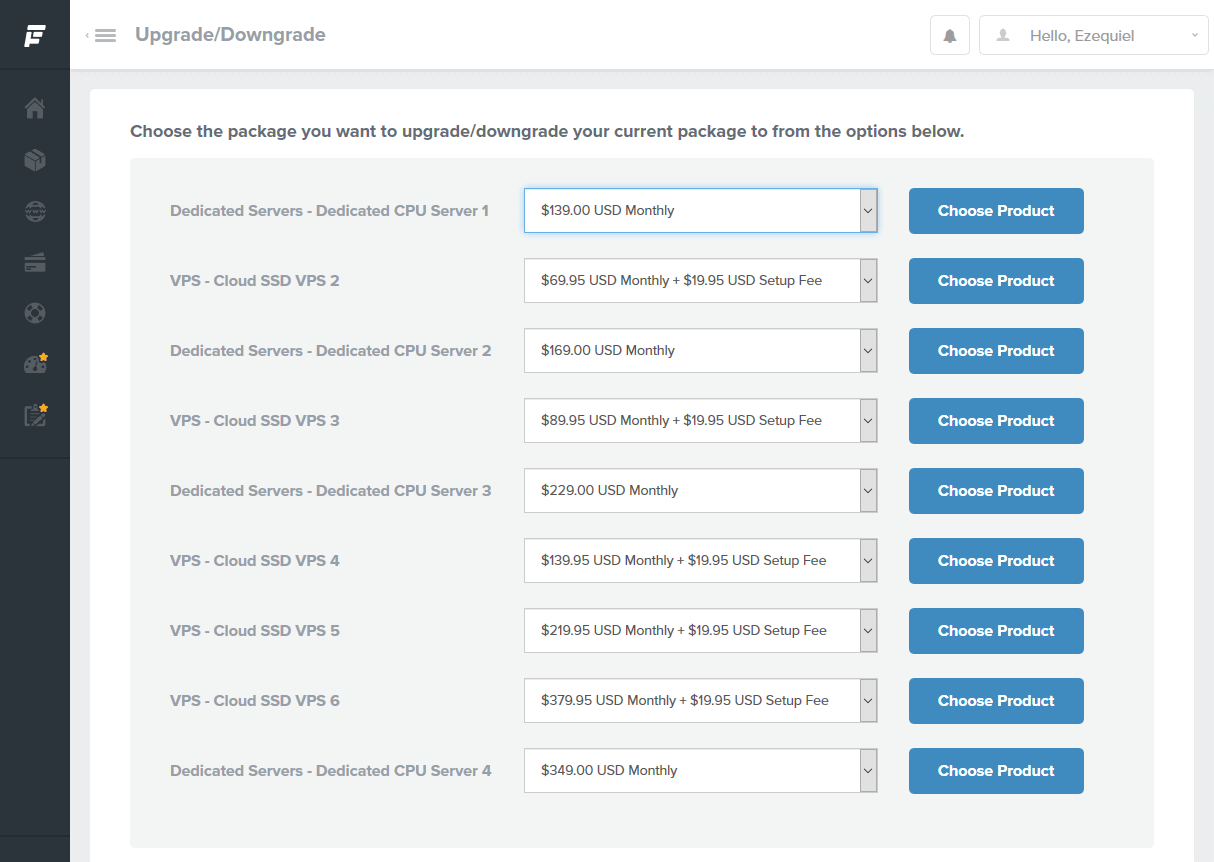 But back to the good news:
 All VPS plans run on cloud hosting, meaning you've always got redundancies in place in case any of FastComet's machines go down.
This would normally cost extra, but not here. Every plan also comes with the classic Web Host Manager (WHM) panel to manage your server and cPanel to manage your websites. SSH certificates are free from Let's Encrypt, and mine was set up when the server was created. Speaking of setup, you can get free domain and website transfers with any plan. That's a good deal. When I first got my server from FastComet, its managed VPS plans were based on CentOS 6, and the latest version is 8. That concerned me a little, because Version 6 is at end of life (EOL), and upgrading to CentOS 7 was a paid add on. 
The good news is that now, all new VPS plans automatically come with CentOS 7
(which still has a good few years till its EOL in 2024.) That said, CentOS 7
has
been around since 2014, and it's not the latest version. If that bothers you, you could pay to switch your VPS over to CloudLinux.
FastComet has a few add-ons that I like, too
: You can get a dedicated IP (though some VPS hosts, like
ScalaHosting
 and
Hostinger
, include these by default). Off-site backups will cost you a little extra as well, and the same goes for having your own nameservers.
Fully Managed
Well, I can't really describe how much easier it is to have someone else take care of your server for you, but I'll try. Dear God, it's
so much easier
.
 I don't have to mess around with server settings I barely understand, access anything via the command line,
 or even update my software manually. You too can have that convenience. In fact, there's even a whole ticket category dedicated to "script installation." Meaning, you can have a support agent install WordPress or anything else you like
for you
.
Strong Security Tools
Every VPS plan comes with ModSecurity, which is a set of tools for, as you can imagine, securing your server.
There are also firewalls optimized for general use, as well as firewall configurations for WordPress, Joomla, Magento, and more. As long as you're on a managed plan, security is something you can largely let the company handle, although you can also choose to customize it for yourself.
Backups and Snapshots
You get free daily and weekly backups. That's it. 
Oh, they're not off-site unless you pay extra, but the backups are there and handy if you do something like mess up a setting that brings down your entire site. Or, you know, look at your .htaccess file the wrong way. Hey, I've broken my own sites that way more than once.
Ease of Use
Everything Is Simple to Use and Usually Familiar
Signup was so easy that it's almost not worth mentioning. I signed up, I paid with PayPal, it was over. Once I logged in and my site was set up, I was greeted by a helpful tutorial, showing me where everything was.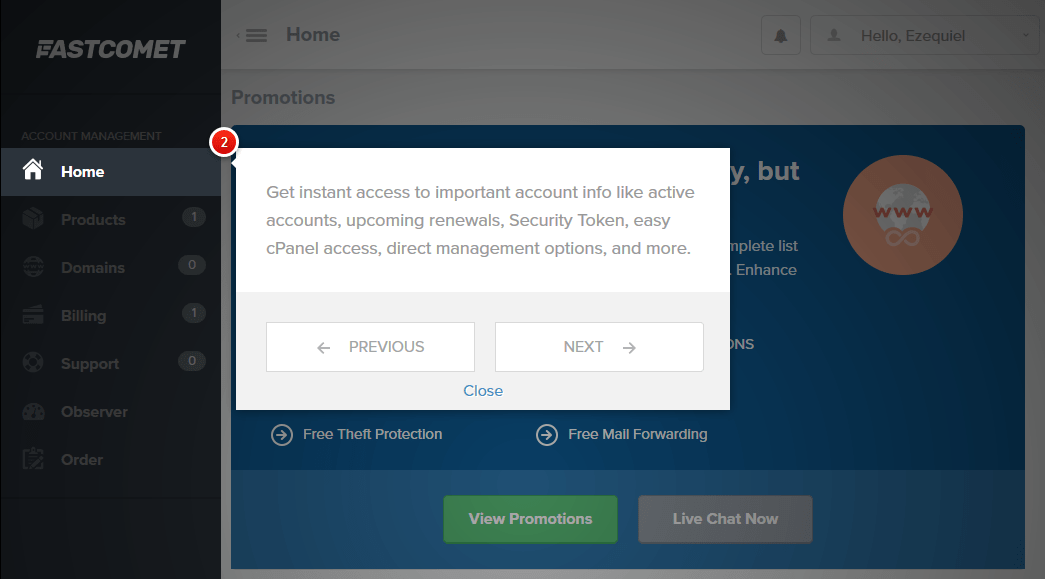 If you don't buy a domain directly from FastComet, the support team will actually set your domain up for you
 as part of the server setup process. You just need to point your domain at FastComet's nameservers, tell the support people when you've done that, and the rest is handled for you.
It's the Usual cPanel Goodness
Chances are you know it and you love it. Or at least you don't hate it. Or maybe you do… but at the very least you have heard of cPanel, the hosting control panel that's more ubiquitous than Jude Law was a few years back.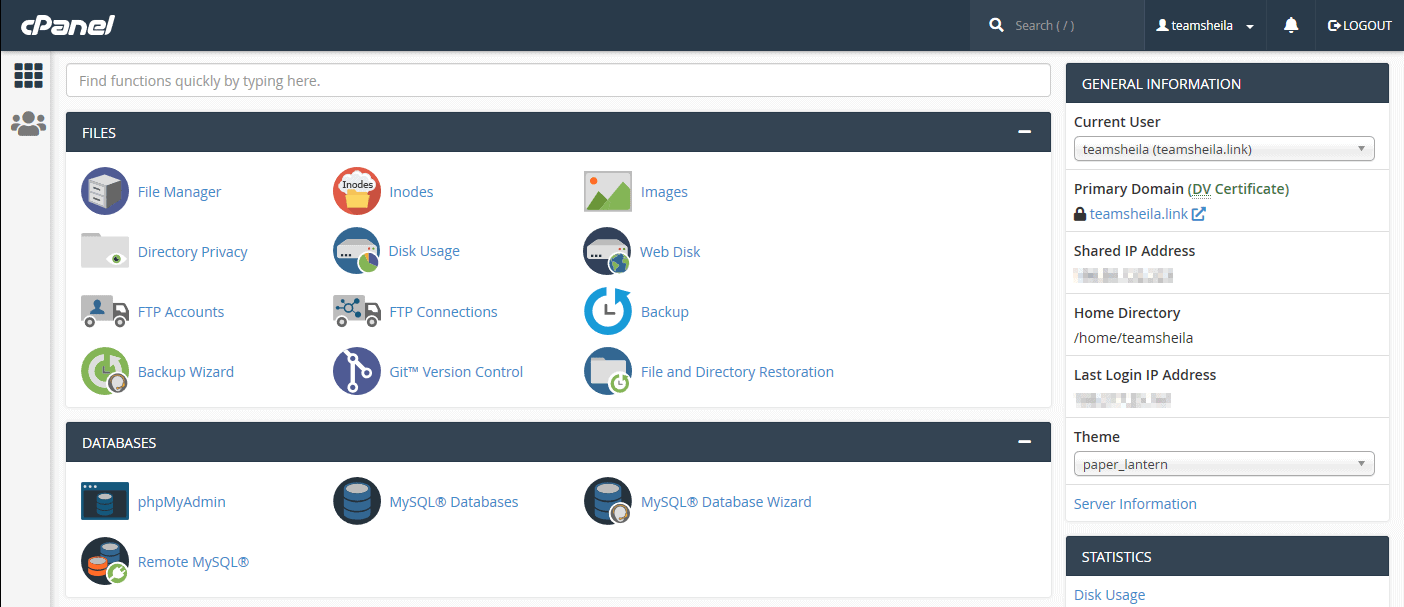 You
can
 get access to WHM (it comes preinstalled on the server), but you have to ask for it, along with the root access.
There's Easy Cloudflare Integration
This is included right in cPanel. If you want to make your site just a little bit faster all over the world, there are few easier ways to do it. (Even if Cloudflare does have some problems of its own now and then.)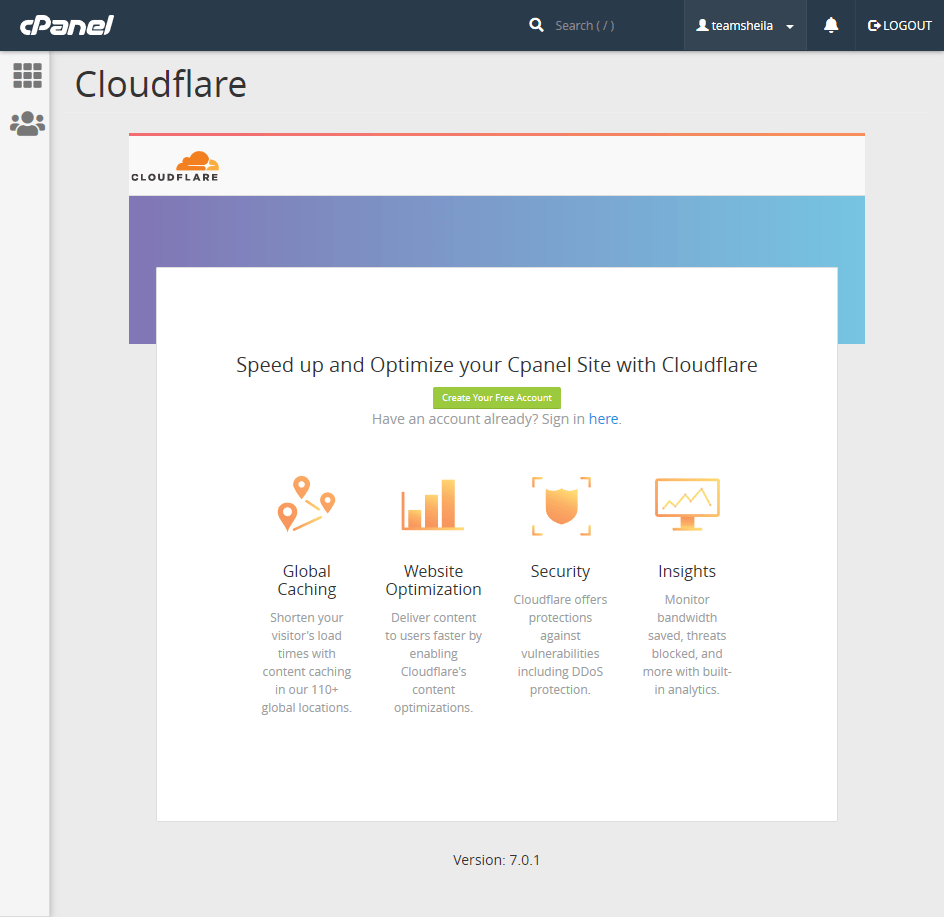 The Bad(ish): No Softaculous by Default
For everyone who likes installing their CMS with one or two clicks: There is no Softaculous installer… at first.
 I had to install WordPress manually, because I didn't feel like asking anyone else to do it for me. But it turns out that if you just ask for it, support will install Softaculous for you. One-click installs for everyone!
Performance
FastComet Can Make Your Site Feel Local Anywhere
When my colleague tested FastComet's shared hosting
, its performance was good (although not spectacular.
I, on the other hand, was fairly impressed with FastComet's VPS performance.
 I mean, with 11 data centers all over the world, you'd
hope
 a company named FastComet knows what it's doing, right?
I put together a test website based on WordPress with JavaScript, HD images, and the other usual things that might seriously slow down a home page.
I didn't take it too far, but it's not a pure text site. I applied some simple optimizations like GZIP and image compression, to keep things fair. Then I ran a few tests to see how it would do. And well… The performance was absolutely solid.
The average complete page loading time was a respectable 1.7 seconds.
 Uptime stayed at a consistent 100%, though it must be noted that I didn't have a lot of time for testing. Now, if you want the rest of the details, I have details. If you'd rather skip the nerd stuff,
skip ahead to see if I was as impressed with FastComet's support
.
FastComet's 11 data center locations are:
Chicago, United States
Dallas, United States
Newark, United States
Toronto, Canada
London, England
Amsterdam, The Netherlands

Frankfurt, Germany
Singapore
Tokyo, Japan
Mumbai, India
Sydney, Australia
GTmetrix
My test site loaded pretty consistently between 1.4 and 1.6 seconds. There were occasional random spikes of lower performance (2.4s was the worst loading time and brought the average down), but this is typical of, you know, the internet. Here's what one of the better tests looked like:

UptimeRobot
Admittedly, I didn't have a lot of time to test this service,
what with the refund policy for VPS plans only lasting 7 days.
 That's not a ton of time. Still, it managed 100% uptime, even if the graph below does show more than a few spikes of slightly lower performance.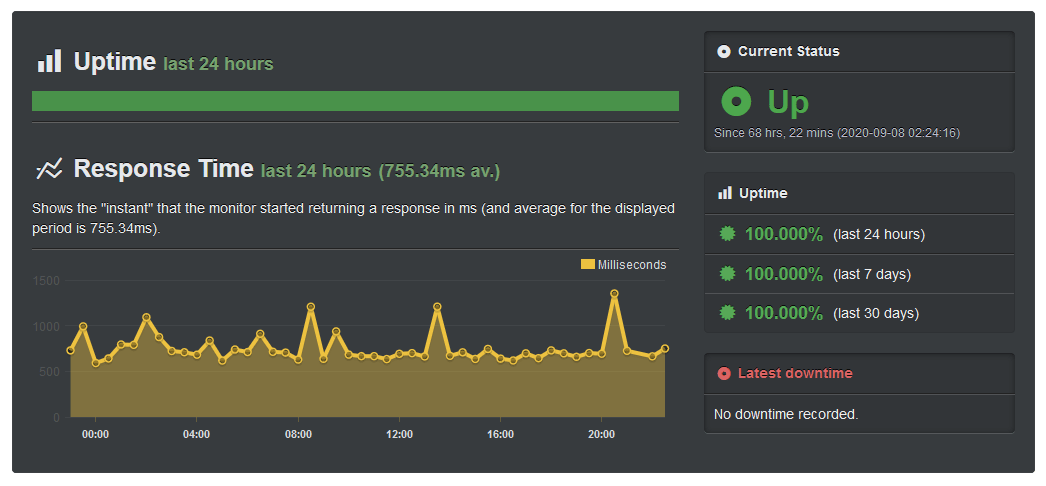 Support
Support Was Fast and Mostly Helpful
Now when I say
mostly
 helpful, let me be clear: The support agent I dealt with was amazing.
 But I've got beef with the sales department. See, I started a chat convo with tech support and asked when CentOS 8 would be available. Figured the tech people would know, right? Well, after an initial fast response, I was sent off to talk to sales. And then I got mad. I admit, I was mad already about having to pay extra for CentOS 7, which, while not exactly out of date, certainly is no spring chicken.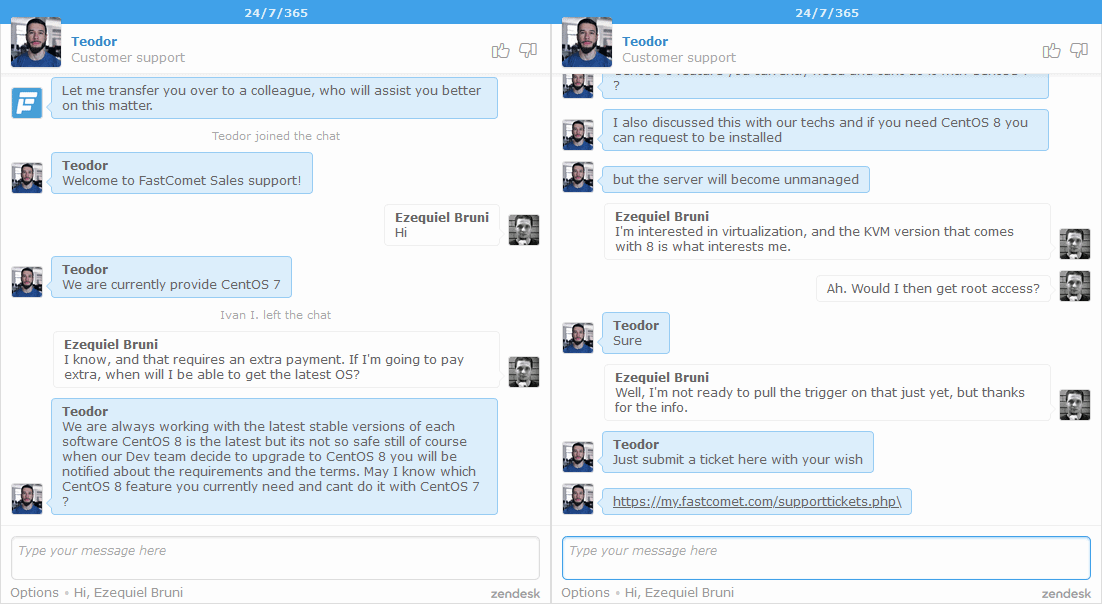 You see, the sales rep tried to tell me CentOS 8 is "not so safe." Look, every nerd has their own definition of "stability" and "safety," but plenty of other VPS hosts are running fully managed CentOS 8 hosting just fine.
Still, I was ultimately offered a solution that would allow me to run CentOS 8,
 but it would require me to manage the server myself. It's fine if that's how FastComet wants to run things, but don't tell me CentOS 8 isn't safe.
Update: Since writing this review, I learned that CentOS is switching to rolling releases instead of versioned releases, which will inevitably make it less stable. This means I can't recommend it anymore. I've heard many server administrators are switching to Debian. Red Hat Enterprise Linux, which CentOS was based on, is another good option, but it's more expensive. Some prefer to wait, as one of the original CentOS creators has announced a new project called Rocky Linux, which aims to be very similar to the old CentOS. The rumors say that once it's released, migration should be easy.
The response I got to my first ticket was nearly as fast as, and better in quality than, the live chat. I asked how I could access WHM to add another site to my VPS, and
I got a helpful response to my question in 4 minutes.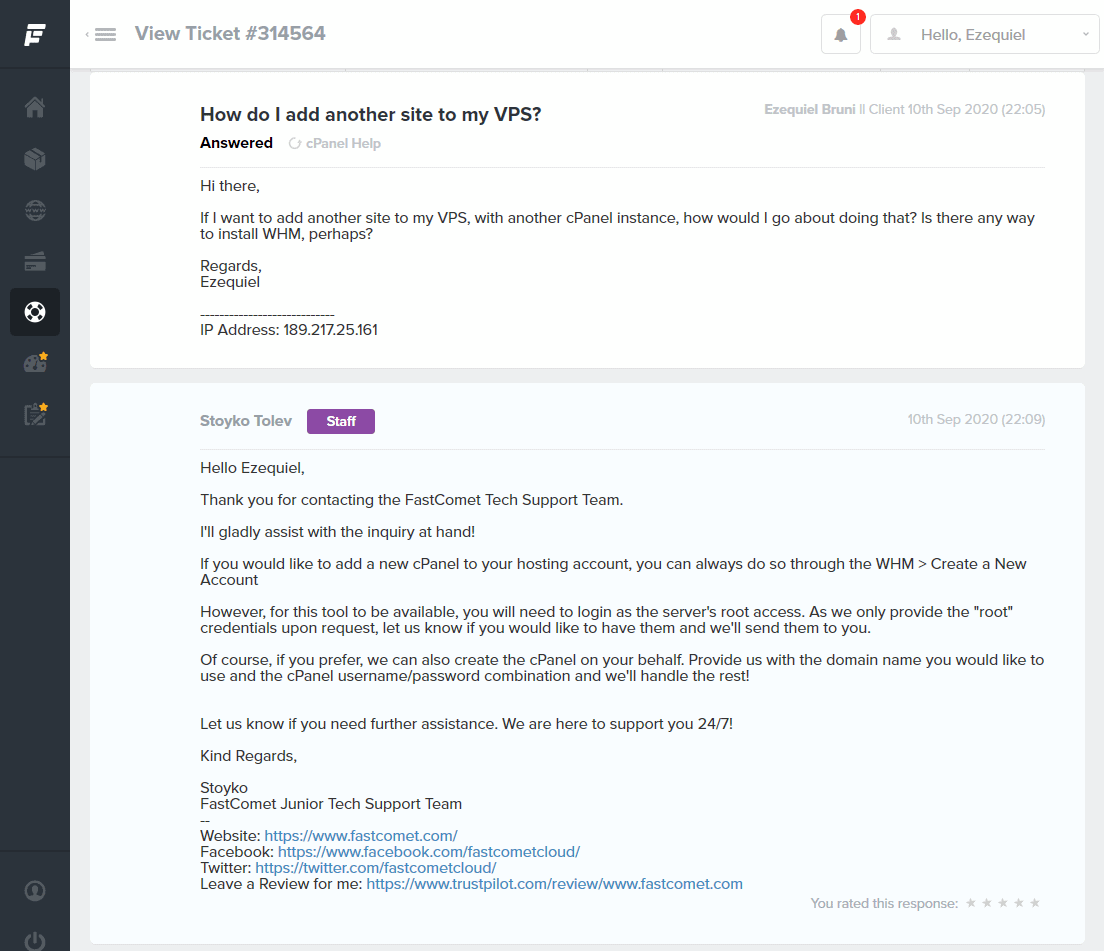 Later, I submitted another ticket asking why I didn't have Softaculous installed and if I could install NodeJS apps on my VPS. In a couple minutes, I got a message saying that I'd have to wait a little longer.
A bit less than an hour after that, support had installed Softaculous for me, and they told me how to get NodeJS working on my server.
Turns out it takes upgrading to CloudLinux, but it's doable. They were so nice, I almost felt bad when I canceled my VPS and asked for a refund half an hour later. You have to be
good
 to make me regret getting my money back.
Pricing
FastComet Ain't Cheap
Unfortunately, FastComet is not the cheapest, and lots of features that can and maybe should come standard … don't. And while I can't fault the performance, running on FastComet's managed hosting means you're running on older, nearly obsolete software.
The cheapest VPS plan is awfully close in price to the next cheapest plans, which have double – and then more than triple – the resources.
This is obviously by design, as FastComet wants you to upgrade. Well, I can't find fault with that, but it means that you can get entry-level VPS hosting much cheaper elsewhere.
Cancellation & Refunds
Requesting cancellation is easy. You just go to
My Products
, click
View Details
, and then
Request Cancellation
. You'll have to fill out a short form saying why you're canceling, put in your password just to be sure, and then you're done.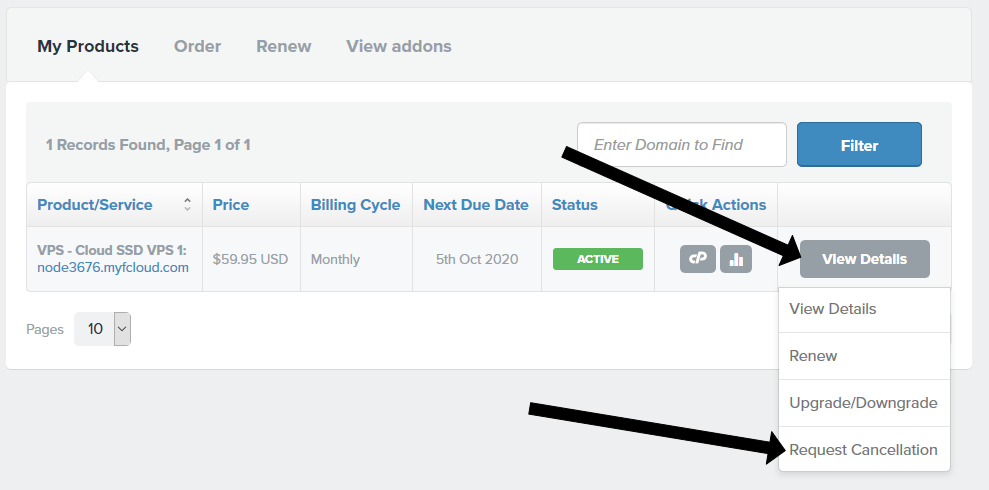 You have 7 days to try out your VPS and get a refund if you're not satisfied.
 In practice, when I went to cancel on day 6, the service cancellation UI informed me that my account was not eligible for a refund. But that's not actually the end of it. I contacted support again via live chat, and it turns out
 you have to request your refund separately through the ticket system.
 That is
not
 intuitive… but you
can
 get your refund.
Bottom Line
FastComet's VPS plans
aren't the cheapest. They cost more than the likes of
Hostinger
, but the features are solid and while the sales team might lack a bit of knowledge, the support I got was pretty great. I just wish the money-back guarantee was longer than 7 days – it's not really long enough to see whether the service is really right for you. Overall, FastComet is a solid choice for VPS hosting – albeit not if you're on a tight budget!
FAQ
What is the difference between cloud hosting and cloud VPS?
Both use lots of computers working together to host websites, but a cloud VPS provides a "virtual machine," which replicates a self-contained computer, complete with operating system. This walls off your website from all the others, so if someone else's website gets hacked, yours should remain unaffected. A VPS also allows the host to allocate a specific amount of hardware resources (such as CPU cores and RAM) to your site, rather than sharing those resources with other customers.
Does FastComet offer cheap VPS?
That depends on your wallet, mostly, but it's certainly not the cheapest option. If you're looking for budget-friendly VPS options, Hostinger and InterServer offer some of the lowest prices around. Alternatively, you can check out our list of the best VPS hosting services to find the VPS host that's right for you.
What is the difference between managed and unmanaged VPS hosting?
In simple terms? Unmanaged hosting provides you with a server out there, somewhere, and that's it. You have to figure out how to maintain, administer, and configure it for hosting. And you'll be doing a lot of that from an interface that looks a lot like this: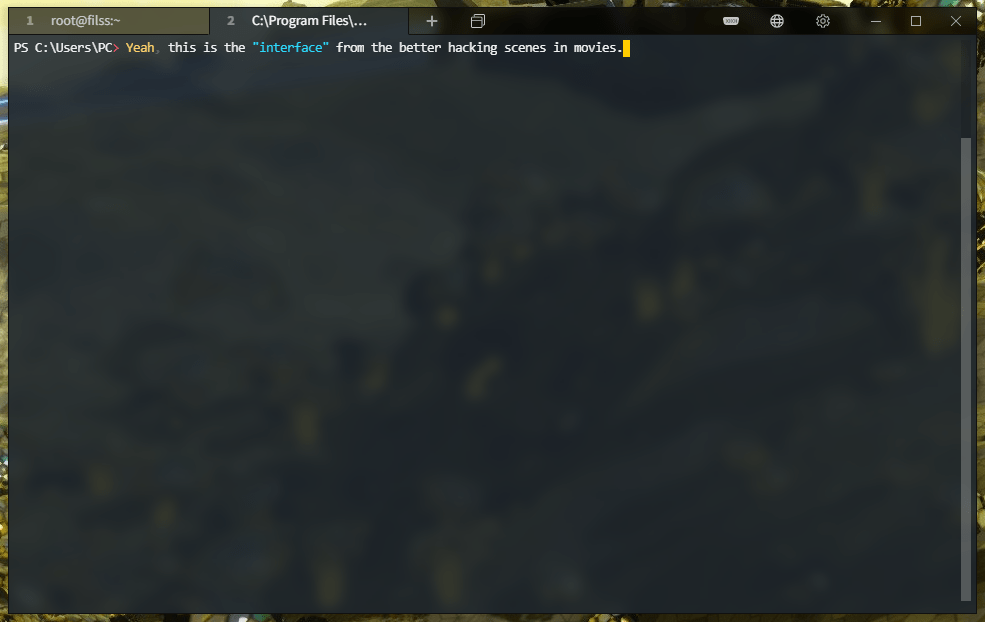 Managed hosting means that someone else takes care of your server for you, and you only have to upload your site, or install WordPress, from a familiar interface like cPanel. Managed hosting is a lot more convenient.
Is VPS hosting cheaper than cloud hosting?
It's hard to say in general. Some shared cloud hosting providers are a lot cheaper, and others will charge even more than you'd pay for a VPS. On top of that, while the term "cloud computing" has a precise technical definition, the way marketing departments use it is… open to interpretation. And then sometimes VPS hosting is built on cloud infrastructure, and it all gets nerdier. Your best bet is to read the review for a particular host or ask your potential host's tech support exactly what they do. And yes, try to get past a sales agent to someone who knows what they're talking about. Whatever hosting you go with, check out our frequently updated web hosting coupon page to see if you can get started cheaper.