In the world of hosting, EIG (Endurance International Group) has become a name to be feared – or at least quietly dreaded.
Web hosting providers bought by this conglomerate tend to degrade in quality,
 and it's always sad to watch good services go bad. After some extensive research, I put together a list of all the web hosts EIG owns in 2023, so you can know which companies to avoid. Just to be fair, I've also pointed out a few that aren't so bad.
Our expert team has tested all the major names in web hosting, so if you're looking for an EIG alternative you can rely on, I've got you covered there too.
You can
jump straight to the list
, or read on if you want to know
why
 EIG has such a bad reputation and why you should avoid it.
Why Do We Care About Who Owns What?
If you've never heard of Endurance International Group, you're not alone. In fact, I only recently heard about it myself. This feels a little embarrassing, as I've done business with a few of the companies it owns… but now I know, and it certainly explains some things. When a big company buys smaller ones, that big company still expects to turn a profit.
The purchased company is under new management; with new management comes changes in policy, changes in price, and changes in the quality of service you get.
Sometimes the service you receive gets better, because investment companies employ smart people to improve things while still reducing their costs. But sometimes things go wrong.
Problems with EIG-Run Companies
Endurance International, unfortunately, has a history of bad reviews. In all my research for this article, I did not find one person who said, "Yay! EIG bought my favorite hosting company!" Now every company has its detractors and critics. That's fine, it's a part of life. It'd be weirder if
no one
 was saying anything bad. But it's usually not quite this bad. Every reaction to EIG's acquisitions that I've seen sounds more like, "Oh, great. How are they going to screw up this time?"
Every time EIG buys a new hosting company, people report the same problems:
Professional customer support teams are replaced with cheaper, slower options.
Fast server hardware is replaced with cheaper, slower hardware.
The pricing structure is changed in a way that doesn't favor the customer.
People who find themselves unhappy with one EIG-run hosting company might jump to another, without realizing it's also run by EIG. This creates a vicious cycle of dissatisfaction and can make it hard for some people to get their online businesses running. And that's why you need to know and care who owns your hosting company.
It's Not All Bad
I gave this section its own big heading because I need people to know this.
 While EIG hosting has a bad reputation, I've personally had decent-to-good experiences with a few of its companies. I will specifically mention some of those in this article, as well as some you should probably avoid. With that said, let's get down to the specific information you need.
A Big List of Stuff EIG Owns
This list focuses on the actual companies they own and actively operate. Here goes:
2slick.com
AccountSupport
A Small Orange
ApolloHosting
Apthost
Arvixe
Berry Information Systems L.L.C.
BigRock
BizLand
BlueDomino
Bluehost
Directi
Dollar2Host
Domain.com
DomainHost
Dot5Hosting
Dotster
easyCGI
eComdash
EmailBrain
eHost
EntryHost
Escalate Internet
FastDomain
FatCow
FreeYellow
Globat
Homestead
HostCentric
HostClear
HostGator
Hostnine
HostMonster
Host with Me Now
HostYourSite.com
HyperMart
IMOutdoors

Intuit Websites
iPage
IPOWER/iPowerWeb
IX Web Hosting
JustHost
LogicBoxes
MojoMarketplace
MyDomain
MyResellerHome
NetFirms
Networks Web Hosting
Nexx
PowWeb
PureHost
ReadyHosting.com
ResellerClub
Saba-Pro
SEO Hosting
SEO Web Hosting
Sitelio
Sitebuilder
Southeast Web
Spry
StartLogic
SuperGreen Hosting
Typepad
USANetHosting
Verio
VirtualAvenue
VPSLink
WebHost4Life
webhosting.info
Website Builder
Webstrike Solutions
Webzai
Xeran
YourWebHosting
Notable EIG Vendors
Here's where we talk about some of the better-known companies that EIG owns, both good and bad. I'm here to give you my honest opinion. Ready? Let's go:
Category:
 It's all right. HostGator's marketing is certainly pretty good, as it's one of the most well-known hosting companies out there. That grinning alligator of theirs has become one of the most widely recognized mascots in web hosting, along with the now-defunct GoDaddy guy and Danica Patrick. The general services and tech have remained consistently good, and
the servers performed quite well in our benchmark tests
, which is all fine and dandy. However, the pricing plans
have
 gotten more expensive over the years, and customer support did not perform well when we tested it.
Category:
 Don't bother. Bluehost is another classic brand with over two decades in the business and still going strong-ish. It has your shared hosting, your VPS (virtual private servers), a WordPress-specific plan, and it powers over two million websites. What more could you want? Well, as it turns out, a lot.
In our Bluehost review, we found the service to be lacking in many areas.
 It has the most basic hosting features you could ask for, but not much else. The admin interface can be buggy, and the support experience has been described as "backwards." Not even their good server performance can save them, especially when you have to pay at least a year in advance to keep things from getting
really
 expensive.
Category:
 One of the good ones.
A Small Orange is… well… I'm going to be gushing about it a bit, so please bear with me.
A Small Orange (mostly) seems to have stayed true to its roots, even after acquisition by EIG. It has shared hosting, VPS, reseller hosting, and even integration with the
Weebly website builde
r.
Our review will tell you about the reasonable prices and solid feature set
, and how it still claims to be "homegrown" hosting despite being owned by EIG. That's all good information to start with, but here's
my
 story: I have years of personal experience with A Small Orange, and I
only
 moved on to another host because some of its terms of use didn't work with a website idea I wanted to try out. Even when I was operating on the cheapest plan,
the support team was fast, responsive, and never made me feel like a second-rate customer.
 I almost never had any technical issues. The service is good, and the way the company treated me as a person was even better. I stopped using it a couple of years ago, but I would still recommend A Small Orange. Told you I was going to gush.
Category:
 It's all right. Sitebuilder is the first company on this list that doesn't exactly do hosting.
As the name suggests, it's a drag-and-drop site builder that lets you create your whole website on your own, from scratch, with no code.
It offers thousands of good-looking templates for blogging, e-commerce, and more. But while it makes setting up a website
very
easy, there have been some problems. Bug reports abound, and,
as noted in our review
, the pricing plans are not transparent. The first time you pay, you get a promotional price, which is common, but this is not made clear on the website. You'll end up paying a fair bit more to renew your plan. Live chat support is also restricted to more expensive plans.
Dependable EIG-Free Alternatives
Let me be clear:
 These are all solid, dependable alternatives to EIG-run companies.
 We have both hosting companies
and
 site builders for you to check out, so have at it!
Category:
 One of the good ones.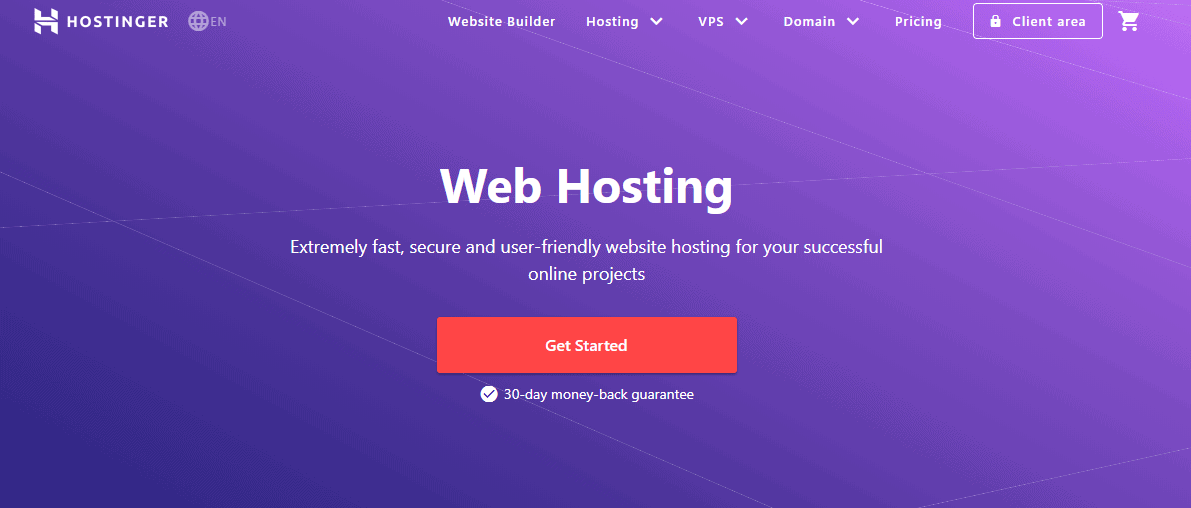 Okay, Hostinger is actually one of our favorites here at Website Planet, and it ranks highly in our list of the best web hosting services for 2023.
 It offers features for beginners and professionals alike, VPS hosting, WordPress plans, and even Windows-based servers for people who need that sort of thing. What's more, the prices are fantastic, and the first-payment discount is also pretty great (while being clearly defined and explained). Heck, it even offers Minecraft servers.
Our review
found that Hostinger manages to provide all of these services while maintaining a helpful support team, great server performance, a 30-day money-back guarantee, and more.
I have been impressed by what I've seen and think it's a great choice for any general website.
Category:
 One of the good ones.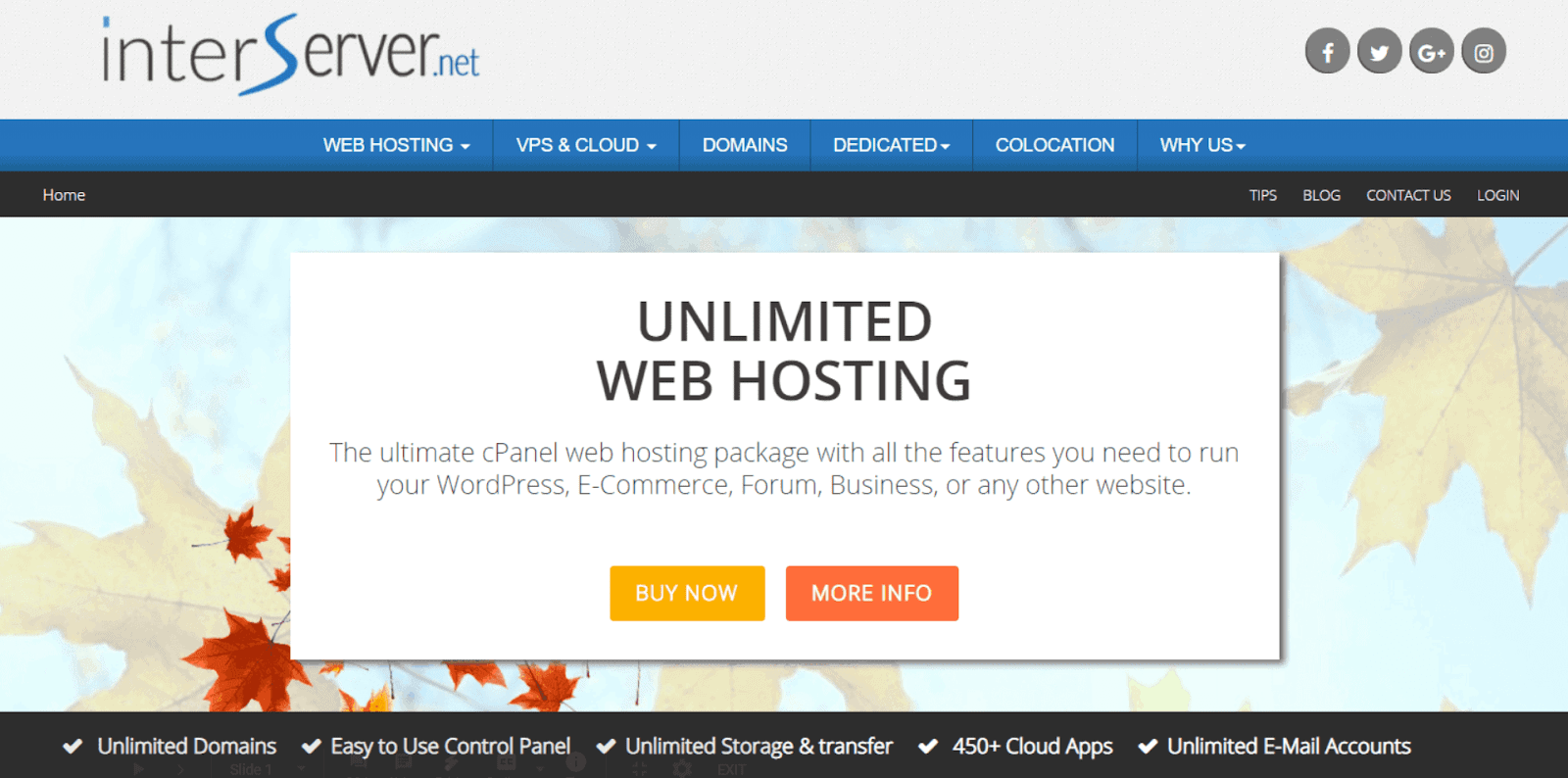 InterServer does exactly what you'd expect, but also a lot of things you wouldn't, and
our review
 places it just a step below Hostinger for general web hosting. It also offers the usual VPS hosting but then… then they have
servers
.
Not just dedicated servers, but Windows servers, GPU-based servers, file storage servers… almost any kind of server.
And it's all offered to you at pretty great prices. Where InterServer could stand to improve is with things like the live chat support, which our reviewer found to be unhelpful. The platform is also not quite as easy to use as, say, Hostinger. Hostinger puts more effort into making things simple for beginners, whereas with InterServer, you may want to look up some cPanel tutorials.
Category:
 One of the good ones.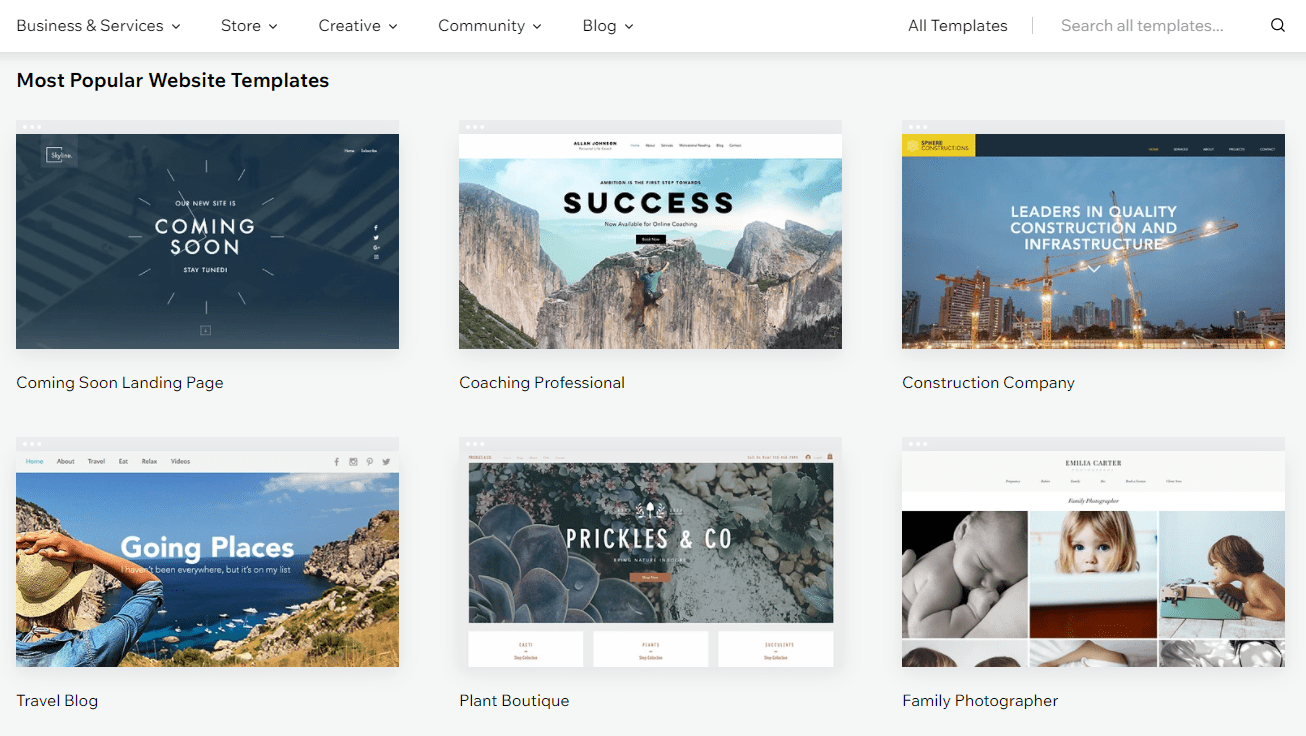 Wix isn't a hosting company, but if you're looking for an EIG-free alternative to the previously mentioned Sitebuilder, then here you go:
Wix isn't just
a
 site builder, it's pretty much
the
 site builder.
It's the biggest name in the easy-site-building industry, and for good reason. It has a substantial and useful free plan, blogging, e-commerce, and third-party add-ons. More importantly, it has complete design freedom with true drag-and-drop-anywhere design features.
Our own Wix review
 places it right at the top of the list for site builders, as the company has consistently demonstrated a flair for making it easy to build good-looking, flexible sites. There's also a significant use of AI (artificial intelligence) to help you design your site quickly and manage your SEO.
Category:
 It's all right. SITE123 is another site builder, offering a dead-simple experience for creating your own websites. In fact, it's billed as "By far the easiest free website builder," and
we've found that it sort of lives up to that claim
, allowing you to quickly make a regular site, a blog, or an online store. It has all the basics that you'll need, and you can access some of those features for free.
On the downside, almost
all
 of the more interesting features (such as multilingual sites and more advanced site customization) are locked behind the more expensive plans.
 The templates also share a very similar base design, which makes customization important. If you want to make a more complex site, scroll back up to the section on Wix.
How Do You Choose Your Next Web Host?
If you've decided to avoid EIG-owned companies, I'd say that's probably a smart decision. Even if whatever they're offering right now sounds okay, you don't want to commit to a long-term plan only to discover the company can't actually meet your needs. For most types of websites,
Hostinger can give you everything you need for an excellent price
.
 Its server performance is consistently the best out of all the shared hosting services we've tested. If you're not sure if Hostinger is right for you, you can find some other great alternatives on our list of
the best web hosting services for 2023
. If you need to build a website from scratch and you'd rather not use WordPress, I recommend Wix as the easiest way to get online. It has enough easy-to-use features to help you create the website of your dreams. Better yet,
Wix has an excellent free plan
 you can use to try the platform and even publish your site without paying a dime.
FAQ:
What is EIG?
Endurance International Group is a conglomerate that specializes in buying and running website-related companies and services. It manages several of the world's most popular web hosts, including Bluehost, HostGator, and more. Since many of the companies EIG buys have deteriorated in terms of quality of service, I recommend you check out an alternative, such as Hostinger, which offers great quality for a great price.
Are EIG web hosts any good?
Yes and no. While there has been a pattern of EIG-run hosts going downhill after acquisition, others have managed to maintain their level of service. Some EIG-run companies that get great reviews, like A Small Orange.
I don't want an EIG web host; who do you recommend?
The web hosts that consistently score the highest in our performance tests are Hostinger, Liquid Web, and InterServer – and not surprisingly, none of them are owned by EIG. You can find some other great non-EIG options on our list of the best web hosting services for 2023.
Is Bluehost any good?
No, Bluehost is not particularly good. It only offers some basic features for inflated prices. The company is basically running on name recognition, and that name just doesn't have the power behind it that it once did. You can get the full story in our in-depth Bluehost review. For a better option, check out Hostinger's latest deals. It offers a lot more features, and much more cheaply. It's hard to beat that.
Are EIG hosts cheap?
That depends on the host you choose; some are cheaper than others. If you're looking for decent service on a very low budget, I'd like to once more recommend a non-EIG provider, Hostinger. If you have your eye on any other specific hosting company, I strongly recommend that you visit our web hosting coupon page. Some of our coupons will take up to 90% off your hosting costs for the first year.