In this DreamHost vs JustHost comparison, a lot depends on what you're looking for in a hosting provider. For example, if you need WordPress hosting or cloud hosting, JustHost isn't your guy – but DreamHost offers both. And
while DreamHost offers more affordable, feature-rich plans, JustHost provides better performance.
To compare DreamHost and JustHost, I've tested both services for their pricing, features, security, performance, and support. To tell you the truth – although DreamHost and JustHost aren't bad options, I wouldn't choose either. I'd go with
InterServer
, as it combines the best value for price with excellent performance.
Click here to see InterServer's best plans
, or read on to see if JustHost or DreamHost would make a good fit for you.
1. Plans and Pricing
JustHost Offers More Plans, But DreamHost Is Cheaper
In this section, I'll compare DreamHost and JustHost's shared hosting plans. Despite some similarities, there's a big difference between what these two services offer. DreamHost offers only two shared hosting plans – Starter and Unlimited – while JustHost offers four: Basic, Plus, Choice Plus, and Pro.
DreamHost's Starter package
 includes 1 hosted website, unlimited cached monthly visits, unlimited bandwidth, 50 GB SSD storage, pre-installed WordPress, 6 MySQL databases, 5 subdomains, and automatic daily backups. The Shared Unlimited plan will give you unlimited email addresses.
JustHost's Basic plan
 comes with 1 hosted website, 5 email accounts, 50 GB disk space, unlimited bandwidth, 25 subdomains, and 20 MySQL databases. Both hosts offer free SSL certificates and a free domain name (on the annual plans). JustHost offers some interesting extras with its higher-tier plans (Choice Plus and Pro), such as $100 Google Adwords credit, $100 Bing credit, and SpamExperts. DreamHost not only costs less, it also offers a 97-day money-back guarantee, while JustHost offers a standard 30-day money-back guarantee. The winner? DreamHost gets an edge over JustHost by offering more useful hosting plans at a lower rate. In fact, DreamHost's Unlimited plan, which comes with all the goodies, has a cheaper renewal price than JustHost's Basic package. Nevertheless, I'd still recommend
InterServer
. It provides better value for cost and has a price-lock guarantee, so you never have to worry about high renewal fees.
2. Features
DreamHost Offers Plenty of Features You Can Actually Use
DreamHost offers hosting solutions JustHost doesn't have, such as WordPress hosting (managed and unmanaged), cloud hosting, and WooCommerce hosting.
It also offers a free WordPress site builder, which has more capabilities than the
Weebly
 site builder JustHost offers. On the other hand, JustHost provides access to cPanel, which is the industry standard, and less complicated than DreamHost's custom control panel, especially for doing manual backups. To get a more detailed view of the key features of DreamHost and JustHost, take a look at this side-by-side comparison:
| | | |
| --- | --- | --- |
| | DreamHost | JustHost |
| Hosting Types | Managed and unmanaged WordPress hosting, WooCommerce hosting, shared, VPS, cloud, dedicated servers | Shared, VPS, dedicated servers |
| Free Domain | ✔ | ✔ |
| Free SSL Certificate | ✔ | ✔ |
| Disk Space | 30 GB – Unlimited | 30 GB – Unlimited |
| Bandwidth | Unmetered | 1 TB – Unmetered |
| Automatic Backups | Daily | Courtesy daily, weekly,and monthly backups (legacy plans only) |
| Control Panel | DreamHost Control Panel (Custom) | cPanel |
| Email Accounts | 0 – Unlimited | 5 – Unlimited |
| Free CDN | x | x |
| Free Site Migration | ✔ | x |
| Money-Back Guarantee | 97 days | 30 days |
3. Performance
DreamHost Doesn't Live Up to Its 100% Uptime Guarantee
DreamHost offers SSD storage (performs much faster than the regular HDD storage and even RAID 1) on most of its plans, but JustHost uses HDD. DreamHost has servers in one location in the U.S., and  has a 100% uptime guarantee. But our tests have proven that this promise is unrealistic. In addition to several reported instances of downtime, the loading speeds were very slow on Sucuri.
DreamHost also scored very low in our performance tests. You can find all the details in our
in-depth DreamHost review
. JustHost also has one server location in the U.S, but managed to yield an average uptime of 99.97% when we tested it for our
expert JustHost review
. That says a lot about how closely and seriously its servers are being monitored.
4. Security
DreamHost Is More Keen on Protecting Your Website
JustHost's free security features are limited to a free SSL certificate and regular DDoS protection. However, SiteLock (protects your website from malware) is available as a paid add-on. In contrast,
all DreamHost plans come with free ModSecurity, a Web Application Firewall (WAF) that filters and blocks known malicious HTTP requests.
Blocked requests include many types of Brute-force, Cross-Site Scripting (XSS), Remote Execution, and SQL injection (SQLi) attacks. DreamHost also offers free daily backups, whereas JustHost only offers free complimentary backups and the basic version of Site Backup Pro. DreamHost proves that it prioritizes your website's security more than JustHost does.
5. Support
It's Easier to Get Help from JustHost
Both DreamHost and JustHost maintain informative and resourceful websites featuring comprehensive support sections. Nevertheless, the layout of JustHost's Help Center is not as clear as that of DreamHost's Knowledge Base. JustHost's customer support is available 24/7, by live chat and phone. Both the live chat and phone support provide timely, knowledgeable responses. DreamHost's customer support includes ticket support and 24/7 live chat. When you use DreamHost's live chat, you're connected to a chatbot before you can choose to speak to a human.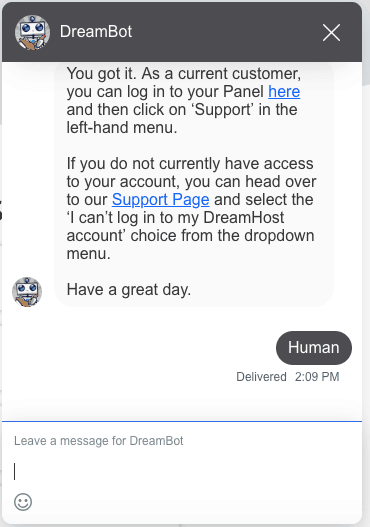 DreamHost Is More Cost-Effective
Because
JustHost
 offers a limited range of hosting options and charges extra for a lot of its useful features, DreamHost wins in the DreamHost vs JustHost battle. Despite its wonky performance issues and slow support,
DreamHost
 offers a better value overall for the price. If you're looking for more than what DreamHost or JustHost can offer, I'd recommend checking out
InterServer
. Or, you can explore more options in our list of
the best web hosting services
.
Comparison Table
Plans and Pricing
Cheaper, and offers a 97-day money-back guarantee
More expensive, with a 30-day money-back guarantee. Higher-tier plans come with $200 in ad credits
Key Features
Free WordPress site builder, free domain, and unlimited storage
Free Weebly website builder, free domain, and unlimited storage
Performance
Slow loading speed and reported downtimes
Great uptime and decent loading speed
Security
Free SSL certificates, DDoS protection, mod_security
Free SSL certificates, DDoS protection, SiteLock (paid add-on)
Support
Comprehensive Knowledge Base, but unresponsive live chat and support ticket
Comprehensive help center and 24/7 live chat and phone support
FAQ
Does JustHost offer cloud hosting?
No. It only offers shared hosting, VPS, and dedicated servers. If you're looking for reliable and affordable cloud hosting for your website, I would recommend checking out our list of the best cloud hosting providers.
Does DreamHost offer VPS hosting?
Yes. DreamHost offers four managed VPS hosting packages: Basic, Business, Professional, and Enterprise. All plans come with SSD storage from 30 GB to 240 GB and RAM from 1 GB to 8 GB, as well as unlimited websites and traffic. Nevertheless, I prefer these cheap VPS hosting services instead, because of DreamHost's inconsistent performance.
Which JustHost plan should I choose?
JustHost recommends the Choice Plus plan for shared hosting. With Choice Plus you get more unlimited features (websites, bandwidth, storage, parked domains, subdomains, and email accounts) and freebies such as marketing offers, SpamExperts, backup protection with CodeGuard Basic, and domain protection. That said, JustHost didn't make our list of the top web hosting services, which you might want to read before making any final decisions.
Does DreamHost use cPanel?
No. DreamHost has its own custom control panel, but it works well for beginners. It includes a one-click installer for popular CMS (e.g., WordPress, and Joomla), and Let's Encrypt (SSL/TLS) certificates. If you're interested in learning about other control panels, check out our article about cPanel alternatives.