when it comes to engagement rates, Instagram is leading the pack with an average rate of engagement of about 2%. For comparison, Facebook's is at 0.16% and Twitter at 0.046%
.
As of now, Instagram hosts an impressive 25 million company profiles, constituting 71% of all U.S. businesses. And it's not just the engagement rates that have brands so excited about this platform's potential—users are also more likely to make purchases. In fact, according to Hootsuite, 60% of users have discovered products on Instagram, while 72% have actually purchased something they saw on Instagram.
At this point, it should be pretty clear as to why so many marketers are doing everything in their power to improve their Instagram marketing strategy, including hashtags. Posts that have at least one hashtag has, on average, a 12.6% higher rate of engagement than those that don't use any. But not all hashtags are beneficial, and there are definitely some ways they can be used incorrectly or even cause damage to your campaign. So before getting into the world of Instagram hashtags, you should first familiarize yourself with the do's and—just as importantly—the don'ts, of this commonly used tool.
Things You Should Be Doing with Your Hashtags
If you've done any research into the different ways that
Instagram can improve your business
you're probably well aware of the popularity of hashtags.
From representing powerful social movements to categorizing a photo type to make it easier to find, hashtags are incredibly versatile
. Hashtags have been used to make a statement, target a specific demographic, establish a brand's identity, increase engagement rates, and more. They're used by everyone from multinational corporations to small businesses and celebrities.
Hashtags are everywhere now, and when used properly can have a very positive impact on your posts
. So when using them, keep the following considerations in mind to get the most out of your posts.
Do Target the Right Market Segment
When it comes to running a marketing campaign on any platform, identifying and accurately targeting the right audience is absolutely essential. Appropriately segmenting your audience, and
using hashtags to properly target the various subsets, can greatly improve your posts' effectiveness
. When done correctly, well-planned hashtags can bring the right audience directly to your post through Instagram's hashtag search.
An easy way to identify the right hashtags to use for your target audience is to watch what your competitors are using
. In addition, use Instagram's hashtag following function and keep an eye on different hashtags' effectiveness over time.
Hashtags that consistently receive high levels of engagement from your target audience are good ones to prioritize
.
Do Track the Success of Your Hashtags
Not all hashtags will be effective, and some can even be damaging. Therefore, it's a good idea to test your hashtags and see whether or not they're pulling their weight. There are quite a few ways to do this on Instagram, either by using a third-party tool or even through the app itself.
Thanks to the fairly new feature "Post Insights," those with business accounts can track valuable analytics, such as your posts' reach, clicks, and impressions from a variety of sources, including hashtags
. Switching to a business account is quick and easy as well as completely free. If you already have a business account, or are willing to switch and would like access to Instagram's "
Post Insights
", simply follow these steps:
First, you're going to want to switch to a business account if you haven't already done so, this is easily done through "Settings."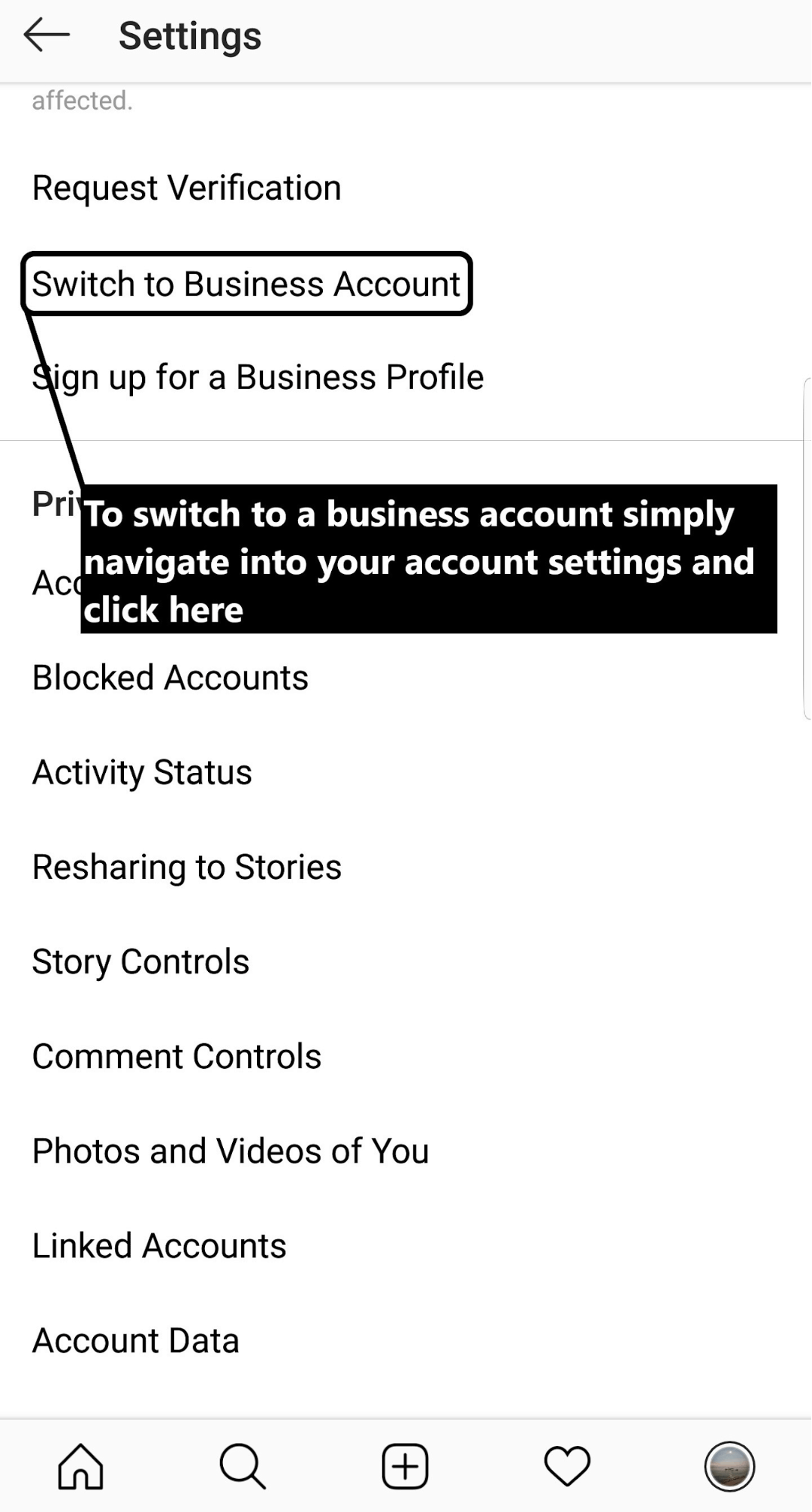 After following a few prompts, your business account will be active, and you now have access to "Insights," found within "Settings."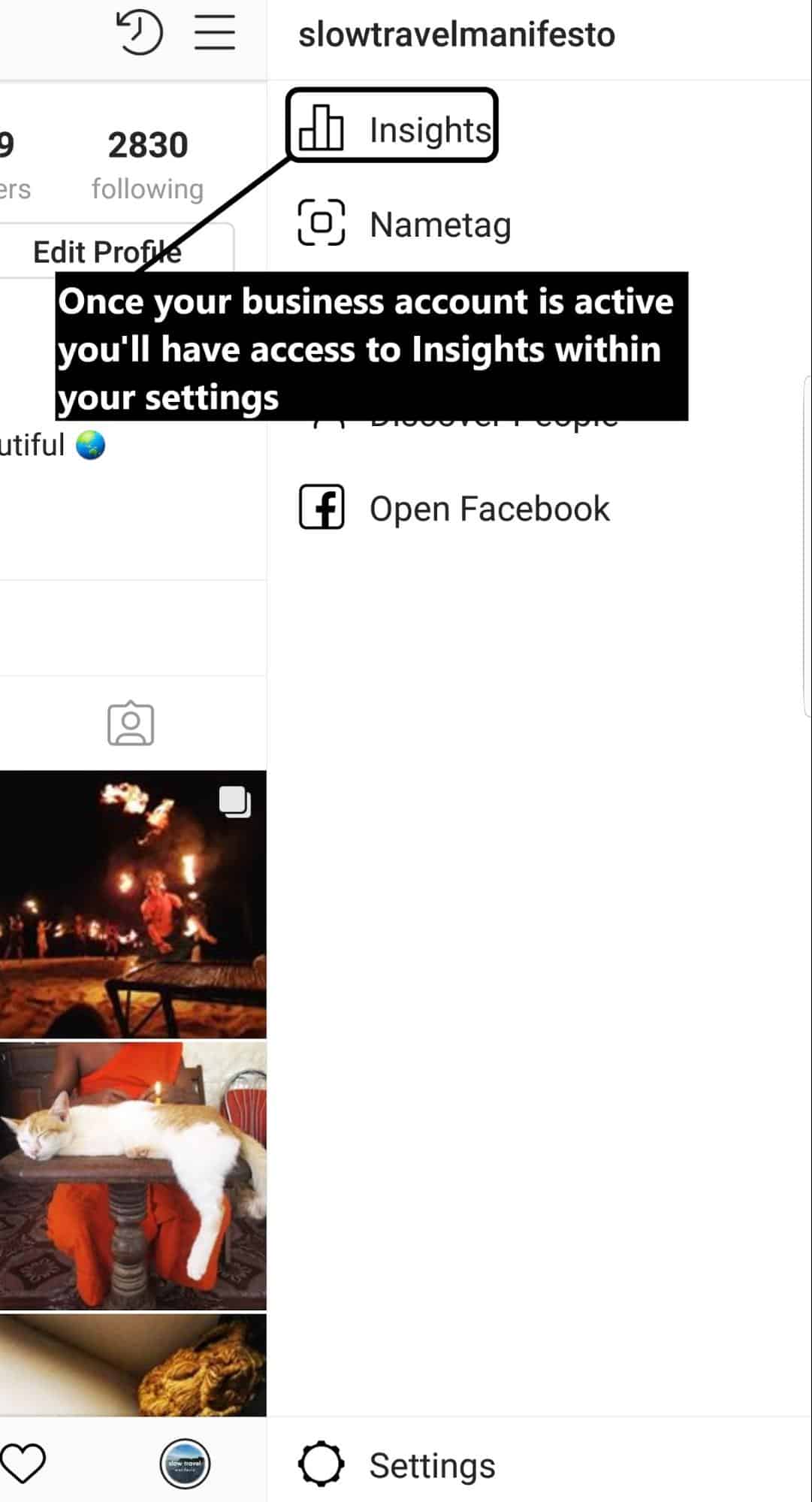 From this point forward, all subsequent posts' insights will be tracked, giving you access to a ton of useful information. You can see all tracked posts by going to "Insights" in and choosing "Content."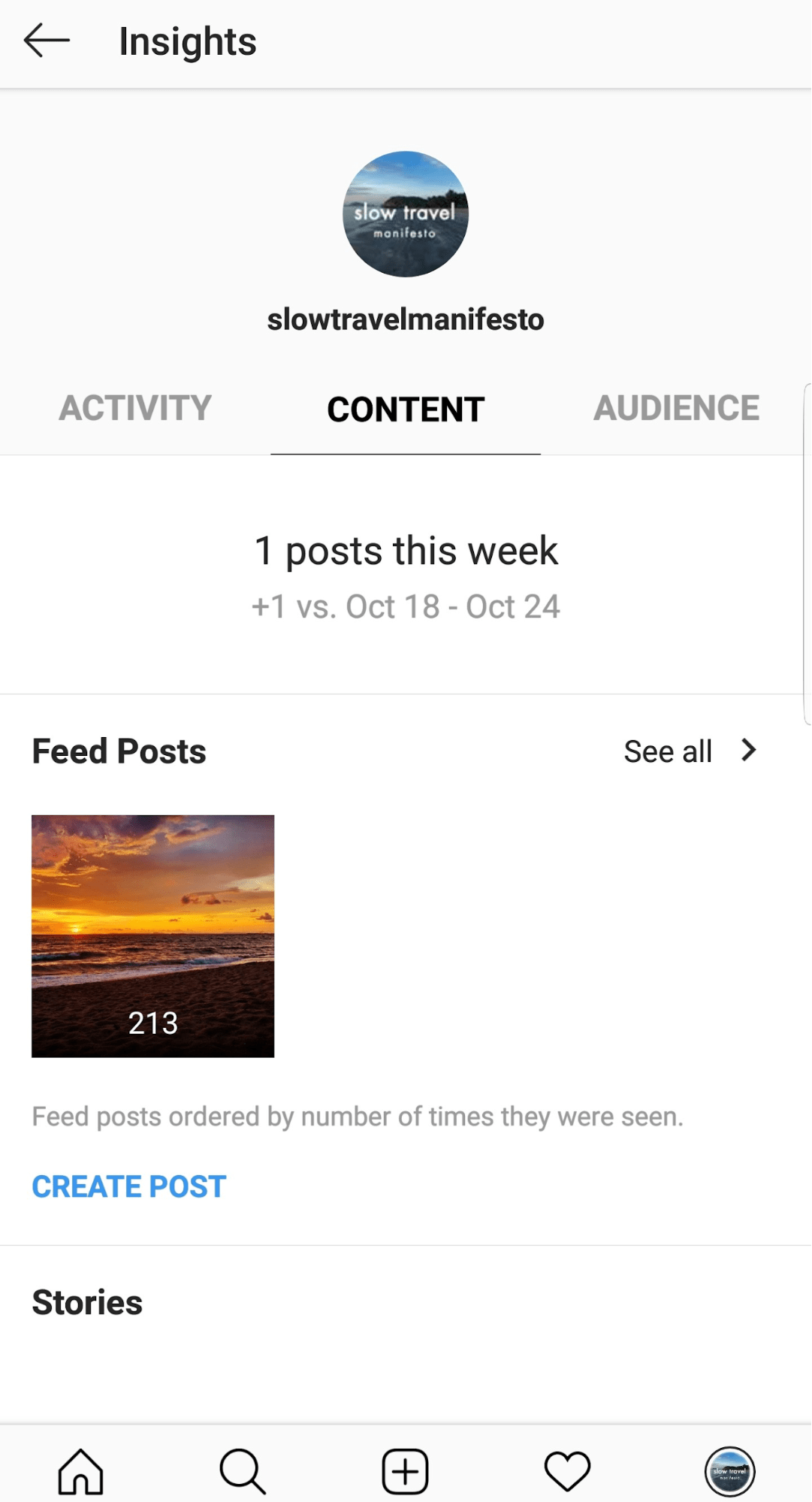 To access the analytics of a specific post, first click on the post that you're interested in, and click the "View Insights" option, right under the photo.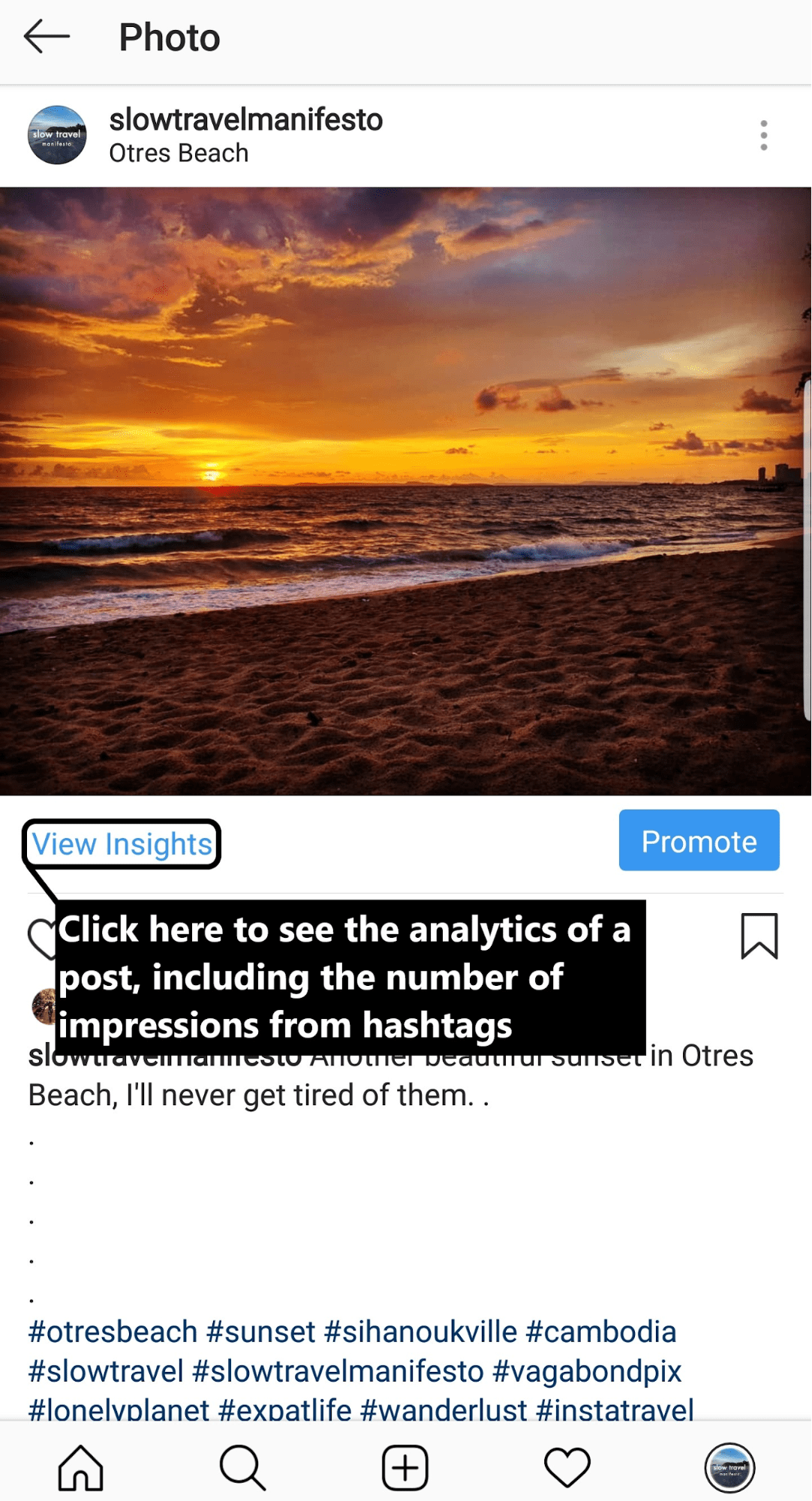 Under "Insights" you will able to see where the majority of your impressions originate from. Hashtags that are effective should receive a fair number of impressions.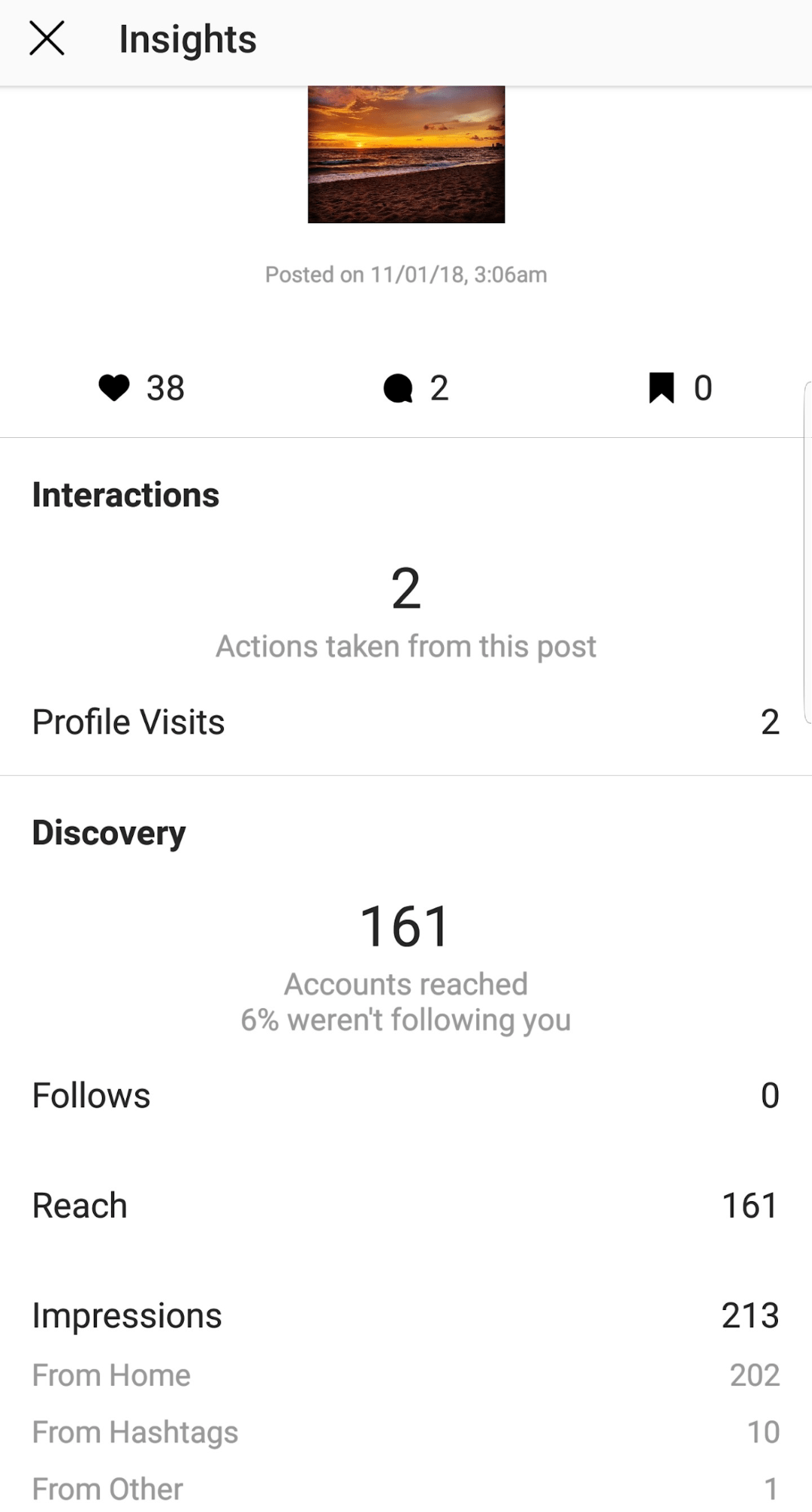 While "
Post Insights
" is useful, it still lacks valuable information, such as which one of the hashtags used resulted in the highest number of impressions. For this reason, many serious social media marketers turn to third-party tools for tracking their posts.
Tools such as Sprout Social give you far deeper analytics and are especially useful when it comes to tracking, and testing, the effectiveness of your hashtags
. They're currently offering a
free trial
for those who'd like to test out one of the better tools available without having to spend any money first. By using one of the
best social media management tools
available, you'll have a greater ability to determine what the most effective hashtags are for your target audience.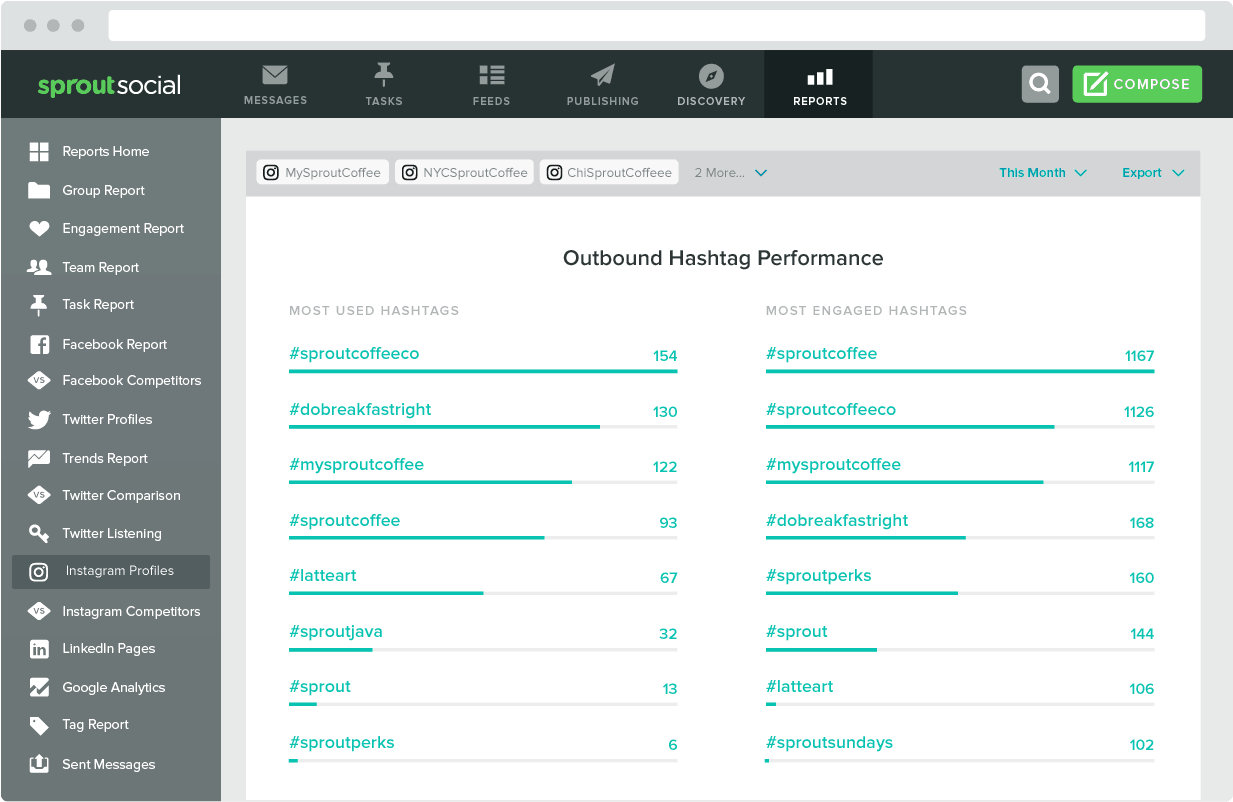 Do Use Branded Hashtags
Hashtags can be used for numerous purposes, but one of their more popular uses is to help establish your brand. Whatever you're attempting to market, be it yourself, a business, music, or your dog's fashion line,
it's important to create an image for your brand and stick to it. You should try and maintain this consistent image across everything your brand does, including the hashtags you use
.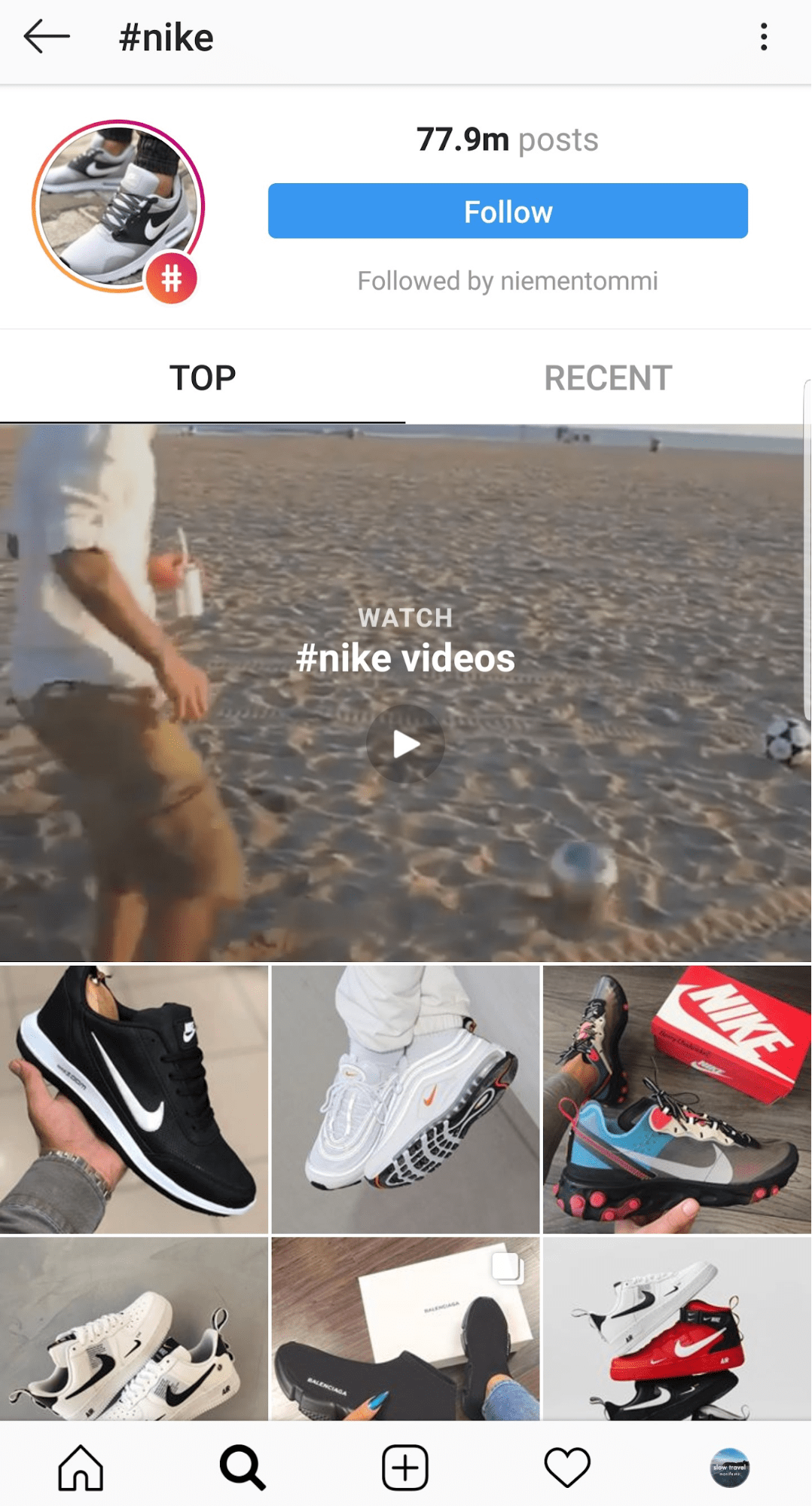 Create a hashtag that represents your brand, and that those familiar with your image will immediately recognize. This helps to establish your brand, and gives those interested in it an easy way to search for content that's associated with the brand—or even engage with the brand by using the hashtag themselves! For this reason,
seven out of ten of all hashtags on Instagram are branded
.
Do Stay On Top of What's Popular
Nowadays, the things that are popular—such as the hashtags that are trending—are constantly evolving. That said, there are some hashtags that will always have a huge following, such as:
#repost
#tbt
#likeforlike
#instagood
#photooftheday
#fashion
#style
#travel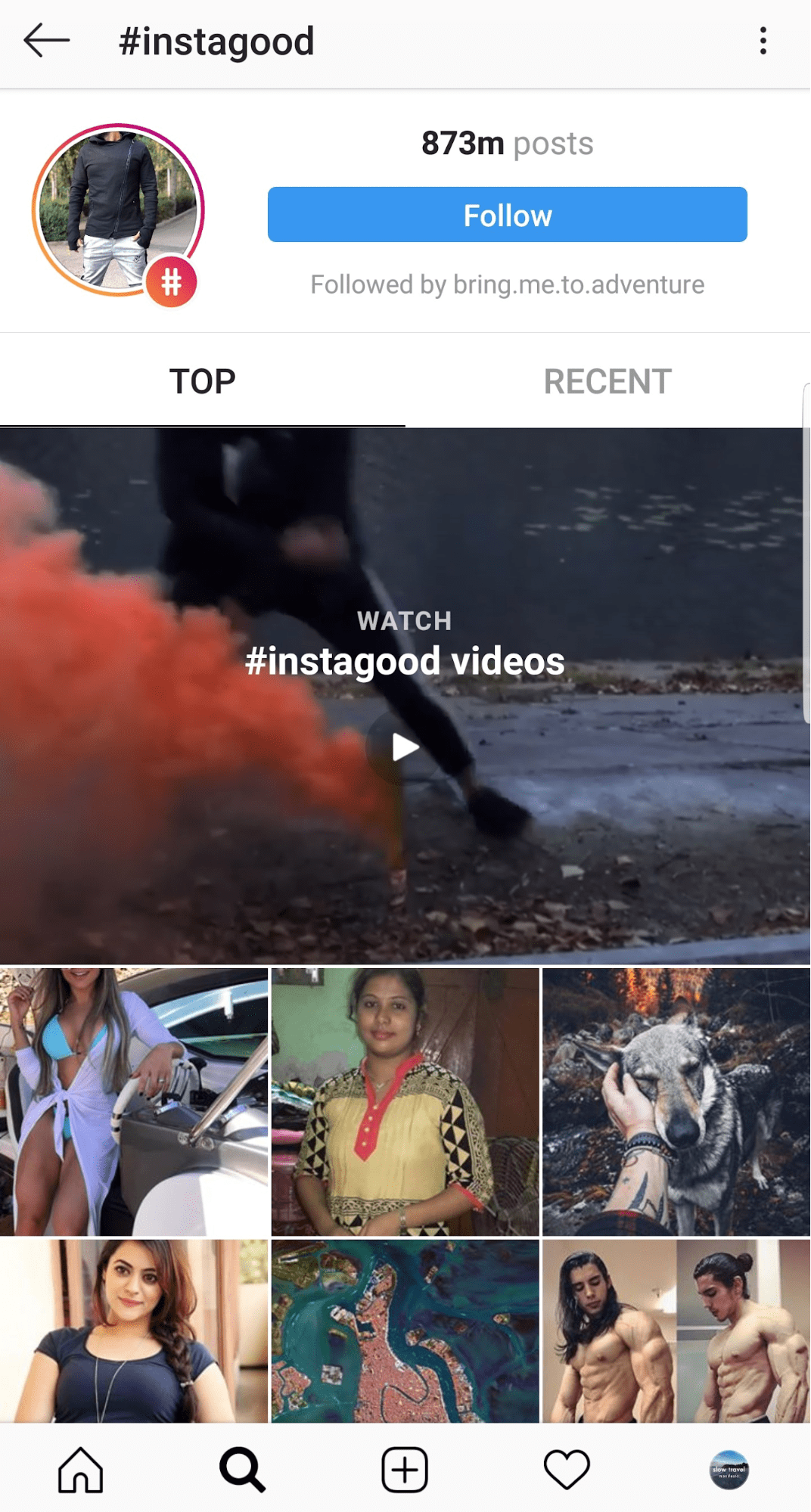 For a strong Instagram marketing strategy, you'll want to use a mix of these, as well as the
trending hashtags in your industry that come and go more quickly
. In order to find the tags that start to garner attention overnight, keep an eye on the "
Explore
" page of Instagram. Another good trick is to click the search bar, and select "
Tags
." By starting to type out a product type or category, Instagram will populate the trending hashtags that include this word. Be sure to check back as these tend to change often!
Do Use Hashtags People Are Likely to Follow
Fairly recently, it was announced that Instagram users would not only be able to follow profiles, but hashtags as well. This added a whole new way to use hashtags as a tool to expose as many eyes as possible to your content.
It also means that it's far more important that you use the right hashtags with the largest number of followers who would likely engage with your content
.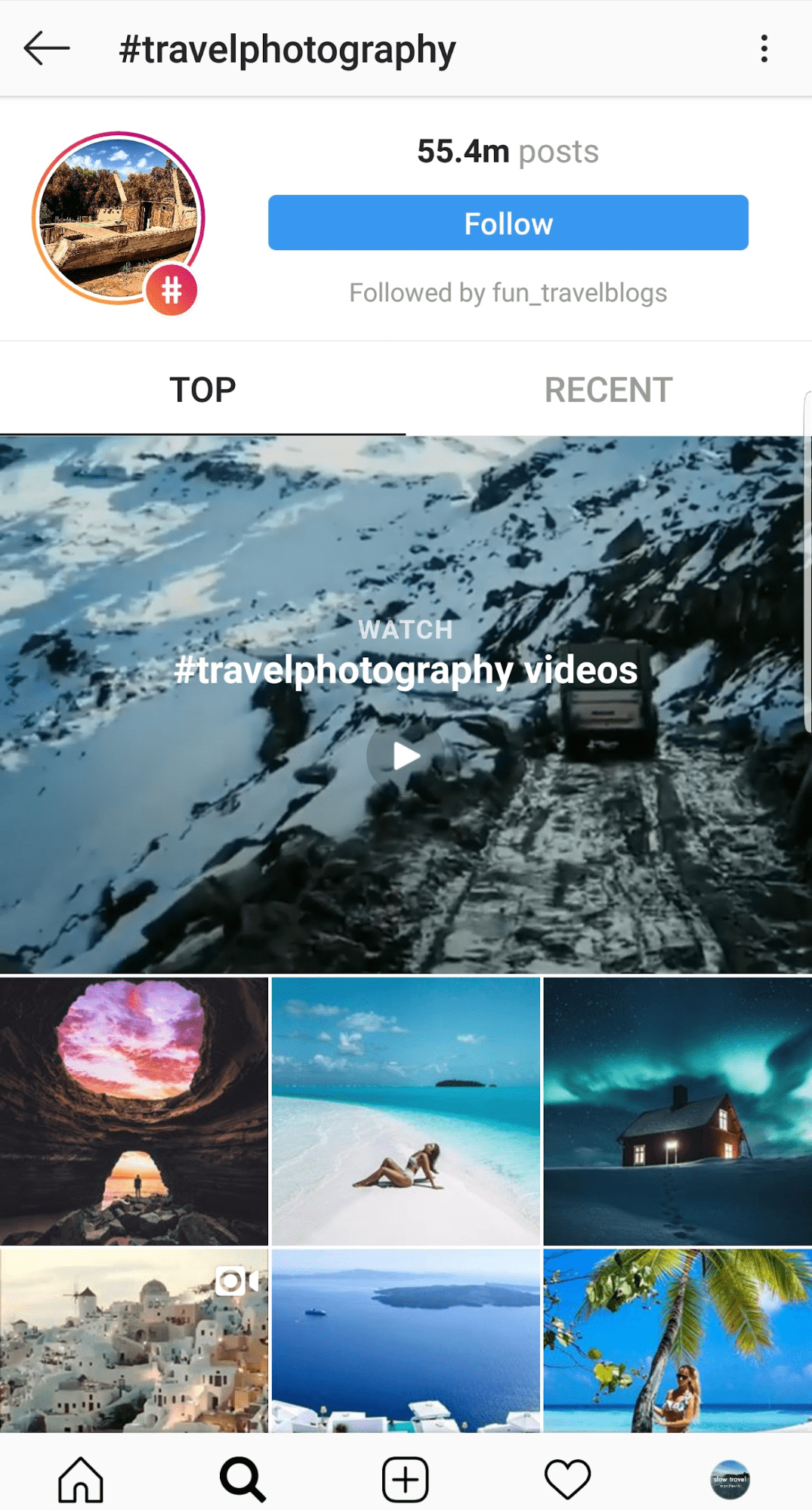 This isn't exactly simple, but if done well could greatly increase your number of engaged followers.
First, you want to figure out which hashtags that those interested in your content would likely be following. Then, you need to create content that's appropriate for those hashtags
. Make sure the content you provide is accurate to the attached hashtags, and would also appeal to your target audience.
Things You Should Avoid Doing with Your Hashtags
While it's certainly true that
hashtags can be a valuable tool when used correctly, it's equally true that when used in the wrong manner they can cause more harm than good
. From being confusing and hard to understand, to offensive and poorly timed, hashtags have been the root of quite a few problems for brands throughout the years. So if you're using hashtags as a part of your Instagram marketing strategy, these are some things you'd probably be better off avoiding.
Don't Include Too Many
Studies on this matter don't always agree, but most show that too many hashtags can actually harm a post's engagement rates. Knowing the right amount for your specific goals and target audience can be a little tricky, but
it's generally agreed upon that somewhere around 11 hashtags are ideal for most posts
.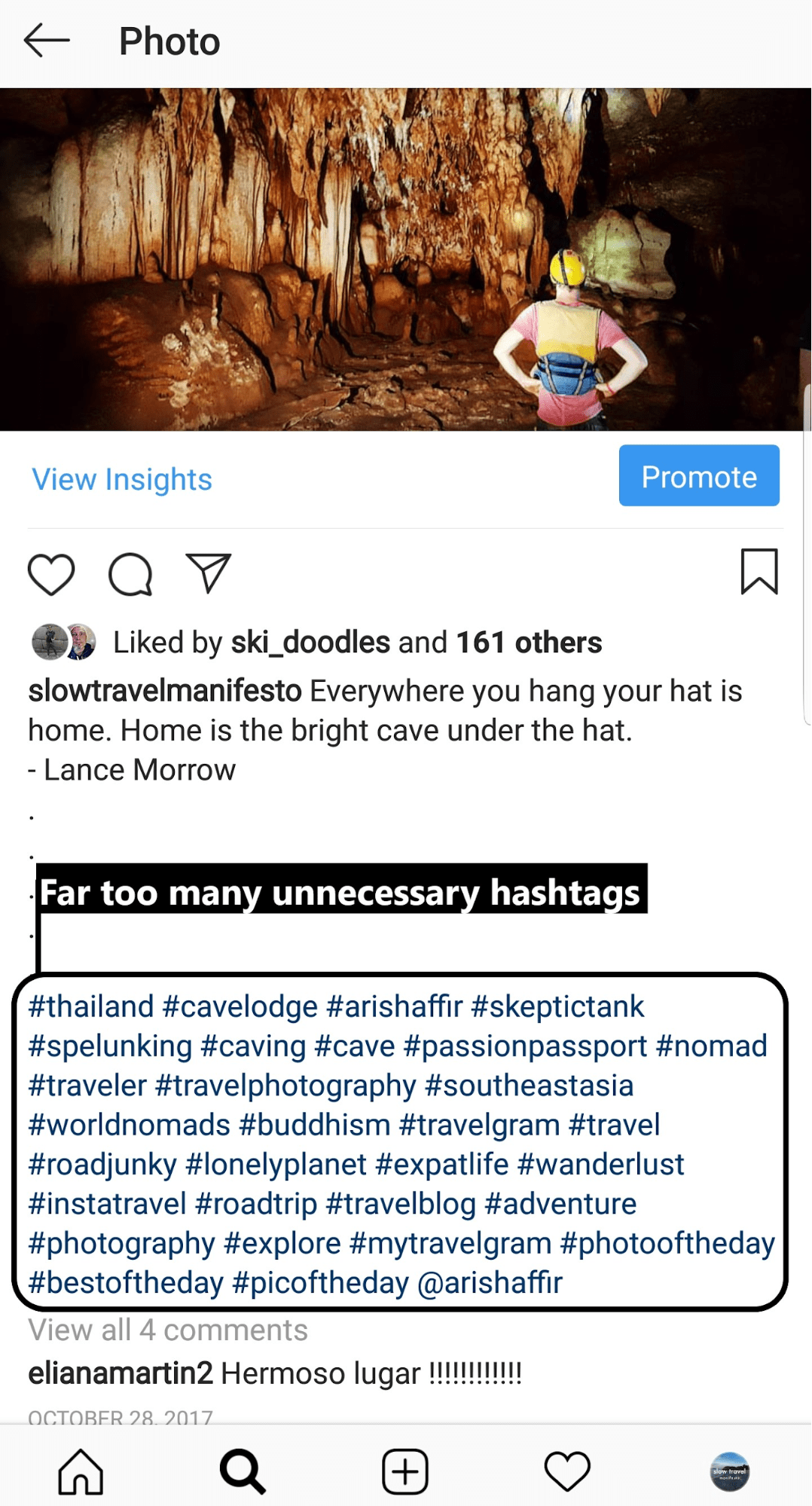 Any more than this may have a negative impact on your engagement rates, and cause your post to come off looking like spam. According to most studies, each additional hashtag added to a post increased engagement rates up until around 11, after which they actually lowered engagement.
Don't Highlight Sensitive or Controversial Subjects
When running any marketing campaign, regardless of the platform, it's usually a good idea to avoid sensitive and controversial topics.
Whether it's a recent tragedy or a controversial political stance, unless it strongly aligns with your brand's image you should keep it out of your hashtags
or risk alienating your audience.
Don't Use Irrelevant Tags Because They're Trending
While it's important that you use hashtags that are popular and likely to be searched,
don't arbitrarily add an irrelevant hashtag to a post simply because it's trending
. This will be obvious to those who come across your post based on the hashtag, and will likely be ignored by them.
Even if it does increase a post's number of impressions from hashtags, it'll cause your brand to appear dishonest and potentially damage its reputation
.
Don't Forget to Check if They Make Sense
While this can lead to some humorous results,
always look your hashtags over carefully before taking them live, and ensure that they won't easily be misinterpreted
. There have been quite a few examples of this happening, many with interesting outcomes. Some of the more notable examples include:
Upon Margaret Thatcher's death, the hashtag #nowthatchersdead began trending. This caused quite a stir among Cher fans, as the tag can easily be misread to seem to be announcing the musician's early demise.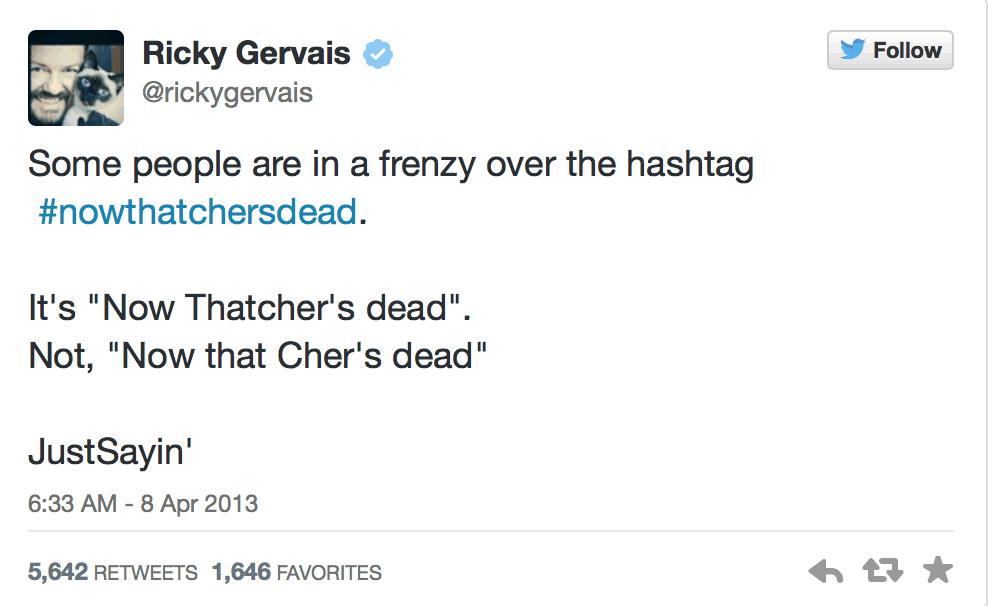 The Chester Literary Festival took on the challenge of incorporating hashtags by utilizing the acronym that includes the tag #cLitFest. Unfortunately, no one anticipated that this poorly planned hashtag might lead to misconceptions about the true nature of the festival.
While her moment in the spotlight has long since passed, the American Idol sensation Susan Boyle had her own hashtag mishap. Back in 2012, when announcing an album release, her team did so with the hashtag #susanalbumparty. While innocent and straightforward enough, many misread it to interpret that she was having a very different kind of party than the message intended…
The Takeaway
While it's clear that hashtags are important to maximizing your potential exposure, it's also important that they're well planned and used with intent.
Know why you're using the hashtags that you choose, and double check to make sure their messaging is clear and aligns with the image you want your brand to portray
. These can be powerful tools when wielded correctly, and greatly increase the exposure your content receives. So use them, but use them wisely, and they'll only increase the visibility of your future Instagram posts.
---
Sources
 https://www.rivaliq.com/blog/2018-social-media-industry-benchmark-report/
https://adespresso.com/blog/instagram-statistics/
 https://blog.hootsuite.com/instagram-statistics/
 https://sproutsocial.com/insights/instagram-stats/
Image Credits
https://media.sproutsocial.com/uploads/2017/09/Sprout-Hashtags.png
https://gonzmolivia.files.wordpress.com/2015/02/screen-shot-2015-02-17-at-8-56-13-pm.png