We put Wix's refund policy to the test. We're happy to report we received our refund in full, even though we signed up for the cheapest plan.
So you gave Wix a try, but it just wasn't for you. We get it. Sure, Wix is easy to use and it gets great reviews, but it's missing some key functions.
Maybe you were frustrated about not being able to change your site's template without having to rebuild your site from scratch. Maybe you need stronger e-commerce features. Or maybe you don't want to invest all that time in building your website, knowing you won't be able to transfer it to a different platform later.
Luckily, you've got options. A website builder like Site123 can definitely make your life easier. For a few more great Wix alternatives, click here!
But before you move on, you're going to want to delete your Wix account. We're going to walk you through that process step-by-step. From canceling all your subscriptions to getting your money back, we'll show you exactly what you need to do to be Wix-free.
How to Delete Your Wix Account – Quick Guide
Here's a quick summary of the steps you'll need to take to delete your account:
Log into your Wix account and cancel all your premium subscriptions on the Billing and Payments page.
Go to My Sites and move any websites you have to the trash.
If you have active domains, you'll either need to cancel or transfer them (more information below).
Go to Account Settings, scroll down, and click the Deactivate Your Account button on the bottom right.
Follow the instructions on the next page.
Once you're on the Deactivate My Account page, click the button and confirm to fully delete your Wix account.
Getting Your Refund
As long as you cancel your subscription within the 14-day window that Wix gives you, your refund should be automatic. However, even after the 14-day trial, it's still possible to ask for a refund through customer support. While it's not guaranteed, you have nothing to lose by trying.
Keep in mind that it may take up to 20 days for the refund to show on your credit card statement. Refunds don't cover apps, domains, or other subscriptions.
Now, let's take a closer look at the cancellation process.
STEP #1: Ending Your Subscriptions
The first step to canceling your Wix account is to end all of your premium plans. Wix won't let you deactivate an account that has any active subscriptions.
Follow these simple steps to end your premium plan and subscriptions:
Log into Wix. You'll see your account name and avatar on the top-right corner of your dashboard. Click your name and choose Billing and Payments from the drop-down menu.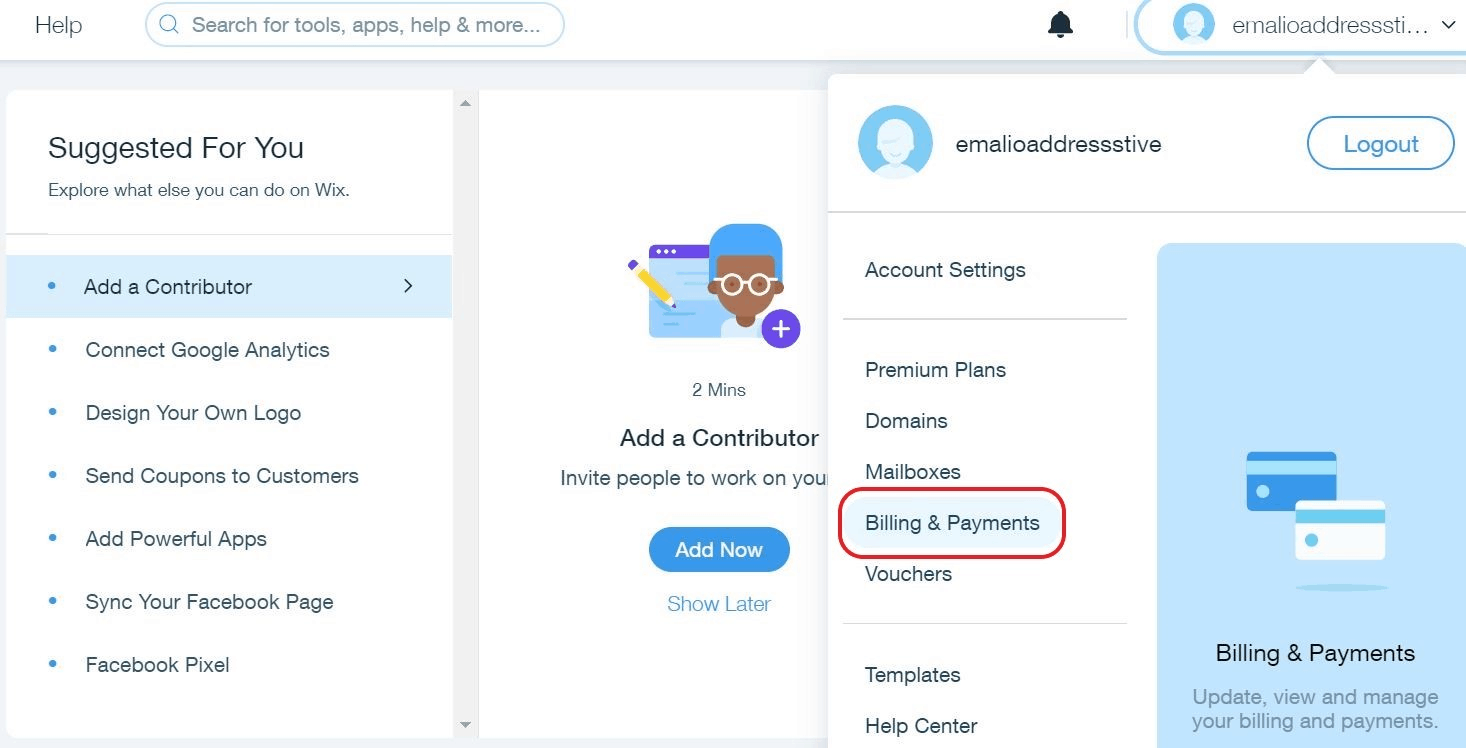 On the Billing and Payments page, you'll see all the premium plans that you're currently paying for. Cancel each one so that you don't get hit with any recurring payments. Click Cancel Plan, Cancel My Domain, Cancel My Mailbox, or any other service you don't want to keep paying for.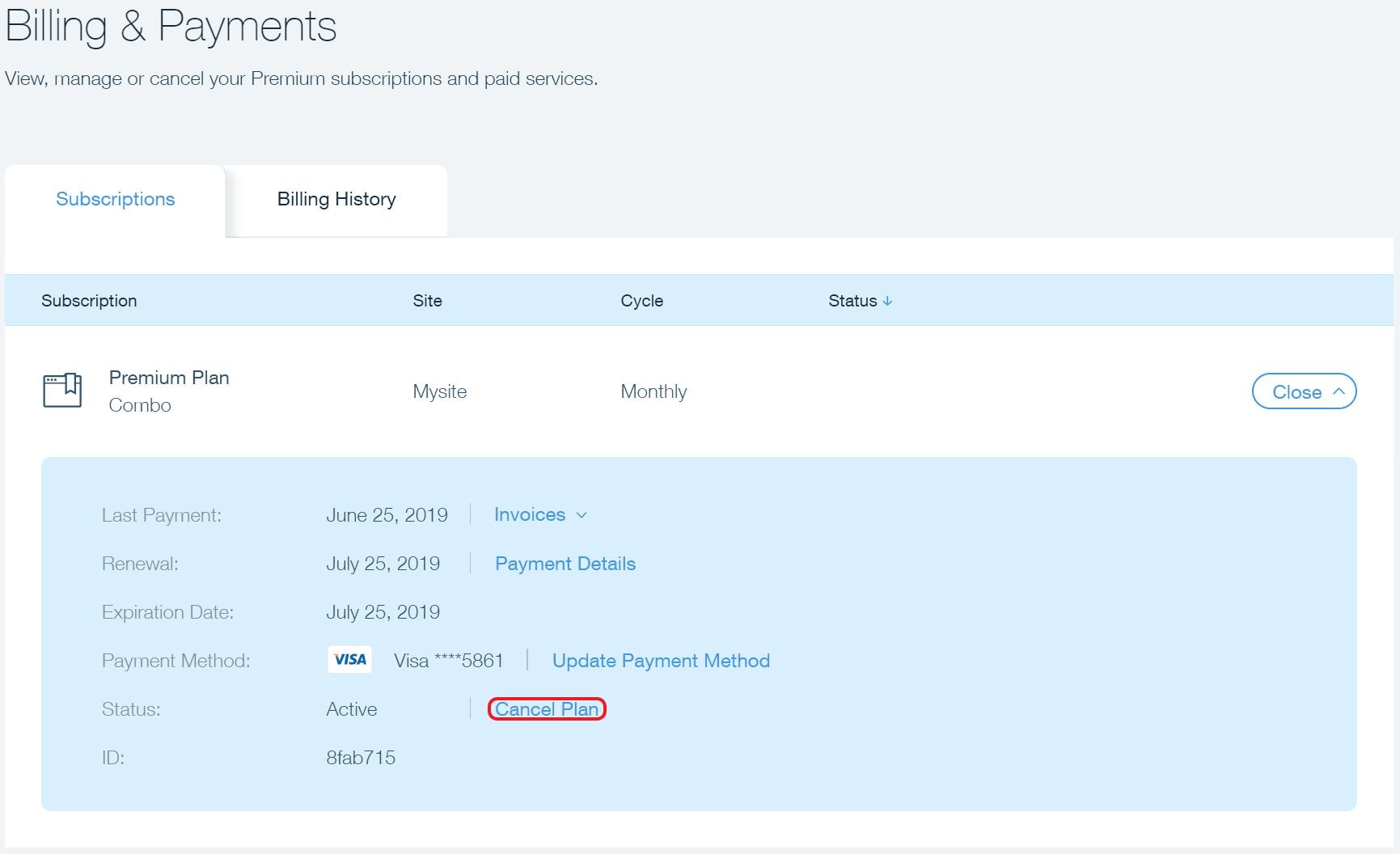 When asked if you're sure you want to cancel, click the Cancel Now button to confirm.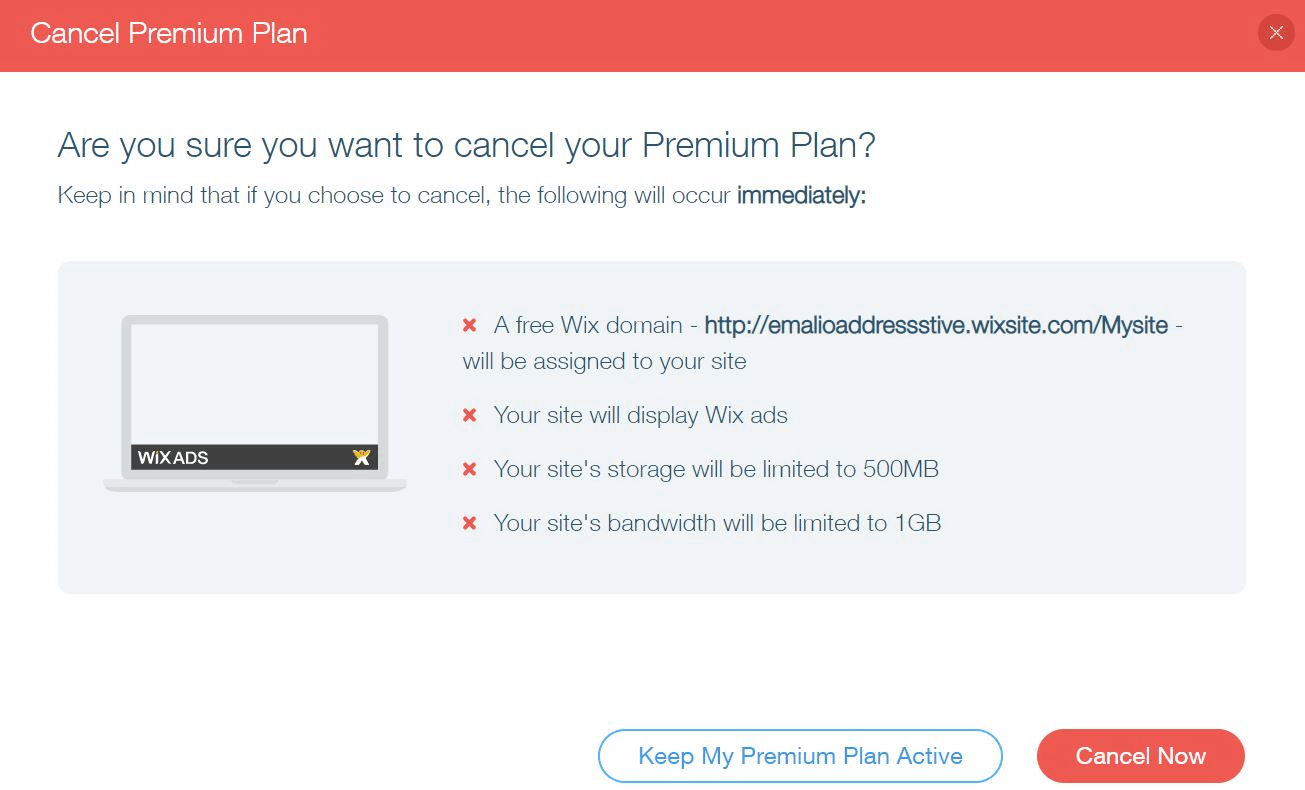 STEP #2: Deleting Your Sites
Once you've canceled your subscriptions, you're going to need to delete all of the sites that you have associated with your Wix account. Deleting your sites is pretty simple:
While logged into Wix, click My Sites in the top left-hand corner of the screen.
On the My Sites screen, hover over each website you need to delete and a Quick Actions drop-down menu will appear. Click on this menu, and choose Move to Trash.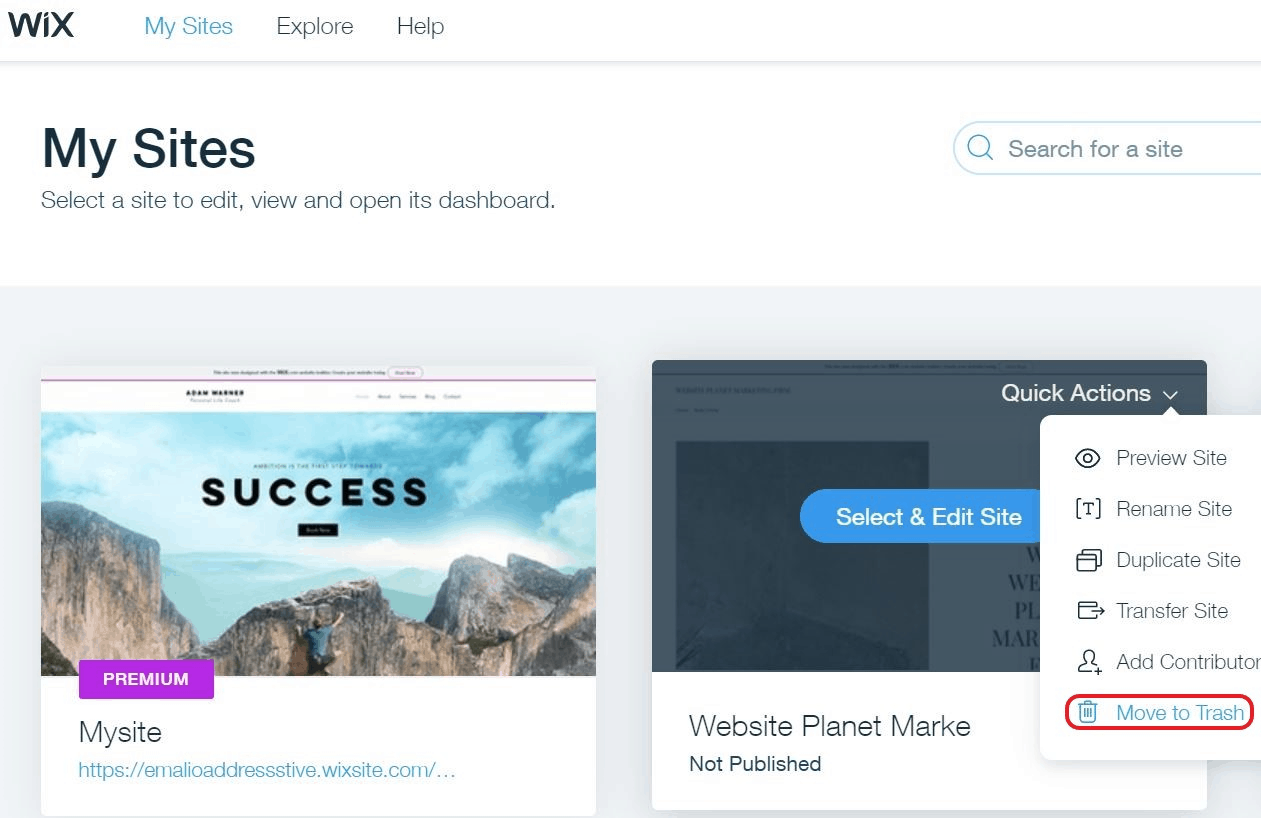 Do this for each site that you have.
STEP #3: Removing Domains
Next, you'll need to remove all the domains you may have attached to your Wix account. If you've never set up any domains with your account, you can skip this step.
There are two ways to get rid of your domains. You can either transfer them to another Wix account or domain host, or you can cancel them. To cancel your domain, simply follow the process for canceling a subscription that was laid out in the first section.
To transfer your domain:
Open the dropdown menu on the top-right corner of the screen and click Domains.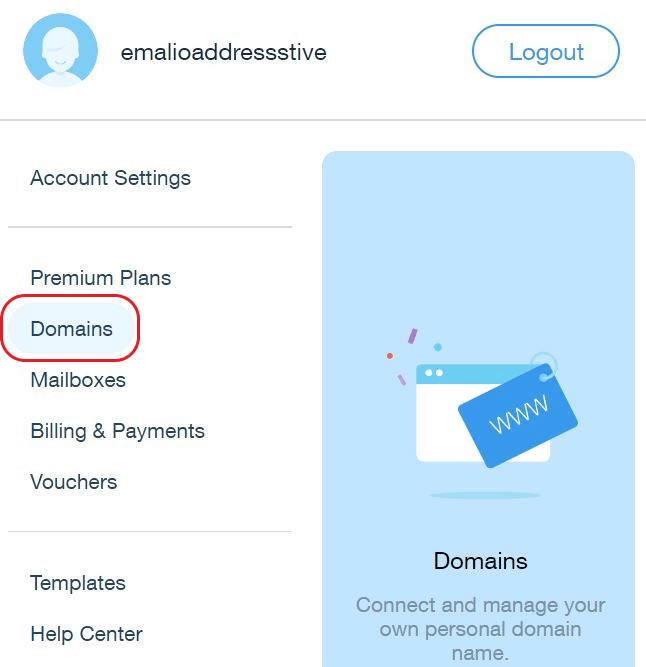 Select a domain and click the advanced tab.
From here, you can choose to either transfer away from Wix, or transfer to a different Wix account.
Do this for all the domains you'd like transferred.
If you happen to have any domains that are hosted elsewhere but connected to your Wix account, you'll have to remove them. To do this, simply click Remove Domain from Wix under the domain's Advanced tab.
STEP #4: Closing Your Account
Now that you've canceled your services, trashed your sites, and removed your domains, you're finally ready to delete your Wix account once and for all! Deactivating your account isn't hard, but Wix doesn't exactly make it an intuitive process either.
Just remember that all your premium services must expire before Wix will let you deactivate your account. This means that if any of your subscriptions, such as premium apps, domains, or mailboxes, haven't expired–even if you've canceled them–you won't be able to deactivate your account until they do.
To deactivate your account, you'll want to follow these steps:
First, go to your Account Settings menu, and scroll down. At the bottom-right of the screen, there's a box labeled Deactivate Your Wix Account. Click the Learn More button.

Scroll to the bottom of the screen to find the step-by-step process for deleting your account. Click the part where it says Step Four – Deactivate Your Account.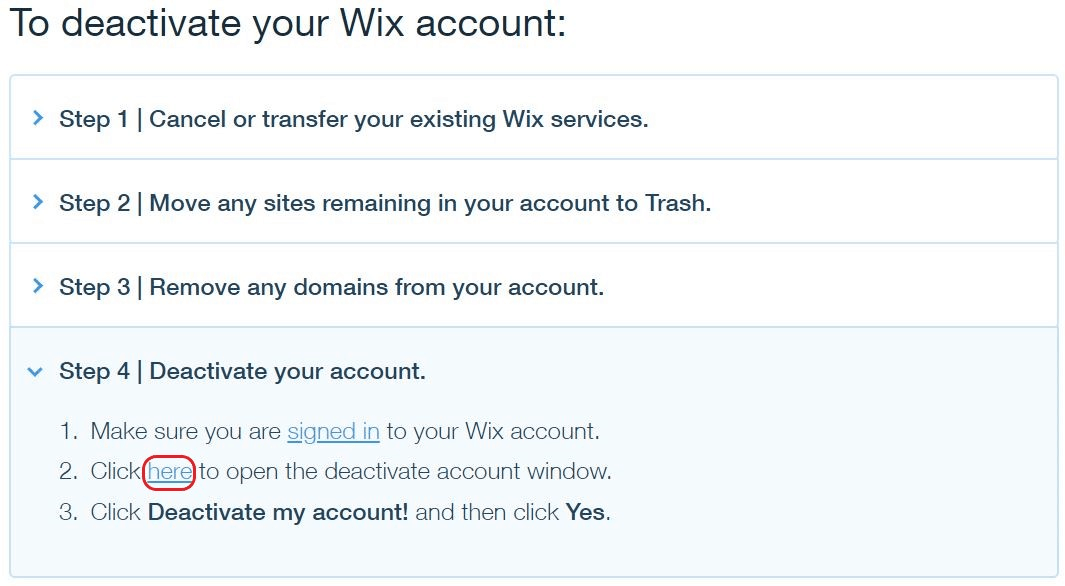 Next, click the 'here'  link that's highlighted in the image above. You'll be taken to a screen with a Deactivate My Account button. Click it.
You'll receive one more warning asking if you're sure. Click Yes and you're done!

Best Wix Alternatives
The following website builders are great alternatives to Wix:
Life After Wix
Just because Wix didn't work out for you doesn't mean you need to give up on website builders. There are plenty of great options out there, and many of them even come with free plans.
Click here to read an in-depth review of the best Wix alternaitves.