We put Wix's refund policy to the test. We're happy to report we received our refund in full, even though we signed up for the cheapest plan.
So you gave Wix a try, but it just wasn't for you. We get it. Sure, Wix is easy to use and it gets great reviews, but it's missing some key functions.
Maybe you were frustrated about not being able to change your site's template without having to rebuild your site from scratch. Maybe you need stronger e-commerce features. Or maybe you don't want to invest all that time in building your website, knowing you won't be able to transfer it to a different platform later.
Many people will decide to switch over to Squarespace. For example, if they:
Are looking for really well designed templates
Want to integrate a lot of third party apps and plugins
Need to import or export content from other services
For a few more great Wix alternatives, click here!
But before you move on, you're going to want to delete your Wix account. We're going to walk you through that process step-by-step. From canceling all your subscriptions to getting your money back, we'll show you exactly what you need to do to be Wix-free.
How to Delete Your Wix Account – Quick Guide
Here's a quick summary of the steps you'll need to take to delete your account:
Log into your Wix account and cancel all your premium subscriptions on the Billing and Payments page.
Go to My Sites and move any websites you have to the trash.
If you have active domains, you'll either need to cancel or transfer them (more information below).
Go to Account Settings, scroll down, and click the Deactivate Your Account button on the bottom right.
Follow the instructions on the next page.
Once you're on the Deactivate My Account page, click the button and confirm to fully delete your Wix account.
Getting Your Refund
As long as you cancel your subscription within the 14-day window that Wix gives you, your refund should be automatic. However, even after the 14-day trial, it's still possible to ask for a refund through customer support. While it's not guaranteed, you have nothing to lose by trying.
Keep in mind that it may take up to 20 days for the refund to show on your credit card statement. Refunds don't cover apps, domains, or other subscriptions.
Now, let's take a closer look at the cancellation process.
STEP #1: Ending Your Subscriptions
The first step to canceling your Wix account is to end all of your premium plans. Wix won't let you deactivate an account that has any active subscriptions.
Follow these simple steps to end your premium plan and subscriptions:
Log into Wix. You'll see your account name and avatar on the top-right corner of your dashboard. Click your name and choose Billing and Payments from the drop-down menu.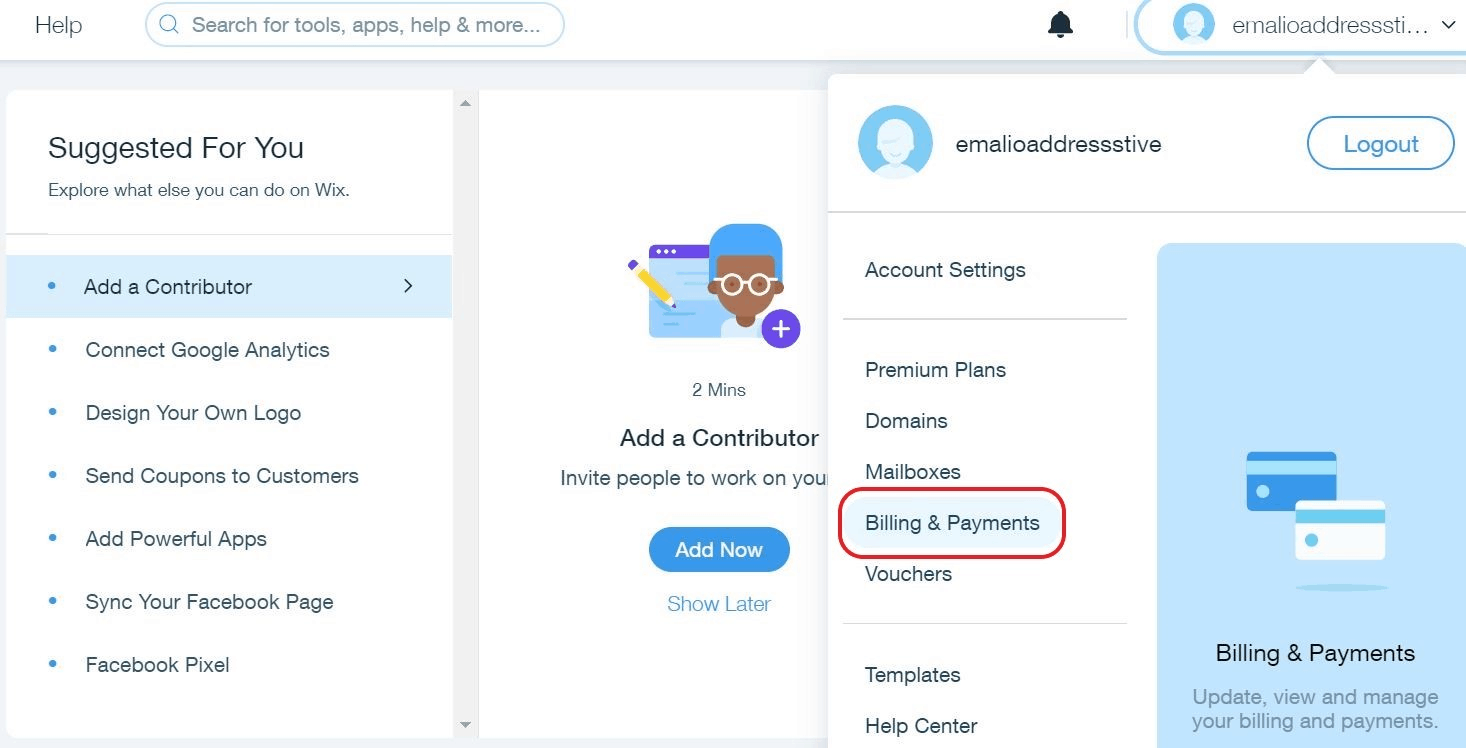 On the Billing and Payments page, you'll see all the premium plans that you're currently paying for. Cancel each one so that you don't get hit with any recurring payments. Click Cancel Plan, Cancel My Domain, Cancel My Mailbox, or any other service you don't want to keep paying for.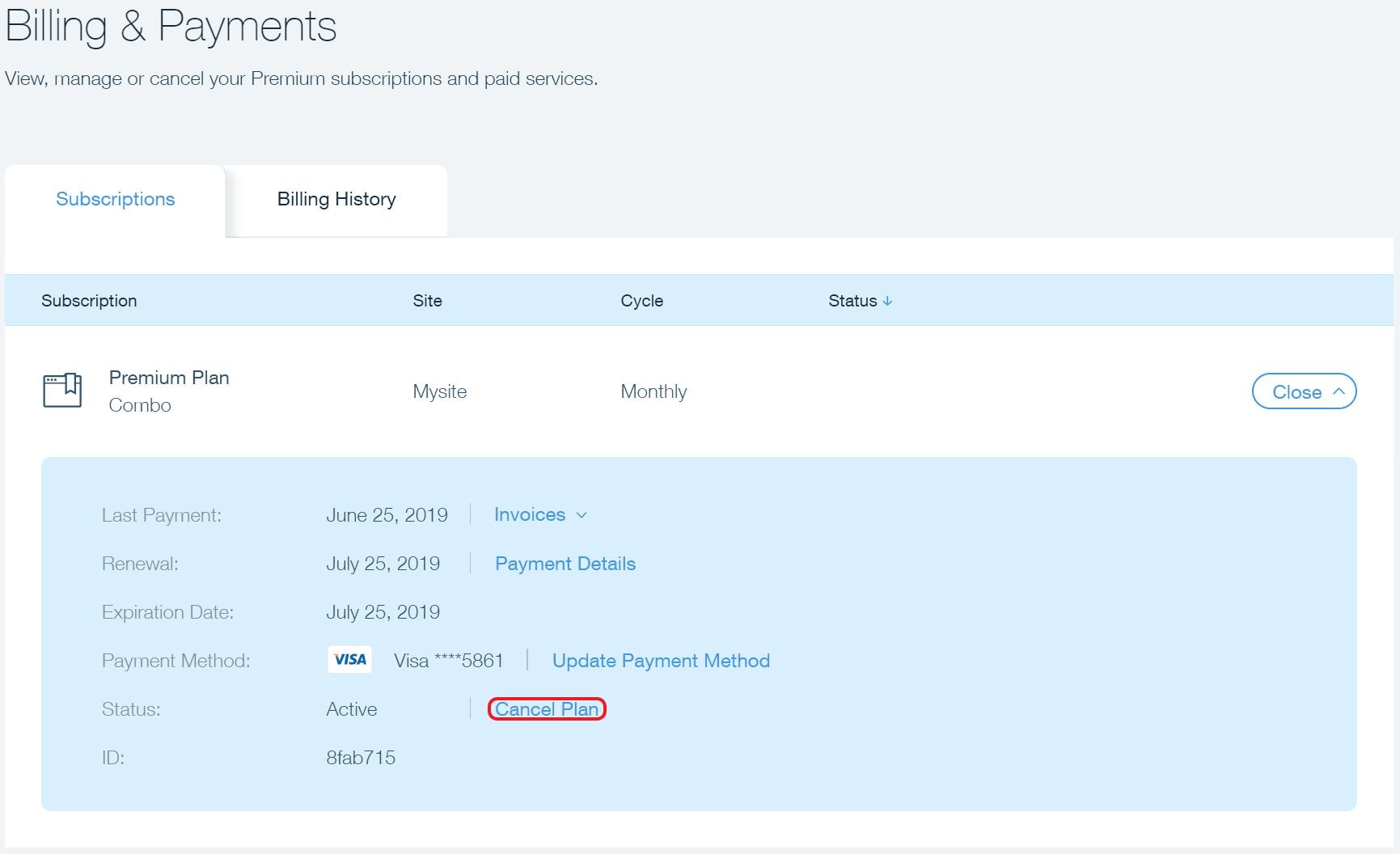 When asked if you're sure you want to cancel, click the Cancel Now button to confirm.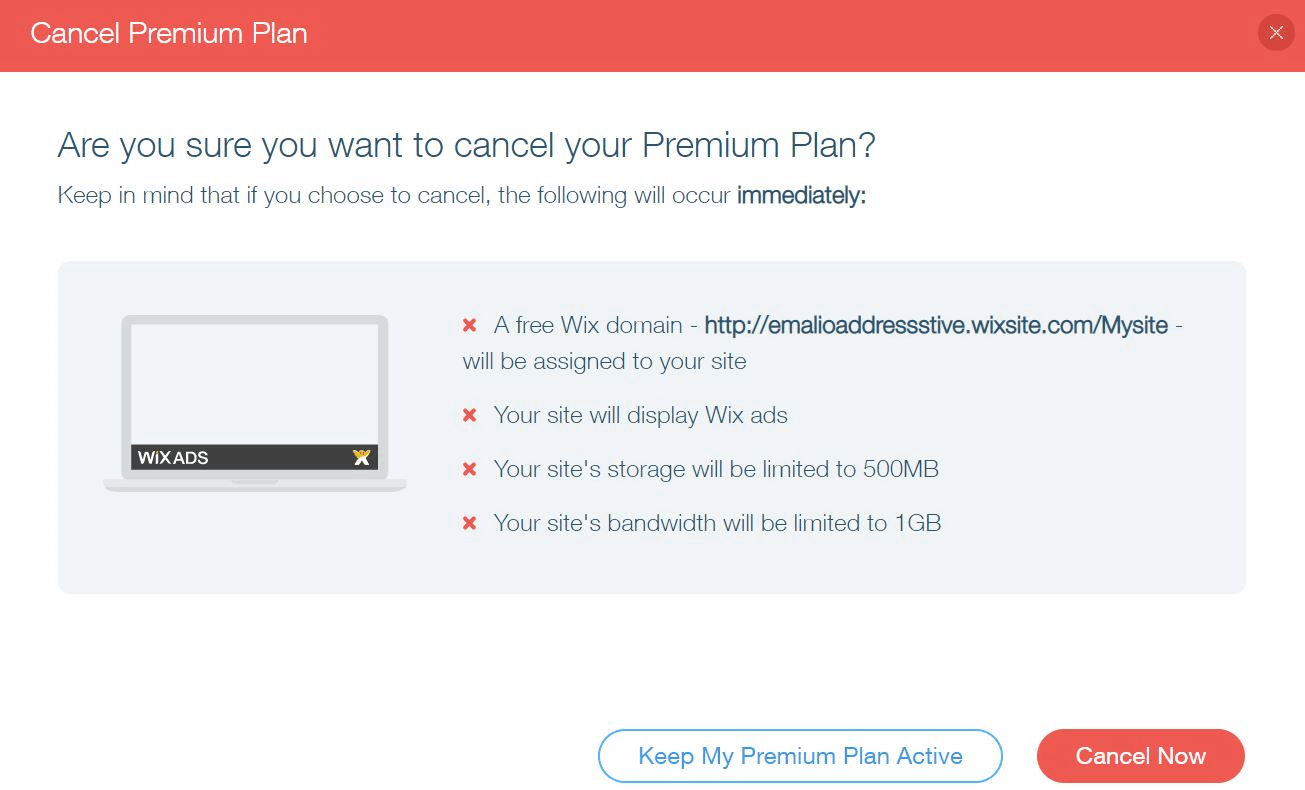 STEP #2: Deleting Your Sites
Once you've canceled your subscriptions, you're going to need to delete all of the sites that you have associated with your Wix account. Deleting your sites is pretty simple:
While logged into Wix, click My Sites in the top left-hand corner of the screen.
On the My Sites screen, hover over each website you need to delete and a Quick Actions drop-down menu will appear. Click on this menu, and choose Move to Trash.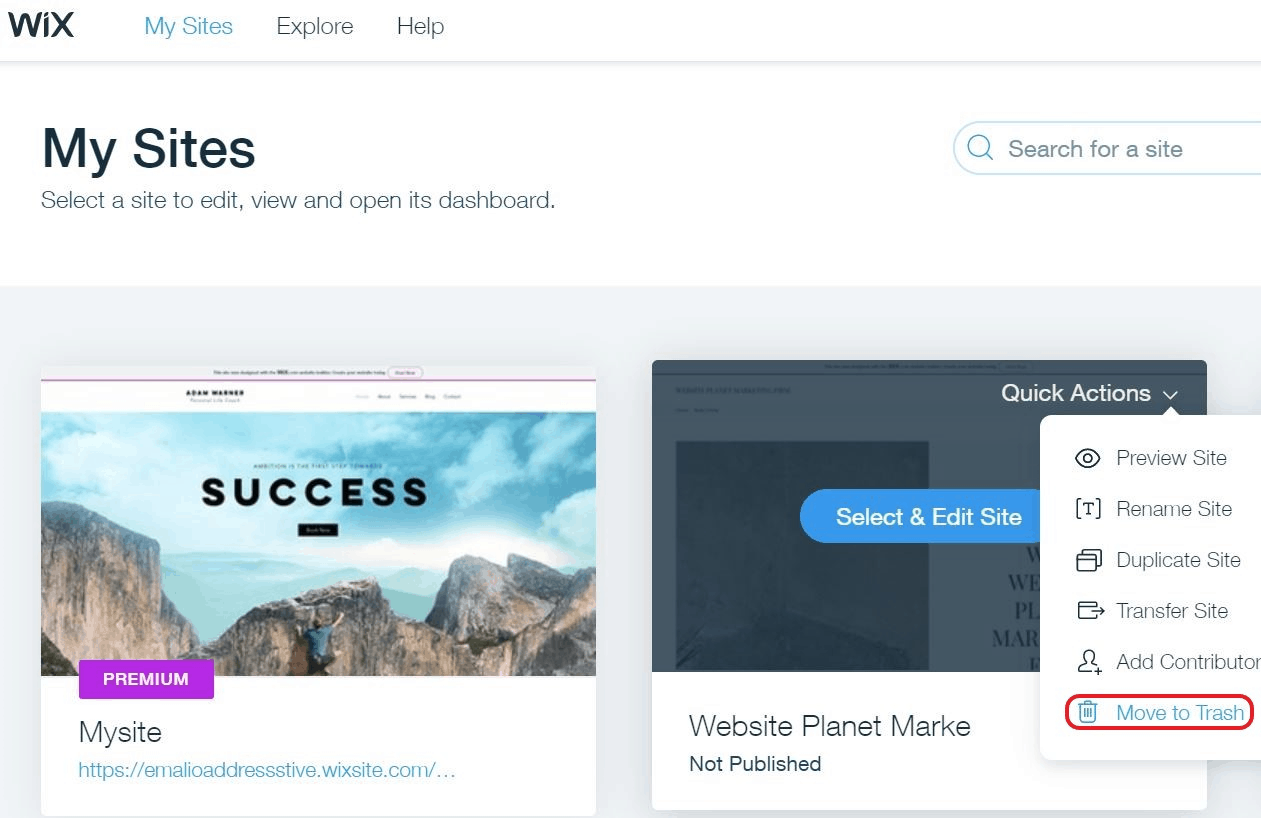 Do this for each site that you have.
STEP #3: Removing Domains
Next, you'll need to remove all the domains you may have attached to your Wix account. If you've never set up any domains with your account, you can skip this step.
There are two ways to get rid of your domains. You can either transfer them to another Wix account or domain host, or you can cancel them. To cancel your domain, simply follow the process for canceling a subscription that was laid out in the first section.
To transfer your domain:
Open the dropdown menu on the top-right corner of the screen and click Domains.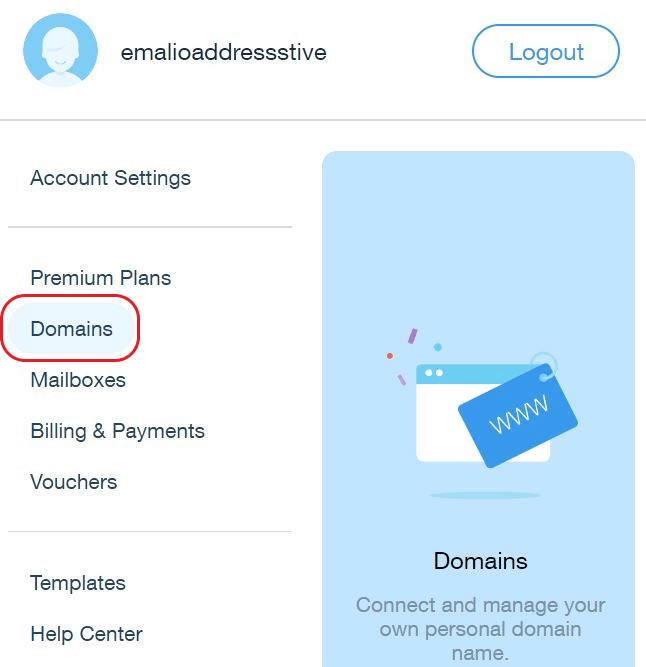 Select a domain and click the advanced tab.
From here, you can choose to either transfer away from Wix, or transfer to a different Wix account.
Do this for all the domains you'd like transferred.
If you happen to have any domains that are hosted elsewhere but connected to your Wix account, you'll have to remove them. To do this, simply click Remove Domain from Wix under the domain's Advanced tab.
STEP #4: Closing Your Account
Now that you've canceled your services, trashed your sites, and removed your domains, you're finally ready to delete your Wix account once and for all! Deactivating your account isn't hard, but Wix doesn't exactly make it an intuitive process either.
Just remember that all your premium services must expire before Wix will let you deactivate your account. This means that if any of your subscriptions, such as premium apps, domains, or mailboxes, haven't expired–even if you've canceled them–you won't be able to deactivate your account until they do.
To deactivate your account, you'll want to follow these steps:
First, go to your Account Settings menu, and scroll down. At the bottom-right of the screen, there's a box labeled Deactivate Your Wix Account. Click the Learn More button.

Scroll to the bottom of the screen to find the step-by-step process for deleting your account. Click the part where it says Step Four – Deactivate Your Account.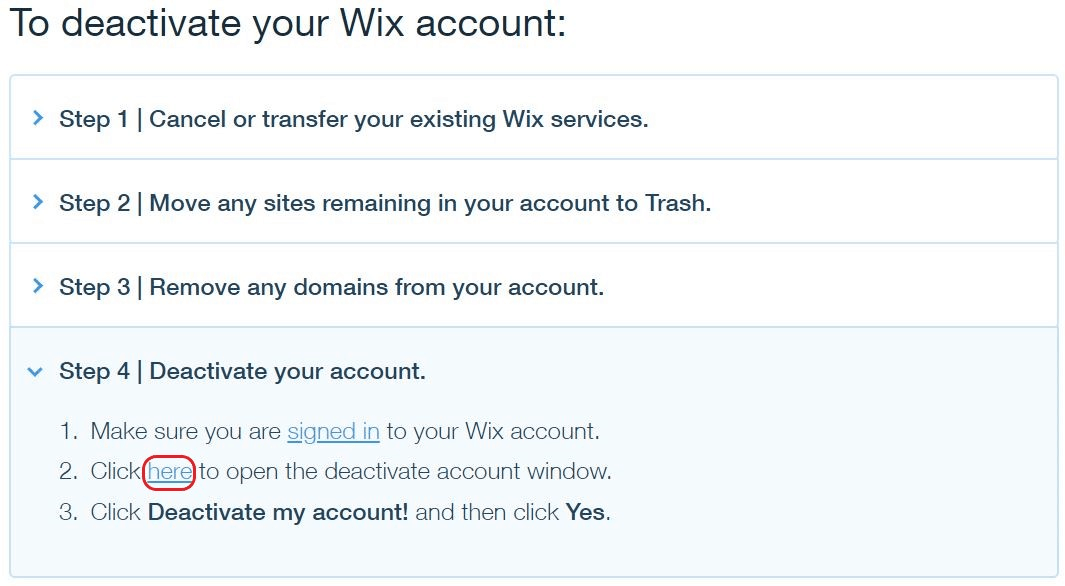 Next, click the 'here'  link that's highlighted in the image above. You'll be taken to a screen with a Deactivate My Account button. Click it.
You'll receive one more warning asking if you're sure. Click Yes and you're done!

Best Wix Alternatives
The following website builders are great alternatives to Wix:
If design aesthetic is particularly important to you, Squarespace may be your perfect alternative. Although it can't exactly match the 500+ template selection that Wix provides, it still comes with over 60 preset theme designs geared towards all sorts of projects, from blogs and portfolios to large-scale businesses. 
Squarespace templates have a professional, minimalistic-yet-elegant appeal and they are really easy to customize. Although you can't exactly switch between templates if you change your mind, you can make drastic changes to your chosen template and completely redo the look of your website without losing the existing content. 
Unlike Wix, all Squarespace templates are automatically mobile responsive, which means you won't have to make adjustments to make your website look great on vertical screens. 
GoDaddy now offers a free plan in addition to four paid plans, and it provides an easy way to create and manage a functional website. 
GoDaddy doesn't come with a drag-and-drop functionality like Wix, but its point-and-click editor makes customizing your site super easy and you can immediately preview all the changes you make. It also has automatic backups to save your changes and it gives you the option to restore previous versions of your site. 
While GoDaddy doesn't have an app marketplace, it does offer several built-in features to make your site more functional, such as the ability to add restaurant reservations through OpenTable, show posts from your Instagram Business profile or add reviews from Zillow. 
If you're not tech-savvy, but you want to build a professional-looking site and get it online fast, SITE123 could be a good option. Although it doesn't have a drag-and-drop design like Wix, the editing bar allows you to customize your site in just a few clicks. You can easily add pages and content blocks, change your website structure, as well as change colors and fonts and upload images and videos. 
And if you're a beginner, you'll definitely appreciate SITE123's guided tour of the editing bar, which includes helpful pop-ups with quick videos and tutorials to help you navigate the process of website building. 
If you're looking for a platform with more flexible customization options, check out WordPress. This popular web building tool – along with thousands of third party plugins – can be used to build virtually any site you can imagine, from personal blogs to large e-commerce websites, and it gives you plenty of creative control. 
Although it doesn't come with a drag-and-drop theme customizer like Wix, it still allows you to modify a theme and preview the changes before you activate it. The level of customization depends on individual themes and the plan you're on. You'll be able to change layouts, colors, and move widgets around, but if you want access to advanced customization options such as editing CSS files directly, you'll have to subscribe to the Premium plan or above. 
Unlike Wix, which doesn't allow you to switch between templates and retain the existing content, Weebly makes it possible to change your theme anytime, even after you've published your website, leaving the content intact. Also, the Recently Used section in the theme gallery is particularly helpful if you have several favorite themes, as it makes the switching process quicker. 
A drawback compared to Wix is that you can't search for templates based on the type of your business, as Weebly only allows you to scroll through categories. On the plus side, all Weebly's themes are automatically mobile responsive, so you'll have a stunning website to display on mobile devices without having to do any extra work. Plus, there's a free plan.
Life After Wix
As you can see, deleting a Wix account can be done easily and quickly – all you have to do is follow the steps outlined above. Most importantly, you'll receive a full refund after closing your account. Moving on is a tough decision, so if you're looking for a different home for your website, take a look at our list of the best website builders in 2021 – you're bound to find some great solutions! 
Builder
Standout Features
Squarespace

Great selection of templates and apps

High level of customization

GoDaddy

Wide range of options on a free plan

Easy-to-use editor with automatic backups

SITE123

Beginner-friendly 

Intuitive editor

WordPress

Great selection of templates and apps

High level of customization 

Weebly

Allows switching between templates

Automatically mobile-responsive designs
FAQ
Can I permanently delete my Wix website?
Yes, you can delete your Wix website permanently. You'll need to cancel your subscriptions, delete your sites, remove your domains, and after all of your subscriptions have expired, you'll be able to deactivate your account. Also, you shouldn't have any problems getting a full refund. Not sure whether you want to delete your account, take a look at our expert Wix review for more information. 
How do you delete a Wix blog?
If you have an old Wix blog, you should click the Menus & Pages icon on the left side of the Editor, hover over the blog page and click the Show More icon. After that, just click Delete. 
If you have a new Wix blog, you have two ways to delete it, depending on which editor you use. If you have a Wix Editor, click the Menus & Pages icon on the left side of the Editor, hover over the blog page and click the Show More icon, then click Delete. If you have Editor X, click  the Pages icon at the top of the Editor, click the Show More icon next to the Blog Page, click Delete, and click Delete Page. 
Looking to build your blog with a different site builder? We've pulled together some of the best blogging templates from Squarespace, WordPress, and more. 
How can I start over on Wix?
If you want to start over on Wix, you'll need to create a new site, which you can do from within the existing site. Go to the top right menu and click Site, then click Create New Site. Just make sure that you take advantage of any current discounts or coupons that Wix might have available. 
Is Wix the best website builder?
Wix enables you to build a functional and attractive website for free but – depending on what you are looking for – it may not be the best solution for you. For more options, we've narrowed down the list of the top ten website builders in 2021.