not every step (especially the last one) is obvious if you've never done it before
. I know this because I've been using Wix for a long time. That means I haven't just built multiple websites with Wix – I've also deleted sites, canceled subscriptions and closed accounts. So I know where you really need to pay attention. For example, if you've purchased a domain through Wix, you'll need to transfer it to another domain host before you can close your account. And I know just how to push through that last step to the very end! The truth is, you can get it done in a matter of minutes. In this article, I'm going to walk you through each step so you can be confident you've done it right. And if you're deleting your Wix account because you want to switch to another platform, take a look at
our list of the 10 best website builders in 2023
.
How to Delete Your Wix Account – Quick Guide
This overview is the quick and dirty version, with all the essential steps. But I'd recommend reading the full guide so you're completely prepared. Anyway, here's the tl;dr version:
Log in to your Wix account, click your name or email in the upper-right corner, and select Premium Subscriptions. Then cancel any Wix plans you're subscribed to.
Click the Home tab. On your dashboard, move any sites you have to the trash.
Click your name or email in the upper-right corner again. This time, select Domains. Then remove or transfer any domains you have associated with your account.
Next, click Account Settings from the same drop-down menu as above. Scroll to the bottom of the page and select Learn More under the Close Your Account section.
Open the Close Your Wix Account window using the link on the Learn More page you opened above. Enter your password and permanently close your account.
How to Get a Refund
If you're canceling your Wix account during your 14-day trial period, your refund will be processed automatically.
 However, it may take up to 20 days before your money is back in your account or on your credit card. I should also point out that your refund is only for your Wix subscription, not for any additional apps or domains you may have paid for. Technically,
refunds only apply to premium plans that have been canceled within the 14-day trial period.
 However, if your trial period is over and you still think you should receive a refund, contact Wix customer support and explain why. After they review your situation, you may just receive one. There's no harm in trying.
How to Cancel Your Wix Account
Whether you're still on your 14-day free trial or you've had a Premium plan for years, you'll go through exactly the same process to delete your Wix account. First, you'll need to clear out your account.
That means you need to cancel any premium subscriptions you have, delete your sites, and remove your domain(s).
Only then can you delete your account for good. Sound complicated? Don't worry, it's not. And I'm going to walk you through it.
Step 1: End Your Subscriptions
First, let's get those subscriptions canceled. From your Wix dashboard, simply click on your name or email in the upper-right corner and a drop-down menu will open. Then
click on
Premium Subscriptions.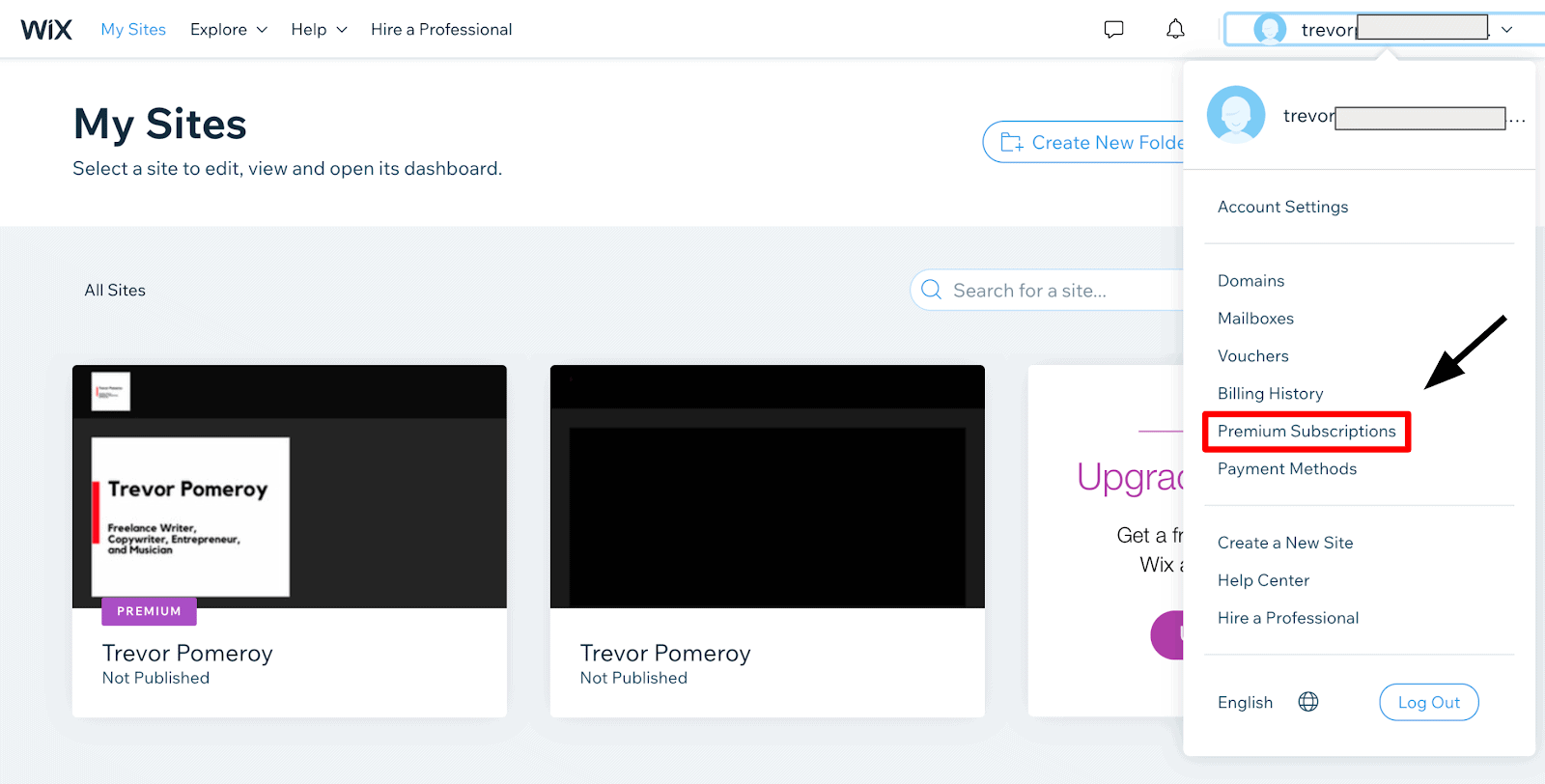 You'll be taken to your Premium Subscriptions page. From there, it's simple to cancel any subscriptions you're paying for. Simply click on the ellipsis on the right side, which will open a drop-down menu
. Then click on
Cancel Plan.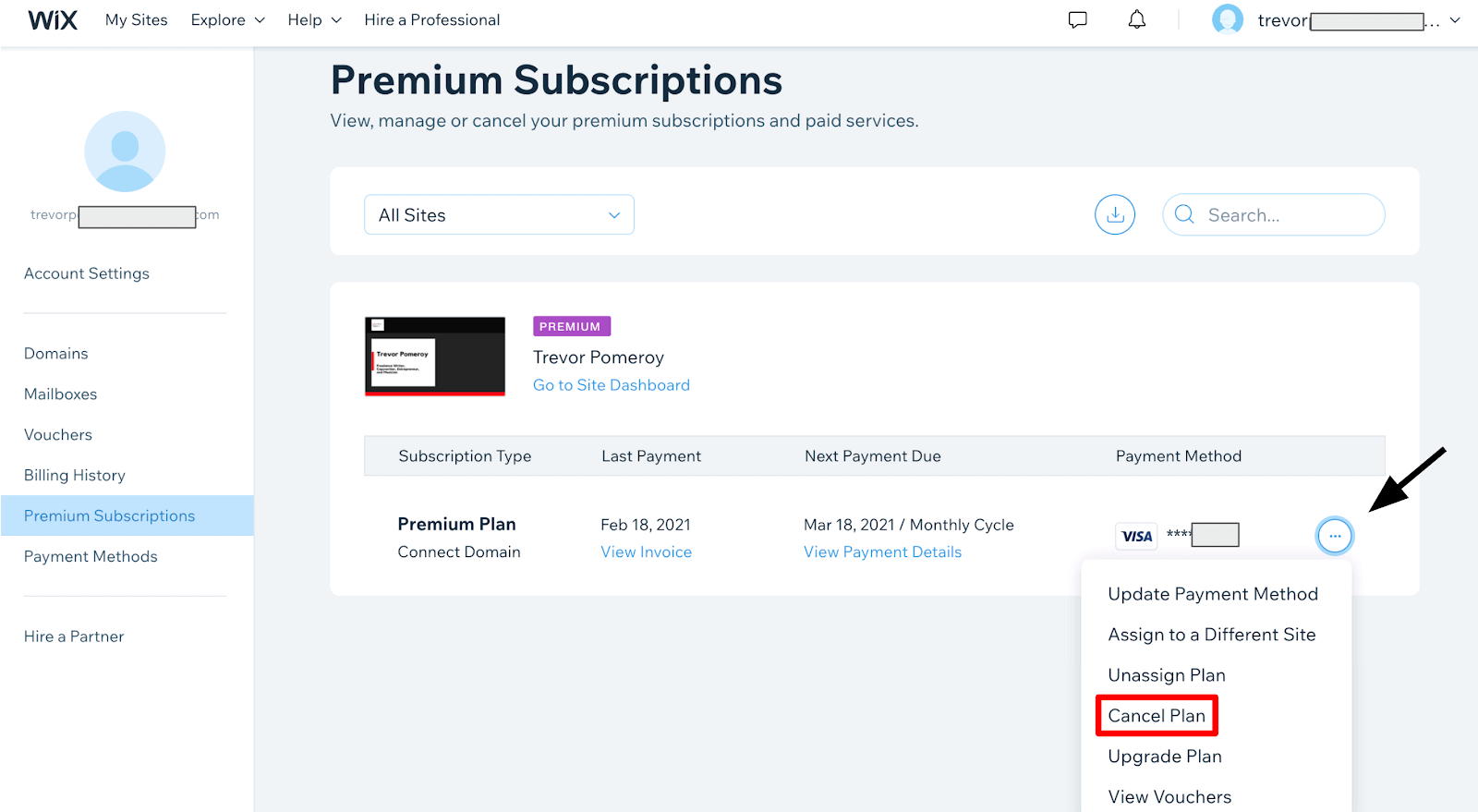 As is often the case with these kinds of things, Wix is a very self-assured website builder and is fairly certain that you've clicked
Cancel Plan
 by accident. So, the next thing you'll see is a pop-up screen asking you to confirm that you truly want to go through with this crazy idea. Assuming you do (otherwise you wouldn't be reading this article),
go ahead and click
Cancel Now.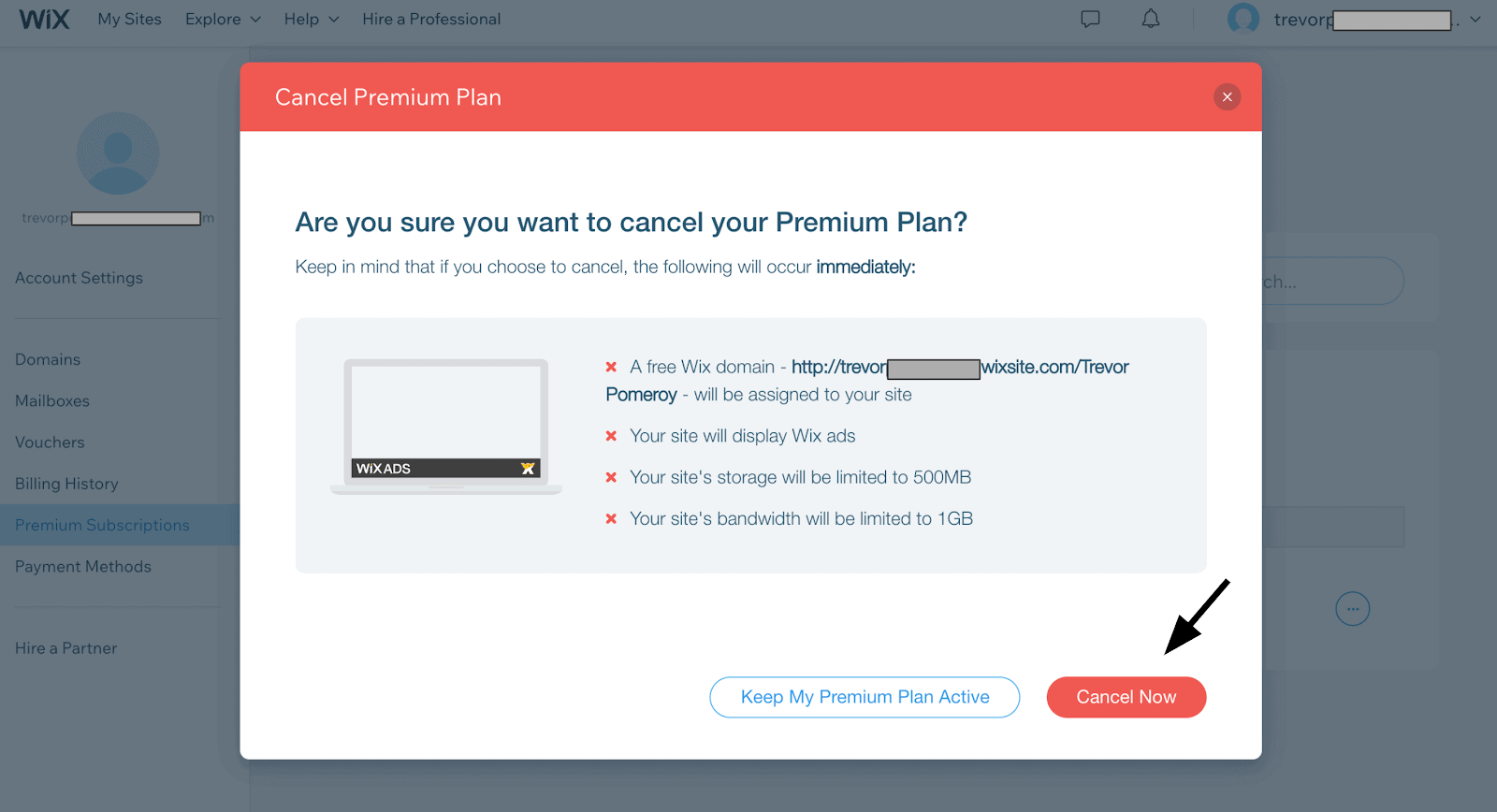 Wix is always striving to improve, so next you'll see a screen asking you to select a reason why you're canceling from a drop-down menu on the left. No matter what option you choose, you'll be asked to "tell them more" in a required field.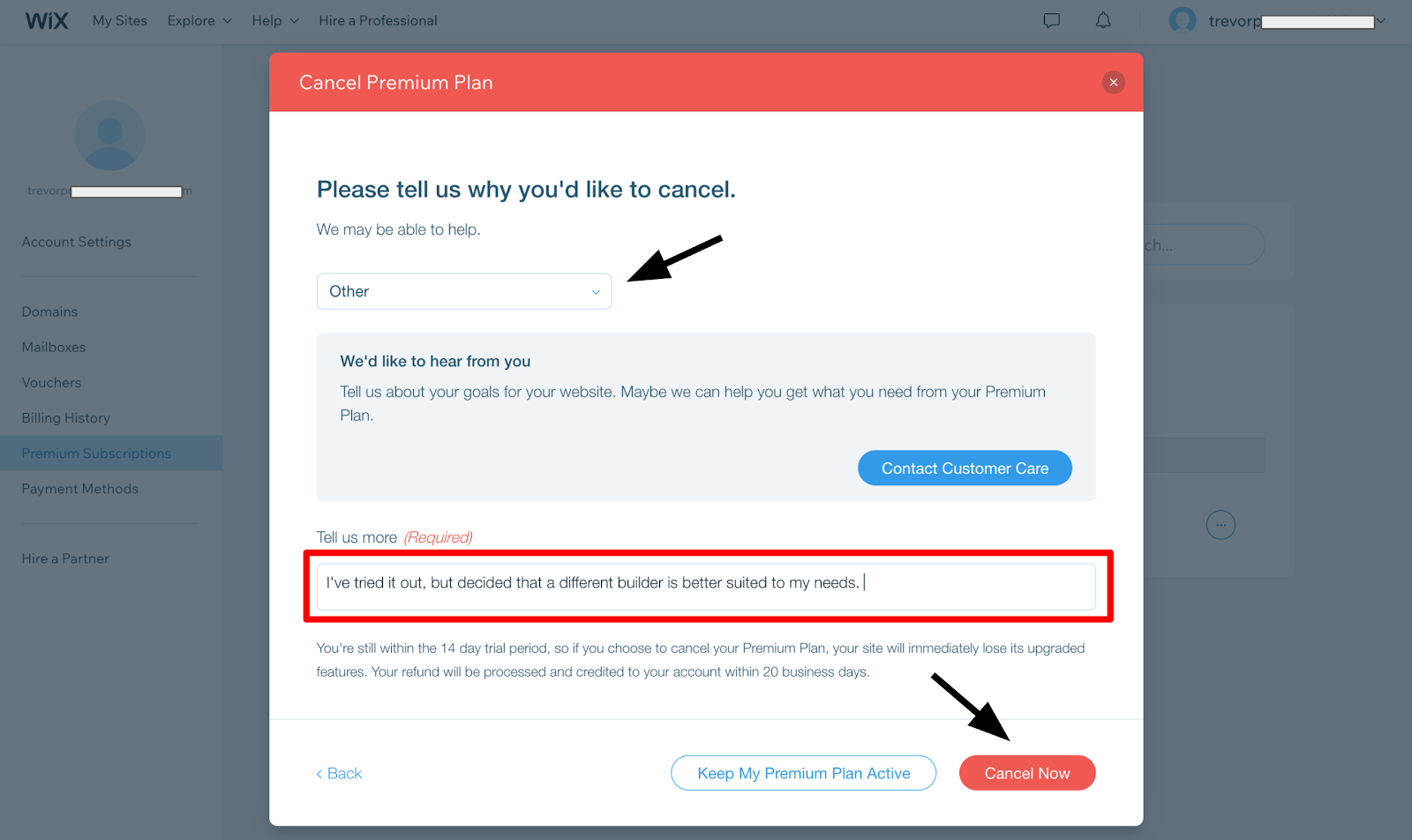 I tried all of the options to see if there was one that would spare you this tedious step, but they all require you type something in that field. So, you might as well select your legit reason for canceling. (Note: based on the reason you select, Wix will show you links to articles describing possible solutions that are meant to change your mind and keep you on the platform. You can scroll on past these.) Assuming you're steadfast in your decision, type whatever you want Wix to know in the
Tell us more
 required field. Once you've done that,
click on
Cancel Now
 again and your subscription is canceled.
Repeat these steps for any other subscriptions you may have for Wix.
Step 2: Delete Your Sites
Next, you'll need to delete all of the sites you have on your account. This is super easy. Just return to your Wix dashboard, where all your sites are displayed. Hover your mouse over the upper-right corner of a site and
a drop-down menu called
Site Actions
 will appear
.
Click on that, then select
Move to Trash
.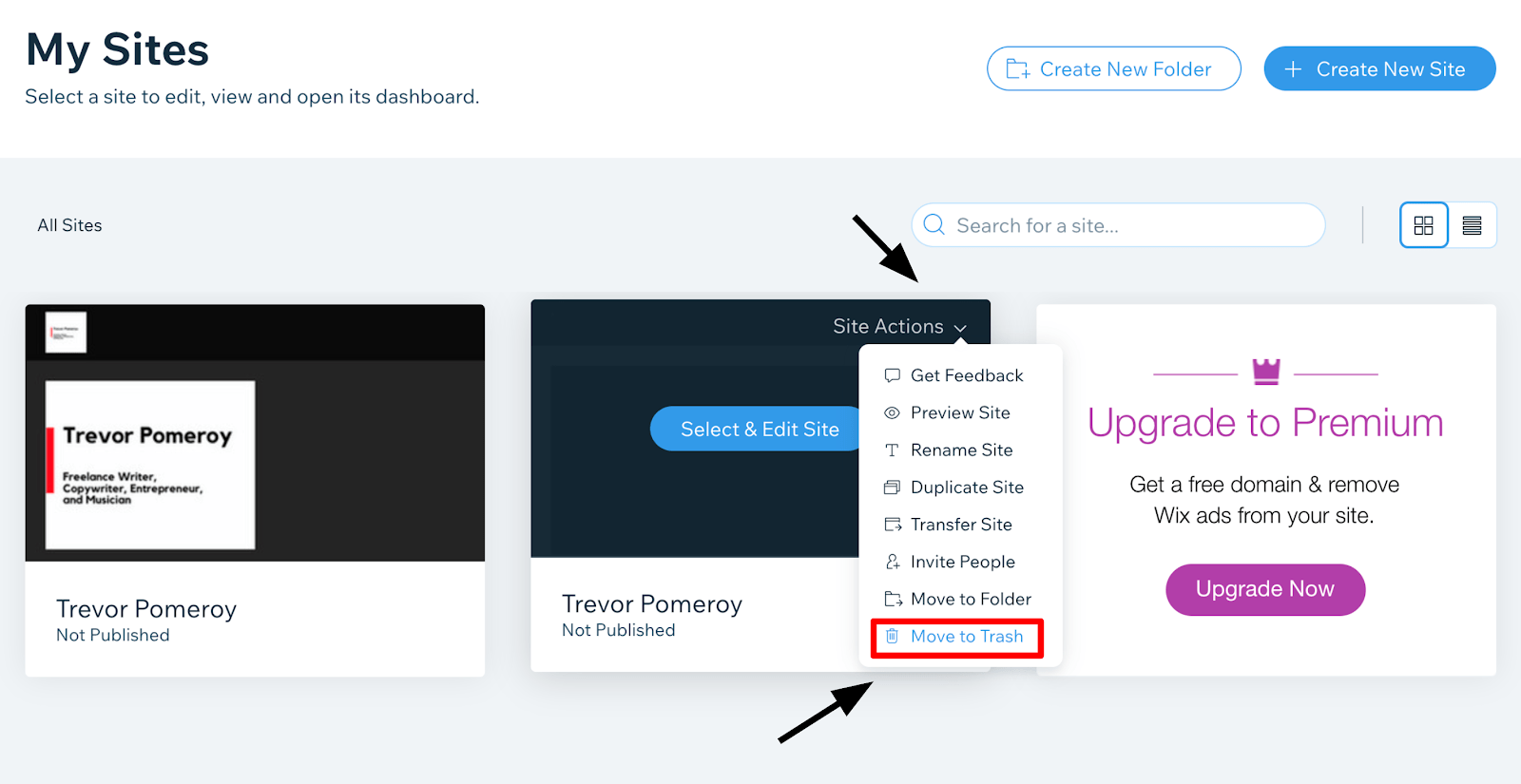 Just like when you canceled your subscription, Wix wants to make sure you're fully aware of what you're doing before you throw out all of the hard work you put into building your site. Assuming you are,
go ahead and click on
Move to Trash
 again.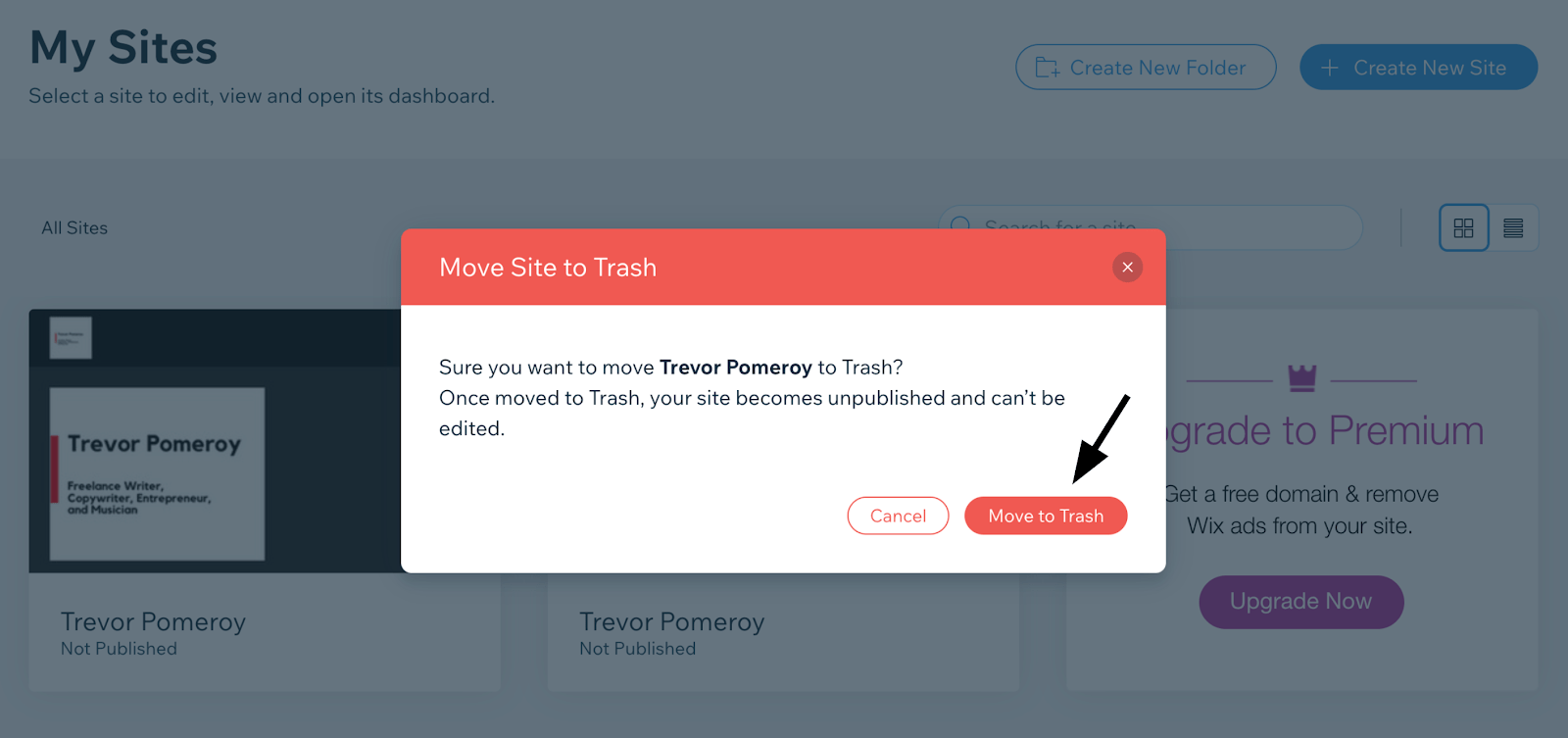 Your site will then be moved to your trash bin – in the dashboard, this is displayed above any remaining websites you have in your Wix account. If you want to change course at this point, it's easy: just click on the trash bin and "restore" any sites you've put in it. But assuming you're still on track to deactivate your Wix account, simply repeat the steps above for any other sites you have.
Step 3: Remove Your Domains
You're almost there now. The last step before actually deleting your account is to remove any domains you've associated with your sites. This is a similar process to canceling subscriptions. Go to your Wix dashboard again and select your name or email in the upper right corner.
From the drop-down menu, select
Domains.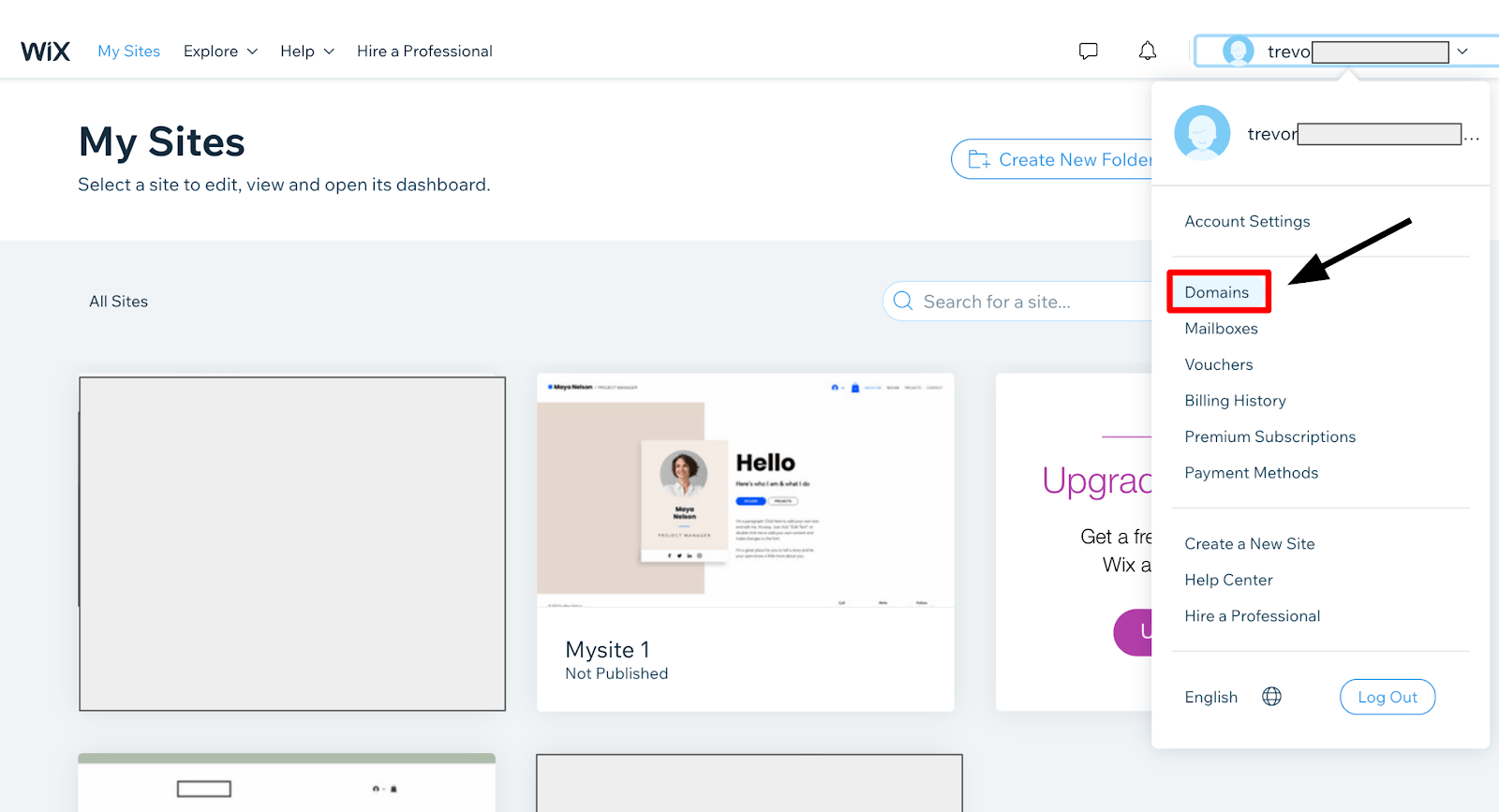 This will take you to the page where you manage your domains. Click on the ellipsis to the right of a domain and a drop-down menu will open. If you bought a domain through Wix, you can choose to transfer your domain away from Wix or to a different Wix account.
Or, if your domain is from a third party like mine was, you can select
Remove from Wix.
 Go ahead and select the option that applies to you.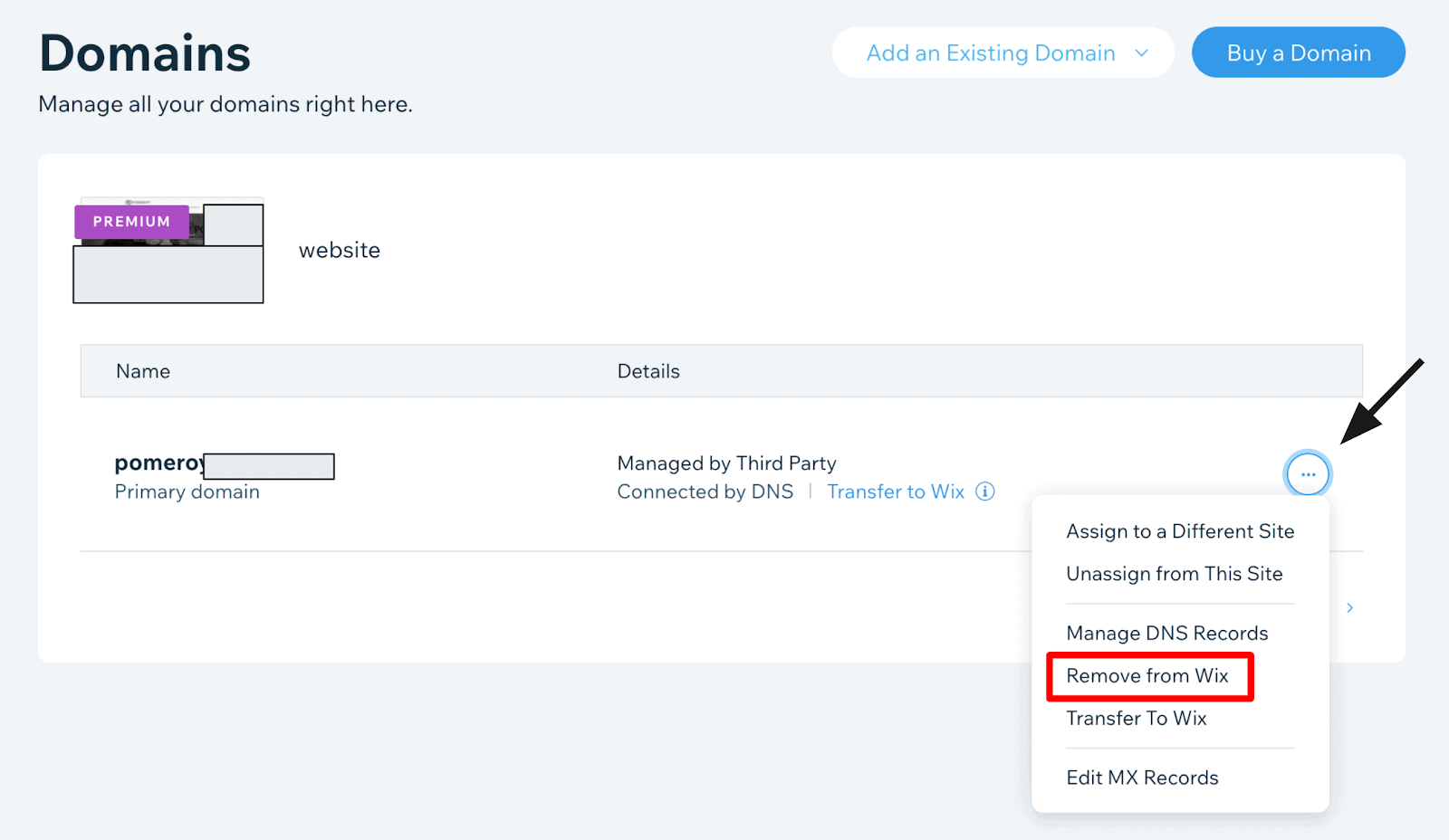 As always, Wix wants to make sure you're not making a tragic mistake before you proceed. So, once you've clicked
Remove from Wix
 or
Transfer away from Wix
 you'll see the following screen, or something similar.
Go ahead and click
Remove Domain
 to confirm.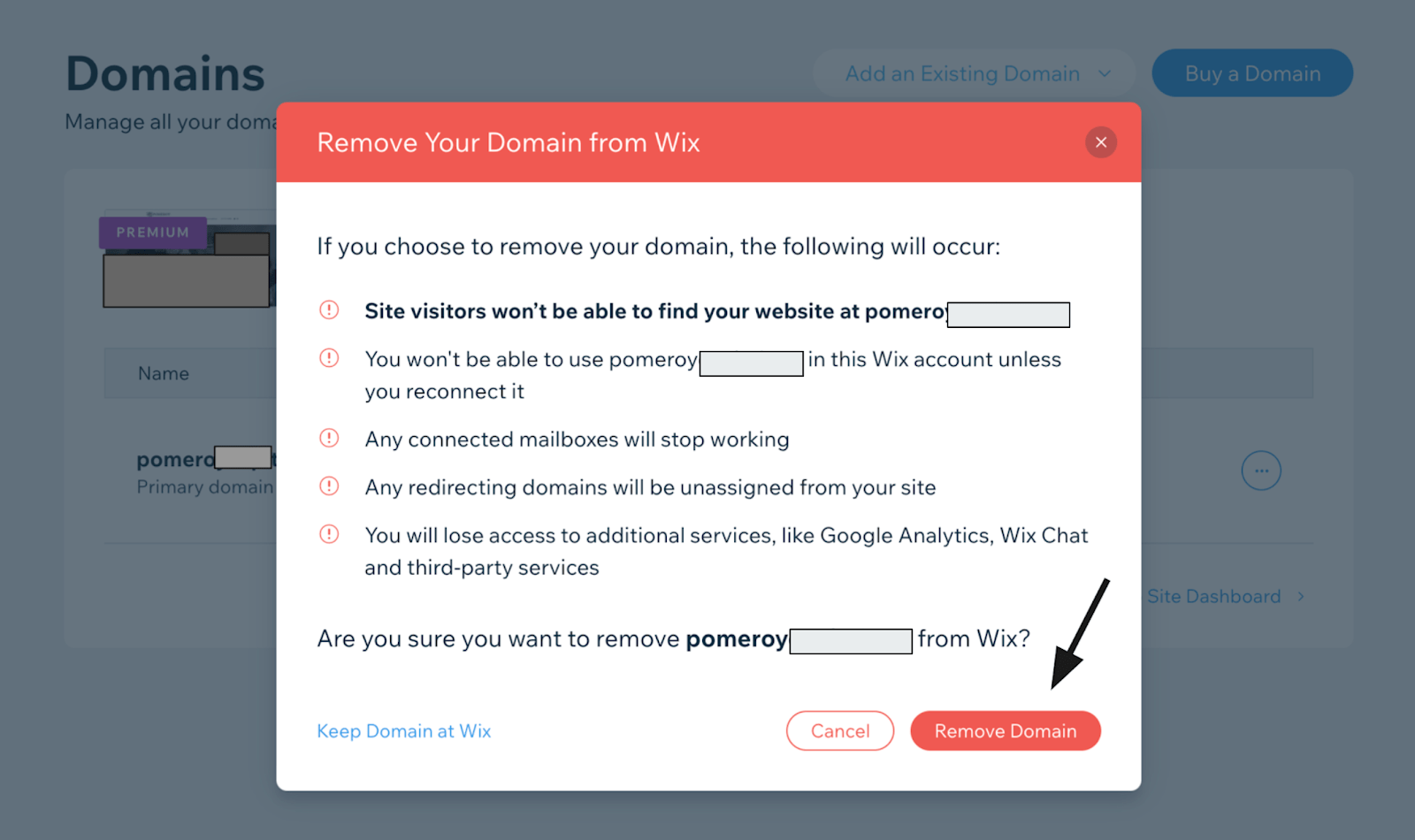 Now that domain is no longer a part of your Wix account. Repeat the above steps for any other domains you may have. Once you've finished, you're finally ready to delete your Wix account altogether. How do you do it? Follow me.
Step 4: Close Your Account
This last and final step isn't the most obvious one, and this is probably intentional. Like any website builder, Wix doesn't want to see you go. Having said that, it's not difficult to do. Before getting into the nitty gritty, I should mention that if you bought a domain through Wix and didn't transfer it to another domain host as outlined in Step 3, 
you'll have to let that domain expire before you can permanently close your account.
How long that takes will depend on where you are in your subscription cycle when you cancel auto-renew. If there's still 11 months to go, you'll have to wait at least that long before you can close your account.
So, don't skip the step above on removing domains, unless you're fine with waiting a long time.
Assuming your domains have been removed or transferred to another domain host, let's carry on. From your Wix dashboard (which at this stage should only show a trash bin where your sites used to be), click on your name or email in the upper-right corner again to generate that now-familiar drop-down menu.
Then
click on
Account Settings.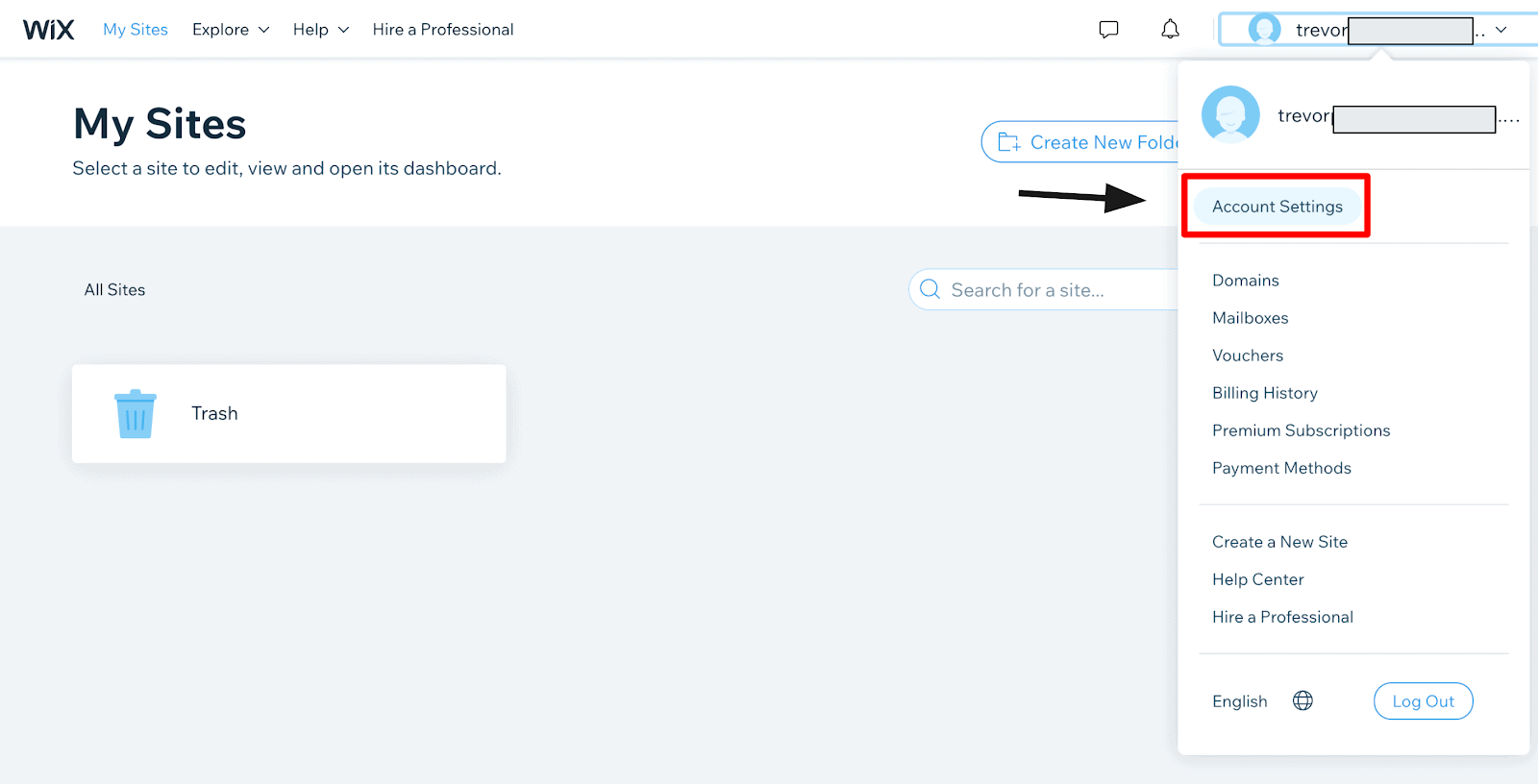 Once you're on the Account Settings page, scroll all the way down to the bottom and you'll see a section called
Close Your Account
. But you'll notice that the only thing in this section is a description of what you need to do before you can close your account (which you've already done at this stage) and a
Learn More
 button. Now you're thinking, "Great, I'm going to have to contact customer support to do this." Don't worry, that's not necessary.
Just click on
Learn More
.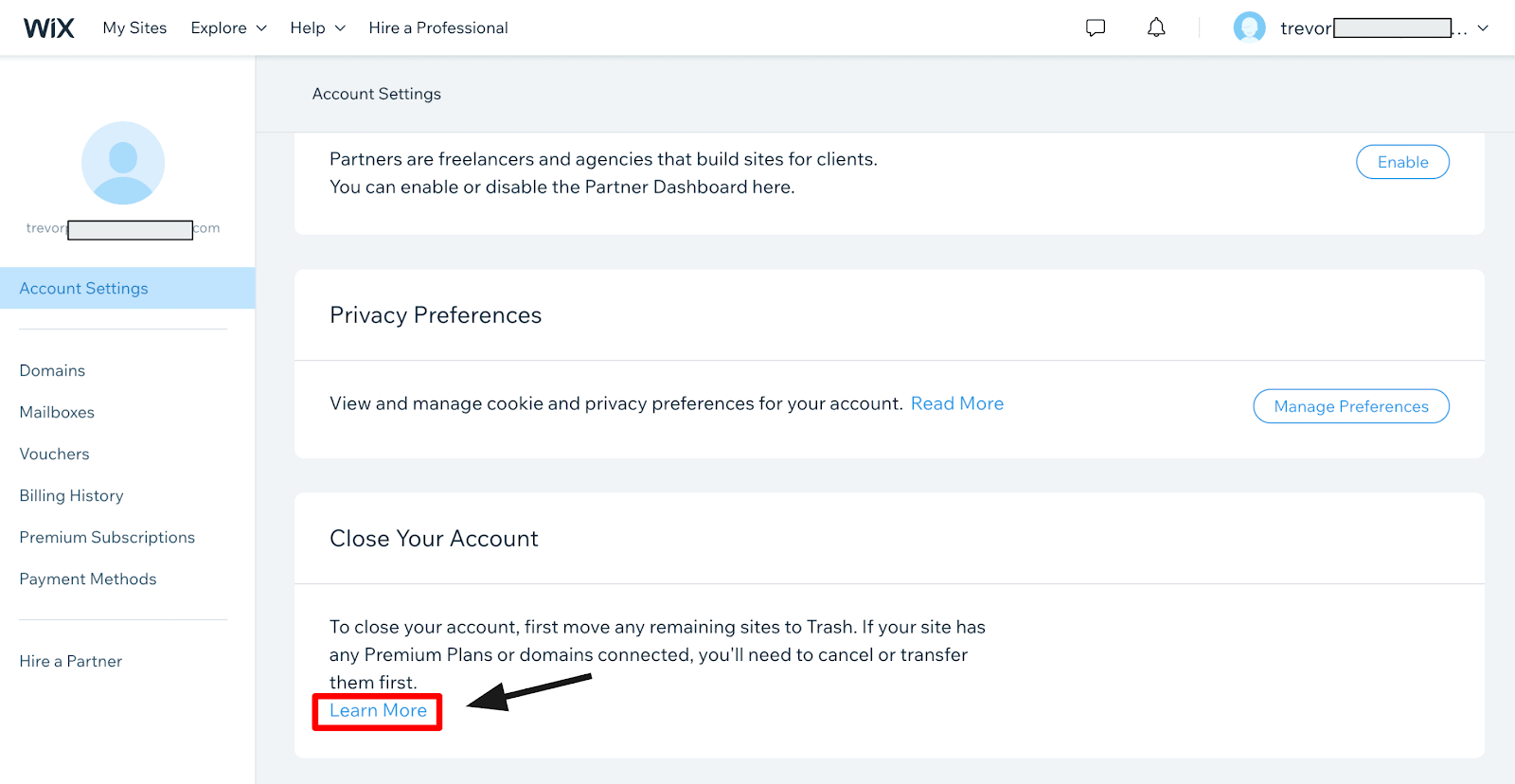 Now if you're like me, you're probably annoyed because the next page just looks like a how-to article on closing your account. Wix sure hasn't made this last step obvious. But take heart: you're almost there. Scroll down again and you'll see a section of the article called
To close your Wix account.
Click on
Step 4
|
Close your account
. In the second bullet point for that step, you'll find the link you need to open the all-important
Close Your Wix Account
 window. Go ahead and click on that link.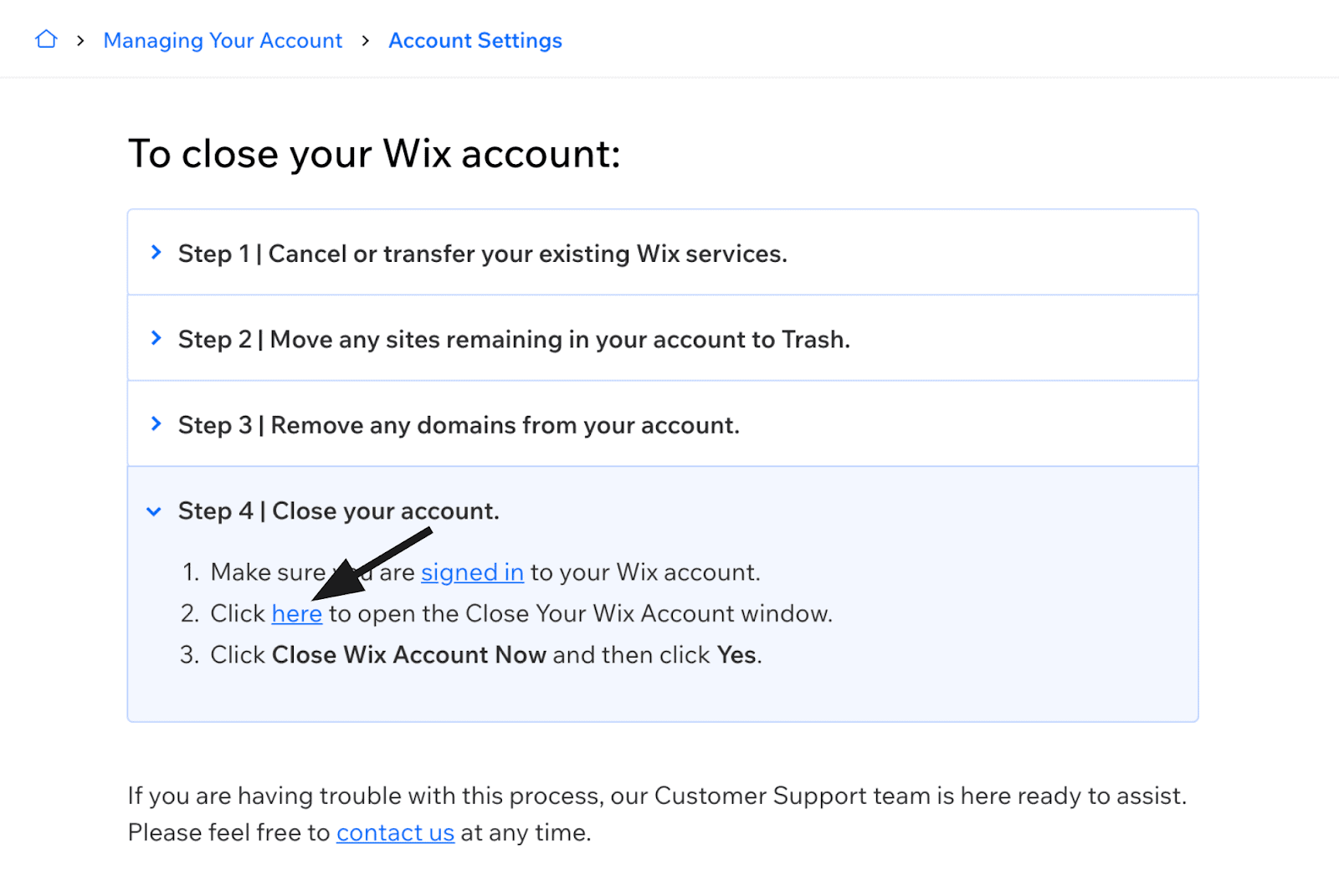 This is it! You're finally on the page where you can close your account. There are a couple of optional fields here. If you'd like to tell Wix your reason for canceling, you can pick one from the drop-down menu. You can also give Wix feedback on your experience in the optional field below that. Before you go any further, take a deep breath:
this is the final step that will close your account, and it can't be undone.
 Assuming you're committed to closing your account, enter your password, check the box, and click
Close Account.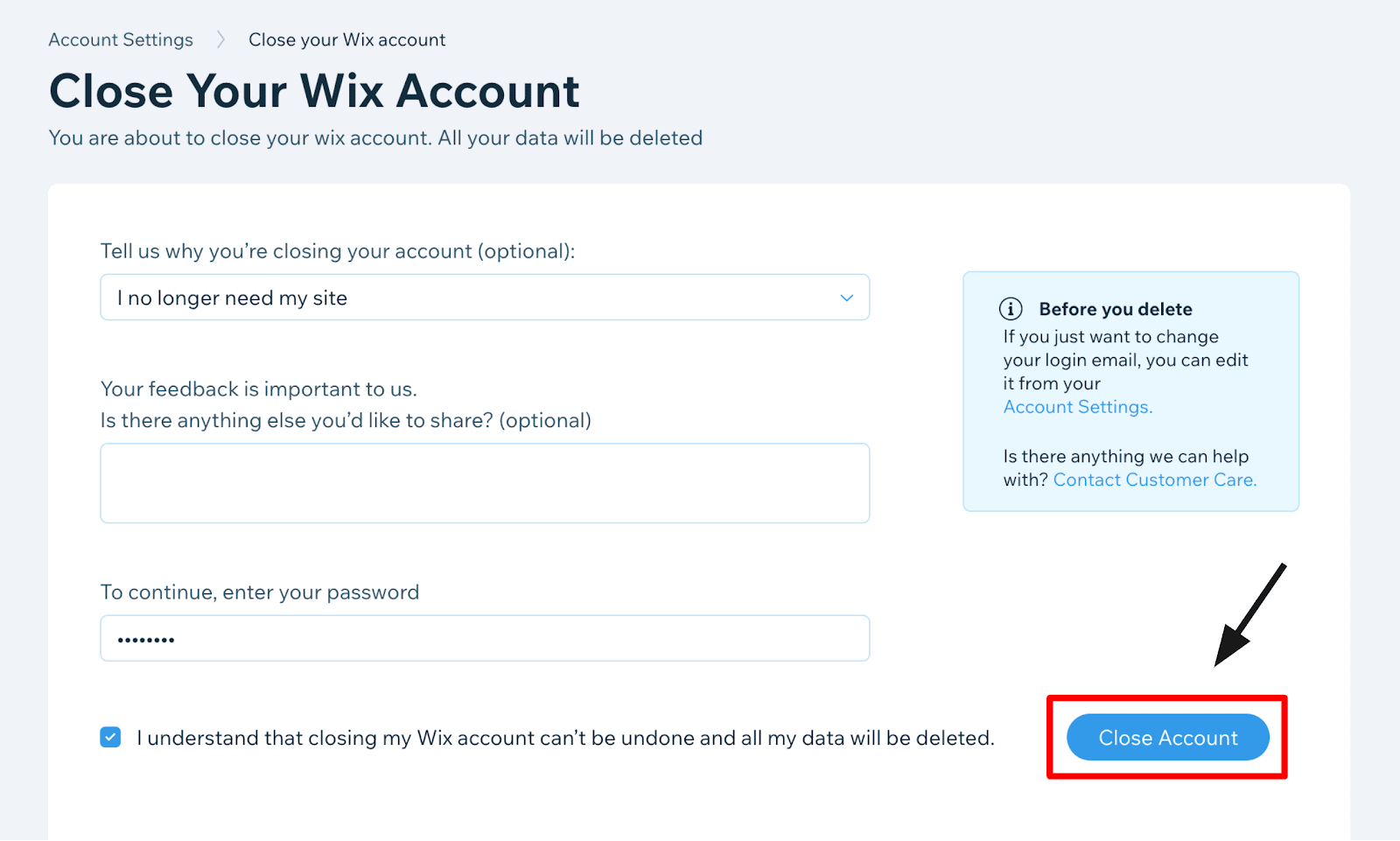 A last pop-up window will explain that you're permanently deleting your account, you won't be able to reopen it, and all of your data will be removed. This is your last chance to back out. But, given that you've made it this far, my guess is that you're going through with this.
Go ahead and click
Close My Account.
And…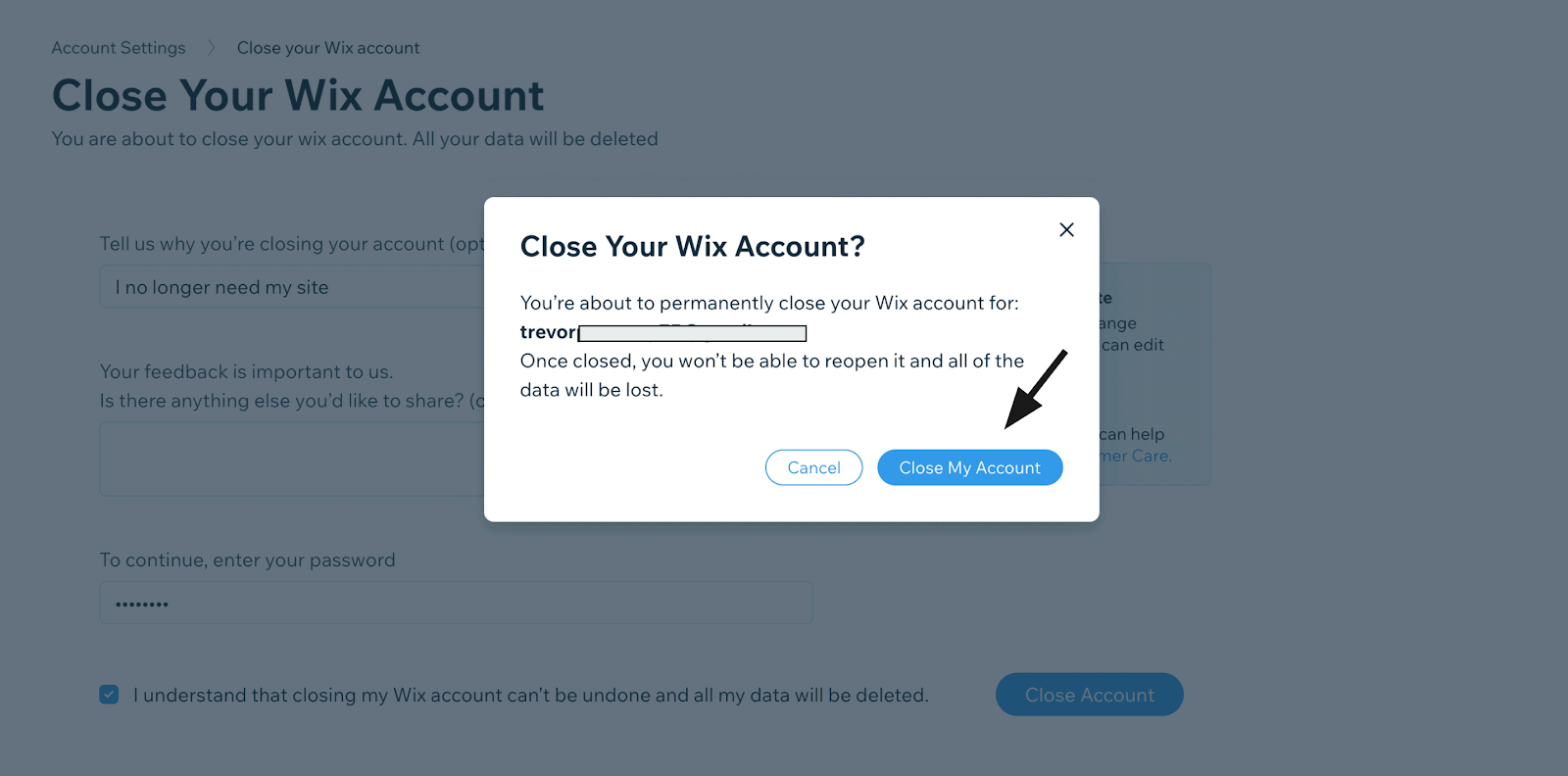 You're done! Your Wix account is permanently deleted. Wix will now thank you for being a part of the Wix journey and automatically redirect you to the Wix home page. So, what's next?
Best Wix Alternatives
Now that you're a free agent again, there are
a number of alternatives to Wix
 that you might want to consider. Here are some of my top recommendations.
Like Wix, Squarespace is an easy-to-use website builder, but it doesn't have as many templates as Wix. That said, the
60+ templates
 it
does
 have are known for their clean, minimalist style, which has garnered Squarespace the moniker "the Apple of website builders." A key difference between Squarespace and Wix is that
Squarespace's templates are fully mobile responsive
, making Squarespace an ideal option if you anticipate lots of mobile traffic to your website.
SITE123 has
over 200 templates
 that are fully mobile responsive. While it isn't as flexible as Wix, SITE123's point-and-click editor makes site building very easy. So if you found Wix challenging to use, you may prefer SITE123 –
on this platform, building a site is almost as easy as filling out a form.
Wix has more customization options and a smoother user interface than GoDaddy. But with GoDaddy's simple point-and-click editor and ADI feature,
you can build and publish a site with GoDaddy in just minutes
. It also has great built-in SEO features that are very user-friendly even if you have no tech experience. Plus, there's a pretty decent
free plan
.
While Wix has way more templates and apps than Zyro, you may want to consider Zyro if cost is your primary concern. Like Wix,
it has an easy-to-use drag-and-drop editor and it comes with a few neat AI tools to help you optimize your site.
While Zyro offers less customization than builders like Wix, the upside is that you can learn to use it faster than other builders – and there's a
free plan
.
On the other hand, if Wix wasn't flexible
enough
 for your taste, you should consider WordPress.com. The customization options available will depend on the theme you choose, but if you're tech-savvy,
you can edit the code of each block you add to your site
. So, if you're used to working with HTML, WordPress.com is definitely
the most flexible option
. It also has thousands of third-party plugins available.
It's Not as Hard as It Looks
As mentioned initially, I want to highlight that deleting your Wix account remains a straightforward task, even though it might not appear exceedingly evident. While this guide might come across as extensive, rest assured that the entire procedure can be accomplished within a few minutes. My intention is to furnish you with ample information here to ensure a seamless and comfortable process on your end. While it may take a few weeks to get your money back, your refund is automatically applied when you cancel within your
14-day trial period
. Now that you're a free agent again, you might want to consider some of the great Wix alternatives out there.
FAQ
Can I permanently delete my Wix website?
Yes. Simply find the Wix website you want to delete from your Wix dashboard. Click on Site Actions, then select Move to Trash. At this point, you can still restore your site. But if you want it deleted for good, click on the trash bin, then Site Actions again, then select Remove Site. At this stage, all the versions of your site and your site history will be removed and you won't be able to restore it or edit it again. If you're still wondering if you should delete your Wix site, our expert Wix review may help you make your decision.
How do you delete a Wix blog?
It's easy! Click on the Pages tab in the upper left corner of your Wix editor. Then select Blog Pages. From here, you can change settings and edit SEO content for your entire blog or just specific posts. Click on the ellipsis on the Blog tab, then select Delete. You'll then see a pop-up asking you to confirm. Simply click on Delete again and your blog is now a thing of the past. Think you'd like to create a blog with a different builder? Check out our list of the best blog templates available from different website builders first.
How can I start over on Wix?
If you don't like the way your site is turning out and want to start over, simply exit the editor to return to your My Sites page. Then click Create New Site on the upper-right corner of your screen. Now you can either use Wix ADI or choose a template and start customizing all over again. If you've deactivated your account and would like to start over, you'll need to create a new one. If you're going to sign up for one of Wix's premium plans, you might want to take advantage of one of our available discounts.
Is Wix the best website builder?
Wix is an easy-to-use site builder with hundreds of customizable templates and over 250 apps to increase your site's functionality. But the answer to this question will depend on your specific priorities and the purpose of your site. Other builders offer even more flexibility, or you may prefer a simpler platform. To help you sort through the options, we've compiled a list of the 10 best website builders in 2023.