You'll see options for all kinds of blogs on this list.
And each template has a good menu of customization options, so you'll be able to tweak anything you don't absolutely love.
Wix templates can be hit or miss, particularly when it comes to the blog category – some of them look sleek and stunning, while others look like they were made by 2008 Tumblr bloggers who thought they were web developers because they learned a little CSS coding. It's pretty easy to avoid the bad ones from your first impression, but it's a little harder to find the good ones – large, beautiful images are eye catching, but don't necessarily mean a strong template. Another thing to keep in mind is that
all Wix templates are completely customizable via the drag-and-drop editor.
 You can add or rearrange elements; swap colors, images, and fonts; and generally do whatever you want to make your site stand out. You'll also be able to add apps for extra features if you expand your blog offerings, including an online store, appointment bookings, or members-only content. You can't switch your Wix template once you start editing though, (if you do, you'll lose all your work) so choose wisely!
1. Going Places – Great for Image-Heavy Blogs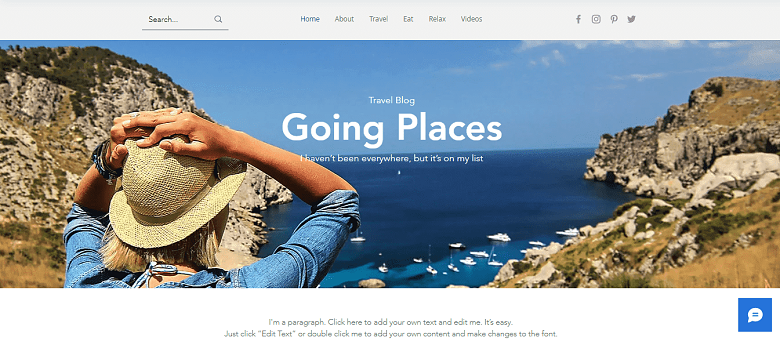 The
Going Places
 template prominently features images, both on the homepage and for each blog post listing. Although it's a travel blog template, swapping out the images to what's relevant to your blog niche will transform it into whatever you need, whether your write about food, parenting, or how to train your cat to use the toilet. This image layout helps your blog homepage be interesting without being overwhelming:
 your readers will have a clear sense of where they should go to read what they're most curious about.
The same idea applies to the blog feed layout, as each post has a large feature image and a brief description to inform readers about the post topic.
Going Places
 also comes with Wix Video preinstalled, so it's a great choice if you will have content in multiple formats on your blog. It will work best if you want your blog to place an emphasis on your images, particularly if you take them yourself.
2. House of Keto – Best for a Blog + Online Store Combo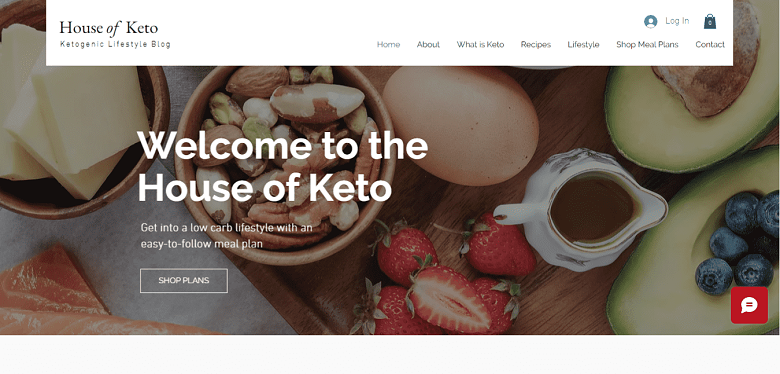 House of Keto
 merges traditional blogging with an online business, so
it's the best choice if you want to monetize your blog or expand it to offer products or services
 based on your interests and expertise. Because of the hybrid purpose of this template, it doesn't display any actual blog post links above the fold. Instead, there's a CTA directing visitors to shop the product offerings. I found this to be a good way to combine the two purposes, but if you care
more
 about showcasing your blog posts than promoting a product, you can easily adapt this CTA to ask visitors to sign up for your newsletter or browse your favorite category of posts. Another thing I like about this template is the layout below the fold. Once you scroll, you'll see a list of blog posts with a featured image and a description that are small enough for you to see multiple posts at once as you browse. There's also a sidebar with CTAs for your online store, social media, and newsletter subscriptions.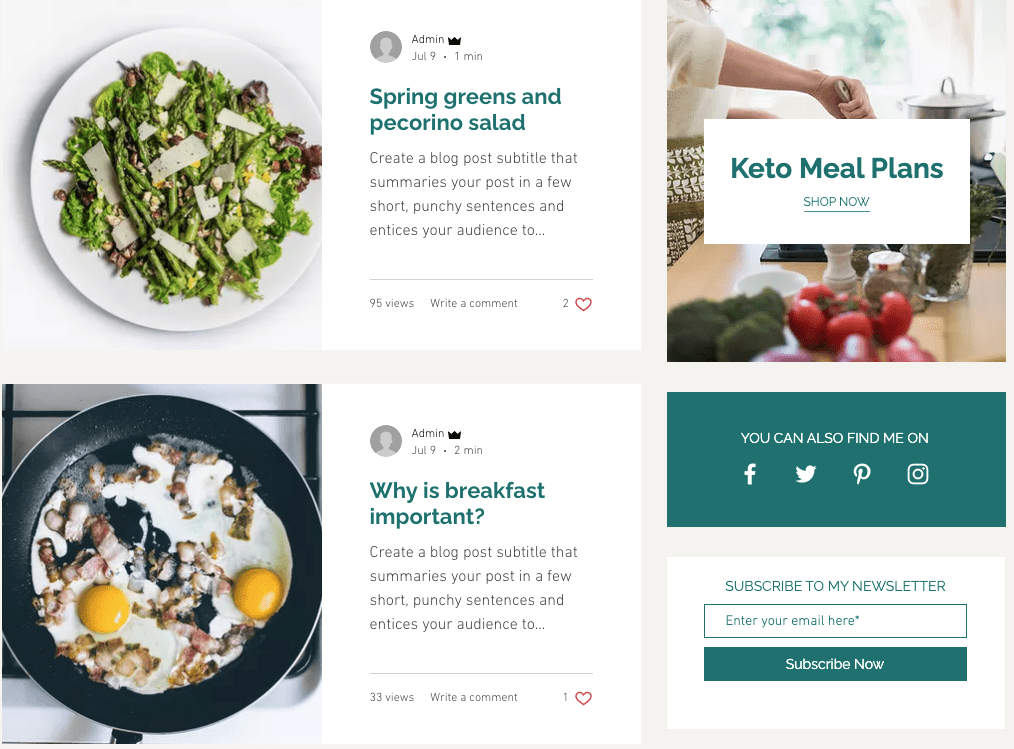 Overall,
House of Keto
 provides a strong blogging framework that lends itself well to expanding into selling products online and more – since it's on Wix, you can expand your blog's functionality in a lot of different directions. It's a versatile, adaptable template that will serve your blog well for a long time.
3. The Artifact – A Unique Layout for News-Oriented Blogs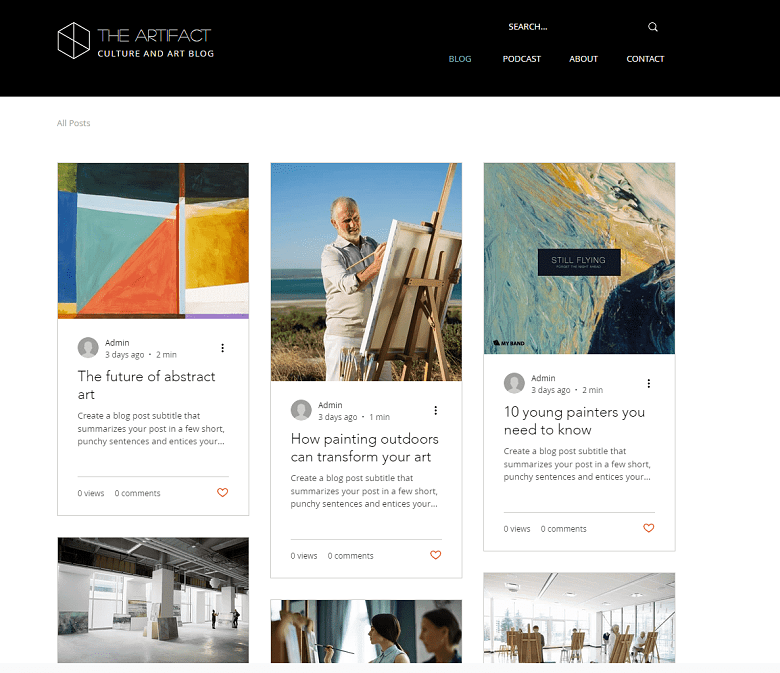 This template takes a slightly different approach, with a layout modeled more like a Pinterest board than a traditional blog. It provides a different experience that works well for blogs that post a lot of content regularly, and
you can implement an infinite scroll so readers can browse all of your content without having to click
. Your featured images and post descriptions will have to be well-optimized to turn browsers into readers, but it's also a less common layout that can help you stand out.
The Artifact
 comes with Wix's podcast features preinstalled, so it's a good option if your blog is more of a companion to your podcast than a standalone site. It would also be a good fit for more news-oriented blogs, where older content is less likely to be of immediate interest to new visitors.
Squarespace templates are often lauded for their sleek imagery and modern layouts, and their blog templates are no exception. The blog feeds include large feature images and a minimalist design, so you can keep readers focused on what's most important. You'll get a lot of customization freedom on Squarespace, too. Using its block editor, you can adjust your layout while still preserving the integrity of the design. Squarespace has excellent parameters to make sure your design always looks good, without sacrificing the freedom to make your site your own. The one drawback? Squarespace doesn't have a free plan, so you'll have to pay a subscription fee once your
14-day free trial
 ends.
4. Fillmore – An Image-Focused Template That Gets Right to Your Content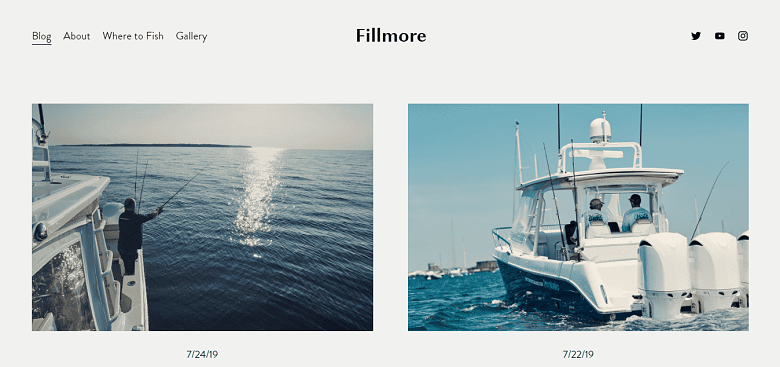 This template immediately draws you in – you don't have to scroll past a large header image to find any actual blog content, and
the images and descriptions spark curiosity about each post
. If you feel strongly about having layout features like a sidebar, header image, or blog categories listed in the navigation, you'll be able to customize them in the editor while maintaining the elements that make
Fillmore
 so good.
Fillmore
 also comes with a few static page layouts, including a photo gallery and an FAQ-type page (called "Where to Fish" on the demo site) to provide some of the basic information readers might want to know when coming to your blog. You could use this as a typical FAQ, a roundup of your favorite posts, or a place to ask for newsletter sign ups or sell products. I'd recommend
 Fillmore
 for blogs where images are almost as important as the written words – think travel, DIY and crafting, or food.
5. Brower – A Unique Template to Encourage Browsing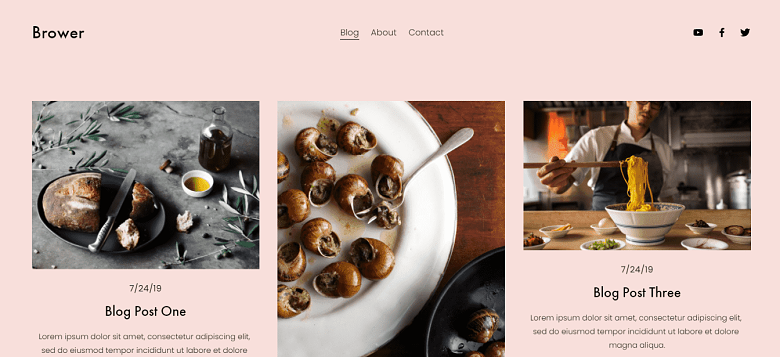 Brower
 is kind of funky, and I love it. It uses a Pinterest-esque layout – similar to
Artifact
 from Wix – for the blog feed, but with larger images that vary in size to create a really unique look. Like
Fillmore
, it doesn't have a header image or categories in the navigation, keeping the focus on browsing recent posts (but also like
Fillmore
, this can easily be changed). It does include a static About page and a Contact page, and you can add more static pages or even an online store if you need or want to go beyond the blogging basics. Because of the emphasis on images and browsing-friendly layout,
Brower
 would work very well for a blog about food or outdoor adventures
 – any topic that's fun to casually look through for ideas.
SITE123 is a simple, beginner-friendly website builder. Its blogging tools are on the more basic end of the spectrum, but it's a great choice if you're a first-time blogger who doesn't need a lot of advanced tools and features. All of SITE123's templates are mobile responsive, so you don't have to worry about how your blog will look on a smartphone. Many templates are also in a single-page format, so instead of separate About or Contact pages, these sections live on your homepage and are linked to in the top navigation. While not necessary for blogs, it's a good way to keep your website clean and streamlined.
6. Pet Blog – A Single-Page Template with a Simple Layout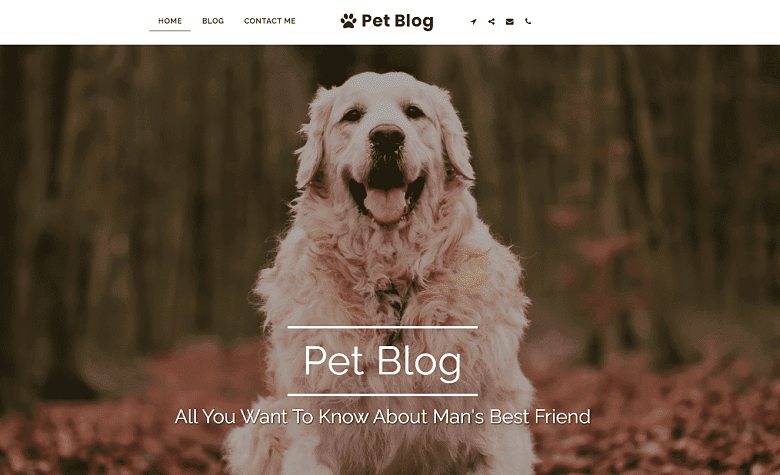 The
Pet Blog
 template consists of just four sections: the header image, blog feed, About section, and Contact form.
That's really all you need to have a good-quality blog that provides your readers with all of the information they might want.
Pet Blog
 features a floating header menu that follows you as you scroll through the page. Because it's a single-page header, the links in the header are jumplinks, meaning that clicking on one will rapidly scroll you to the correct section of the page. However, you can always convert this into a multi-page website if you like. Another cool feature in this template is the parallax scrolling for the About section. The image scrolls at a slightly different rate than the rest of the page, creating an interesting and eye-catching visual effect.
7. Jazz-One – An Image-Forward Template with Parallax Scrolling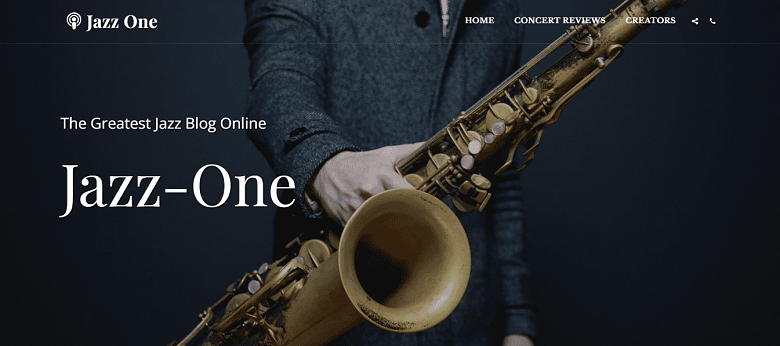 Jazz-One
 consists of many of the same sections as
Pet Blog
, but with more prominent images and more instances of parallax scrolling. The header image is much more prominent, and the blog feed layout features your latest post with a larger image, unlike
Pet Blog
 where all posts are the same size. This template has multiple pages, so it comes with a bit more room for your About page or other important information, such as additional contributors to your blog. It also has a floating header menu, but the links direct you to the individual pages rather than the relevant section on the homepage. As a nice extra,
Jazz-One
 comes with social sharing buttons already in place, saving you a little time on set up.
WordPress is the grandfather of all blogging management systems, and thanks to its popularity and longevity, there are quite literally thousands of blogging themes (the WordPress term for template) available. Some themes are native to WordPress, but there are tons more available, both for free and for a one-time cost on third-party sites like
ThemeForest
and
TemplateMonster
. I've chosen one theme from WordPress and one from ThemeForest for this list – TemplateMonster has some good-looking templates, but they're better suited for online business than traditional blogs. WordPress themes can be customized, but the level of customization depends on the theme you choose – some will limit your font or color choices, for example.
 I've chosen themes with a high level of customization so your blog can match your branding and personal preferences.
Quick note on WordPress: There are two versions. WordPress.org is the free, open source platform that requires self-hosting and more technical know-how. WordPress.com functions like a typical website builder, with a user-friendly, no-coding-required interface. The themes I've chosen will work on either version, but my focus will be on WordPress.com.
8. Canard – A Versatile Native WordPress Theme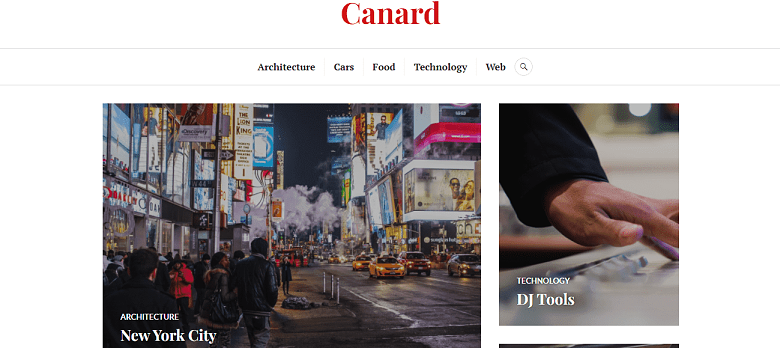 Canard
 shines in its ability to highlight top posts in your major categories, enticing visitors to read more by leveraging good images in a strong layout above the fold. This is helpful for directing readers to your most recent or most popular posts – wherever you expect to get the most engagement. It's also a useful feature if your blog covers a broader range of topics and you want to be sure visitors can find what they came for, every time. Below the fold,
Canard
 offers a pretty traditional blog layout, with a list of recent posts and a set of links in the sidebar, which still looks modern
. Each post has a relatively long preview and a good-sized feature image, and some display a background image to keep the page interesting.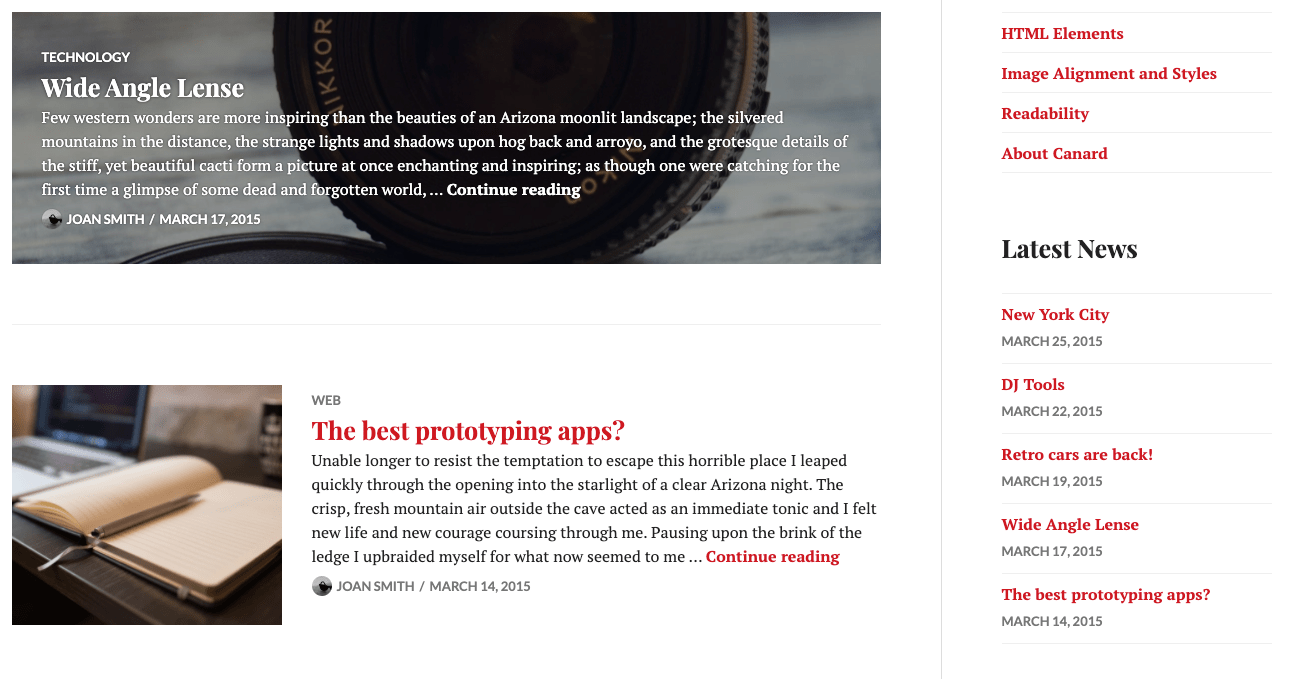 Canard
 is one of the few blog templates that I feel could truly work for any kind of blog. It's so versatile that it will conform to whatever you want it to be.
9. Writing – A Personal Blog Template from ThemeForest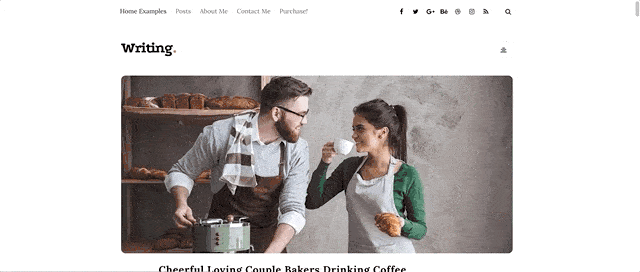 If you want a simple layout for a personal blog,
Writing
 is the theme for you. It's a simple, straightforward layout that displays your most recent post above the fold, with a long preview and a large feature image. If you're blogging about your life or a personal journey of some sort, it's a great way to ensure your followers will always find the most recent update.
Writing
comes with a lot of social icons in the header and Twitter and Instagram feed widgets in the footer,
 helping you keep connected with your readers across platforms with minimal effort on your part. You'll find even more social icon options in the sidebar, which pops out when you click a button at the top of the posts feed – by default, it stays hidden to keep the design clutter-free. The only drawback to this theme is that it isn't free – you'll have to pay a one-time fee to activate this ThemeForest template on your WordPress site.
Ready to Start Blogging?
Selecting the appropriate blogging template plays a crucial role in establishing a robust foundation for your blog. Despite the numerous customization options available, the template governs both the structure and appearance of your site, shaping your readers' initial perception. These blog templates not only establish this foundation but also emphasize the primary focus – your blog content. For a versatile, all-purpose blogging template, I'd recommend
Going Places
 from
Wix
 or
Canard
from
WordPress
. If you know you'll have an online store as part of your blog, then
House of Keto
from Wix is a good choice. But remember – all of these templates will let you customize and add more functions if you need them.
FAQ
How do I build a blog?
To build a blog, choose a website builder that is good for blogging. (We like the options on this list, but any of our best website builders for 2023 are excellent choices.) Next, choose a template that matches the goals of your blog and customize it to your liking. Finally, start writing blog posts and share them on social media and with your email list!
What should my blog include?
All blogs should include the following elements:
An eye-catching homepage with a good headline and image
An About page telling readers about you or your company
A Contact page so your readers can get in touch with you
A way for readers to subscribe to your blog, either through email or social media
What is the best site to start a blog for free?
Wix is the best option for starting a blog for free. You can access all of its blogging tools, plus a ton of other features, on the free plan. You'll also have full customization freedom. For other deals on starting a blog, check out our website builder coupons.
Which free WordPress theme is best for blogging?
Canard is our pick for the best free WordPress theme for blogs. It includes featured posts above the fold in an image-forward layout, and the posts feed is set up to persuade readers to click more and scroll more. For other good options, check out our reviews for ThemeForest and TemplateMonster.
How do I monetize my blog?
There are many ways to monetize your blog, but some of the most popular include:
Becoming an affiliate partner for online retailers
Writing sponsored content or reviews
Selling ad space on your site
Creating an ebook or online course
Before starting any of these endeavors, it's also important to build your subscriber list or social media following and optimize your content for SEO.