Creating your Hostinger account could be the first step of a long and fruitful journey for your website
, and we're here to show you how. Don't worry. We'll walk you through the entire process from start to finish to make the sign-up process easier and ensure you get the best possible deal at the same time.
Quick Guide: How To Create a Hostinger Account
Hostinger offers a wide range of shared, cloud, VPS, and email hosting plans. We'll be signing up for the Single shared hosting plan, but the process will be almost identical with any other plan.
The process is straightforward and can be completed in less than 10 minutes.
Step 1. Go to Hostinger.com. Click on the upper left corner where it says "English." If there's a localized version for your country, select it.
Step 2. Click on Hosting in the upper right corner and select the type of hosting you want. Then, select the plan that works best for you.
Step 3. Choose your billing period and create your account with an email address or a Facebook or Google account.
Step 4. Select your payment method, and input your payment details.
Step 5. Once your payment has been processed, create a password for your account and start hosting.
The In-Depth Guide to Creating a New Account
To get started, all you have to do is go to Hostinger.com (or to your country's local version if available), click on
Hosting
and select the type of hosting you want. Once you've done this, you'll see a variety of plans with different prices and features. For a full comparison, all you have to do is scroll down to the bottom of the features list and click on
See all features
.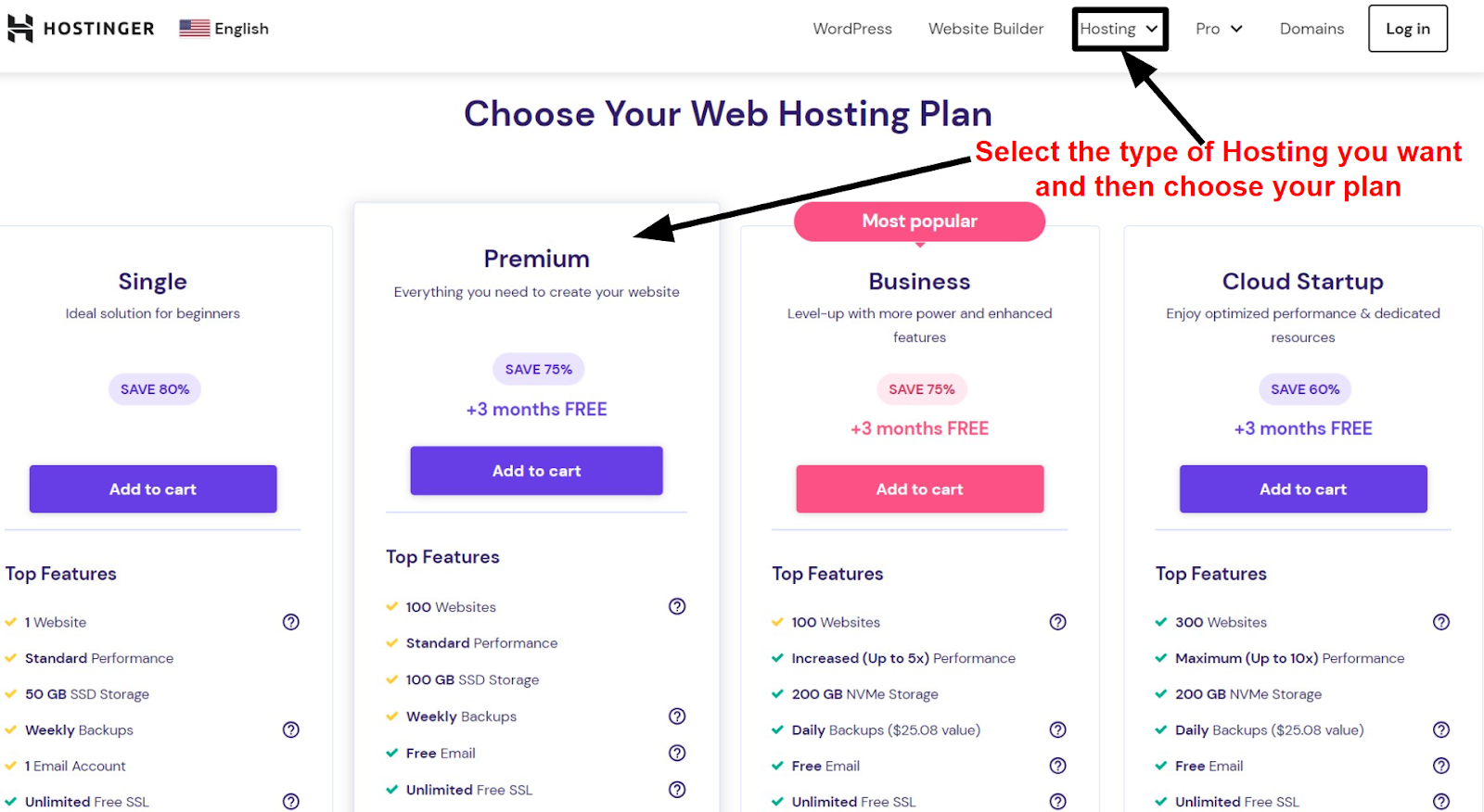 Once you've decided which plan you prefer, all you have to do is click on the
Add to cart
button to get started. You'll get redirected to the payment page where you'll get the option between paying monthly, yearly, biennially, or triennially.
The longer your payment period, the smaller your month-to-month payment will be.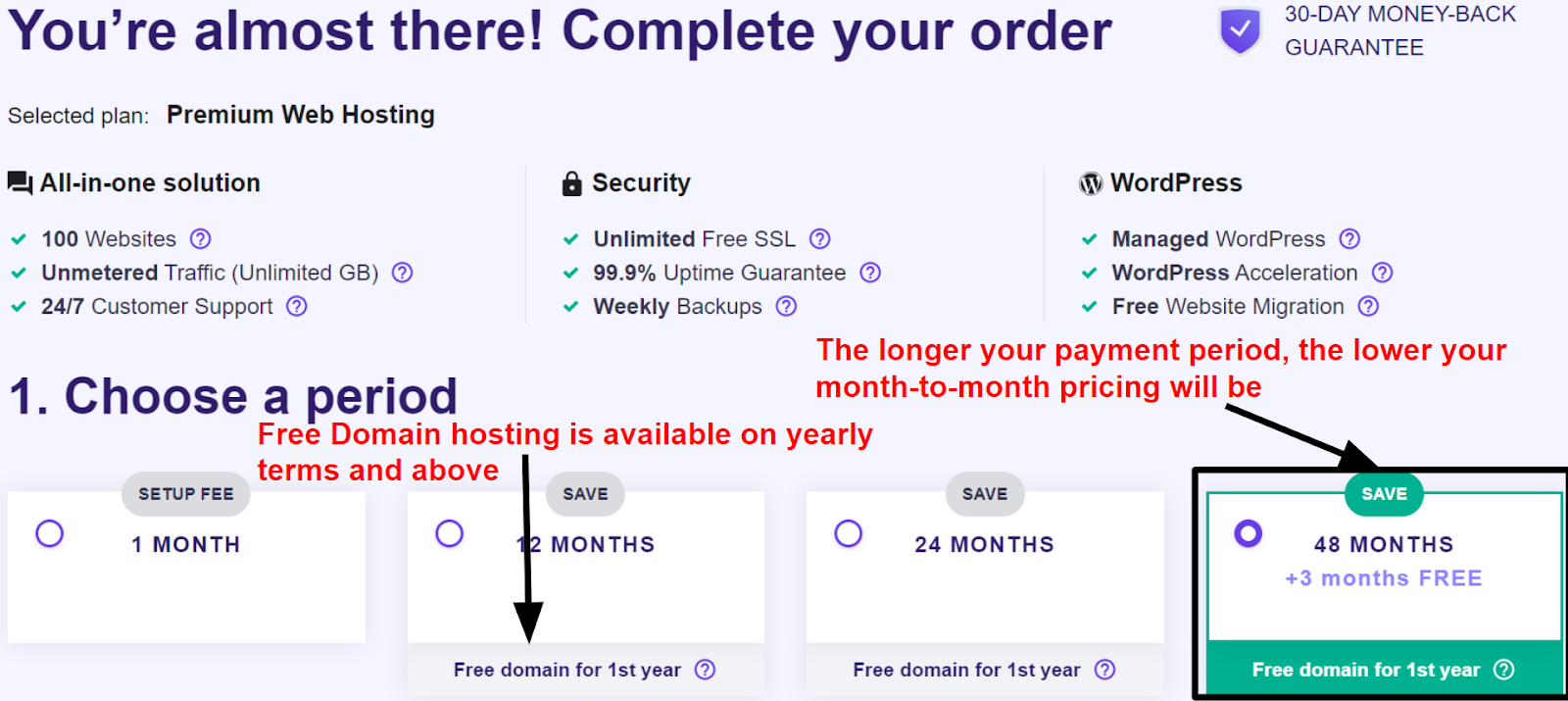 Remember that Hostinger offers a full 30-day money-back guarantee on all its plans.
So, if you're unsure about the best payment period for you, I recommend signing up for a monthly plan and using it to test the waters. If you decide that Hostinger is the best choice for you, you can cancel your plan, get a refund, and then choose a plan with a longer payment term. After choosing your payment period, you'll have to create a Hostinger account. You can do this with your email or by linking it to your Facebook or Google profiles. Then, you'll have to input your payment information. Hostinger allows payments via credit and debit cards, PayPal, Apple and Google Pay, AliPay, and Coingate.
Keep in mind, however, that your payment options will vary depending on your region.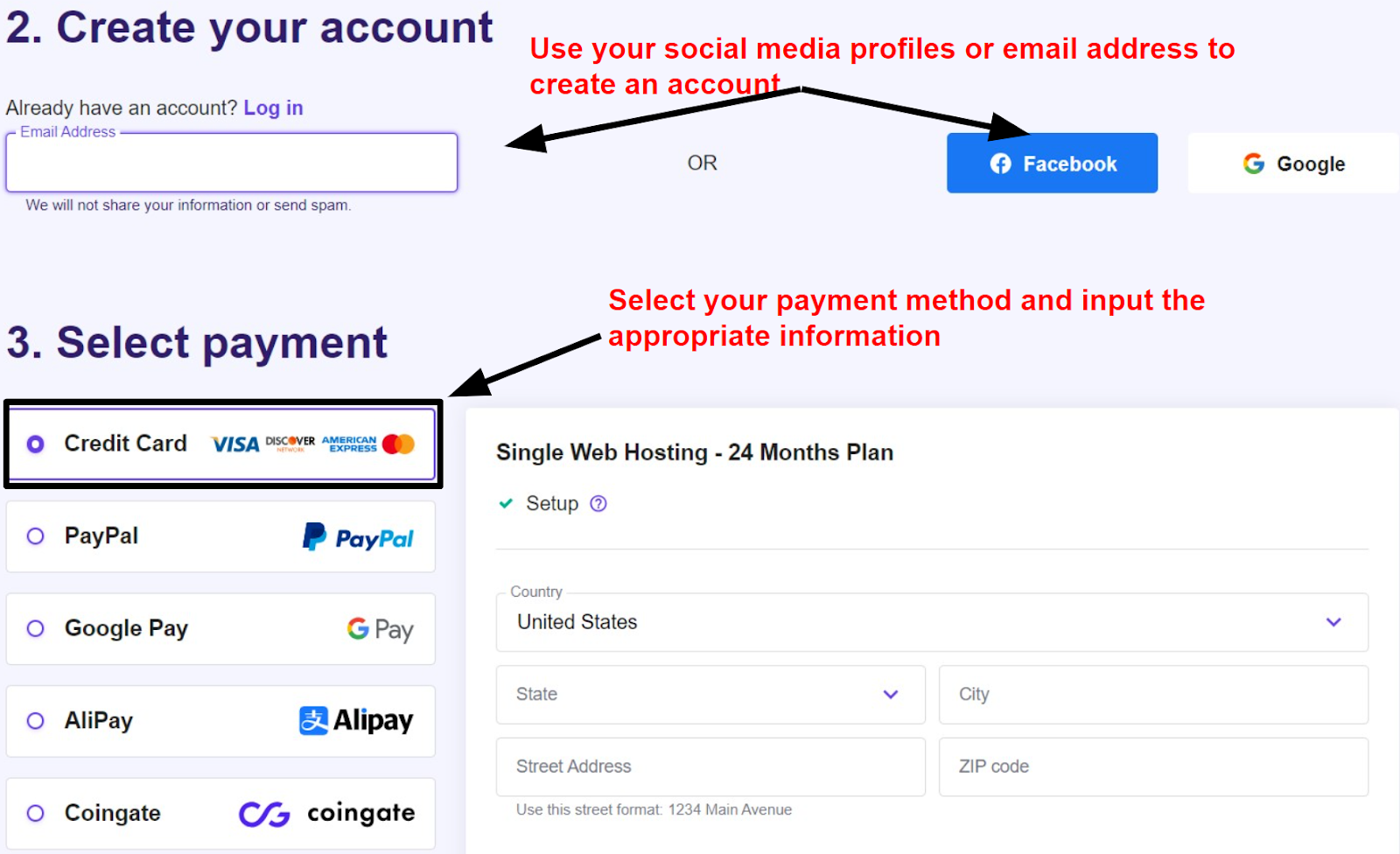 Before you make your payment, take a moment to check out our available coupon codes.
Our codes are regularly updated and you can get impressive discounts for your web hosting plan.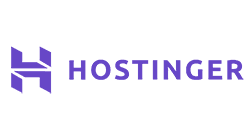 Save up to 75 % on your Hostinger plan!
Limited-time offer - Don't miss it!
7002 users used this coupon!
Once you've chosen your payment term, method, and inserted an email address or linked a social media profile to create your account, all that's left to do is click on
Submit Secure Payment
and wait for your transaction to be completed. After that, create a password for your account, and you're ready to get started.
Pay Attention to the Fine Print When Signing Up
Before signing up for any Hostinger plan, kindly keep in mind a couple of crucial points. Firstly, the free domain registration entails specific conditions. It is exclusively available with the Premium hosting plan and higher tiers. This condition is applicable when selecting either a yearly payment term or a longer duration. You should also keep in mind that domain hosting will only be free for the first year. After that, you'll have to pay the full renewal price of your domain registration. Some top-level domains (TLDs) are cheaper than others, so a .tech can be as much as ten times cheaper than a .com (don't worry too much about this though, the yearly price is very low, even on the more expensive TLDs). Please also keep in mind that Hostinger promotes several of its features as complimentary due to its integration with other free services. For instance, if you require a content delivery network (CDN), you'll need to independently sign up for one of CloudFlare's free plans. Finally, I highly recommend signing up for a Hostinger plan on your local site. Paying in your local currency will protect you against steep exchange rate fluctuations between renewal terms and even against losing money if you want to claim your 30-day money-back guarantee.
A free domain name is included with some hosting plans from Hostinger
Hostinger Makes It Easy to Sign Up for Web Hosting
One of the top features of Hostinger is its user-friendliness, which you can experience straight from the sign-up process. Making my account and picking my plan was extremely quick and straightforward, and I genuinely value that Hostinger doesn't request any unneeded information. Thanks to its intuitive service and affordable rates, Hostinger is an excellent option if you're
looking to get started with web hosting
.
However, you do need to pay close attention to the terms of the plan you're signing up for. If you want a free domain, then you'll have to sign up for at least a year's worth of service, and you should be sure that Hostinger's terms of service don't clash with your vision for your website. If you want to learn more, feel free to
check out our expert Hostinger review
.
FAQ
What is a Hostinger account?
A Hostinger account gives you access to the complete range of Hostinger's website hosting plans. It's one of the most cost-effective ways to host a blog or a website for writing or doing business online. Here's how to sign up risk-free.
Should I sign up for a Hostinger account?
Hostinger is one of our favorite hosting providers of 2023 thanks to its user-accessibility, reliable performance, and affordable pricing. If you're looking for a beginner-friendly and affordable hosting solution, you could do a lot worse than Hostiner. The sign-up process is fast and straightforward, and we have the in-depth guide to prove it.
How do I set up Hostinger web hosting?
It only takes a couple of minutes to set up your hosting with Hostinger. All you have to do is select the best type of hosting and plan for you, create a Hostinger account, and input your payment details. If you're interested in Hostinger, I recommend you check out our in-depth guide to creating a Hostinger account in 2023.
How do I create an email account on Hostinger?
Hostinger offers email hosting with most of its web hosting plans, as well as a separate option just for Titan hosting. To set up your email account with Hostinger, all you have to do is choose the best plan for your needs and follow the on-screen steps for creating your email account. For more information, check out our in-depth guide to setting up a Hostinger account in 2023.
Do I get free email with Hostinger?
Hostinger includes free email hosting with all of its shared and cloud hosting plans. If you're just interested in email hosting, you can also choose one of its email hosting plans, though they're not free. Still, Hostinger's plans are very affordable.