in-depth review
.
Creating a New Account
Hostinger offers shared website hosting, as well as cloud hosting and VPS hosting. We are going to sign up for their shared hosting service. The process of creating a new account with Hostinger is simple and
can be completed in less than ten minutes
. Go to the
Hostinger website
. You'll see the plans on the main page: Single Shared Hosting, Premium Shared Hosting, and Business Shared Hosting. I chose to sign up for Single Shared Hosting. Just click on the 'Get Started' button to begin the process.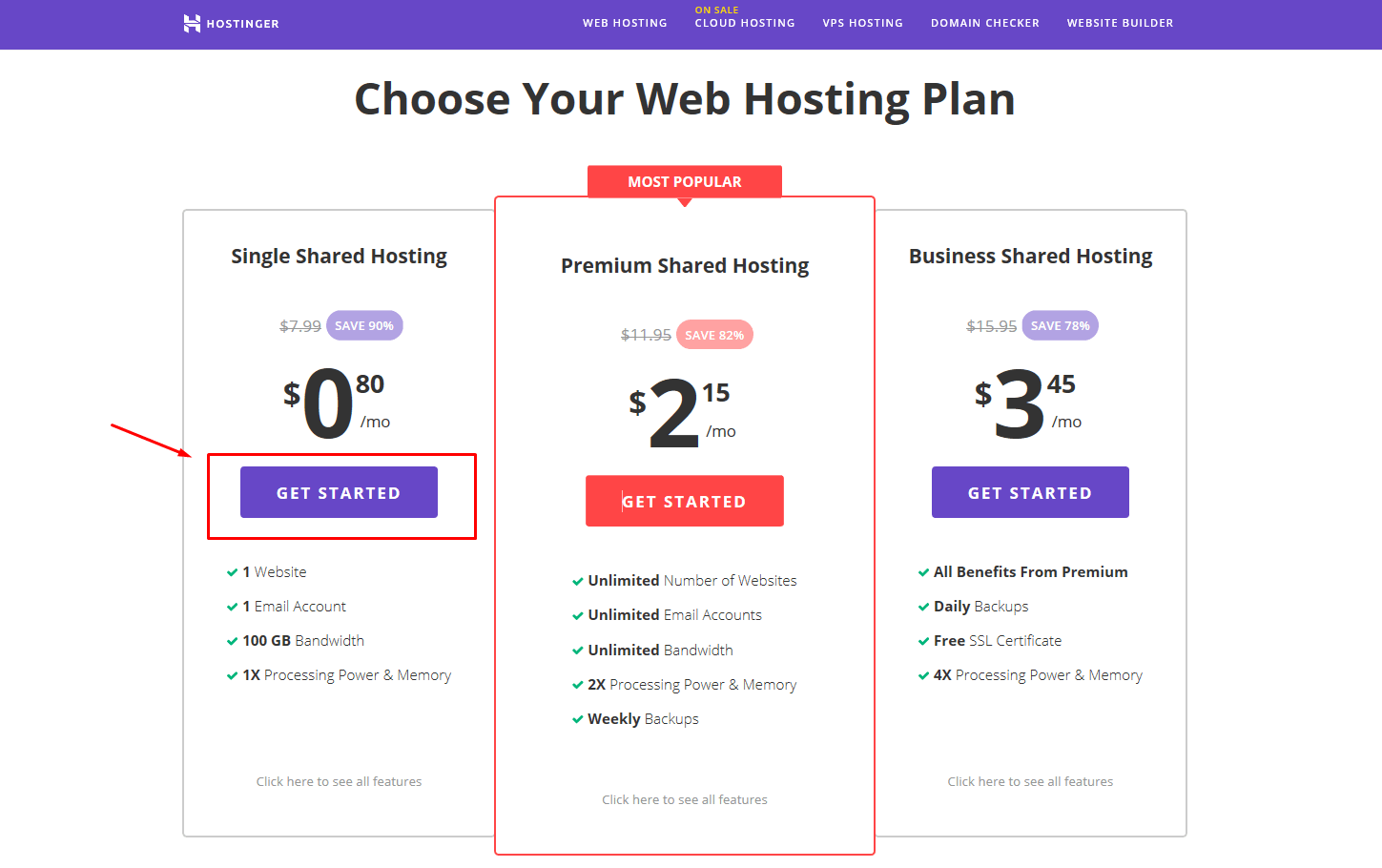 The first step is creating your account. You can do this in two ways: you can enter your name, email address, and a password to create an account, or you can log in using your Facebook, Github or Google + credentials.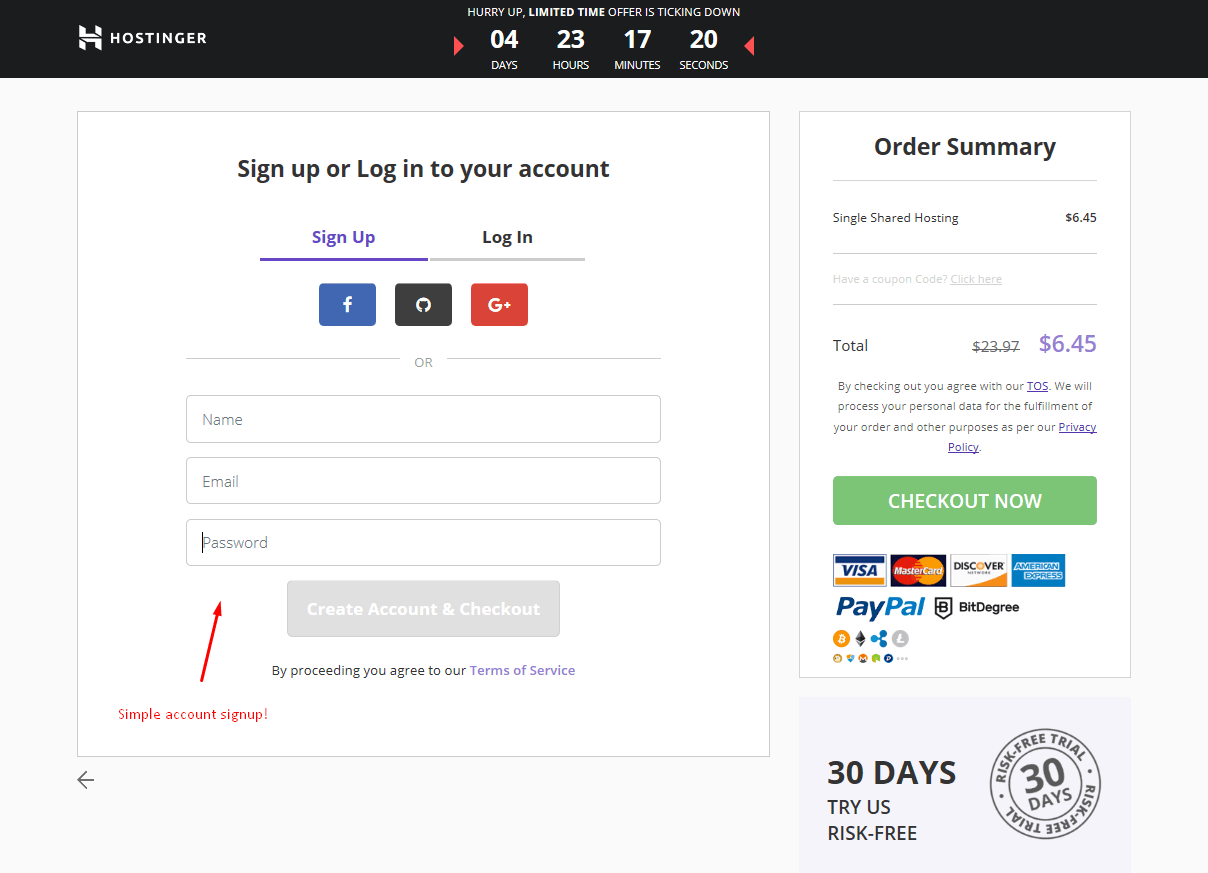 Once you've signed up or logged in, you will be taken to the checkout screen where you can select the terms of your plan. You can choose quarterly, or pay for 12, 24, or 48 months in advance. I decided to sign up for three months of service.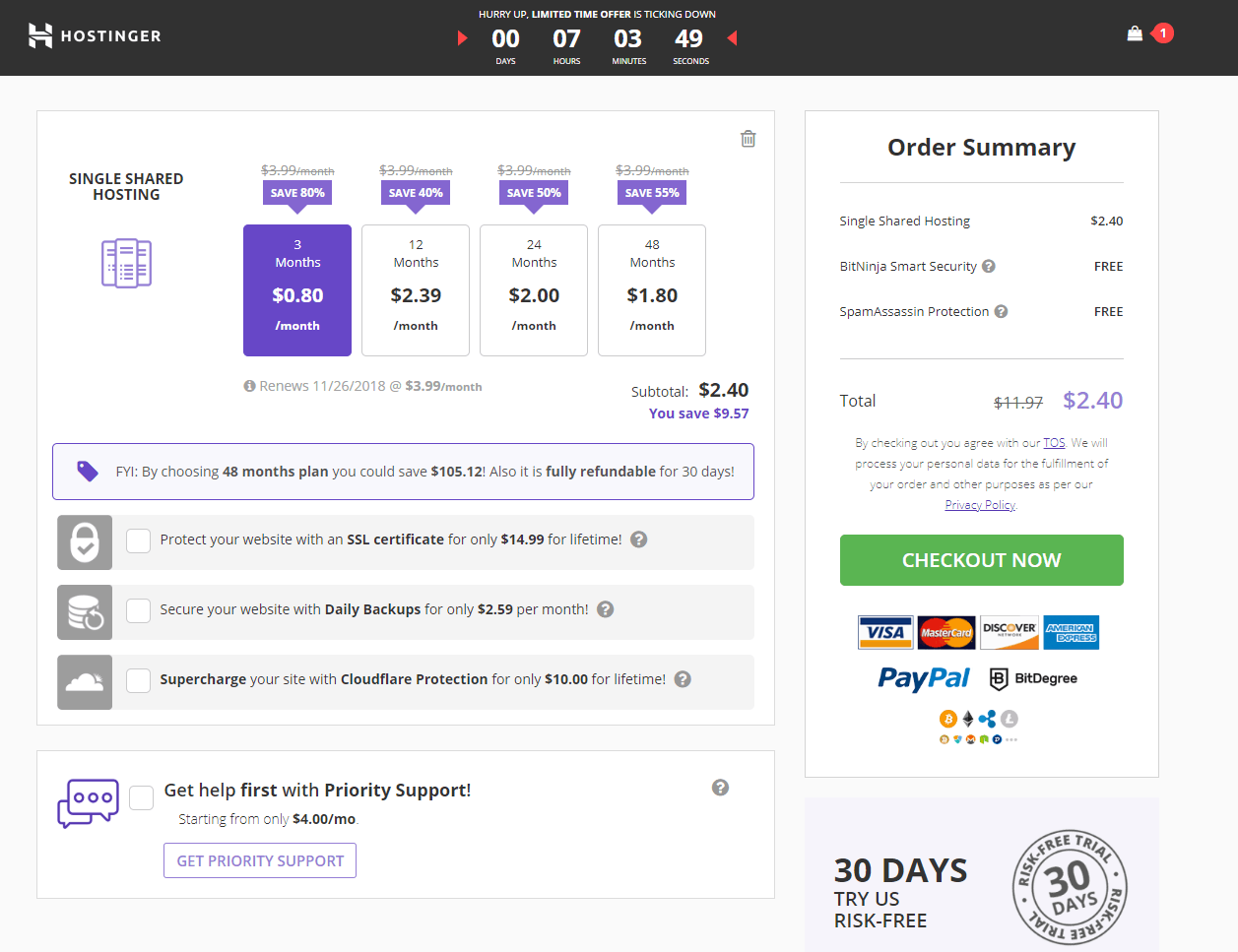 While signing up, you'll be presented options for paid upgrades: Cloudflare protection, daily backups, and an SSL certificate. I chose to skip these options. After selecting your options, click on 'Checkout Now' to proceed to payment.
Before paying for service, do yourself a favor and click the back button at least once. Hostinger will sometimes offer a special discount to try and gain your business
. My discount was 15% off the list price on each plan.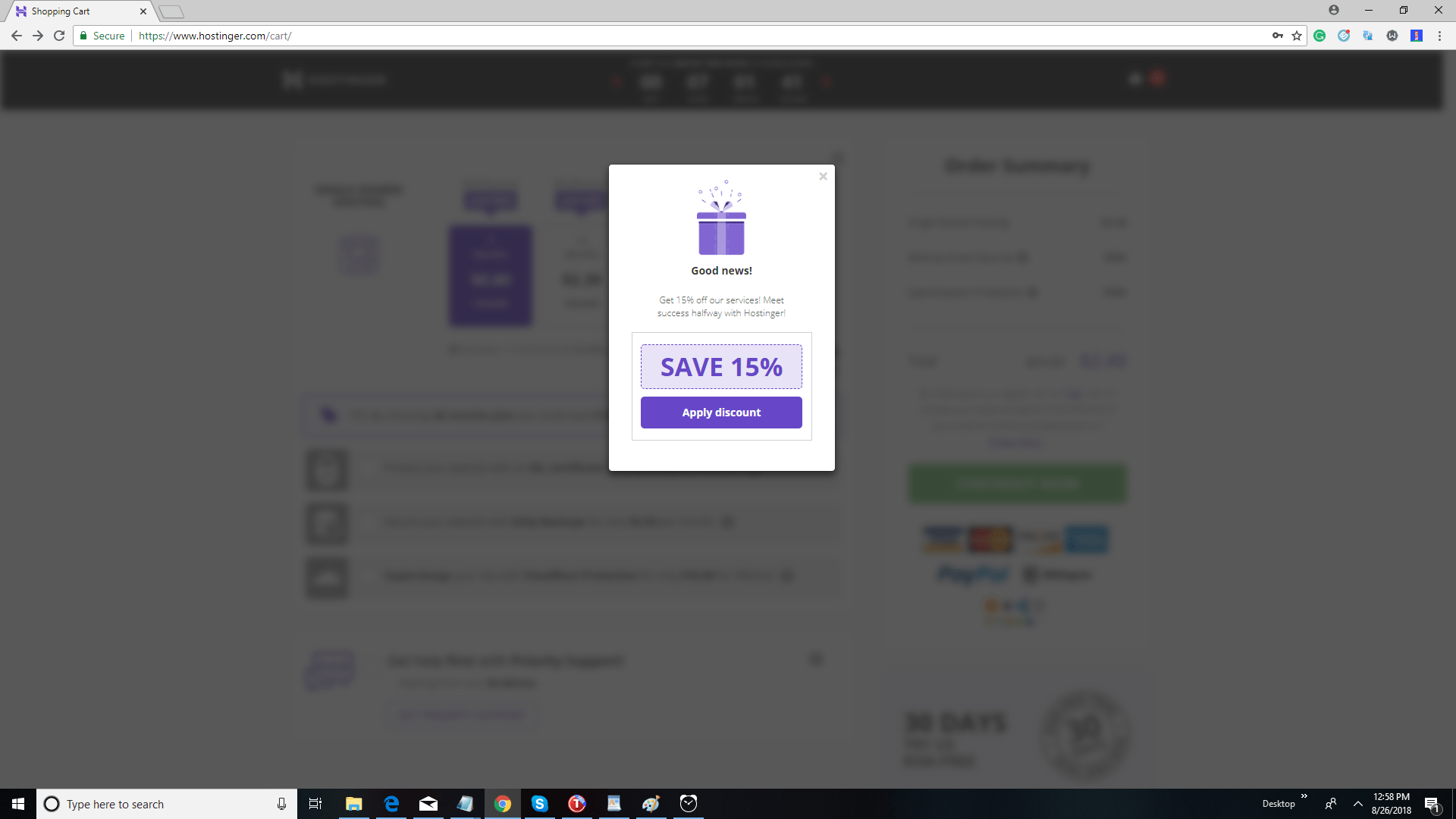 The payment screen is pretty standard. Hostinger accepts the following payment methods:
Visa
MasterCard
American Express
Discover
PayPal
BitDegree
Bitcoin and other cryptocurrencies
I chose to pay with PayPal and finished purchasing my hosting in just a couple of minutes. I didn't even have to leave the website to process the PayPal payment.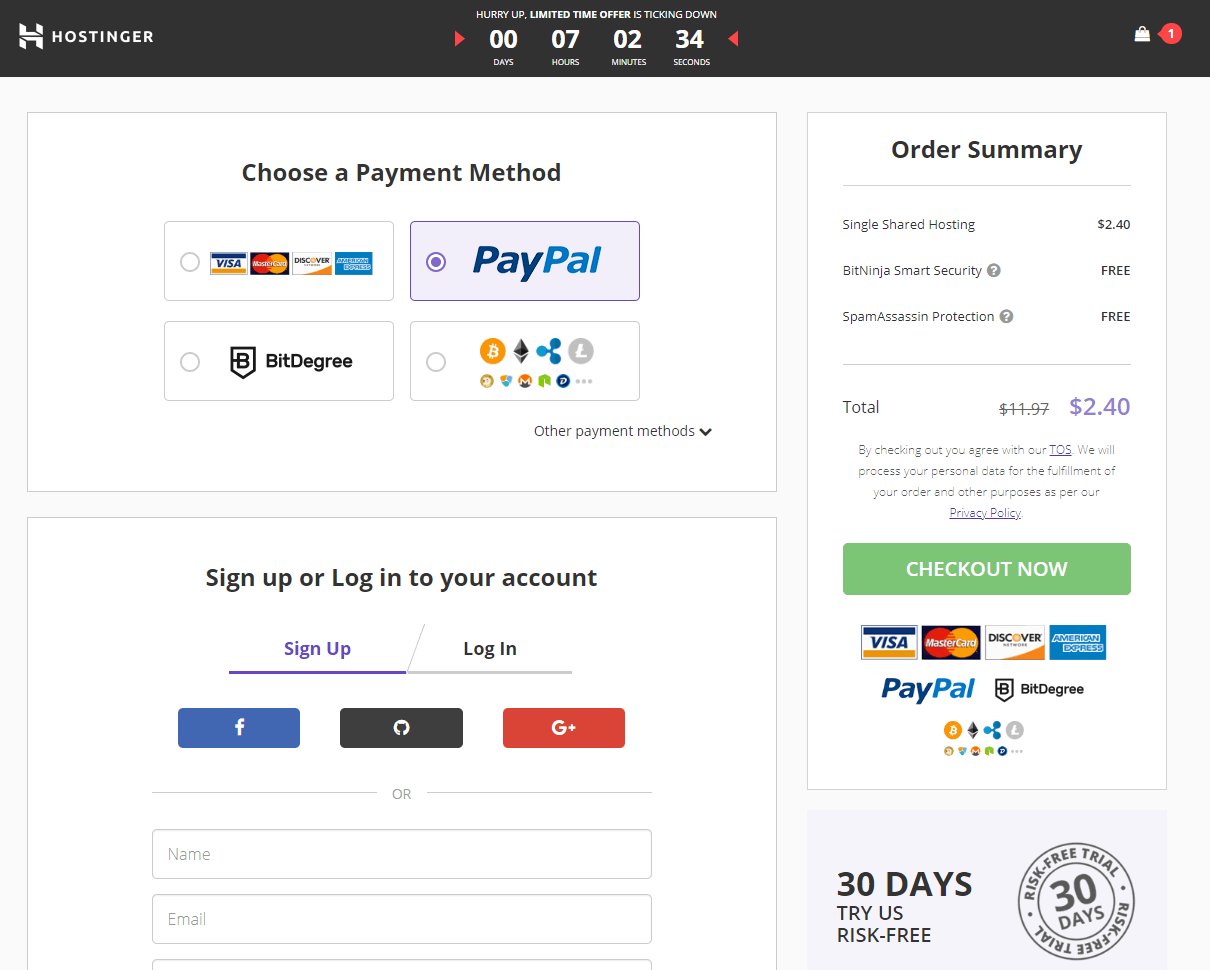 I received only one email from Hostinger during the process to verify my email address, but I didn't even get it until after I was done signing up.
Pay Attention to the Fine Print When Signing Up
There are a few things to note during the account creation process. First,  free domains are only available if you sign up for at least a year's worth of service. If you need to register for a domain, you'll pay $8.99 annually for a .com name. However, you can sign up for domains as cheap as .99 if you choose atypical domain suffixes, such as .tech or .online. Next, several features are advertised as free, but they actually incur an additional charge unless you purchase at least a year's worth of Business Shared Hosting. Below are some of the features many webmasters will need to pay up to receive:
SSL Certificate – $14.99 for life of the site
Daily backups – $2.59 monthly
Cloudflare protection – $10 lifetime
Priority support – $4 monthly
If you're looking for free marketing credits such as Google Adwords or Facebook Ads, you're out of luck. Hostinger doesn't offer any form of marketing credits with their plans.
Hostinger Makes it Simple to Sign Up for Web Hosting
Overall, this was one of the smoothest web hosting signups I've experienced
. Hostinger does not require a ton of information to sign up for your web hosting account, and the entire process can be done in less time than it takes most of us to make coffee in the morning. If you're new to web hosting, this is an excellent option as it doesn't bog you down with a complicated signup process. However,
you do need to pay close attention to the terms of the plan you're signing up for
. If you want a free domain, you'll need to sign up for at least a year's service and features such as SSL certificated will incur a nominal extra fee. While Hostinger makes signup easy, there are some hosts out there with easier signup processes. If a simple signup process is important to you,
check out Flywheel
. If you want a truly free domain, or you'd like to get some more advanced features without digging into your wallet,
don't miss WP Engine
.