Aruba.it is a leading Italian hosting provider, with an impressive presence around Europe. It has a decent range of features, including plans catering specifically to WordPress and other popular content management system (CMS) programs. Read my in-depth review to learn more.
Getting started with a new host can feel a little daunting, especially if you're new to website development or migrating from an old host. This guide is designed to take you step-by-step through the process to create an account.
Step One: Decide on Your Plan
Aruba.it offers a decent range of hosting services, including Linux, Windows, and specific WordPress packages. I opted for the latter because it's well-priced and comes with WordPress pre-installed.

Step Two: Select Your Domain
On the next page, you're given the option to register a new domain or transfer an existing domain to Aruba.it. Neither option is free and you aren't able to use an existing domain without transferring it. I begrudgingly purchased a new domain at a pretty high price.

Step Three: Choose Your Plan
The next page shows all the hosting plans, so you need to read through the list and find the one you chose in step one. It's not that big of a deal, but I've definitely had much better user experiences with other hosts.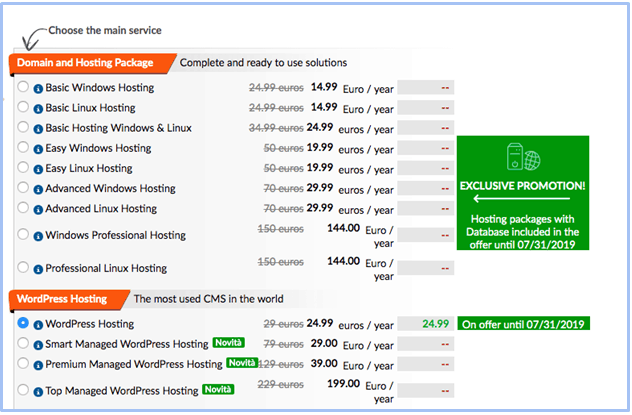 Step Four: Create an Account
Next, you need to start creating your account. On the first page, you're asked whether you're a person or business, and next is a long signup form.
While it's not unusual to have to fill out a detailed form, it was made more difficult by a few small bugs. For instance, the list of countries was in Italian and not always alphabetical, and it required an ID number that kept producing an error, "ID in use."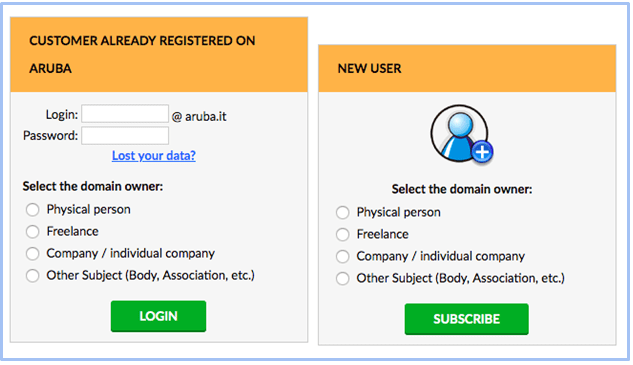 Step Five: Enter Your Billing Information
Once you've completed Step Four, congratulate yourself for a job well done, but be prepared for another long form. Here you have to enter your payment details and agree to numerous terms and conditions.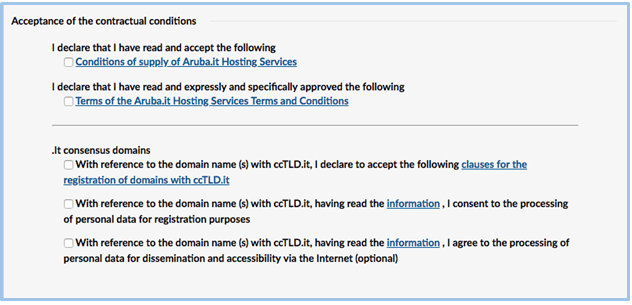 Step Six: Success
Once your payment goes through, you will receive an on-screen success notification and a lot of welcome emails. To be honest, by this point, I was utterly relieved to have completed this long and tedious process.
A Painful Process
The poor Italian-to-English translation (of course, this isn't an issue for Italian speakers) and tedious forms made for a really poor user experience. I was ecstatic when it was over.
If you're looking for a vendor that is easier to sign up for, try SiteGround. If you need a cheaper host with a lot of user-friendly features, read about Hostinger. Alternatively, if you'd like to learn more about one of Italy's first hosting providers, read about its features, pricing, support, and more in my in-depth review.