But
does this online education site really deserve its good reputation, or is it all just hype?
Before you invest in a Coursera course – or any online class, for that matter – it's essential to know exactly how the platform works, and what you get for your money. In this in-depth Coursera review, we'll take a close look at the following and more:
Finding the best Coursera courses
Registering for a Coursera course
How the Coursera learning platform works
Coursera Pricing
I take online courses regularly to learn new professional skills, including
Coursera
,
Udemy
, and
Fiverr Learn
.
You name the online course platform and I've probably used it. Therefore, I think I'm in a good position to highlight the main benefits and drawbacks of Coursera. By the end, you'll know if Coursera is a good choice for your next online course, or if you're better off looking somewhere else.
What Is Coursera?
Coursera is an online course platform that offers
online learning in conjunction with some of the best universities around.
The online training ranges from short courses (also known as Massive Open Online Courses, or MOOCs) to specializations in particular topics and online degrees, so there's a wide range to choose from.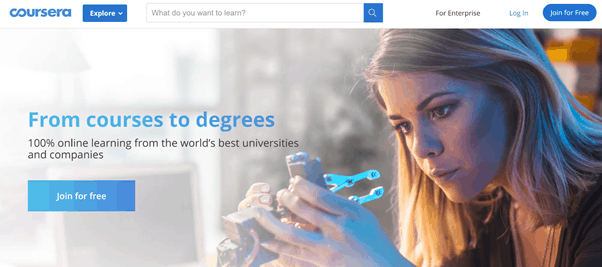 Coursera's faculty are expert instructors from top universities,
so the quality of instruction is high. Since some of the world's best-known firms use Coursera for employee training, you can be pretty sure you're getting the job skills you need, too. All courses are delivered completely online, with a combination of videos, text, downloads, and quizzes to test your knowledge.
Exploring the Coursera Course Catalog
Your starting point for finding a course of study on Coursera is the course catalog. This includes certificate and degree courses accredited by universities. Coursera divides its courses into five types:
Courses: Simple, auto and peer-graded courses with a Coursera certificate upon completion
Specializations: A group of courses designed to help you master a career skill, which incorporates practical projects
Professional Certificates: Training for job skills to help you get experience or prepare for industry certification
MasterTrack Certificates: Courses that give you career credentials and count toward an online degree, including real-world projects
Degrees: Modular degree learning, allowing you to earn your degree from the comfort of your home and at your own pace
There's a colored label on each listing to help you see at a glance which type a particular class falls under.
What Can You Study on Coursera? 
When you delve into the
Coursera course catalog
, you'll immediately notice there's a lot on offer. The catalog includes courses in arts and humanities, sciences, business, IT, languages, personal development, and more.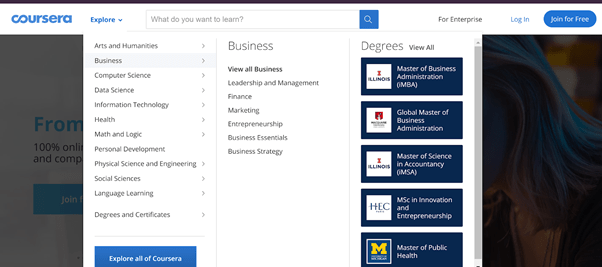 Each main subject is broken into subtopics, giving dozens of possible course options. Whether you want to learn about health and wellbeing or computer algorithms, there's an online learning program for you. Many of the subject areas offer both single courses and the option for full degrees, and you can see which courses are part of a degree program on the course listings page. Language courses are generally delivered by institutions based in the country of origin. Course listing pages include trending and popular courses, certificates, and programs, just in case you're not sure where to start.
How to Find the Best Coursera Courses
One thing I like about Coursera is that it has
excellent on-site filtering tools.
These help you find your perfect course in just a couple of clicks. You can refine the courses shown by skills, job title, level, language, type, and creator.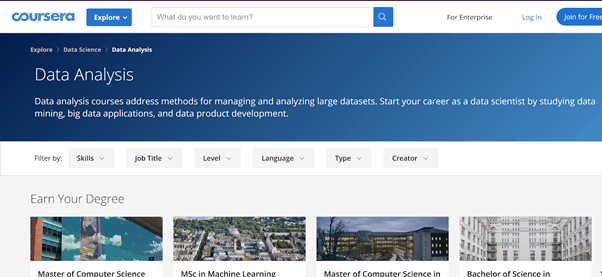 Another great feature is that
language isn't a barrier to taking a Coursera course.
Many of the courses in English offer subtitles in multiple languages like Spanish, Arabic, and more. This information is available on the course description page, along with details on:
Duration
Level
Deadlines
Whether it's part of a specialization or a degree
Once you've found a course that interests you, click the link for more details. At the top of the page you'll see the partner institution (usually a university or corporation), the number of reviews, the number of students enrolled, the average time commitment required, and an overall course rating. All the courses I explored had a rating of at least 4.5 stars. You can also explore the course schedule. This is broken down into weeks, with a suggested completion time for each section. It also shows which videos and resources will be covered each week. While there's a suggested start date,
most courses are flexible, so you can adjust lessons and deadlines to suit your schedule.
Further down the page, you can click a link to check out the course instructor's profile. Personally, I thought this section could use a few more details, but there were links to check out for more information.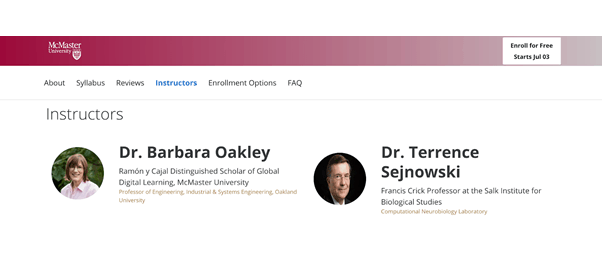 Course pages also include:
FAQs
Skills you'll learn
Stats on student success, including career benefits
Overall, Coursera does a good job of providing the details you need to make an informed decision about which course to choose. However, I found the course description page a little too long, and lost interest after a while.
How Much Does Coursera Cost?
One of the big questions – obviously – is how much this upscale online training is going to cost you. Well, the Coursera price varies considerably, depending on what you're studying and how you study.
You can audit tons of courses on Coursera for free.
This gives you access to most course material, but you won't be graded or earn a certificate. Alternatively, you can take the graded version of the course and get a certificate upon completion. Most courses we saw were for around $100, but pricing did vary. Specializations, which include multiple courses,
are available by monthly subscription
,
and can soon add up for courses that last several months (or depending how long it takes you to complete the materials).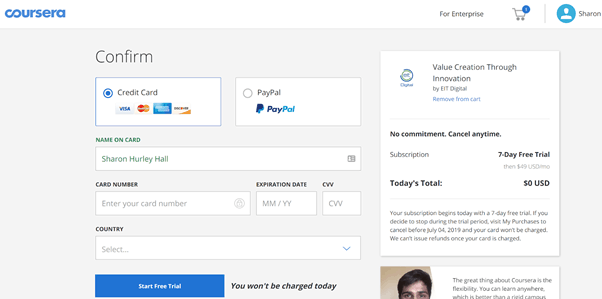 There is some good news, though:
Coursera offers a seven-day money-back guarantee.
This lets you check out the full course experience, complete with grading, for free. So far, so good. But what's it like when you
actually
sign up for a course?
How Does the Coursera Learning Platform Work?
To get started, I used the filtering features described earlier to search for a course on marketing. Though I was happy with the filters for language, course level, and topic,
it would've been nice to have a filter for course duration, so I could match my choice to the time I had available. 
Eventually, I found a course titled
Marketing Strategy for Entrepreneurs
. That course is part of the Value Creation Through Innovation specialization.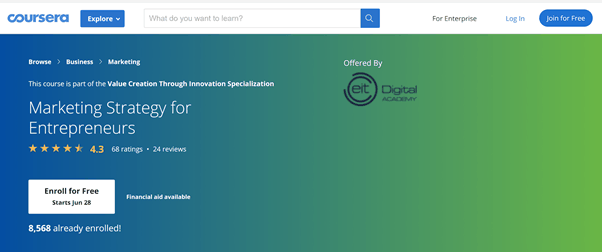 Signing Up – A Simple Process
Filling in the signup form was simple enough, and I appreciated the offer for a seven-day free trial. However, I wasn't thrilled about having to enter my credit card information to access the trial, so I opted to audit the course instead. That still left me with the option of paying later to get a certificate for the course, and to be credited for completing that part of the specialization.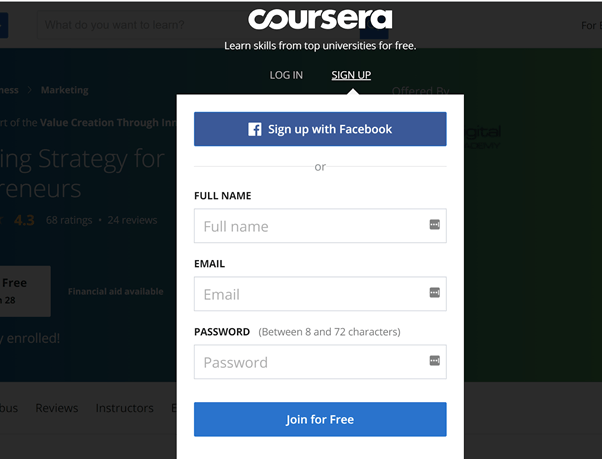 After signing up, I got several emails from Coursera. In addition to an identity verification email, there were three welcome emails: one for the site, and two for the course. That seemed like overkill to me. I think post-signup email messaging could be streamlined.
Managing Your Time – Easy Calendar Integration
Once I was in the course, there was the option to add course deadlines to my calendar. It was also clear that I could choose to work at my own pace. One thing I really didn't enjoy was the excessive upselling, since I had literally just said no to that.
Course Organization – Handy Overview on Tap
Course content was pretty well organized, with a menu of lessons, grades, notes, and discussions
down the left-hand column. The main course page had a welcome message from the course tutor, highlighting important features like where to get help.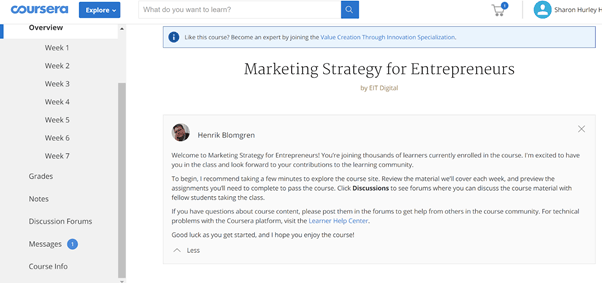 The overview page included a handy guide to the
expected duration of the course in a timeline interface
with the weekly requirements. I liked the fact that the start and end date were clearly laid out.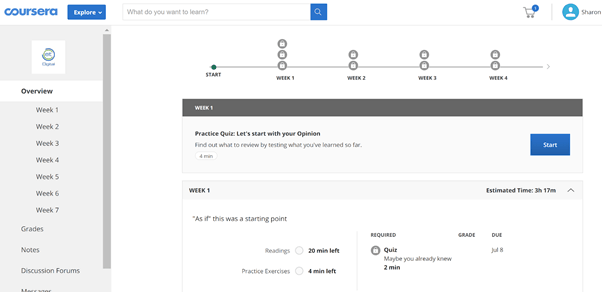 There was also an inbox for on-site communication. I was surprised to see a message there, but it turned out to just be from the course tutor highlighting the first lesson video.
Navigating a Coursera Course
Marketing Strategy for Entrepreneurs
started with a two-question practice quiz to assess your base knowledge. As well as being useful for instructors, this helps students get used to how quizzes work on Coursera.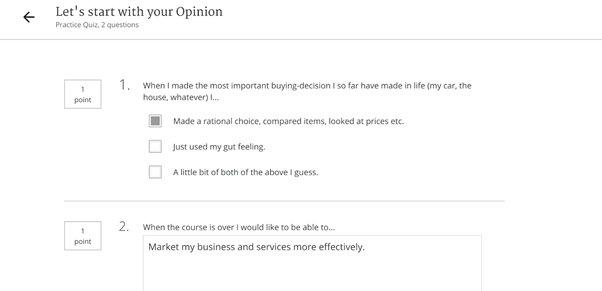 Once you finish a quiz, you get an immediate grade, then there's a handy button to take you to whatever's next.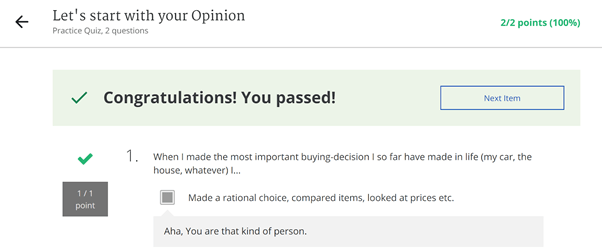 As you finish each section, you can mark it as complete, and rate it with a thumbs up or thumbs down. Then there's a prompt to move on to the next item.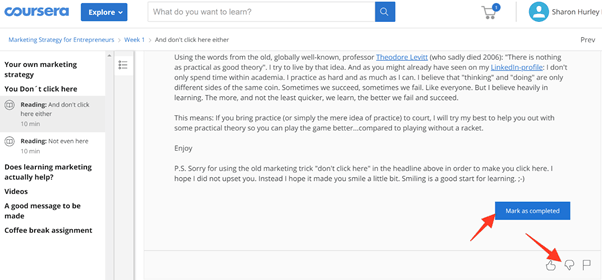 This course was mostly video-based.
One thing I liked was that course videos had transcripts.
Coursera also allows you to highlight areas of those transcripts and save them as notes. Plus, you can create your own notes within the course interface. All notes are accessible from the main course menu. Course videos are short and easy to follow. The discussion forums are a good place to get answers to the questions other students have asked in the past. However, some are more active than others. When I checked, it had been more than a month since the last message. This course also included
peer-graded assignments,
where students help each other by assessing the work they've produced. This seems like a good way to improve engagement and create a learning community for each course. Overall, I liked the interactive videos, the regular checks of what you've learned, and the immediate grading. And once you've earned a certificate, you can add it to your professional qualifications on LinkedIn with just a couple of clicks.
Coursera vs the Rest
It's always a good time to
invest in your skills and education
. So, how does Coursera compare with the
other options
that are out there? If you're looking for expert-level courses,
Udacity
is the closest competitor, as it also offers degree courses. However, Coursera offers far more courses than Udacity's catalog of around 200. Udacity is also focused on technical topics, while Coursera covers a broader range. If you're considering instructor expertise, Coursera is a better choice than
Udemy
, where anyone can be an instructor. Fiverr Learn also offers expert instructors, but the courses are focused on creativity and digital marketing for beginners, so Coursera is better for a wider range of skills for all levels. In terms of the in-course experience, my main comparisons were with Udemy and
Fiverr Learn
. Each offers video-based courses, though I found Coursera's intuitive course dashboard and class notes to be big advantages for learners.
Is Coursera Worth It? When Should You Choose It?
Therefore, is Coursera a valuable option for online education? Well, it varies. You can't surpass the unbeatable price (which is free) for auditing courses, but the expense of certification can become substantial based on the course you choose to pursue. If you're a
Fiverr
seller looking to upgrade your marketing skills, using Fiverr Learn is likely more cost-effective and gives you a handy profile badge. And if you're just interested in learning and don't mind whether or not your instructors are experts in their respective fields, then Udemy is worth checking out. LinkedIn Learning is also a good
Coursera alternative
, as it's free if you have a Premium account. However,
Coursera's wide range of courses
, low price, and interactive approach to teaching make it a great choice for online learning and upgrading your skills. If you want my opinion: go for it! What's there to lose?