Which host is better, Cloudways or SiteGround? It all depends on your needs — but there are some areas where one of these hosts is better no matter what type of website you have.
Are you looking for a host like SiteGround
that uses the familiar cPanel, or is managing your webspace less of a priority compared to the flexibility of a pay-as-you go option like Cloudways
? 
Perhaps you're most concerned about your website's performance. Caching features can make your website run much faster — but
you also need to know about potential issues with Cloudways' caching tools. 
There's often a big difference between what a host claims and what users experience, too — especially when it comes to customer service. I've dug deep to uncover the truth about the quality of Cloudways' support service.
In this expert SiteGround and Cloudways comparison, I've put the two hosts head-to-head in six key areas to help you choose
the best hosting solution for your needs.
I'll be comparing SiteGround and Cloudways hosting packages in six different areas:
Round 1: How Do Cloudways and SiteGround Compare on Pricing?
Getting started with a new hosting provider shouldn't be a complex process. Cloudways understands this, allowing you to sign up for a three-day free trial
 without having to enter your credit card details. 
As a Platform as a Service (PaaS) provider,
Cloudways works on a pay-as-you-go basis
. When you sign up, you get to choose the size of your cloud server as well as the type of cloud server. There are six cloud server options available, including DigitalOcean, Amazon Web Services (AWS), and Google Cloud Platform (GCP).
As you adjust the size and type of server, you'll be shown the approximate monthly price for your service. The prices shown on the Cloudways pricing page are based on the smallest server on the DigitalOcean cloud server, so
your hosting could end up costing more than the pricing page suggests it will
.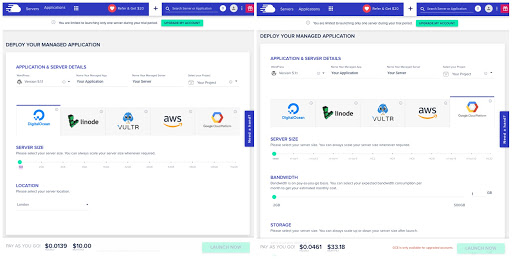 SiteGround's pricing is fairly transparent. Unlike many other hosts, the quoted monthly price is not dependent on you signing up for two or three years. Instead, you will simply have to pay, up front, for 12 months of hosting—and the price you pay is simply 12x the quoted monthly price. There are no hidden charges.
And the Winner Is…
SiteGround
. There's no hidden charges with SiteGround and you know exactly what you're going to be paying each month. While Cloudways' pay-as-you-go pricing model may be more flexible, you can end up paying significantly more than you would for comparable plans on SiteGround.
Round 2: How Easy Is It to Set Up Your Hosting?
When it comes to managing your server with Cloudways, you need to have enough technical knowledge to understand how changing the settings will affect your website. To make your website live, you'll also need to understand things like domain mapping and DNS settings.
There's no simple way to get your website to point to the right domain
, but Cloudways does provide a (basic) knowledge base article to help with this. 
Cloudways doesn't offer domain names, so if you need one,
you'll have to purchase it elsewhere
.
But installing an application like WordPress is a matter of selecting a few options and allowing Cloudways to do all the hard work; the process takes less than 10 minutes. You can set up a staging area in a few clicks, too.
In comparison,
SiteGround offers a setup wizard that makes getting started really simple.
There's also a comprehensive tutorial in the help section.
When you sign up with SiteGround, you have the choice of either purchasing a new domain or using an existing domain. If you choose to buy a new domain through SiteGround, all the necessary configurations will be taken care of for you. 
Because SiteGround uses the popular cPanel to allow you to manage your hosting space, it's much easier to find the settings and features that you need. Cloudways has its own control panel, that is more complex to navigate.
Tools such as a
file manager, email setup tools, one-click installers, DNS management, and much more are easily accessible in the cPanel interface
. If you're not familiar with cPanel, SiteGround has a tutorial that gives you all the information you need to effectively manage your web space.
And the Winner Is…
SiteGround.
You need far less technical knowledge when it comes to setting up your hosting space with SiteGround compared to Cloudways. 
If, however, you're looking for a more hands-on hosting solution and you're comfortable with technical aspects like domain mapping, then Cloudways' pay-as-you-go PaaS hosting could be right for you. Just be aware that you'll have to spend more time getting to know the control panel to get the most out of your hosting.
Round 3: Cloudways' Caching Issues Cause Reliability Problems
SiteGround offers a 99.99% uptime guarantee.
In many cases, you get 100% uptime. SiteGround also includes a free CDN (content delivery network) to make your website load faster. All SiteGround servers are optimized for speed and use SSD drives. 
In tests, SiteGround delivers exceptional speed even when there are over 50 visitors on the website at the same time. Server response times are great, and you can choose the data center that is closest to your target audience's location to ensure a consistently fast server response time.
SiteGround also offers SuperCacher with three levels of caching tools. Level 1 is a static content cache—and is the only level available on the base StartUp plan. All three levels are available on other plans. Level 2 is a dynamic data cache (NGINX) and Level 3 is database queries cache running on Memcached. These more advanced types of caching can dramatically improve the performance of your website.
Cloudways is often considered to be faster because it doesn't use cPanel. It uses built-in advanced caches such as NGINX, Varnish, Memcached, and Redis. However,
some users have experienced problems with Varnish abruptly "breaking" the website
. The risk of having your website go down for long periods could be a serious problem. 
If your website goes down because of a problem with Varnish, this isn't necessarily a problem with Cloudways itself, but rather something you can fix by clearing the cache in the control panel. Because of this, Varnish-related downtime isn't considered in Cloudways' 99.9% uptime claim. You can, of course, choose not to use Varnish on your website.
Like SiteGround, Cloudways uses SSD-based servers and includes CloudwaysCDN for the best possible experience for your website visitors—wherever in the world they're located. Because Cloudways uses different cloud hosting solutions, the actual speed and reliability of your website can depend on the plan you choose.
And the Winner Is…
SiteGround.
With advanced caching features to speed up your website, SSD storage for your website data, and a nearly 100% uptime record, SiteGround offers the speed and reliability that you need for your web hosting.
Although Cloudways' speed may benefit from the service not using cPanel, and its range of caching options may improve speed even further, the issues with Varnish causing downtime seriously compromise Cloudways' reliability. It doesn't help that there's no automatic notification when there's a problem or that you're expected to clear the Varnish cache yourself.
Want to know more about SiteGround? Don't miss our expert review
.
Round 4: When It Comes to Features, SiteGround Leaves Cloudways Behind
There are a number of features you should check when choosing your host. These include bandwidth, storage space, the number of domains you can host, and website migration.
Cloudways
 SiteGround
Bandwidth

Data transfer is charged on a pay-as-you-go basis

Unlimited

Data Storage

Varies depending on the plan that you choose—starts at 10GB

Between 10GB and 30GB, depending on the plan you choose

Domains

Multiple—depending on the options you choose during the signup process

Unlimited on all plans except the base StartUp plan

Migrations

Free migrations are offered at certain times—these offers change throughout the year, so check before signing up

Free professional migration on all plans except the StartUp plan

Other Included Features

WordPress Cache plugin—"Breeze"

Dedicated resources

CloudwaysCDN

Auto-healing managed cloud servers (with the disclaimer that "most of the issues within the server are resolved with auto-healing restarts")

Free Cloudways SSL certificate 

cPanel

Unlimited email accounts

Cloudflare CDN

Staging tool

Dev Toolkit (including WP-CLI, SSH, PHP version control, Git integration)

Let's Encrypt SSL certificates
A word of warning regarding Cloudways' migration services:
if problems occur during the migration, it can take up to seven days for the problems to be resolved by the support team.
People have experienced issues with migration where directories have been duplicated several times, consuming vast amounts of space.
And the Winner Is…
SiteGround.
Offering unmetered bandwidth puts SiteGround ahead of Cloudways' pay-as-you-go approach. With SiteGround, you don't need to worry about how much traffic your website gets. SiteGround's migration service is also more reliable than Cloudways', and with SiteGround, you can have unlimited email addresses, too. Cloudways doesn't have its own email servers, so you have to pay a third-party service for that.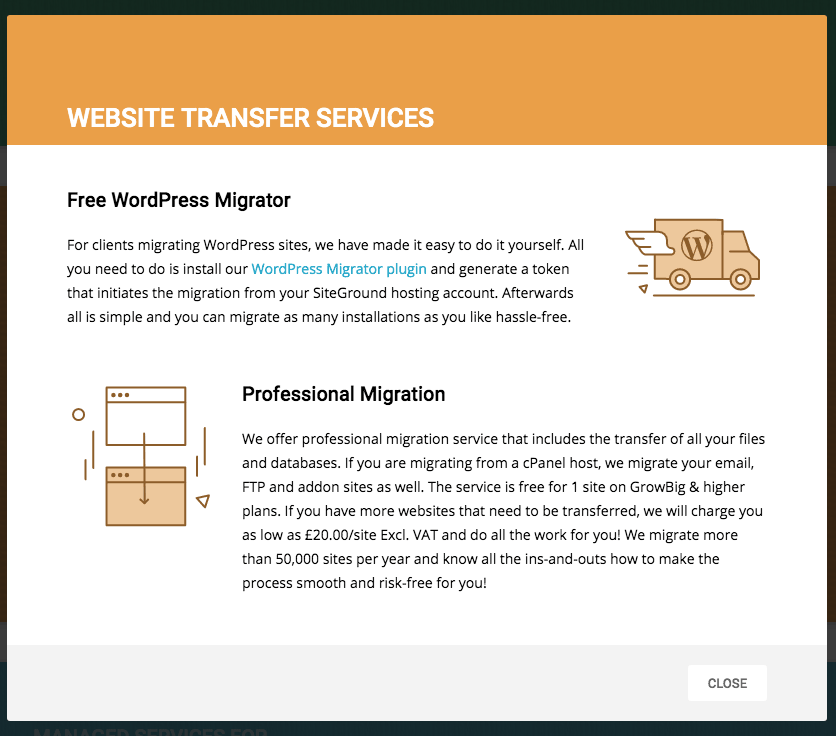 Cloudways does offer a more flexible approach to hosting, allowing you to choose from different cloud hosting platforms, but its poor reputation for website migrations isn't good for business.
Round 5: SiteGround vs. Cloudways in the Security Stakes
With SiteGround, security is taken care of to ensure that your website isn't affected by spam, hacking attempts, or data loss.
You get automated daily backups that are stored for 30 days so you can easily roll your website back if you make changes that "break" it.
The Easy Restore tool means you can restore your website in just a few clicks.
SiteGround offers unique account isolation on shared hosting plans, so that
if one account on a server is somehow compromised, the security of other accounts aren't affected
. Servers are monitored 24/7 both by humans and by the Guardian automatic monitoring system. 
Anti-hacking systems are regularly updated with new rules so that vulnerabilities are immediately patched to keep your website data secure. And custom security patches are also implemented by the development team as a proactive approach to security. SiteGround uses a custom web application firewall (WAF) and an artificial intelligence anti-bot system that blocks security threats before they reach your website.
On the other hand,
Cloudways uses OS-level firewalls to filter out malicious attacks
and also provides security patching on the operating system of your server to avoid vulnerabilities. While security is taken seriously by Cloudways, there are fewer security measures in place compared with SiteGround.
You can configure automatic backups for your server and applications with Cloudways, but
backups are not free
—the more frequently your server is backed up, the higher your backup costs will be. Cloudways charges per GB of backup storage, and your backups will be retained for a maximum of 28 days.
In addition, Cloudways uses a crowdsourcing approach to detect vulnerabilities in its platform, via BugCrowd, and works with the Debian community for operating system security and patching. There's also an application isolation system that means that issues affecting one application won't be able to compromise the whole server.
And the Winner Is… 
SiteGround.
While this is one of the closest rounds in this comparison of SiteGround vs. Cloudways, SiteGround still manages to come out on top. Security options with both SiteGround and Cloudways are similar, but SiteGround's free automatic daily backups give you much more peace of mind. Not only do you get backups at no extra cost, but the restore process is much easier with SiteGround. Cloudways doesn't provide automatic restore tools.
Cloudways loses due to charging for backups. The fee structure means daily backups kept for four weeks comes at a higher cost than weekly backups kept for just one or two weeks, which means that if you want to keep your costs down, you have to back up your site less often.
Round 6: Cloudways Can't Beat SiteGround's Customer Support
If something goes wrong with your hosting or you change a setting that somehow breaks your site, you want to know that you can call on your hosting provider's support team to fix the problems for you.
Cloudways gives you 24/7 expert support
, but users report that customer service is not great and is often slow to respond or resolve issues. Knowledge base articles are often out of date—yet customer support tends to direct you to an old knowledge base article that will lead you right back to customer support. There's limited phone support, which is only available via a call-back request, so customer service is mostly done via live chat and email.
By contrast,
SiteGround's customer service is excellent—described as one of the best in the industry
. There's 24/7 support via phone, live chat, and ticket-based email. Response times are fast on the live chat, and even with email support, you can usually get a response within 10 minutes (in my experience). 
In addition, SiteGround's knowledge base is packed with articles and tutorials to help you get the most out of your hosting package, whether you're just getting started or want to know about SiteGround's more complex features, like the SuperCacher tool. 
Cloudways' customers have reported some pretty bad experiences with customer support, including situations where
agents have refused to help unless the customer gave them a five-star rating
. This may have been a one-off, but my own experiences with Cloudways' customer support haven't been great. Response times on live chat can be slow, and it's sometimes hard to get the support agents to understand the problem you're having.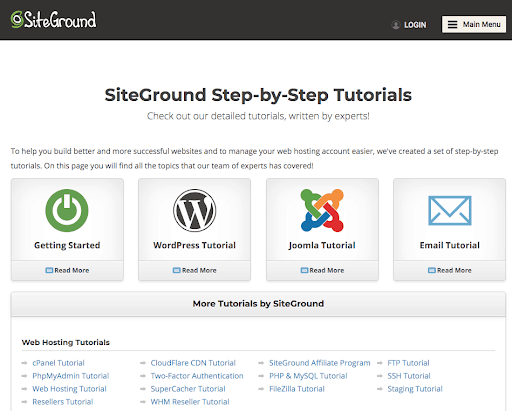 And the Winner Is…
SiteGround
. With some of the best customer service in the hosting industry, SiteGround is impossible to beat. You have a variety of ways of contacting the expert support team and agents are available 24/7. You can be sure of getting a quick response to your queries, too.
Cloudways makes great promises about its customer service, but users have found that the actual service doesn't meet up to the promised standards. The knowledge base has some advice, but be careful of out-of-date articles that can be misleading.
Is Cloudways still worth a try? You can find more information in our in-depth review
.
For the Best Hosting Experience, Choose SiteGround
SiteGround has emerged as the undisputed winner in each round of this comparison, leading to a clear and unsurprising victory. While Cloudways seemingly presents an excellent hosting solution, its subpar customer service, additional backup fees, and reliability issues relegate it to an inferior choice.
If you're looking for secure, reliable, fast web hosting, then SiteGround
 offers packages to suit every budget and need.
Knowing that you're in safe hands with SiteGround's excellent customer service team means you don't have to worry about encountering problems with your hosting space.
Cloudways does offer more options for customizing your hosting package,
with its pay-as-you-go format and choice of six cloud hosting platforms. If you have the technical know-how to solve problems without turning to Cloudways' customer service, and you're willing to turn off the Varnish cache, then Cloudways could still be an option for you. 
Pricing
Cloudways has a pay-as-you-go model — but this can end up being more expensive
SiteGround uses very clear pricing
Getting Started/Ease of Use
Using Cloudways requires more technical knowledge, such as being able to map a domain and adjust DNS settings
There's a comprehensive range of getting-started guides, and cPanel makes it simple to manage your hosting space
Speed and Reliability
Cloudways has a lot of speed-improving measures in place, but reliability issues caused by one of its caching systems is a problem
SiteGround has a near-perfect uptime record and uses a Cloudflare CDN and a proprietary SuperCacher to ensure the best possible speeds
Features
While there's a Cloudways SSL certificate offered free and a WordPress caching plugin, Cloudways' migration service is disappointing
Offering unmetered bandwidth and including features like unlimited email and free migrations on selected plans makes SiteGround a solid choice for website hosting
Security
Cloudways offers great security at the OS level to keep data secure, but it doesn't offer free backups, which is a huge downside
With top-class security and automatic daily backups that can be restored easily, SiteGround ensures that your data is protected at all times
Customer Support
Although 24/7 support is available, response times are slow and support is not always helpful
With a reputation for some of the best customer service in the industry, SiteGround is available 24/7 to solve all of your issues