high renewal fees
later on down the line. You certainly don't want to enter a long-term relationship with a registrar who
charges extra for essential features
, such as WHOIS privacy protection, SSL certification, or email integration. It all comes down to your specific needs and plans for your website. If you're planning on
transferring domains,
for instance, you'll want to know the cost is reasonable and there's not too much hassle involved. If you're coveting a domain that is unavailable at the moment,
you'll need to be able to place a backorder.
If your business needs more than the standard .com, you'll want to be sure your registrar provides a good range of domain extensions. You don't have the time to meticulously check all the different registrars – that's why we've done the research for you. We've evaluated dozens of domain registrars to bring you this list of the ten very best.
1. GoDaddy – The Widest Range of Domain Extensions

Unless you're a total web hosting newbie, you're probably already familiar with
GoDaddy
. After all, it's
the biggest registrar in the world,
with over 77 million domains to its name. You've probably also seen the rather outrageous Super Bowl TV commercials.
What You Get
As the world's biggest registrar, GoDaddy offers a massive array of domains and extensions, from the classic .com to newer extensions like .club. There's even a fun GoDaddy Auction where you can bid on pre-owned domains. If your ideal domain is already taken, GoDaddy can even help you buy it through a brokerage service. You can also place a backorder so you can grab it when it expires. If you buy domains on a regular basis, you might be interested in the Discount Domain Club: you pay an annual fee and get domains at discounted prices all throughout the year, as well as membership to
GoDaddy Auctions
and a few other perks. GoDaddy's 24/7 customer support also comes as part of the package.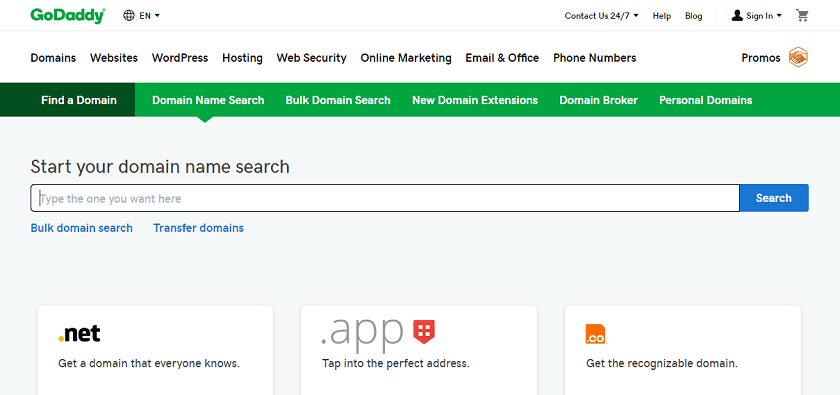 How Much You'll Pay
GoDaddy will sometimes register a .com domain for an unbeatable $0.99 for the first year. However,
there's a catch
. You have to sign up for two years and you'll be charged $14.99 after the first year. Other extensions, such as .info or .co, don't require a two-year sign-up and are often considerably cheaper. WHOIS privacy protection is
not included in the rate
. Emails that match your domain also come at an extra cost, starting at $4.99 per month for the basic package which can easily be integrated into your domain. Note that GoDaddy offers
free domains with its web hosting plans
. Easy and automated domain transfers cost $7.99.
Pros
GoDaddy's user-friendly interface and domain extension range are among the best in the industry
Plenty of bargains available in GoDaddy Auctions
GoDaddy can assist in coming up with a new name or purchasing an existing domain
Full suite of integrated online services offers incredible convenience for time-pressed professionals
Cons
Lots of upsells – WHOIS protection costs an extra $9.99 per year, for instance
Renewals can literally be up to 15 times higher than the initial price
Customer support can be hit and miss, although it has improved substantially over the years
Who It's Best For
GoDaddy is ideal for novice webmasters who'd like to purchase
all their internet marketing products in one place
, regardless of the extra costs incurred. There are plenty of add-ons that'll come in handy as your company grows, including top-notch security from Sucuri, which GoDaddy purchased in 2017. Its prices are also very affordable if you snag a promotional offer, and it runs these promotions often.
2. InMotion Hosting – An Excellent All-Rounder

Los Angeles-based
InMotion Hosting
is much smaller than GoDaddy, but that certainly doesn't mean it's inferior – we all know quantity doesn't necessarily mean quality.
What You Get
InMotion Hosting offers
Secure Transfer Locking, Automatic Domain Renewals
, and an
easy-to-use Domain Management Tool
as part of the standard kit. A reliable U.S.-based 24/7 customer support service is available to all paying customers, which is top-notch from my experience. Domains come with free easy setup, although there's no website builder included. There's also no backorder option.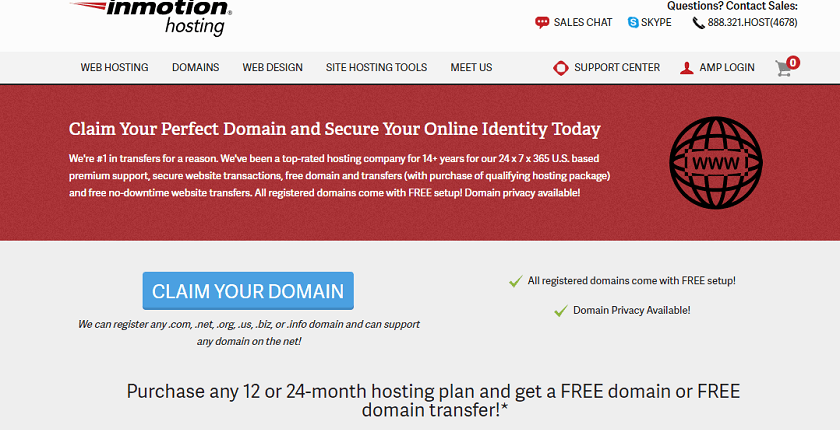 How Much You'll Pay
InMotion Hosting is first and foremost a web hosting company. To attract new customers, it's offering a
free domain registration or transfer
on any 12-24 month hosting plan. If you don't need hosting, expect to pay $15.99 per year for any .com, .net, .org, .us, .biz or .info domain. Other extensions are possible with a nameserver change. Prices vary. WHOIS privacy protection will set you back an additional $12.99 per month. Aside from that, there are no sneaky upsells or add-ons.
Pros
Free first-year domain registration and transfers with an annual hosting package
Round-the-clock, U.S.-based support is amazingly helpful with domain transfers – even transfers to a different service
90-day money back guarantee on hosting should you change your mind (the refund doesn't apply to domains though)
Cons
No email add-on available apart from hosting package
Limited range of domain extensions
Who It's Best For
InMotion Hosting is an awesome all-rounded option for intermediate webmasters. If you need web hosting anyway, you'll find the free registration and transfers particularly attractive.
3. 1&1 IONOS – Budget-Friendly, Even Without the Free SSL Certificate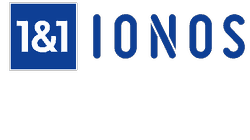 1&1 IONOS
, formerly known as 1&1, offers an impressive list of features and business solutions. Each domain comes with a wealth of free add-ons.
What You Get
Expect to receive up to 10,000 subdomains,
a free upgradable email inbox with 2GB of space, Domain Transfer Lock
, and a
free Wildcard SSL certificate
with your domain. Best of all,
WHOIS privacy protection is free
. Most other providers charge a considerable amount for these add-ons, so be sure to factor them in when shopping around. As for integration, one-click activation links your domain, email, and web hosting with ease. The transfer process appears relatively straightforward, especially with the help of the guides and support. On the flip side, there's no backorder service.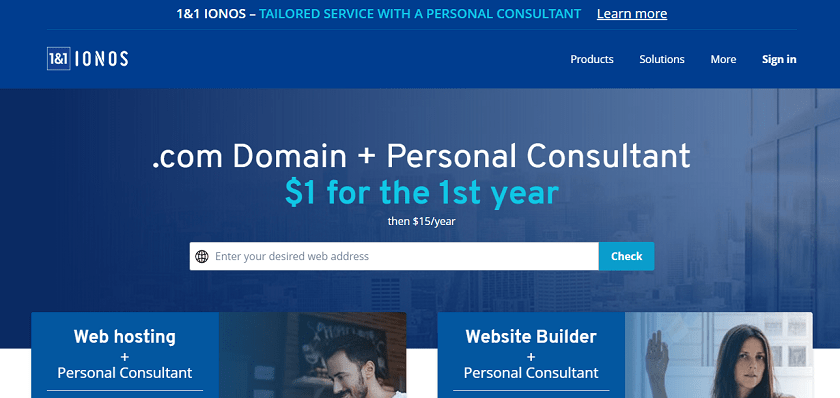 How Much You'll Pay
1&1 IONOS uses the same standard pricing tricks as most registrars, charging customers just $1 for .coms for the first year before applying an annual renewal price of $15. Different extensions are more expensive, and the renewal price increases as well. Note that most web hosting plans include free domains – the cheapest shared hosting plan.
Pros
The free Wildcard SSL certificate is a great add-on most providers charge for
You can get a variety of other free perks, such as email add-ons
A low introductory annual fee and excellent overall value for money, even with the relatively expensive renewals
Cons
Very few users have had positive encounters with their support
The overly complex user interface is not beginner-friendly
Who It's Best For
1&1 IONOS offers a bargain for
tech-savvy users
who can take full advantage of the wide range of free add-ons. If you 
combine your domain registration with a web hosting plan,
you get the best value for your money.
4. HostGator – Large and Reliable Registrar with Reasonable Fees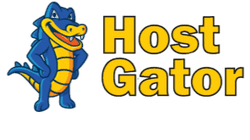 Texas-based
HostGator
 is one of the biggest players in the market. As its name implies, the company
focuses heavily on web hosting services
, which are available across a variety of plans.
What You Get
Domain Locking and Automatic Renewals are applied to domains to prevent hijacking or inadvertent expirations. The company doesn't offer a backorder service, and you can choose from a limited selection of a dozen or so extensions. The web hosting plans don't include free domain registration, but purchasing a plan does entitle you to a domain transfer and free emails, all of which can be easily integrated.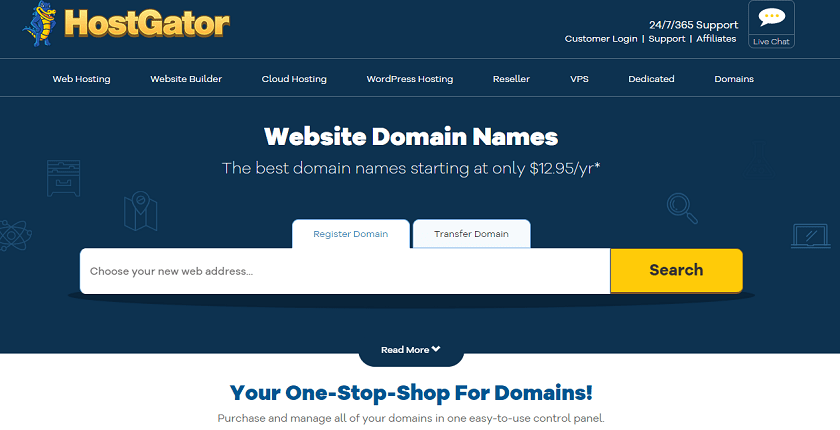 How Much You'll Pay
A .com domain with HostGator costs $12.95 per year for the initial purchase period, up to a maximum of three years. What they neglect to tell you is
that the price then jumps up to $15
. WHOIS privacy protection costs an additional $14.95, which is relatively expensive. A dozen or so other domain extensions are priced accordingly. There's a discount of about 30% for transfers, which appears to be a reasonably simple process.
Pros
Free domain transfers are available on all web hosting plans
Cheap, unmetered hosting plans if you plan on using the same registrar and web host
Reliable 24/7 live chat support, even for non-paying customers
Cons
WHOIS privacy protection comes at a relatively steep annual rate
HostGator works through a third-party registrar, whose support can be slow
Who It's Best For
Much like its web hosting, HostGator's domain registration is aimed at everyday users looking for a service they can grow their company with. A variety of add-ons (free and paid) allows users to scale their services up accordingly.
5. Bluehost – Perfect for WordPress When Combined with Web Hosting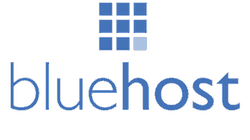 Bluehost
 manages at least two million domains, although the exact number appears to be a closely-guarded secret. The company primarily focuses on web hosting services, and is particularly popular with WordPress users due to its official WordPress.org endorsement.
What You Get
The standard Auto-Renewal, Domain Locking, and Management Tools come included with any registration or transfer. The support team, which includes dedicated WordPress experts, is available 24/7 and generally gets favorable reviews.
Transfers are tedious
and
email is integrated through web hosting rather than domains
. There's no backorder service and only half a dozen domain extensions are available. On the plus side, domain registration comes free with all hosting plans, including their remarkably cheap shared hosting options.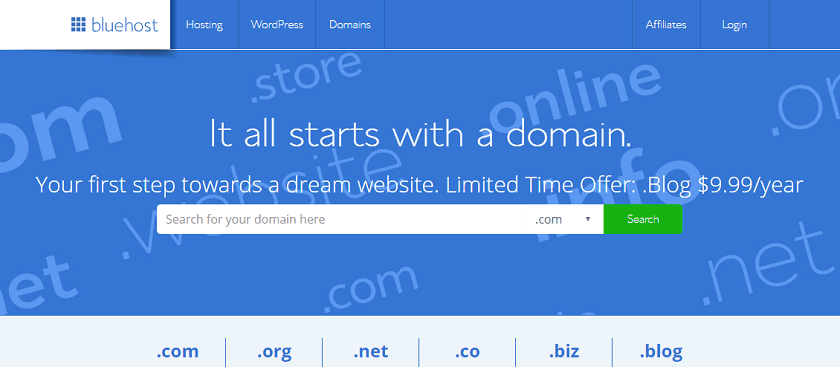 How Much You'll Pay
Unlike their hosting plans, there are
no deceptive renewal fees
to consider. Expect to pay $11.99 per year for a .com and a bit less for most other domains. WHOIS privacy protection will set you back an extra $0.99 per month, or $11.88 per year. Other extras, such as SiteLock Security, CodeGuard Basic and Bluehost SEO Tools, cost $2-3 per month.
Pros
Free domain registration for the first year with any hosting plan
Official WordPress.org endorsement makes Bluehost ideal for WP users
Transparent domain pricing with minimal added fees
Cons
Limited selection of TLD extensions
No free WHOIS privacy protection
Who It's Best For
Given Bluehost's strong focus on WordPress and free one-year domain registration with any hosting plan, it's a wise and economical choice for new websites that use the world's most popular content management system.
6. Namecheap – Cheap Domain Registrations and Free WHOIS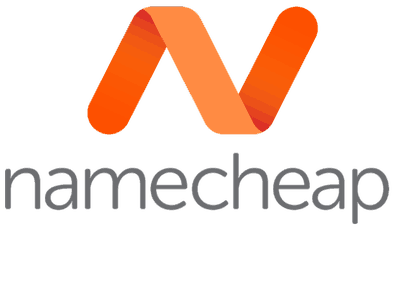 I often wonder if
Namecheap
chose this domain because the more grammatically correct cheapname.com was already taken. Nevertheless, the company does exactly what it promises –
selling domain names for cheap
.
What You Get
Namecheap boasts a highly functional yet easy-to-use domain search tool. There's also an innovative marketplace with specials on lesser-known extensions for under a dollar. Most of this "bargain bin" selection is trash, however.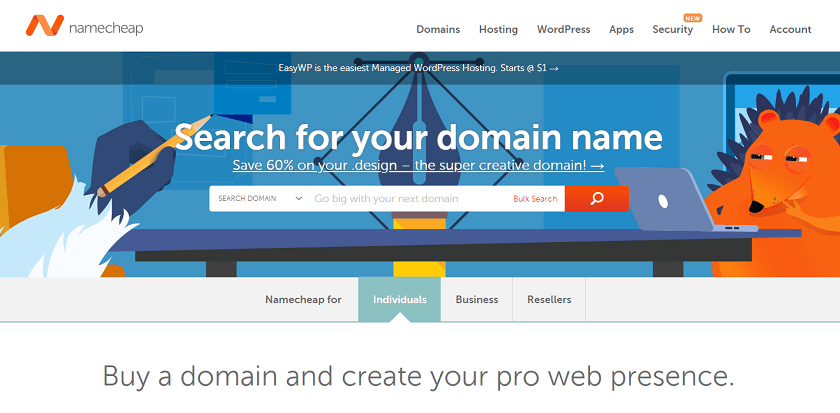 How Much You'll Pay
Namecheap is true to their name, seeing as .coms go for a very reasonable $8.88 per year. The renewal price of $10.98 is still affordable. Better yet, WHOIS privacy protection is completely free and their PositiveSSL certificate costs only $1.99 for the first year. You get a custom domain email thrown in for free as well, but only for the first two months.
Pros
A professional email add-on is included free with personal domains
Transparent pricing is incredibly cheap compared to the competition
WHOIS privacy protection is free with every eligible domain registration
Cons
The top-tier DNS service costs an additional fee
Add-ons such as PositiveSSL and emails come with increased renewal fees
Who It's Best For
Namecheap is ideal for users who just want to register a domain name for a good price – especially if WHOIS privacy protection is a must.
7. Hover – Free WHOIS and an Innovative Search Function

Hover is a
dedicated domain registrar
, which means they don't bother messing around with web hosting. And by focusing on their core business, they're able to offer a fantastic service for a reasonable price.
What You Get
The first thing you might notice about
Hover
is their neat search function that allows you to filter by category. Consequently, you'll get stacks of names and domain extensions you wouldn't have thought of otherwise.
Email forwarding or custom domain mailboxes are available at reasonable rates
, and there are some pretty nice specials on offer for the rather wacky looking .xyz extension. WHOIS privacy protection and customer support come as 
part of the packaged deal
.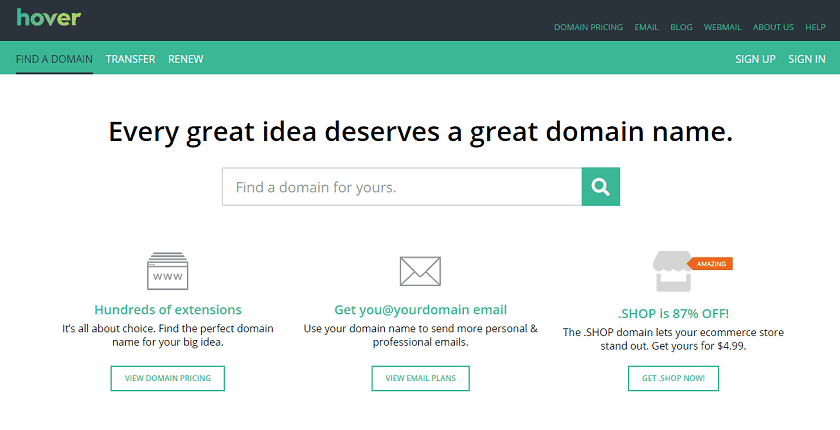 How Much You'll Pay
A standard .com costs a very reasonable $12.99 to register or transfer or $14.99 to renew, although you don't get as much value for money with other extensions. Through Hover, you can also easily integrate your domain with popular website builders or platforms like Weebly, Squarespace, Ghost, and Wix.
Pros
WHOIS privacy protection included for free with all eligible domains
The search function is handy at finding cool alternative domains
There's a nice little bulk-buy discount if you register ten or more domains
Cons
Customer support not available 24/7, though it's top-notch
No fully-integrated platform for web hosting or SSL certificates
Who It's Best For
Hover is a great registrar for folks who manage a large number of domains and don't need web hosting.
8. Google Domains – Cheap, Transparent, and Easy to Use 

Google is everywhere – even in the domain registration business. As you would expect from the renowned tech giant,
Google Domains
does the job well and charges transparent and reasonable rates.
What You Get
Google has adopted a streamlined approach to selling domains, meaning you'll be able to
navigate from search to checkout in a few seconds flat
. A dizzying array of extensions are available to choose from and WHOIS privacy protection gets thrown in for free.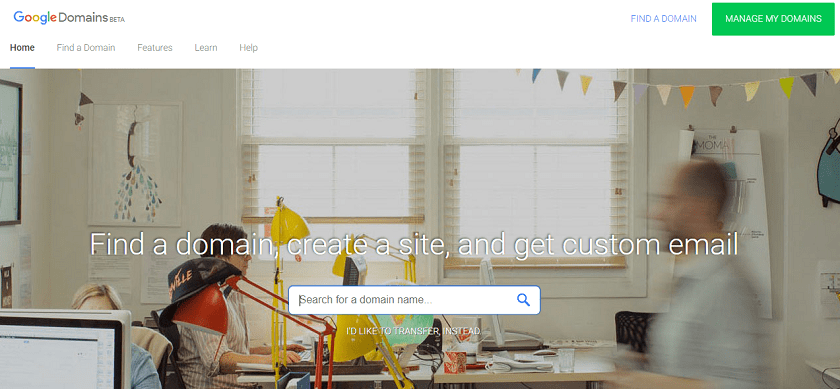 How Much You'll Pay
At $12 for a yearly .com registration, Google works out to be in the middle range compared to other options on our list. Nevertheless, be sure to factor in the free WHOIS as well as the time you can save through their no-nonsense approach.
Pros
A simple and familiar interface makes registering extremely easy
No added extras or tricks – prices are rounded down to dollars instead of cents
Excellent customer support available through a variety of channels
Cons
Mid-range rates with no special deals
No web hosting option to combine with your domain
Who It's Best For
Love Google's other products and want to streamline your services? Then Google Domains is the best option for you,
even if it does cost a bit extra each year
.
Google Domains is run by the king of search engines.
GoDaddy
 is arguably the king of cheap domains. Is Google Domains a good fit for domain registration? Is GoDaddy a one-size-fits-all solution?
Click here to read our detailed comparison
, and find out which one comes out on top!
9. Dynadot – A Cheap and Cheerful Registrar with Stacks of Added Extras

Dynadot
focuses its efforts on
providing a ton of nice freebies
on top of their already low registration rates. However, as far as hosting is concerned, Dynadot only offers VPS plans.
What You Get
Dynadot offers a lot of cool extras with its domains. The best, of course, is
the free WHOIS privacy protection
. In addition to that, you will also benefit from other perks like having internationalized domain names (including non-ASCII characters), the availability of an account transfer lock, and the added security of a two-factor authentication. Moreover, you will be provided with ten complimentary email aliases and extensive high-level DNS support. The platform boasts an intuitive interface and includes a website builder, though it's important to note that this feature comes with an additional cost. It's even got a
five-day deletion grace period
, which means you can get your domain back by paying a small fee within a five day period.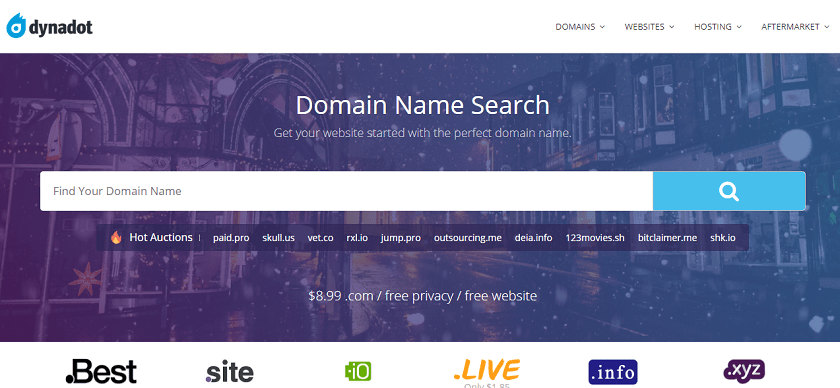 How Much You'll Pay
Dynadot is very reasonably priced
, with registrations and renewals of .com domains for $8.99 and transfers for $8.35. If you're a bulk buyer, you can get even better rates. Need SSL? That'll cost a bit more, at $16.99 per year.
Pros
Stacks of extra functionality added in for free
Very reasonable rates even before the bulk buying discounts
Free WHOIS privacy protection included with all eligible domains
Cons
Difficult to pair with a web hosting service
Customer service response times are not as good as larger companies
Who It's Best For
Dynadot is ideal for
bargain hunter registrants that don't need much technical support
. If you can take advantage of all the bonuses, you'll find the company to be a particularly good deal.
10. Name.com – Cheap and Transparent Pricing with Lots of Extra Add-Ons Available

Name.com
, a registrar who became a web host, has racked up a sizable portfolio of some
two million domains
.
What You Get
Name.com provides bulk search options, email/URL/social forwarding tools, and advanced security features. DNS management and two-step verification are
nice freebies as well
.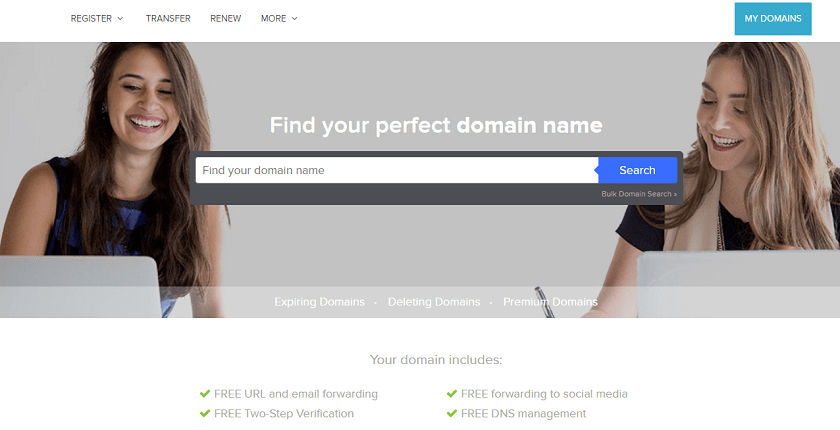 How Much You'll Pay
Your standard .com costs $8.99 to register, $12.99 to renew, and $7.99 to transfer, while a variety of other extensions – including non-English characters – are priced accordingly. WHOIS privacy protection, SSL certification, and a domain transfer lock combined cost an extra $9.98 per year. G Suite, a website builder, and basic webmail are available as paid extras.
Pros
A wide range of useful add-ons for a relatively cheap yearly fee
Several free tools can be used for a variety of purposes
Enough credit to register most domains free with any 12-month hosting plan
Cons
Slightly more expensive than other registrars out there
Live chat and phone support not available 24/7
Who It's Best For
Fans of G Suite can get a sizable discount for the popular email suite with Name.com, so if reasonably-priced domain registration and top-notch email hosting is what you're looking for, this is a solid choice.
Where Should You Register Your Domain?
Here's a quick comparison table.
| | | | | | |
| --- | --- | --- | --- | --- | --- |
| | Initial Yearly Registration Fee (.com) | Renewal Fee | WHOIS Privacy Protection | 24/7 Support Available | Email Add-on? |
| GoDaddy | $0.99 (with promo) | $14.99 | Paid | Yes | Yes (Paid) |
| InMotion Hosting | $15.99 | $15.99 | Paid | Yes | Only with hosting |
| 1&1 IONOS | $1 | $15 | Free | Yes | Yes (Free) |
| HostGator | $12.95 | $15 | Paid | Yes | Only with hosting |
| Bluehost | $11.99 | $11.99 | Paid | Yes | Only with hosting |
| Namecheap | $8.88 | $10.98 | Free for first year | Yes | Yes (Free for two months) |
| Hover | $12.99 | $14.99 | Free | No (Mon-Fri 8am-11pm EST, Sat+Sun 8am-8pm EST) | Yes (Paid) |
| Google Domains | $12 | $12 | Free | Yes | Yes (Paid) |
| Dynadot | $8.99 | $8.99 | Free | No (Office hours only) | Yes (Paid) |
| Name.com | $8.99 | $12.99 | Paid | No (Office hours only) | Yes (Paid) |
The bottom line is that if you're looking to get your very first domain, you'll need a registrar that's
inexpensive up front, but has plenty of features you can grow into
. If you're looking for a full domain and hosting package, we recommend GoDaddy –
read our extensive review here
. They've got a scale that few other providers can compete with, allowing them to run fantastic promotions multiple times a year as well as procure an ever-growing selection of features to better serve their customers. That said, all of the above registrars have great qualities of their own, and should be evaluated according to your long-term objectives and budget. Looking for domain name ideas?
Click here for the best domain generators.