viable PayPal alternatives
, most turn to it because of its
simplicity of use, convenience, global recognition, and security
. However, one aspect where it doesn't get many points is fees.
PayPal's fees are among the highest in the industry
, especially for international transactions. When you want to invoice a client, it pays to know how to calculate them. Literally.
How PayPal Fees Work
PayPal fees are always fair… At least that's what it says on the PayPal fees page. In reality,
PayPal is far from transparent and user-friendly when it comes to fees
, and there are multiple sources on its website you need to consult just to be sure. Before you think to yourself there's a better way, let me just state the obvious: Yes, there are various PayPal fee calculators out there that can quickly determine fees when sending or receiving money through the platform. These support domestic and international fees, but most only calculate for the U.S., not other countries. Plus, it's questionable how often they're updated as
PayPal is constantly revising its policies to keep up with changing regulations and compliances
. For instance, the fees page was last updated two weeks from the time of writing, so being lazy can cost you money. In any case, the fees page does its best to explain various fees and instances when they're applied. However, if you live in a country that doesn't have a dedicated local page (like mine), then you need to
go through the legal agreements, most notably the User Agreement
for PayPal Services and find the information there. As a freelancer, the company charges fees when you receive money in return for the service provided. Since the relationship between you and a client is that of the buyer-seller variety,
PayPal treats you as the seller in this case, so a Commercial Payments fee will apply
. PayPal classifies Commercial Payment as any payment for the sale of goods or service or any payment sent to or received by a business or other commercial or non-profit entity.
The Equation
The fee structure is a combination of a transaction percentage and a fixed currency fee. It looks like this:
x.x% + fixed fee = total fee you have to pay
For both domestic and international payments, the fixed fee remains the same, while the transaction percentage is slightly higher for international payments. PayPal has extraordinarily unorganized tables for these fees, which you'll see in just a moment.
Let's say your monthly bill is $1,000 (a nice, round figure to make calculations easy) and you're receiving it in the United States from a local company. First, when you look at PayPal's table for different countries and regions, you'll see that you have to pay a 3.4% transaction fee: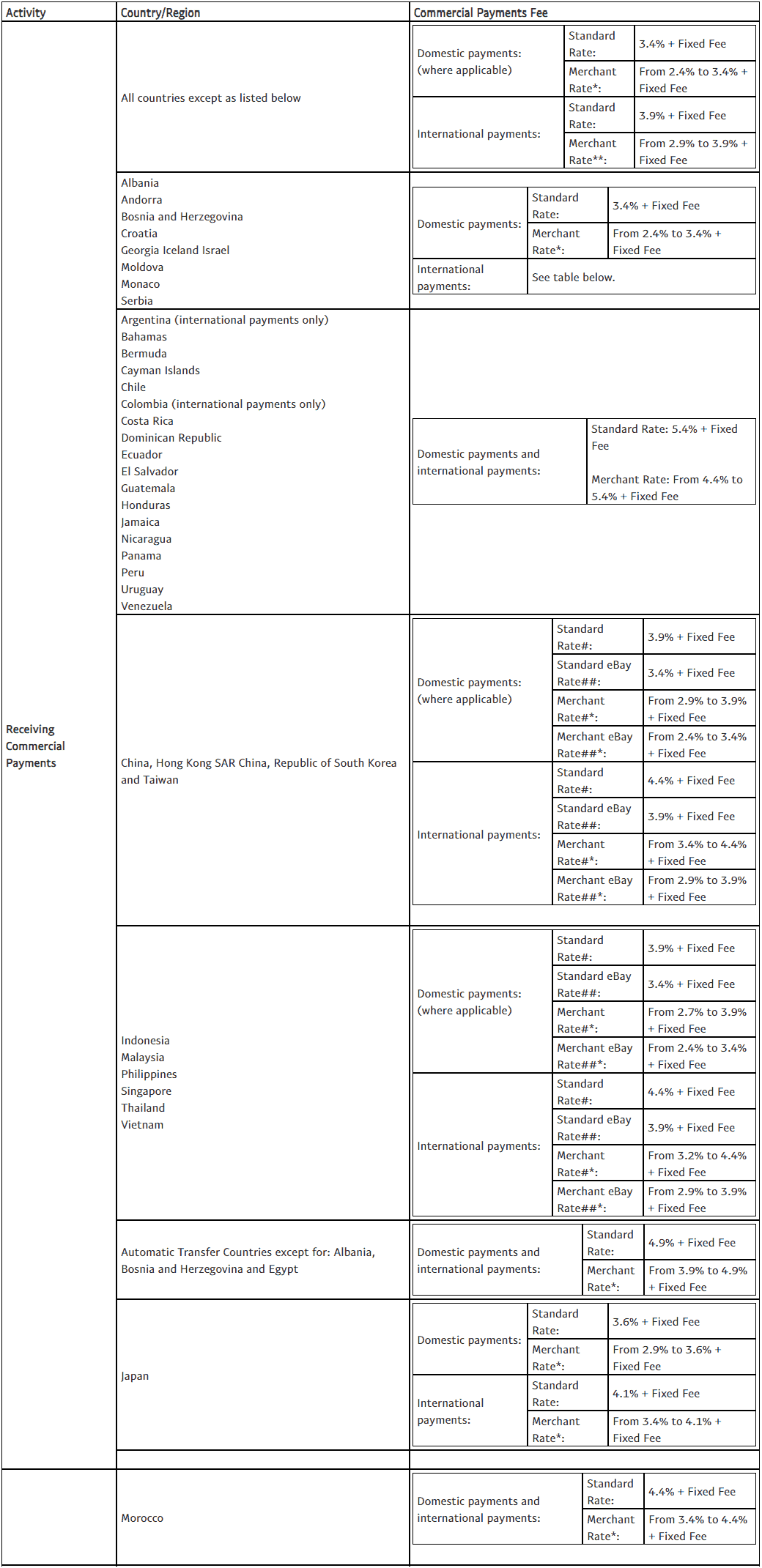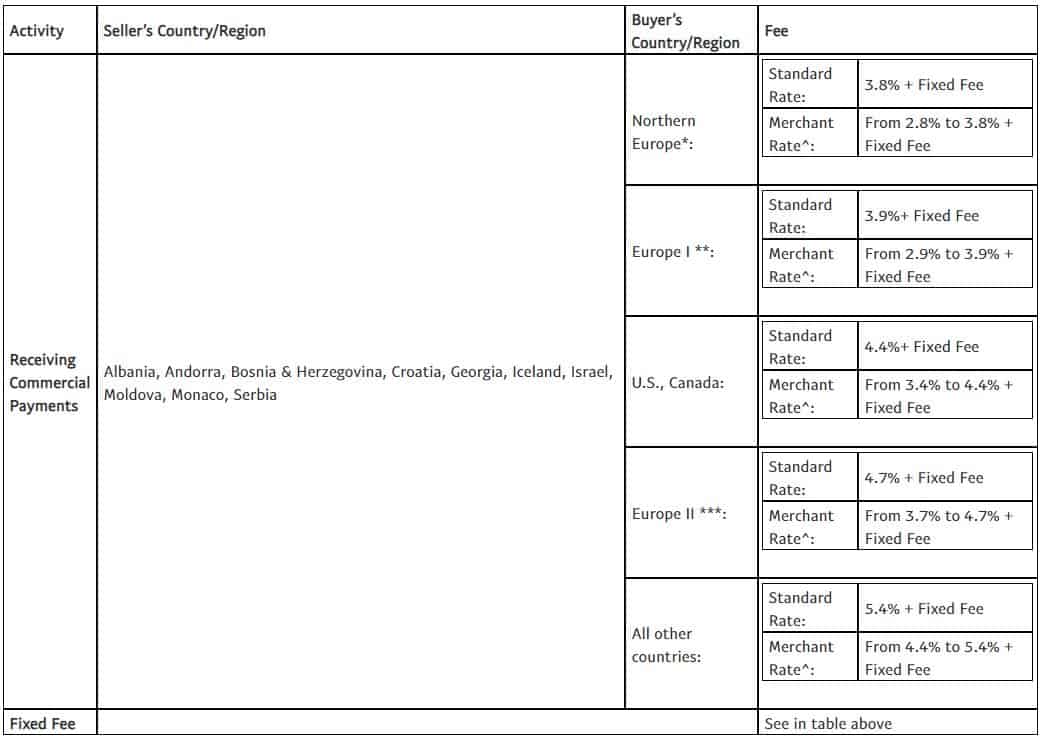 Next, you need to take a quick glance at the Fixed Fee table: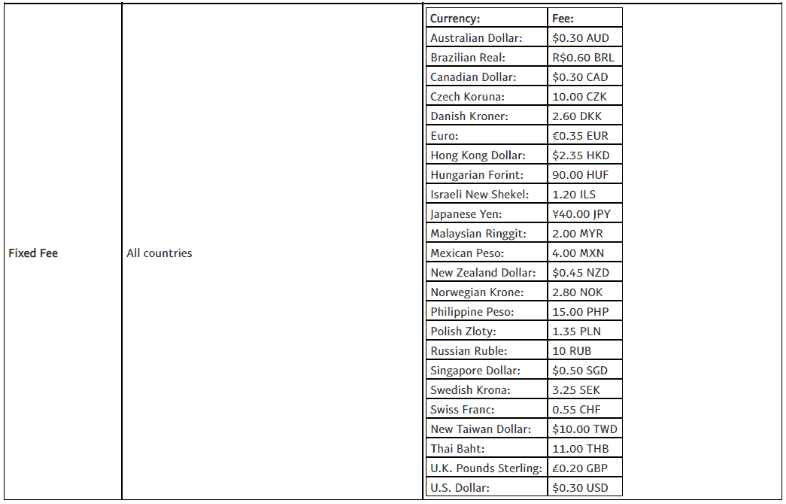 When receiving Commercial Payments, the buyer's country also plays a role as fees vary on a per country basis
. As the client is also from the U.S., that makes the fixed fee $0.30. The final tally would be $34.3, as 3.4% of $1,000 is $34 and then add the $0.30 fixed fee. If the client were international, the equation would be 3.9% (the transaction fee for international payments) + the relevant fixed fee (according to the client's country).
International payments are just a little bit more complicated due to the possibility of the client's country entailing a fixed fee with a different currency
. In that case, just convert the figure into your main currency to approximate the total fee. With multiple clients comes a lot of back and forth between these two tables, but it's a piece of cake once you go through a few calculations.
The Big Question: Do You Bill These Fees?
Clients that automatically cover these fees are usually rare and a lot of it has to do with how you position yourself at the beginning of the professional relationship.
The majority of clients likely don't even think about these expenses because they've never been communicated
. You can either think of it as goodwill or a bonus for the client and just let it slide, or you can find ways to make up for these costs, depending on how you're handling your business:
Calculate your freelance platform fee based on your PayPal fees. For instance, if you're working on Upwork or a similar freelancing platform, you can add a little extra to your hourly rate or project fee to make up for the difference
Include PayPal fees on your invoices, if you're working independently of such platforms. The additional cost could either be listed on top of your work (e.g. $52 per blog post vs. $50) or as a separate cost (e.g. $2 transaction fee)
Be Upfront About Your Fees
Transparency stands as the cornerstone in this matter. I favor elucidating the concept of "unbillable hours" among us freelancers. This concept encompasses a significant portion of our time spent in client communication and pitching ideas, tasks that frequently go uncompensated. Ensuring that this discussion takes place as early as feasible is crucial. This approach prevents your pricing from appearing imposing or exaggerated. Clarify that a portion of the funds is directed towards platforms like PayPal, Upwork, and similar services, rather than being an unjust appropriation. Remember, you have every right to retain the maximum possible share—after all, your hard-earned efforts justify it!
---
Sources and Image Credits
https://unsplash.com/photos/5IiH_UVYdp0
https://www.paypal.com/vn/webapps/mpp/ua/useragreement-full#exhibit_A