When it comes to price, these two hosts are on different ends of the spectrum.
On one end you have Bluehost's no frills, low-cost hosting plans with a few free perks thrown in for good measure. On the other end, there's WP Engine and its much more expensive plans that offer value-added features and high performance suitable for websites of all types and sizes. Is it worth paying extra for WP Engine's bells and whistles? In this instance, I'd say yes. My testing revealed that WP Engine has superior hosting features and customer support that really make a difference.
Additionally, Bluehost may not be as cheap as it first appears – it's filled with hidden charges, upsells, and high renewal fees
. However, it wasn't a clear-cut victory. There were some areas where Bluehost actually came out on top.
Take a look at WP Engine's best features
, or read on to see how these hosts fared in our head-to-head showdown.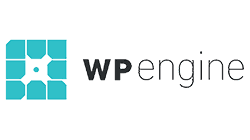 Save up to 20 % on your WP Engine plan!
Limited-time offer - Don't miss it!
84 users used this coupon!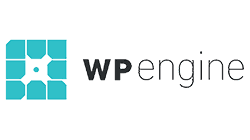 Save up to 20 % on your WP Engine plan!
Copy and paste this code at WP Engine
1. Plans and Pricing
Bluehost Is the Cheapest Option by Far
Bluehost offers a number of hosting types, including shared, managed WordPress, VPS, and dedicated servers. On the other hand, WP Engine only focuses on managed WordPress. To keep things fair in this comparison, I'll mainly focus on Bluehost's managed WordPress plans.
Bluehost WordPress Hosting
A free domain name is included with some hosting plans from Bluehost
WP Engine offers four tiers for WordPress plans – Managed Hosting, Managed Hosting Plus, Secure Hosting, and Ecommerce Hosting.
With shared resources, Managed Hosting is the cheapest option, while the other, more expensive tiers come with extra features. For example, Managed Hosting Plus features a plugin manager, while Secure Hosting includes an extensive security solution.
Bluehost offers three managed WordPress plans: Build, Grow, and Scale.
With 20GB of storage and up to 50,000 monthly visitors, Build is the budget option. Grow and Scale plans include more resources, premium licenses for the JetPack plugin, SEO tools, and a higher level of support. It's worth noting that
the Build plan is a little more than half the price of WP Engine's cheapest managed hosting plan
. Additionally,
Bluehost's Build plan includes more storage space and supports a higher number of visitors than WP Engine's basic plans
. Because of this, I'd say
Bluehost offers better value for your money
 – if you're careful. Bluehost pre-checks premium add-ons during the checkout process, and saddles you with trials that automatically renew unless you remember to cancel.
2. Features
WP Engine Offers More Exciting Features for WordPress
When looking at the features on offer, it's apparent that Bluehost is rather lacking. While there are some nice bonuses here and there, such as a free domain for a year and higher storage space,
Bluehost doesn't really offer anything too special, especially in regard to WordPress
. For example, with the Managed Hosting Plus and Secure Hosting tiers,
WP Engine offers a Smart Plugin Manager
.
This automatically tests every new plugin update using AI, and updates are only applied if no issues are detected.
This saves you a lot of headaches, and it's just the kind of thing you'd expect from a premium managed WordPress host. On the other hand, Bluehost doesn't offer any kind of plugin management. In fact, managed service boils down to simple automatic updates for your core WordPress installation, which I found to be pretty lackluster. Both hosts offer automatic daily backups, but Bluehost doesn't allow you to make backups on-demand unless you pay for the expensive Scale plan.
WP Engine allows you to create backups whenever needed – you can easily restore any of your last 40 backups with a few clicks.
I'd definitely say that
WP Engine is the stronger host for WordPress
.
Bluehost
WP Engine
Hosting types

Shared, managed WordPress, VPS, dedicated servers

Managed WordPress

Free domain name

✔

✘

Free SSL

✔

✔

Number of websites

1 – unlimited

1 – unlimited

Storage

20GB – unlimited

10GB – 500GB

Bandwidth

Unmetered

50GB – 500GB per month

Control panel

cPanel

Proprietary

Free CDN

✔

✔

Managed WordPress

Daily backups, automatic updates (core only), malware detection and removal, staging environment, Jetpack Personal/Professional, SEO tools,  advanced analytics, WP-CLI/SSH access, PayPal integration

Daily backups, automatic updates (core only), malware detection and removal, staging environment, Jetpack Personal/Professional, SEO tools,  advanced analytics, WP-CLI/SSH access, PayPal integration

Daily and on-demand backups, automatic updates (core and plugins), malware detection, development and staging environments, advanced analytics, SSH access, 10 premium themes

Money-back guarantee

30 days

60 days (for Startup, Professional, Growth, Scale and eCommerce dedicated custom plans)
3. Performance
WP Engine Guarantees Reliable Uptime, but Bluehost Offers No Promises
While Bluehost doesn't specify the location of its data centers, WP Engine is much more forthcoming with this information.
It offers multiple data centers across North America, Europe, Asia, and Oceania, covering a substantial portion of the globe.
Both hosts include a free basic CDN regardless of the plan you choose, along with caching technology.
WP Engine uses a proprietary caching solution named "EverCache," which automatically caches all the static content on your site
.
Bluehost also includes a proprietary caching system along with the free JetPack plugin
, which comes with image CDN and compression. If you upgrade to the Grow and Scale plans, you'll also have video compression available. Overall, both hosts offer a similar degree of performance optimization features. However, reliability is a different story. WP Engine offers a strong 99.95% uptime guarantee, with compensation in the form of service credits if this promise is not met.
As for Bluehost, it doesn't offer any form of legal uptime guarantee
. If your site goes down for a few hours, or even a whole day, you won't be compensated for this downtime. For this reason, I'd say WP Engine is the safer choice. It's the more trustworthy option when it comes to uptime.
For more information, check out our WP Engine review
. Bluehost may appear a bit unreliable, but to be fair, our tests revealed decent speeds and uptime.
You can see the results in our Bluehost review
.
4. Security
Bluehost Features a Free Security Suite, While WP Engine Charges a Premium
This is where WP Engine's performance becomes somewhat lackluster. As previously noted, WP Engine offers a hosting tier called Secure Hosting – a branding choice that might not be ideal, as it indirectly suggests potential insecurity with other tiers, a notion that could be somewhat accurate. WP Engine's Secure Hosting plans use the Global Edge Security solution. This includes DDoS attack mitigation, along with a managed web application firewall to protect against hacks and malware. This is nice stuff –
but without shelling out more money for this level of security, WP Engine will only protect your site with a basic server-level firewall.
As for Bluehost, it includes a comprehensive security solution with all managed WordPress plans.
SiteLock automatically scans for vulnerabilities and patches them automatically. You also get automatic malware removal, a web application firewall, and an email alert service to notify you of any suspicious activity.
Bluehost is certainly the more secure option
, and you won't even need to pay a penny extra.
5. Support
Bluehost Drags Out Conversations with Needless Upsells, WP Engine Offers Fast Responses
Bluehost offers 24/7 live chat and phone support for every plan, while WP Engine only offers 24/7 live chat as standard.
WP Engine's phone support is only available for more expensive plans, which is disappointing.
Setting this aside, I decided to try out the live chat support with some basic questions. I reached out to the Bluehost support team and was pleasantly surprised by their quick initial response time. Upon entering a brief description of my issue, I instantly connected with an agent. Sadly, this responsiveness didn't continue into the rest of the conversation. I found myself waiting 1-2 minutes between each response. It doesn't sound like much, but
with a few questions and some back and forth, the chat lasted 38 minutes – much longer than it should have been
.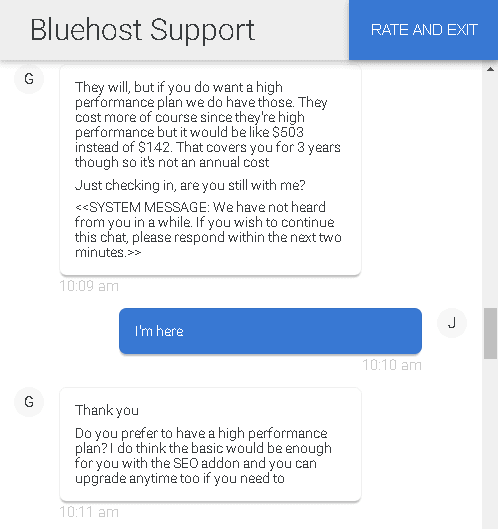 The agent was eager to help, but they didn't seem too technically informed. Additionally,
the agent attempted to upsell me to a higher performance plan
after I enquired about performance in Asia. They did state that they thought the basic plan would be enough for my needs, but it still felt rather pushy. As for WP Engine's live chat, I found it to be a much faster experience. Response times were prompt from start to finish – though sometimes, it was a little
too
quick.
Some of my questions were met with a simple "yes" or "no" response, which wasn't too helpful.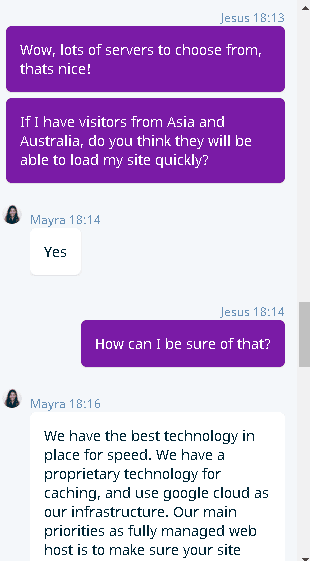 On multiple occasions, I found myself having to nudge the agent for further details. I got satisfactory responses when I did, but it still would've been nice to receive comprehensive answers the first time around.
Unlike Bluehost, there were no attempts to upsell
when I asked about performance in Asia, which I appreciated. Overall,
I'd say WP Engine offers the superior support service
, despite the lack of phone support in the basic plans.
WP Engine Is the Superior WordPress Host
This was a surprisingly closer race than I first envisioned, but ultimately, I have to say that WP Engine is the better option of the two.
WP Engine is more reliable
 and features a stronger level of management for WordPress.
It also isn't as eager to upsell at every turn, unlike Bluehost. But is WP Engine the best host out there? I wouldn't say that.
Some hosts, such as Hostinger, offer comparable performance and features at much lower prices
. In fact,
Hostinger is several times cheaper than Bluehost
. If you're looking for a great managed service for WordPress, WP Engine is still a good choice. But I'd still advise you to take a look at our list of
the best web hosting services in 2023
for our top recommendations.
Plans and Pricing
Much cheaper overall, but has hidden charges and add-ons that automatically renew at high prices
Several times more expensive than Bluehost, but no upsells or hidden charges
Key Features
Disappointing level of managed service, along with no on-demand backups – though you'll get a free domain and more storage space
Impressive AI-driven plugin management with a flexible backup solution
Performance
Good performance with some proprietary caching tools but no uptime guarantee
EverCache caching system offers a significant speed boost and there's a 99.95% SLA uptime guarantee
Security
Comprehensive SiteLock security solution included for free
Little security features unless you pay extra for the Secure Hosting tier
Support
Good initial response time for live chat but slow responses that drag out conversations
Quicker responses for live chat that can sometimes lack detail, and no phone support for basic plans
FAQ
Is Hostinger better than WP Engine?
Hostinger offers managed WordPress plans at much cheaper prices than WP Engine, while still offering superior performance and reliability. While it lacks some advanced features offered by WP Engine, such as a plugin manager, it's definitely worth considering. Hostinger is also very user-friendly, which is a plus if you're new to website building.
Why is WP Engine so expensive?
A big part of WP Engine's premium prices stems from its comprehensive managed service. Hosts that provide less management features tend to be much cheaper. If you're looking for some great WP Engine introductory deals, take a look at our coupons and deals page.
Is Bluehost a good host for WordPress?
Bluehost isn't a bad host for WordPress – but it doesn't bring anything unique to the table. In terms of service, its managed service only covers the bare minimum, like core updates and automatic backups. You can find better hosts for managed WordPress in our list of the best web hosting services in 2023.
Is WP Engine fast?
WP Engine provided good speeds in our tests. However, it isn't the fastest out there. Some managed WordPress hosts, such as Kinsta, managed to be even faster. That's why it's the top host in our list of best WordPress hosts in 2023.