Giving your web development clients free reign to choose their own web hosting providers can lead to problems.
For instance, it may force your web development team to work across several different account dashboards and control panels. But more importantly, it can lead to lower client satisfaction. For example,
your agency has probably run into the type of client who purchases the cheapest GoDaddy WordPress plan, then blames you when their website loads slowly
. Or they think that it's your fault their massive WooCommerce site keeps going down, even though they chose a vendor with a bad reputation for uptime.
That's why I'd recommend partnering with a good-quality WordPress hosting provider.
A reliable and reputable host should give you the ability to build and manage all of your client sites through a single dashboard, and should give you all the development and management tools you need. Best of all, by choosing a quality hosting partner, your clients will be even happier than they would already be with your dev work alone! I tested as many WordPress hosts as I could find with hosting plans and features for agencies – read on to find out which are the best for your business.
Short on Time? These Are the Best WordPress Hosts for Agencies in 2023
Hostinger – High-performing, great-value shared WordPress hosting with generous SSD storage for lots of client sites
IONOS – Free Partner Program with expert support and a customer management interface
Kinsta – Best and most reliable WordPress performance for high-end clients
What We Look For in the Best WordPress Hosts for Agencies
In my analysis and testing, I focused on the following qualities – all of which are critical to your success as an agency providing hosting to your clients.
Great performance and reliability.
You could design a beautiful, responsive website for your client, but frequent downtime and slow loading speeds will ruin it for visitors. I only listed hosts that delivered good results in our performance tests.
Easy WordPress management.
Quality WordPress features will help keep your client sites running smoothly long-term, without the need for constant intervention from your team. This can be via hardware or software optimizations, smart plugin updates, or bespoke tools from your chosen hosting partner.
Powerful development tools.
Without development-specific tools and features, it'll be a struggle to meet client demands. I've picked hosts with a variety of developer-friendly options, so you should be able to find one that suits your (or your dev team's) style.
Flexibility.
Even if you're building websites for a specific industry, the tech and resource requirements of each project will likely vary. I've leaned towards hosts that offer adequate resources to begin with, and the ability to scale up or down as necessary.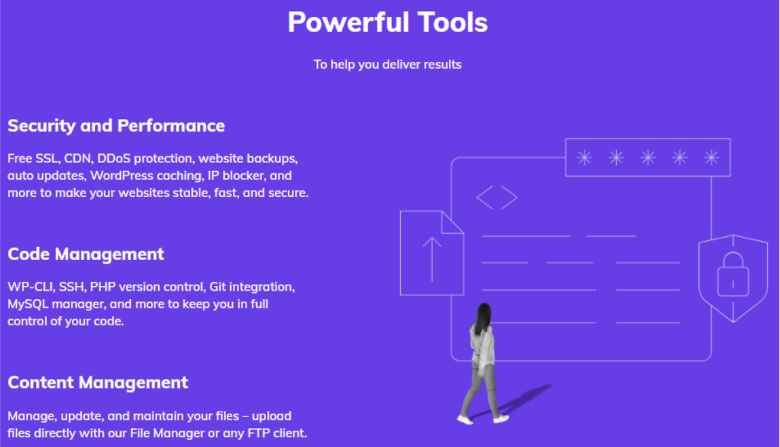 We've found Hostinger to be one of the best-performing shared hosting providers out there – and
its Agency plan prices are very low
compared to most of the competition
. If you serve clients looking for anything from landing pages, blogs, and business brochure sites to medium-sized e-commerce sites or high-quality professional portfolios, you'll find good value here.
These plans are powered by LiteSpeed Enterprise web server software and the LiteSpeed Cache for WordPress plugin
, which thoroughly optimizes your clients' WordPress sites for performance, right out of the box. The low prices mean that Hostinger doesn't provide much in the way of billing or customer management tools, but
you can micro-manage access to specific areas of the account
and the control panel for your team or your clients.
The least expensive Agency Starter plan
allows you to host up to 100 WordPress sites with 200GB of total storage.
That said, there is a recommended traffic volume limit of 100,000 visitors per month across all your sites. Hostinger claims that resources will scale to meet surges in traffic, but at these prices, you'll want to keep the total visitor limits in mind.
Hostinger Reseller Hosting
A free domain name is included with some hosting plans from Hostinger
Features
Easy-to-navigate control panel. Hostinger uses a proprietary control panel called hPanel, which is clean and responsive. Your team and your clients should have no trouble using it, and it offers a wide array of development features, like SSH access, WP-CLI, and Git integration.
24/7 server monitoring and auto-healing. All servers are monitored. If an issue is detected, automatic self-healing scripts will attempt to fix the issue, and support engineers will be notified.
Automatic daily backups. Hostinger offers automatic daily backups with all plans. If a client breaks something on their website, you'll be able to roll it back to a previous version.
Priority support. You'll receive priority support with Hostinger's Agency plans, meaning you get access to Hostinger's expert support faster than anyone else. Even better, your agency's clients also get priority support.
Need more information? Read our expert Hostinger review.
Data Center Locations
1 in the US, 3 in Europe, 2 in Asia, 1 in South America
Types of WordPress Hosting
Shared, WooCommerce, agency hosting, VPS, cloud
Money-Back Guarantee
30 days
Starting Price

$

3.99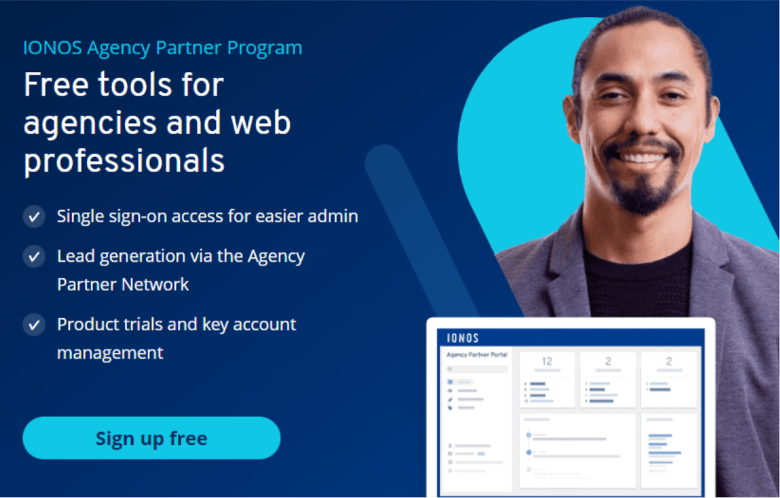 1&1 IONOS offers big benefits to web development agencies
– especially if you're a new business that's still looking to get a foothold in the industry. For example, you'll get discounts on hosting products, allowing you to save money while you build your client list. Furthermore,
IONOS lists partner agencies on its Partner Network for free
, which allows you to be found by prospective clients. For these and other benefits,
all you need to do is sign up for the IONOS Partner Program, which is completely free with the purchase of any hosting plan
. This includes the shared plans, most of which allow for the hosting of an unlimited number of websites – within the reasonable limits of shared hosting, of course. If you have a handful of high-end clients with big websites and bigger expectations,
I'd recommend the WP Pro Agency plan
, which provides dedicated cloud hosting for up to ten websites on an NGINX-driven platform
with advanced caching for all types of WordPress site content.
A free domain name is included with some hosting plans from IONOS
Features
Specialized partner portal. If you sign up for the IONOS Partner Program, you get access to a specialized dashboard that allows you to manage your clients' web hosting, domains, email, and billing, all in one place.
Scalable performance. You can add extra RAM, PHP processes per minute, and performance enhancements to IONOS shared hosting plans at any time.
Free product trials. On top of the free credit and discounts, the Agency Partner Program also gives you access to free trials of various 1&1 IONOS products. You'll also be able to test new products without charge before they are released to the wider customer base.
Dedicated account manager. All of IONOS' agency partners receive a dedicated account manager who will be your preferred point of contact for any queries.
Check out our 1&1 IONOS review to learn more.
Data Center Locations
2 in the US, 4 in Europe
Types of WordPress Hosting
Shared, WooCommerce, VPS, dedicated, cloud
Money-Back Guarantee
30 days
Starting Price

$

1.00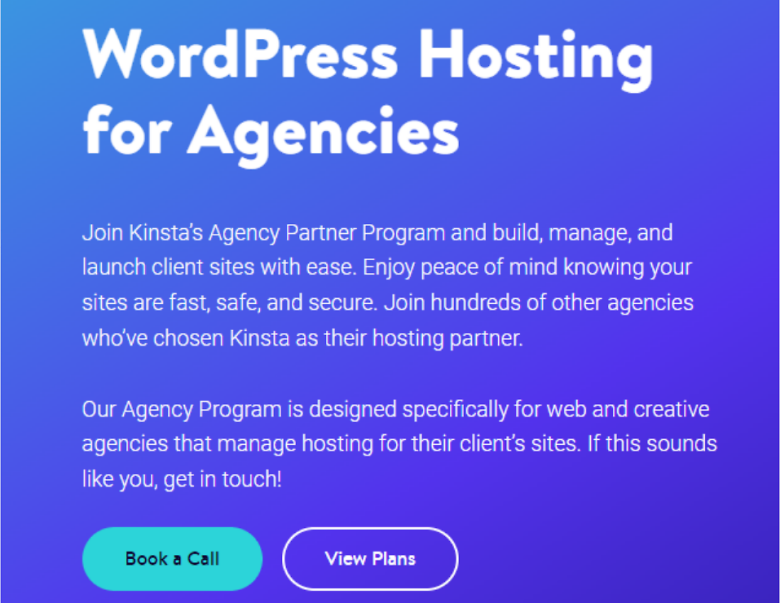 If you are working with client sites that require the very best performance, I recommend Kinsta. In our tests,
Kinsta delivered impressively rapid loading speeds – some of the fastest we've ever seen from a WordPress host
. In addition, there was never a single instance of downtime across several months of testing.
Kinsta's platform is hosted on Google Cloud's state-of-the-art server network.
To enhance performance further, Kinsta has applied its own rigorous WordPress optimization and performance enhancements, which include a custom implementation of the NGINX web server and multiple levels of content caching for fast page loading.
Kinsta offers specialized plans for agencies
, which come with perks such as unlimited hands-on migrations and free hosting for your agency's website, not to mention Kinsta's expert support team to help you with troubleshooting whenever you need it. The only downside? Premium features and top-tier infrastructure don't come cheap – Kinsta is the most expensive option on this list.
Features
Lots of data centers. Kinsta offers over 30 of Google Cloud's data centers for your clients to choose from. This ensures that their sites will reside on servers near to their target audiences.
Local WordPress dev tool. You'll also have access to DevKinsta, a local WordPress development suite. This lets you work on client websites in your own work environment instead of on the server. When you're ready, you can push any changes to the live site with a single click.
Hack fix guarantee. If any of your client sites are ever compromised, Kinsta will restore them for free. Kinsta will also scan for and remove any malware on every site you migrate. This, in addition to a robust, wide-ranging security suite, ensures your clients' sites remain 100% secure.
24/7 uptime monitoring. Kinsta monitors all sites on its platform for instances of downtime. Checks are performed every two minutes – if a site is experiencing issues, measures will be taken immediately to bring it back online.
For more details, read our comprehensive Kinsta review.
Data Center Locations
9 in the US, 2 in Canada, 10 in Europe, 2 in Australia, 1 in the Middle East, 9 in Asia, 2 in South America
Types of WordPress Hosting
Managed WordPress and WooCommerce, WordPress agency hosting
Money-Back Guarantee
30 days
Starting Price

$

24.00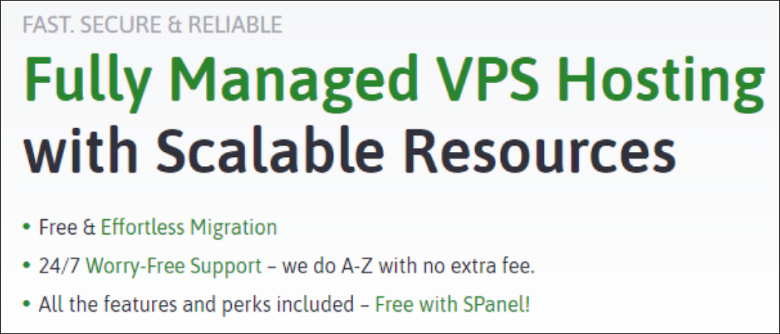 Some hosts offer commissions for every client you bring over to their services. While this tends to be a small percentage,
Scala Hosting pays $300 for every new client
– even if they buy the cheapest shared hosting plan.
This is a great deal, especially for agencies that prioritize clients who only need basic websites. But Scala Hosting actually retains its overall value for high-end clients too.
If your client purchases a premium solution that costs more than $300 in the first six months, you'll instead get 100% of that initial six-month revenue.
While Scala Hosting offers a few reseller plans with from 20 to 60 cPanel accounts each,
you'll get better value overall from the managed VPS plans
if you don't mind using the proprietary SPanel. Each of them come with low-latency NVMe SSD and unmetered bandwidth.
A free domain name is included with some hosting plans from ScalaHosting
Features
SShield security. The AI-driven SShield security suite automatically blocks 99.998% of web attacks and monitors each of your client sites 24/7 for malicious activity. If any intrusions are detected, you'll receive a full report with advice on how to fix the underlying vulnerability.
White labeling. Scala Hosting's SPanel can be fully white-labeled – meaning that you can replace all existing branding with your own. In addition, you can set up your own private nameservers using a domain name of your choice.
Fast setup. Upon purchasing a reseller plan, you'll get access to your account in under a minute. Then, your clients' WordPress sites can be migrated by Scala Hosting's experts immediately.
Domain reselling. Scala Hosting also allows you to resell domains, allowing you to get an extra stream of revenue. You can purchase domains in bulk for a discounted price.
Want to know more? Get all the details in our Scala Hosting review.
Data Center Locations
2 in the US, 1 in Europe
Types of Hosting
Shared, WooCommerce, self-managed VPS, Managed VPS, reseller hosting
Money-Back Guarantee
30 days
Starting Price

$

20.00

Nexcess offers commissions for every client you bring over, just like Scala Hosting. However, there's a difference –
Nexcess will pay ongoing commissions
for the lifetime of each client account
. Bringing a lot of clients to the Nexcess platform can become a major revenue stream. But there's more to Nexcess than just an enticing commission offer.
Nexcess specializes in managed WordPress hosting with useful premium features and plugins.
These include daily automatic off-server backups, single-click site staging, a premium security suite, and a premium page builder plugin. These features, alongside Nexcess' specialized NGINX-driven hosting platform, do incur higher-than-average fees. But
these scalable WordPress plans are very well-suited to hosting client sites
with variable traffic
, as short-term traffic surges are included in the cost of the plan.
Features
Smart automatic plugin management. All Nexcess plans offer an AI-driven plugin manager. Whenever there is an update for an active plugin, the AI will clone all of your client sites that use it in order to test the update for issues. Then, its effects on site performance will be monitored over time, and you'll be provided with progress reports.
Free auto-scaling. All Nexcess plans include 24 hours of free auto-scaling per month. Server resources are automatically increased to deal with short-lived traffic surges, and you don't pay any extra for this.
Great WooCommerce support. Nexcess also offers managed WooCommerce plans with features specific to the platform. Most notably, you'll be able to provide your clients with in-depth sales performance analytics, cart abandonment prevention options, and various conversion optimization tools.
Exclusive agency directory. If you start earning more than $12,001 annually from commissions, you'll be included on Nexcess' Partner Directory, bringing additional leads and prestige to your agency.
Read our Nexcess review for a complete analysis.
Data Center Locations
4 in the US, 3 in Europe, 1 in Australia
Types of WordPress Hosting
Managed WordPress and managed WooCommerce
Money-Back Guarantee
30 days
Starting Price

$

21.00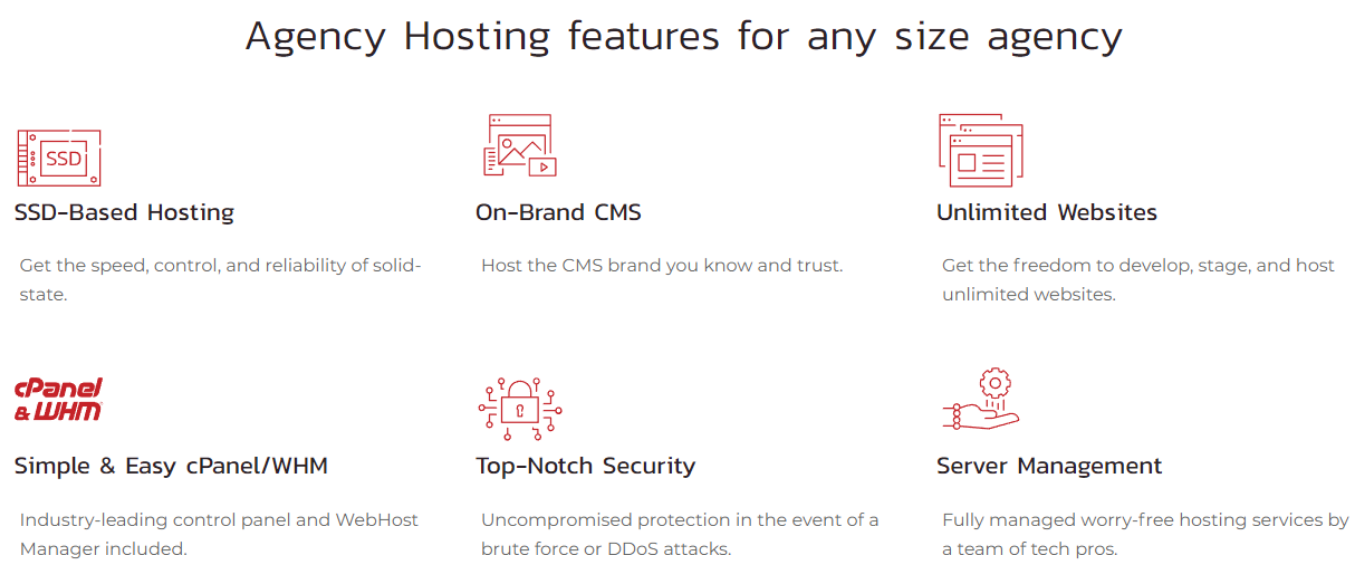 All of the above vendors tend to use their own control panels and client management solutions, and while they are all good in their own right, they may take some time to learn.
If you'd rather just stick with the standard WHMCS and cPanel, InMotion Hosting could be your best bet.
The cheapest reseller plan comes with 25 cPanel licenses, with up to 80 in the top shared reseller plan.
There is also a VPS-based reseller plan which starts with five cPanel licenses, and you're expected to pay for each new one as you require it. This may be preferable if you're hosting a smaller number of more complex or resource-heavy sites.
InMotion Hosting's reseller plans also come with generous bandwidth and storage allocations
, along with unlimited email accounts for you and for your clients. The servers are managed, but WordPress itself isn't, so you may be putting in a little more work configuring and maintaining your clients' sites.
InMotion Hosting Reseller Hosting
Features
Managed VPS with root access. You have the option to host your clients on a managed VPS, which provides significantly more reliable performance. Our team can handle server configuration for you, while still granting you root access should you wish to assume control or implement customizations.
Softaculous auto-installer. Softaculous is included with all cPanel installations. This gives you (and your clients, if you wish) access to 400+ apps, scripts, and development tools – all of which can be installed with a single click.
100% white-labeled. You can replace all branding in cPanel with your own. InMotion Hosting also lets you set up your own private nameservers using a custom domain name.
Long 90-day money-back guarantee. If you purchase a six-month or longer plan, you'll have 90 days to test whether InMotion Hosting is right for your business. If it isn't, you can get a full refund, no questions asked.
Like to know more? Take a look at our InMotion Hosting review.
Data Center Locations
2 in the US
Types of WordPress Hosting
Shared, WooCommerce, reseller hosting, VPS, cloud hosting, dedicated servers
Money-Back Guarantee
90 days
Starting Price

$

21.39
What's the Best WordPress Hosting Service for My Agency?
Each of the mentioned WordPress hosting providers can give agency-friendly service and high performance for your clients' websites
. But, they might not all be a good fit for your specific business. If you're uncertain about which one to pick, here are my suggestions.
If you're an agency that works with many smaller or low-traffic sites,
Hostinger is your best value option
. It offers the fastest shared WordPress hosting on this list, along with plenty of resources and support for lots of sites.
If you're the new agency on the block,
try IONOS
.
You can take advantage of various perks in its free Agency Partner Program, and it frequently offers very generous discounts to new customers.
If you work with high-end clients,
go with Kinsta
.
It offers the best performance and reliability on the list by a significant margin, and its agency-friendly approach will benefit your team and your clients. Still unsure? Take a look at the table below for a side-by-side comparison.
Standout Feature
Commissions?
Agency Directory?
Starting Price
Hostinger
Best shared WordPress performance with generous resources

✘

✘

$

3.99

IONOS
Great discounts, and Partner Program

✘

✔

$

1.00

Kinsta
Best performance and reliability overall

✘

✔

$

24.00

Scala Hosting 
Biggest flat commissions for new clients

✔

✘

$

20.00

Nexcess
Best potential for long-term commission revenue and premium WordPress features

✔

✔

$

21.00

InMotion Hosting
Best value WordPress host with WHMCS & cPanel

✘

✘

$

21.39
FAQ
Which is the best host for WordPress?
This largely depends on your clients' needs, as well as your agency's size and niche. If most of your clients have basic, low-to-medium-traffic sites, Hostinger's shared Agency plans may be all you need. Whereas if your agency builds mission-critical websites for high-end clients, it will likely be better off with a premium solution from Kinsta.
Is managed WordPress hosting worth it?
Managed WordPress hosting can definitely be worth the higher price. After all, it lowers the amount of maintenance, support, and admin you'd need to perform on your client's sites. Many of the hosts on our list of the best web hosting services in 2023 offer managed WordPress services – take a look if you'd like to know more.
Does Hostinger offer site staging?
Yes – Hostinger allows you to create a staging environment for any of your client sites. To do so, simply access your client's hPanel instance. From there, you'll be able to create a staging area in just a few clicks.
Which host has the best tools for developers?
I'd say Kinsta is one of the best for WordPress development, thanks to its free DevKinsta tool. This allows you to develop, redesign, or debug your client's sites in a completely local environment. Once done, all changes can be pushed to production with a single click.