the highly modular Azure system can be complicated,
and when you really start burning some CPU cycles, it can get expensive. So
why not just get yourself a regular Windows server backed by cloud technology?
Linux nut though I am, I'm not here to judge. I'm here to help.
The five tried-and-tested Windows cloud hosts on this list are designed to get your website, app, or remote desktops up and running
with minimal fuss. There's also a budget-priced, non-cloud Windows server option at the end.
Short on Time? These Are the Best Cloud-Based Windows Hosts in 2023
Kamatera – Reasonable prices and maximum customization.
Scala Hosting – Powerful, flexible, self-managed Windows cloud servers.
Liquid Web – Highly-scalable cloud hosting with dedicated account managers.
What We Look For in the Best Cloud Hosting for Windows
With plenty of cloud hosting options out there, it can be hard to figure out how to narrow them down. These are the things we look for in any Windows host:
Security. Windows is better about security than it used to be, but any internet-connected machine needs a little help staying safe. We chose hosts that provide the tools needed to keep your site up at all times.
Good support. Bugs happen, as do DDoS attacks. Updates can break bits of your code, and cause other frustrating issues. When these things happen, you really want to be able to talk it out with a knowledgeable support team.
Convenience. Sometimes you just wanna click a button and have stuff happen. We looked for hosts that offer control panels, managed server options, and other features that'll make your life easier.
Easy scalability. When the Reddit effect hits the fan – and your website – you'll want to be able to accommodate the increased traffic fast. These hosts will all allow you to scale or upgrade as necessary.
1.

Kamatera: High-Powered Cloud Hosting (Not Just) For Enterprise Use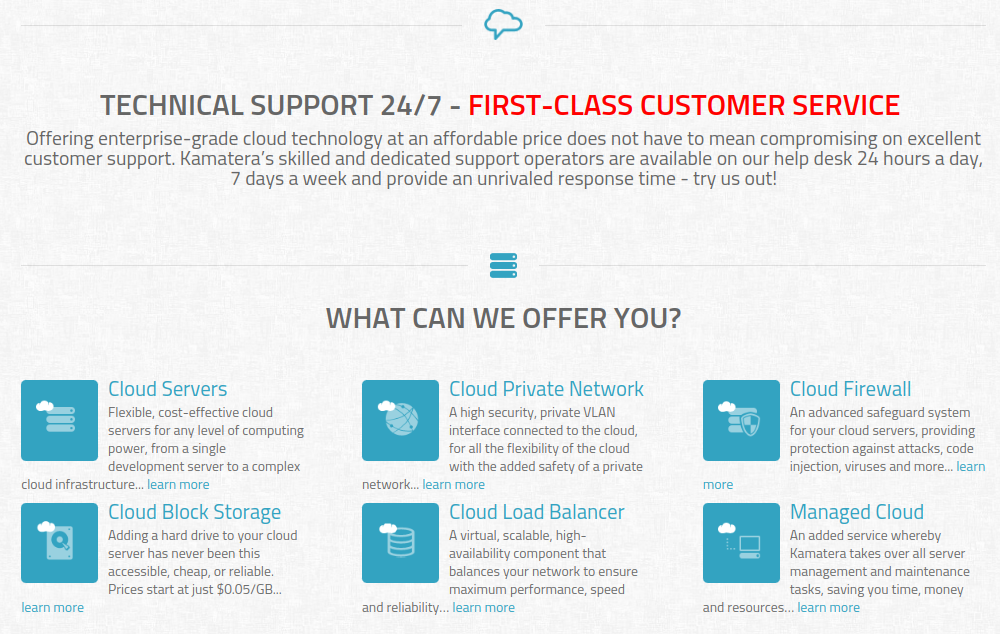 Kamatera graces the top of our list because it offers enterprise-targeted cloud services with all the bells and whistles at
prices a small-to-medium sized business can afford.
Plus, those prices are transparent, and you pay only for the features you need. Kamatera does have good support, but – our only gripe – you have to pay for the managed hosting to get it. On the other hand,
there is a managed hosting option, so you don't have to do any basic server management if you don't want to
. If you like the smell of Redmond in the morning,* then Kamatera is almost certainly the right choice for you.
* For people who don't literally have tech dreams in their sleep, Redmond, WA is where Microsoft HQ is located.
Features
Windows Server versions from 2012 to 2022. If you need to run something that's ill-supported on the most recent version of Windows Server, you can choose an older version. Or, if you want the latest and greatest, go for it.
Control panel options. Choose what works for you between cPanel and Plesk. They're both great and familiar options.
Add-ons. Install remote desktop software to manage your server with ease, run databases with Microsoft SQL, install Microsoft Office on your remote desktop, and more.
Multiple IPs. Use one IP for your web server and another for admin access. Or assign different IPs to different groups of users for easier permissions management.
Read our expert Kamatera review for more details
.
Custom plans
Yes
Support
Email, phone, chat, ticket
Managed hosting option
Yes
Starting price

$

4.00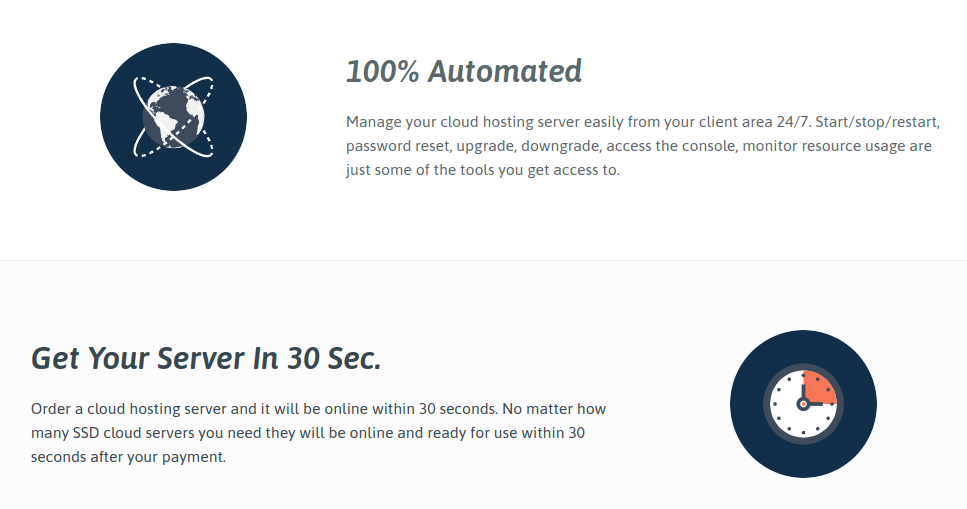 If you're comfortable managing your own server,
Scala Hosting offers fair prices on straightforward, cloud-powered Windows VPS hosting.
Instances spin up in 30 seconds, and three copies of your data will be available on the server grid at all times. Physical servers have redundant network connections backed by dual power supplies to ensure consistent uptime. Even if they won't manage a server for you (not Windows servers, anyway),
the support team is available 24/7, and we've had pretty good experiences with them overall.
If you're the kind of person who mostly wants your web host to stay out of the way, Scala Hosting is a suitable option.
A free domain name is included with some hosting plans from ScalaHosting
Features
Control panel options. You can get cPanel/WHM licenses for up to 1,000 accounts. This makes it easy to run a hosting reseller business or simply to host sites for your own web design clients.
Backup space add-on. You can let Scala Hosting handle your long-term backup solution by purchasing backup space directly. Having backups on another service isn't a bad idea, but this is much more convenient.
Automation. While you're expected to handle server maintenance yourself, there are tools in place to make that easier. Scala Hosting's client control panel allows you to automate basic tasks, such as upgrades and downgrades.
Totally customizable. A slider system allows you to customize resources on your Windows cloud VPS at setup.
Read our expert Scala Hosting review for more details
.
Custom plans
Yes
Support
Email, phone, chat, ticket
Managed hosting option
No (not for Windows)
Starting price

$

20.00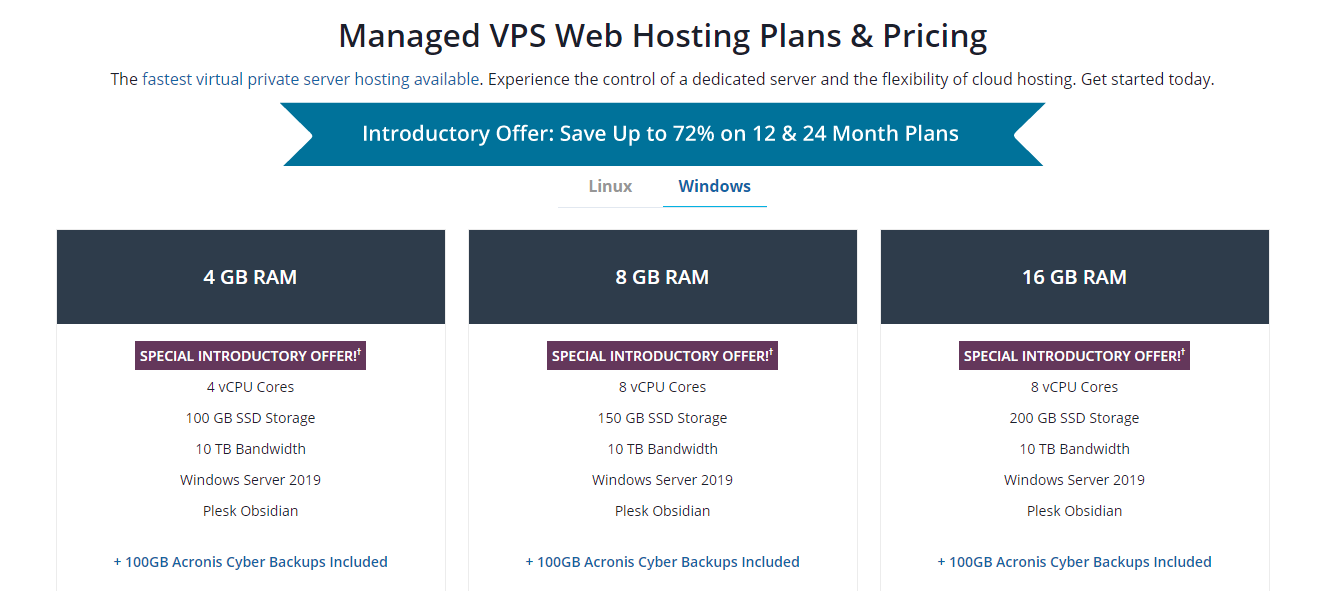 Liquid Web is a leader in the cloud hosting space, and for good reason. It has
a track record of great performance, reliability, and (in our experience) absolutely fantastic support
. I really can't say enough good things about the team and the managed hosting services. Off-server backups are included by default, alongside robust security protection with options for Windows-specific add-ons for additional security. Full management is available at a small monthly premium. Plans are calculated on monthly, annual, or biennial terms, and as you might have expected, longer terms offer better discounts.
If you have the budget, Liquid Web's Windows cloud VPS hosting is completely worth it.
Features
Control panel options. Choose between InterWorx, Plesk Web Pro, and cPanel Pro for your server management needs. So many ways not to use the command line… Even for me, that's often a bonus.
Dedicated account managers. One frustrating part of dealing with support can be getting multiple agents up to speed with your situation. Liquid Web's dedicated account managers help you to get around that.
Same-day setup. It'll take more than Scala Hosting's 30 seconds, but same-day setup is still a darned convenient thing. When you need fully managed cloud hosting in a hurry, Liquid Web is the way to go.
Root access available. In spite of the extensive managed support options, Liquid Web still allows full root access.
Read our expert Liquid Web review for more details
.
Custom plans
Yes
Support
Chat, ticket
Managed hosting option
Yes
Starting price

$

15.00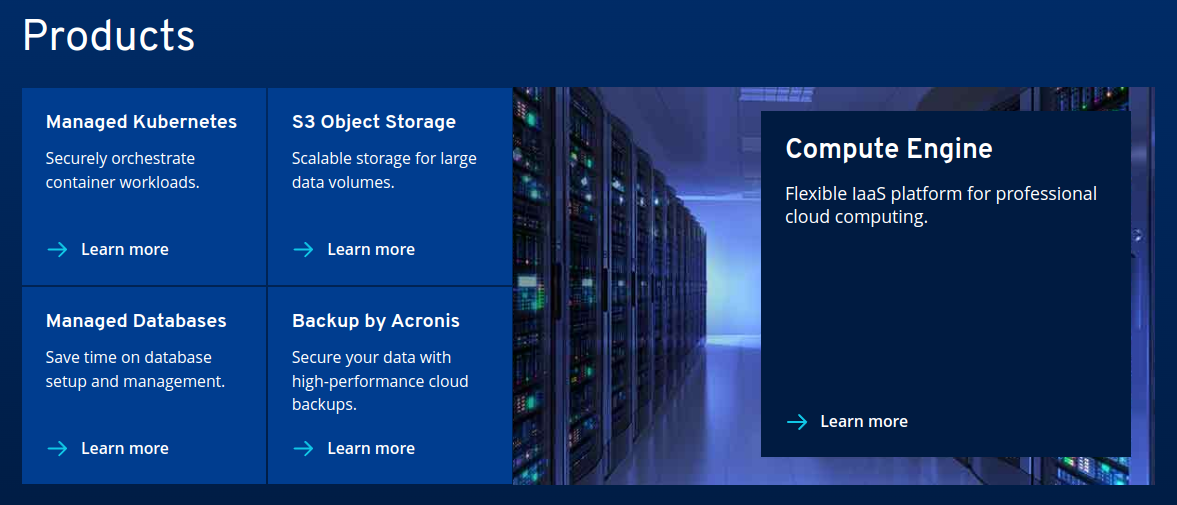 1&1 IONOS's big selling point is that it offers highly-customizable solutions for whatever obscure need you might have. Windows-based solutions are, by their nature, a bit more obscure than the usual hosting options, so it's helpful if your host is an expert in doing out-of-the-ordinary things.
The 1&1 IONOS Cloud Data Center Designer
allows you to choose and configure your hardware resources,
storage, preinstalled Windows version, security software, load balancers, and more.
1&1 IONOS also manages a very large server network,
with 10 global data centers and over 90,000 servers. It's a solid option for large or complex Windows cloud hosting deployments.
Features
Resource-based pricing. Only pay for what you use. As an added bonus, there are no fixed contracts, so in the unlikely event that IONOS isn't working out for you, you can just migrate to another service.
Professional consulting. The 24/7 support is nice, but you can also get professional cloud consulting to help you develop the solutions you need before you need them. This advice comes free.
Backups and S3 Object Storage. Backups come by default to keep your data safe. You can also get S3 Object Storage to boost the total storage capacity of your data hosting.
Live scaling. Increase or decrease resources quickly using a visual interface in the Data Center Designer.
Read our expert IONOS review for more details
.
Custom plans
Yes
Support
Chat, email, phone
Managed hosting option
Yes
Starting price

$

4.00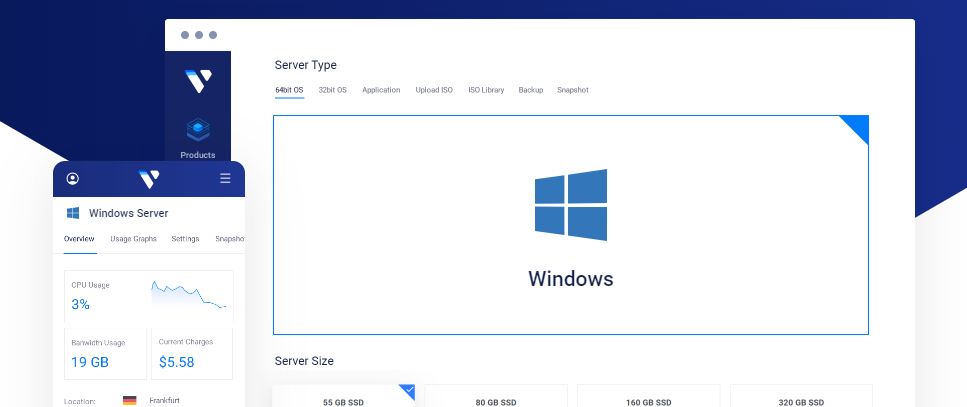 Vultr offers
variable instance and Windows license pricing options, from
budget cloud hosting solutions to plans targeted at enterprise customers.
Basically, if you need it, Vultr can do it.
Vultr doesn't just let you pick and choose your resources individually
– this is a plan-based approach, similar to Liquid Web, which will save you time if it works for your project. However,
it does offer a huge range of Windows Server versions,
as well as the option to upload your own ISO.
Features
Pre-configured servers. You can get Windows servers that are set up from the start to be optimized for a variety of needs. These include general use, CPU-intensive tasks, RAM-intensive tasks, and storage.
Auto backup. It's an extra option, but you can add automatic backups with every plan. As a person who tends to hit "Control-S" every thirty seconds or so while working, I recommend it.
Handy add-ons. DDoS protection costs extra, but not by much, and it's always worth it. What's free are the extra IPv6 optimization features, if you need that sort of thing.
Cloud GPU. Some tasks and calculations are best performed by a graphics card. If you want to, for example, set up a remote, Windows-based render server for Adobe Premiere, Vultr is the place to go.
Read our expert Vultr review for more details
.
Custom plans
No
Support
Ticket
Managed hosting option
Yes
Starting price

$

5.00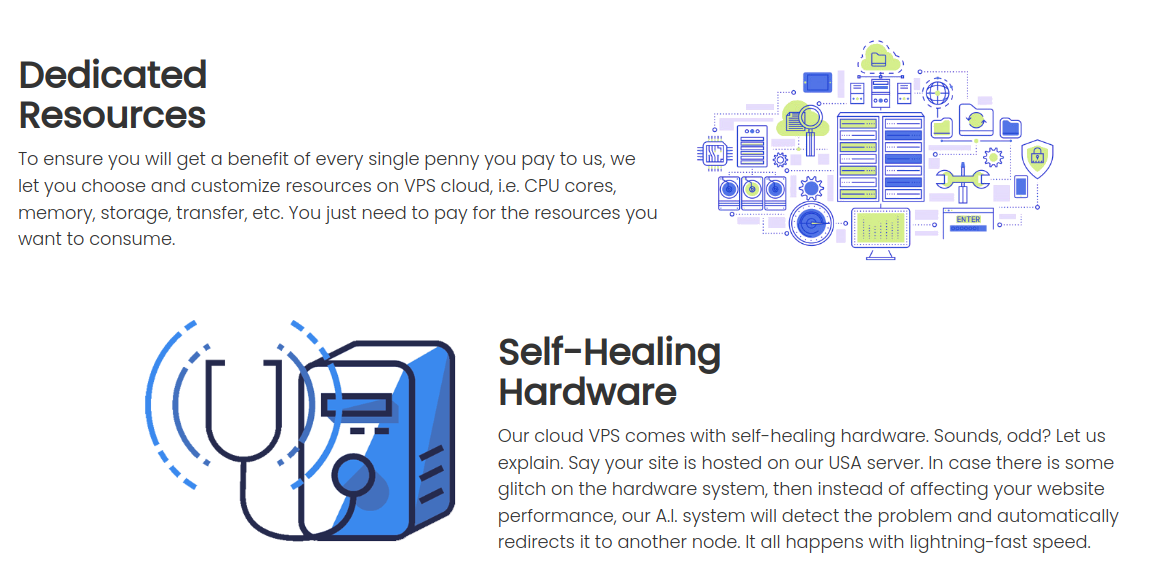 If cloud hosting in general is beginning to look a bit too expensive for your needs, I'd like to recommend InterServer.
InterServer offers a more traditional VPS style of Windows hosting with clearly stated low prices.
It's one of our top hosting picks overall. Overall, InterServer provides
a much simpler service for anyone who just needs to get a Windows-based server online
, and isn't trying to calculate, for example, how many gerbils there might be on alien worlds.
If you want simple Windows hosting or a remote desktop, and instant scalability isn't as important to you, start here
. Oh, and the 24/7 support is pretty decent, too.
Features
Windows Server 2016 & 2019 and… Windows 10? Huh. Yep, you can get a server with plain old Windows 10. I wouldn't game on it though.
Remote desktop access. Every Windows VPS comes with remote desktop access for free. So you could actually use that Windows 10 server as a remote workstation if your laptop is low on resources.
Plesk for Windows, and full admin access. If you desire an effortless server management experience, consider Plesk as your ally. Otherwise, you retain full access and possess the flexibility to perform a wide range of actions as needed.
Dedicated resources. When you pay for RAM or CPU cores, you can rest assured they'll always be available.
Read our expert InterServer review for more details
.
Custom plans
No
Support
Ticket, chat, email
Managed hosting option
Yes
Starting price

$

6.00
Windows Cloud Hosting Doesn't Have To Be Complicated
Ultimately, Windows cloud hosting can be adaptable, strong, and tailored to your requirements without being too complex, and there truly are plenty of excellent choices that aren't Azure, or even AWS or Google Cloud.
Kamatera is a fantastic all-rounder
for almost any size of business. You only pay for what you use with per-second billing. And the managed hosting option may save you a lot of time. If you don't mind doing everything yourself,
Scala Hosting has a great service
 that stays out of your way. Besides, DIY is fun when you have the time. If you need automatic cloud-based scalability and a dedicated account manager,
Liquid Web has all of that
, and more. Though it does come at a slightly higher price. Well, that was a ton of info, so here's a recap of the most important stuff:
Standout Feature
Control Panel
Managed Hosting
Starting Price
Kamatera
Total customizability
Yes
Yes

$

4.00

Scala Hosting
Self-managed with automation
Yes
No

$

20.00

Liquid Web
Managed with great support
Yes
Yes

$

15.00

1&1 IONOS
Data Center Designer
Yes
Yes

$

4.00

Vultr
Massive server network
Yes
Yes

$

5.00

InterServer
Best Windows VPS
Yes
Yes

$

6.00
FAQ
Is Windows cloud hosting worth it?
That depends on whether you use Windows-specific tech. If your entire website or software platform requires Windows Server, then Windows cloud hosting is what you need. If not, you might want to have a look at our list of the top web hosting providers in 2023.
Is cloud hosting better than a VPS?
If you need lots of extra processing power in a hurry on a regular basis, yes. Cloud hosting's main advantage is its flexibility, with most providers only charging for what you actually use, and allowing for periodic traffic surges. Liquid Web is a good example of this.
Which is the best Windows cloud host?
If you came straight to this FAQ, then check out Kamatera. It's got the best of all worlds: fair pricing, full customizability, a managed hosting option, and more.
Is Windows hosting good for websites?
Eh. There are better options for most website-related use cases, from Wix to running your own VPS. If you're new to building websites, see our guide to creating your first site for a better idea of how to do that simply and easily.