Many website builders are marketed as the perfect solution for a school website, but in reality, not all of them can give you a professional-looking website with all the right features.
For instance, if you're a teacher at a school, you might want your own blog or the ability to accept homework assignments online. If you're a school administrator, a newsletter can help you keep students, staff, and parents informed. If you're a private tutor looking to promote yourself, SEO tools and social media integration might be your top priorities.
Imagine putting hours into building your website, only to discover that your builder lacks the features you need. Choosing the right website builder will save you a lot of time, effort, and money. That's why I've done the research for you, and put together this list of the best website builders for teachers and schools.
Quick Guide: Our Top Website Builders for Teachers and Schools
Wix – Loaded with fully customizable education-related website templates to get you online in no time.
SITE123 – Has the easiest-to-use site editor out there, with plenty of built-in features for teachers
Squarespace – Has a collection of clean, professionally-designed templates for the sharpest school website in town.
What We Look For in Website Builders for Teachers and Schools
While testing all the major website builders, I was looking for ones that include the most important features for teachers and schools:
Easy to use. Your time is valuable, so building your website online should be a straightforward task.
Packed with the relevant tools. I sought out the features that match the varying needs of different educators, such as newsletters, forums, chatrooms, blogs, SEO tools, and more.
Professionally designed templates. Just because you want a free website builder doesn't mean you should settle for something tacky. An education website should look clean and professional. Some of these builders even offer education-related templates.
Why You Shouldn't Use a Dedicated Website Builder for Education
A school-themed website builder like Edublogs, Educator Pages, or My School Design might seem like the obvious choice for your education site. However, these are very basic tools with limited functionality, and they will cost you the same (if not more) than a fully-functional "regular" website builder.
You don't want to start out with a basic builder and then have to rebuild your site from scratch for the next school year. The site builders on this list give you better tools and more freedom to create the website you want with all the features you might want to add on in the future.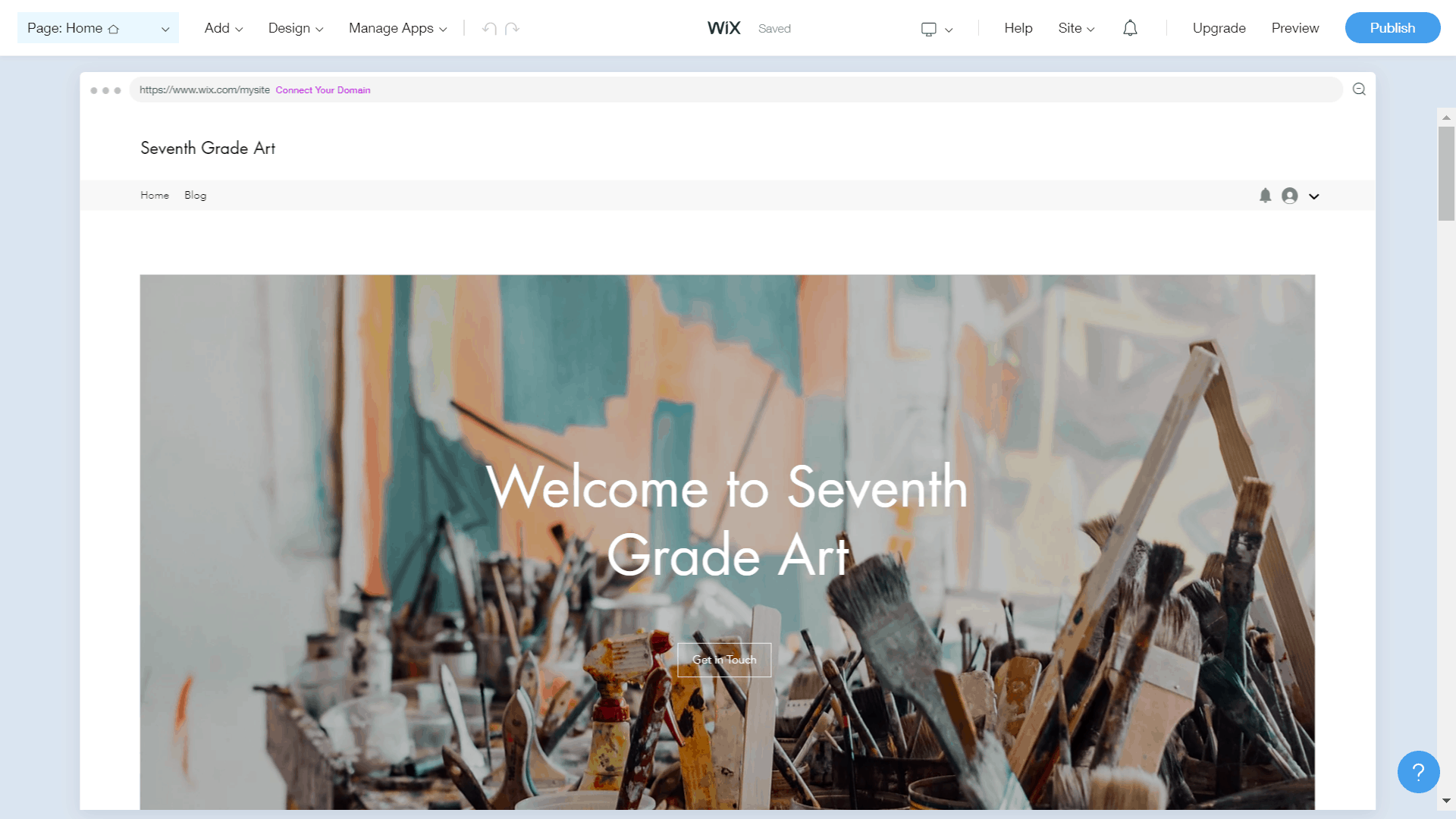 One of the reasons Wix is so popular is that its drag-and-drop editor is incredibly easy to use. This makes it a potential hit not only for you as a teacher, but also for your students – you can easily guide them on building a website of their own.
In addition to the standard Wix editor, there's an even easier option – Wix ADI (Artificial Design Intelligence), where all you have to do is answer a few questions about your school or teaching services, and the tool will design your website for you (it literally took around one minute for me).
Here's a quick overview of some other Wix features you might find useful:
30+ Community and Education templates. All these templates are free and fully customizable, so you can change things around to your taste.
Wix SEO Wiz. This useful SEO tool gives you helpful tips to help you rank higher on search engines. If you're a private teacher, this can really boost your business.
Wix App Market. Here you'll find many free and paid apps to add functionality to your education website. Some of my favorites are the Online Calendar, Scheduling Pro, Wix Video, Wix Chat, and Comments.
Learn more about how to best use the platform in our in-depth Wix review.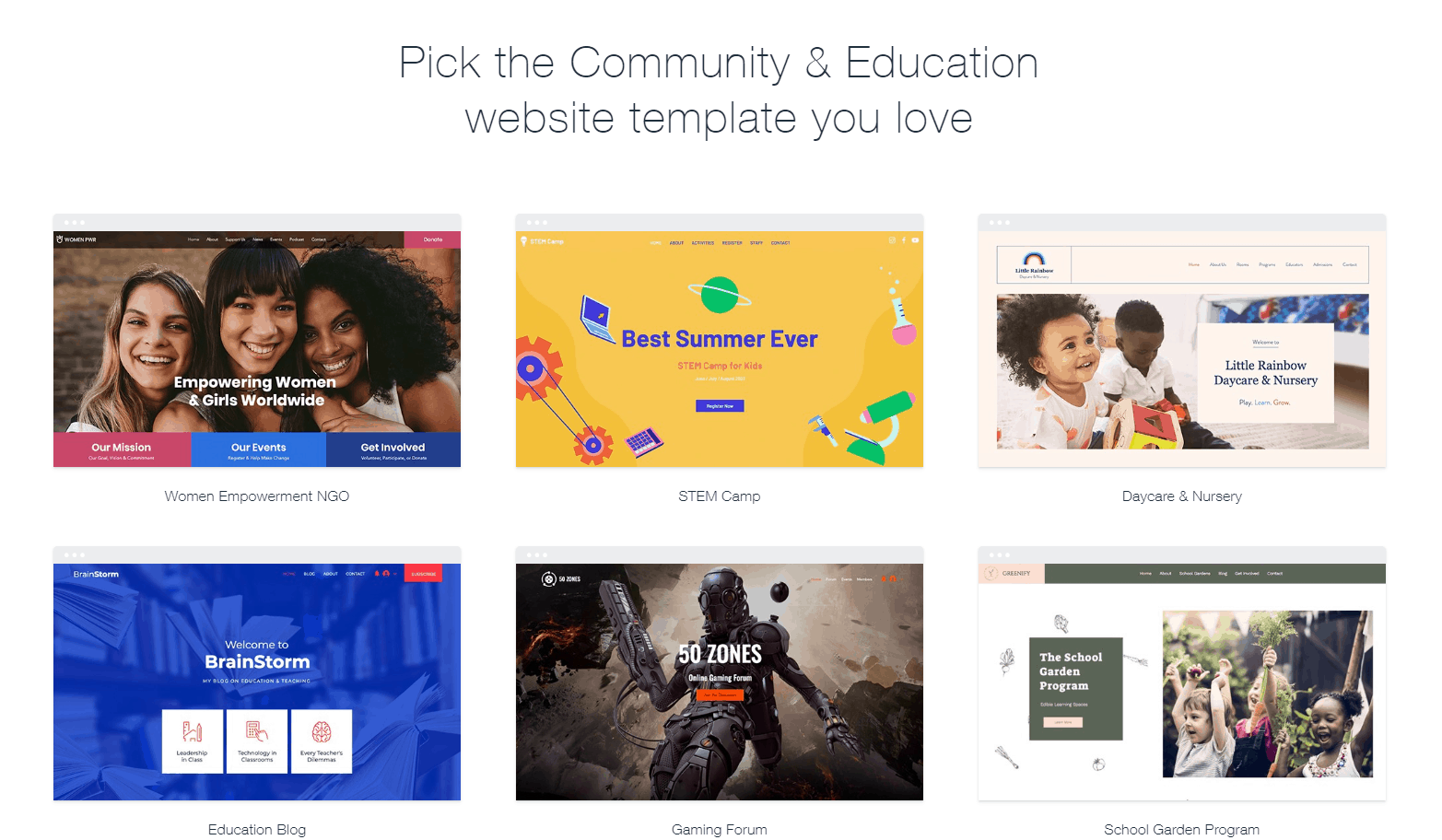 Wix's free plan gives you unlimited pages, but you only get 500MB each of storage and bandwidth. You'll also have Wix branding on your website.
If you need more storage space and bandwidth and you want to be able to connect your own domain name, you can easily upgrade to a reasonably priced paid plan at any time.
| | |
| --- | --- |
| Is there a free plan? | Yes |
| Beginner-friendly editor? | Yes, very easy to use |
| Education-related templates? | Yes |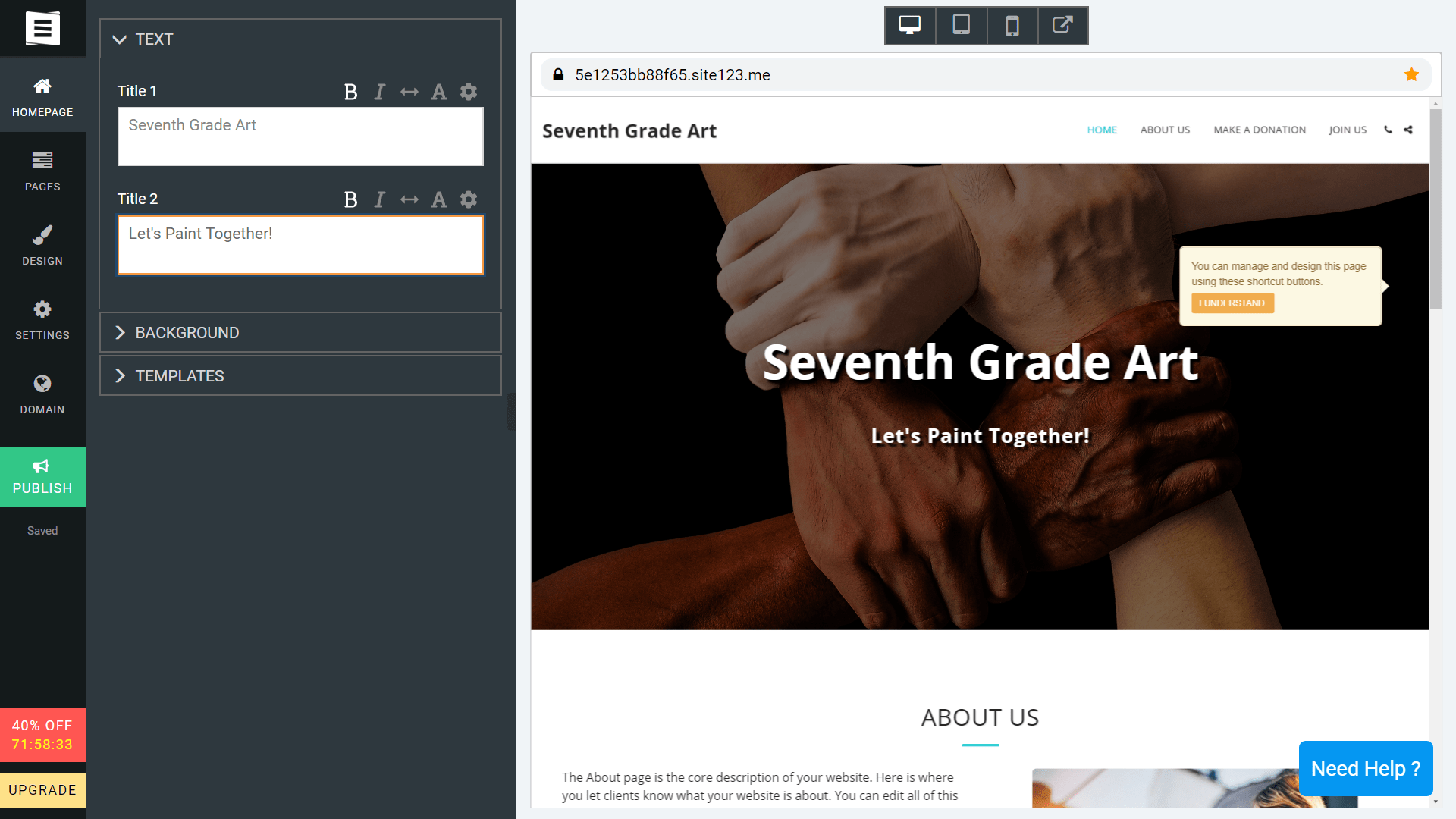 SITE123 is a straightforward website builder that allows you to build a professional-looking website in a ridiculously short amount of time. If you're a private tutor in need of a quick website to promote your services, this is the way to go. You can choose from different layouts (I recommend the blog or portfolio layouts) and just add your own content.
You have many personalization options for your website. You can easily integrate free plugins, such as live chat and social media tools, or take advantage of the free image and icon libraries. For full customization, however, you'll have to upgrade to a paid plan.
Here are some other things I like about SITE123:
Easy-to-use site editor. I love drag-and-drop builders, but SITE123 simplifies the website design process even more. The structured layouts can be a bit limiting in terms of creative freedom, but if you don't want to spend too much time figuring out your design, you'll find this as more of a benefit than a drawback.
Mobile-responsive design. Your SITE123 website automatically adapts to any device – no need for any adjustments on your part.
SEO tools. You can customize your titles, meta descriptions, title meta tag, and keywords to help boost your search engine ranking.
Language translator. This is a premium feature, but it's definitely worth it if you want to promote your teaching services to a multilingual audience.
Read our full SITE123 review to learn more about the platform's benefits.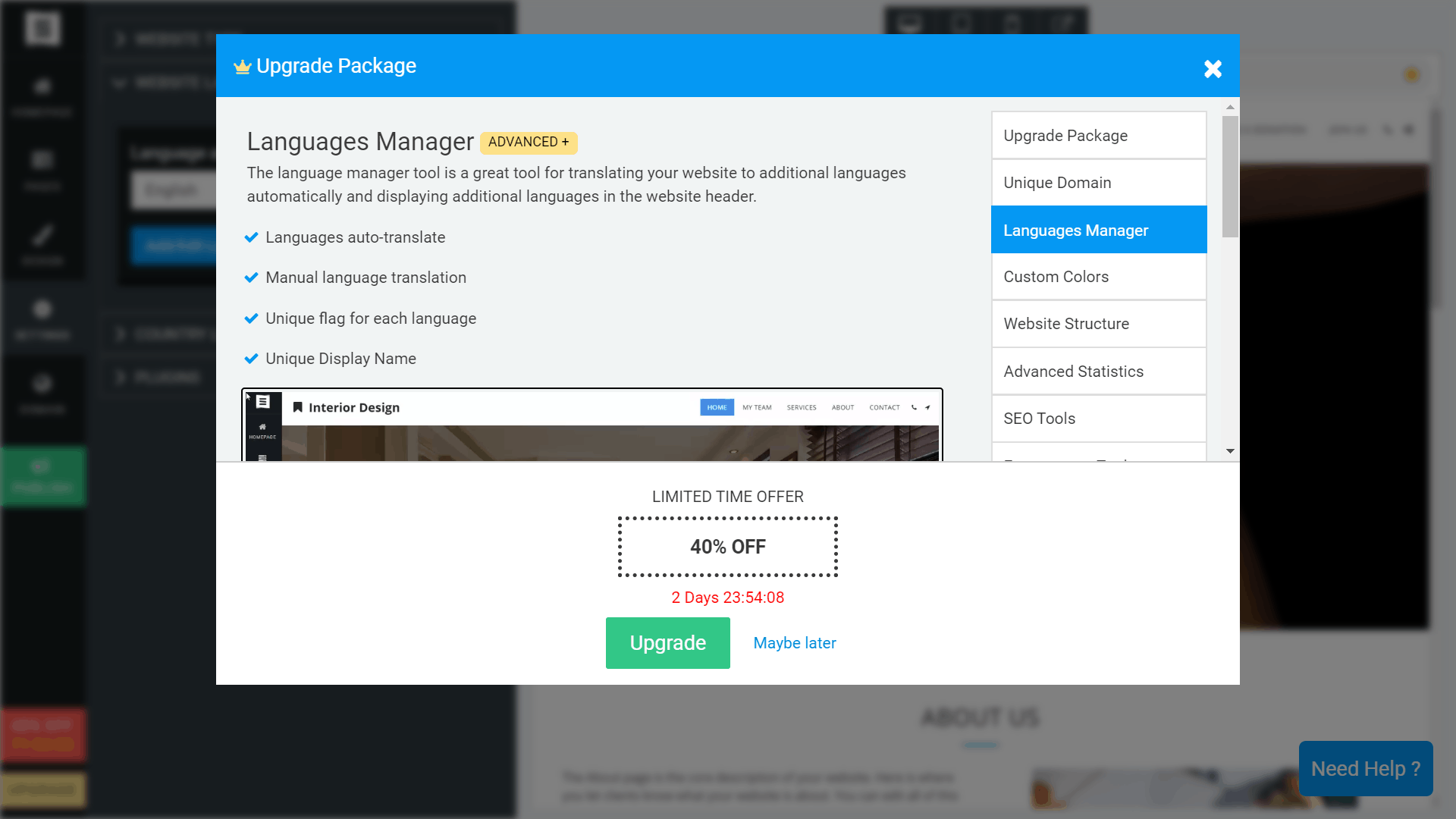 SITE123's free plan will give you 500MB of storage and 1GB of bandwidth, but you'll have to use a randomized subdomain, which not only looks cluttered – it's too difficult to remember. When I created my free website, they assigned 5e1253bb88f65.site123.me as my URL. Ridiculous!
The good news is that the paid plans are quite affordable, and they come with a 14-day money-back guarantee. You should be able to get by with the Premium package, which gives you a free custom domain for a year, 10GB storage, and 5GB bandwidth.
| | |
| --- | --- |
| Is there a free plan? | Yes, although relatively limited |
| Beginner-friendly editor? | Yes. Not only that, but you'll be online very, very quickly! |
| Education templates? | No, but you'll find their mobile-friendly layouts useful |
One of the best things about Squarespace is its clean, professionally designed templates that can make your site look striking. The site editor is similarly clutter-free, and although this clean look might appear less complicated, figuring out where some buttons and options are might present a bit of a learning curve.
However, Squarespace is mostly easy to use, and it comes with a ton of features that are great for your classroom. For instance, the Forms feature could be an efficient way to accept homework assignments from your students. You can use the Newsletters feature to update school staff or parents on upcoming events.
Here's a look at what you get with Squarespace:
You can use this feature to embed high-quality presentations in your site, and the galleries can include both videos and images.
Social media integration. You can promote your teaching services by integrating your social media accounts. You can also display live social media feeds on any page on your site.
Acuity Scheduling integration. This feature allows your site visitors to schedule appointments. You can use it to inform your students of your availability, and they can schedule appointments to see you if they need some help with coursework.
Post scheduling. If you've already prepared your lesson plan for the entire term, but you don't want to publish it all at once for your students to see, you can set publication dates for each individual lesson or assignment.
Want to learn more? See our expert Squarespace review.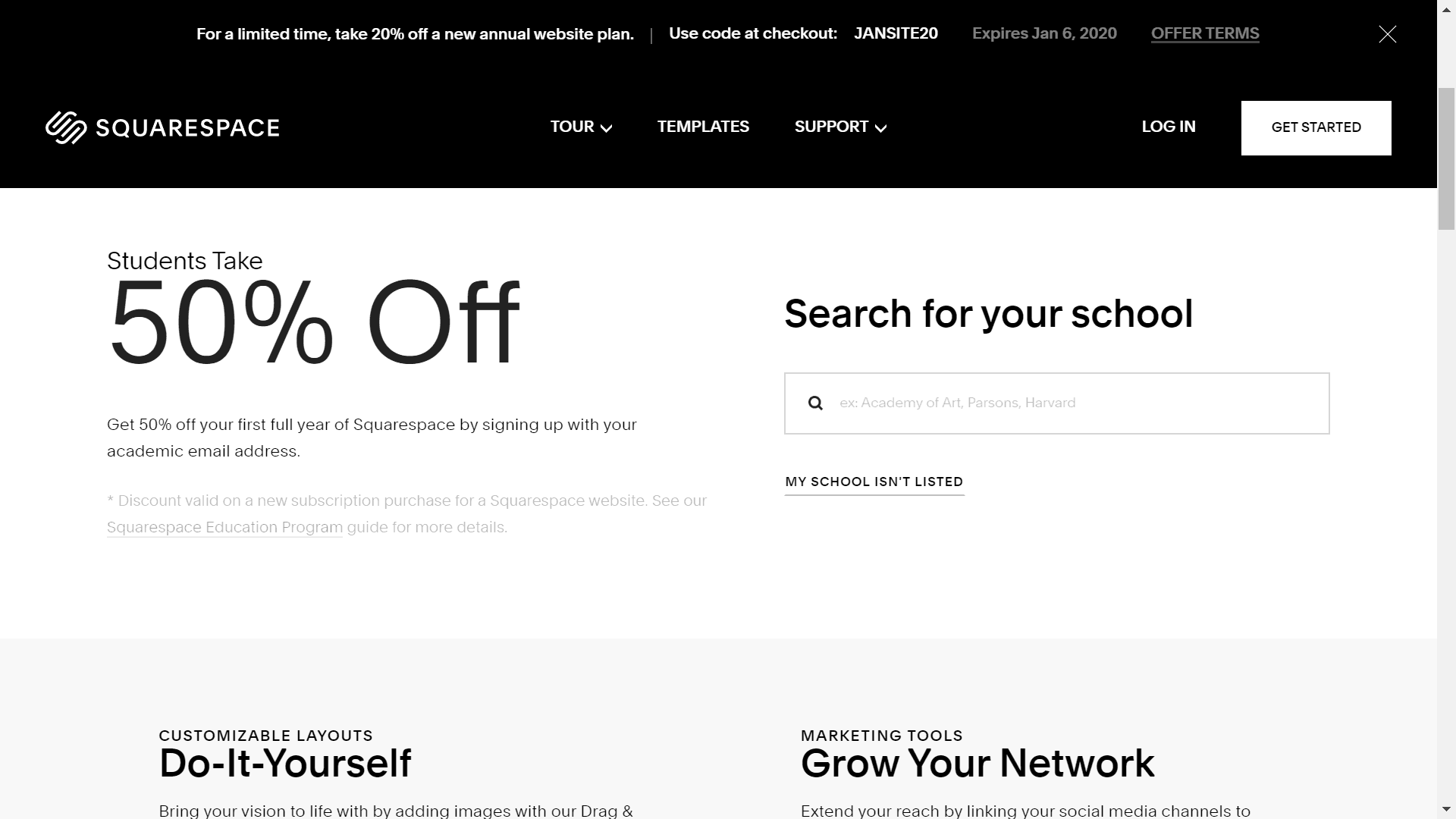 Squarespace has no free plan, but there is a 14-day free trial. To publish your website online, you'll need to purchase a paid plan, but the good news is that there's a 50% discount for teachers and students when signing with an academic email address.
| | |
| --- | --- |
| Is there a free plan? | No, but there's a 14-day free trial and an education discount for teachers and students |
| Beginner-friendly editor? | Yes |
| Education-related templates? | Yes |

Zyro has a couple of education-oriented designs in the Service category of the template gallery. You can also customize any template to fit your needs, or start building your website from scratch.
Editing your site is easy even if you're a newbie – you can drag and drop any element on a page, and it will snap into a predetermined grid, so your content is bound to look good.
You can add image galleries and slideshows, About and Meet the Team pages to present your school and your mission, contact forms and newsletter sign-up forms to stay in touch with your site's visitors, and more.
Here are some other things I like about Zyro:
AI-assisted site-building. If you want to create your site quickly, Zyro has an amazing set of AI tools to make it happen. The AI Writer generates SEO-optimized content for you based on your industry, and the AI business tools include the slogan and business name generators.
Free live chat apps. Facebook Messenger and WhatsApp allow you to interact with your site's visitors.
Blogging tools. You can add a blog to your site for lesson plans, assignments, or news and events. You get all the essential features – the ability to add categories, multiple authors, set publishing dates, and more.
Multilingual site. You can display your site in several languages, including English, German, French, Malay, Italian, Portuguese, Russian, Vietnamese, and Spanish.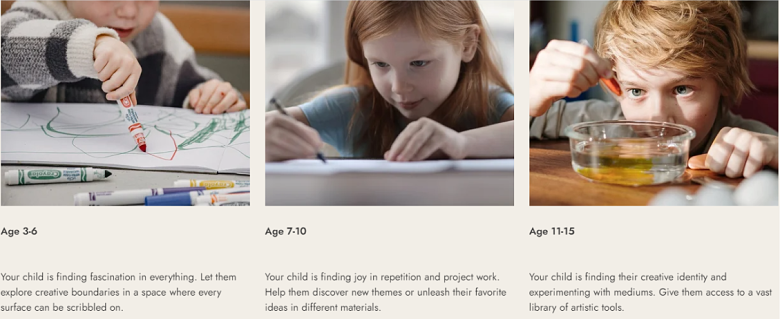 Zyro doesn't have a free plan or a free trial, but there's a 30-day money-back guarantee. The cheapest paid plan includes 3GB of bandwidth, 1GB of storage, and features like AI and SEO tools. For unlimited storage space and more apps, you'll need to upgrade.
Want to know more? Read our full Zyro review.
| | |
| --- | --- |
| Is there a free plan available? | No |
| Beginner-friendly editor? | Yes, very easy to use |
| Education templates? | There are a couple of education-oriented designs in the Service category, but you can customize any template to match your style |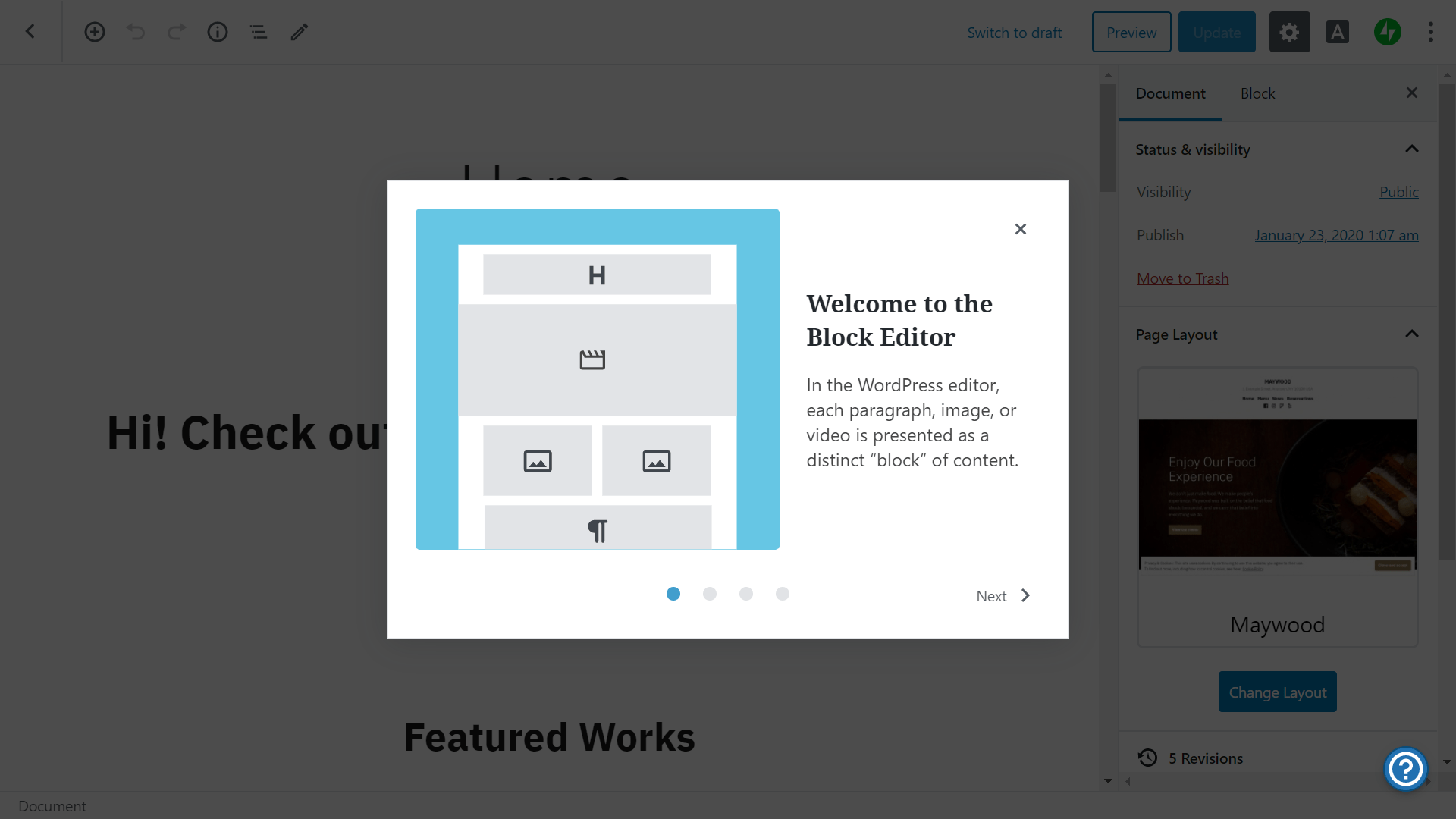 In my opinion, WordPress.com is the full package – whatever you want your website to do, it can provide you with the features you need. It's also easy to use,  but there might be a bit more of a learning curve.
WordPress.com doesn't have a drag-and-drop editor – instead, you upload your content in "blocks," which you can then customize however you like.
Here's a look at what you get with a free WordPress.com website:
Lots of storage space. com's free plan is pretty generous, giving you 3GB of storage. You can easily embed video lessons, downloadable documents, and more.
Post comments. You can enable (or disable) comments on your pages and posts, making your education website more interactive.
SEO and social media sharing. com's free plan comes with Jetpack Essentials. If you're a private teacher, this can help you promote your services by improving your search engine ranking and automatically sharing your posts to your social media accounts.
Access to dozens of free themes: These themes are customizable, and most are mobile-responsive.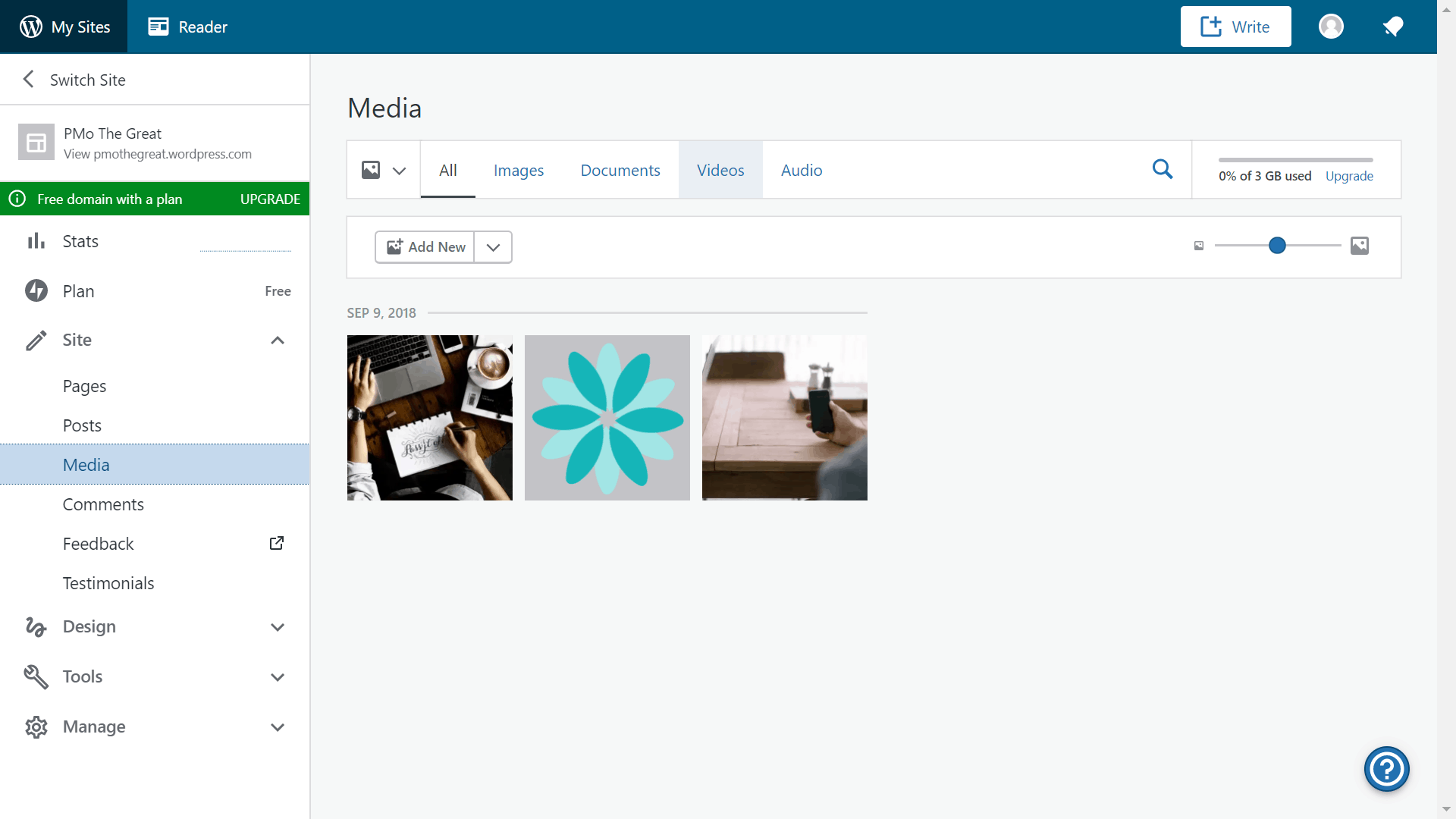 If you need more features, you can upgrade to the Business plan, which gives you access to thousands of plugins, allowing you to enhance your site with just about any functionality you can think of. Upgrading to a paid plan also means you can connect your own domain, and you get better customer support.
Want to know more? Read our full WordPress.com review.
| | |
| --- | --- |
| Is there a free plan? | Yes, and with plenty of storage space |
| Beginner-friendly editor? | Yes, but a bit more complex than Wix or Weebly |
| Education templates? | No, but with dozens of fully customizable themes, you can easily design your website for any educational purpose |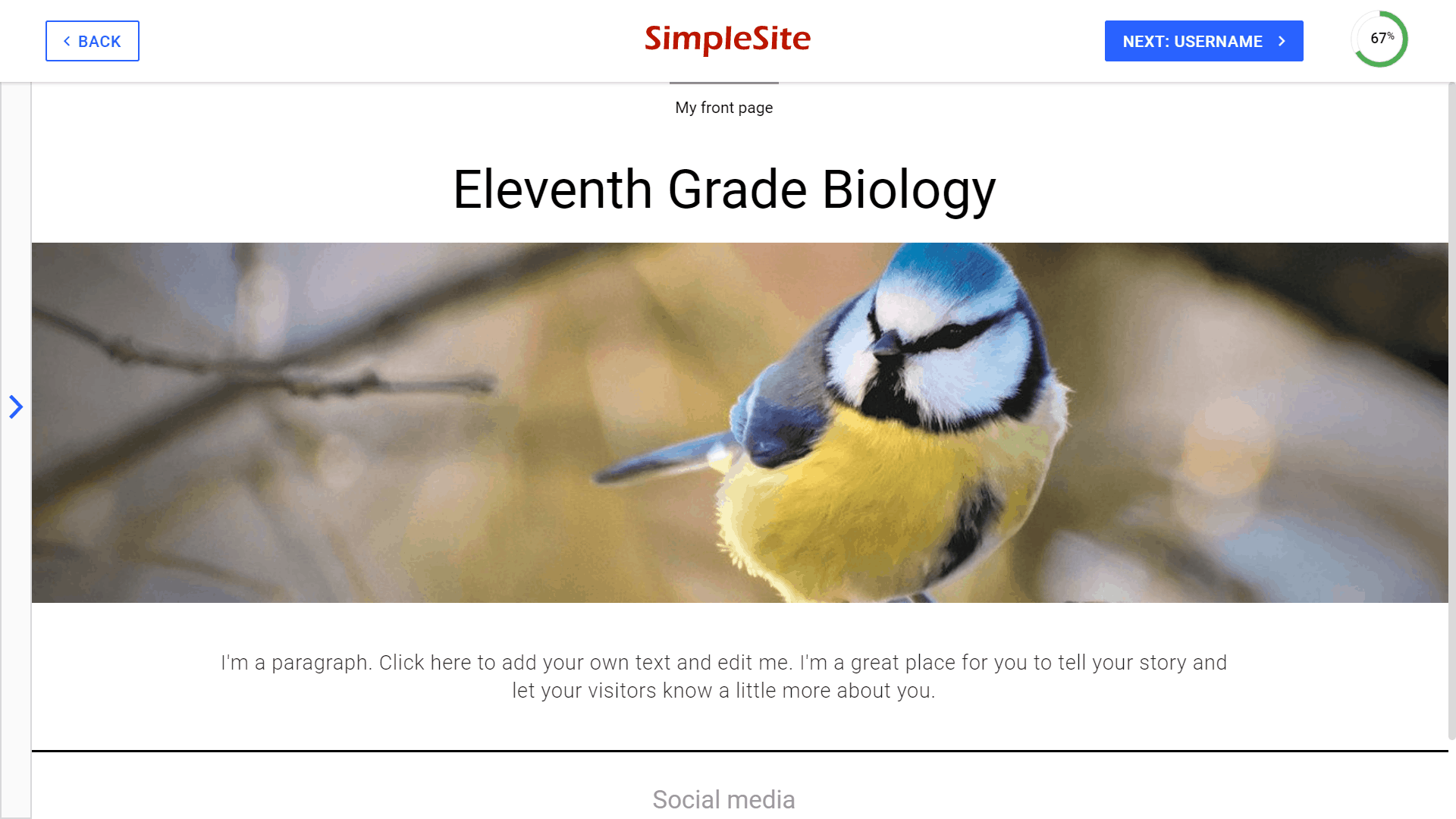 I timed myself while testing out SimpleSite, and I had a website in exactly 5 minutes and 23 seconds – no kidding!
Sure, adding my own content would have taken more time, but you get the point – SimpleSite really is that easy to use. You build your website based on a theme, and then change colors, images, and text by simply clicking on what you want to change.
However, all this "simpleness" comes at a cost. SimpleSite is quite limited, and it isn't the best solution if you need to create a serious online presence, or if you want to build a website that will look unique.
But let's take a look at some of the good things about it:
Great for beginners. If you have very little free time or very little site-building experience, SimpleSite could be a good choice for you.
Completely mobile-friendly. You can work on your SimpleSite website anywhere, even on your smartphone during your coffee break. You don't even have to download an app – just use your mobile browser to log in. SimpleSite also guarantees your website will look great on any device.
To learn more, read our in-depth SimpleSite review.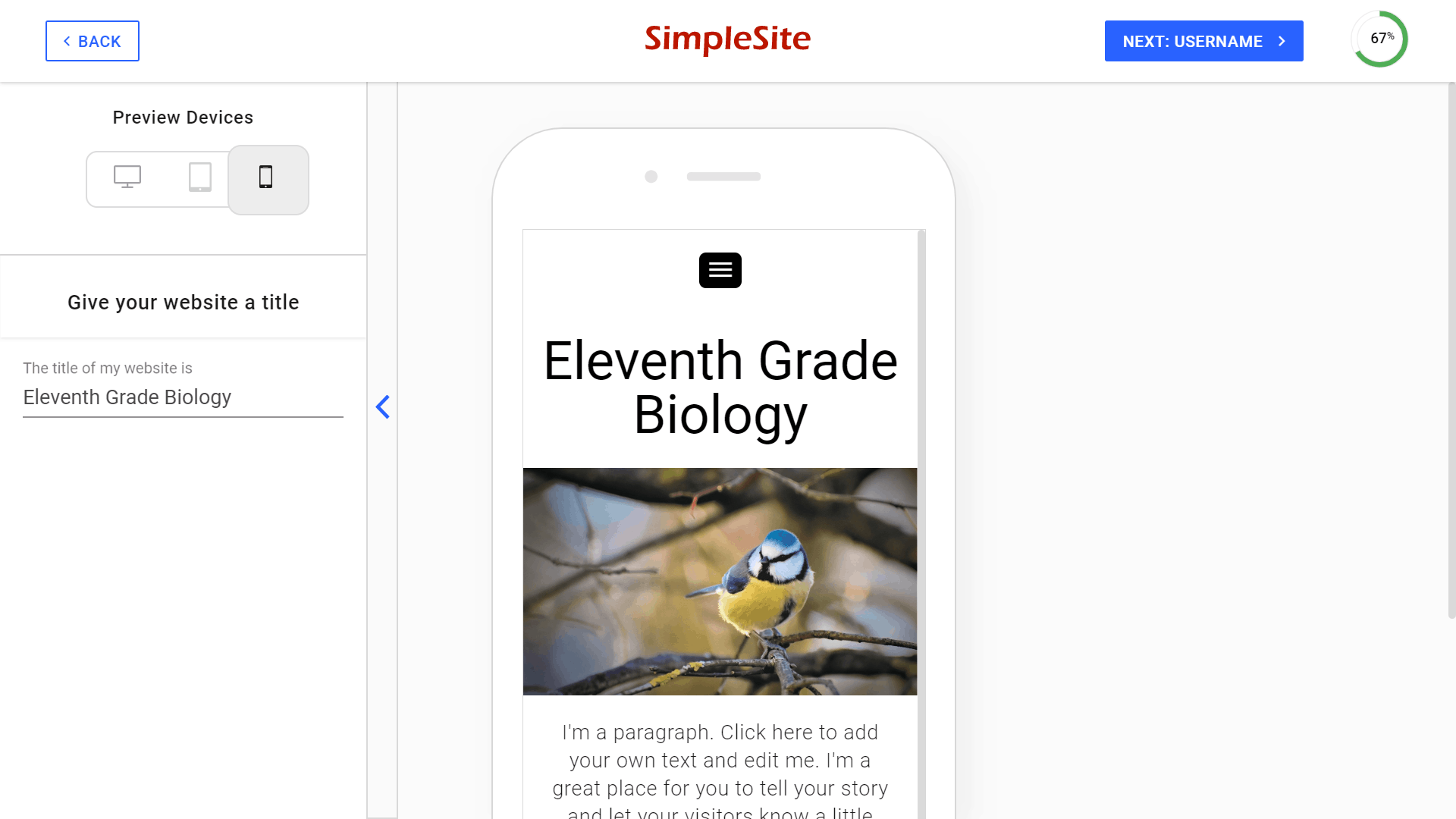 The SimpleSite free plan only gives you 15 pages on your website. The paid plans give you unlimited pages, more themes, and a custom domain at affordable costs. But I still found these paid versions lacking in useful features for education websites.
| | |
| --- | --- |
| Is there a free plan? | Yes |
| Beginner-friendly editor? | Yes, extremely easy to use, and your site can be fully built in a matter of minutes. |
| Education-related templates? | No |
Choose Your Website Builder Based on Your Needs
All these website builders are beginner-friendly, so building your website doesn't have to be a time-consuming headache. But you don't have to test them all – just focus on your own individual needs:
The comparison table below will further help you select the best option for you, based on your specific needs.
| | | | |
| --- | --- | --- | --- |
| | Standout Feature | Easy to Use? | What You Get with a Paid Plan? |
| Wix | Over 30 education-related templates, along with an AI builder that can create your website for you | Yes, very easy. | The ability to connect your domain, more storage space and bandwidth, removal of Wix branding. |
| SITE123 | Your website will automatically be mobile-responsive | Yes, very easy. | Free custom domain for a year, more storage and bandwidth, language translator, removal of Site123 branding. |
| Squarespace | High-quality designs and tons of useful features | Easy enough, but with a bit of a learning curve. | Free custom domain for a year, unlimited storage and bandwidth. |
| Zyro | Great AI tools make it super simple to launch a site | Yes, very easy | Free custom domain for a year, unlimited storage and bandwidth, access to all AI tools |
| WordPress.com | Lots of free storage space for your video lessons | Easy enough, but with a bit of a learning curve. | Free custom domain for a year, even MORE storage, 24/7 support, removal of WordPress ads. |
| SimpleSite | Build your website very, very quickly – even from your mobile phone, without an app | Yes, very easy. | Free domain name, unlimited video minutes, unlimited pages, no ads. |