It pains me to say it, but fan mail is mostly a thing of the past. These days, if you're looking to establish a connection with your audience, a strong online presence is the way to go. But unfortunately, many authors – even renowned ones – have websites that look uninspired or outdated. Sure, maybe Zadie Smith can get away with a so-so website, but most authors really need a website that can attract new readers and pique the interest of existing fans. That means you need a website builder with high-quality templates and design tools that reflect your genre. The best builders also offer features that cater to your unique needs as a writer, like a blog or newsletter, SEO and marketing capabilities, or even direct integrations with Amazon and QuickBooks. I tested the major site builders on the market to see which ones offer the best features for authors. In the end, I found six builders that are bound to be ideal for at least one kind of writer.
Short on Time? These Are the Best Website Builders for Authors and Writers in 2023
Wix – The most versatile customization features and seamless integration with Amazon.
Squarespace – Elegant, attractive website templates and top-notch marketing tools.
Hostinger Website Builder – Powerful Artificial Intelligence (AI) features to help you build your site.
What We Look For in the Best Website Builders for Authors and Writers
There are plenty of good – and even great – website builders out there, but many don't have the specific tools that authors and writers need to cultivate their online presence. In order to narrow down the list, I made sure to only select builders that met these essential criteria:
Quality templates. Whether you're looking to sell your newest book or just keep your fans updated, your website is going to reflect your brand. I only included builders with high-quality and professional-looking templates.
Customization features. As a creative, it's important to have the final word over your website, and templates can only get you so far. I chose builders with customization tools that will make your site stand out from the crowd.
Ease of use. Most writers aren't also designers and coders in their downtime (although kudos if you are!). These builders give you the tools to easily create your site with no prior experience.
Ecommerce. Though I can't overstate the value of a good portfolio, you might want to use your website to do more than just showcase your work. These builders include tools to help you set up an online shop for anything from paperbacks, to merch, to e-books.
Extra author features. The builders on this list offer tools that, while not absolutely essential, are certainly convenient. Think blogging, reader reviews, and the ability to create newsletters.
Why You Shouldn't Use a Dedicated Website Builder for Writers
Choosing a specialized site builder for writers might seem like a good idea, but you should be aware of the downsides.
These builders are usually focused on portfolio display or lists of publications, but they don't give you a fully functional website with room to grow.
Your portfolio is important, of course, but all the website builders on this list have the ability to create a great one – along with many additional useful features for your site.
The last thing you want is to have to rebuild your website from scratch later on
when you realize you've totally outgrown the limitations of a dedicated website builder for authors. Still, if you'd like to check out this route, jump down to
see which specialized builders I recommend
.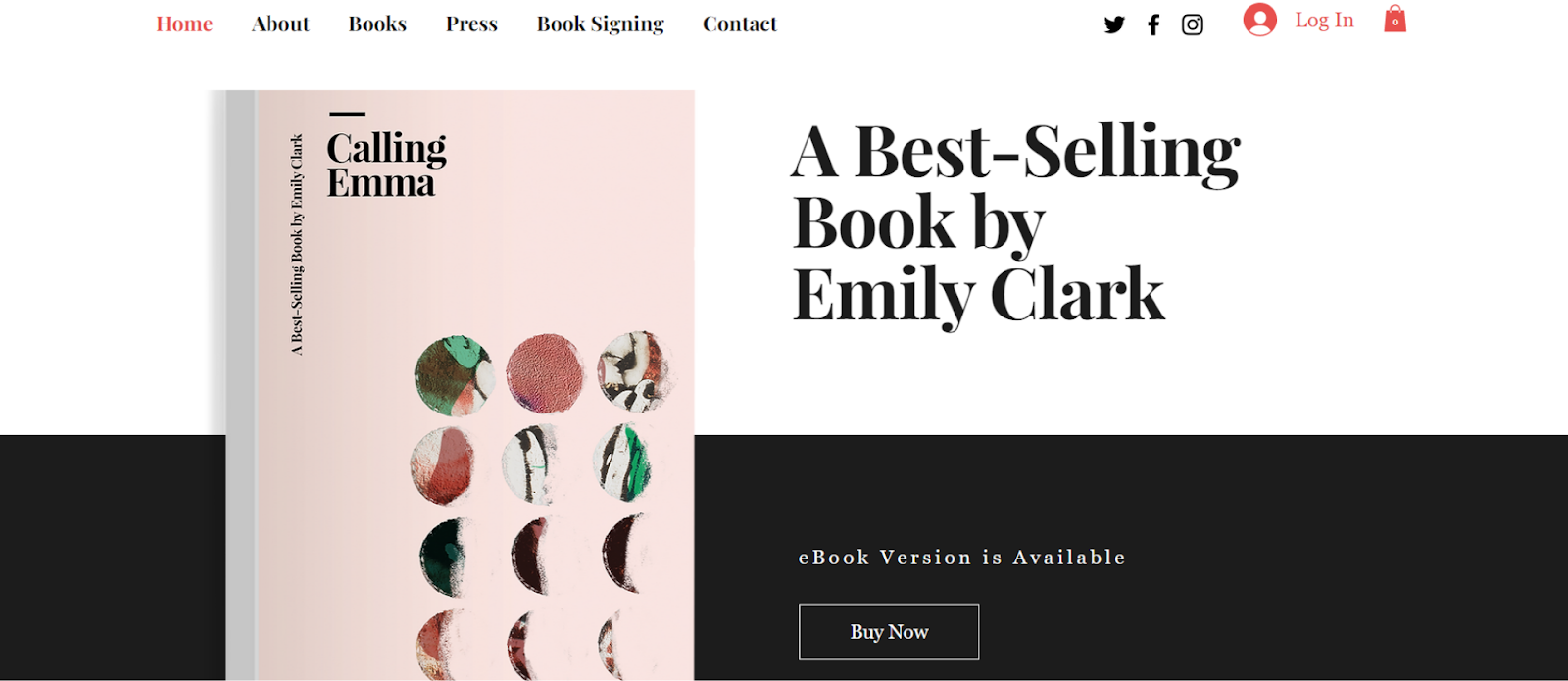 In the same way that changing just a few key words can alter the meaning of an entire paragraph, small details in your site's design can significantly alter its look. Granted, not every writer is looking to fine-tune every single aspect of their site, but
if you're looking for maximum design freedom, Wix's is the way to go.
Wix has an extensive library of over 800 high-quality templates (including a dedicated category for the literary arts) that you can customize as much, or as little, as you like. Even better,
Wix's drag-and-drop editor is incredibly intuitive
, even if you don't have previous site-building experience.
Wix's versatility doesn't end with your site's visual design.
You also get access to a huge range of apps and features for creating virtually any kind of site
– everything from a book launch landing page to a full author portfolio
.
The only thing to be aware of is that although you can access
most
of Wix's features on the free plan, you'll need one of the dedicated ecommerce plans if you want to sell your work online.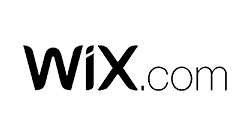 Save up to 33 % on your Wix plan!
Limited-time offer - Don't miss it!
Your Wix with your first % on 30/06/2023!
3901 users used this coupon!
Features
Extensive app market. Not only is Wix one of the most feature-packed builders on this list, it also offers over 240 apps and integrations that allow you to connect directly to your Amazon page, display real-time reviews, and more.
Personalized SEO. Wix comes with an AI-powered SEO (search engine optimization) wiz designed to give you personalized tips to help you rank higher on search engines.
Outstanding contact forms. Do you want fans to contact you through your website? How about press inquiries? Wix comes with tons of pre-made contact forms to help you interact with visitors on your terms.
Separate mobile editing. Wix's templates are what I would call semi-responsive. This means that Wix automatically resizes certain aspects of your site to work on mobile screens, but you can edit the mobile version separately for an even greater degree of creative control.
Read our expert Wix review
for more details.
Free plan available?
Yes
Mobile responsive?
To a degree. It comes with a dedicated mobile editor.
Cheapest e-commerce plan
Business Basic
Starting Price

$

16.00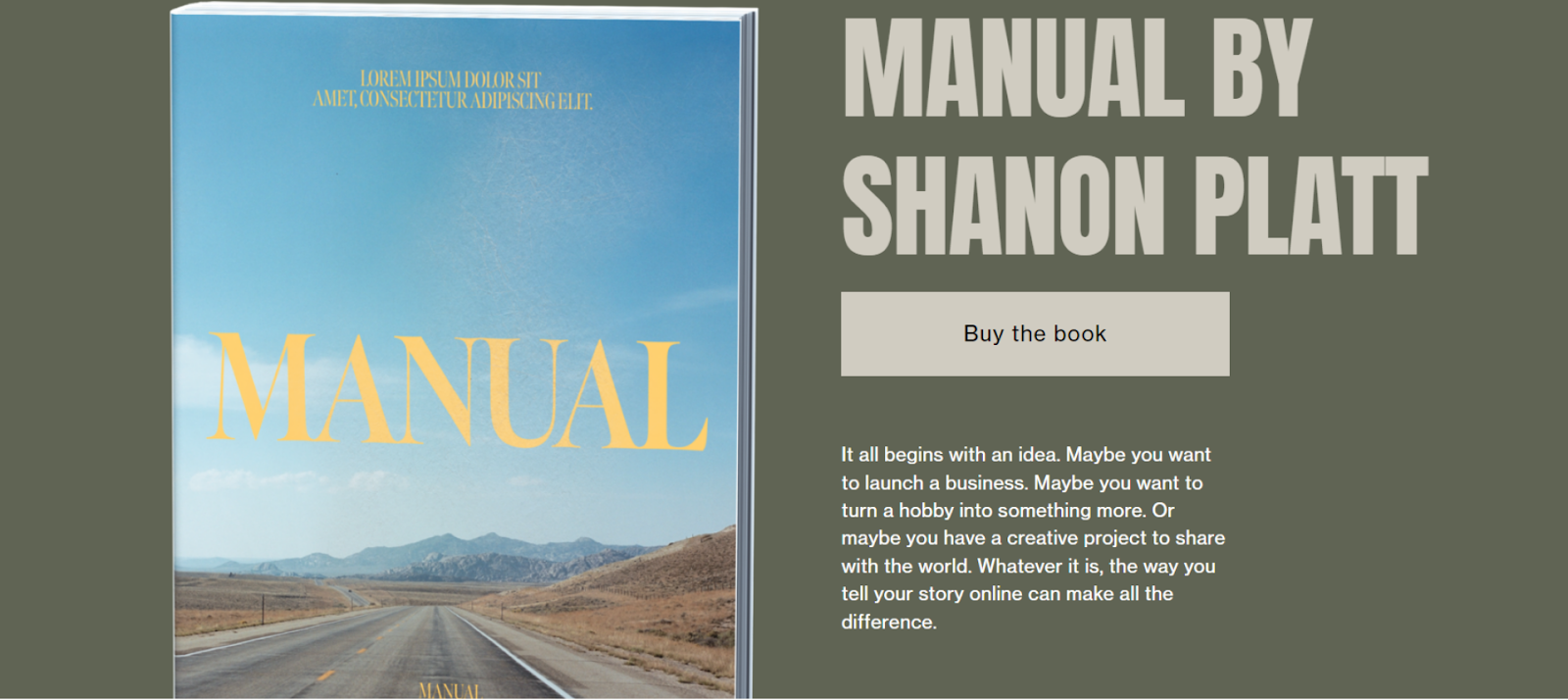 Squarespace is well-known for its trendy, polished templates.
And in such a competitive industry, you need your website to look its absolute best. However, Squarespace offers much more than just great templates and design features. You'll also get author-friendly features like blogging, ecommerce, and marketing tools.
Its marketing tools are particularly useful if you need to attract new clients or keep your readers up to date on your writing.
Squarespace allows you to
create stunning marketing campaigns with ease
, which you can use to promote your newest books, announce events, or contact potential clients. And if you're hoping to improve your chances of being discovered,
Squarespace has you covered with some of the best SEO tools out there.
There's no free plan, but you can try out any plan with a 14-day free trial. Personally,
I recommend the Business plan,
as it'll let you
set up an online store
to sell your books and gives you unlimited storage space.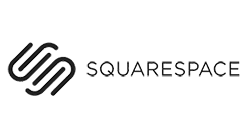 Save up to 30 % on your Squarespace plan today!
Plus get a free domain for one year!
1031 users used this coupon!
Features
Stylish, elegant templates. Squarespace offers a selection of over 140 award-winning templates. The templates are sleek and minimalistic, drawing your visitors' attention to a few key spots on the page while keeping a pleasant visual consistency.
Powerful analytics. With Squarespace, you can easily access important information such as bounce rate (what proportion of visitors leave before visiting another page), unique views, the devices that your site is viewed on the most, and more. This information can help you optimize your site to your specific needs.
Simple yet powerful ecommerce tools. Squarespace's ecommerce tab makes it easy to set up an online store for both digital and physical products. The friendly user interface makes personalizing your store surprisingly simple.
Newsletter features. If you want to keep your readers up to date with your goings-on, Squarespace provides simple tools to help you create an email newsletter.
Check out
our expert Squarespace review
for more.
Free plan available?
No
Mobile-responsive?
Yes
Cheapest e-commerce plan
Business
Starting Price

$

16.00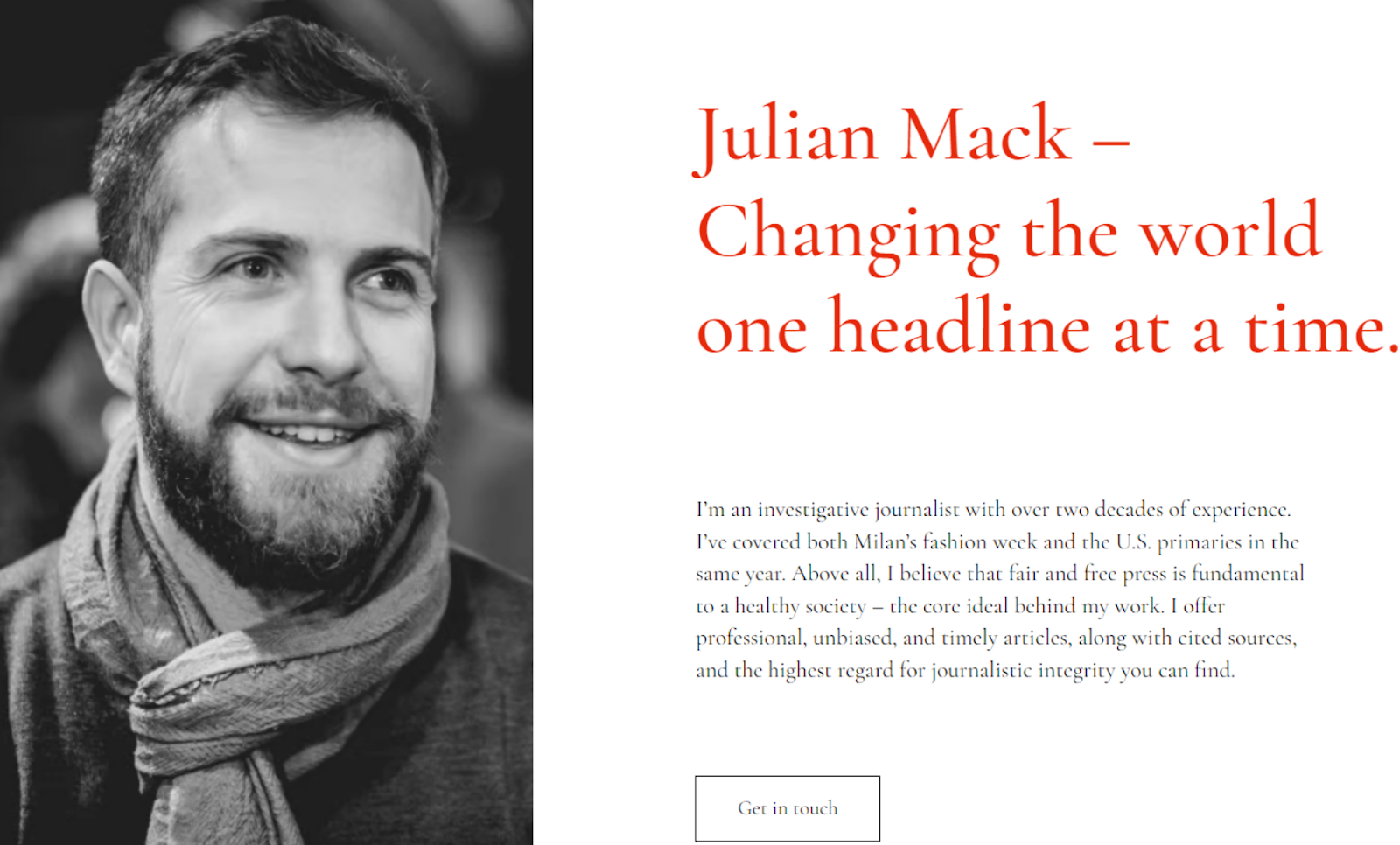 Hostinger Website Builder is a flexible but incredibly intuitive builder, which makes it a great choice if you've never built a website before. On top of its already easy-to-use editor,
Hostinger Website Builder offers a huge collection of AI tools to help you make the most of your site.
The AI doesn't take any control away from you, either, as you can still edit and make changes at any point during the building process. But the AI is great for inspiring and guiding you in the task of creating a unique site. Hostinger Website Builder offers two very affordable plans – Website and Business – with the main difference being that the Business plan allows you to set up an online store. If you're not ready to make a commitment,
 Hostinger Website Builder offers a 30-day money-back guarantee.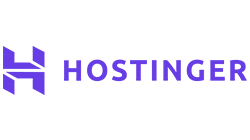 Save up to 75 % on your Hostinger Website Builder plan today!
Limited-time offer - Don't miss it!
65 users used this coupon!
Features
AI heatmap.  Hostinger Website Builder offers a free AI heatmap that tells you the parts of your site that are most likely to capture your visitor's attention.
AI content builder. Before you scoff, I'm fully aware that no self-respecting writer would let AI write for them, but AI-generated content can deliver a time-saving first draft you can edit to your heart's content.
Intuitive blogging tools. Though it's not the most advanced blogging setup, Hostinger Website Builder provides easy-to-use tools to create visually attractive blogs.
Plenty of integrations. Hostinger Website Builder offers third-party integrations with software like Google tag manager (which helps you understand your visitors' behavior), Facebook Pixel (which lets you add targeted ads to your site), and more.
Read our in-depth Hostinger review
for more information.
Free plan available?
No
Mobile-responsive?
Yes
Cheapest e-commerce plan
Business
Starting Price

$

2.79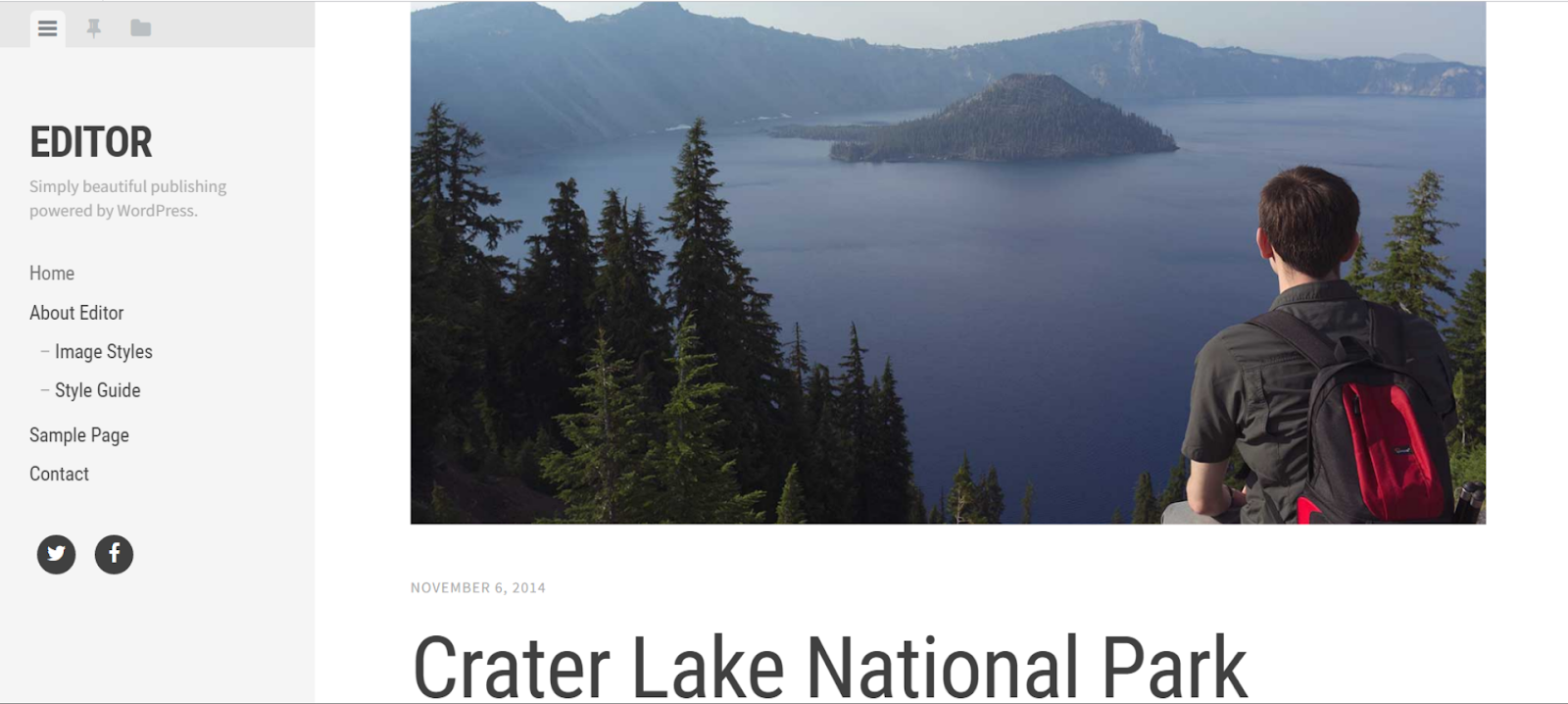 WordPress.com is the self-hosted version of the internet giant WordPress, which started as a widely available blogging platform. Fortunately,
even though WordPress.com is now much more than just a blog-hosting site, it still offers fantastic blogging tools.
WordPress.com gives you nearly limitless freedom to create posts, pages, categories, and more. It's also the best choice if you're looking to start a collaborative writing project, as it makes it easy to manage multiple authors from a single page. That said, it won't be the best builder for every writer. For starters, the visual editing can be clunky without a third-party page builder, which you can only use on the Business plan or above. Even then,
WordPress.com has a bit of a learning curve, so you'll need to invest some time
to learn all of its ins and outs. Still,
if you're looking for a builder that lets you manage every detail of your blog, WordPress.com is the ideal choice.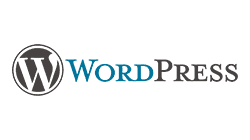 Save up to 43 % on your WordPress plan!
Limited-time offer - Don't miss it!
43 users used this coupon!
Features
Advanced content manager. WordPress.com offers by far the most advanced tools to help you manage your different pages and blog entries. You can time certain uploads, bulk-edit blog design, create tons of custom categories, and more.
Blog and site monetization. If you want to earn a little extra from your website, you can add custom-placed ads to your blog and site. These ads can help you generate extra revenue with every visitor that clicks.
Third-party everything. One of WordPress.com' biggest strengths comes from its ability to integrate with literally thousands of third-party plugins and themes. Regardless of what you want to do with your site, chances are you can find a plugin that'll do it.
Social media sharing. WordPress.com offers easy options for sharing your blog posts from the most popular social media sites (like Facebook, Twitter, Tumblr, etc…). These integrations are some of the best tools for driving organic traffic to your site.
Check out our expert WordPress review
for more details.
Free plan available?
Yes
Mobile-responsive?
Yes
Cheapest e-commerce plan
Personal
Starting Price

$

4.00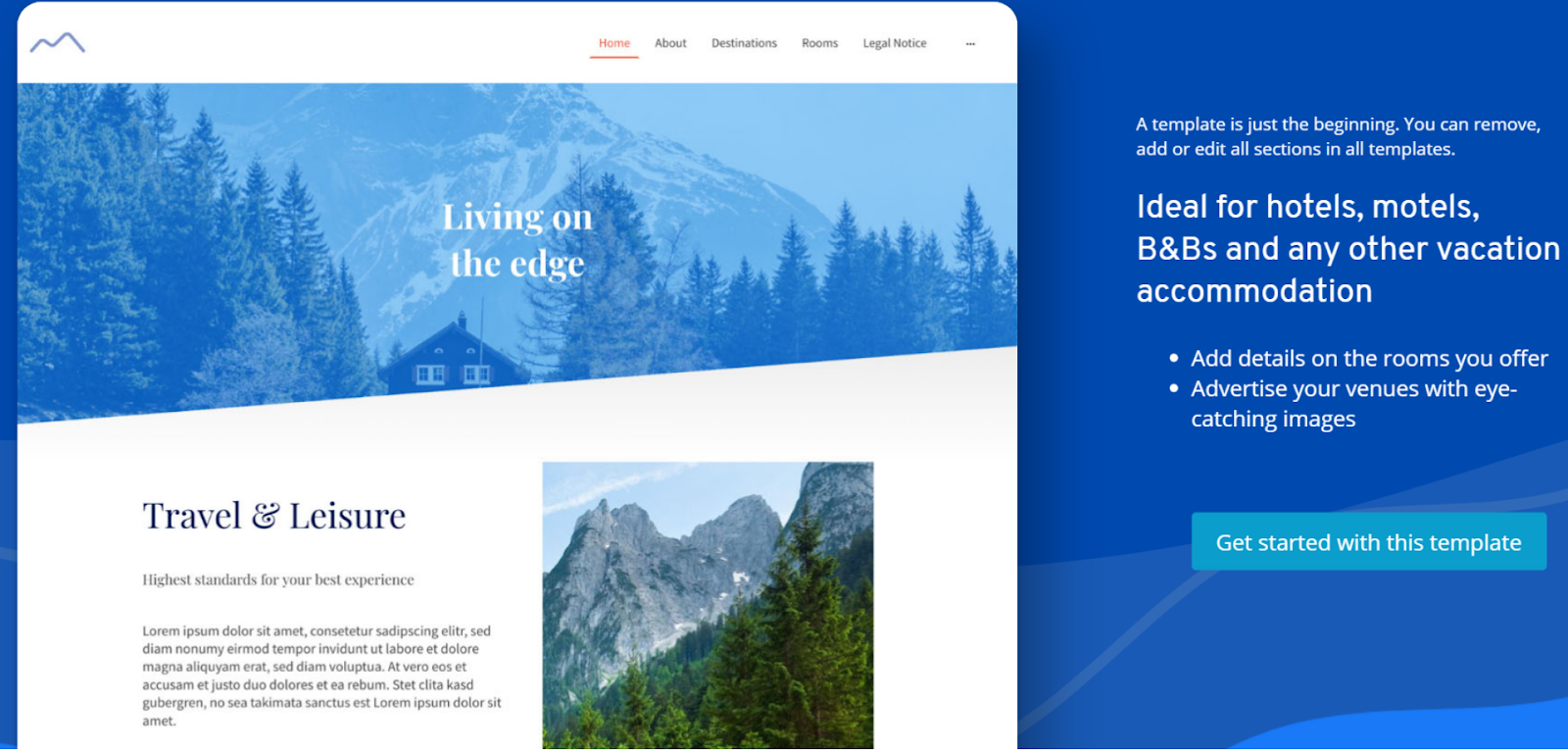 IONOS is a fast-loading, easy-to-use builder that offers amazing value
for those looking for a professional site without having to spend a lot of money. Though you can create multi-page websites with IONOS,
its editor is best suited for crafting professional-looking single-page websites such as an author's bio
or a book launch landing page. Its simple section editor allows you to easily make both broad changes to the overall design of your site and granular adjustments to the position of individual elements.
To get started with IONOS, I strongly recommend the aptly named Starter plan.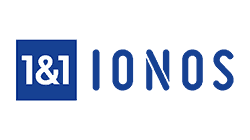 Save up to 80 % on your 1&1 IONOS Website Builder plan!
Limited-time offer - Don't miss it!
43 users used this coupon!
Features
Amazing prices for beginners. For only

$

5.00

a month, you get access to all of IONOS' features, including a free domain and hosting for one year.
Free business email. You get a free business email when you sign up with any IONOS plan. This feature is extremely useful for freelancers, copywriters, and any authors who want a professional contact email.
Professional designers available. If you'd prefer to focus on your craft and leave the website building to designers, you can get one of IONOS' professional designers to build a custom, fully-optimized site for you.
Performance checker. IONOS includes a useful performance checking tool to help you diagnose your website's responsiveness, loading speed, and security.
Read our expert IONOS review
for more details.
Free plan available?
No
Mobile-responsive?
Yes
Cheapest e-commerce plan
Starter (with a store)
Starting Price

$

5.00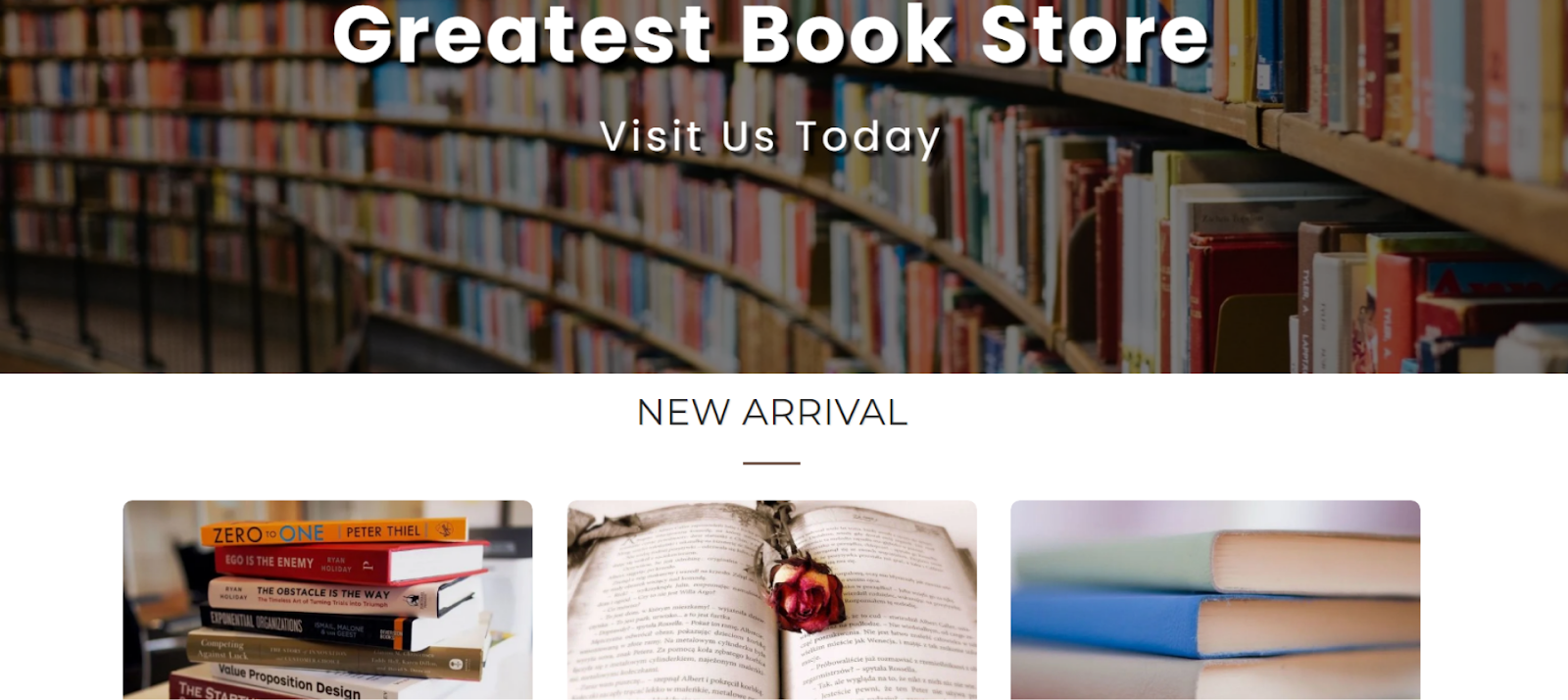 If you're up against the clock on your publishing deadlines and have little time to spare for building your website, you'll definitely like SITE123's efficiency.
Everything from its ultra-simple editor to its easy-to-navigate UI is perfect for getting your site online quickly
. Though it has fewer templates than other builders on this list, there's a nice selection of modern designs. Some of
its author-specific features
include the ability to
add testimonials, a timeline of your work, an event calendar, and more
. Though SITE123's editor is a little limited, it's still a great choice for getting a decent-looking, fully functionally site up and running quickly.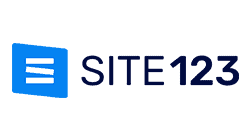 Save up to 50 % on your SITE123 plan!
Limited-time offer - Don't miss it!
76 users used this coupon!
Features
Advanced language features. If you're a multilingual author, SITE123 offers easy-to-use tools to help you reach an international readership, like an automatic website translator and the ability to edit SEO tags in various languages.
Easy contact forms. SITE123 offers pre-made templates for various types of contact forms, which can help you get in touch with different interested parties on your own terms.
Affiliate marketing options. If you run a blog and you're looking to make a little extra on the side, SITE123 offers affiliate marketing options to help you monetize your site.
Plugin extensions. Even if SITE123's tool catalog is somewhat limited, you can add tons of third-party plugins that you can use to add live chats, marketing features, and more.
For more, check out
our in-depth SITE123 review
.
Free plan available?
Yes
Mobile-responsive?
Yes
Cheapest e-commerce plan
Premium
Starting Price

$

12.80
How to Build Your Author Website
I know, I know – you're an author, not a developer! Don't worry, you don't need to teach yourself how to code to build a great website to boost your online presence. Just follow these simple steps: 1.
Choose a website builder.
As a writer myself, I recommend Wix. Wix gives you complete freedom to express yourself and comes with
all the tools you need to promote your work
, maintain your portfolio, host a blog, and more. 2.
Design your website.
Fortunately, you don't have to create a new design from scratch unless you really,
really
want to. Instead, choose a template that best suits your personality and your work. You can then tweak the template's design until you're happy. 3.
Add a blog.
Blogs aren't just a great way to share your thoughts with your readers – they're also a great way to improve your website's SEO. So, add a blog page and update it regularly to keep readers coming back. 4.
Connect your domain name.
Ensure that your website leaves a lasting impression by utilizing a custom domain name. You have the option to acquire one through your website builder, with some plans even offering them for free. Alternatively, you can opt to purchase a domain separately.
Dedicated Website Builders for Writers
Journo Portfolio. Despite its name, Journo Portfolio offers a decent set of features that go way beyond just presenting your portfolio. Its free plan allows you to create multiple pages, gives you tools to publish blog posts and articles, and provides a range of great themes to choose from.
Clippings.me. For a fast way to build your online presence as a writer, Clippings.me offers different themes, a section for your bio, and a place to upload and categorize your work. It's still fairly limited, but it does give you a great-looking portfolio, and its paid plans offer advanced analytics tools, too.
Booklaunch.io. If you're an author looking for a way to showcase your published works, Booklaunch is a great place to start. It's free for the first page, but if you opt to pay, you can create unlimited pages, build an email mailing list, and integrate with some third-party apps. Plus, you can build your pages using your books' ISBN numbers to allow Booklaunch to pre-populate your pages with cover images, titles, colors, and more.
Some Final Thoughts on the Best Website Builder for Authors
Writers come in all shapes and sizes (and chances are, not one of them enjoyed that cliché), so the best website builder for you will come down to your specific needs. That said,
although there are many author-focused website builders, none of them offer the creative freedom
or advanced tools you can get with the best general purpose website builder. Speaking of which,
if creative freedom is what you want, Wix is my top recommendation.
Its friendly drag-and-drop editor and myriad apps and features make it an incredibly versatile choice for getting the exact site you want. If you're after a builder that will give you a slick site and
simple yet powerful marketing tools, then Squarespace is the way to go.
Finally,
if you want a flexible blogging builder
that can give you a hand in the design process,
Hostinger Website Builder is a great fit
. Its powerful AI tools can help you with every step of building your site and even provide some inspiration for your content writing. If you want to see how each builder stacked up, take a look at the table below:
Free Plan
Best Feature
Best For
Starting Price
Wix

✔

Powerful drag-and-drop editor and hundreds of apps
Writers looking for full creative control

$

16.00

Squarespace

✘

Over 140 visually stunning templates and powerful marketing tools
Writers who want a minimalistic site and a strong marketing hub

$

16.00

Hostinger Website Builder

✘

Powerful AI building tools
Writers with little design experience who are looking to manage a blog

$

2.79

WordPress.com

✔

Thousands of third-party apps and templates
Writers with a focus on blogging and who don't mind a learning curve

$

4.00

IONOS

✘

Exceptional value for money
Contract writers on a budget

$

5.00

Site123

✔

Intuitive and fast website building
Writers who need to get online ASAP

$

12.80
FAQ
Should an author have a website?
Absolutely. An author website ensures you have a much-needed online presence, and it helps you build a personal brand. If you don't know where to start, check out this guide to the best website builders for authors in 2023.
How can I build my author website on my own?
Building your own author website is now easier than ever thanks to the wide availability of website builders. Although there are writer-focused builders out there, I wouldn't recommend them, as they don't have the same feature variety and design tools as other website builders. If you want to build your own, check out our in-depth guide to building your website in 2023.
What is the best website builder for beginners?
I recommend Hostinger Website Builder for most beginners, as it offers powerful AI-driven tools to help you build and design your site. That said, every person will have different needs and tastes. If you want to find the best builder for you, I recommend that you check out our list of the top website builders in 2023.
Can I sell my books on my website for free?
Yes, but I wouldn't recommend it. There are a few website builders that will let you create an online store for free, but you won't be able to connect your own domain to your site, and their free ecommerce features tend to be very limited. If you're on a budget, I recommend Squarespace, as it offers powerful ecommerce features for a very reasonable monthly fee.