Too busy for a full read? Here is the BEST Website Builder for Authors for 2020
Wix – The largest number of templates in the writing category with a full Amazon integration. Click here for 50% off all Wix plans.
Many author websites look boring, amateurish, or just outdated. Since you don't want one of those, you need a website builder with professional templates and design flexibility.
But a good design is not enough. The right website builder will have other features that will make your site stand out, like a prominent author's bio, an eye-catching spot for pull-out quotes and readers' reviews, and a calendar for upcoming book signings. You may also want e-commerce features to sell your work directly from your site, or Amazon and Goodreads integrations.
I tested the major website builders on the market and found out which ones offer the best features for authors. I'll share some time-saving tricks, pro tips, and helpful visual guides to make your website building experience as hassle-free as possible. Read on to find the right website builder for you, so you can get back to writing your next bestseller.
In a Hurry? These Are the Best Website Builders for Authors
Wix – Has 10+ fully customizable templates in the Literary Arts category and a great Amazon integration
SITE123 – Offers a quick and easy website building process so you won't waste any precious writing time
Squarespace – Offers polished templates and stand-out blogging features to present your writing in its best light.
What We Look For in the Best Website Builders for Authors
To narrow down the dozens of website builders out there, I focused on the features that matter most to authors:
Well-designed templates: If your site is going to represent you, you need it to look good. I chose the builders that offer the most attractive designs. Some even have templates created specifically for authors.
Personalization options: Templates are nice, but you want your author website to reflect your own personality. These builders allow you to customize your site's design and make it your own (some offer more freedom than others).
Ease of use: You don't need any design experience to use these platforms, and you certainly don't need to know how to code. Building your website will be quick and easy, so you can save your time for writing (or, if you're like me, for procrastinating).
Extra author features: These builders let you enhance your site with a blog, reader reviews, or even your own online shop to sell your books.
Why You Shouldn't Use a Dedicated Website Builder for Writers
Choosing a specialized site builder for writers might seem like a good idea, but you should be aware of the downsides. These builders are usually focused on portfolio display or lists of publications, but they don't give you a fully functional website with room to grow. Sure, your portfolio is important, but all the website builders on this list have the ability to create them – along with many other useful features for your site.
The last thing you want is to have to rebuild your website from scratch later on down the line, when you realize you've totally outgrown the restrictions of a dedicated website builder for authors. If you'd still prefer to check out this route, jump down to see which specialized builders I recommend.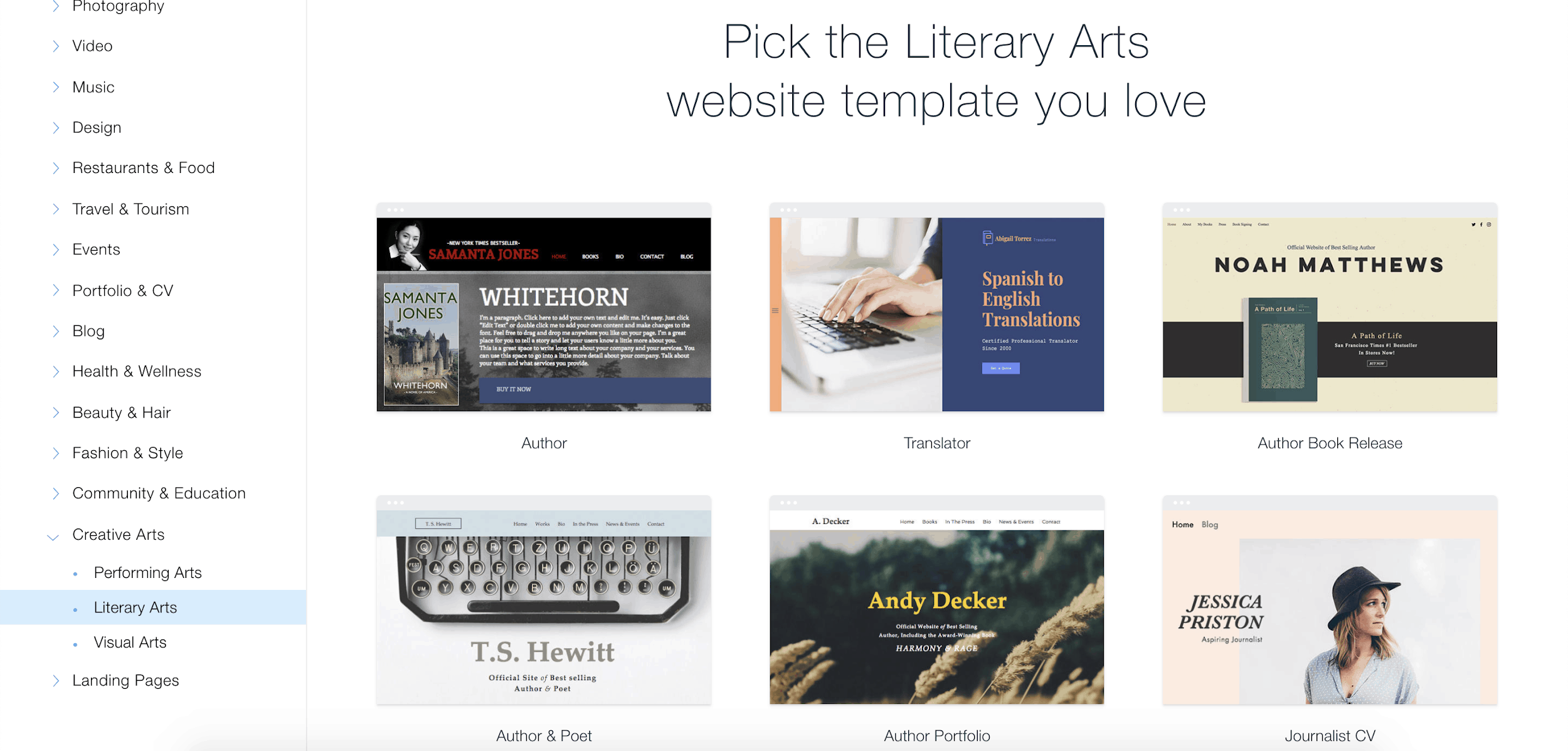 Wix has more than 500 free templates, and it even has 16 templates specifically dedicated to the literary arts. Whether you're a novelist or a children's book author, you can find at least one template made specifically for you.
Since all Wix templates are fully customizable, you don't have to limit yourself to the Literary Arts category. You can choose any template you like from the library and make any changes you like. One of the advantages of choosing a designated author template, though, is that they come with preset sections for books, an author's bio, press reviews, and upcoming events – like in the example below.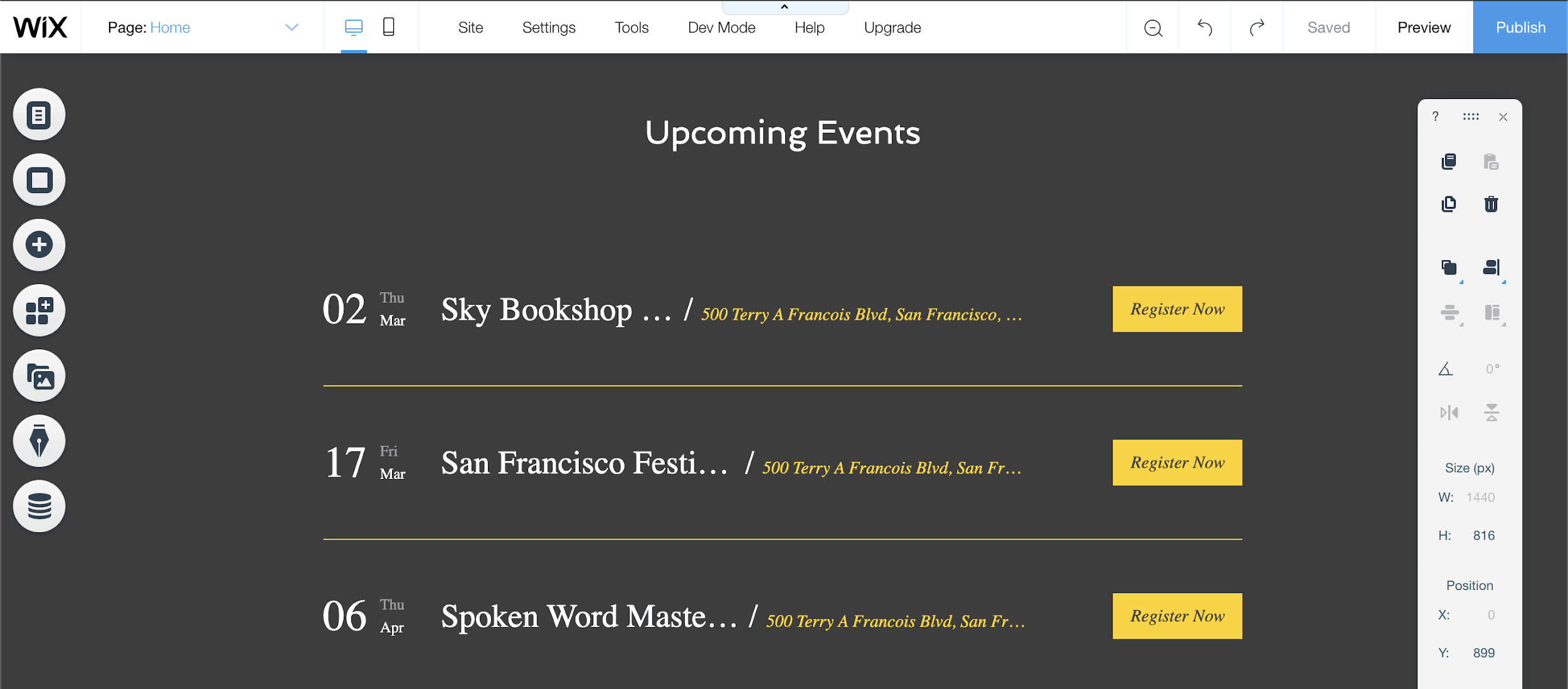 Heads up about the templates: Make sure you spend some time choosing the right one. After you've started editing, you won't be able to switch.
There are many features you can integrate into your site, either through the editor itself or via the Wix App Market:
Add a blog to publish chapter samples or short stories
Directly display your books for sale through the Amazon app
Allow visitors to download files, such as free excerpts and e-books
Use the Wix Forum app to create a community for readers to share and comment
Insert a Wix Countdown Clock to generate buzz for your next book release
You can learn about other features in our full Wix review.
Wix's free plan comes with 500 MB each of storage and bandwidth, but you'll be stuck with a Wix subdomain and Wix branding.
If you want to sell printed or digital books online, you'll have to upgrade to a paid plan to run an online store. As a free user, you can add an external link to Amazon or Book Depository.
Number of Templates
500+ templates in total, with around 16 for authors
Mobile-Responsive Templates?
No, but each template has a mobile-friendly version and you can use the mobile editor to tweak it to your liking
E-commerce?
Yes, but only on paid plans
What Do You Get with the Cheapest Paid Plan?
The Combo plan offers:

2 GB bandwidth
3 GB storage
Custom domain (free for one year with annual plan)
Branding-free display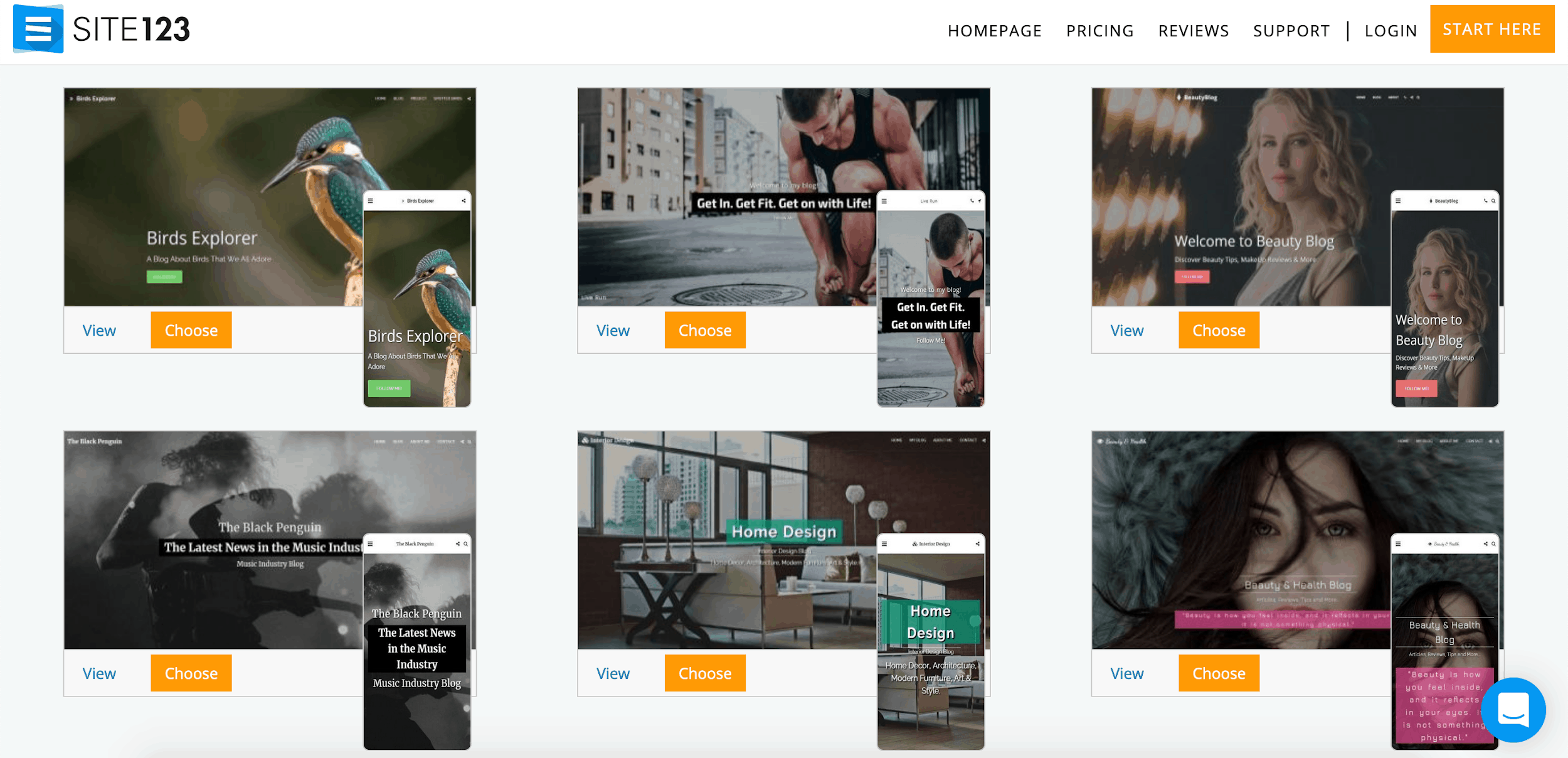 If you're up against the clock on your publishing deadlines with no time to waste building your website, you'll probably like the efficiency of SITE123. This website builder has far fewer templates than Wix (and doesn't have any specifically made for writers), but there's a nice selection of modern designs.
SITE123 has plenty of useful features for an author site. You can:
Insert testimonial blocks to highlight readers' reviews
Add Timeline to display your body of work visually
Choose your preferred blog style to publish teasers, short stories, or chapter excerpts
Add an Events page to showcase upcoming book releases or signings (shown below)
Use SEO tools to make sure potential new readers can find your site easily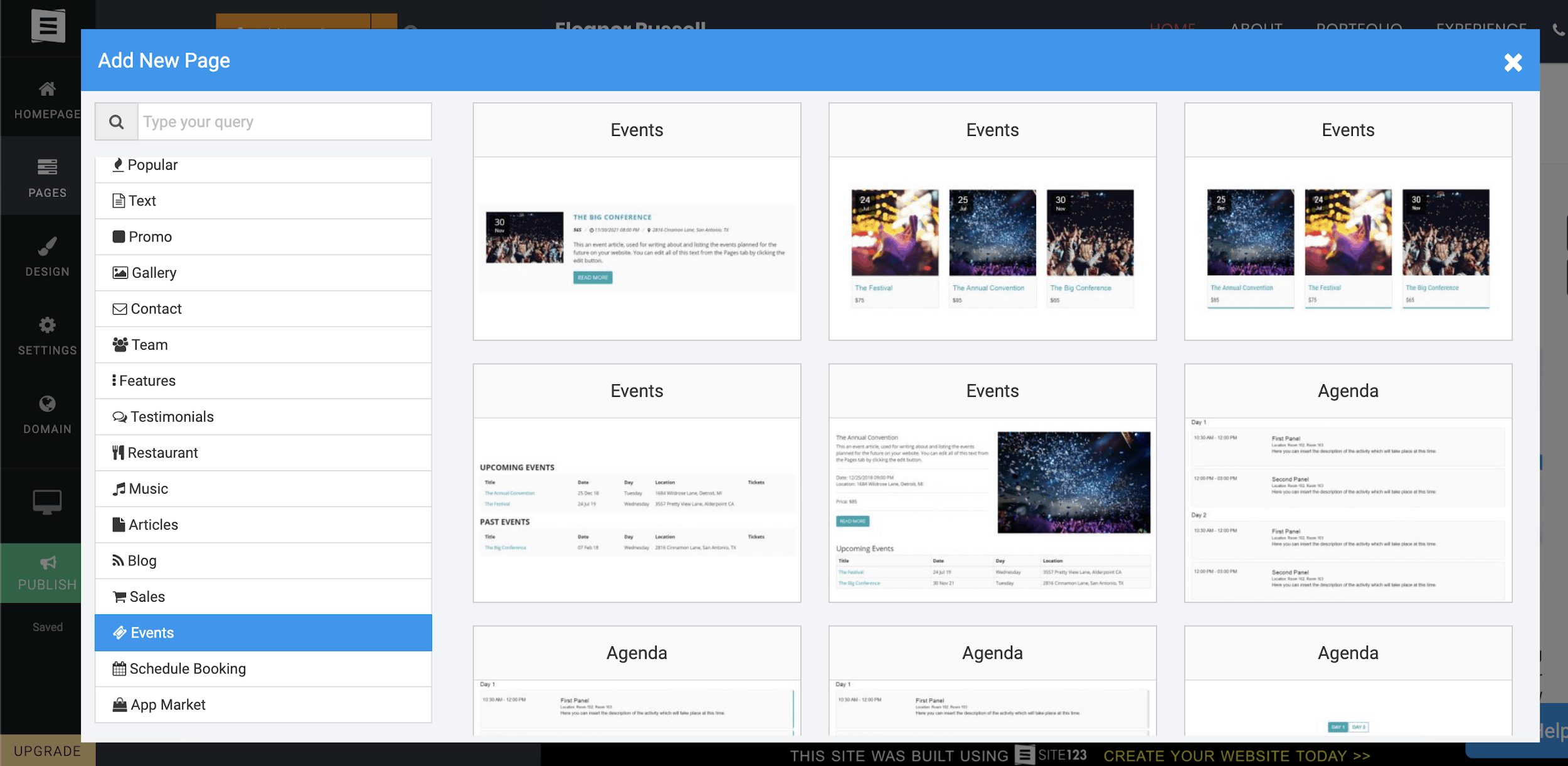 SITE123's 24/7 live chat support is also really helpful for beginners. I used the live chat a ton while writing my SITE123 review and never had to wait more than 30 seconds for an answer.
SITE123's free plan is pretty limited, with only 500 MB storage, SITE123 branding, and a SITE123 subdomain. But it still allows you to build a fully functional site quickly and easily.
Number of Templates
100+ templates, none specifically for authors
Mobile-Responsive Templates?
Yes
E-commerce?
Yes. You can technically even host an online store with a free plan, but you cannot accept online payments (offline options, such as pay by phone and bank transfer, are possible)
What Do You Get with the Cheapest Paid  Plan?
The Basic plan offers:

5 GB bandwidth
10 GB storage
Custom domain (free for one year)
Branding-free display
100 mailing list messages
Access to plugin library
More customization options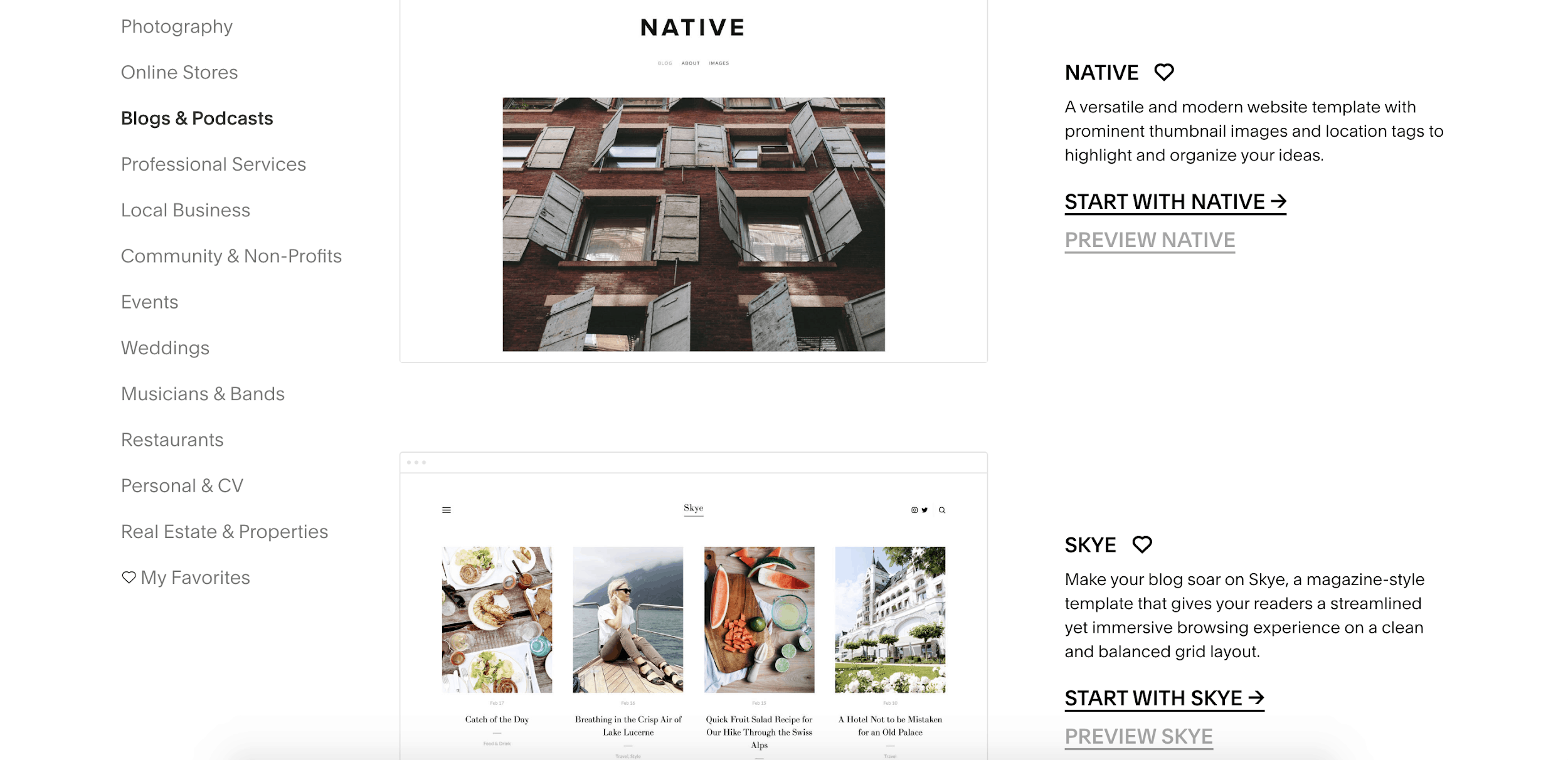 Squarespace is well-known for its trendy, polished templates. In such a competitive industry, you want your website to reflect who you are and look its absolute best.
Along with attractive templates and standard edits to your website (like adding images, pages, and text blocks), Squarespace also has some unique features for authors – especially if you like blogging.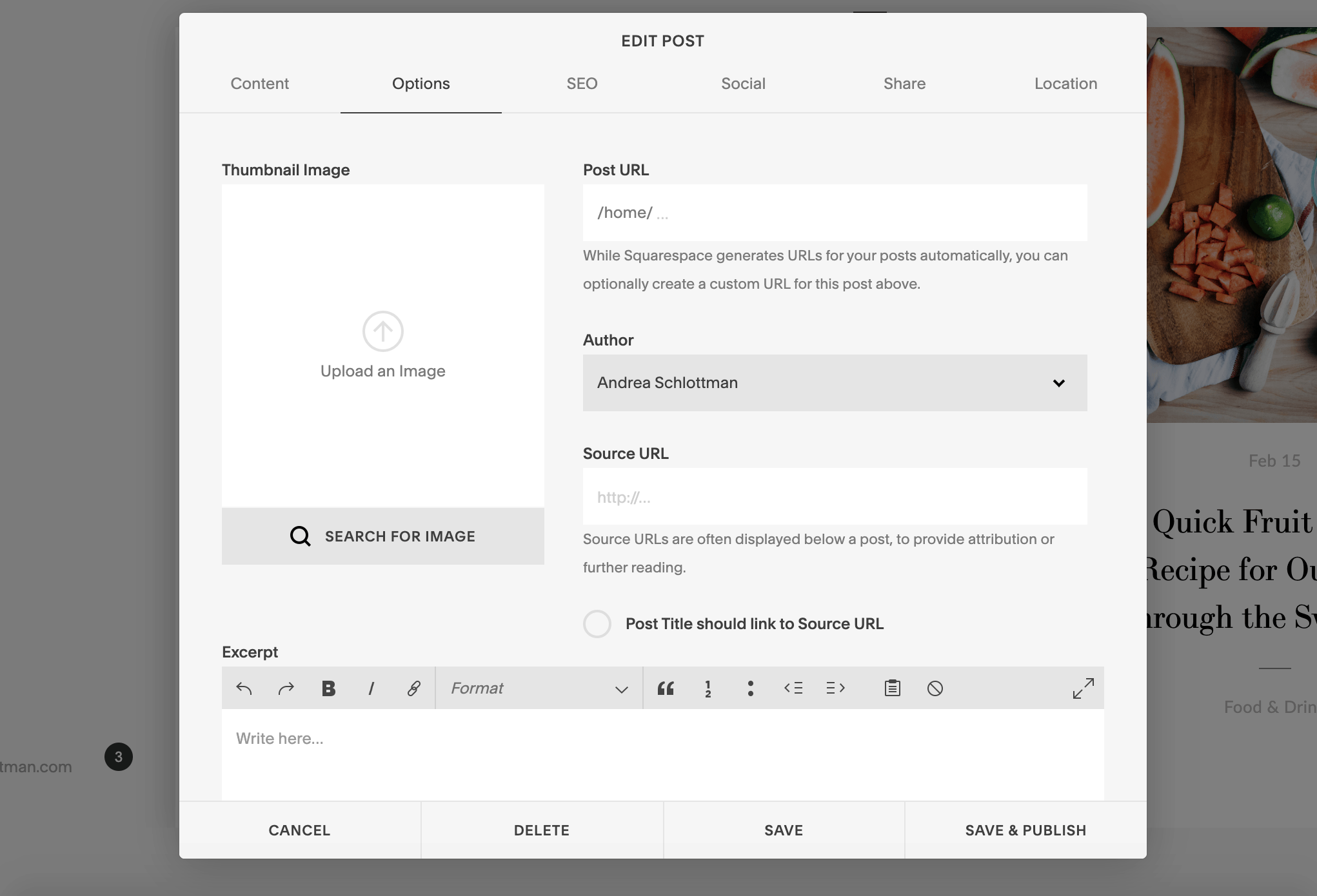 A Squarespace blog lets you:
Organize your posts according to categories and/or tags
Enable or disable reader comments for individual blog posts, or even set a time limit for comments
Use accelerated mobile pages (AMP) to make your posts load faster on mobile devices
Automatically push content to your social media accounts (including Facebook, Twitter, LinkedIn and more)
Start with Squarespace's 14-day free trial to build your site and see if you like the platform. If you subscribe to the Business plan, you'll be able to add an online store to sell your books. You'll also get unlimited storage – great for uploading videos from book readings or even sketches from the creation process of your graphic novel.
Number of Templates
100+ templates, none specifically for authors
Mobile-Responsive Templates?
Yes
E-commerce?
Yes, on the Business and Commerce plans
What Do You Get with the Cheapest Paid Plan?
The Personal plan offers:

Unlimited bandwidth and storage
Custom domain (free for one year with annual plan)
24/7 customer support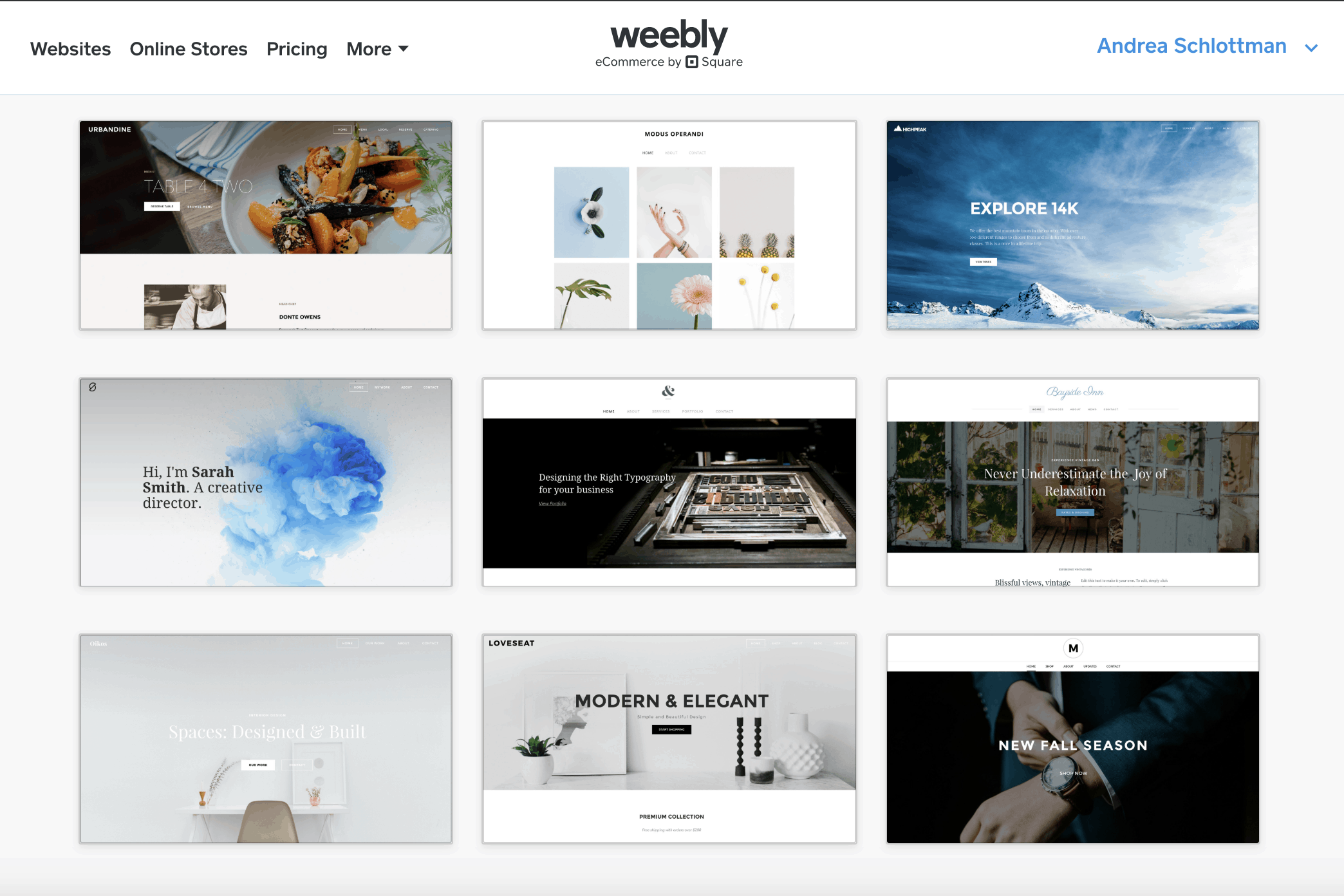 Weebly has a simple, streamlined drag-and-drop editor. Although it offers fewer themes than Wix or Site123, the selection is attractive, and every theme can be customized exactly as you want. If you don't like the free themes on Weebly, you can also import third-party themes from marketplaces like ThemeForest. Unlike Wix, you can change Weebly themes at any time, giving you more flexibility.
Customizing your site is easy, with 25+ ready-made elements you can drag and drop onto any page.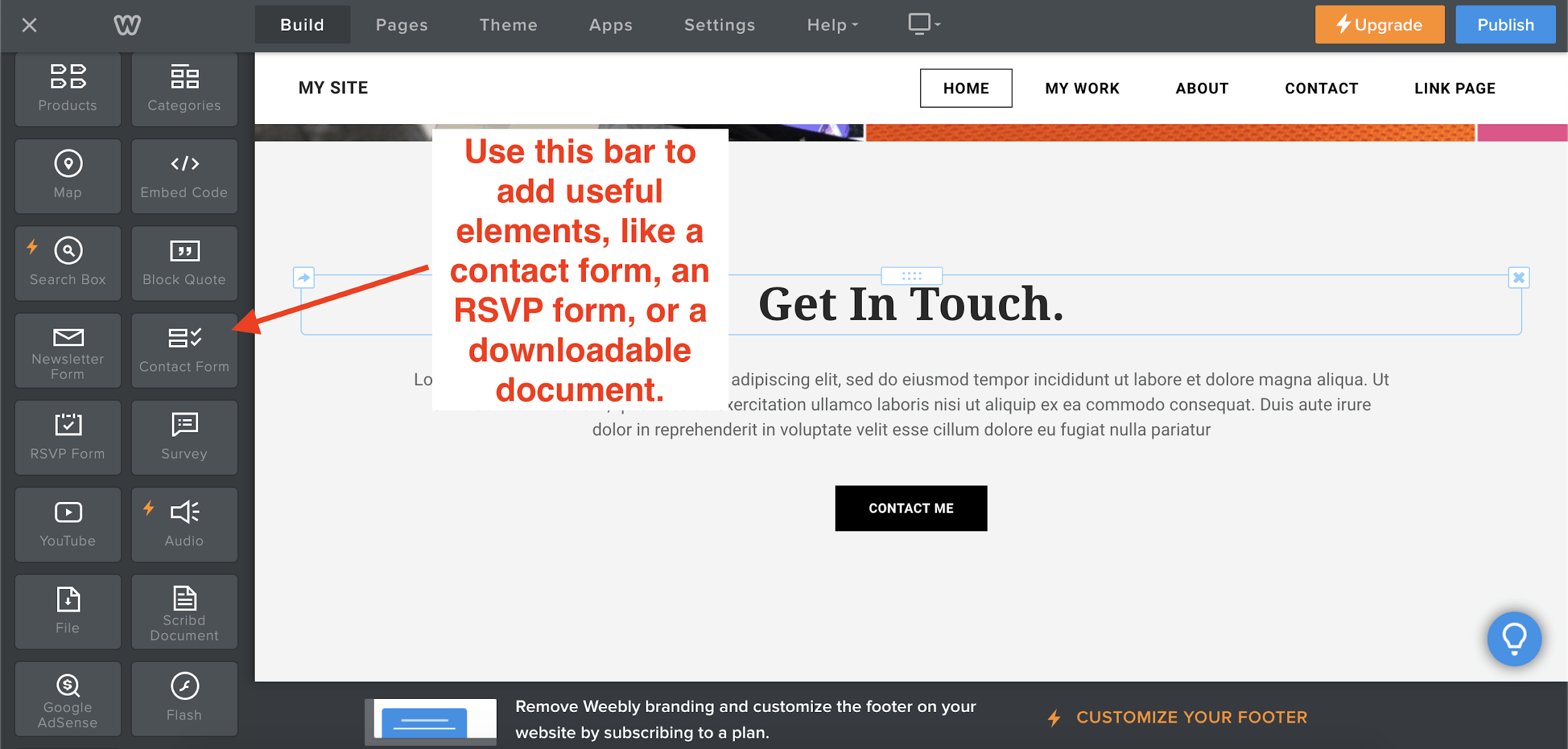 For your author's website, a few standout features of Weebly include:
Downloadable documents via Scribd
A blog to share your thoughts with the world or publish writing samples
Contact forms for readers, literary agents, or other site visitors to get in touch with you
Social media apps and buttons to help you get more followers
Custom surveys to collect feedback from your readers
With Weebly's free plan, you'll get 500 MB storage, but your site will have a Weebly subdomain and Square branding. Upgrading will unlock more storage and the ability to connect a custom domain. Weebly also offers the cheapest e-commerce plan with no limits, allowing you to sell your books for much less than other site builders.
Learn about other pros and cons in our detailed Weebly review.
Number of Templates
60+ themes available, none specifically for authors; you can also purchase and import third-party themes
Mobile-Responsive Templates?
Yes
E-commerce?
Yes, available with the cheapest plan
What Do You Get with the Cheapest Paid Plan?
The Personal plan offers:

Custom domain
500 MB storage
E-commerce, including digital/physical products and online payments

Note that this plan does include Square branding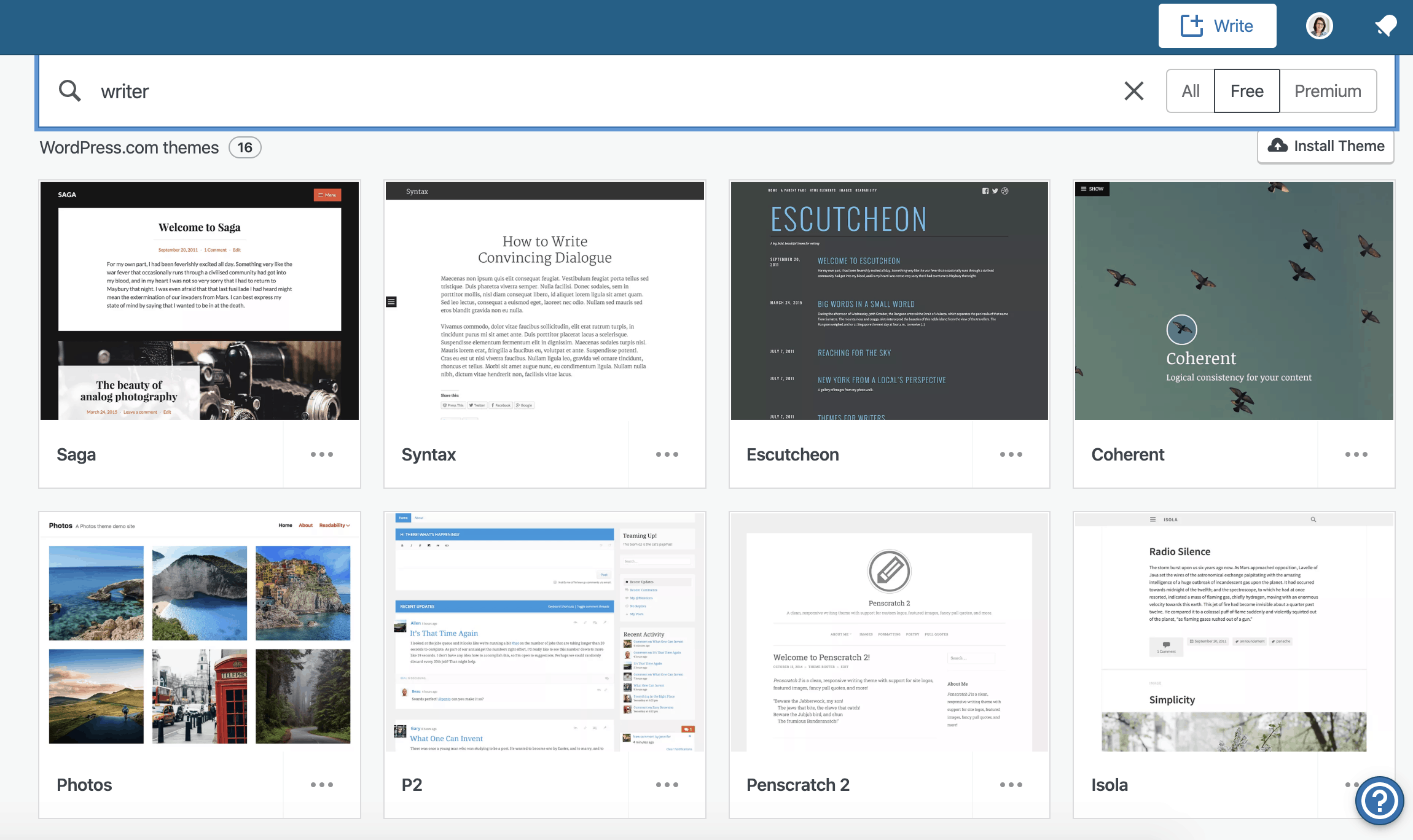 WordPress.com has more than 100 free and premium themes, with around 15 themes designed for writers. If you upgrade to the Business plan, you can also purchase themes from third-party providers (Template Monster is one of my favorites).
With a free WordPress.com plan, you can:
Display your books on Goodreads on your site
Add a "milestone" to count down to an upcoming event, like a book release
Add a Google Translate button to display your site in different languages
Take advantage of built-in SEO tools to grow your readership
Good news for the easily distracted writers among us: Once your website is published, you can write blog posts distraction-free by using the Full-Screen Editing or Spotlight modes.
You can easily import your previous blog posts from most popular blogging platforms, such as Tumblr, Blogger, and Medium.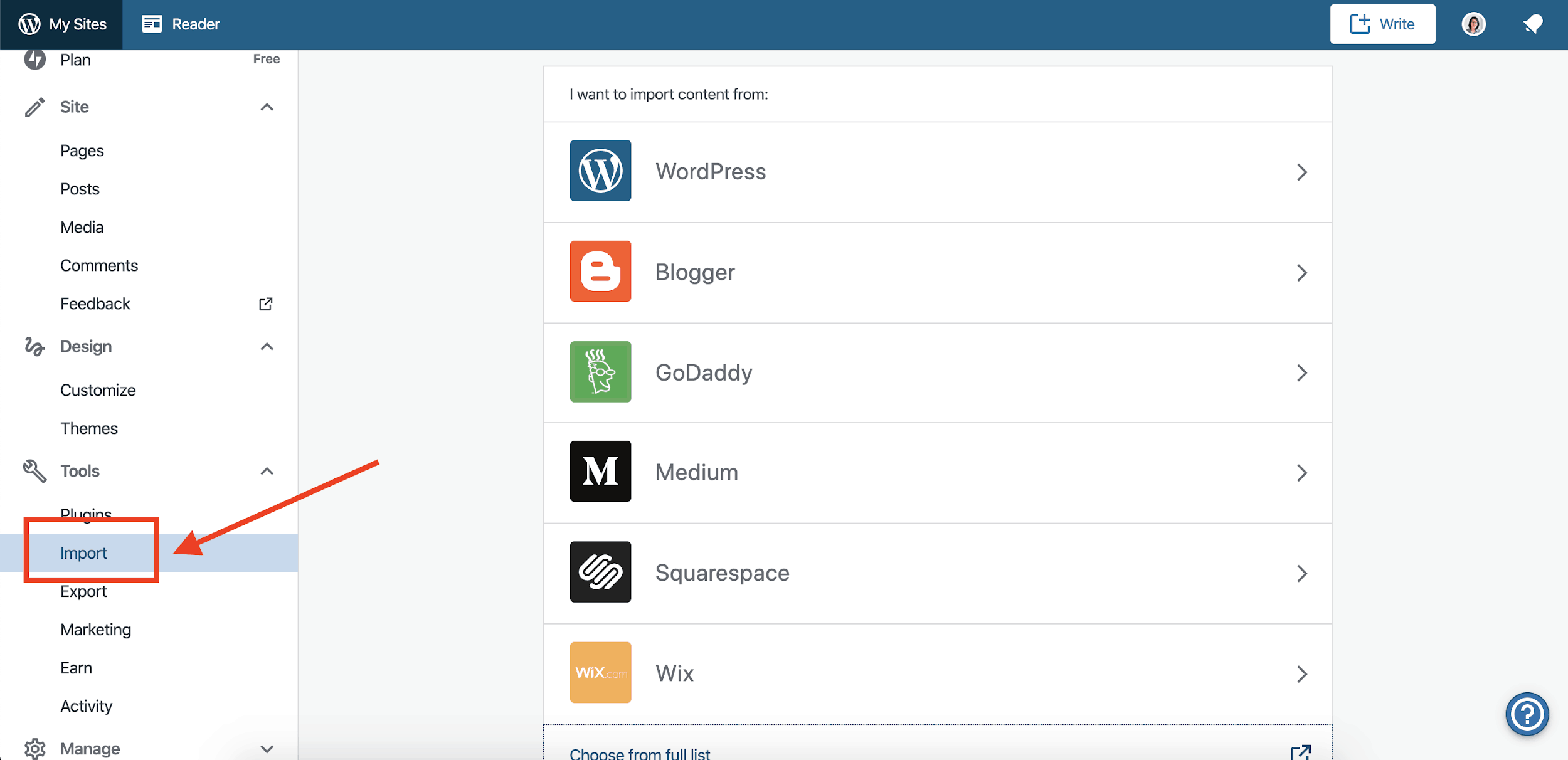 With WordPress.com's free plan you'll get a generous 3 GB of storage,  but your site will have a WordPress.com subdomain and WordPress.com branding. The free themes and widgets give you lots of options, but if you want to sell your books, you'll have to upgrade to the Business plan (or settle for adding a link to Amazon).
Jump over to our WordPress.com expert review for some pro tips on using the platform.
Number of Templates
100+ in total, around 15 free themes for writers; you can also purchase and import third-party themes
Mobile-Responsive Templates?
Varies by individual theme
E-commerce?
Yes, but only on the Business plan and up
What Do You Get with the Cheapest Paid Plan?
The Personal plan offers:

6 GB storage
Email and live chat support
Free domain for one year (with annual plan)
Branding-free display
Dedicated Website Builders for Writers
Journo Portfolio.

Despite its name, Journo Portfolio offers a decent set of features that go way beyond just presenting your portfolio. It has a free plan, allows you to create multiple pages, gives you tools to publish blog posts and articles, and has a range of great themes to choose from.

Clippings.me.

For a fast way to build your online presence as a writer, Clippings.me offers different themes, a section for your bio, and a place to upload and categorize your work. It's still fairly limited, but it does give you a great-looking portfolio, and its paid plans offer advanced analytics tools, too.

Booklaunch.io.

If you're a book author looking for a way to showcase your published works, Booklaunch is a great place to start. It's free for the first page, but if you opt to pay, you can create unlimited pages, build an email mailing list, and integrate with some third-party apps. Plus, you can build your pages using your books' ISBN numbers to allow Booklaunch to pre-populate your pages with cover images, titles, colors, and more.
Some Final Thoughts on the Best Website Builder for Authors
Still not sure which is the best option for you? Here are some quick recommendations:
If you want the largest selection of designated templates for authors, Wix is by far the best choice. You can also take advantage of its great free apps, including the Amazon integration.
If your priority is to sell your books at the lowest cost to you, then go with Weebly. You can sell unlimited e-books, printed books, and other merchandise directly from your site on the cheapest plan.
In most cases, it'll be worth the added cost to upgrade. You'll be taken more seriously as an author with your own domain name, and you'll often get access to better customization options or add-on features. All of these site builders offer reasonable starting prices and a minimum 14-day money-back guarantee, so you can try a premium plan without risking your hard-earned cash.
Check out the table below to find the best website builder for your author's site.
Stand-out features for author websites
Wix

500+ free templates, 10+ in the Literary Arts category
Great free apps like Wix Forum, Amazon, and Countdown Clock

SITE123

100+ free elements, including events calendars and pull-out quote blocks
Responsive 24/7 live chat support

Squarespace

Great blogging platform
Advanced e-commerce features

Weebly

Stylish templates, all free
The cheapest option for unlimited e-commerce

WordPress.com

Distraction-free writing mode
40+ free widgets, including Goodreads integration
FAQ
How to build a website for an author? 
The easiest way to get started is to use a template from a website builder that you can customize to your liking. Wix has some great author templates built with sections to promote your book, upcoming events, and display press testimonials.
Once you've decided which website builder and template to go with, you also want to choose a good domain name. Most writers tend to use their names, so no need to overthink this. 
Next, add some content to your site, like an 'About Me' section, some details of your book or writing, and a contact form and your author's website is ready to go. 
Can you sell your books online for free? 
Yes, it's possible. But, for a few dollars extra a month, you can also have a more highly functioning online store to sell books directly from your site.
To sell books on your website for free, you can add links to Amazon or Book Depository. Wix also has plugins that allow you to let your site visitors download a sample of your book or an e-book, but you can't accept payment for this without upgrading to a higher plan. To make sure you get the best deal on whatever website builder you choose, make sure to check out our coupon page. 
Depending on your location, you can also use Weebly to set up an online store for free, which you can use to sell physical or digital copies of your books. 
What is the best website builder for beginners?
Any DIY website builder mentioned in this article is easy enough to use, but if you're looking for something that's absolutely foolproof, go with SITE123. It's more limited in terms of design options and extra features compared with Wix or Squarespace, but you can still have a good-looking in almost no time at all. Plus, there are some great deals for SITE123 going on right now.
On the other hand, Wix has templates specifically for writers, making it easy to build your website, and you'll have the advantage of having a more customizable design to work with.
The truth is, you can still create a great author's website with almost any of our recommended website builders, so don't be worried if you're a website building beginner!