the right builder will allow you to enhance your site with additional features
, such as a contact form, social media sharing, and more. I tested all the leading website builders out there to see which ones are really as good as they claim to be. Read on to find out which ones are the best for architecture websites.
With a couple of dozen templates designed specifically for architects, Wix has the best selection of ready-to-go templates out of all the builders on this list.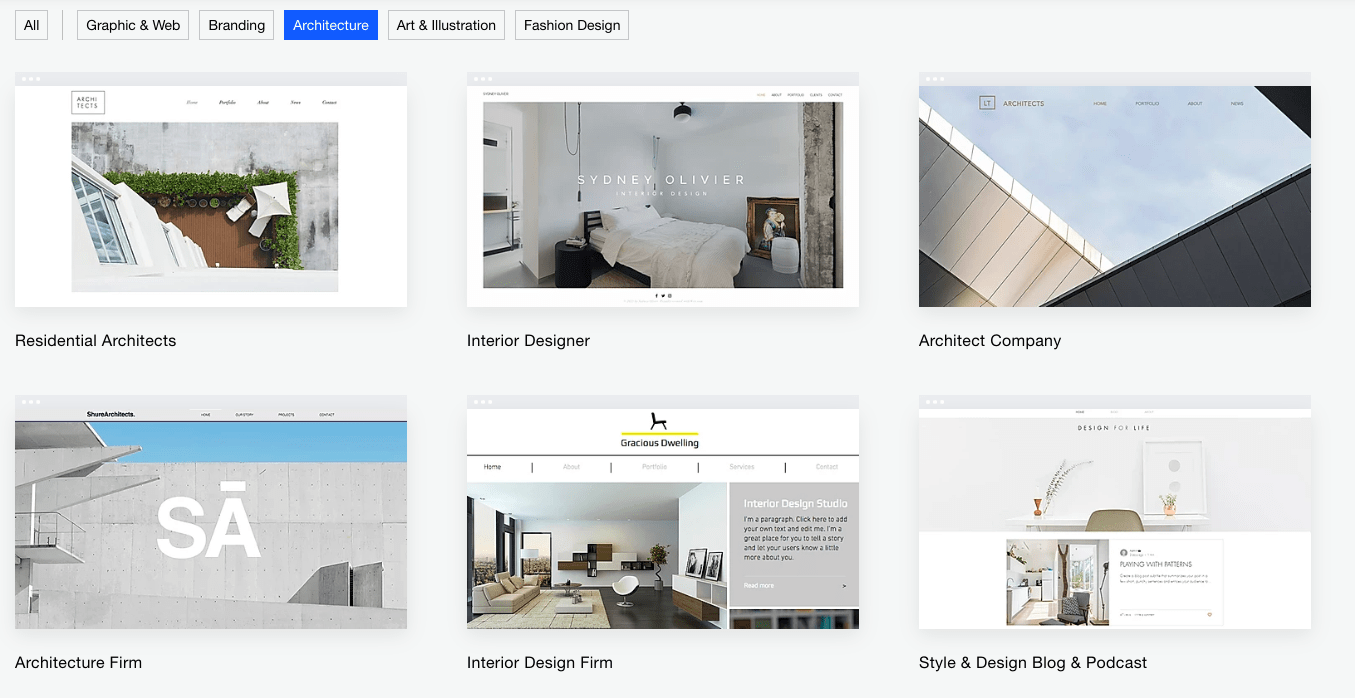 Wix gives you a lot of creative freedom compared to other website builders.
There are endless customization options and great image gallery apps. You can display your architecture portfolio in one of many different gallery layouts, control how your photos are displayed, and upload or embed videos. You can use
Wix's free plan
 to try it out – just keep in mind that you're capped at 500MB of storage space and your site will display Wix branding.
One of the main downsides with Wix is that the templates aren't mobile responsive
, so you'll have to go into the mobile view to make sure your site looks good on every screen.
Take a look at our full Wix review
to learn more about the pros and cons.
While Squarespace doesn't have an entire architect template category like Wix, there are still some great options to show off your images.
In general, Squarespace templates are minimalistic, which is fitting for an architecture firm.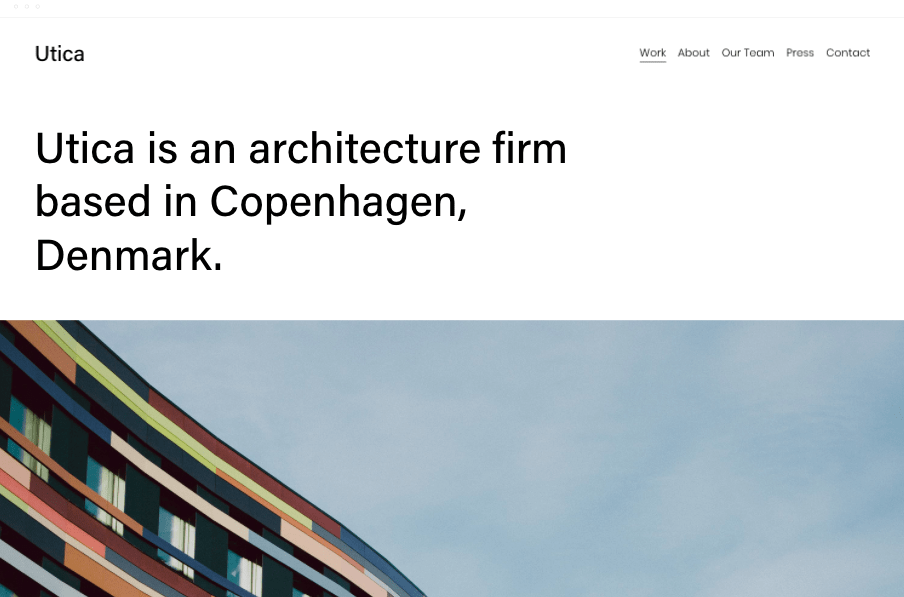 If the main focus of your architecture website is an online portfolio of your work, then Squarespace is your best bet.
 And it doesn't hurt that Squarespace templates are mobile responsive so your content will look great on all devices.
Squarespace automatically optimizes the images you upload
 and resizes them so that they show up the way you intended on any screen they're viewed on.
You'll get a 14-day free trial
 to test out the website builder, and after that, you'll need to choose one of four plans. To learn more,
see our Squarespace review
.
If you want the easiest no-fuss website builder, then SITE123 is your best choice.
SITE123 has one specific template for architects, but many other templates, especially in the Photography and Creative Arts categories, can be easily customized to fit an architecture website.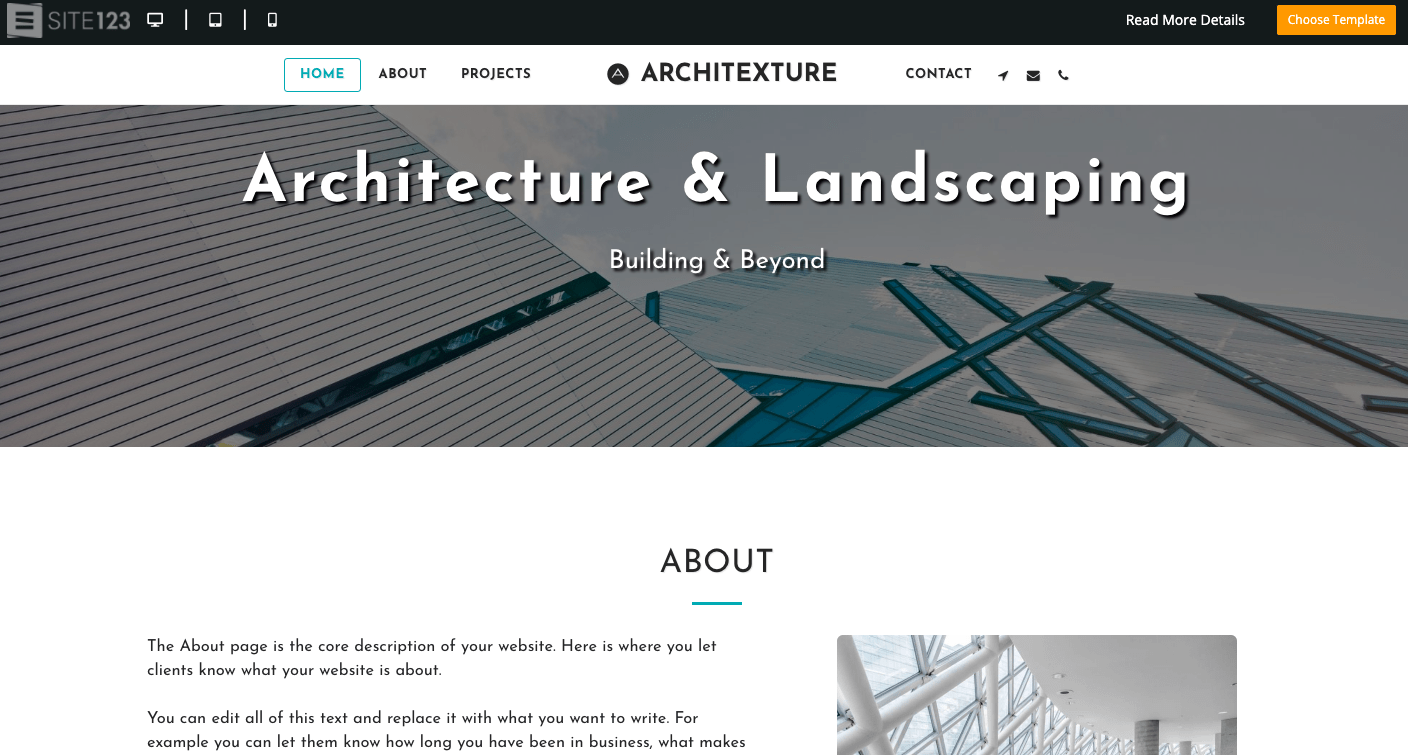 In general, SITE123's templates exhibit a somewhat generic appearance and lack the sleek, modern feel found in Squarespace. However, the simplicity of the site editor compensates for this.
It takes little effort to personalize your website. All you have to do is point and click to add, remove, or customize sections on a page.
You can go from picking a template to having a finished website in about an hour.
See our in-depth SITE123 review
to find out about other features.
SITE123 has a free plan
 which you can use to create a basic site. There are also affordable paid options if you need more storage or a custom domain.
You won't find architect-specific themes on WordPress.com, but any of the portfolio themes will help you get started on your architecture website.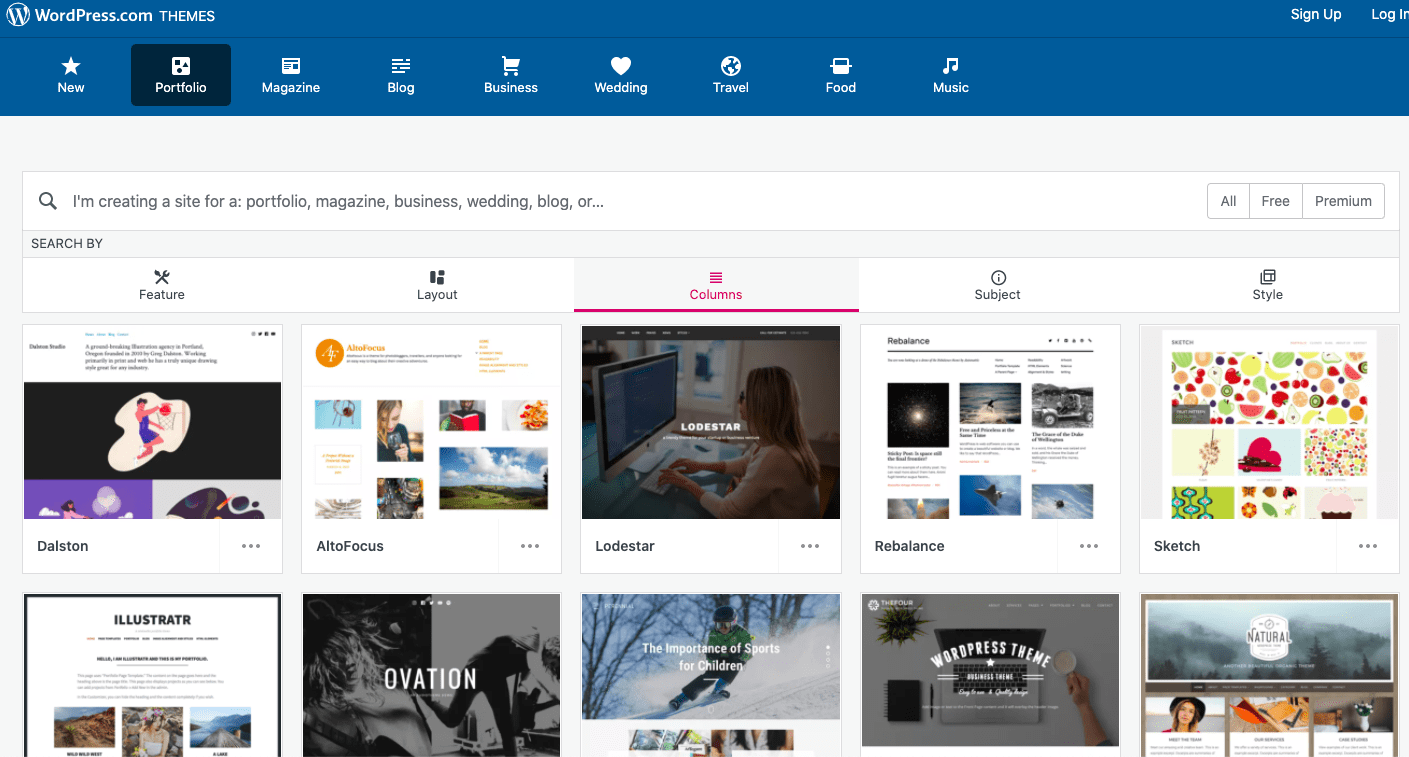 You can start building on the free WordPress.com plan
, but you'll need to upgrade for more storage and advanced features.
If you upgrade to the Business Plan, you'll be able to add third-party themes
 from websites like
Themeforest
, where you'll find hundreds more to purchase. You'll also have access to the huge variety of WordPress.com plugins. While WordPress.com is a little more complex to use than other DIY builders, it's worth the effort for the flexibility you get. Read our
in-depth WordPress.com review for more details
.
Weebly is very easy to use, but it lacks a lot of the features offered by other website builders like Wix and Squarespace.
 Weebly sites aren't as customizable, and there aren't as many theme options, but you'll be able to navigate the site editor with no problem, even if you've never built a website before. Weebly has crafted well-designed themes that adeptly showcase images and galleries while maintaining mobile responsiveness.
Weebly positions itself as a website builder for online stores, and though you probably won't need its e-commerce features, it's also
a good option if you want a simple site for a portfolio or a blog.
 You'll find an overview of all the features in our
detailed Weebly review
.
There's a free plan you can use to test out Weebly.
 Upgrading to a premium plan won't set you back too much.
Which Builder Is the Best for Architects?
To select the appropriate website builder for your architecture website, consider your specific requirements. Certain website builders surpass others in versatility and provide greater value for the investment.
I recommend going with Wix for its selection of architect-specific templates
 and its drag-and-drop editor that helps you get your site just the way you want it.
Squarespace is also a great option, with mobile-responsive templates
 perfect for image portfolios. Here's an overview of the best features of each website builder:
| | | |
| --- | --- | --- |
| Website Builder | Stand-out Features | |
| Wix | Many professional templates for architects, drag-and-drop editor lets you personalize your website. | |
| Squarespace | Great image optimization tools, beautiful portfolio templates, mobile-responsive templates. | |
| SITE123 | Quick and easy website setup, affordable paid plans. | |
| WordPress.com | Offers the most customization options with third-party themes and tons of plugins. | |
| Weebly | Easy-to-use site editor, ideal for a simple architecture portfolio or blog-based website. | |
FAQ
How do I make an architecture portfolio for my website?
When it comes to your portfolio, don't feel like you have to include every single project you've ever worked on; instead, just showcase the work that you are most proud of, or that you feel best represents your style as an architect. Images and accompanying descriptions are the most important part of any portfolio site. Wix has a bunch of templates designed specifically for architects – check out our article for the best ones.
How do I make an architecture website?
The first step in building an architecture website is to determine the builder that you want to work with. Any of the choices above will work well – or you can check out the ten best builders on the market today. After that, you need to pull in the important information for your visitors. This includes the images and descriptions of different projects, as well as an About section and a way for potential clients to get in contact with you. Whatever site builder you choose, make sure that you get the very best deal with the latest coupons.
What is the best free website builder?
The best free website builder really depends on your personal objectives. If you are looking for great functionality and plenty of design options, Wix is my top choice. If you are a true beginner, and are really just looking for something quick and simple, SITE123 could be a better option. To help you decide, we've written about the best (really) free website builders in 2023.