I've spent the past few months testing the most popular providers in New Zealand as part of Website Planet's massive web hosting comparison project,
 and I was mostly disappointed by what I found. Normally, I expect local companies to offer better performance for website visitors in a given region. However, this was not generally the case with New Zealand-based hosts. With a few exceptions,
local providers delivered slower average page loads than the international hosts I tested.
Some managed slightly better performance, but underwhelming features. For example,
I discovered that many Kiwi hosts don't offer a money-back guarantee.
If you sign up for a long-term plan (to get those sweet discounts) then realize the service isn't the right fit, you'll have no refund options. That said, I also have some good news:
I've found local and international providers with plenty of features and outstanding performance in New Zealand.
 Which one of these is best for
your
website? Let's find out.
Short on Time? These Are the Best Web Hosts for New Zealand:
Hostinger – Cheap, fast, and easy-to-use hosting for simple websites.
InterServer – Flexible monthly plan with unlimited

 SSD storage and as many websites as you want.

Kinsta – The best managed WordPress hosting money can buy – perfect for high-traffic sites.
What We Tested in Ranking the Best Web Hosts for New Zealand
Our team signed up with each provider for several months to give you a first-hand account of the hosting experience on each platform. We reviewed everything, from plan pricing and hidden costs to performance and customer support. Here's the gist of it:
Features. We made sure you'll have enough storage space and bandwidth for your website, but we also looked for other must-have features like an SSL certificate, integrated caching, and automatic backups.
Ease of use. From choosing a plan, to signing up, to launching a site, everything should be clear and simple. We've highlighted hosts that kept it that way.
Performance. We tested each host's page loading speed, global performance, and uptime over the course of several months. We used a regular landing page website to run these benchmarks for the most accurate results.
Support. Our team contacted each provider through live chat, tickets, and phone, where possible. We rated these interactions based on the host's response times, helpfulness, and general availability.
Pricing. Headline prices can be deceiving. We dug a little deeper to find hidden costs, missing features, or steep renewal policies that could sneak up on you later.
The above is just a quick peek into the method of our huge web hosting comparison project. I'll go into more detail later on, but first, here are the best web hosts for New Zealand.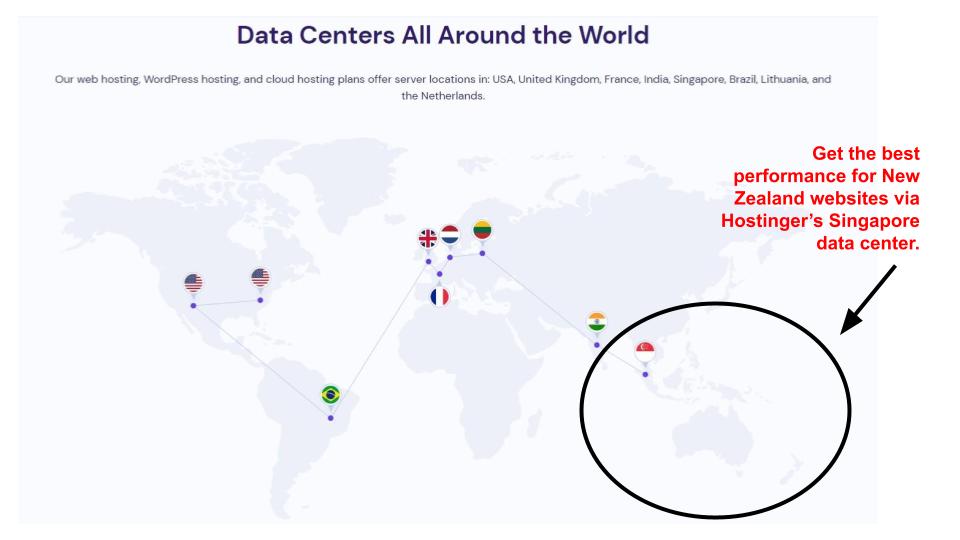 Hostinger has two important things going for it: it's outrageously cheap, and it delivers outstanding performance
 – not just in New Zealand, but around the world.
I tested
its
entry-level plan
 (the cheapest one), and I got great results on both GTmetrix and Sucuri Load Time Tester. I was also glad to see that all the essential features were included:
I didn't have to pay extra for an SSL certificate, automatic backups, or caching.
Hostinger doesn't come with cPanel, but in this particular case, that's actually a plus.
Hostinger's proprietary control panel can do almost everything cPanel can, only it's better organized and easier to navigate.
 There's a one-click installer for WordPress (and dozens of other CMSs), so it's very easy to get started.
Hostinger is an international host rather than a local one, but it does have data centers in Indonesia and in Singapore.
 You can choose either of the two for an audience in New Zealand.
A free domain name is included with some hosting plans from Hostinger
Features:
LiteSpeed web server. Compared to the older Apache server software that most hosts still use, LiteSpeed is faster and more stable during periods of heavy traffic. I saw this first-hand while testing Hostinger's performance.
Built-in caching. The LiteSpeed cache manager is integrated into Hostinger's dashboard, so it's easy to find and activate. Caching your site's static assets can speed up page loading significantly.
Managed WordPress features. If you opt for the Single Shared Hosting plan, Hostinger will back up your site on a weekly or daily basis, depending on your hosting plan. The provider will also patch your WordPress core installation and plugins for you, so you won't have to worry about outdated (and potentially vulnerable) software.
Professional email. Having an email address "@yourdomain" can help you better define your brand. Hostinger gives you one free address on the Single Shared Hosting plan, and 100 addresses on Premium and Business.
Read our expert Hostinger review for more details
.
Server locations
Indonesia, India, France, Singapore, the UK, the Netherlands, Lithuania, the US, Brazil
Free SSL certificate

✔

Money-back guarantee
30 days
Types of hosting
Shared, VPS, cloud
Pricing

$

1.99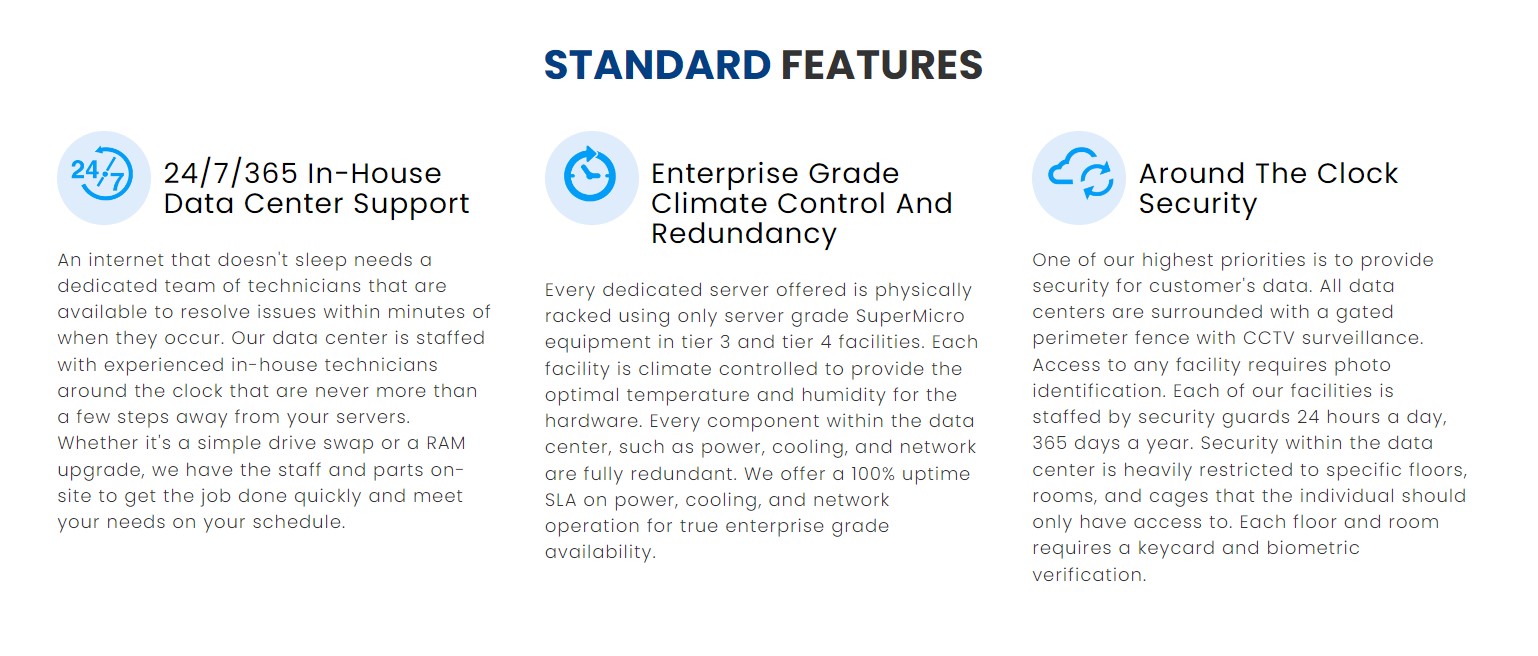 Some hosts throw half a dozen plans at you, and expect you to know how to choose amongst the minute details in each one. Not InterServer.
This provider keeps things simple with one shared hosting option that includes everything you need.
 There's no cap on the number of websites you can host, and you get unlimited storage space, bandwidth, and email accounts. You can pay a low annual fee and still get a decent price, so you don't have to commit upfront to several years of hosting.
InterServer also offers one of the cheapest monthly billing cycle on this list
– if you'd like to stay as flexible as possible, it's your most cost-effective choice.
InterServer's data centers are all in the US, but
my tests
indicate
you can expect decent performance in New Zealand if you opt for the LA data center with the free Cloudflare CDN (content delivery network) enabled.
Features:
Softaculous auto-installer. Using this nifty little tool, you can easily install more than 400 scripts for your website (including WordPress). You can also set up automatic updates for your CMS and plugins.
Underloaded servers. When you share a server with hundreds of other customers, performance tends to fluctuate based on how much traffic these neighboring users are getting on their websites. InterServer mitigates this issue by only utilizing 50% of available resources by hosting considerably fewer users per machine.
LiteSpeed technology. Like Hostinger, InterServer uses the LiteSpeed web server to speed up your website. The LiteSpeed cache manager is also available, which makes it super-easy to set up caching – just switch it on.
Managed security. InterServer's InterShield Security suite includes SSL certificates, automatic weekly backups, a malware scanner, a machine-learning firewall, and a hack-fix guarantee. That's a lot of stuff you no longer have to worry about.
Read our full InterServer review to find out more
.
Server locations
The US
Free SSL certificate

✔

Money-back guarantee
30 days
Types of hosting
Shared, cloud VPS, dedicated servers
Pricing

$

2.50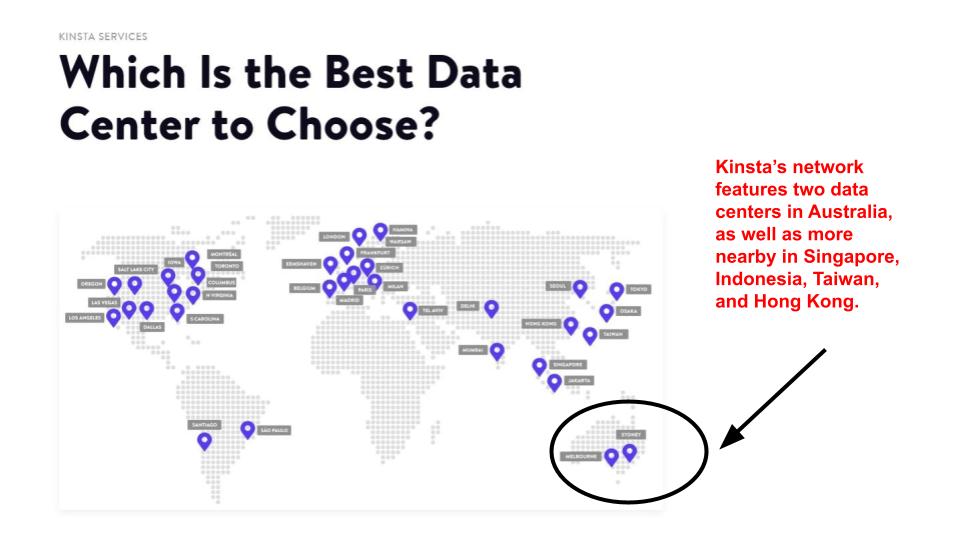 Kinsta is, hands-down, the fastest WordPress hosting provider I've tested so far.
 It also offers a comprehensive set of features that can make your life
much
easier. Instead of having to optimize or secure your website on your own,
you can leave everything to experts who do it all for you.
 And it works. According to
my tests
, Kinsta is blisteringly fast
everywhere
in the world. It uses Google's impressive network of data centers strategically positioned around the globe, and this includes a location in Sydney, Australia.
And although it offers cloud hosting (rather than shared hosting), it's still very easy to use thanks to its proprietary dashboard.
But I won't sugarcoat it – Kinsta is
very
expensive compared to other hosts on my list.
That's why I only recommend it for medium- to high-traffic websites that generate reliable income.
 You could use it for your personal blog (so your mom can load your content
really
fast), but that'd be overkill.
Features:
Managed caching. You don't have to install or configure any speed boosting software. Kinsta

offers edge caching, improving your site loading speeds by up to 49% with minimal setup. A

nd if my tests are any indication, it does this very well.
Built-in security. Aside from giving you a free SSL certificate, Kinsta sets up DDoS protection and other security measures by default. If your WordPress website is somehow hacked, Kinsta will also work to clean it up and restore it for you for free.
Automatic scaling. Instead of throttling your bandwidth during periods of intense traffic, Kinsta allocates more resources to your account at nominal fees. Your website continues to run smoothly, and you only pay overage fees for what you use.
Expert support. Kinsta focuses exclusively on WordPress, and offers in-depth support for this CMS.

English, Spanish, French, Italian, and Portuguese-speaking a

gents are available 24/7 through live chat and phone. I never had to wait for more than a minute to get a reply.
Read our detailed Kinsta review for more details.
Server locations
Australia, the US, Brazil, Canada, Europe, India, Taiwan, Japan, Indonesia, and more
Free SSL certificate

✔

Money-back guarantee
30 days
Types of hosting
Cloud-based managed WordPress hosting
Pricing

$

24.00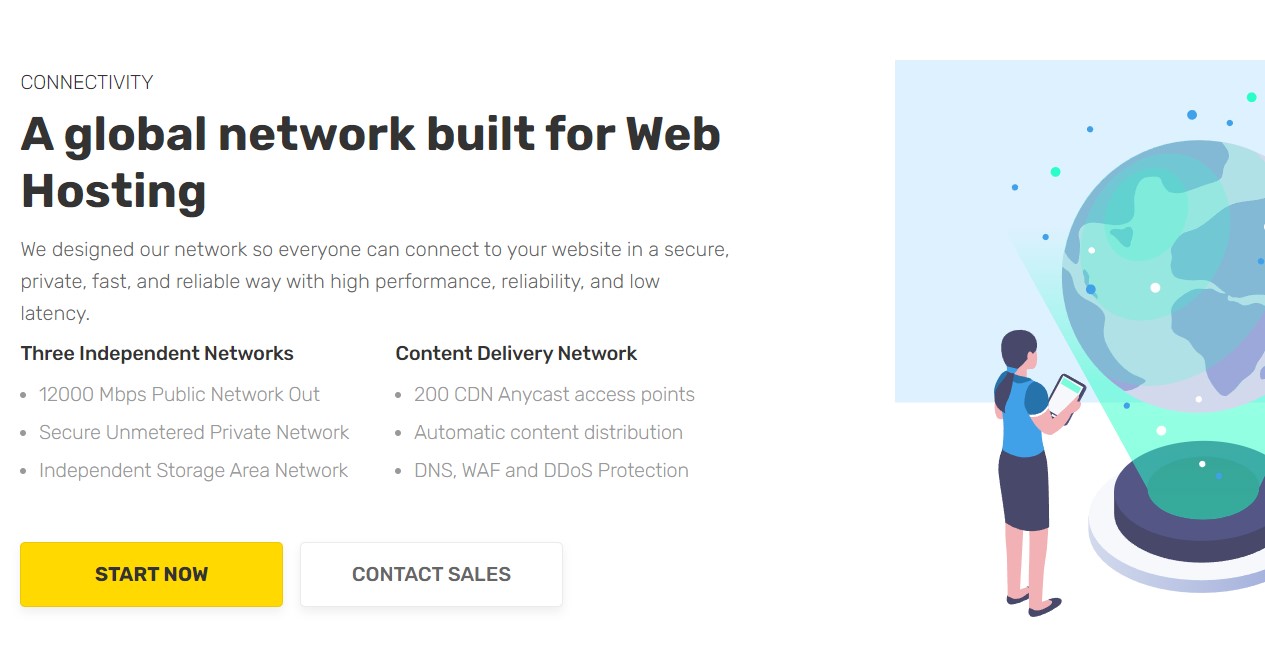 If you like some of the perks you get with Kinsta, but you don't want to pay a small fortune on hosting, FastComet is a decent alternative. It's not as speedy, nor does it offer the same level of managed support, but
the included features are solid, especially in regards to security
. FastComet uses CloudLinux OS to isolate each account on its shared servers, so other users can't dig into your resources or spread security breaches to your website.
It's almost like having a tiny VPS (virtual private server), but significantly cheaper.
Like Kinsta, FastComet has many data centers around the world.
There's a data center in Sydney too,
 which is about as close to New Zealand as you can get with international providers.
Features:
Advanced caching. Varnish, Memcached, and other PHP accelerators are built into the most expensive plan. Lower-tier plans also include a few basic optimizations, but I recommend FastCloud Extra if speed is important to you.
Simple website builder. You don't need to use WordPress if you just want a simple landing page or portfolio. FastComet has a free drag-and-drop website builder with lots of themes that'll help you get started.
Automatic app updates. Softaculous is included in all FastComet plans, which means that you can set up automatic updates for WordPress or any other script in its repository.
BitNinja security. You get protection against DDoS, malware, and brute force attacks in addition to the free SSL certificate already provided. FastComet configures BitNinja at the server level, so you don't have to deal with it yourself.
Read our full FastComet review to find out more
.
Server locations
Australia, Singapore, Japan, India, Europe, the US, Canada
Free SSL certificate

✔

Money-back guarantee
45 days
Types of hosting
Shared, cloud VPS, dedicated servers
Pricing

$

2.19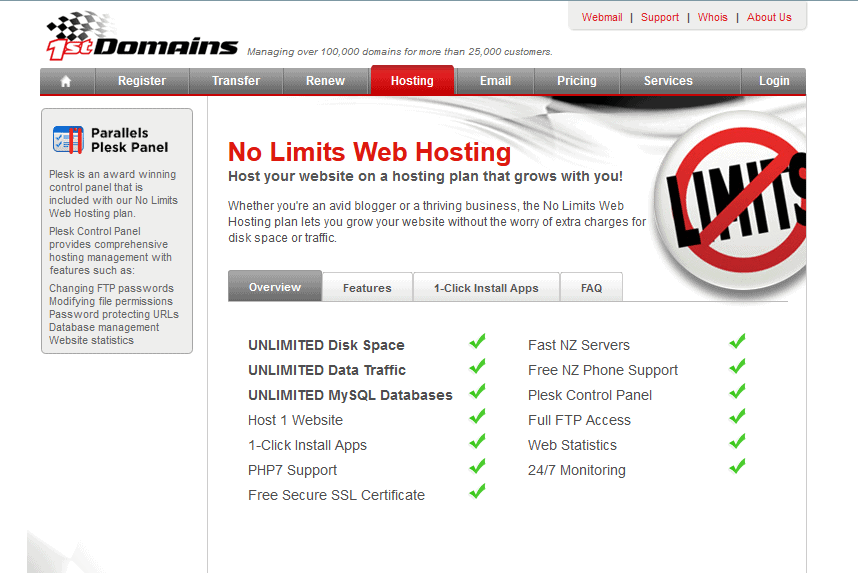 1st Domains is the second-fastest local provider that I've tested, and its
No Limits shared hosting plan
 (the only one on offer) has some decent features too.
You get unlimited storage space and bandwidth, a great control panel, and some advanced security tools, to boot.
But before you get too excited, you should know that a few essential features are missing.
1st Domains lets you host just one website on its "No Limits" plan,
which makes the idea of unlimited storage and bandwidth seem rather pointless. If you want to host multiple sites, you have to create a separate account for each, and
that
can get expensive. You don't get automatic backups, a CDN, or a website builder, nor can you buy these services as add-ons. More importantly,
there's no free trial or money-back guarantee, so you can't really test 1st Domains before you get on board.
 If you want to try it out, my recommendation is that you start with a monthly subscription, just to be safe.
Features:
Plesk control panel. Plesk is just as powerful as cPanel, but it has a modern look and is far better organized. You won't be overwhelmed by dozens of icons that you may or may not need, so essential settings will be easier to find.
Pristine uptime. Throughout the duration of testing, my website was online 100% of the time. I rarely see such impeccable uptime, and I keep tabs on all the major international hosts.

To back this up, the host has a 99.99% Network Uptime Guarantee in place.

Plesk WordPress security checker. In the control panel, you can discover this tidy plugin tucked away, enabling you to conveniently access and adjust all of WordPress' security settings collectively. Prior to engaging with the user-friendly interface, it's important to have a clear understanding of the actions you're taking, but the level of convenience it offers is certainly noteworthy.
Free SSL certificate. Not all local New Zealand hosts offer this feature, so I was glad to see it included in 1st Domain's plan. An SSL certificate is essential these days, not just for your website's security, but also for SEO and brand trustworthiness.
Read our detailed 1st Domains review to discover more
.
Server locations
New Zealand
Free SSL certificate

✔

Money-back guarantee

✘

Types of hosting
Shared
Pricing

$

5.71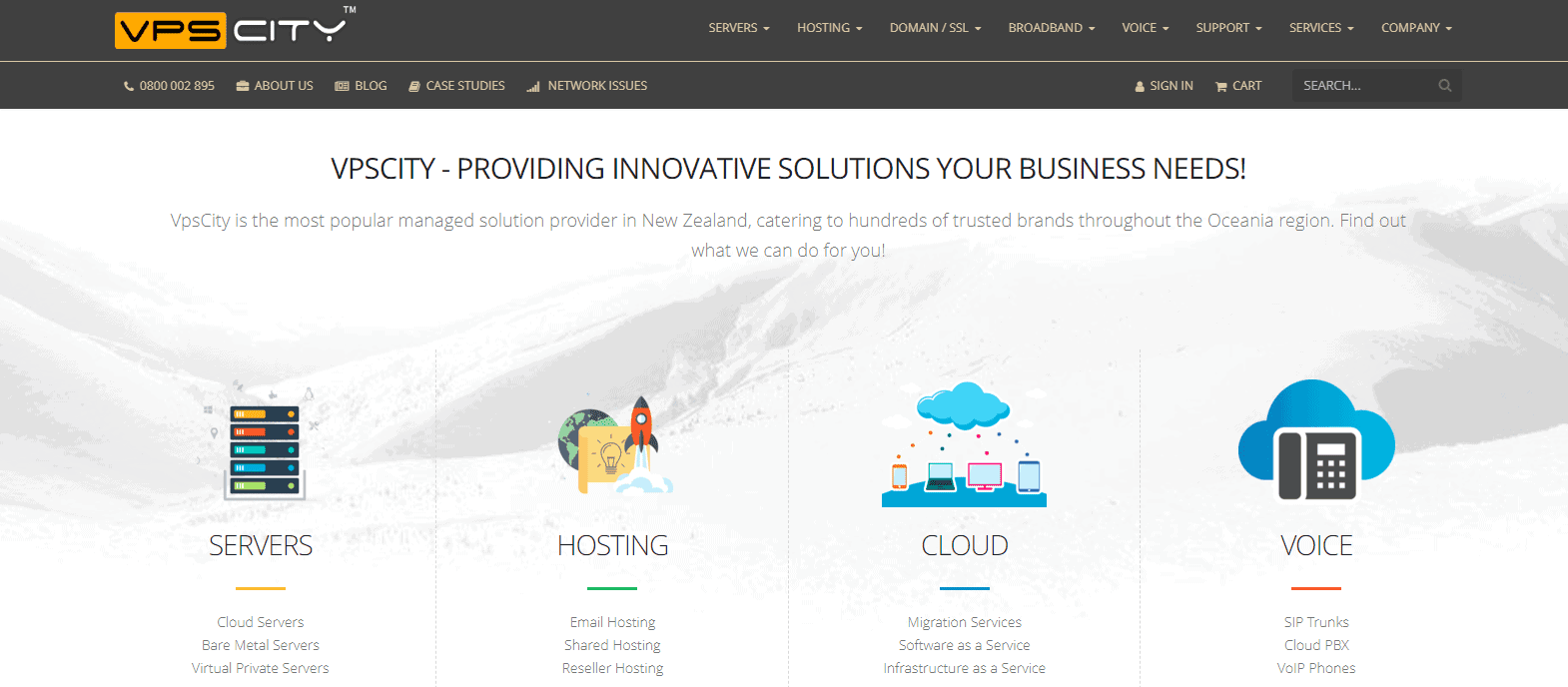 If you're looking for a low-cost Kiwi host that'll guarantee the best possible speeds for your audience in New Zealand, VpsCity is it.
 According to
my tests
, only Kinsta can beat this provider's performance in the region, but Kinsta is roughly six times more expensive. There are other perks, too.
For example, VpsCity's entry-level plan comes with unlimited storage space and bandwidth.
That said, you can only host one website with the Simple Web Hosting plan, so you won't actually use more than a few GB of storage. To host several sites, you have to upgrade to a more expensive subscription.
And speaking of expenses, the big downside with VpsCity is that an SSL certificate is not included with any plan.
 You can pay for SSL separately, but it'll cost you a lot. Those awesome speeds might be worth the extra fee, but then again,
Hostinger
 is only slightly slower and it gives you a free SSL certificate even on its cheapest plan.
Features:
Optimized servers. VpsCity uses the LiteSpeed web server, allowing for the use of LSCache plugins for most popular CMSs, to quickly deliver your website to visitors. I'm not surprised its performance is right up there with the best international hosts.
cPanel control panel. It may not be the most user-friendly solution, but it gets the job done. It also includes Softaculous, allowing you to easily install your favorite CMS and schedule automatic updates.
Automatic backups. VpsCity creates backups of your website on a daily basis. It also offers an easy-to-use restore tool that'll help you implement a previous version of your site if needed.
Great support. VpsCity is one of the few local providers that offer 24/7 live chat, phone, and ticket support. When I asked for help, the agents were polite, knowledgeable, and enthusiastic.
Read our expert VpsCity review to learn more
.
Server locations
New Zealand
Free SSL certificate

✘

Money-back guarantee
✘

 7-day money-back guarantee (VPS server hosting only),

prorated refund (non-monthly prepaid accounts only).

Types of hosting
Shared, VPS, Cloud, and dedicated servers
Pricing

$

3.30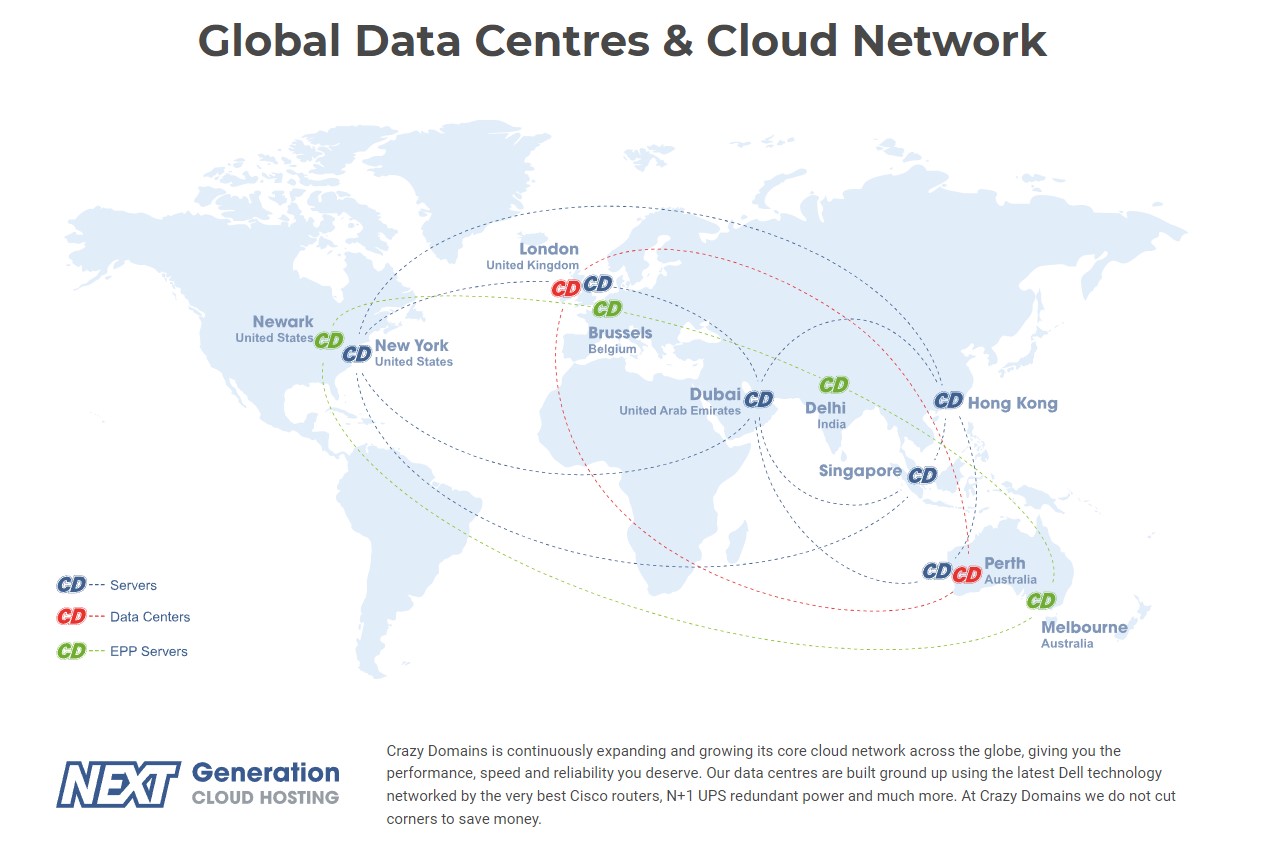 Crazy Domains' main data centers are right across the Tasman Sea, in Melbourne and Perth, Australia,
and its performance in the region is fantastic.
Plus, thanks to its other servers around the world, you can expect your website to load quickly for your international visitors as well.
That said, one important feature is missing from Crazy Domains' shared hosting plans: an SSL certificate.
You have to pay for premium SSL as there is no option to install a free certificate, which isn't cool at all. Aaand there's one other *minor* detail… Most hosts try to get you to sign up for a long-term plan by offering attractive discounts, but Crazy Domains takes things to a whole new level.
To get its best offer, you have to commit to no less than ten (!) years of hosting.
Crazy Domains Web Hosting
Features:
CloudLinux and CageFS. Like FastComet, Crazy Domains isolates each account on its servers with the help of CloudLinux and CageFS. This keeps your account and file system isolated from that of any other customer for better security.
Integrated caching. You'll find the provider's proprietary caching plugin built neatly into your dashboard

with all WordPress hosting plans

. It's called the Cache Blaster and, according to my tests, it works far better than it sounds.
One-click staging. This tool is included in Crazy Domains' WordPress plans. You can use it to quickly test changes to your website before they go live.
Free stock images. You can select 2-10 stock images from Crazy Domains' impressive repository to help you get started on your website. More expensive plans comes with more free images than cheaper plan.
Read our full Crazy Domains review for more details
.
Server locations
Australia, Singapore, Hong Kong, the UK, India, Europe, the US and the UAE.
Free SSL certificate

✘

Money-back guarantee
60 days
(prorated refund)
Types of hosting
Shared, VPS, WordPress, WooCommerce, dedicated servers
Pricing

$

7.35
Which Host Should You Choose for Your New Zealand Website?
I've tested and broken down the top New Zealand website hosts. Now, it's time to decide
which of these hosts would best suit your needs
. If you're still weighing your options, here are my top three recommendations. For most basic websites, Hostinger is a perfect fit.
Even Hostinger's cheapest plan has plenty of storage space and bandwidth
, a free SSL certificate,
free email hosting
, and built-in performance boosters. The provider focuses on shared hosting, so it wouldn't be my first choice for a high-traffic website, but you can expect stellar loading speeds and uptime for personal blogs, portfolios, and landing pages. However,
InterServer's Standard shared hosting is the most flexible plan on this list
. It lets you host an unlimited number of websites, and it gives you unlimited resources, to boot. Plus, you don't have to commit to a long-term subscription; you can pay monthly and still enjoy budget prices.
If you're looking for a fast and easy to use host, Kinsta is your best bet
–
if
you can afford it.  I've tested dozens of managed WordPress hosting providers, and Kinsta is simply the best. It has a data center right across the Tasman Sea from New Zealand, and its loading speeds are spectacular around the world.
Top Hosts for New Zealand – Full Comparison
Hostinger
InterServer
Kinsta
FastComet
1st Domains
VpsCity
Crazy Domains
Disk Space
50GB
Unlimited
10GB
15GB
Unlimited
Unlimited
150GB
Bandwidth
Unlimited
Unlimited
25,000 visits
25,000 visits
100GB
Unlimited
Unlimited
SSL

✔

✔

✔

✔

✔

✘

✘

Backups

✔

✔

✔

✔

✔

✔

✔

Free domains

✘

✘

✘

✔

✘

✘

✘

Number of emails
1
Unlimited

✘

Unlimited

✘

1
100
CDN
Hostinger
Cloudflare
Cloudflare
Cloudflare

✘

✘

✘

Caching

✔

✔

✔

✘

✘

✔

✔

Data center locations
NA, SA, EU, Asia
NA
NA, SA, EU, Asia, Australia
NA, EU, Asia, Australia
New Zealand
New Zealand, South Africa
NA, EU, Middle East, Asia, Australia
GTmetrix speed
0.8s
1.94s
1.2s
1.85s
1.7s
1.1s
1.3s
Uptime score
100%
99.953%
100%
99.882%
100%
99.989%
99.983%
Uptime guarantee
99.9%
99.9%
99.9%
99.9%
99.99%
99.9%
99.9%
Support channels
Live chat, email
Live chat, contact form, phone
Live chat, whatsapp, contact form, phone
Live chat, tickets, phone, email
Email, phone
Live chat, tickets, email, phone
Live chat, email, phone
Support hours
24/7/365
Limited
24/7/365
24/7/365
08-18

(Mon-Fri)

24/7
24/7/365
Payment options
Credit card, PayPal, Google Pay, AliPay, Coingate
Credit card, PayPal
Credit card
Credit card, PayPal
Credit card
Credit card, PayPal
Credit card, PayPal, AliPay, UnionPay, zipPay
Money-back guarantee
30 days
30 days
30 days
45 days

✘

7-day (VPS hosting) or prorated refund anytime
60 days (prorated)
Starting price
–
–
–
–
–
–
–
Overall score
4.8
4.5
4.7
4.7
4.6
4.5
4.0
Our Testing Process in Detail
Research played an important role during the first stage of our massive web hosting project.
But in order to rank each host, we needed lots of first-hand experience.
 So, we signed up for dozens of the most popular entry-level plans in New Zealand, and tested their performance in the region. If you're curious about
how
we did this, keep reading. Otherwise, feel free to
skip straight to my final recommendations
.
Features
Storage space and bandwidth are important, but not
as
important as you might think.
Sure, "unlimited resources" sounds great, but if you plan to host just one website, you'll only need a fraction of that.
 You'll need perhaps 5GB of storage (if you have lots of media) and 30GB to 100GB of bandwidth depending on your traffic volume. Except for WebSlice, which is a tad tight on storage, all hosts on my list fulfill these criteria. However, there are additional characteristics that differentiate them.
I'm talking about SSL certificates, automatic backups, built-in caching, CDNs, and other such tools that can make your website faster and more secure.
 Most of them
should
be free, and with international hosts, they usually are. However, smaller local hosts aren't as generous, especially on their entry-level plans.
Ease of Use
For the purpose of this project, we approached each host from the perspective of a complete beginner.
We wanted to find providers that made it super-easy to sign up, connect a domain, install WordPress, and upload a theme.
 One-click installers, website builders, and other beginner-friendly tools were a welcome plus.
All hosts on my list did very well in this category, but I was particularly impressed with Kinsta's proprietary dashboard,
 which is probably one of the best I've ever used. 1st Domains lost a few points due to its strange policy of prohibiting hosting customers from having domain names registered elsewhere. Even existing hosting accounts will be cancelled if the domain name is transferred to another registrar.
Performance
These tests took up the bulk of our time. Because, let's face it, your website visitors won't care about the features you get with your hosting. They want your site to load quickly, and that's about it.
To measure this, we set up a test website with each host, and we ran several benchmarks for page loading speed, global performance, and uptime.
Kinsta blew every other host out of the water in this category.
 It was incredibly fast, and not just in New Zealand. We tested it from over a dozen servers around the world, and the speeds were consistent.
Only three other hosts came close: Hostinger, VpsCity, and Crazy Domains.
 Of the three, Hostinger got excellent results around the globe, which makes it a better budget choice if you have a mix of local and international website visitors.
Support
I've tested so many hosts that claim to offer "expert 24/7" support, but fail to deliver on this promise once you're a paying customer.
This can be a real drag if you're a beginner. You need to know you can count on the tech team to help you out promptly. We got in touch with every host on this list through every available channel. Generally speaking, most providers were able to offer decent support.
Kinsta
, FastComet, and VpsCity were especially quick to respond, and the agents were always knowledgeable and willing to help.
InterServer's live chat service was utterly useless, though I did get some decent help through tickets. I was also fairly disappointed to see that 1st Domains had no live chat at all, and that its support department was only available during standard office hours.
Pricing
We compared each host's headline prices, but we also considered the value you'd get for your money.
If a deal seemed too good to be true, we dug a little deeper to find any missing features or hidden costs.
 We kept an eye out for automatic upsells, steep renewal fees, and other sneaky tricks that web hosts might use on you.
The obvious winner in this category is Hostinger.
 Not only is it super-cheap, but even the entry-level plan gives you everything you need to reliably host a website. Plus, it has a 30-day money-back guarantee, so you can opt out at any point during the first month without losing any money.
Alternatively, if you'd rather pay on a monthly basis, InterServer has the most cost-effective monthly plan.
You won't need to lock yourself into a multi-year commitment just to get a good price. 
FAQ
Which is the best host for New Zealand?
That depends. If you want to host a simple website (a personal blog, a business landing page, or a small online store), Hostinger should be at the top of your list. It's cheap, fast, and easy to use, and it has two data centers near New Zealand, in Singapore and Indonesia. For a complex or high-traffic site, I recommend Kinsta. It's pricier than Hostinger, but it offers a level of performance that no other provider can match. It also has a data center in Sydney, Australia, which is about as close as any international host gets to New Zealand.
Do I need a host with data centers in New Zealand?
If most of your website visitors come from New Zealand, then yes – ideally you do need a host with data centers there. However, I've tested all the most popular local providers, and I was rather disappointed with the results. Few of them could compete with international hosts in terms of performance, and those that did were missing important features like SSL certificates or a money-back guarantee. For example, VpsCity and 1st Domains gave me some impressive loading speeds in the region.
Which is the cheapest web host in New Zealand?
VpsCity was the cheapest local provider that I tested, but keep in mind that none of its plans include an SSL certificate. If you don't want browsers to flag your website as "not secure," you have to pay for an SSL separately, and this can double the cost of the entry-level plan. If you ask me, you're better off with an international provider. Both Hostinger and InterServer are very reliable options, and they give you everything you need to host your website at very low rates.
Which host is best for e-commerce websites in New Zealand?
For a small online store, both Hostinger and FastComet are more than suitable. You could even go with a local provider like 1st Domains, which gives you a free SSL certificate with its No Limits plan. That said, Kinsta would be my go-to host for a high-traffic WooCommerce store. It's the fastest managed WordPress hosting platform I've tested, while still being very easy to use. It's expensive, but the service is worth every penny.