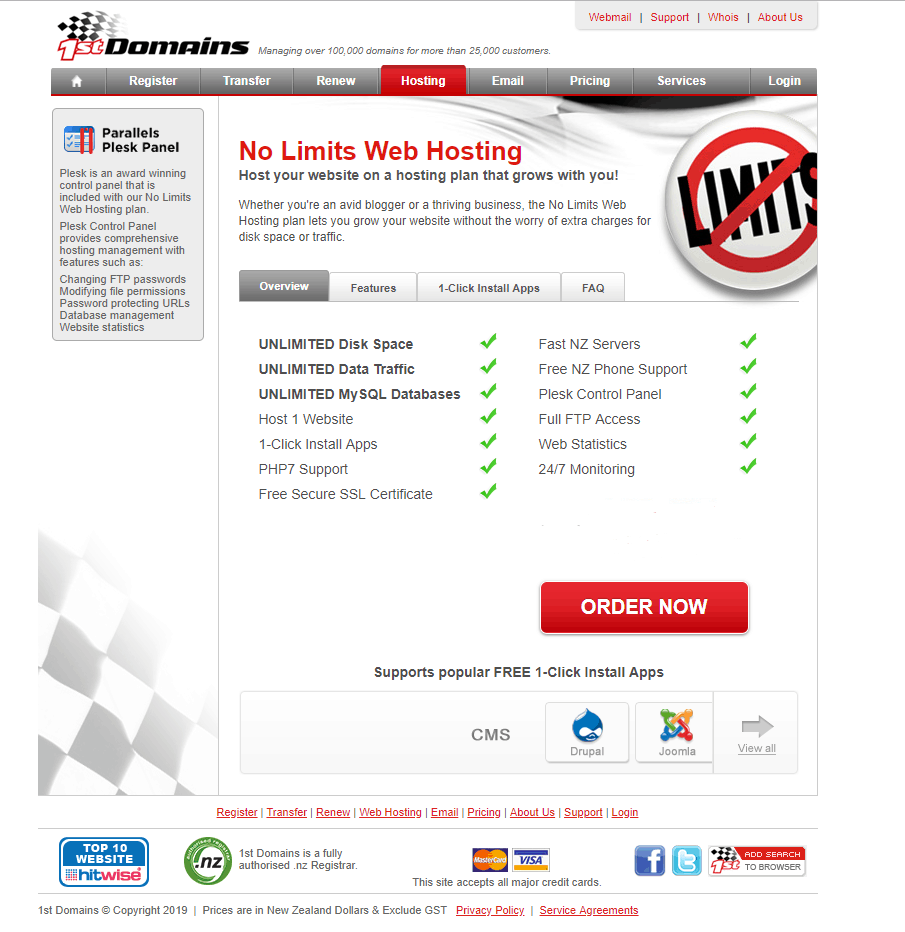 1st Domains is fine, but fine is not good enough. While 1st Domains is a decent web host, you can get better quality hosting at a cheaper price with
Hostinger
, for example.
Since 2003, 1st Domains has been one of New Zealand's top domain registrars and web hosting providers. It presently serves over 25,000 customers with over 100,000 websites. While the company only has servers in New Zealand, it's built a solid reputation with its flat-rate unlimited web hosting plan and reliable customer support.
Features and Ease of Use
If you're looking for nearly all-inclusive single domain website hosting, then 1st Domains is a decent choice. It offers the following features for all domains under its management:
Unlimited storage
Unlimited bandwidth
Unlimited MySQL databases
99.99% uptime guarantee
Daily backups
Email forwarding
There are a few things that make this provider stand out over the others. First, it offers free Let's Encrypt SSL certificates, saving you money on your hosting. Next, this service supports both cron jobs and custom scripts. Note that PHP is the only scripting language the platform supports, but you can run your own scripts.
Finally, customer service confirmed with me that there are no restrictions on database sizing. If you're a business needing large databases, such as for customer records or inventory, this host can support it.
This host is also suitable for beginners and experienced webmasters alike. For beginners, you have access to the SimpleScripts auto-installer for applications such as WordPress, Joomla, and more. For those with a bit more experience, you have access to Plesk for your control panel, and you have FTP access for uploads.
One thing to note, however: 1st Domains does not support subdomains, domain aliases, or advanced SSL certificates. This means that if you need a greater level of security or you plan on creating separate sections on your website via subdomains, you'll have to look elsewhere.
Pricing and Support
Since there's only one plan available for shared hosting with 1st Domains, pricing is straightforward. That said, while it offers flat-rate pricing and claims a low monthly rate, don't let that fool you. The only option available for this service is annual.
Also, there are a couple of extra fees you'll incur with this service. If you don't have your own domain, you'll have to pay for it, and domain registration fees here are expensive compared to other services. If you need email hosting, that's also going to cost you. Adding a domain and a single email hosting account will increase your costs by about 50%.
Customer support at 1st Domains is solid. It offers email support, phone support, and video chat via Skype. In addition, the company has a searchable knowledge base that covers many basic and a few intermediate topics.
Note that with 1st Domains, support is only available Monday through Friday from 8 am to 6 pm NZDT. I contacted support via email to inquire on database sizing. I received an auto-response in just a few minutes, but I didn't hear back from an agent for another 24 hours. That said, when the support agent did get back to me, he was very helpful in his reply.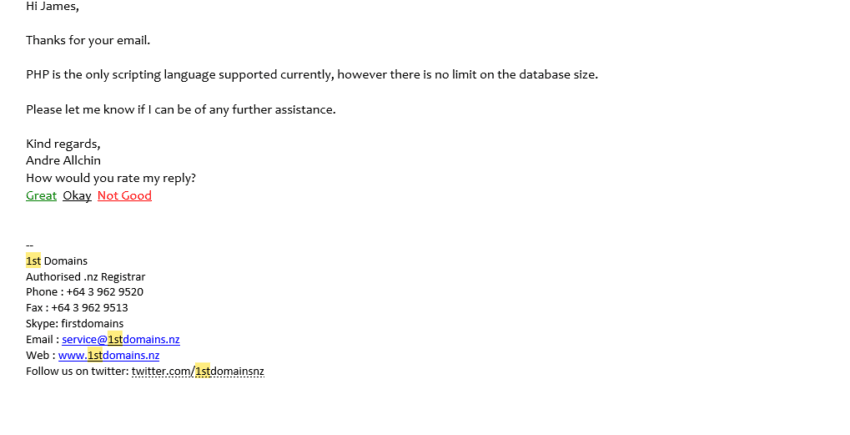 One thing I like about 1st Domains' support is that it offers remote support via the TeamViewer software. That way, the agent can see the exact issue you're having and even take control of your computer to fix the problem. I would like to see 24-hour support and some form of live chat support other than Skype, but overall the company offers solid support.
How much does 1st Domains cost?
1st Domains offers multiple plans priced highest to lowest. The price depends on which type of hosting plan you choose. You can see the updated pricing table (updated weekly) below.

Which 1st Domains plan should I get?
My recommendation is to start with a cheaper plan. You can always upgrade later on. 1st Domains can help you with the migration to a more expensive plan. The increase in visitors many times takes longer than expected and you shouldn't pay a lot of money until the need arises. Of course, your needs may vary, and you can consult with a hosting expert from 1st Domains
here
.
How good is 1st Domains's customer support?
1st Domains is not ranked as one of our top web hosts. But that can also be a result of 1st Domains being a small, under the radar, hosting provider. There are advantages to a small hosting company – as a customer, you are more important to them. You can also check out our comparison of the
most popular web hosting services here
.