To compare the best web hosts, we hosted the same WordPress website on each one and tested performance, customer service, and value for money.
Check out the results here.
Based in Aukland, New Zealand, WebhostingNZ has been operating since at least 2013 but otherwise doesn't provide too much background information on its website. They prefer to let their range of hosting products, 30-day money-back guarantees, and 24/7 customer service do the talking for them.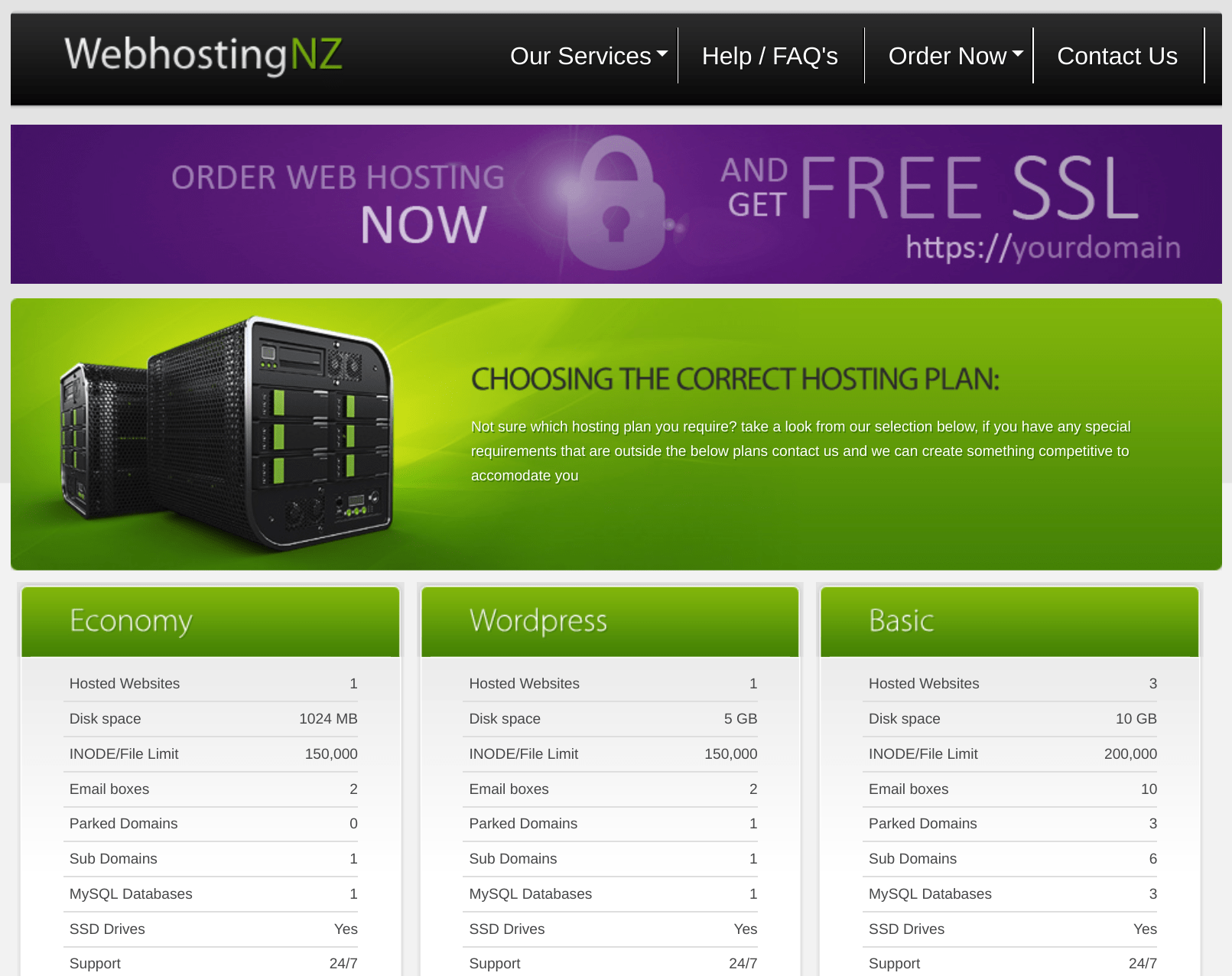 Features and Ease of Use
WebhostingNZ provides all the web hosting basics:
Domain registration, not included in their prices
SSL certificates included for free with hosting
Email hosting with web hosting products, or as a standalone product
Free daily backups
I'm impressed by the breadth of features included out-of-the-box with their hosting products. For example, web and reseller hosting comes bundled with the cPanel manager and the Softaculous 1-click installer. With the reseller plans, you also get a Web Hosting Manager (WHM) license to manage client accounts and products.
Web hosting also comes with some SEO tools, the MySQL-derivative MariaDB, CloudFlare for page load performance, DNS management, and the CloudLinux OS that is specifically optimized for hosting. The WordPress web hosting plan allows you to have your choice of CMS – WordPress, Joomla, and Drupal – installed automatically.
With the VPS plans, you can either start from a clean slate or choose to add on cPanel, CloudLinux, and Softaculous for a high-end web hosting solution. You also have full root access and can set up SSH for your hosting.
Pricing and Support
WebhostingNZ offers a 30-day money-back guarantee for all of their hosting plans, which reduces your initial risk. Web and reseller hosting plans have monthly, semi-annual, 1-year, 2-year, 3-year, and 5-year billing options while VPS hosting has monthly to yearly billing.
The plans are:
Web Hosting: Six shared hosting packages that come with unlimited data transfer and cPanel. Yearly billing is discounted by 20%. Plans offer between 1 and 11 hosted websites, 1 to 50 GB storage, 2 to unlimited email accounts, 1 to 50 subdomains, and 1 to 20 databases.
Reseller Hosting: Eight packages for resellers with 10 to unlimited hosted websites, 10 to 50 GB storage, and 250 GB to unlimited bandwidth. An SSL manager, addon domains, Site Builder, Softaculous, and unlimited email accounts are unlocked with higher tier plans. cPanel and WHM are included for free.
VPS Hosting: They offer eight VPS configurations with unlimited monthly transfer. The first four plans come with one vCPU, while the top four plans offer four vCPUs. Depending on the plan you choose, you'll have access to storage ranging from 5 to 200 GB and RAM from 64 to 8 GB. You can also opt for additional features such as cPanel, CloudLinux, off-server backup, and a Softaculous license.
Pricing for WebhostingNZ's products is fairly standard, but among the cheaper options for New Zealand-based hosts.
All WebhostingNZ customers have access to 24/7 technical support via live chat or a ticketing system. The friendly, helpful, and competent technical support staff are amazing, and they also have technicians monitoring their physical servers around the clock. There is a self-help section, and a set of FAQs, for those of you who like to support yourselves, but more content would not go amiss.
How much does WebhostingNZ cost?
WebhostingNZ offers plans from $4 to $15. The price depends on which type of hosting plan you choose. You can see the updated pricing table (updated weekly) below.

Which WebhostingNZ plan should I get?
My recommendation is to start with a cheaper plan. You can always upgrade later on. WebhostingNZ can help you with the migration to a more expensive plan. The increase in visitors many times takes longer than expected and you shouldn't pay a lot of money until the need arises. Of course, your needs may vary, and you can consult with a hosting expert from WebhostingNZ here.

How good is WebhostingNZ's customer support?
WebhostingNZ is not ranked as one of our top web hosts. But that can also be a result of WebhostingNZ being a small, under the radar, hosting provider. There are advantages to a small hosting company – as a customer, you are more important to them. You can also check out our comparison of the most popular web hosting services here.